New Bedding for the Master Bedroom
This post is sponsored by Red Land Cotton. All opinions are that of Our Southern Home.
Have you ever had a room that gets somewhat neglected? Our master bedroom has been that. We spend so much time in our bedroom, yet it always gets put on the back burner. We tend to give the attention to the areas that guests see.
Not any more……we finally gave the master bedroom a mini-makeover with new bedding.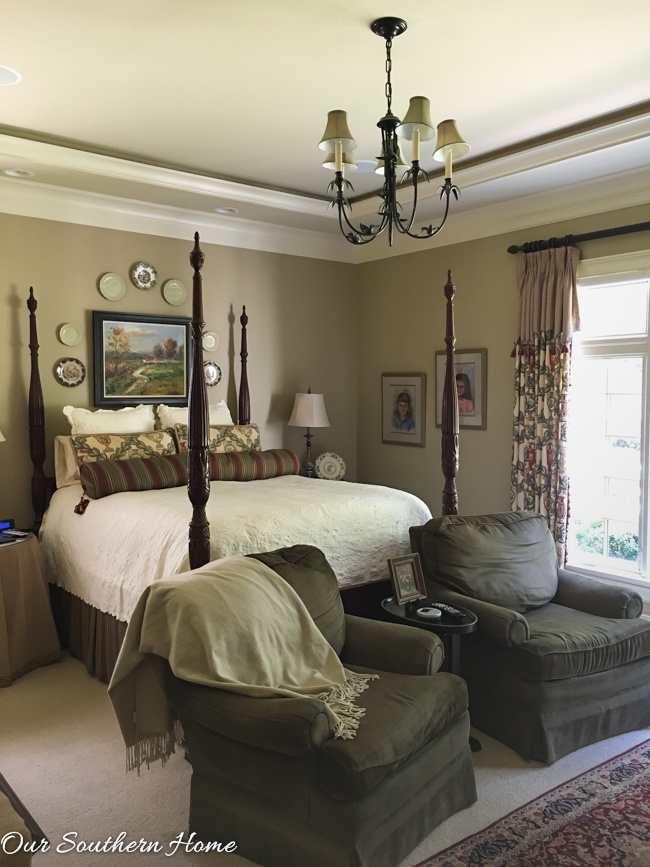 Here is a before of what the bedroom used to look like. We built our home in 2004. This bedding followed us here from our old home. It was all custom-made and very expensive. I still have it! I've just packed it away for now. It was very dark and masculine.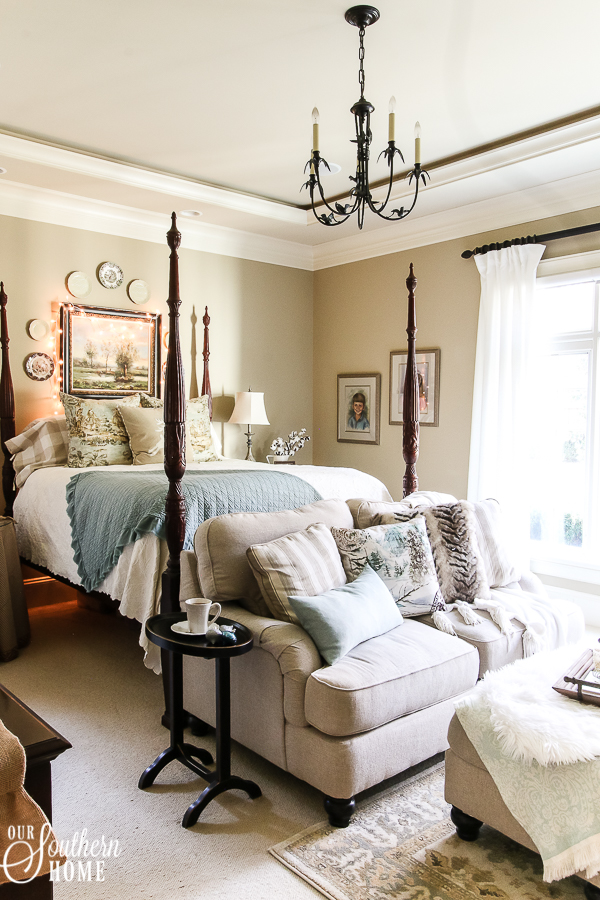 This was the look at Christmas a couple of years ago. Same wall color….still needing a bedskirt.
Bedding has come a long way from the way it used to be. With online shopping, there are so many options now. You can get a great look with "off the rack" items so to speak. Now that we've got a great foundation, I can easily change-up the look by sewing a couple of new pillows for the bed or just picking up some ready-made.
I can't wait to show you how the bedroom has evolved.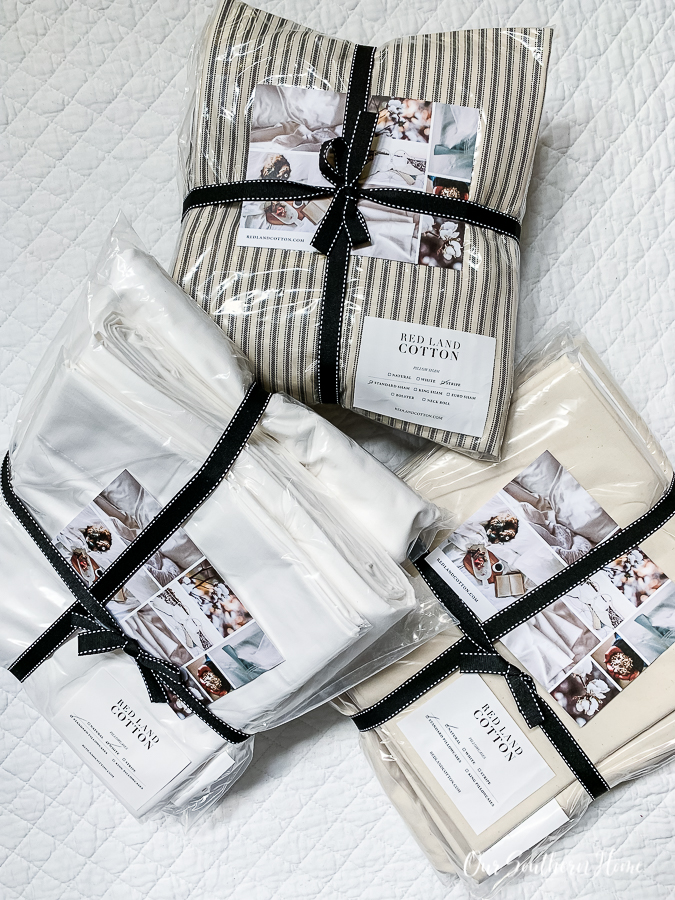 Be sure to follow me on Instagram and check out the highlights circle for all video updates on the master bedroom including the unboxing of the Red land Cotton bedding. I've also done a couple of lives on Facebook for the master makeover.
First of all, the packaging is gorgeous! You can tell the care and attention to detail before you even touch the product. I saved the pretty ribbon to wrap other packages.
Red Land Cotton is 100% American Made which is a big deal to me.
Their vision started with a simple bed sheet that was passed down from the 1920s. With the help of textile engineers, there were able to determine the exact weave construction and thread size used in the old sheet. The results are truly heirloom quality.
Let me break down what I received.
Red Land Cotton Bedding
Lawrence Ticking Stripe Bedding Bundle – This includes 1 ticking stripe duvet cover, 2 ticking stripe pillow shams (1 sham with twin) and the basic sheet set in natural.
Additional set of the basic sheets in white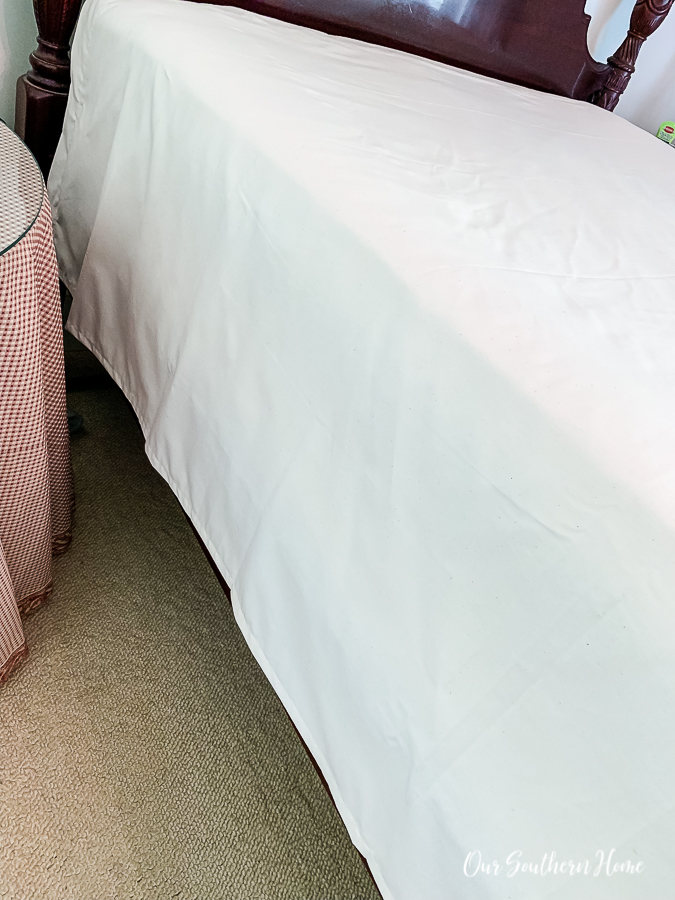 Can I just say that I am so impressed. I am so tired of buying sheets that claim to be for extra depth or generous to barely cover the sides of our bed. Then the battle of the top sheet is on!
The flat sheet is this generous on both sides.
Red Land Cotton is a family owned, father/daughter team rooted in Alabama. They are currently the only cotton farming family in America that grows the cotton to manufacture directly into towels and bedding made completely in the USA! They follow the process from the seed to final stitch. I don't know about you, but I find that to be so special!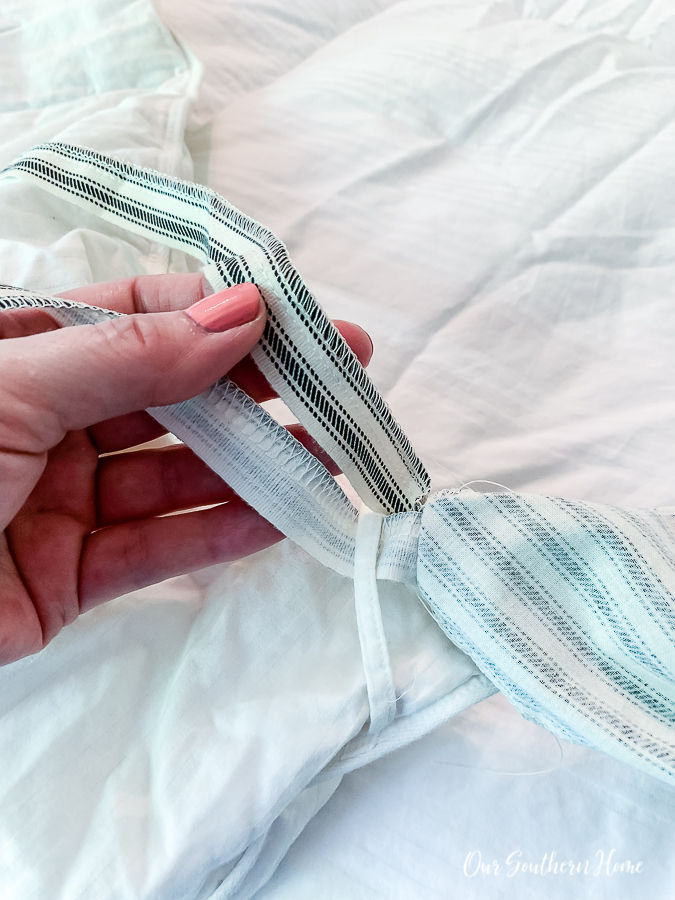 Quality sewn duvet covers will have ties on the interior of the four corners to secure it to the duvet itself. Look for a quality duvet that has sewn it tabs to secure the duvet. This keeps it securely in place. If your duvet does not have tabs, you can hand-stitch them in. Luckily, my existing duvet had the tabs.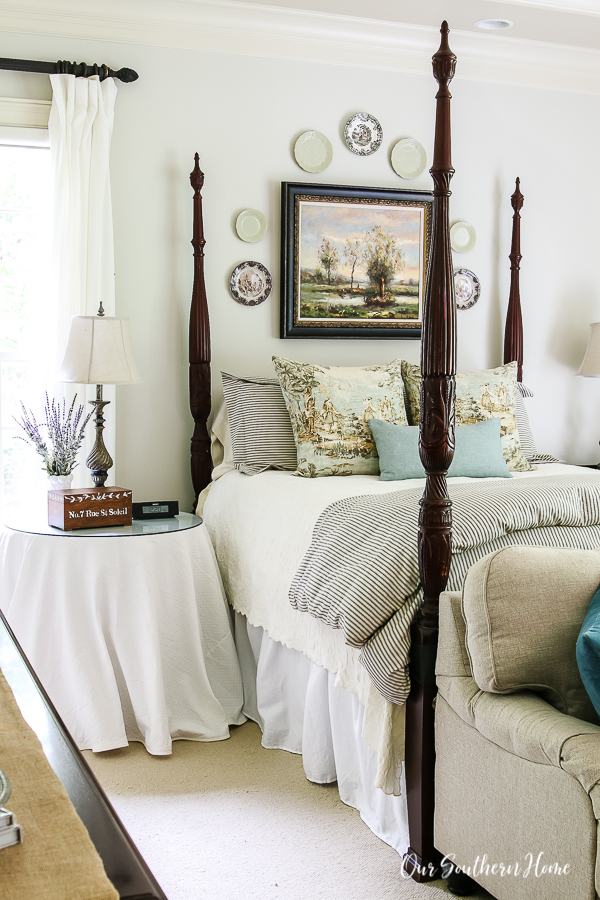 Voila!!! We have a beautiful new look!
The addition of the Lawrence Ticking Stripe really took the entire look up a notch or two. It really makes it look custom. Ticking stripe is classic and will always be in style. It will work with all color and patterns that you could add to it.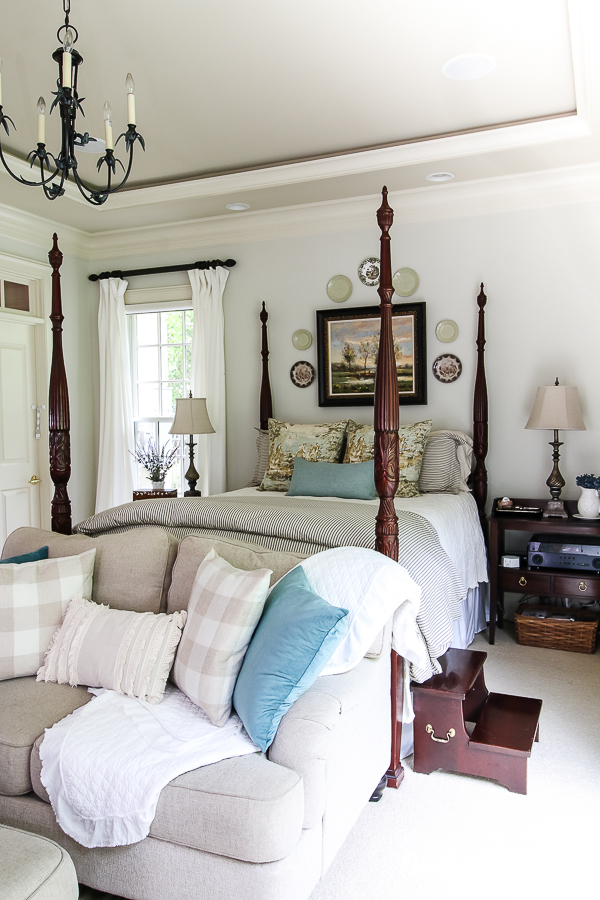 My goal is to incorporate bedding into our home that can be used in other bedrooms. One of my favorite ways to decorate and give a space a "new to me" look is by shopping my house. Having versatile bedding means that I can change out looks more frequently to use in other bedrooms. I have a feeling that this look will stay in place a while here. We are tickled pink with it. I anticipate sewing new euro shams for a fall and winter look!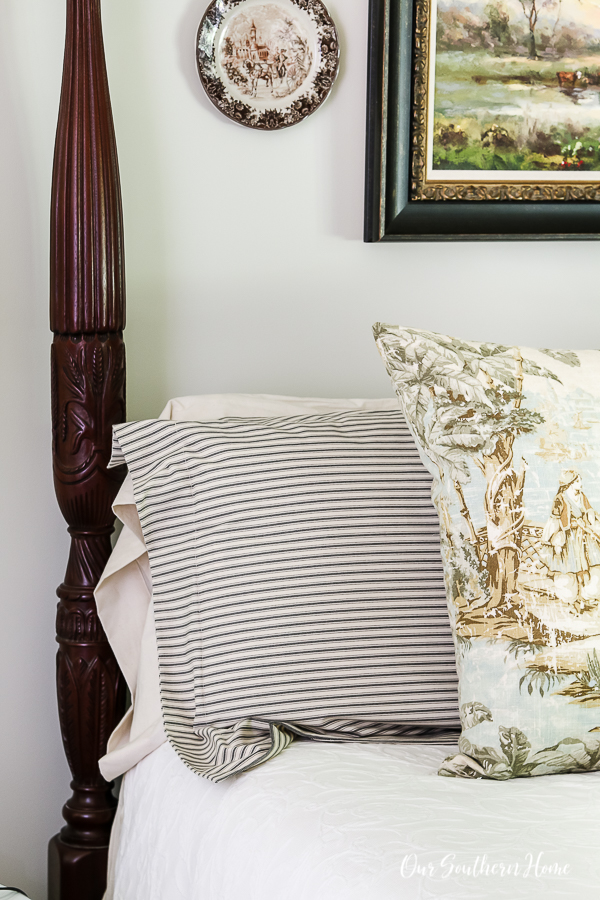 Do you notice how generous the natural colored sleeping pillow sham is? I love this. I like keeping the pillow covered so my face isn't potentially rubbing against pillow tags or zippers during the night.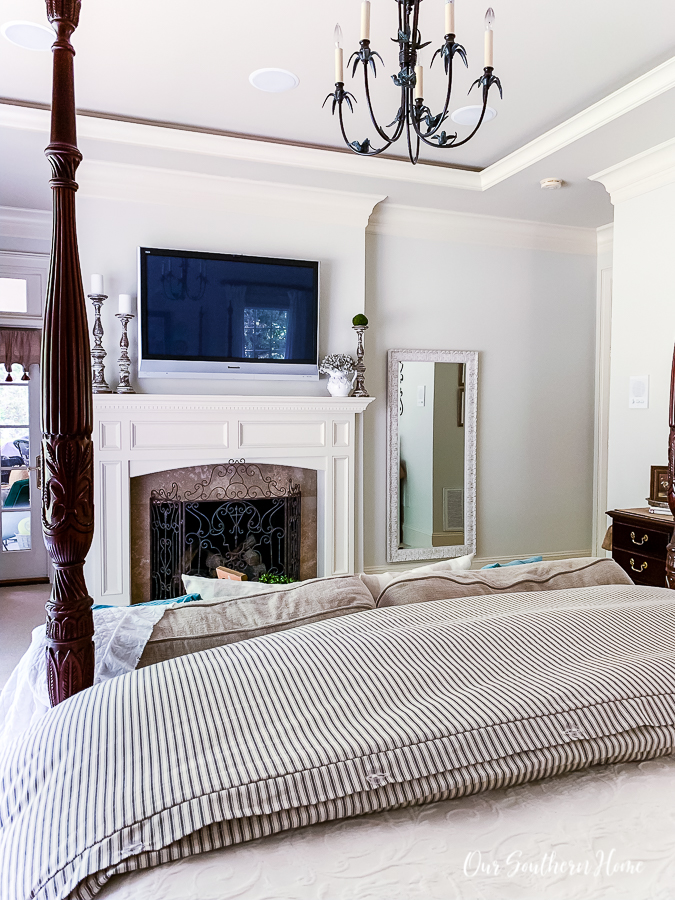 We watch TV in here most nights as a family and the new look is just so cozy. Two of us cuddle up in bed with the duvet pulled up while the other two watch from the loveseat. Of course, the dog and cat are with us as well.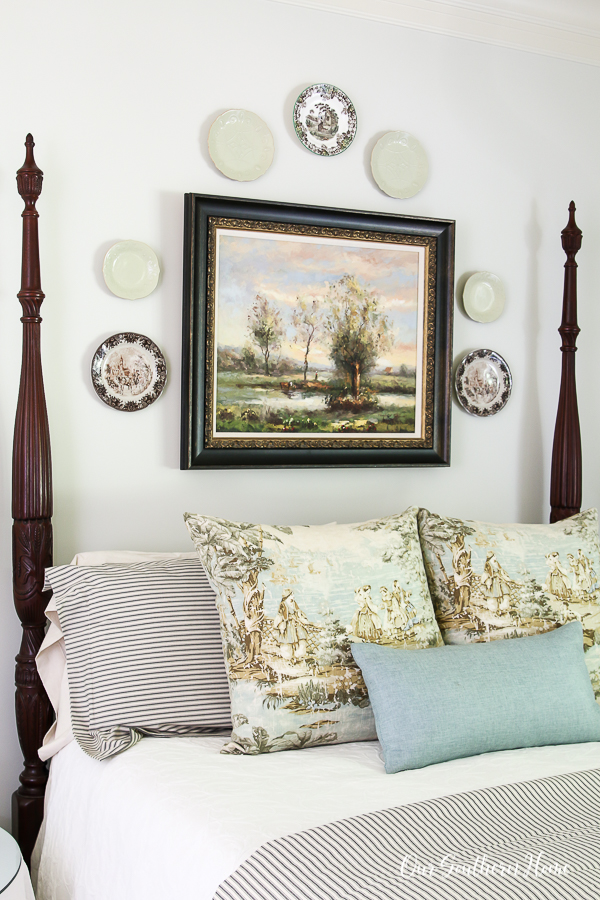 The Lawrence Ticking Stripe is perfectly classic with its charcoal and natural stripe. It's lovely from a rustic farmhouse to a classic French country look and beyond.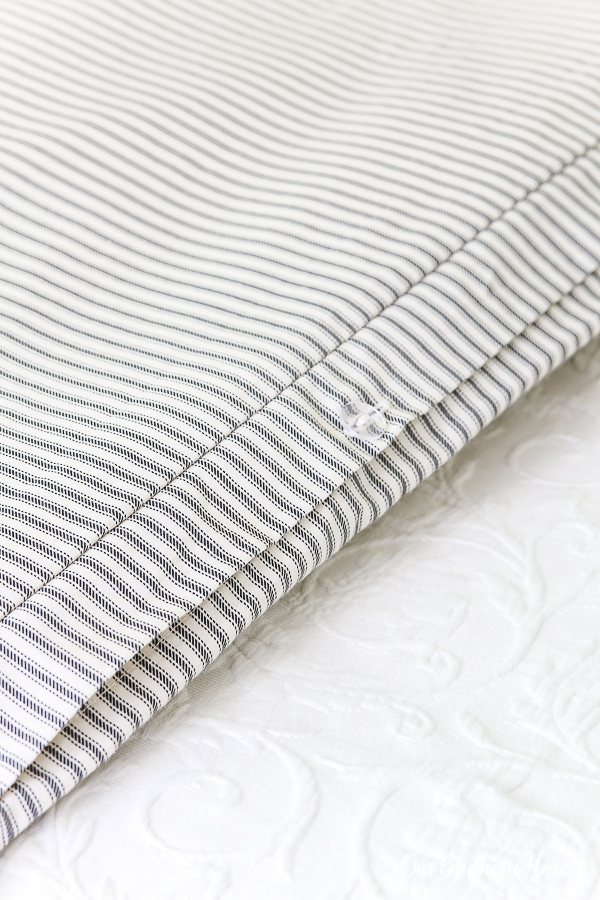 No attention to detail is left undone. The product is manufactured with minimal chemicals . Red Land Cotton takes great pains to farm sustainably and take care of the soil and surrounding environments.
Red Land Cotton is truly a southern company!
Grown in Alabama (my parents were born and raised here)
Spun & Woven in South Carolina (where I live)
Finished in Georgia (I was born in Atlanta!)
Sewn and shipped directly from Alabama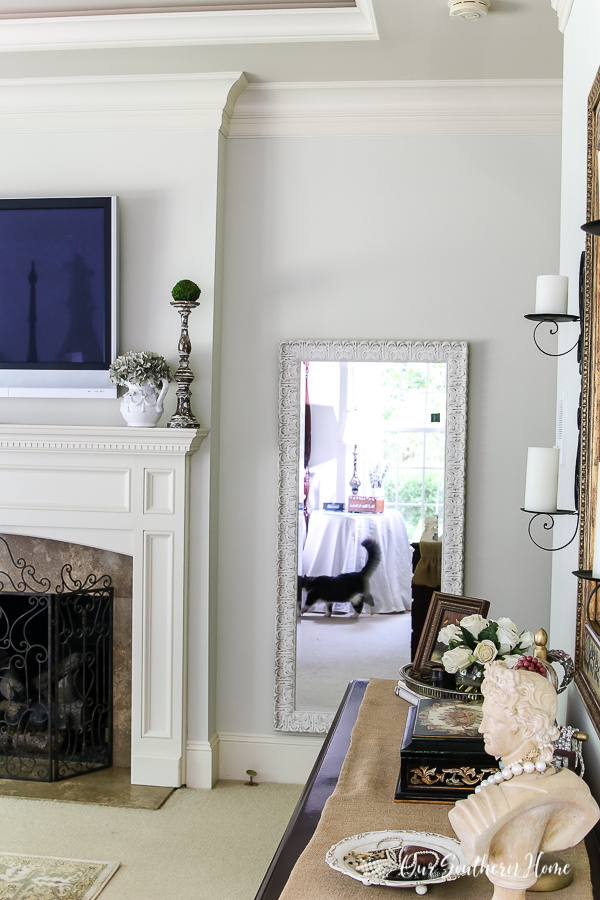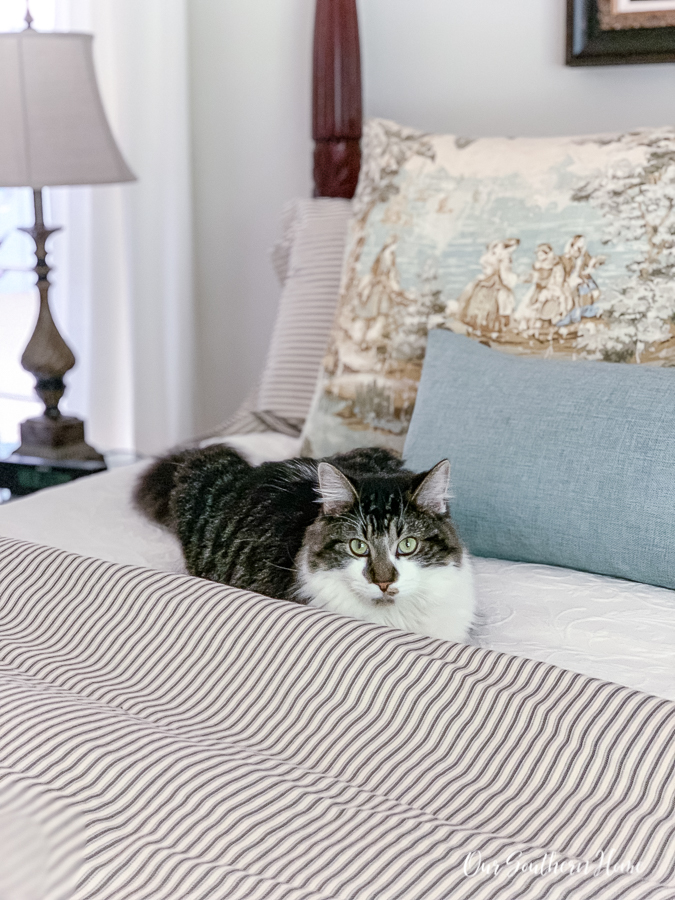 Jack, our 10 month old cat (sure doesn't look like a kitten anymore), loves sleeping on the bed. He totally approves of the new duvet cover. He also loves crawling underneath it to hide.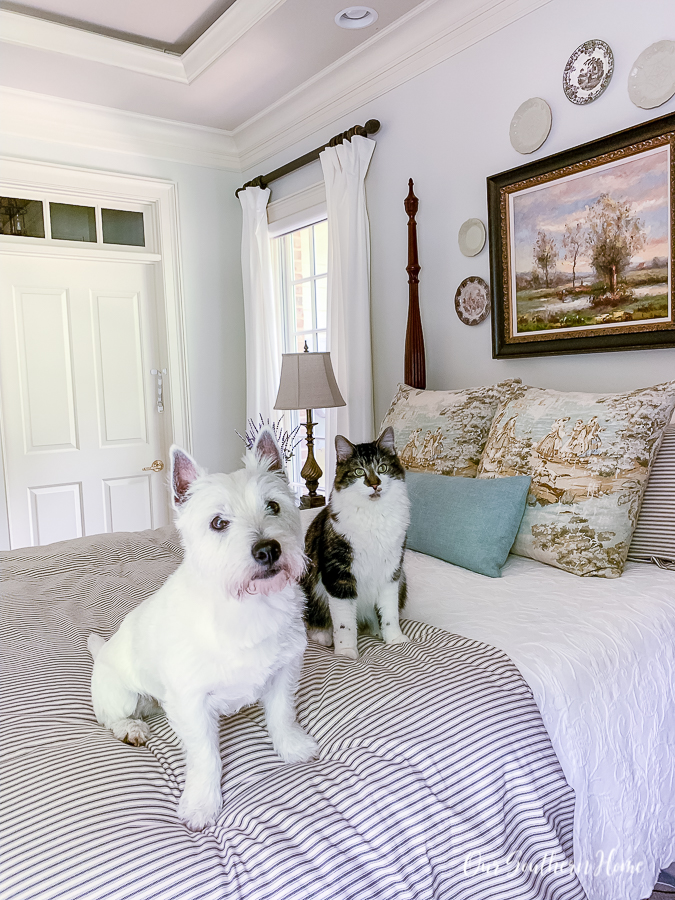 Bentley can't miss out on the action so they both cuddle for afternoon naps here. No bedding is off-limits to them or the kids. Comfort and ease of care is a big plus for us.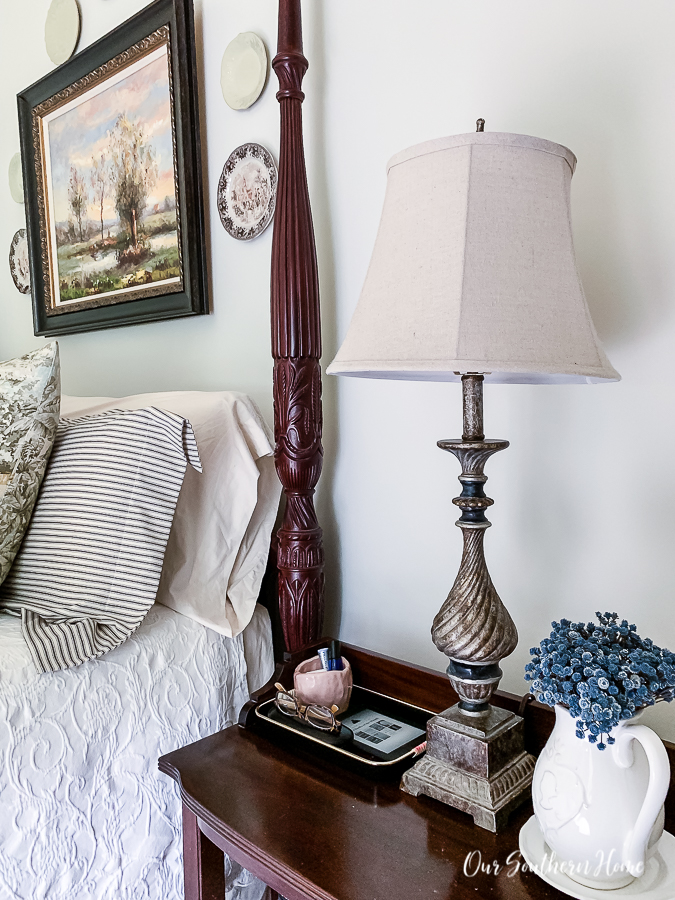 Our freshened up bedroom now has an air of casual elegance to it.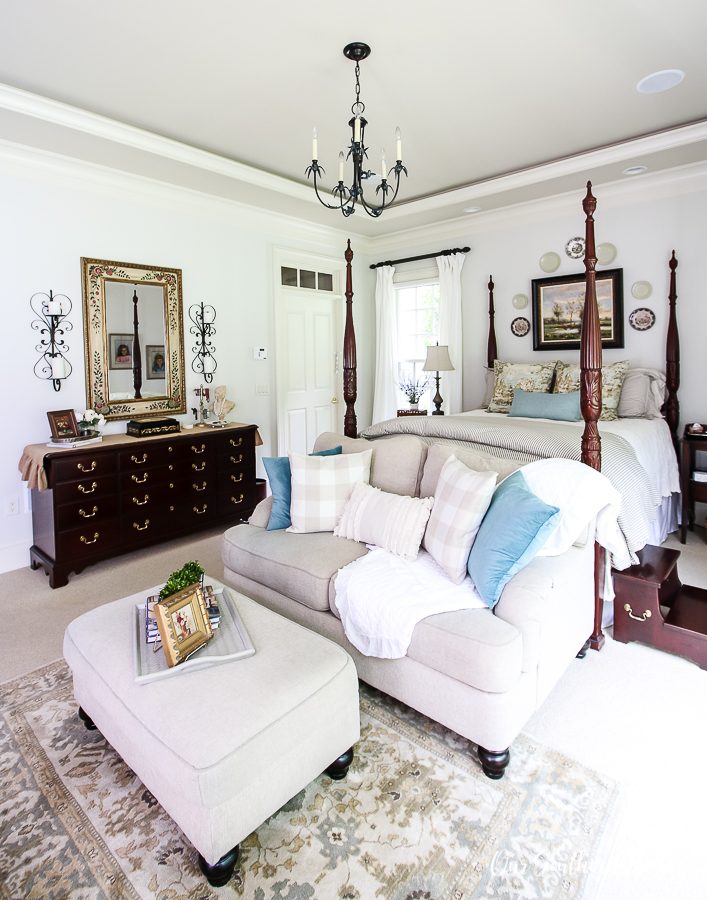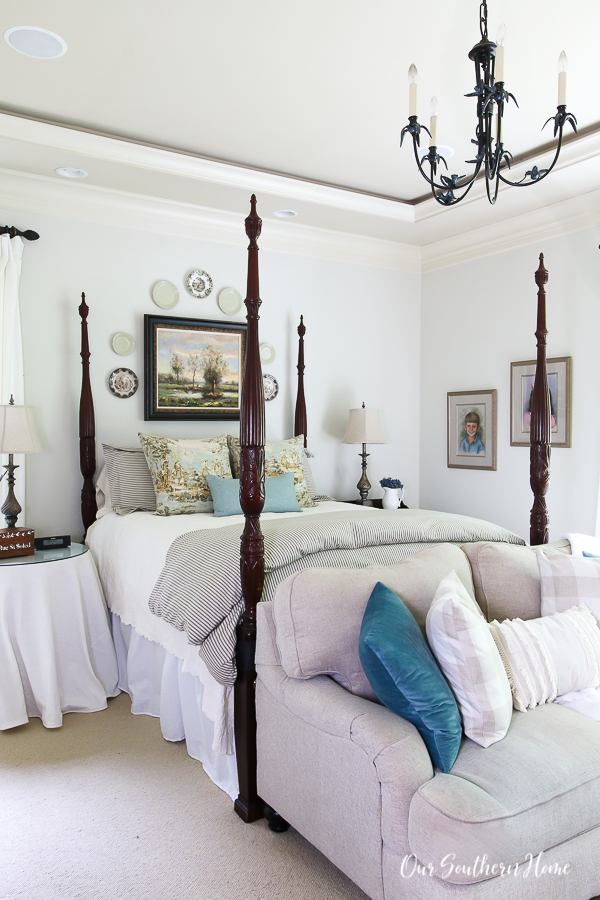 I can't believe that we waited so long to give this lovingly lived in room an update. Just in time for summer movie nights with the kids home from college. Yes, popcorn is allowed!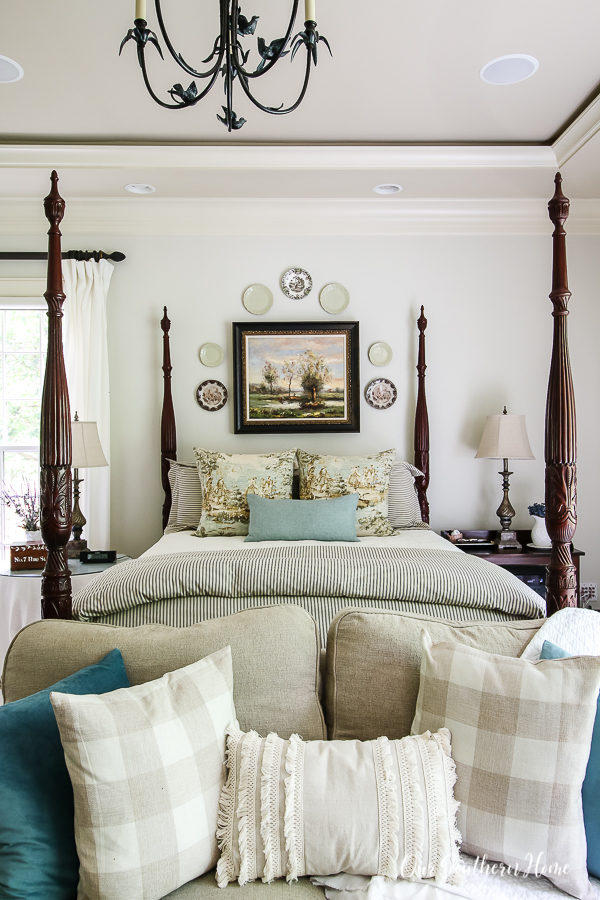 Be sure to check out Red Land Cotton on their beautiful social media pages!
Do you struggle to install your duvet cover? I watched this video and used Anna's technique. Wow! So easy!!
Be sure to check out Red Land Cotton online! They have a wonderful selection of bedding and towels for your home.
Later this week, I'll have a new post up with a complete buying guide of our entire bedroom. Until then, you'll most likely find me cuddled in the bed reading a book or catching up on favorite shows.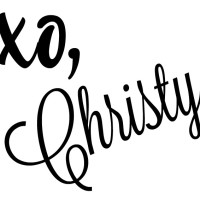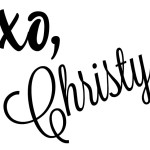 Buffer