Farmhouse Bedroom Refresh
This is a sponsored post on behalf of Procter & Gamble. All writing, photos and opinions are that of Our Southern Home.
We love living in the country on 7 acres. If you were to visit, you'd think we lived far away from conveniences. Luckily, we are just a short 12 minute drive from town so we enjoy the best of both worlds. My daughter, Ashlyn, is home from college so we typically shop together. I so enjoy that time with her. She certainly has a knack for interior decorating and has always been a great help to me when I've decorated our home.
So it was a very natural thing for us to head into Big Lots to pick up a few spring cleaning items like our Gain detergent and look around. I wasn't expecting to get sidetracked when we walked into the store, but wasn't surprised either. Home decor was right up front as we walked in. What should have been a quick in and out trip turned into a good solid hour. Can you relate?
Y'all their home decor and household section is amazing and the prices even better. We found so many things that we plan to come back and shop for later for her college apartment. They have so many of my go-to cleaning products like Swiffer and Febreze so I can easily pick everything up in one place. The best part, right now, you can get a $10 reward when you stock up on $30 worth of Gain products at Big Lots.
We really started laughing because while she's excited to decorate her apartment on a serious budget, she'd love to get her bedroom finished. We have now been in our house 15 years as of this month. Time sure flies. While some rooms are just getting repainted for the first time, her room has had 3 color changes. I told you she loves to decorate!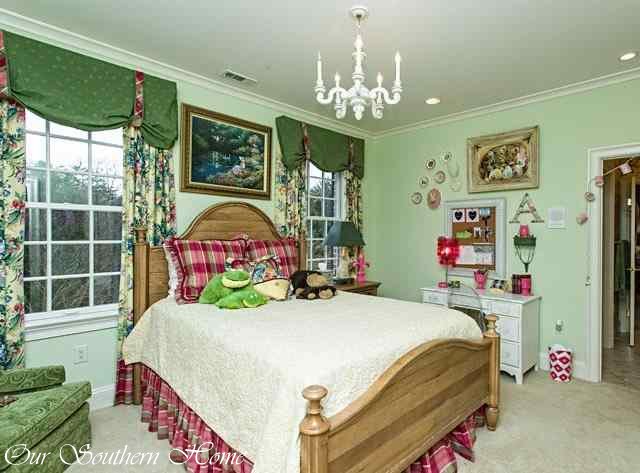 Here is an old photo of the second color in her room. It started out yellow then went to this fun green color. She'd had this plaid bedding and curtains since her nursery so she was totally ready for a change in high school her senior year. On her own she removed all the window treatments and the plaid bedding. On her own she picked out gray colors and went to buy sample pots. She truly is like her mom in testing out paint colors. She decided on a beautiful gray color called Moonshine, and I painted it for her.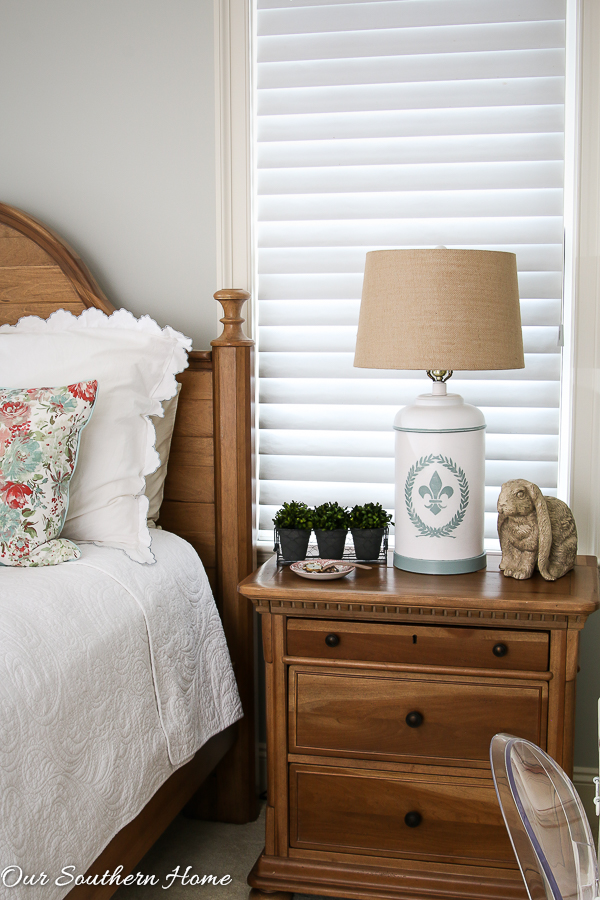 Isn't the color Moonshine gorgeous! This is the only photo that I have from her room from this thrift store lamp makeover.
As of last week, she still had no window treatments. We purchased them 2 years ago along with the rods, but they were still in hiding under her bed. Can you tell that I detest hanging curtains. LOL! Nothing like a little shopping trip to get them hung. I'll share a post soon on a super easy trick to hang them.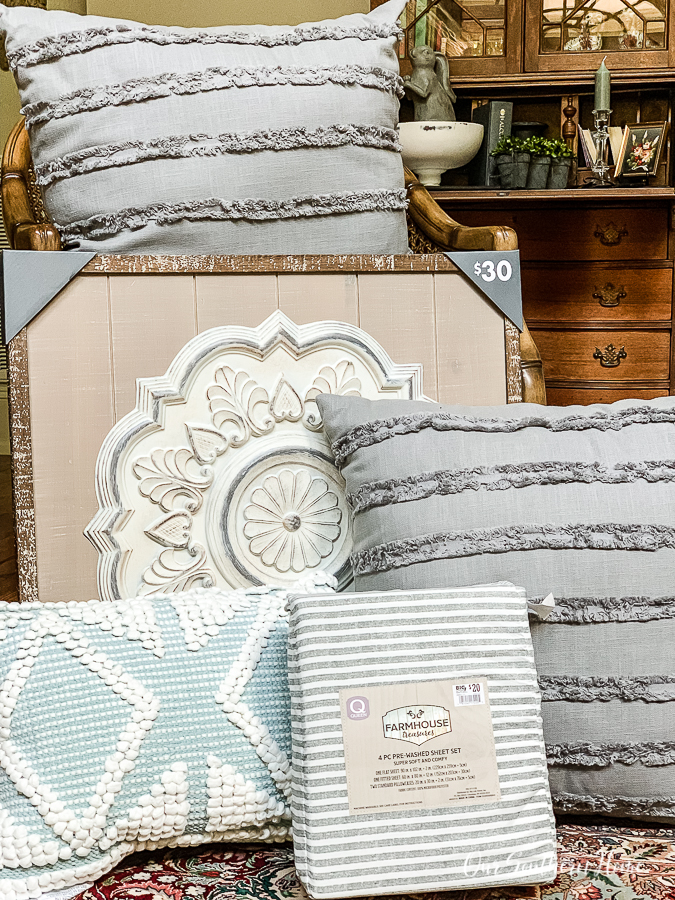 Our shopping trip to Big Lots to pick up Gain and a few other spring cleaning items turned into a full on finish Ashlyn's bedroom trip! Look at these perfect things that we found to get that cottage farmhouse look she was after. She needed a set of new sheets, a few more bed pillows and art for above her bed to complete her look.
Are you ready to be blown away with what paint and a little decor can do to a space?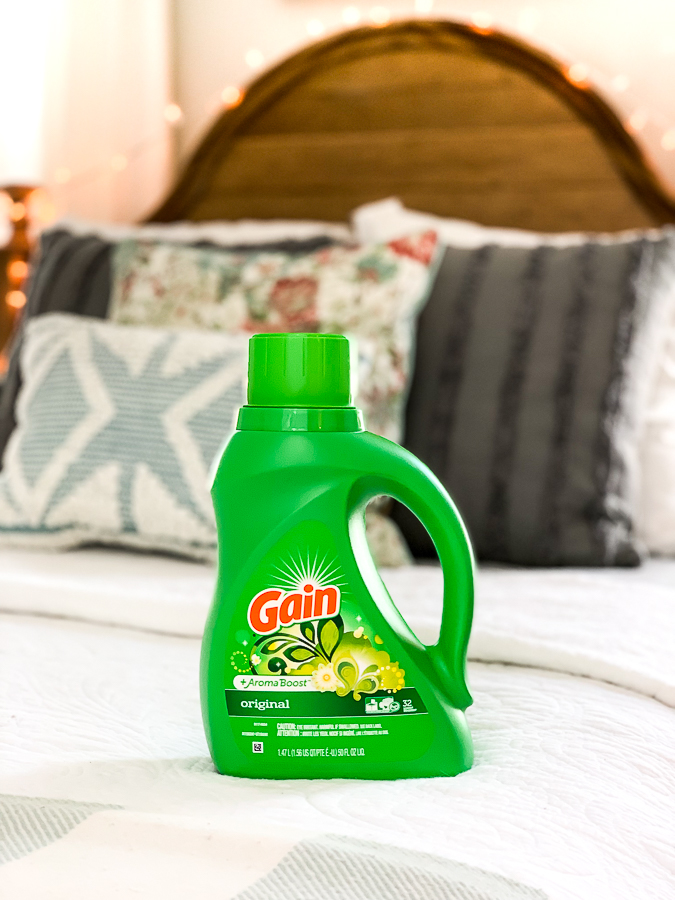 Before we started decorating, we did some spring cleaning first with our original shopping intention, Gain. We washed her coverlet, and blankets in her room. Gain is great for lifting dirt and leaving a fresh, light scent with the original variety. Our pets sleep with her frequently so her coverlet gets frequent washings.
Gain is safe for regular and high-efficiency washers.
This is the time of year that I do some serious spring cleaning in terms of washing. The kids are home from college and that means frequent overnight guests from their friends and other family members. While bedding is clean, it's not as fresh as I'd like for the kids coming home so I always wash all bedding and towels. Just sitting there on the beds and towel racks, things get dusty!
I do a big wash 2 times per year, 1x in the spring and 1x around Thanksgiving before holiday guests visit.
wash all coverlets
wash all sheets
wash all blankets
wash all towels whether they've been used or not
wash curtains if allowed
wash throw blankets in family room
Of course in between those 2 big wash dates, things are cleaned as needed. I wash our master bed coverlet as needed which is usually 1x per month.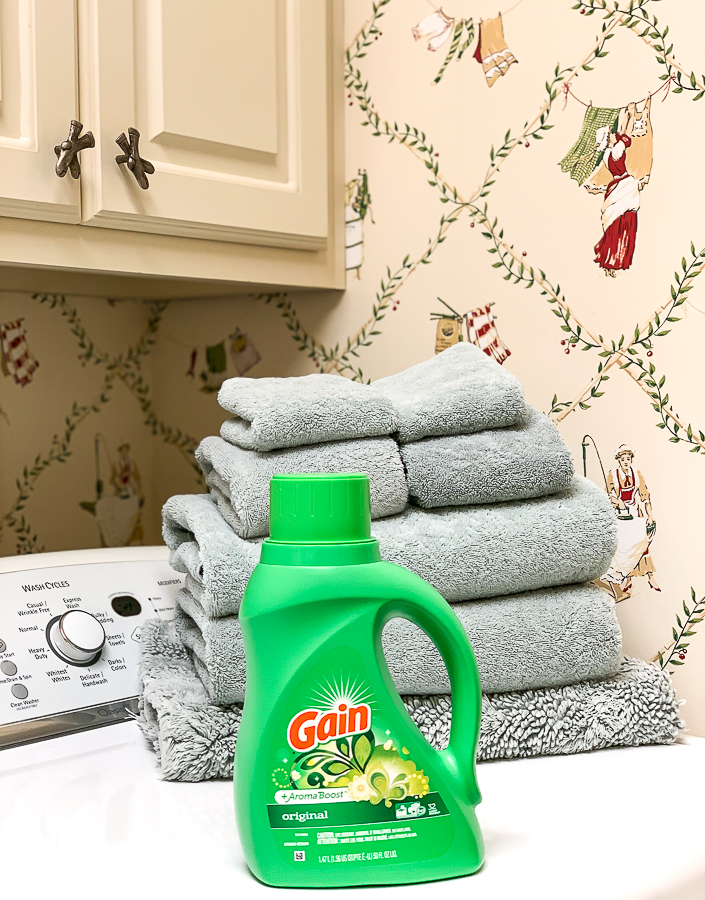 I always wash the guest bathroom towels before guests arrive. I want them dust free and smelling fresh!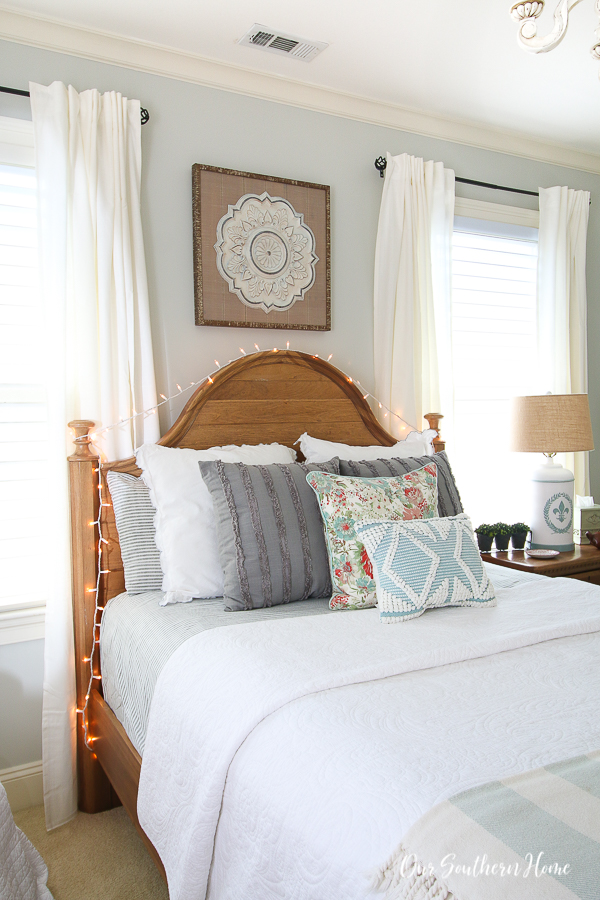 After all the existing bedding was laundered, we got to decorating. Just by finally adding the curtains hiding under her bed, 3 new pillows, striped sheets and the wall art over the bed…..she has a much more finished look.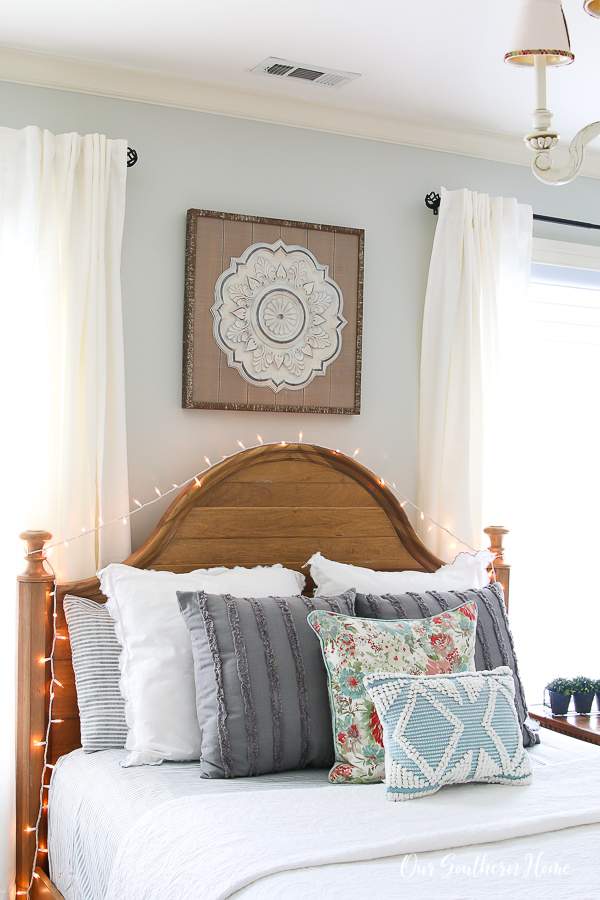 What a difference!
We knew instantly that these gray striped sheets had to come home with us. They are so soft and the perfect addition for a farmhouse cottage bedroom.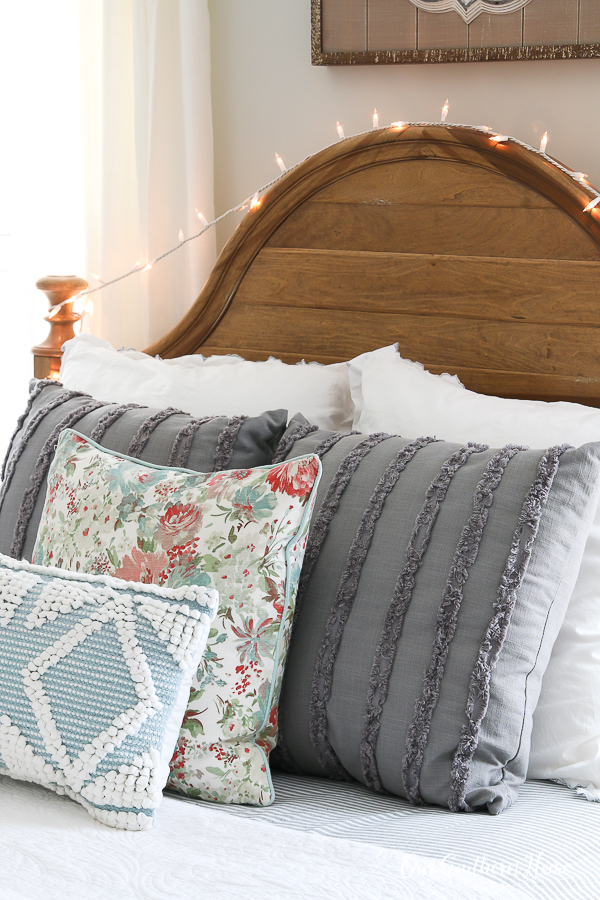 She already had the euro shams and floral pillows. When you add pillows with different textures, you are also adding pattern to give it a great designer look. Florals are great for a cottage farmhouse look.
The darker gray pillows brings out the wall color. I really like the striped texture they add with the raised look. The soft blue pillow in front completes the look.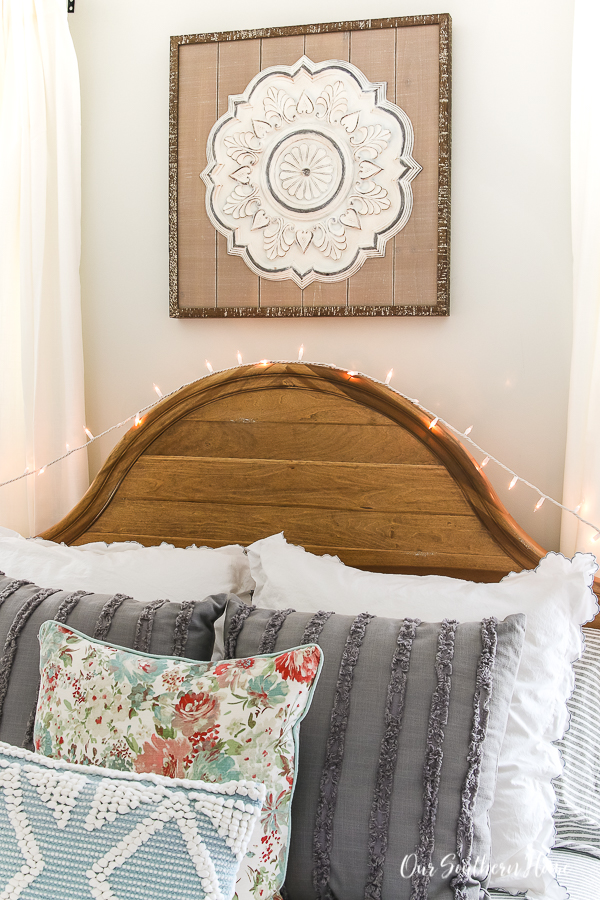 Going with neutrals as her foundation, she could easily remove the floral pillow and change it for another pattern to get a completely new look. Doing this makes it simple to change-up a look for the seasons.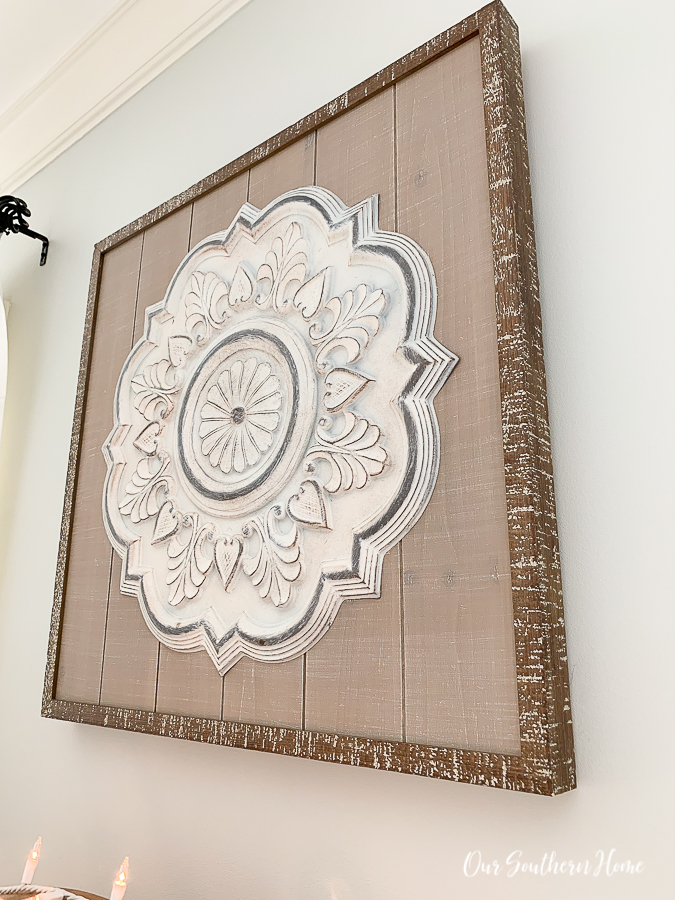 This medallion wall art really surprised me. It has dimension and texture for a look that will work with any color scheme. The gray outline really pops against the walls.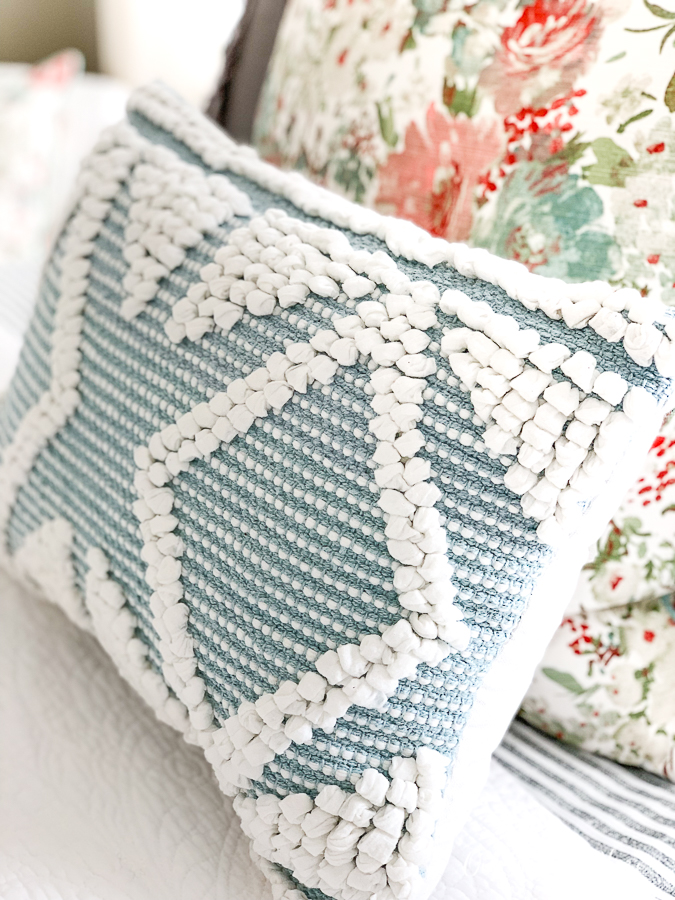 This pillow is perhaps my favorite. I can't get over how high-end they look. Big Lots is totally on trend with excellent prices.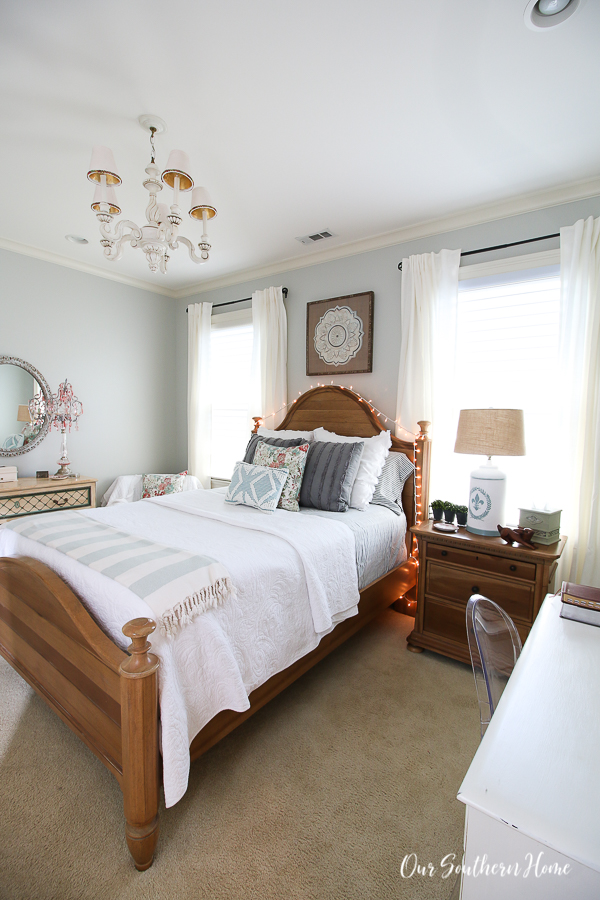 The debate is on for a bed skirt. Ashlyn doesn't want one. She like the wood of the bedrails showing. She really needs new carpet so that is on the to-do list for down the road. I think we will add a 8×10 rug eventually to go partially under her bed for more pattern and color. For now, she is loving the new look for her summer stay at home.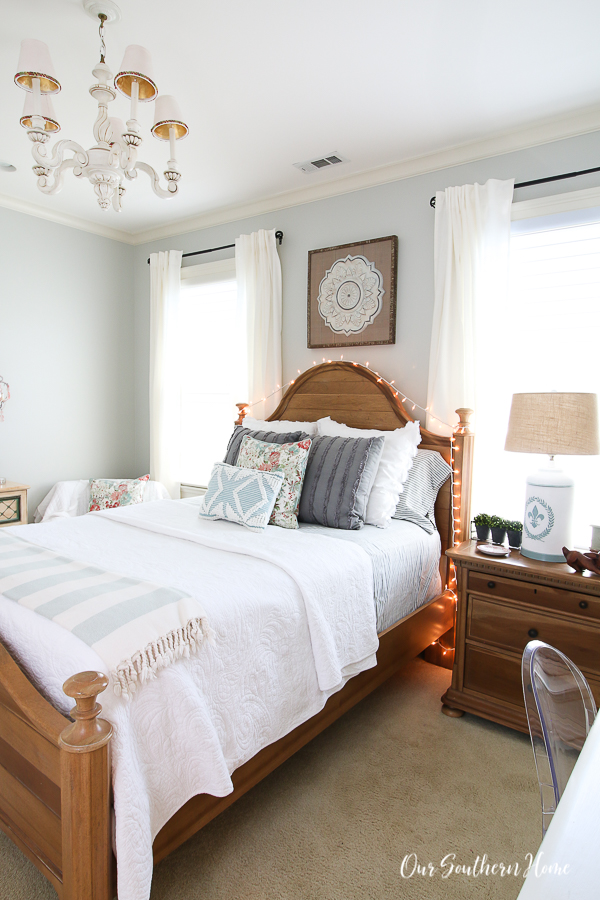 Just in case you were wondering, her room always looks like this! She's a bit of a neat freak. The RA in her dorm was always amazed at regular room inspections. She even cleans it regularly. Don't ask to see my son's room right now? I would not do that to you! Ha, ha! Seriously, his room is next up for some much-needed finishing touches.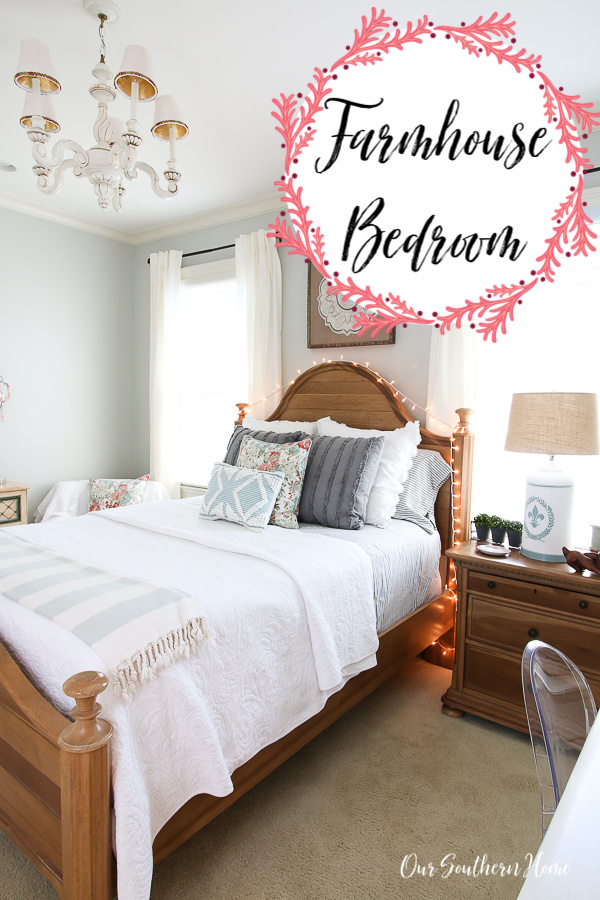 What are you waiting for? Jump in the car and head to Big Lots. Head out for the necessities and bring home a new look in one stop!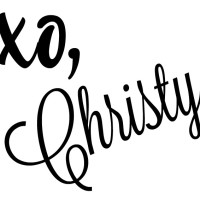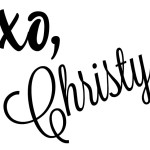 Buffer