This post was sponsored by Big Lots. I was provided product and/or payment for this post. All opinions are that of Our Southern Home.
Spring has absolutely flown by here in the south. It's pretty typical that we start off cool with no real graduation in temps. Bam!!!…..one day we wake up and it is suddenly hot.
I love it. I love when the worst of the pollen is over. We can finally clean our outdoor areas and furniture of the yellow stuff.
Shopping at Big Lots was a lot of fun. I honestly had no idea that they were carrying such a fabulous array of home goods and furniture. My daughter and I went one afternoon and stayed forever checking out every inch.
Our goal was to spruce up the freshly remodeled porch that only had 1 bench.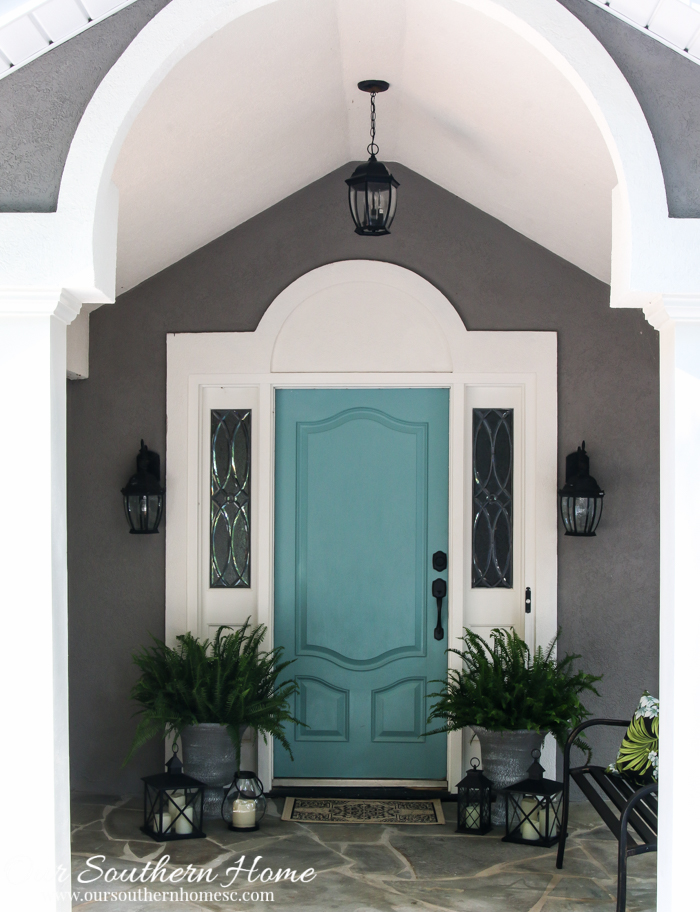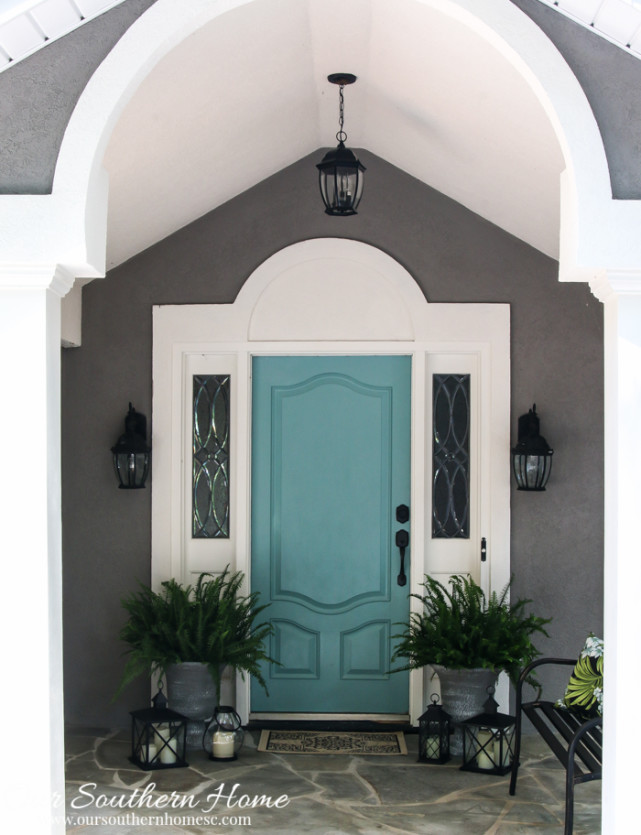 No empty porch any longer!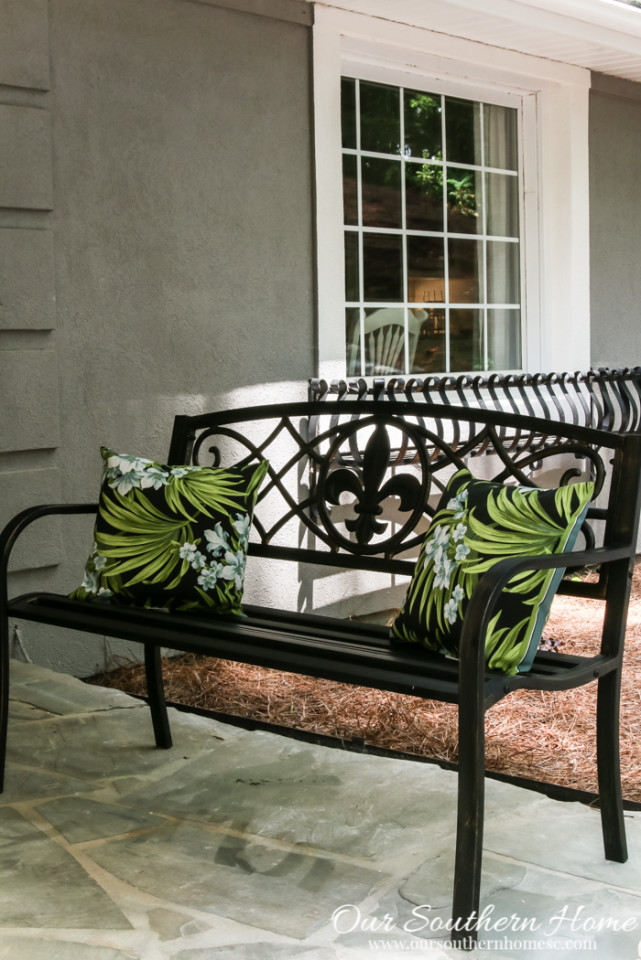 The once lonely bench has a pop of color with these striking outdoor pillows.
Pillows are a great way to spruce up a space!
Add needed color to seating
Affordable to change out with the seasons
Add softness to a space
Make seating comfortable and inviting
Add an extra layer of texture
Look for pillows that have different fabrics on the other side. Gives you more bang for your buck!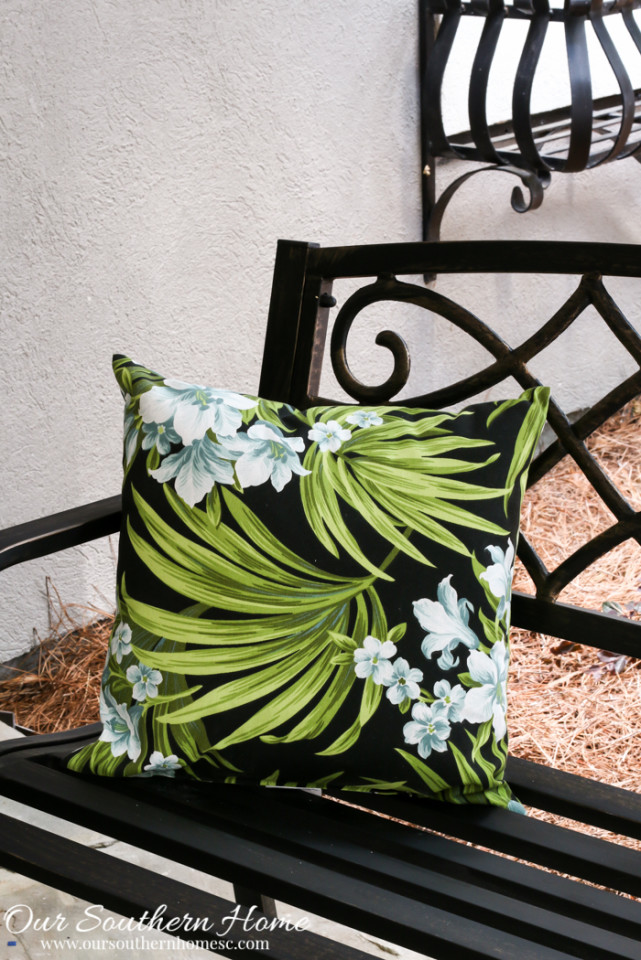 I knew that I was planning on painting the door an aqua shade. These pillows were the perfect choice with the shades of blue. The black is bold and really stands out to create a dramatic space.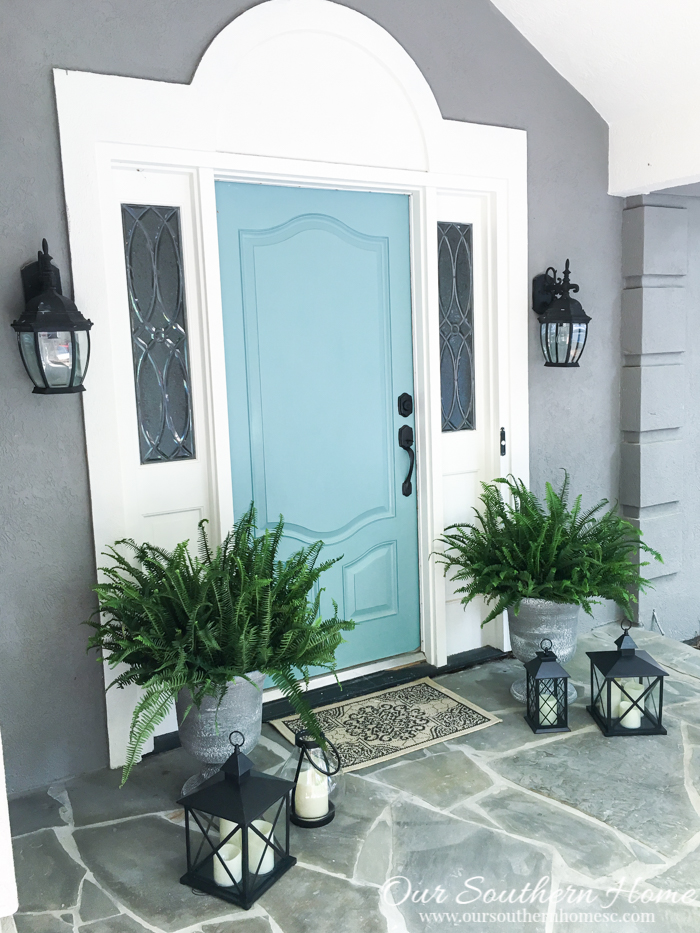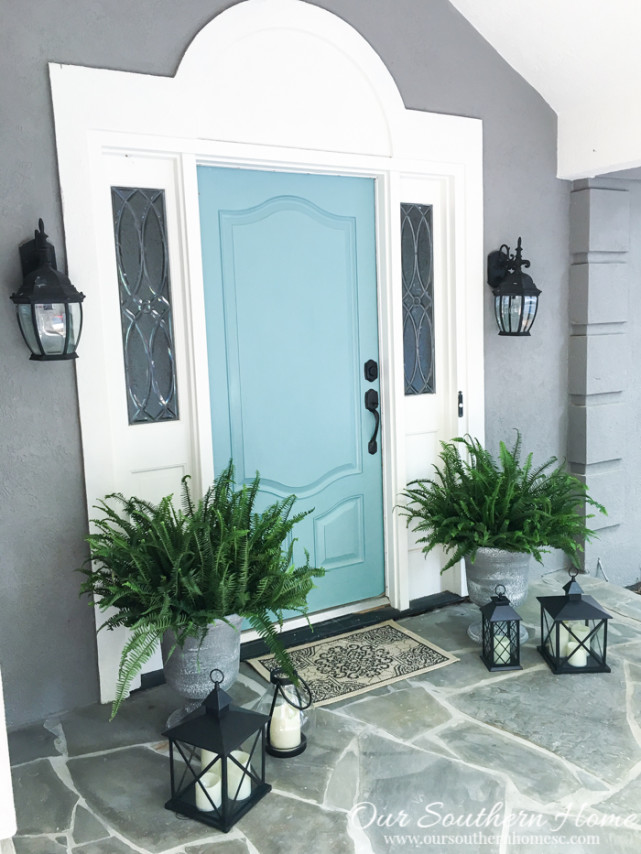 I am totally smitten with that aqua blue door. Since I chose a new oil rubbed bronze lock set, I knew that touches of black would really accent the door area. Between the black lanterns and the rug, I think I've achieved that. The blacks also help anchor the seating area.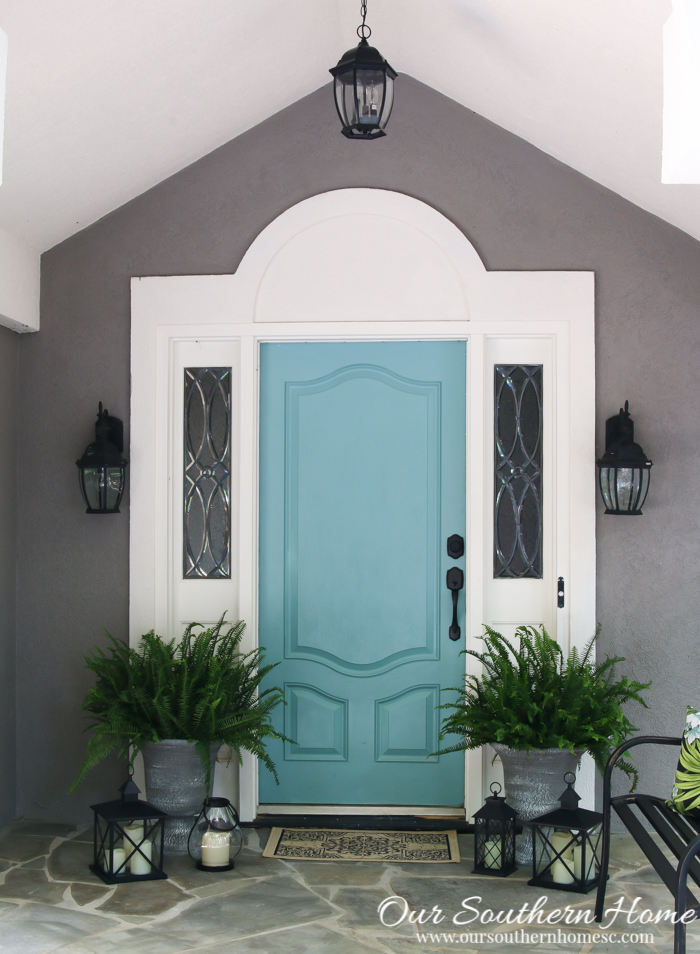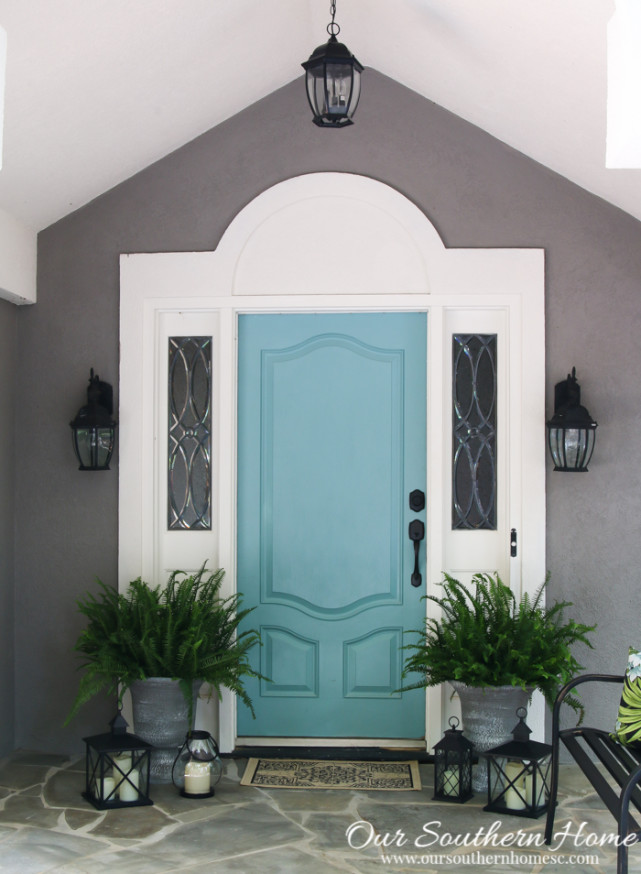 If you notice, the two lanterns on each outside area of the ferns are the same. To avoid going too matchy, I used two different lanterns on the inside.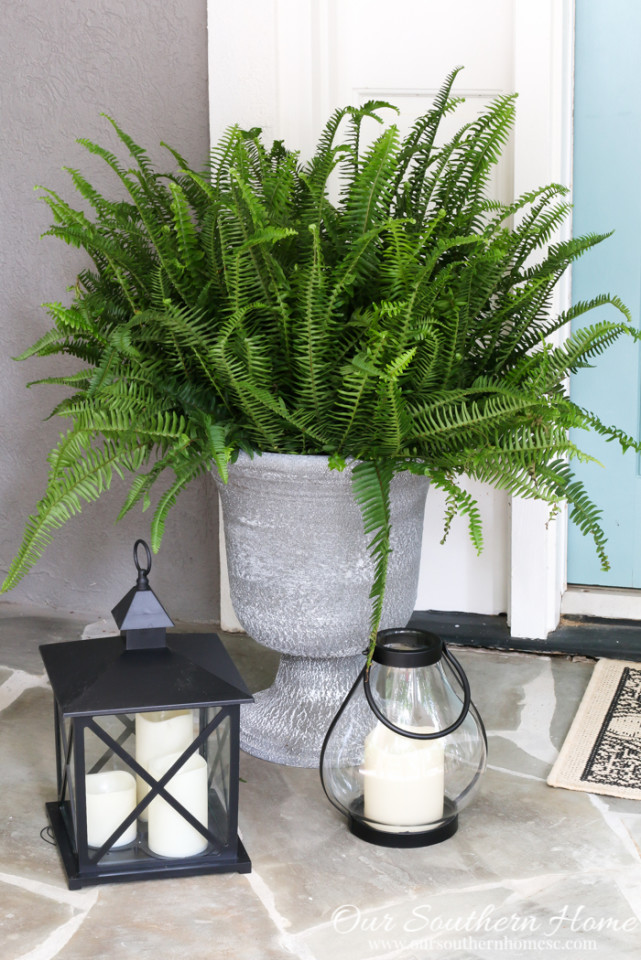 These lanterns have faux candles which are perfect for outdoor use! They have a battery operated LED light.
Lanterns are so versatile!
Use them outdoor to line walkways, steps, and tabletops
Use them indoors to adorn your mantel, tabletops and vignettes
Beautiful on interior stairs for a party
Perfect use all year-long, especially during the holidays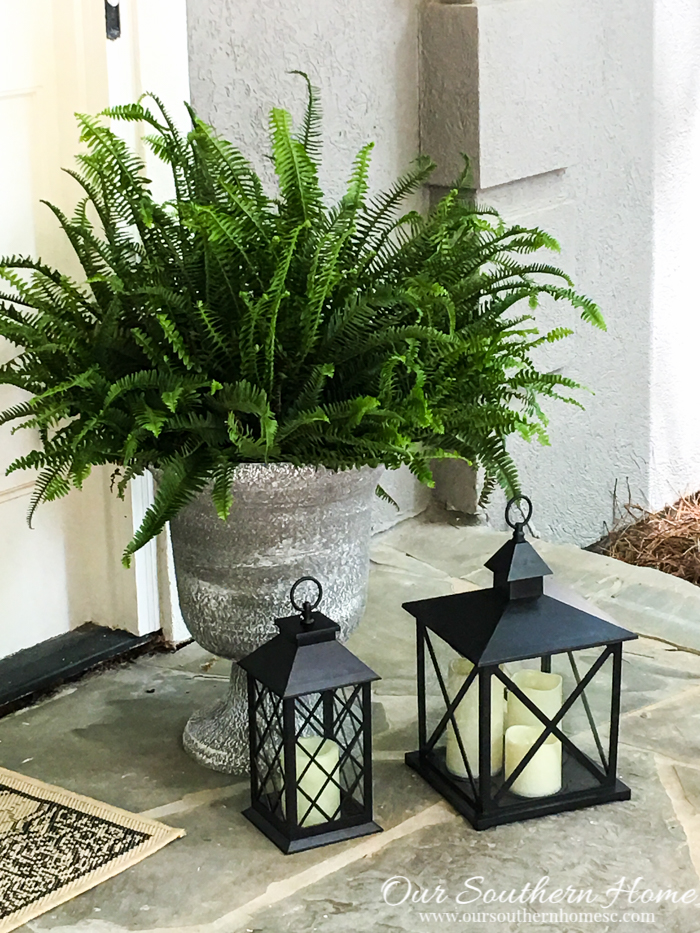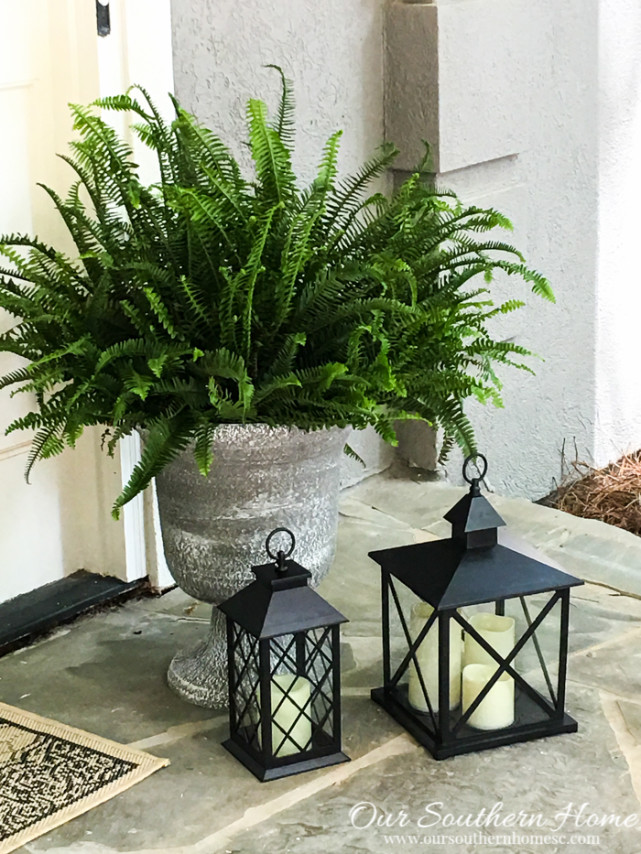 I love that these lanterns have hooks at the top. Makes them perfect for hanging from rope out of trees or using Sheppard's hooks in the garden.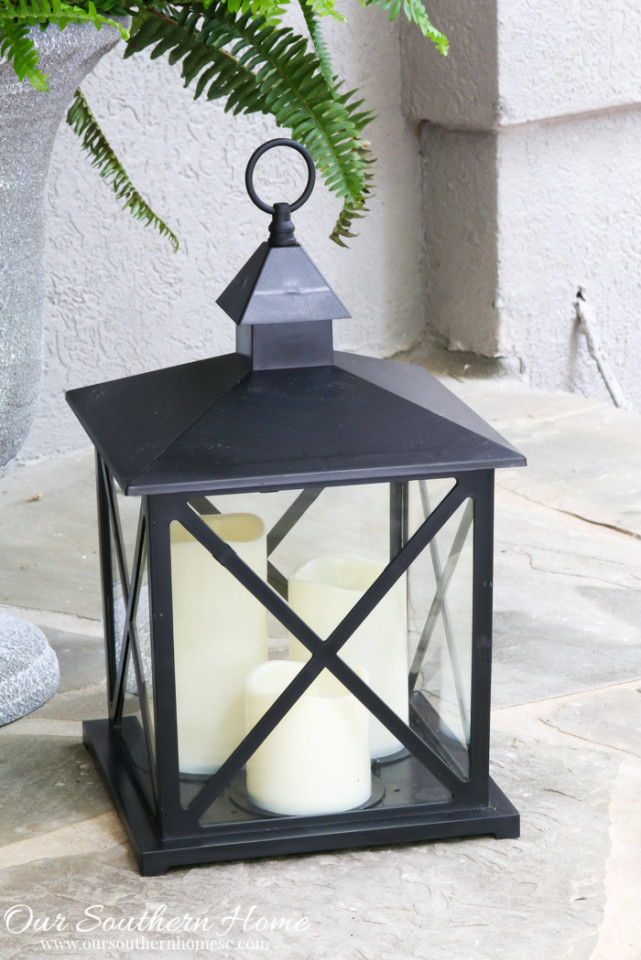 The faux candles are affixed to the base so no need to worry about them sliding around.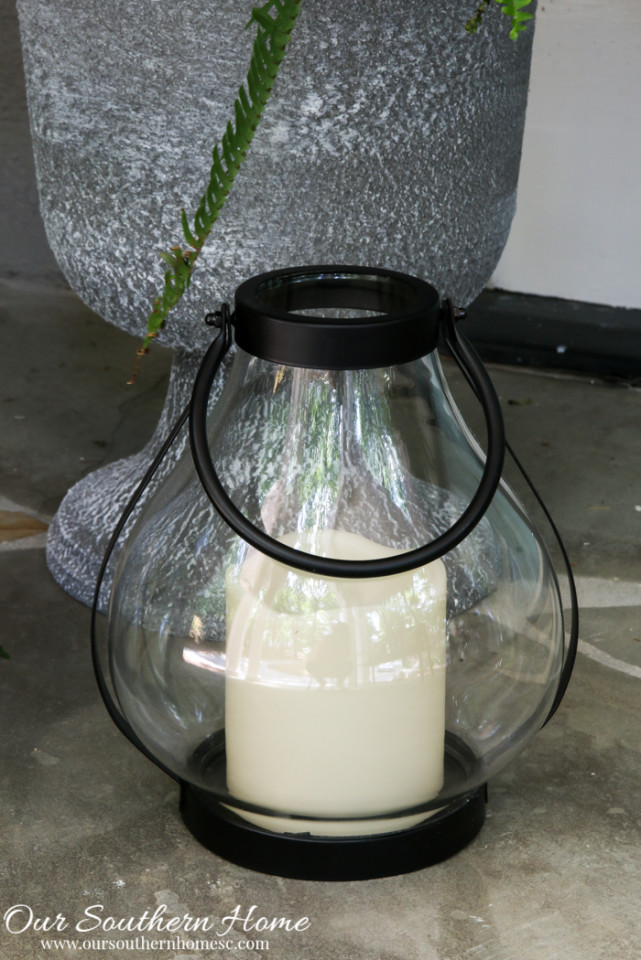 I think this one is my absolute favorite! How about those heavy-looking urns!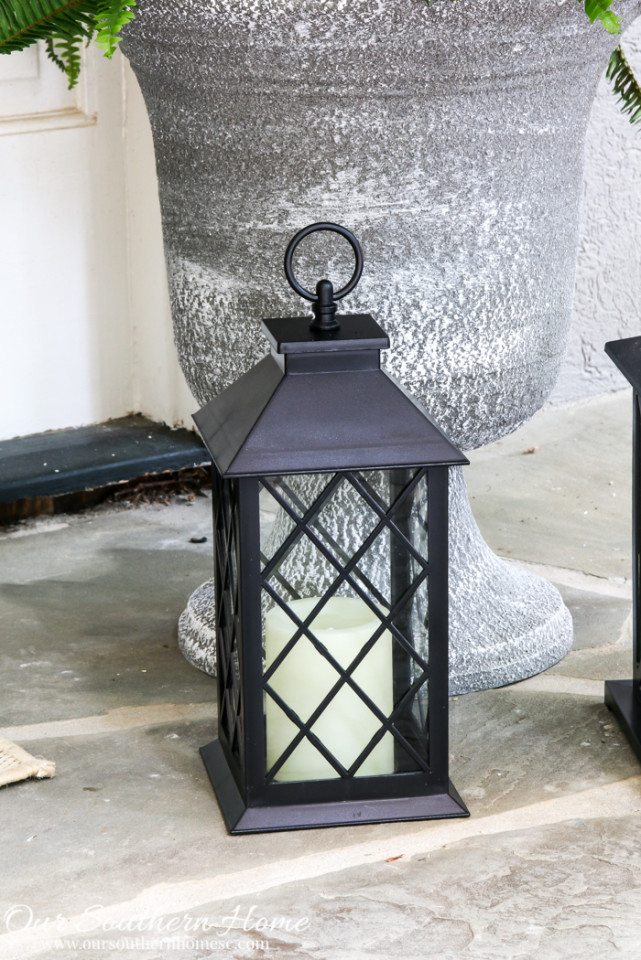 These urns are not heavy stone or concrete! They are faux and so expensive and heavy-looking. They are the perfect size to drop a fern in.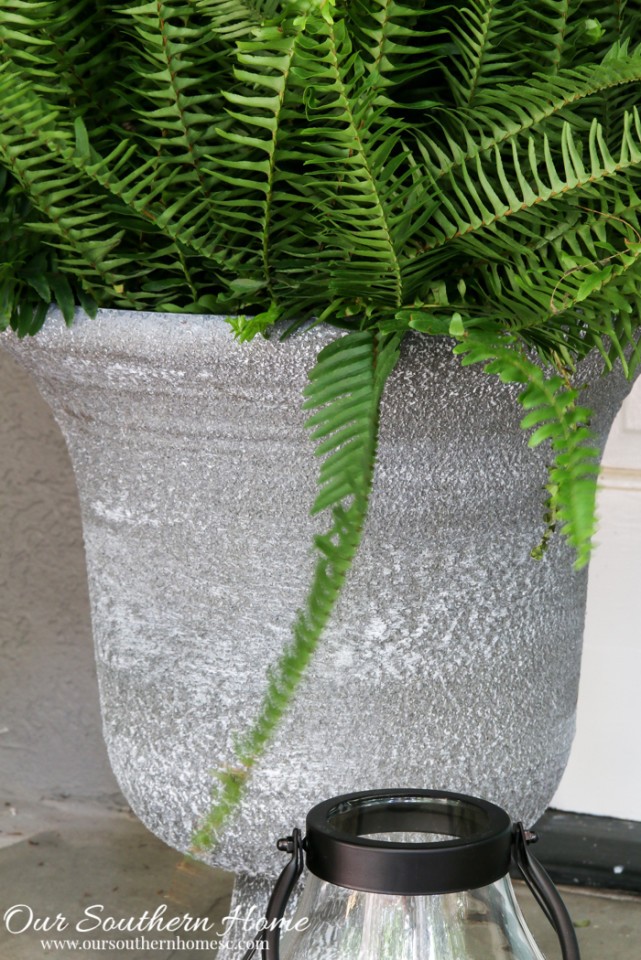 The gray and white tones of the urn really make the ferns pop! Up against the gray house and flanked by the black lanterns, it creates a sophisticated yet relaxed look.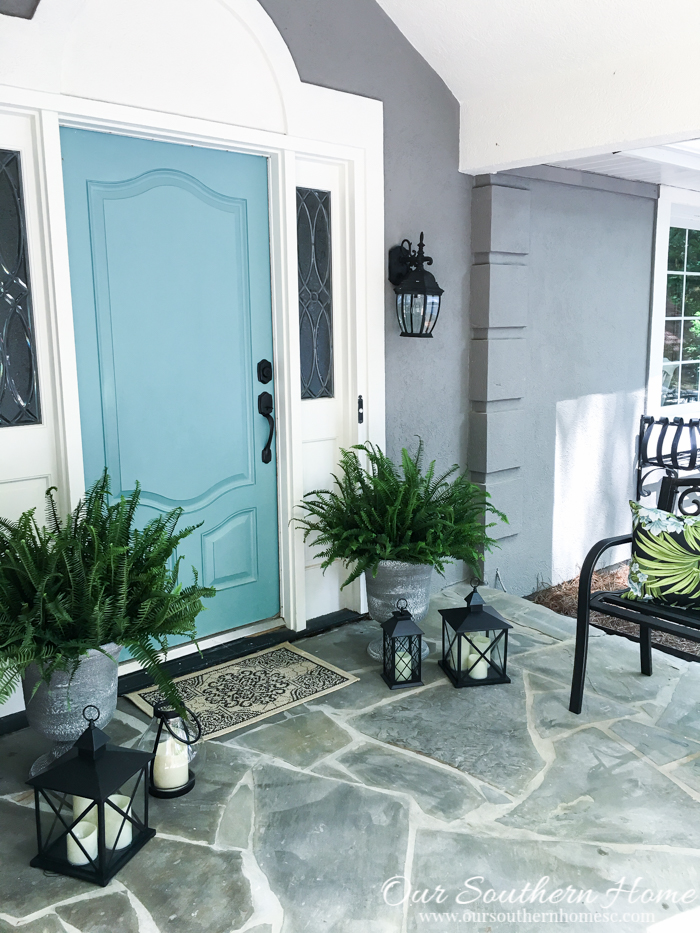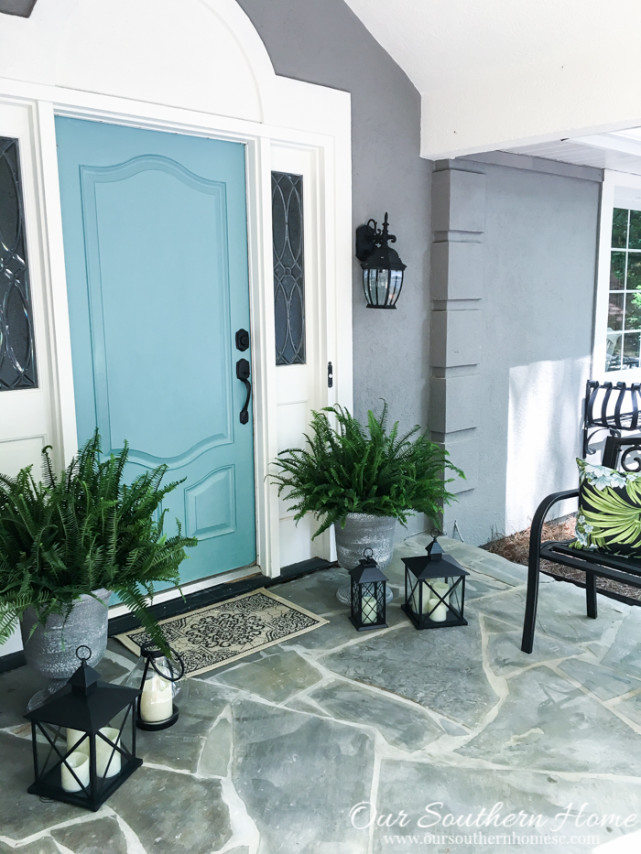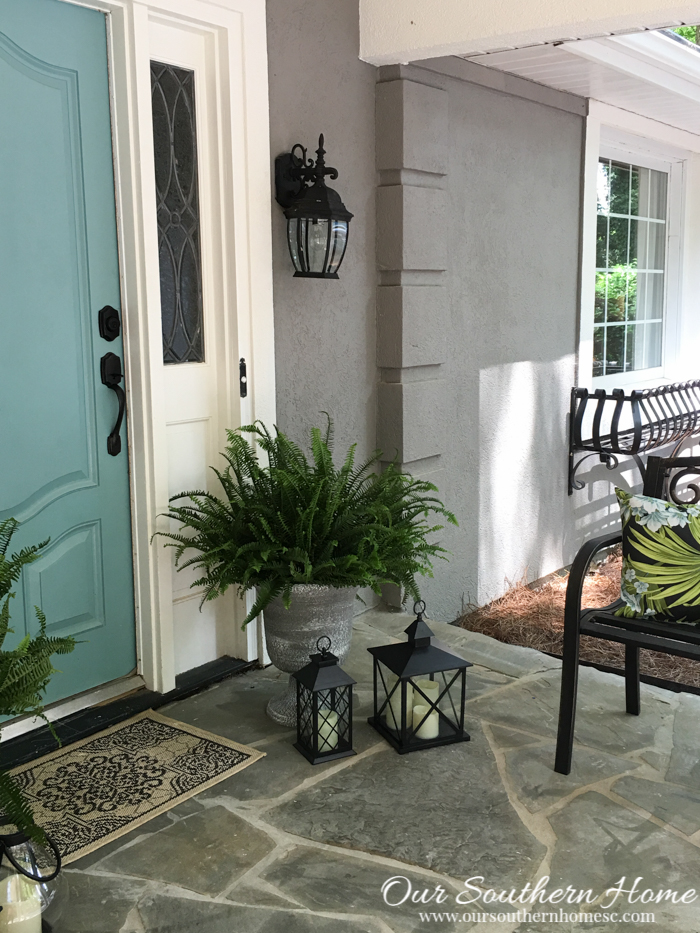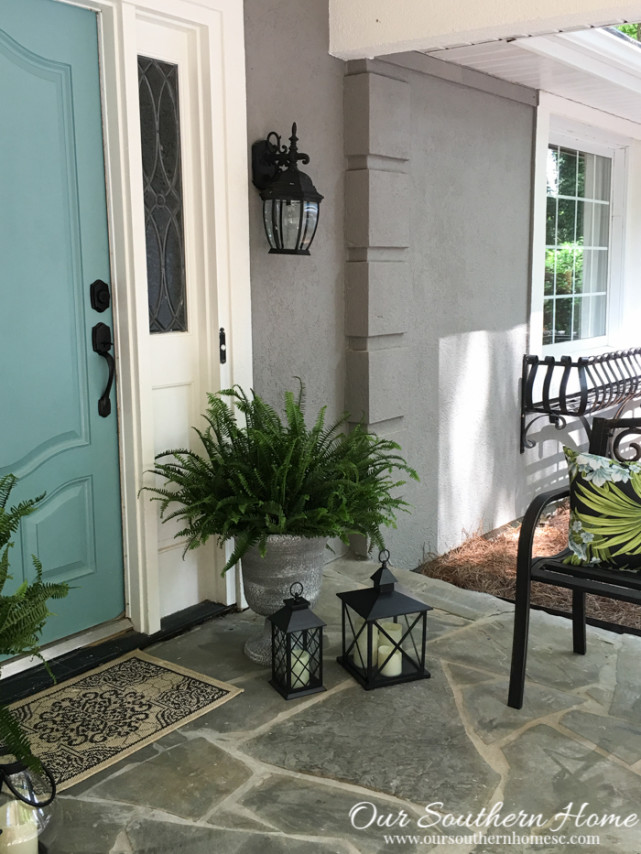 I looked on the Big Lots website before heading to the store to shop. I had an idea of what I was looking for before leaving my home. The site is really easy to navigate.
This garden table was not available in stores.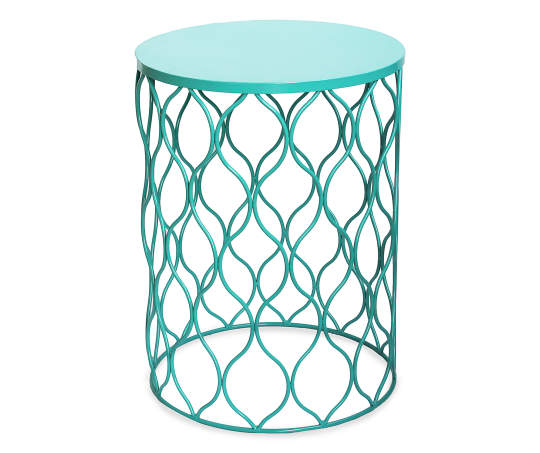 I decided that I must have it. I felt it would be a great addition to the porch to rest a drink on while reading a book or chatting. As soon as I receive it, I'll be sure to update this post with a photo. It would also be perfect indoors as well. There are several styles and colors available.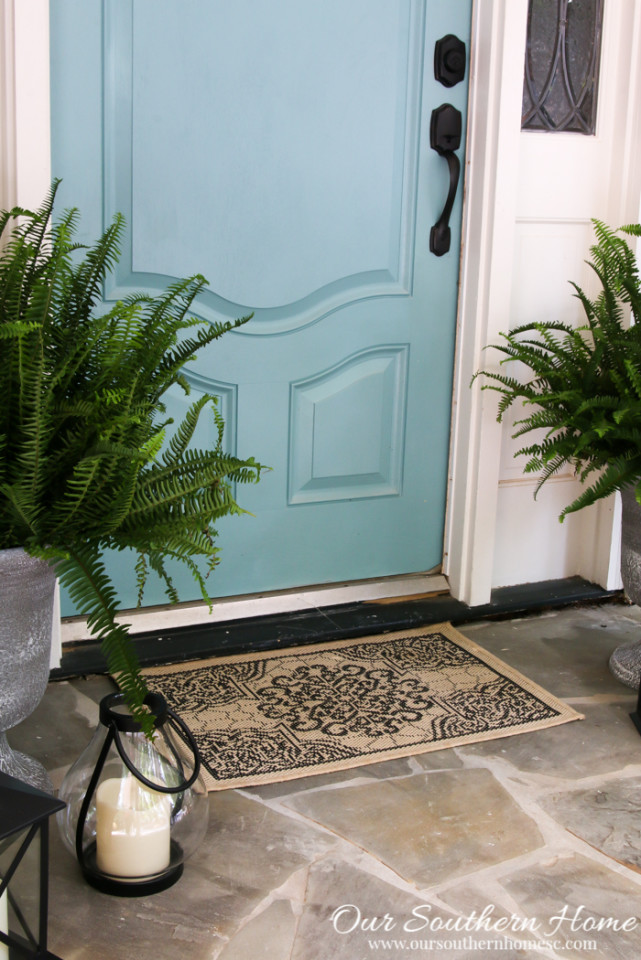 I debated on rug sizes for this space. Ultimately, I decided on a smaller rug. The stone is just too pretty to cover. You can see Big Lot's extensive outdoor rug collection HERE.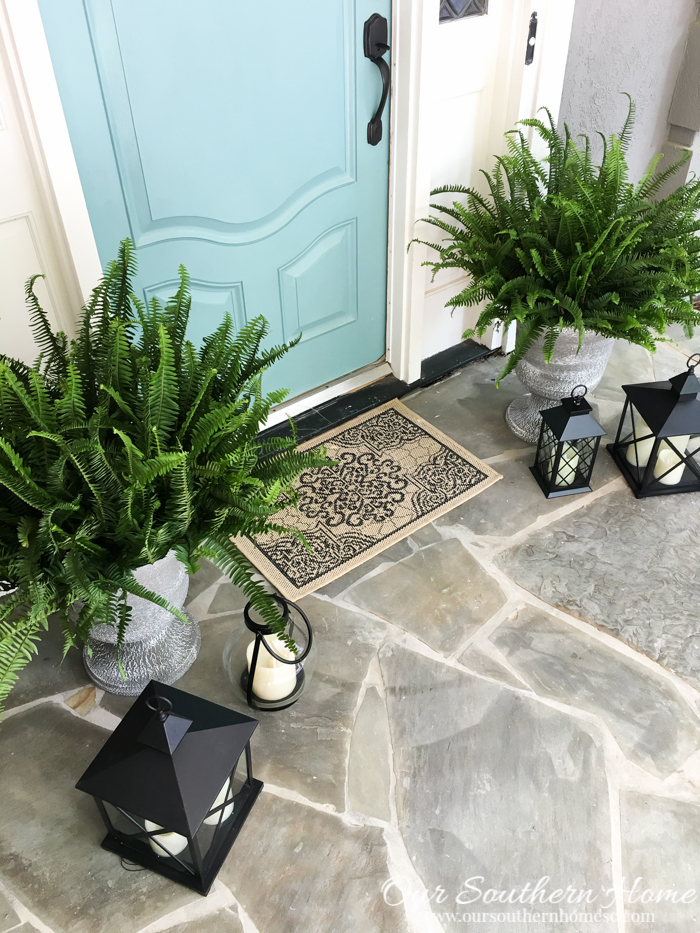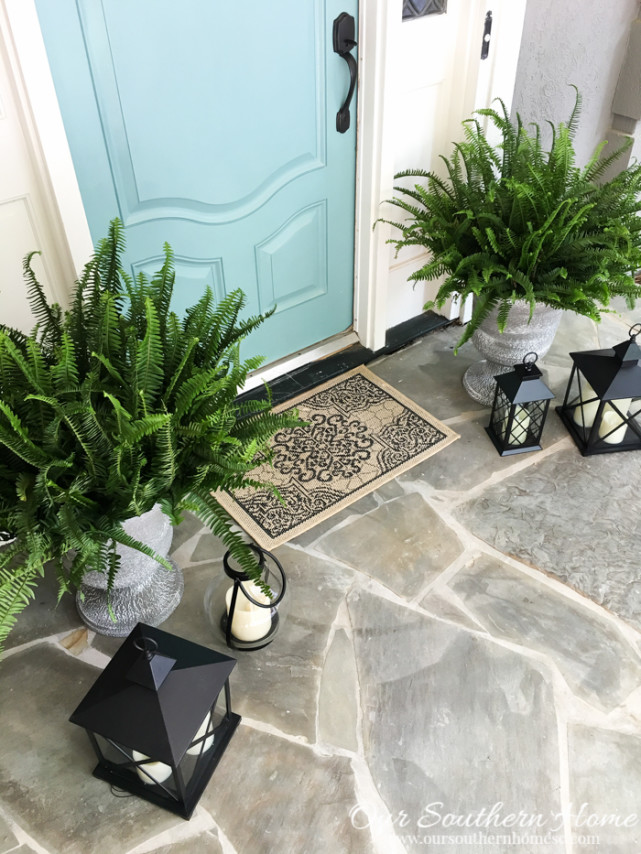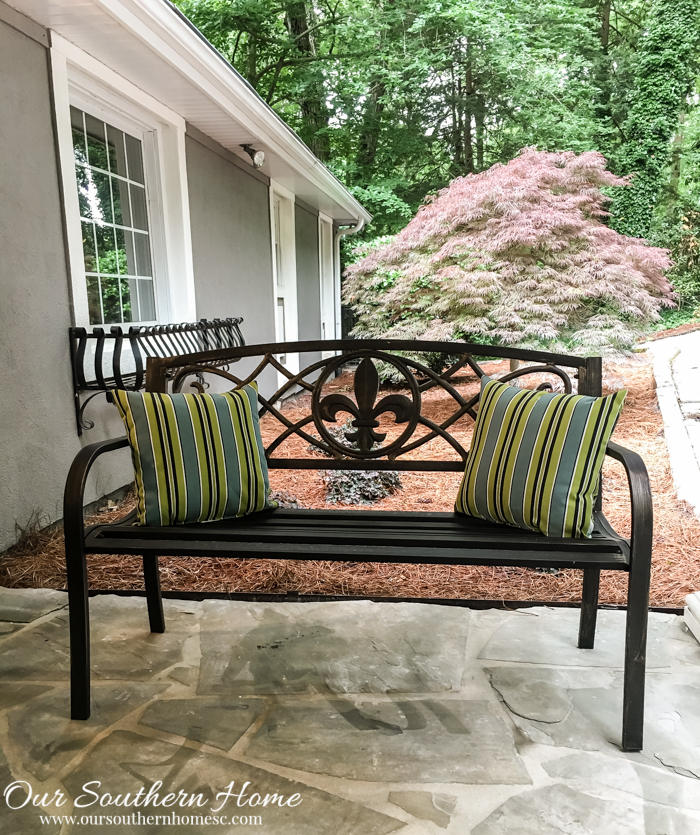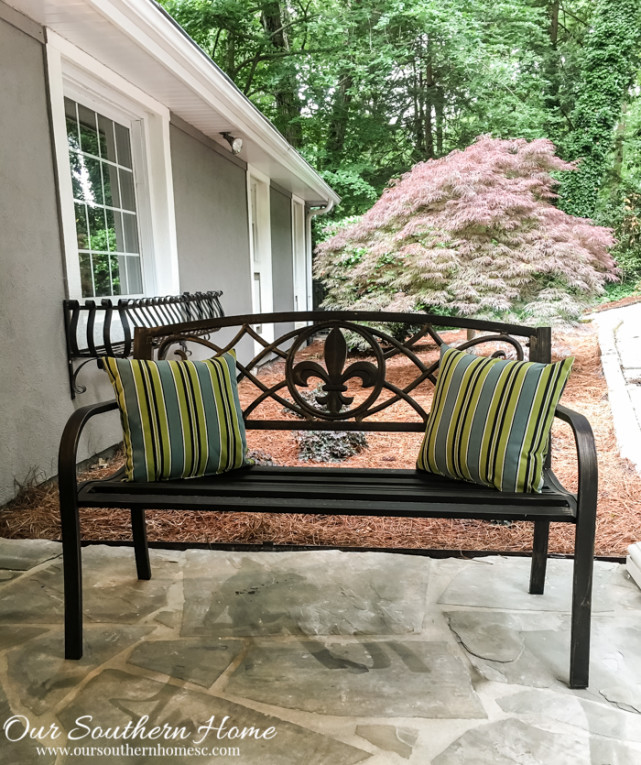 Wait! Do you notice the change? Remember I said to look for outdoor pillows with different fabric on the backs??? These pillows reverse to a stripe for a completely different look!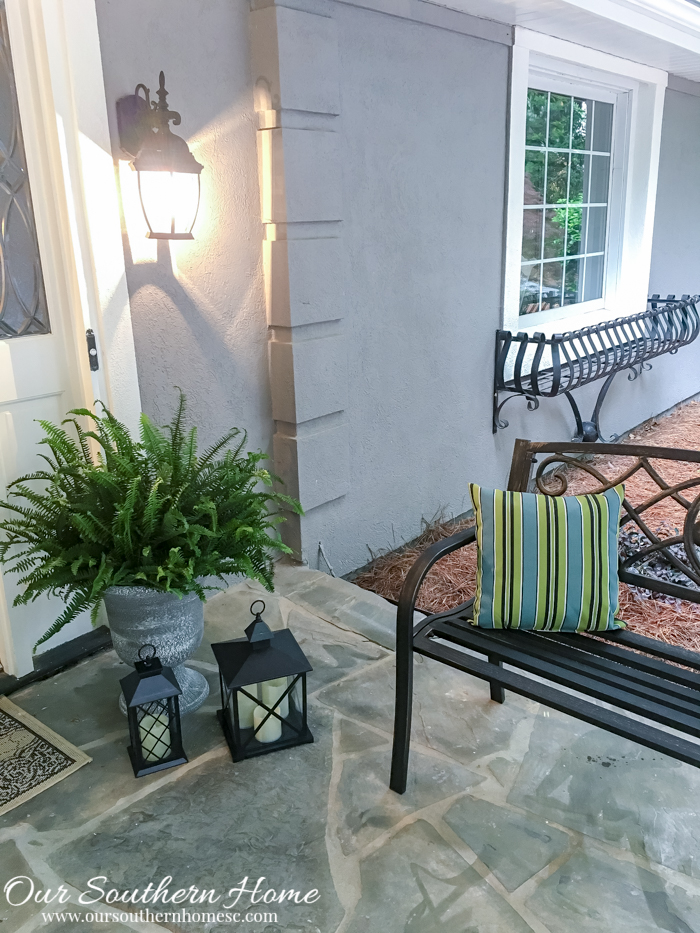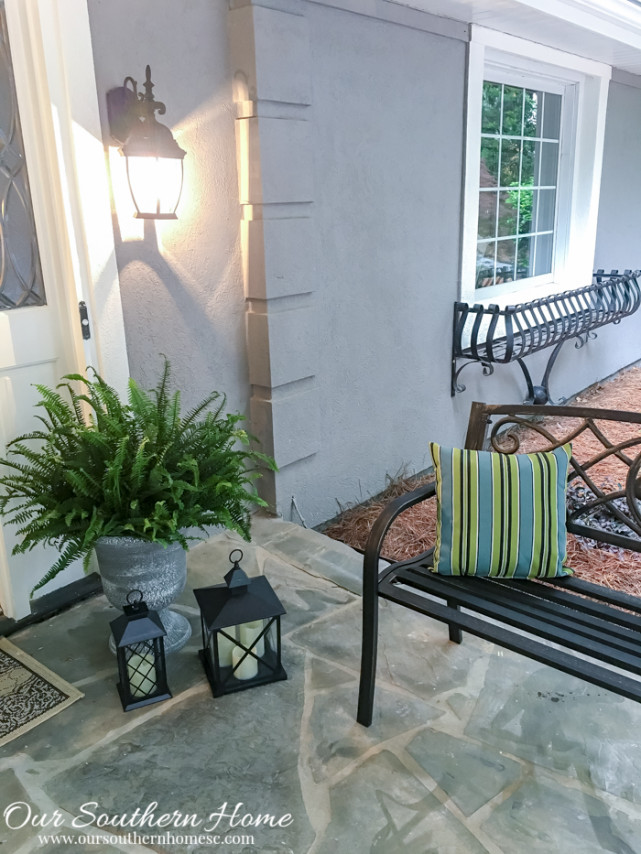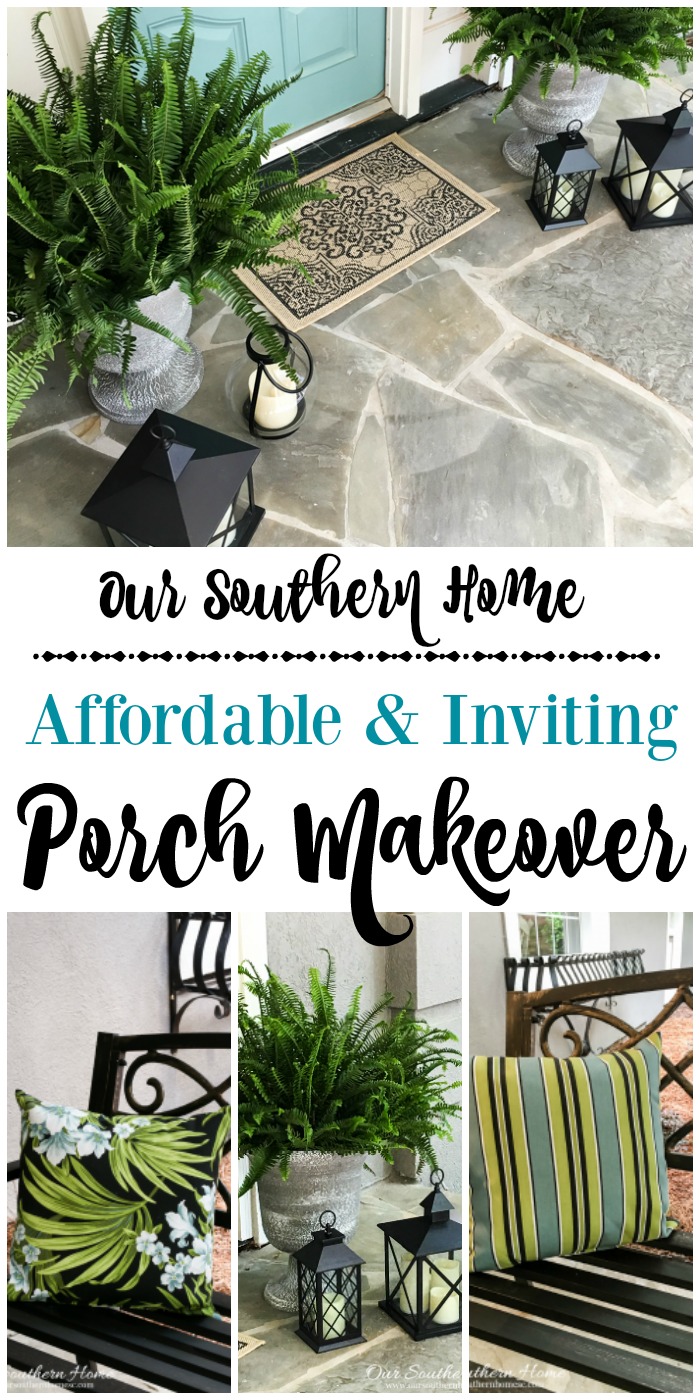 Be sure to PIN the above image for later and to share with your friends!
Big Lots has certainly shown me that high style can come at a very affordable price!
I'd love for you to follow along on social media!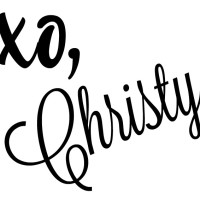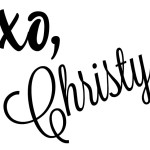 Buffer