**This post is sponsored by College Inn. All opinions are my own**
I've got my stretch leggings and a sweater tunic pulled out of my winter crate. Yes, I'll be ready for Thanksgiving Day and all the wonderful food I'll consume….hence the stretch leggings.
Every year, we go to my mom's for Thanksgiving Dinner. Mom makes the turkey, and everyone brings a side dish or two.
I always bring the Cornbread Dressing. With the addition of College Inn Chicken Broth, I have a full-flavored favorite family recipe.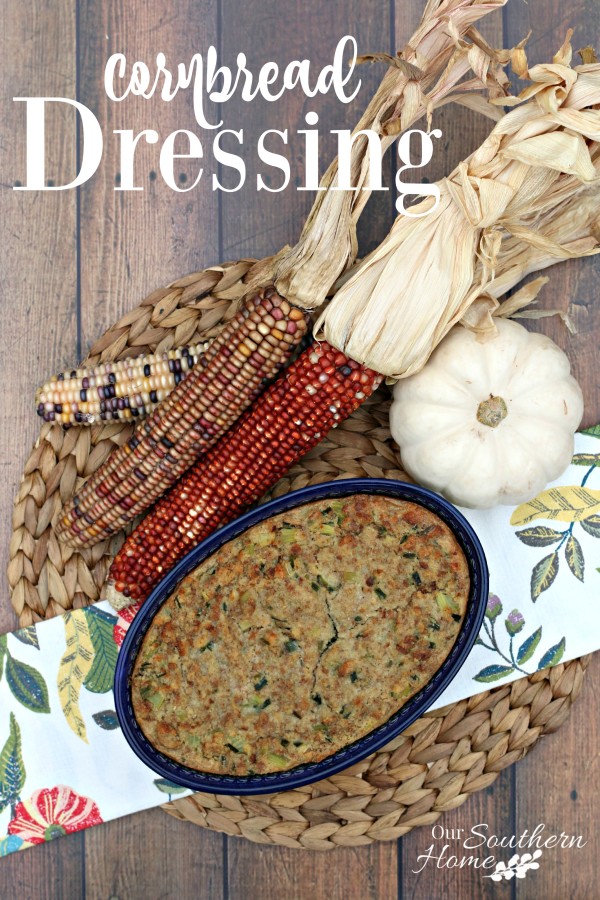 This recipe has evolved through the years based on what my Dad threw into it. He also added chopped hard-boiled eggs, but I leave that step out.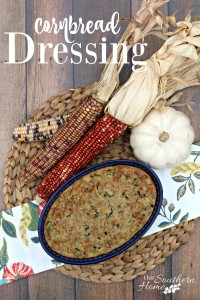 Cornbread Dressing
2015-11-18 02:03:07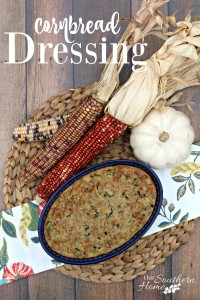 Great make-ahead dressing recipe perfect for the freezer.
Ingredients
2 cups of fresh cornmeal
1/2 cup all-purpose flour
2 tsp baking powder
1 tsp baking soda
1 tsp salt
1 tsp sugar
2 tbs vegetable oil
6 eggs
2 cups butter milk
2 tbs melted butter
5 tbs butter
4 cups chopped green onion or 2-3 large bunches chopped
4 cups celery chopped (about 1 bunch)
14 oz package of herb-seasoned stuffing mix
5- 14-1/2 ounce cans of College Inn Chicken Broth found at Walmart
Cooking spray
Instructions
While you are prepping the recipe, heat a cast iron skillet with the 2 tablespoons of vegetable oil in a 425 degree oven for about 25 minutes. You want to pour your cornbread batter into a HOT skillet. This helps to keep it from sticking and gives you a nice crisp crust.
Combine the first 6 ingredients in a bowl with 2 of the eggs & the milk. Mix until well blended. Pour the heated oil into the batter and blend together.
Pour into the hot skillet.
Bake at 425 degrees for about 20-25 minutes.
The cornbread can be made in advance.
Let the cornbread cool on a wire rack while you prepare the rest.
Melt the 5 tablespoons of butter in a skillet on the stove.
Saute the chopped green onions and celery until tender.
Beat the remaining 4 eggs just until blended in a small bowl.
Crumble you cornbread in a large bowl.
Add the broth, stuffing and eggs until blended.
Now add the onion and celery mixture.
Spoon dressing into a 13x9 inch dish sprayed with cooking spray.
Spoon dressing into dish.
Any leftover can be added to a smaller dish.
Bake uncovered in a 350 degree over for 50 minutes to an hour. It should be golden brown.
Notes
This freezes very well. I always make this in advance and freeze. Then thaw for Thanksgiving. The entire amount will feed approximately 16. Divide into the sized dishes of your choosing based on your need. Freeze the rest!
Our Southern Home https://www.oursouthernhomesc.com/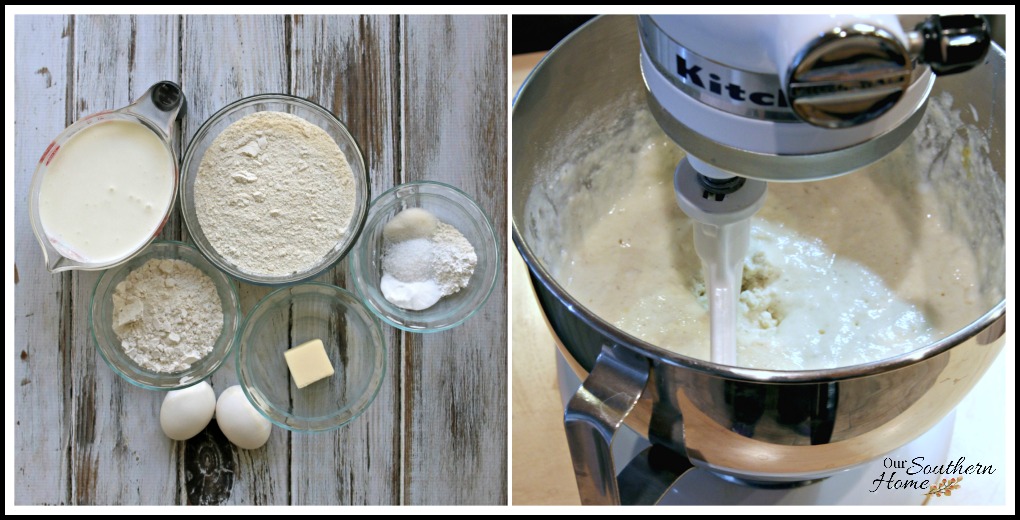 Cornbread is best cooked in a really hot iron skillet. I add about 2 tablespoons of vegetable oil to the skillet. I then place it in the cold oven. Heat the oven to 425 degrees. I let it heat as the oven itself heats. I take it out in about 20 minutes.
Mix all of the ingredients for the cornbread. Pour in the hot skillet. Bake in a 350 degree oven. When done, let cool on a wire rack.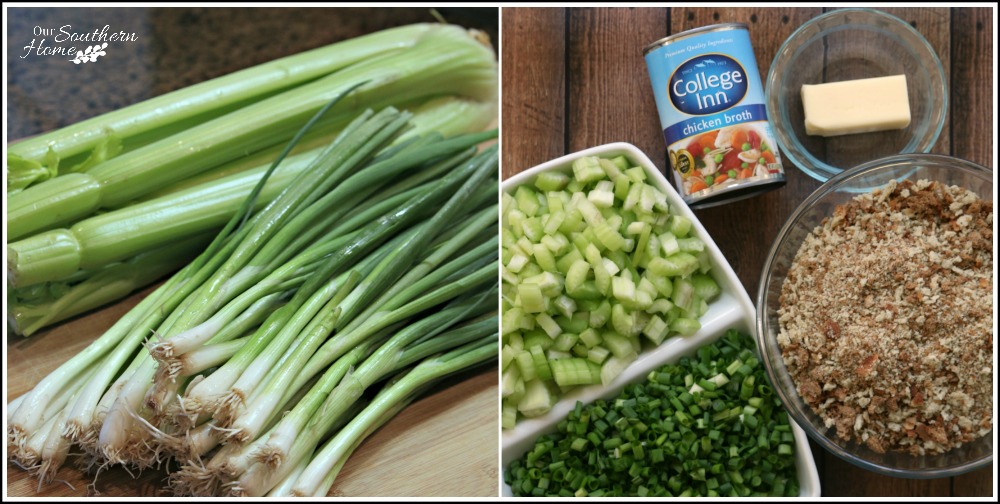 Chop your green onion and celery. It is going to look like a lot, but it cooks down. Saute it in a pan.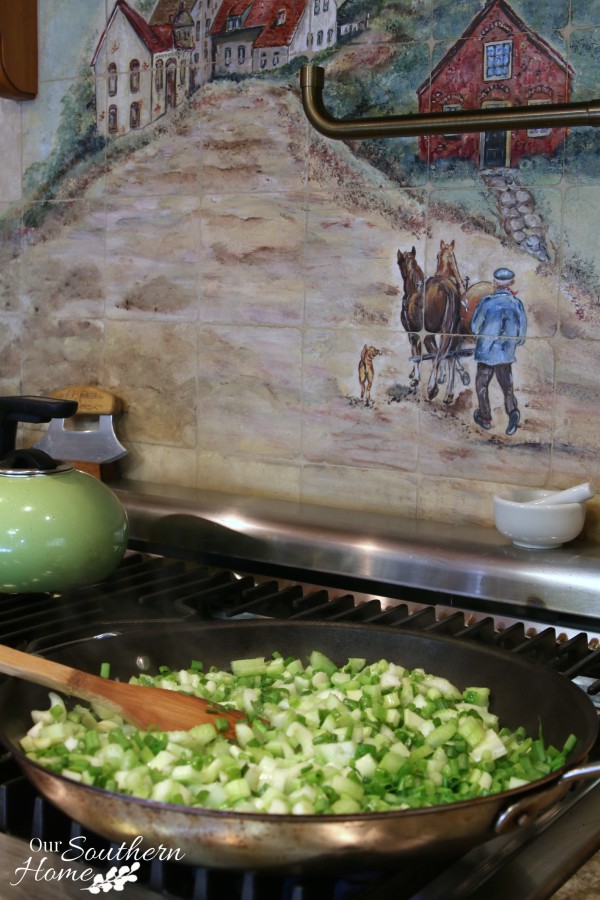 Saute in the melted butter until softened.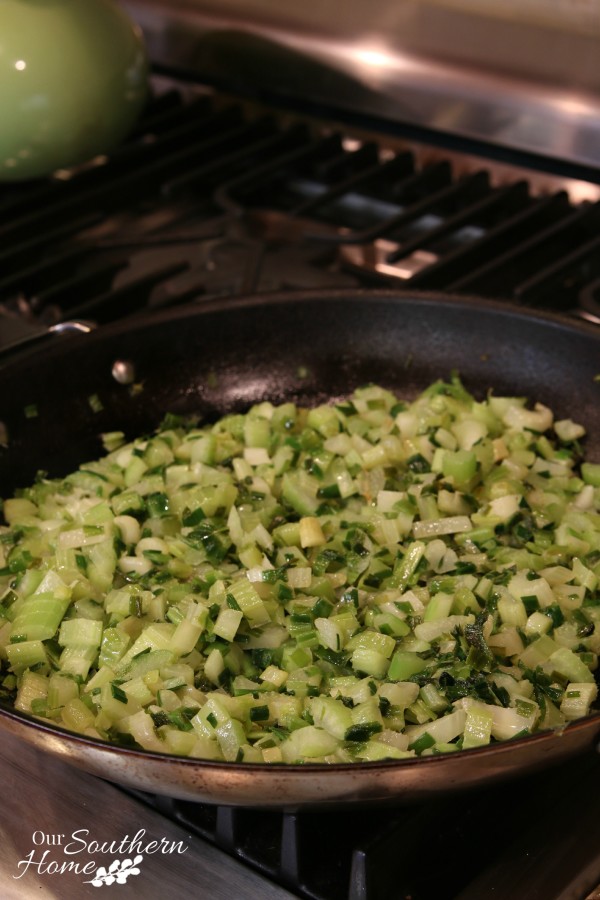 This is what it will look like when ready.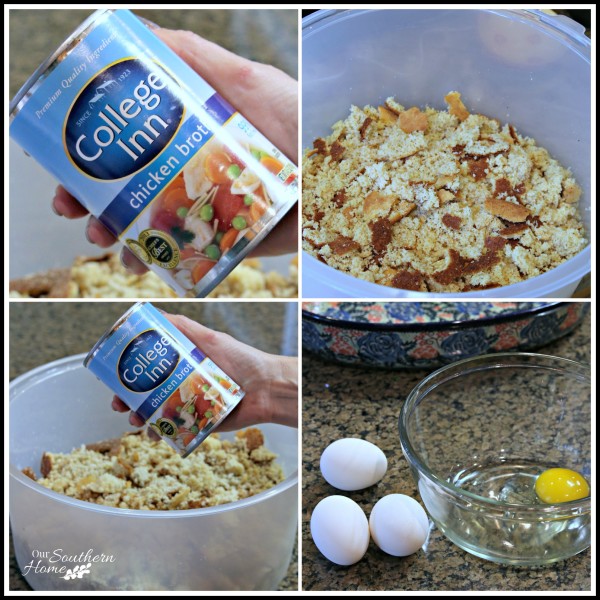 Crumble your cornbread by hand in a large bowl. This is why you want the cornbread to be cool otherwise it would burn your hands.
Add you 4 beaten eggs, herb-seasoned stuffing, 5 cans of College Inn Chicken Broth available at Walmart and the onion celery mixture.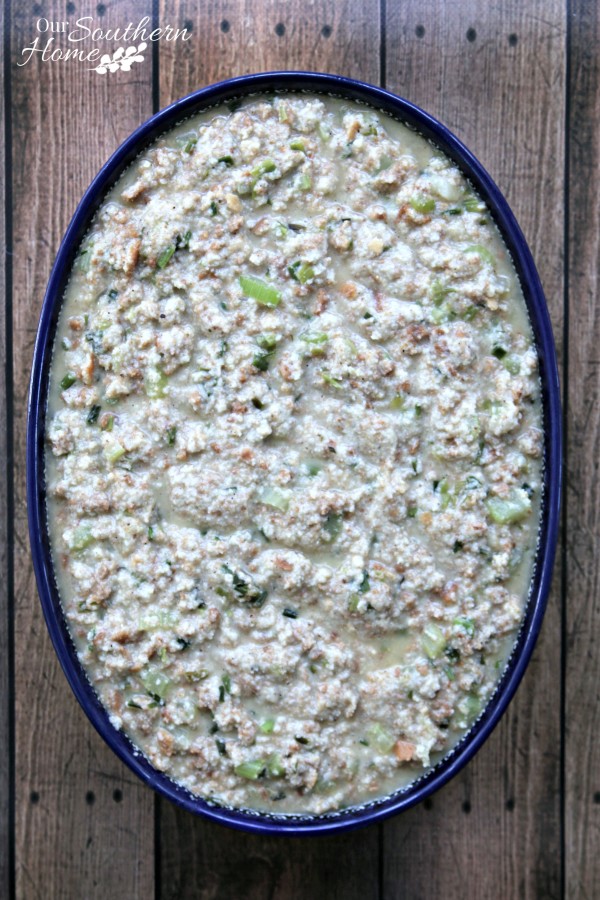 Spoon into a greased 13×9 inch dish plus a smaller dish for the remainder. This freezes well, so you can make-ahead.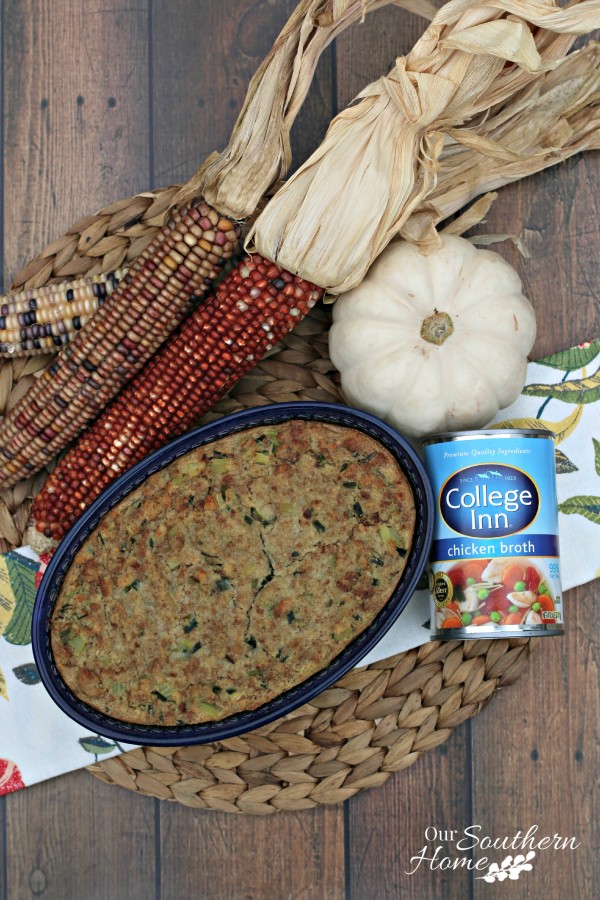 I froze my large dish for Thanksgiving. I baked this small dish for tonight's dinner.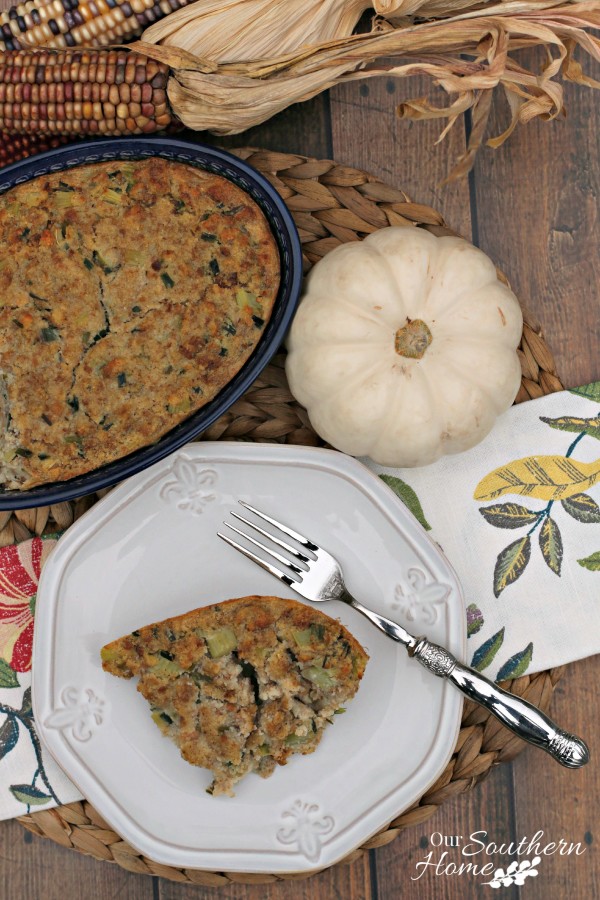 It is incredibly moist and full of flavor.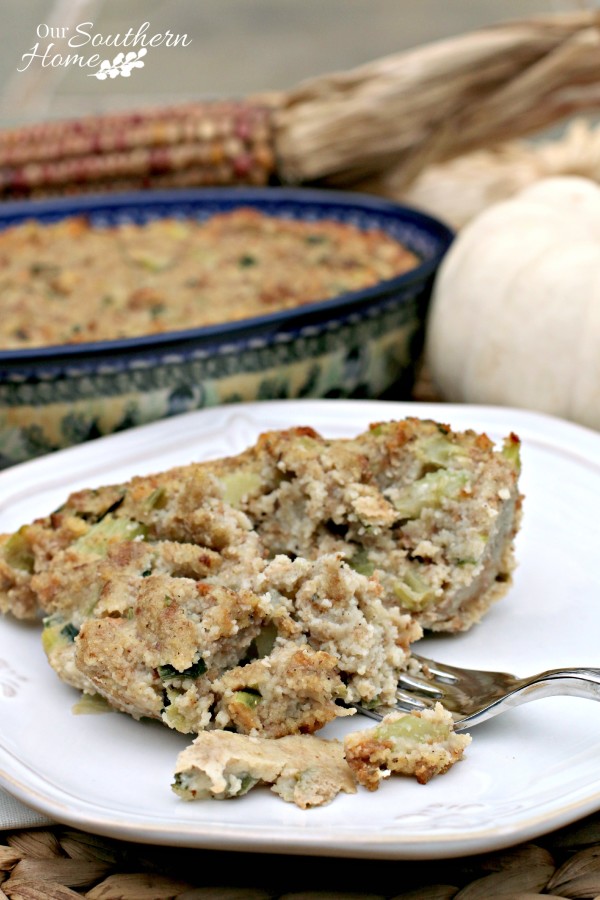 We had it with grilled porch chops and roasted asparagus.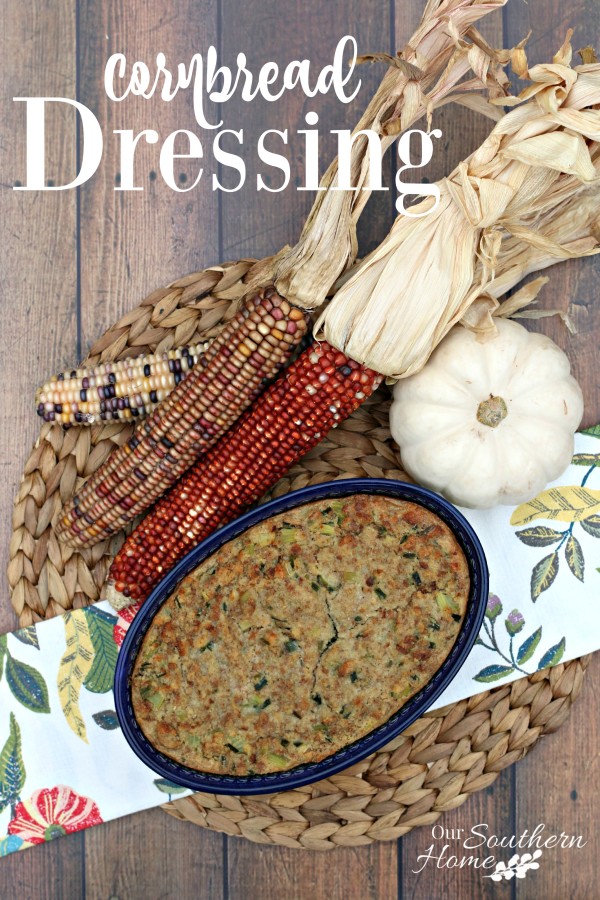 Be sure to PIN the above image for later! College Inn Broth Makes Your Dinner Delicious with Home-Style Flavor and is available at Walmart.
Follow College In on social media!
This is a sponsored conversation written by me on behalf of College Inn Broth. The opinions and text are all mine.
Buffer