My journey through blogland
I'd love to thank my amazing friend, Debbie from Refresh Restyle for inviting me to participate in the Blogland Tour.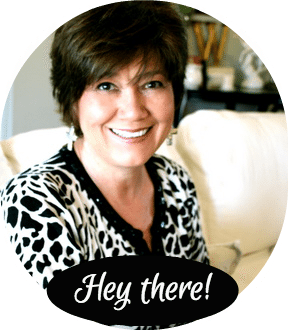 You can read all about Debbie's Blogland Journey HERE.
Even before I became friends with Debbie, I admired her style.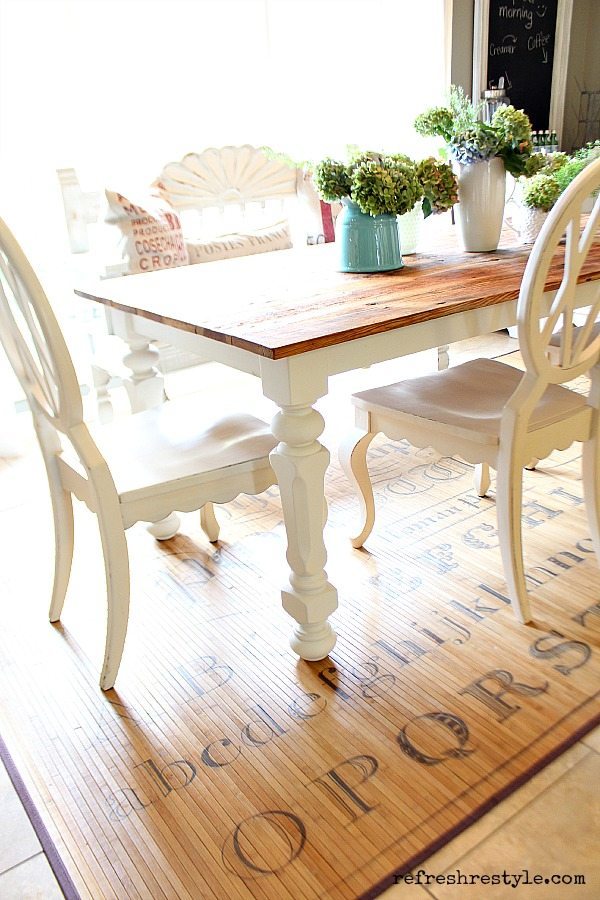 Debbie teaches us many techniques like how she repainted this beautiful farm table.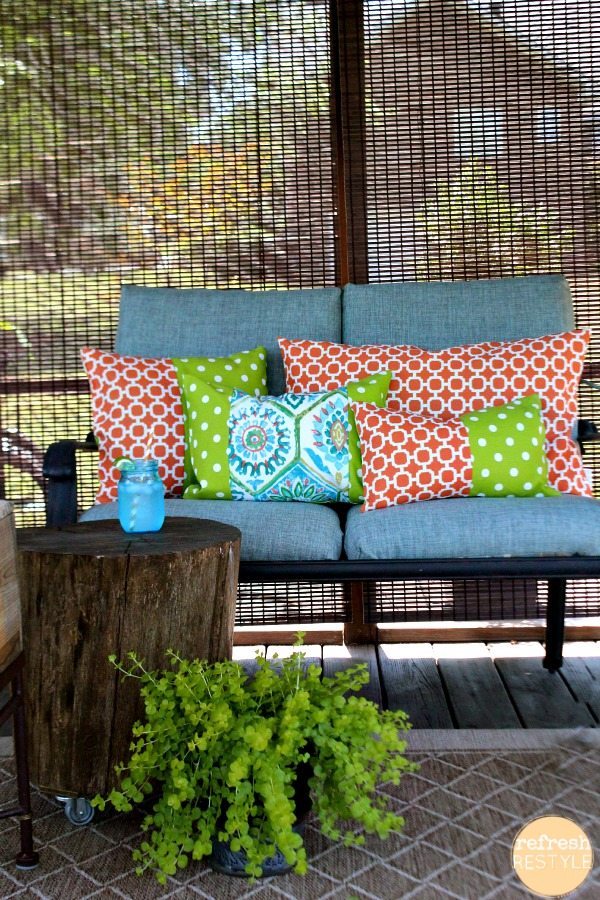 She sews!!! I just love how Debbie combined fabrics for her back porch.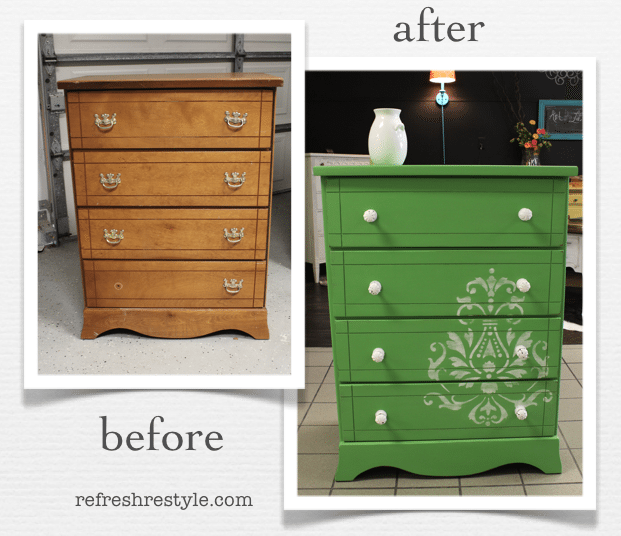 Debbie also shares crafts and recipes. But her talent lies in the beautiful furniture she turns into design treasures!
I'm sure many of you have heard of Refresh Restyle, but if not it will be a treat to visit! Allow time….lots to see over there.
As part of the Blogland Tour, I have a few questions to answer about myself.
1. What am I working on??
I am a member of a furniture painting group. Each month we have a new challenge. This month's challenge is decoupage. I've painted my daughter's desk (haven't shared with you yet), but the drawers are a little sad. I'll be making homemade chalk paint using left over wall paint from her room and decoupaging the sides of the drawers so that when they are opened, there will be a pop of pretty!
My kids actually started school back today so I'm really concentrating on getting our lives organized for the school year right now. Over the weekend, we filled up the lunchbox station.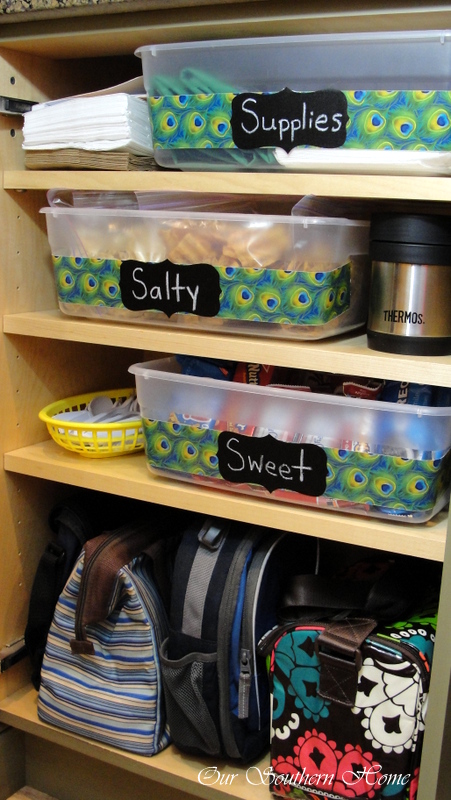 Believe it or not, I'm starting to think about fall. I usually drag my fall decorations from the attic when the kids go back to school. One thing you may not realize is that bloggers have to start decorating for the holidays before we'd really like to! It takes time to plan new crafts and DIY projects for the holiday. Time to create, photograph, edit and write need to be accomplished before the start of the holiday. So we will be knee-deep in fall while it's still well into the 90s! Definitely not feeling fall like here yet!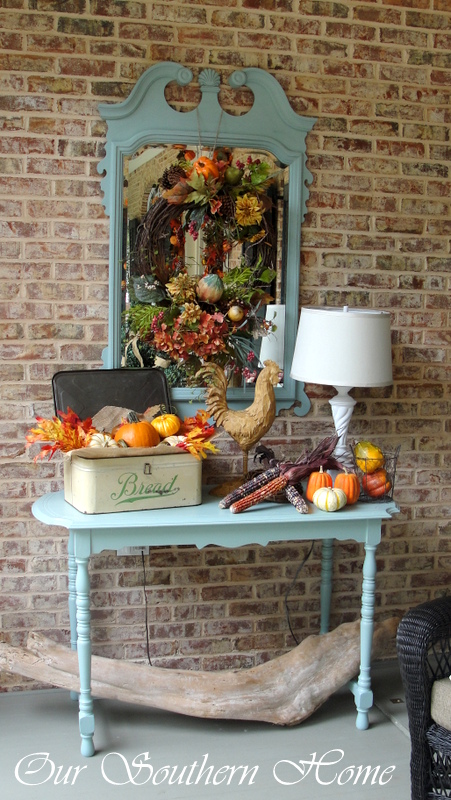 Here is a photo from last year's fall tour.
2. How does my work differ from others of its genre?
I like Pinterest like everyone else. It's a great springboard for ideas and it's free!!! Magazine subscriptions have gotten so expensive, and I can never seem to keep up with them. You can easily do a search in Pinterest. For example…maybe I'm thinking of painting a piece of furniture a unique color…search for that color to see if you think it will work. Do you want to paint a room a new color, but can't decide between a few. Put the room color name in a search box. See how it looks on walls throughout the web. Pinterest has it all! I love to look and use it for inspiration just like you do!
I love a mix of styles. I enjoy mixing traditional, French Country, farmhouse and vintage. I guess that is how I came up with Eclectic French Vintage to describe my style. I don't want to narrow myself to just one. I think that ultimately, you have to love what you decorate your home with…not what your neighbor may like. What makes you happy? It's so easy to look at what everyone else is doing and feel inadequate. I love all the neutral rooms and furnishing that use pops of color. BUT it is not in our budget to buy a new rug and couches. So I use and love what I have. I have bold, traditional rugs. I love them even when the trend is all sisal or chevron. I guess that is where my traditional side comes into play. I know the rugs we purchased many years ago will stand the test of time.
Even to go in right now and try to neutral up wall colors would cost a pretty penny. BUT I love my sage green walls.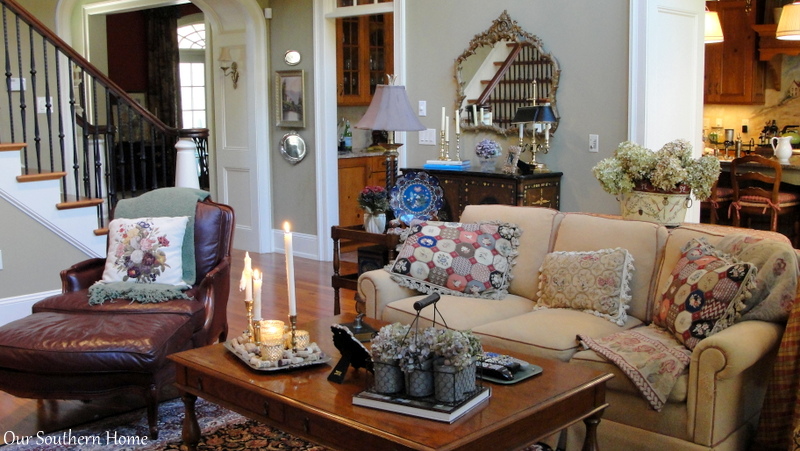 So how do I add some trend without breaking the bank? I love to reinvent things or freshen them up with paint to get that neutral trend.
This method allows me to be on trend creative with lots of thrift store finds without costing a fortune. I can add the neutral touches and still keep my color.
I am a big believer in mixing antiques, new purchases and thrift store purchases. I love it when someone is over, and a piece they may love is that cast off from the thrift store.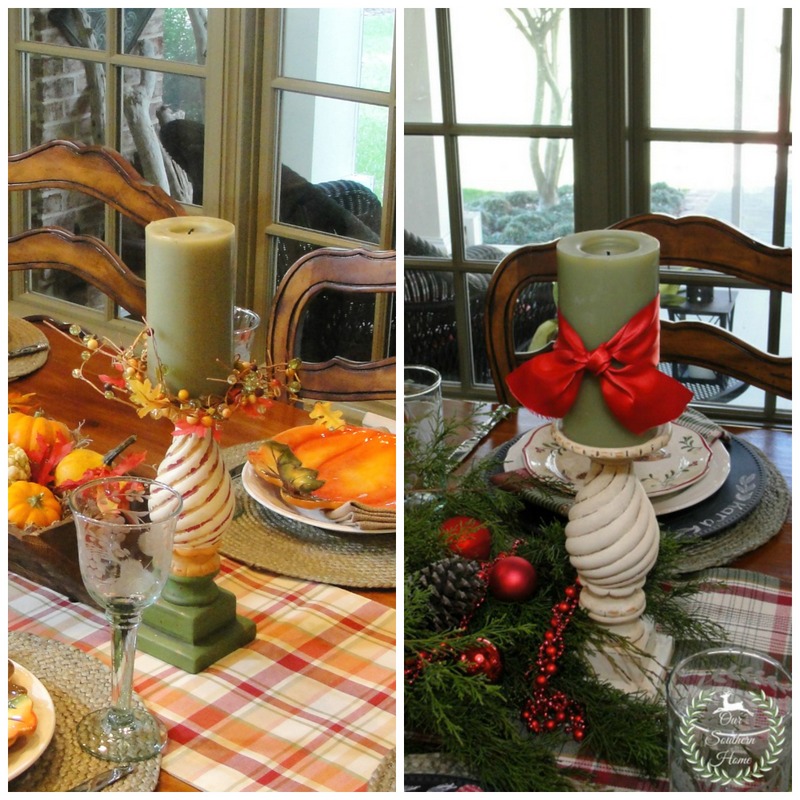 For example: I was tired of the colorway on the candle holders on the right. Instead of getting rid of them, I painted and distressed them with chalk paint. I've added a touch of the white trend without leaving what I love. Plus they go with everything now!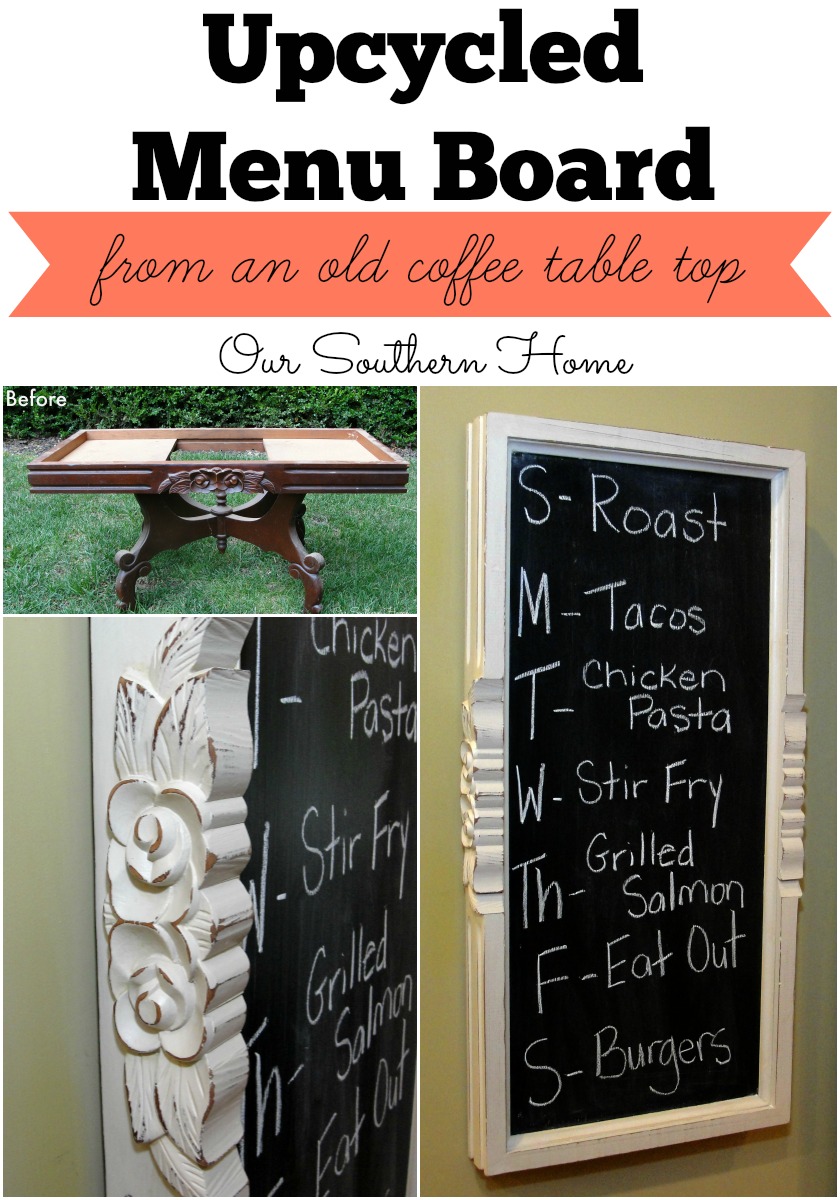 I love to think outside the box when creating. I bought this coffee table not sure of the final outcome. I just knew that I loved the vintage floral design. Now it will keep us organized in the new school year as a chalkboard menu board.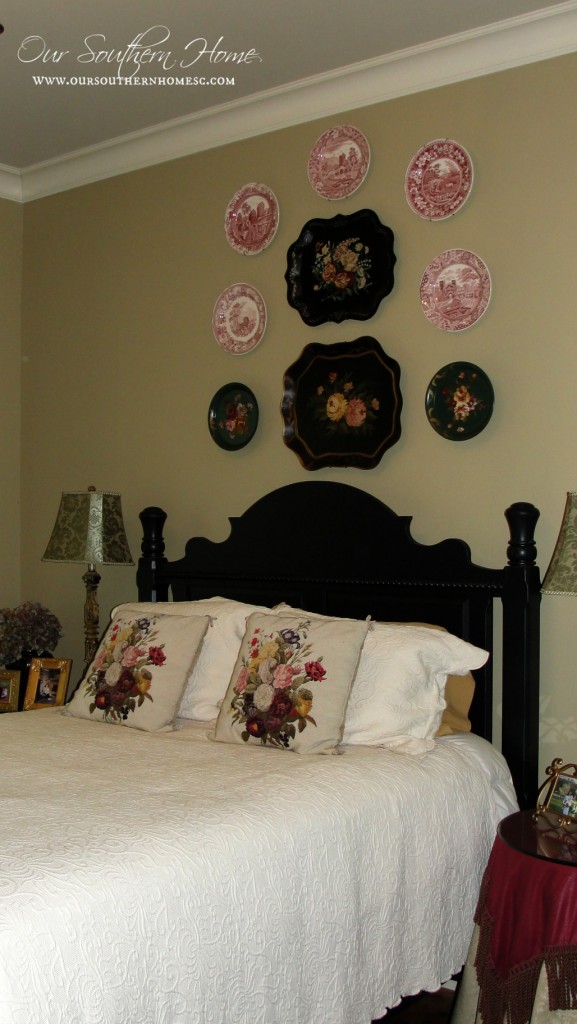 The guest bedroom is a great example of how I like to mix. The black bed was purchased new 10 years ago in black. I'm getting my white with the bed cover. The floral pillows belonged to my late mother-in-law. The red toile plates were purchased new. The toile trays are antique. I have 2 nighstands from our master bedroom set that we no longer use. My goal this fall is to paint them in a light, neutral color for either side of the bed. Also not in this photo is a pine chest and antique floral painted armoire. This room is a perfect mix of new, old, antique and lots of thrift store accessories.
So I don't fully embrace the white, neutral trend. I just add touches of it.
3. Why do I write/create what I do?
I love blogging. I've always enjoyed decorating our home. This gives me an outlet to share with you all. It also helps to keep the wheels always turning! This is also a job….I love my job!
4. How does your writing/ creating process work?
This is laughable and may surprise you. I don't see how other bloggers have weeks worth of posts written and scheduled in advance! For example….the post you are reading right now….I wrote it yesterday! Lots of projects that I do are completed right before I post. My post process starts with the intended project. Once all of the photographs are taken, I upload them to the computer and edit. When at all possible, I like to edit photos one day and upload and write another day. It gives me a fresh take on my text. Otherwise a post could consume several hours if the process is done all at once.
My dream would be to have a weeks worth of post scheduled at a time…..a girl can dream!
Enough about me!!! I have 3 great ladies for you to visit!!!
First up, let's head over to my friend Angie's blog, Postcards from the Ridge. Don't you just love that name! I met Angie back in July at Haven in Atlanta. I just love her!
Angie says: My passion is home decor. I'm always painting something or rearranging things at our home, or helping someone else do it! On my blog, I love to share projects, favorite paint colors, and various tips and tutorials to make life easier. Visit Angie at Postcards from the Ridge.
Let's now head to my friend Anne over at White Lace Cottage. OOOOhhhh how I love Anne's vintage style!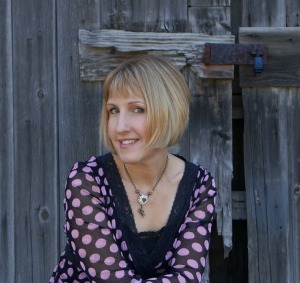 Anne Says: Here on White Lace Cottage I share tips and tricks to create a vintage style home.
Nothing is perfect in my home, I love the imperfect.
Embrace your style. Visit Anne at White Lace Cottage.
I've just made a new friend in the blogging world, Ashley, from Giddy Upcycled. So glad we connected! She is so talented!
Ashley Says: I've been a blogger, web developer and web marketer for over 10 years (with too many websites to count), but only started blogging about my real passion in life, about a year ago. I've got 3 kids and when I need a sanity break from the craziness, I love to get creative – decorating, upcycling, DIYing, painting furniture, using power tools – basically taking worn out things and giving them new, fun, colorful life. Visit Giddy Upcycled to see Ashley's talent!
I hope you enjoyed a little bit of how my creative mind works. I hope you enjoy discovering these 3 fun blogs!
My kiddos started school today! Time flies as Woods is a senior (gasp) and Ashlyn is a sophomore.
See you all later this week!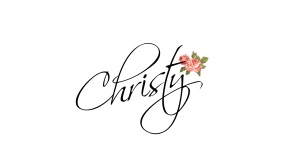 Buffer