How to Paint Dark Wood Furniture
Have you ever wanted to paint dark wood furniture, but didn't know where to start?
How to Paint Dark Wood Furniture
Tips for painting dark wood furniture a lighter color
DEWALT D26451 3-Amp 5-Inch Random-Orbit Sander with Cloth Dust Bag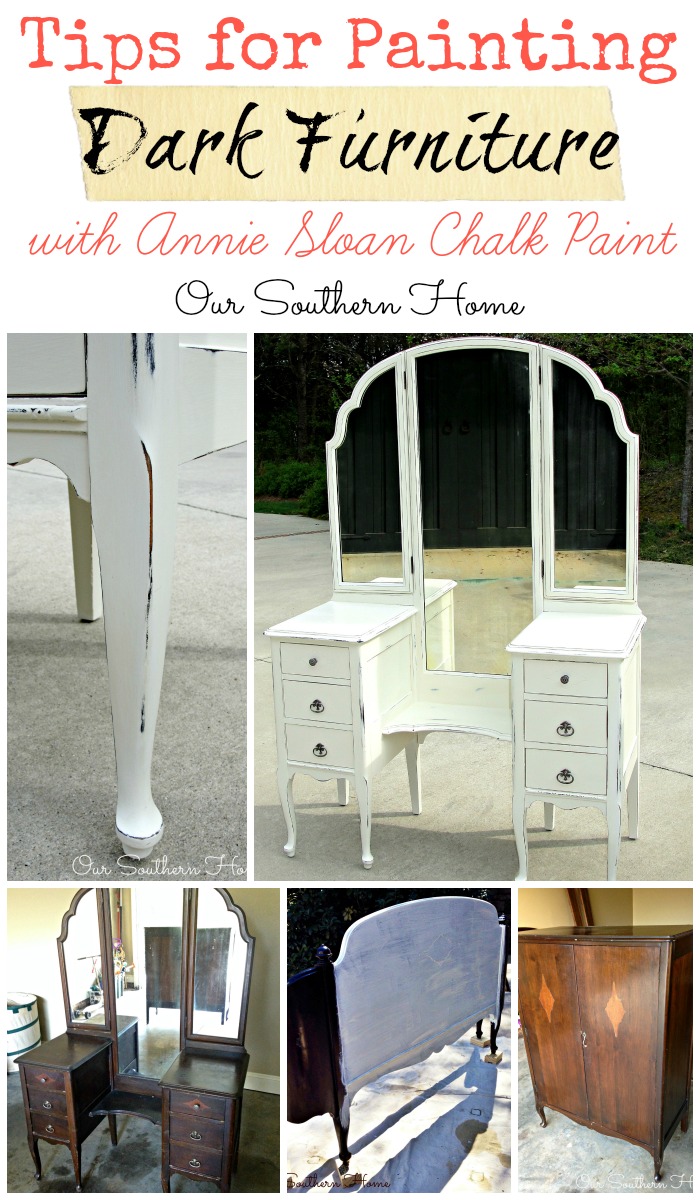 It's no secret, I love to paint accessories and furniture……walls not quite as much.
This client project was perhaps my most challenging to date with the exception of my son's antique desk.
My client was given an antique bedroom suit from a family member. Her hope was to use it in her little girl's room. She wanted antique white so we decided on Old White from Annie Sloan Chalk Paint.
Generally, you really have no to minimal prep work when using Annie Sloan….which I love. From past experience in working with dark furniture AND painting it a light color…..I knew bleed through would be a possibility…..and it was.
Step 1
The first thing that I did was clean it really well and wipe it down with mineral spirits. It had been in storage and needed it. There are cleaning products for this purpose in the painting section. I had mineral spirits on hand so went with it.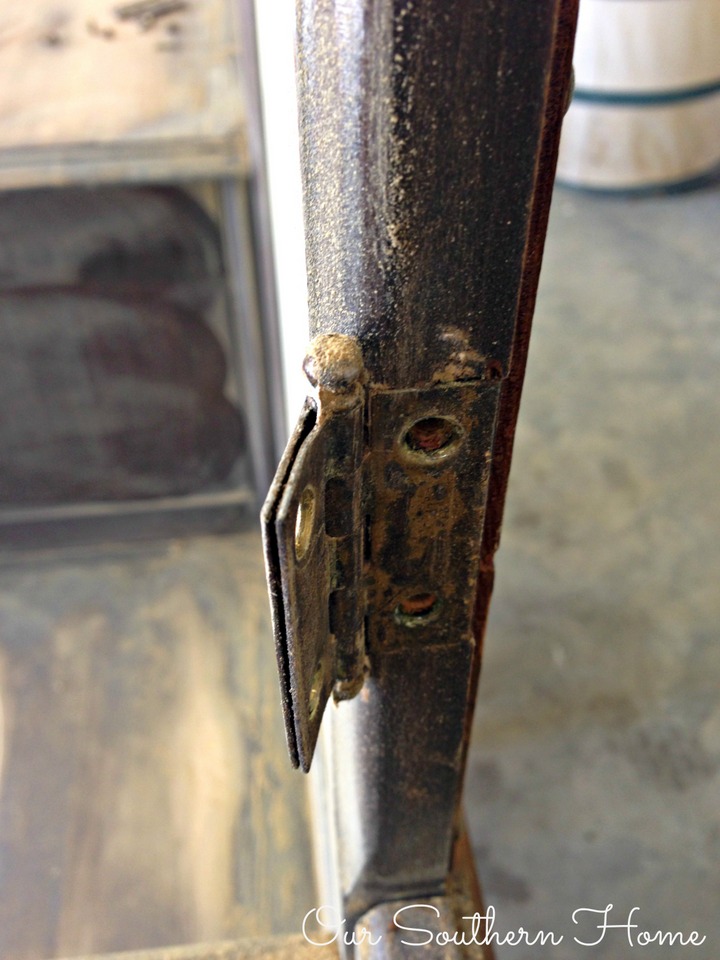 On several pieces, you could visibly see the texture in the varnish. I knew that in order to get a nice smooth finish, I would need to sand, sand, sand. I used my Christmas gift from my hubby, my Dewalt Orbital Sander.
Even with this sander, it was a bit of work. Here are the before photos of the bed, dressing table, stool and armoire. These are working photos. I didn't have my light kits or tripod out.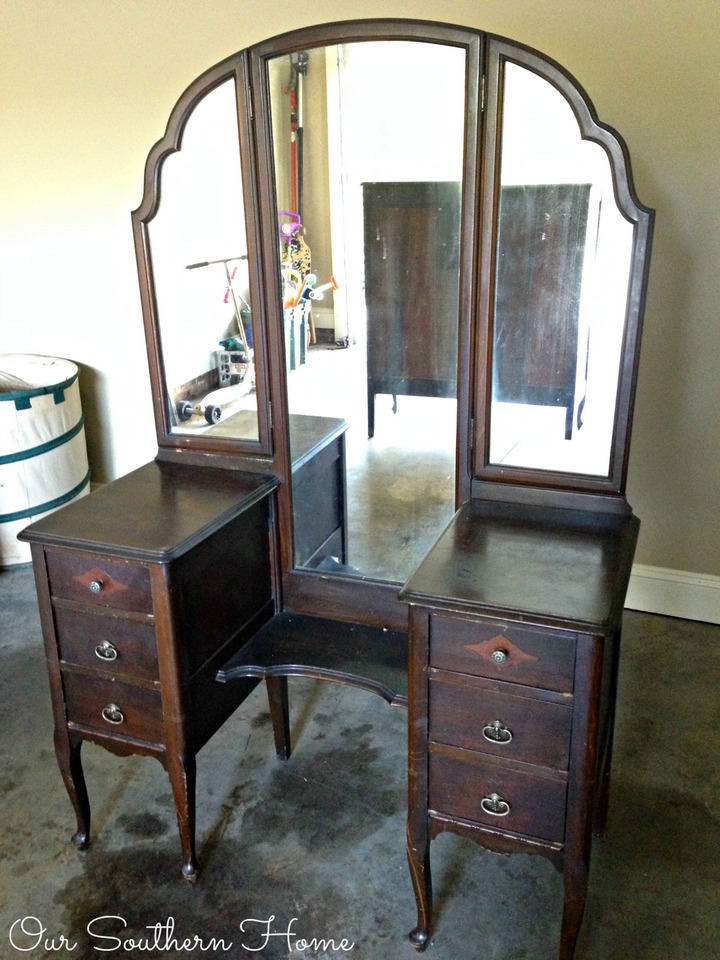 dressing table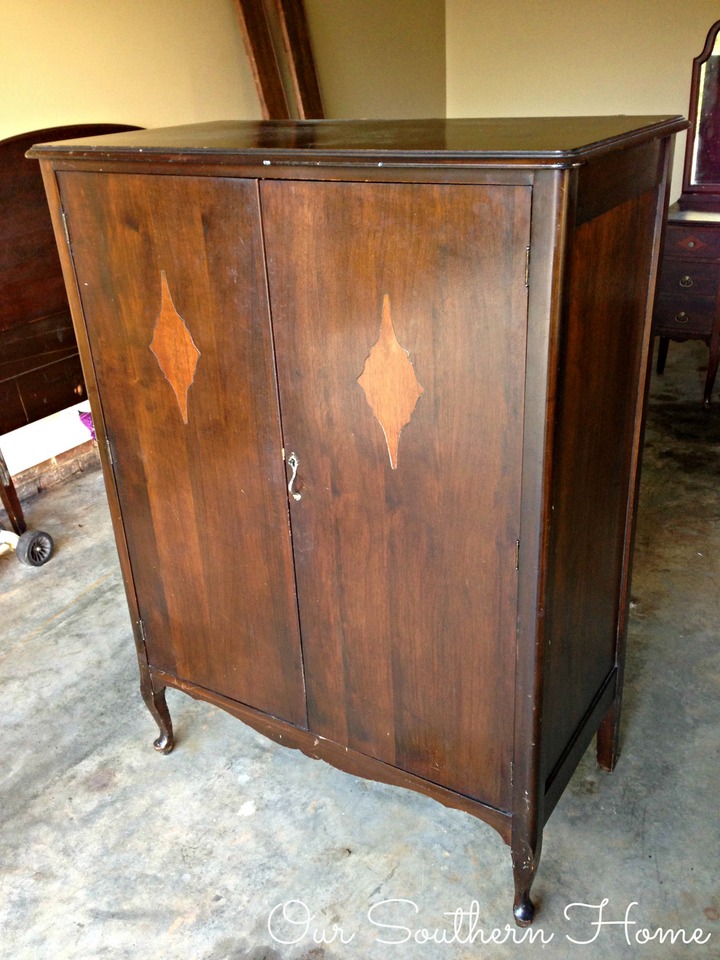 armoire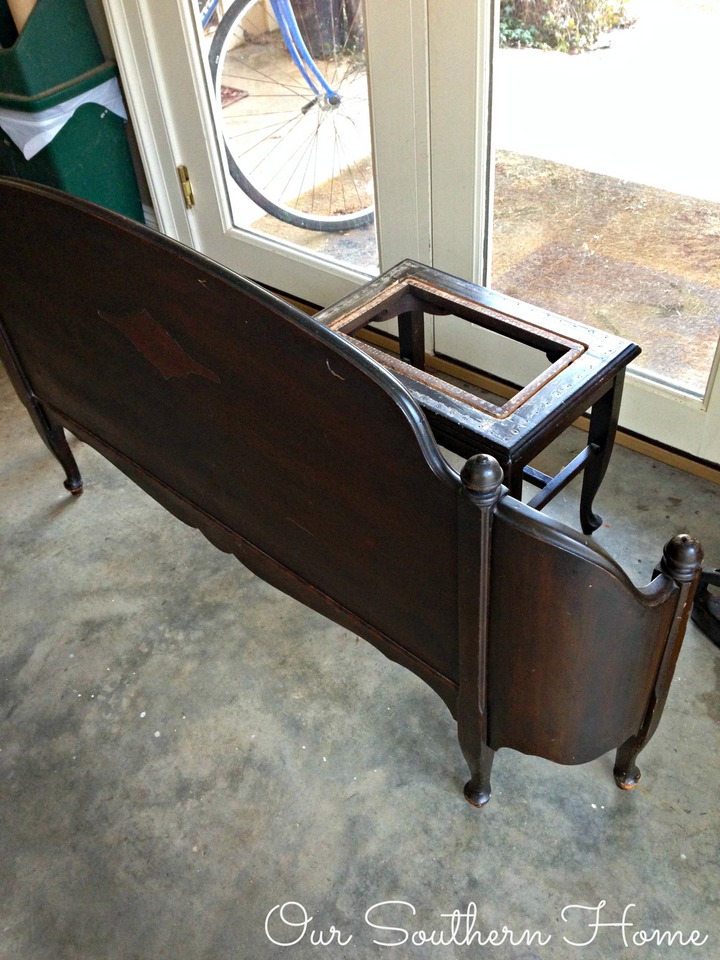 foot board and stool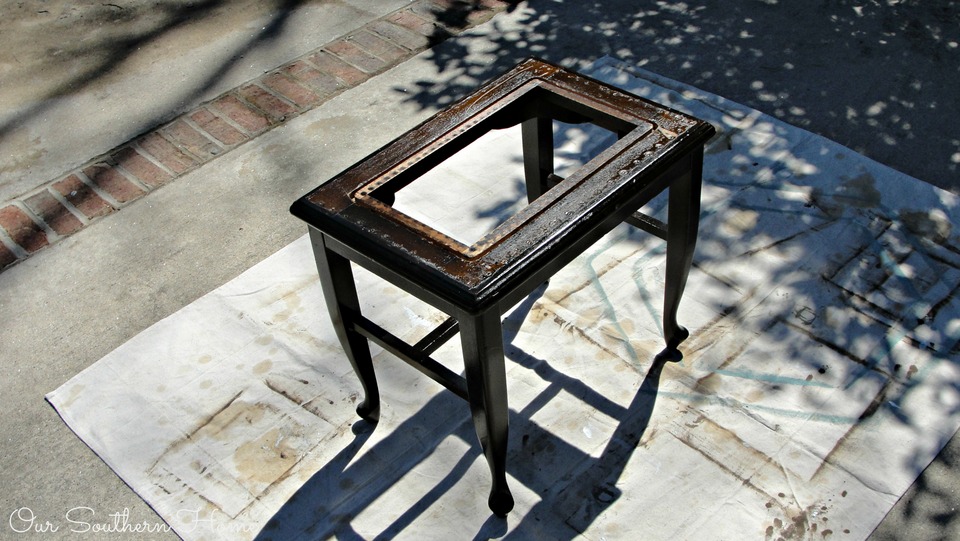 After I sanded and filled in bad places with wood filler, I was ready to seal with Shellac.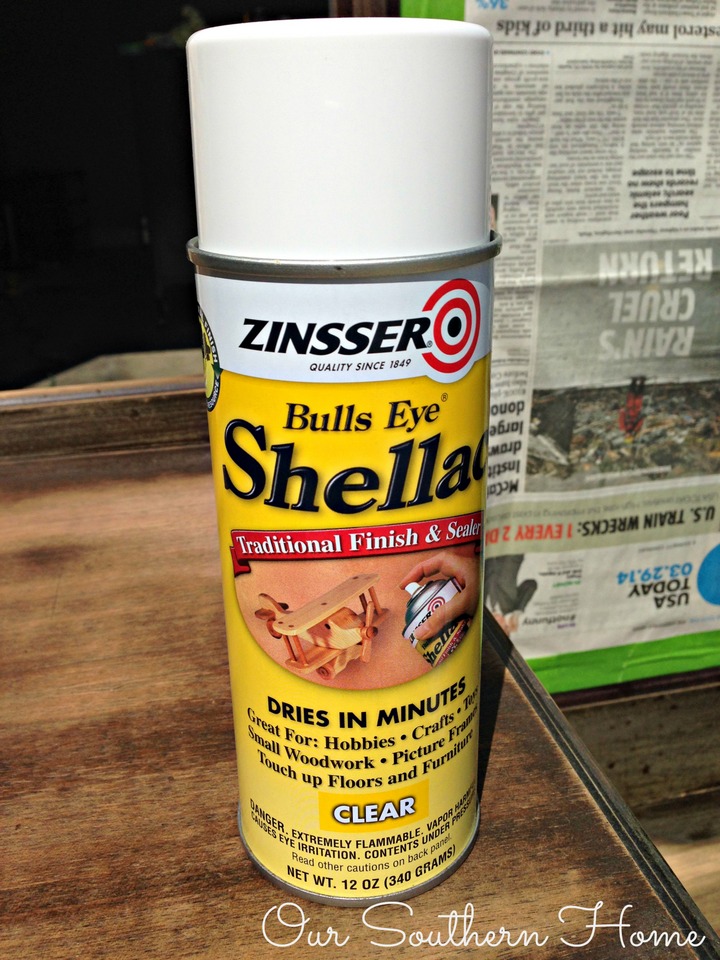 You can see where this piece was sanded. This product seals the furniture preventing stain from showing through. This furniture was different in that some of the pieces were easier than others. The headboard was a LOT of work. I had the most issue with bleed through even after spraying with Shellac. I sprayed 2 coats on each piece of furniture. It must be done outdoors….it is smelly! It dries very fast. I used 3 cans.
After a test, I was still having spotty bleed through so I applied 1 coat of primer. This is what I like to use. It is water based and dries fast. Very easy to work with! It takes no time to apply this.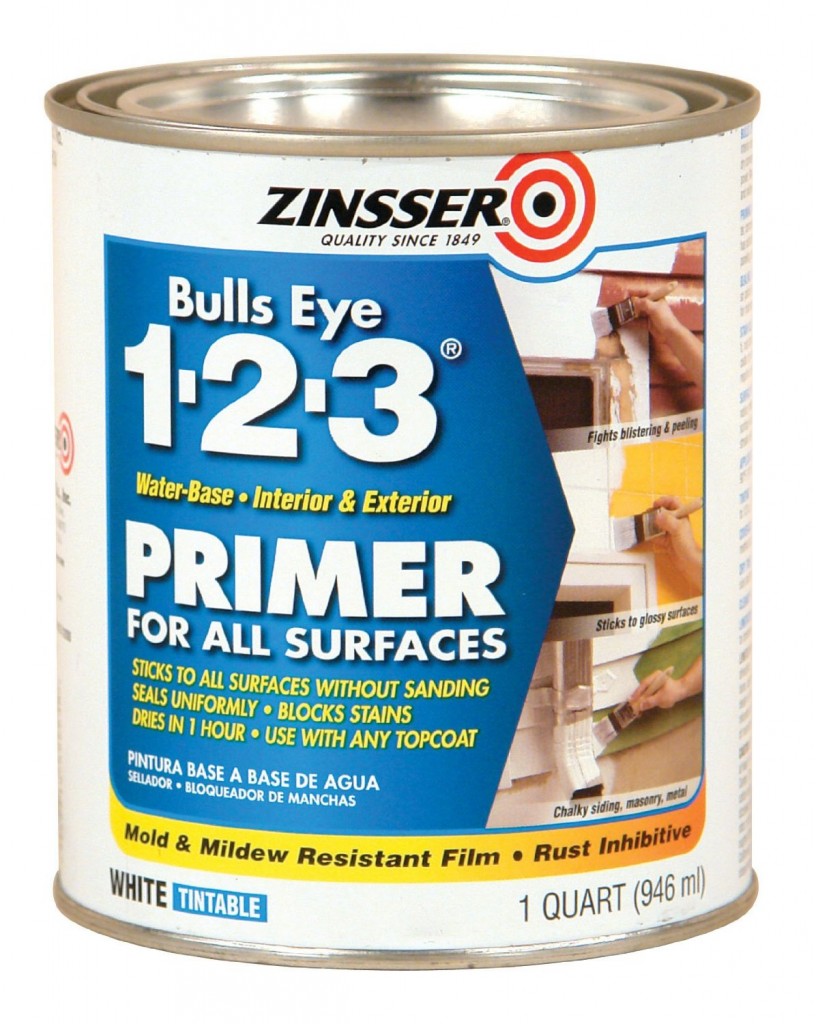 Rust-Oleum 2004 Zinsser Bulls Eye 1-2-3 White Water-Based Interior/Exterior Primer Sealer, 1-Quart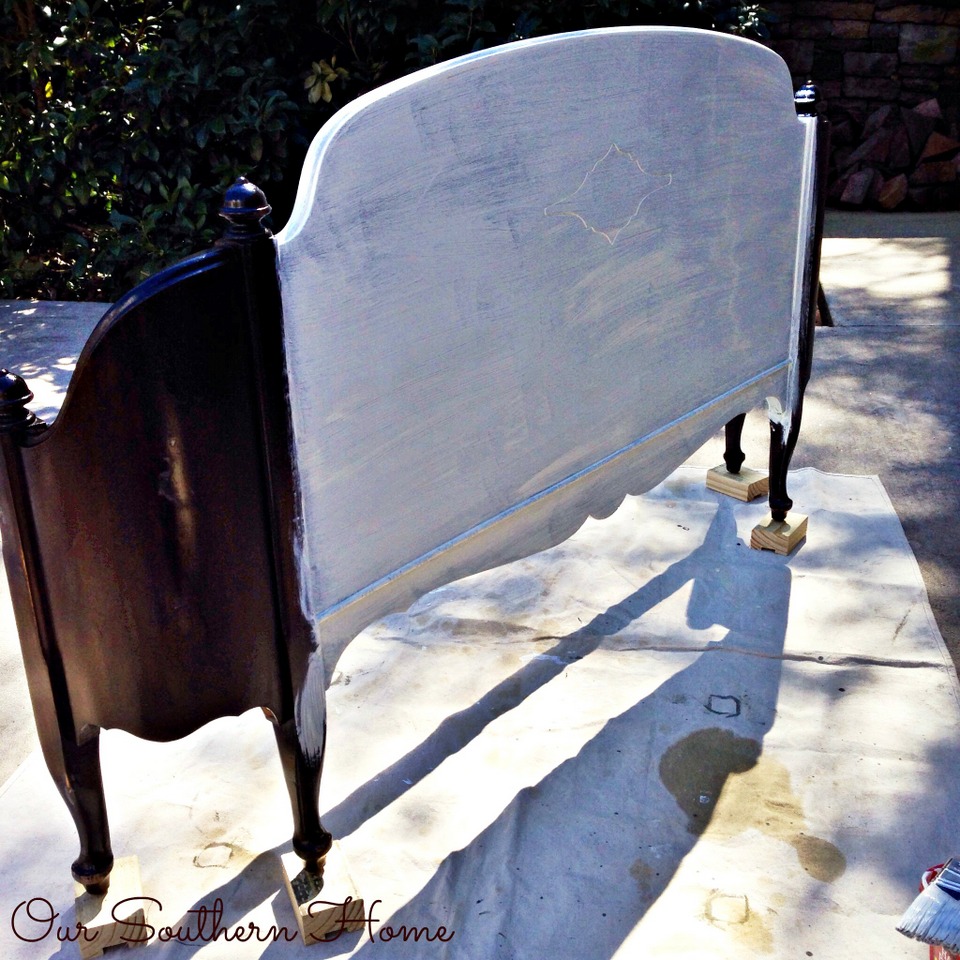 foot board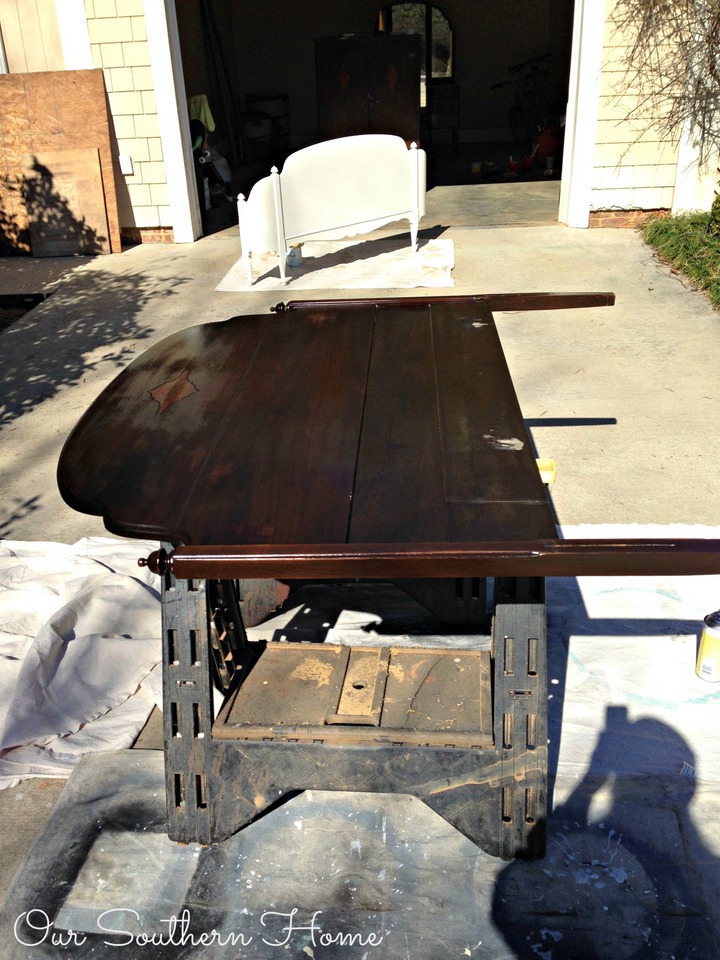 The foot board was a breeze. 2 coats of Shellac and 1 coat of primer. The headboard was a different story. I followed my same procedure. Except when I painted my first coat of old white, I noticed bleed through. So…I applied another coat of primer on top of the old white. No way I was going to continue applying layers of expensive chalk paint to have this happen. This photo shows the Shellac drying. It will be shiny.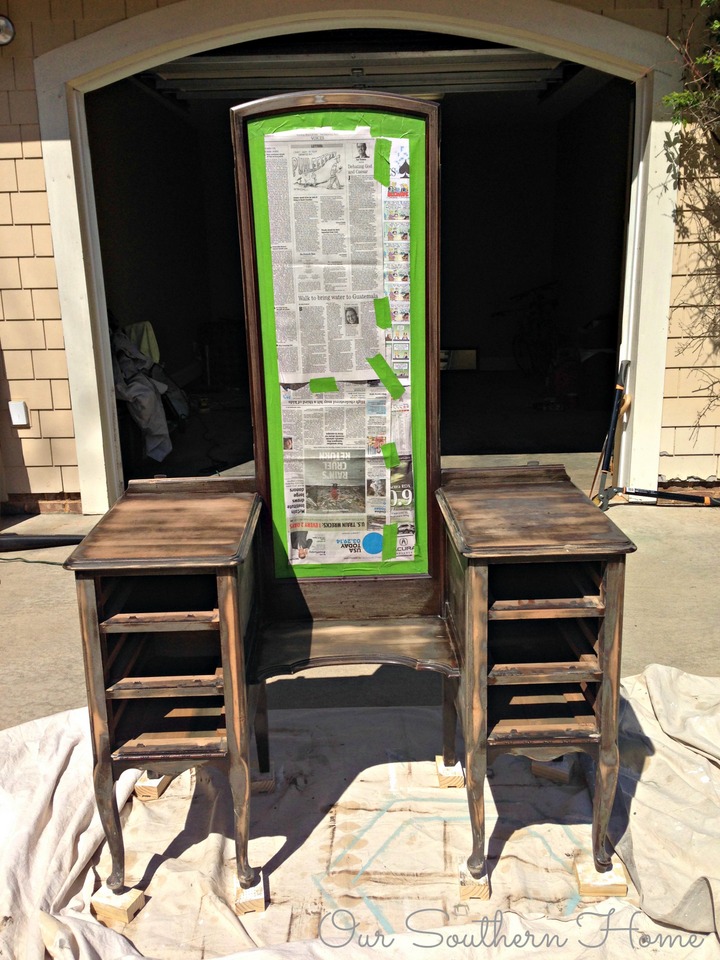 I could tell that after sanding, I wasn't going to have issues like I did with the headboard. I applied 2 coats of Shellac, 1 coat of primer and started to paint. You could apply several coats of the white primer by hand, but it was much faster to apply the spray Shellac and 1 coat of can primer. Plus, I was using what I had to get started without having drive into town at that moment.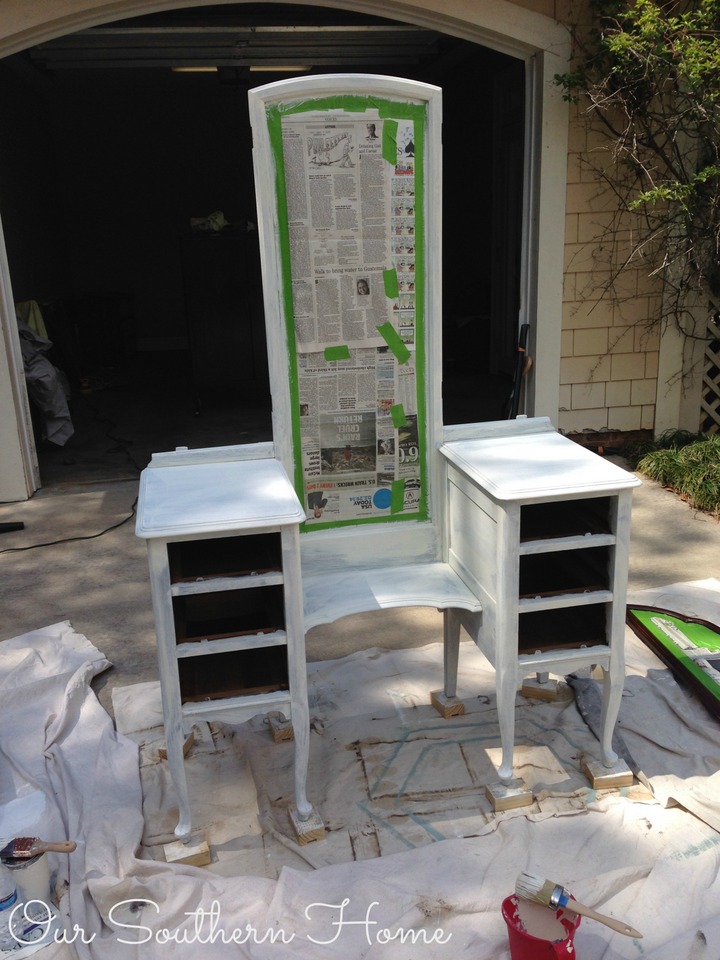 I was able to remove the 2 side panel mirrors, but not the center.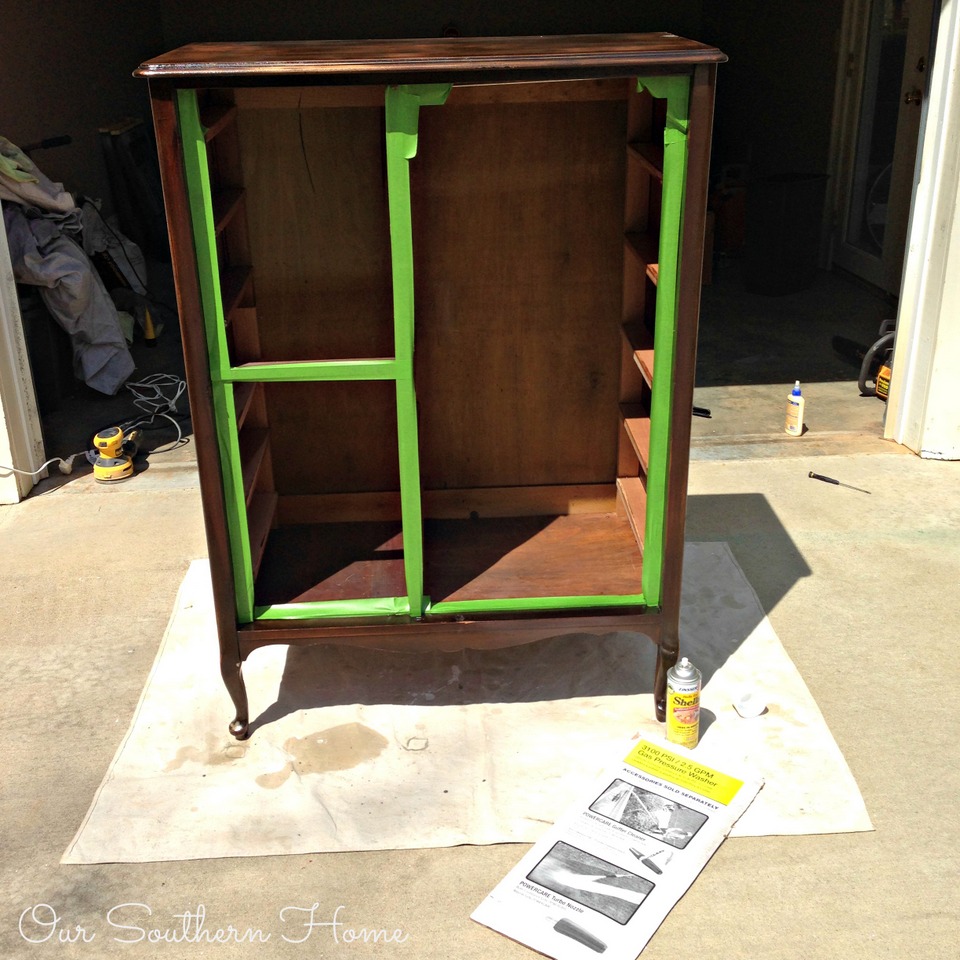 I removed the doors and taped off the areas that were not going to be painted old white. My client wanted to leave the interior as is. It is full of drawers.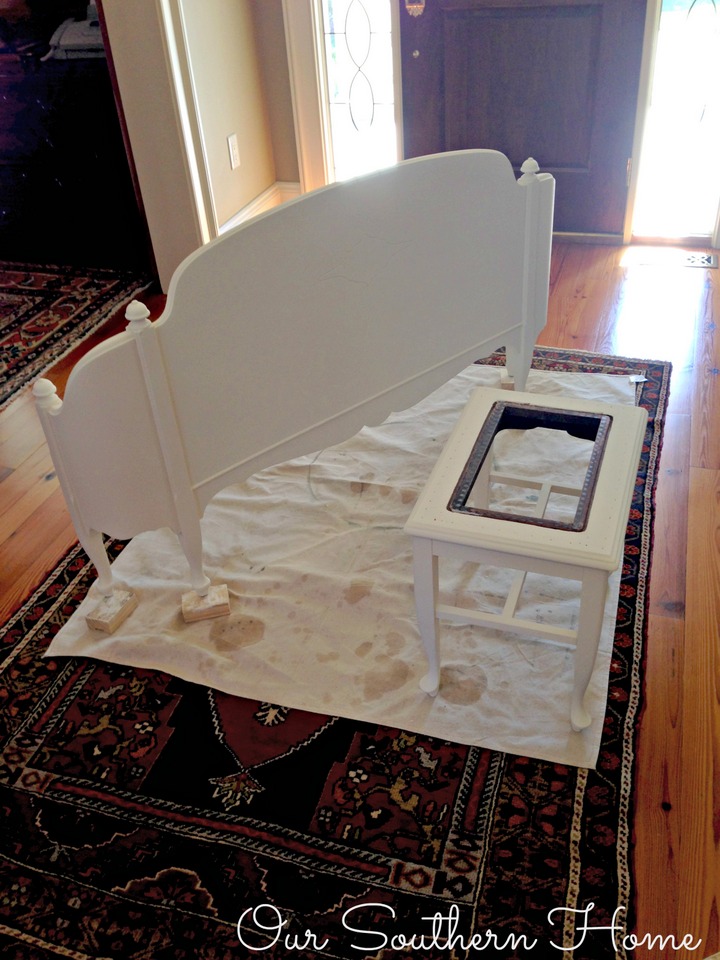 I apologize for these poor photos lacking in detail. At the time I wasn't thinking of sharing a blog post…just getting the job completed. The center of the stool has upholstery.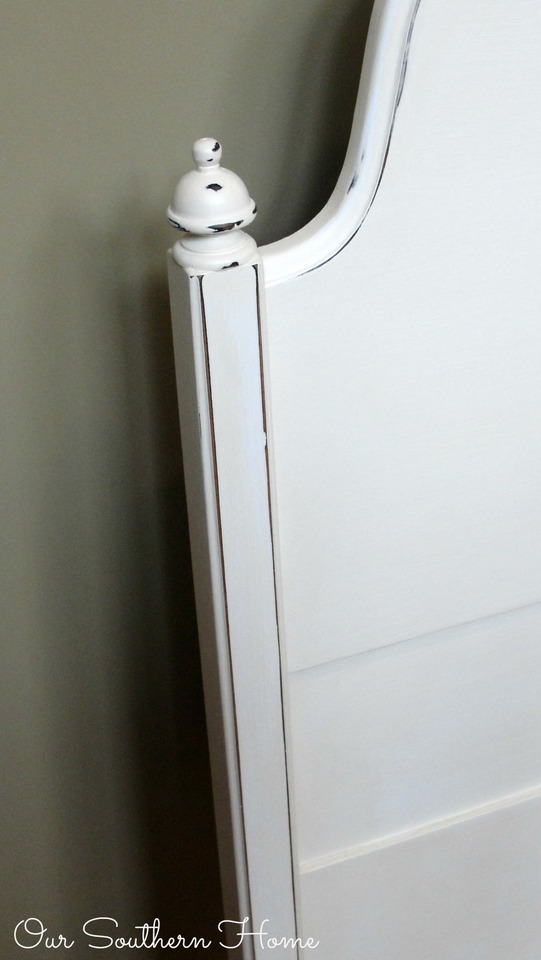 Headboard detail. I lost count as to how many coats of paint this baby received! The headboard had layers of old varnish with a gritty texture. That's why it was such a bear!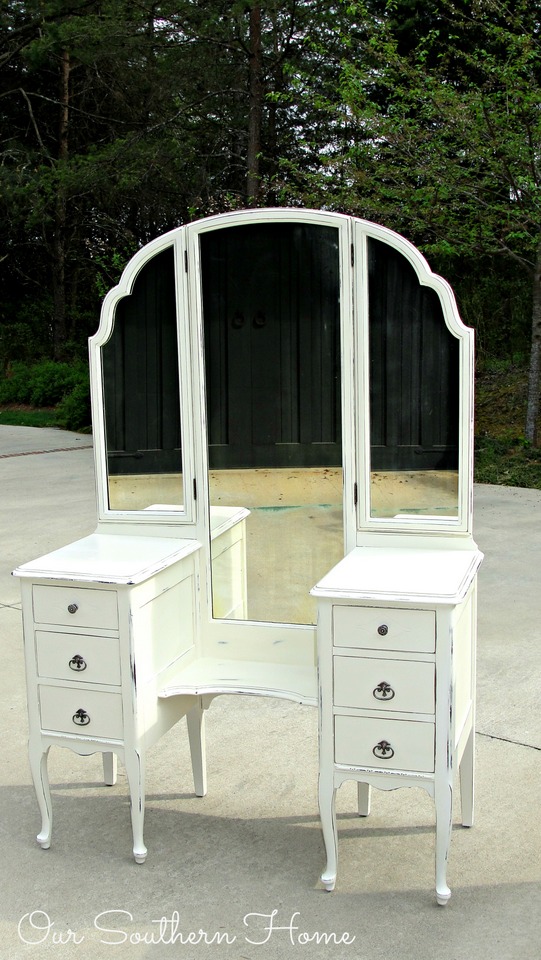 I removed all of the original hardware and cleaned it up. It's not perfect, but using the original hardware helps maintain that vintage look we were after.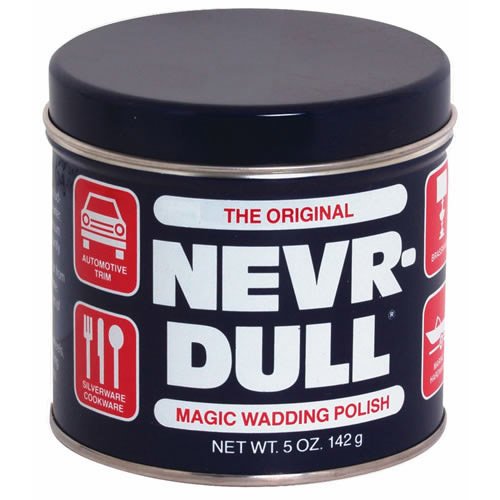 George Basch N/D "Never-Dull" Magic Wadding Polish 5 Oz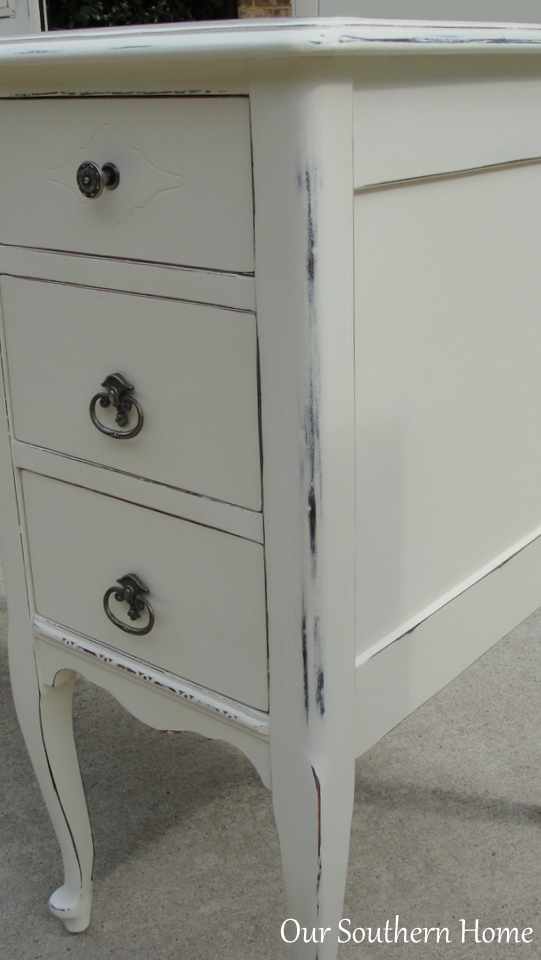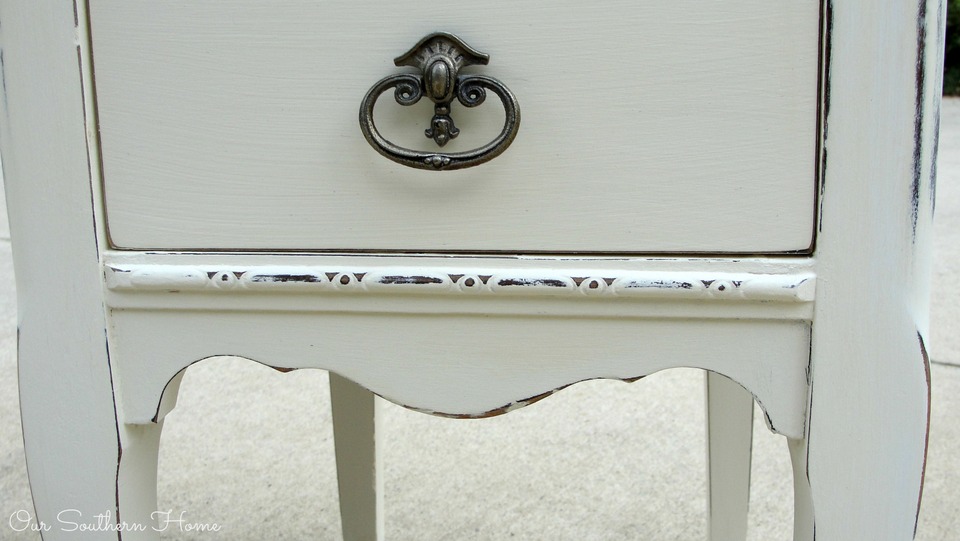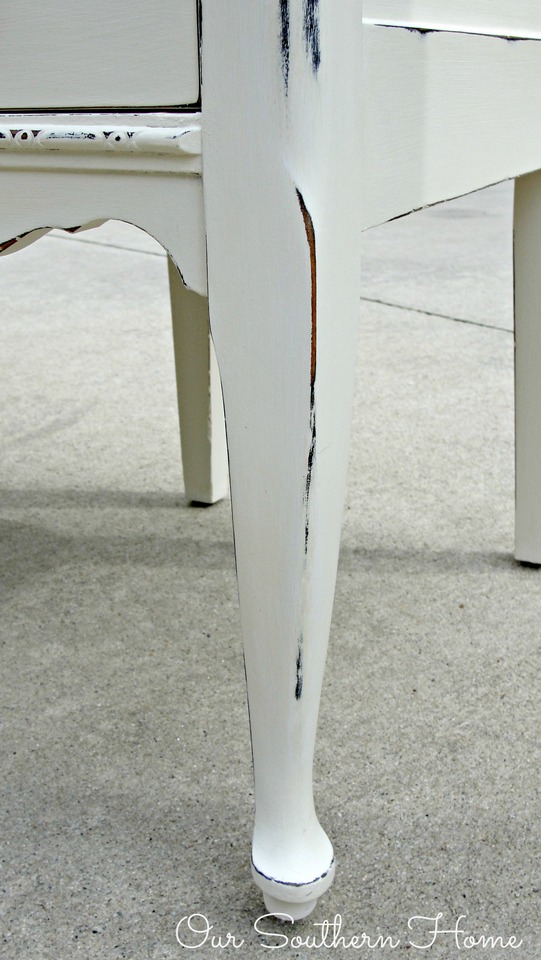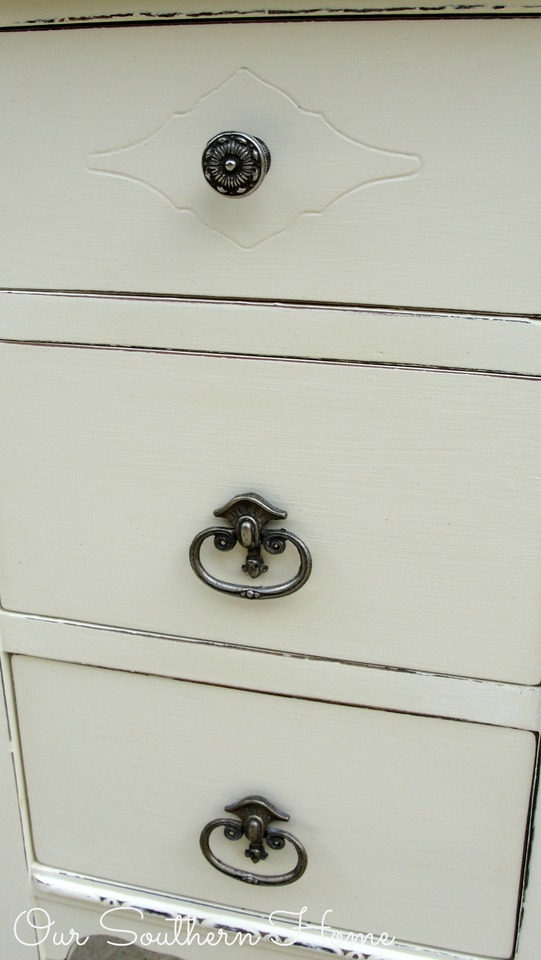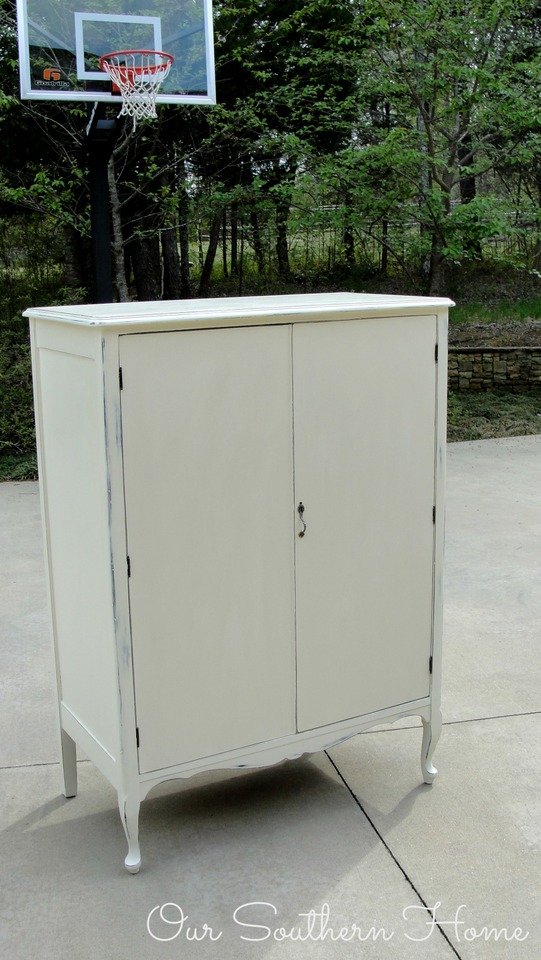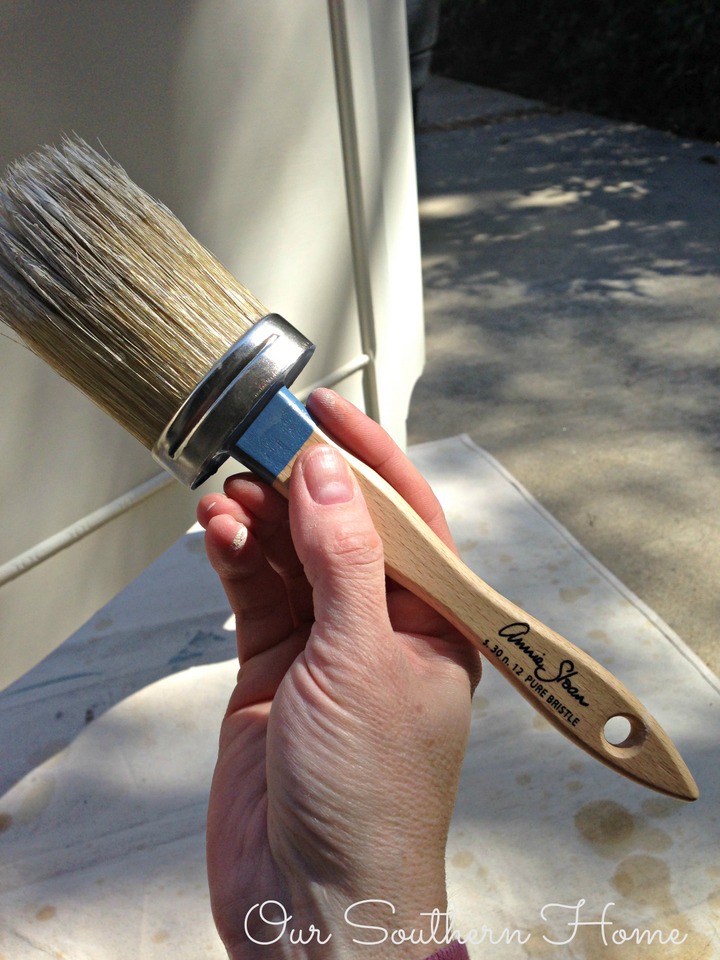 I finally broke down and invested in the medium-sized brush from Annie Sloan. Yes I cringed, but let me tell you…….it was worth every penny!!!
Normally, with any piece that I paint there is no prep! I just clean the furniture, fill in any imperfections and paint!
Older, antique dark stained furniture like this is where you may have extra work if using a light color. You need to do a test first if in doubt. My son's desk that I mentioned earlier was so bad that the first coat of white primer looked like I had painted it pink!
I distressed lightly on the edges and areas of natural wear. I applied 2 coats of clear wax on the body. I applied 3 coats of clear wax on tops for extra protection. I buffed to a shine.
In conclusion with this bedroom suit:
clean
sand
wipe dust away
2 coats of Shellac
1 coat of white primer (more on the headboard)
2 coats of chalk paint
distress
wax
buff
Love!
**This post contains Amazon affiliate links**
Happy Painting!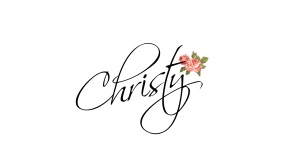 Buffer