Christmas Decorating Must-Haves
Fabulous list of must-have items that you want for decorating your home for Christmas! Have the items ready to go for decorating!
This post has been updated for 2022!
I've been homemaking for 30 years now! That just totally made me feel old. LOL!
Today I'm sharing my experience with a few Christmas decorating must-haves that you'll want to purchase or make sure you have before you start decorating! It will make things much easier and most are from Amazon!
Latest from OSH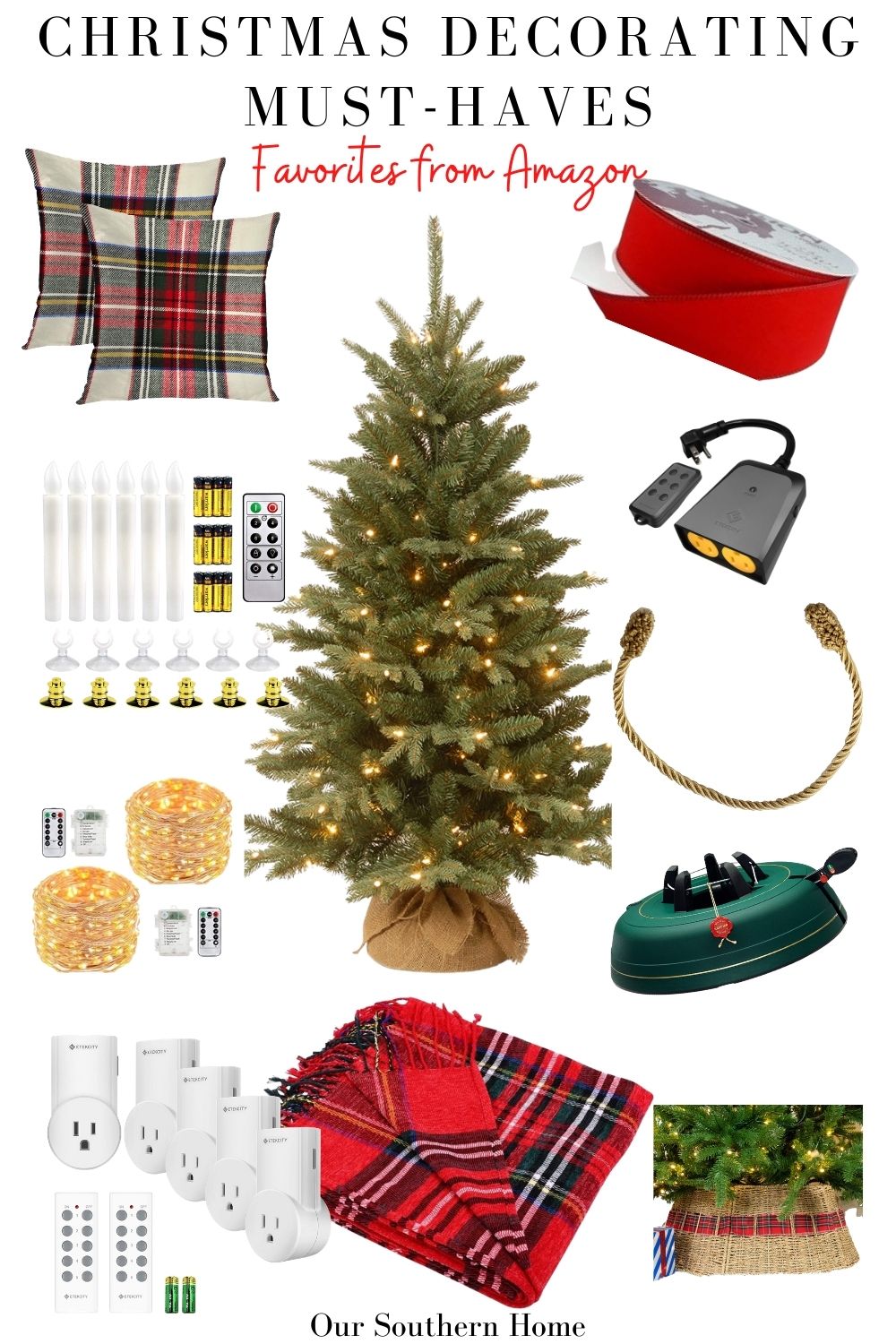 This post may contain affiliate links. If you purchase something using one of my links, I may earn a small commission from the retailer costing you nothing more. You can read more on my disclosure page. YOU WILL FIND A SHOP THE LOOK FOR OUR HOME AT THE BOTTOM!
Christmas Decorating Must-Haves
There is nothing worse than embarking on your Clark Griswald decorating experience and not having the necessities.
I shop so much from Amazon these days as opposed to going to the store. Shipping with Prime is so fast plus you have free returns.
Did you know that you can do a 30 day free trial for Amazon Prime? This is perfect for all of your holiday shopping!
I don't know about you, but I'm really getting excited about decorating this year. of course, I think I may say that every year!
Christmas Decorating Must-Haves!
It's important to finish off the bottom of your tree. I've never seen a tree stand that was pretty all on its own.
A tree collar is a great alternative especially if this is a tree that is not your primary tree with gifts under it.
This is a pretty option as well.
It's really important to measure to make sure the tree stand will fit in the basket or box collar.
Look for options that are in at least 2 pieces. This will give you a little wiggle room for the fit.
Hobby Lobby has a decent selection in store, and they are on sale right now.
A faux fur tree skirt is also a lovely option. It looks fabulous if you want to display a Christmas village under your tree!
You could just opt for a faux fur throw that you can use in your decor later. I have done this as well.
One thing that I do is to save my older matelassé quilts that I no longer use on beds. If they have stains or have seen better days, they are perfect for around the base of a tree.
We purchased this Christmas tree stand back in 2019 and it is the Cadillac of stands. I promise you!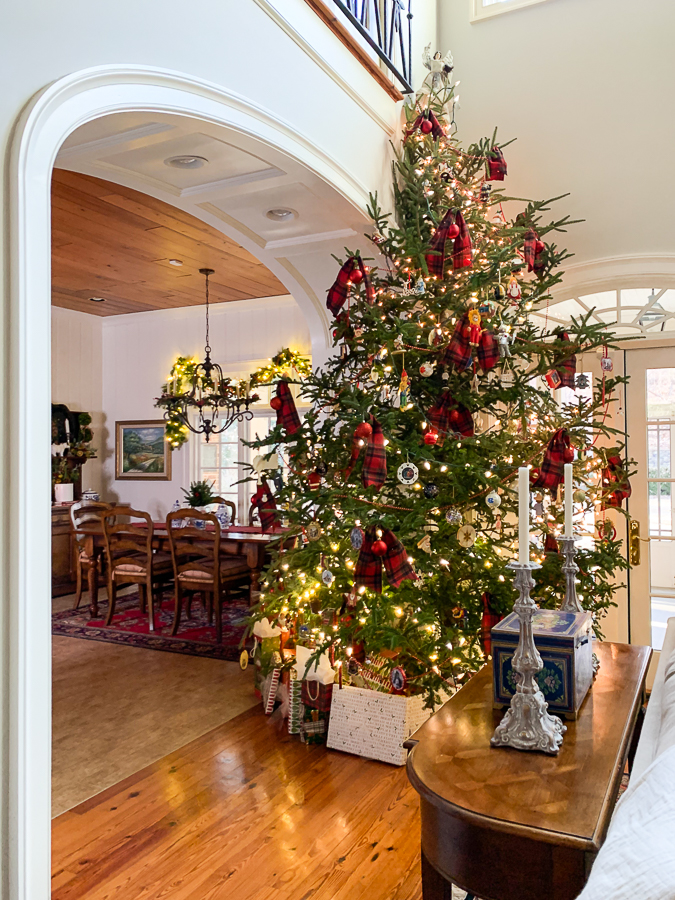 We have the XX-large size. It worked well for our larger trees, but since we've started getting a smaller 8-foot tree, it still works!
I kid you not…..no fussing with this stand. The foot pedal gets it straight on the first try no time flat. It was expensive but so worth it!!
Nothing says Christmas like a plaid throw! This one comes in several colors that will work beautifully for the holidays!
I love pillow covers for the holidays. They can go right over your existing pillows and store so easily after the season.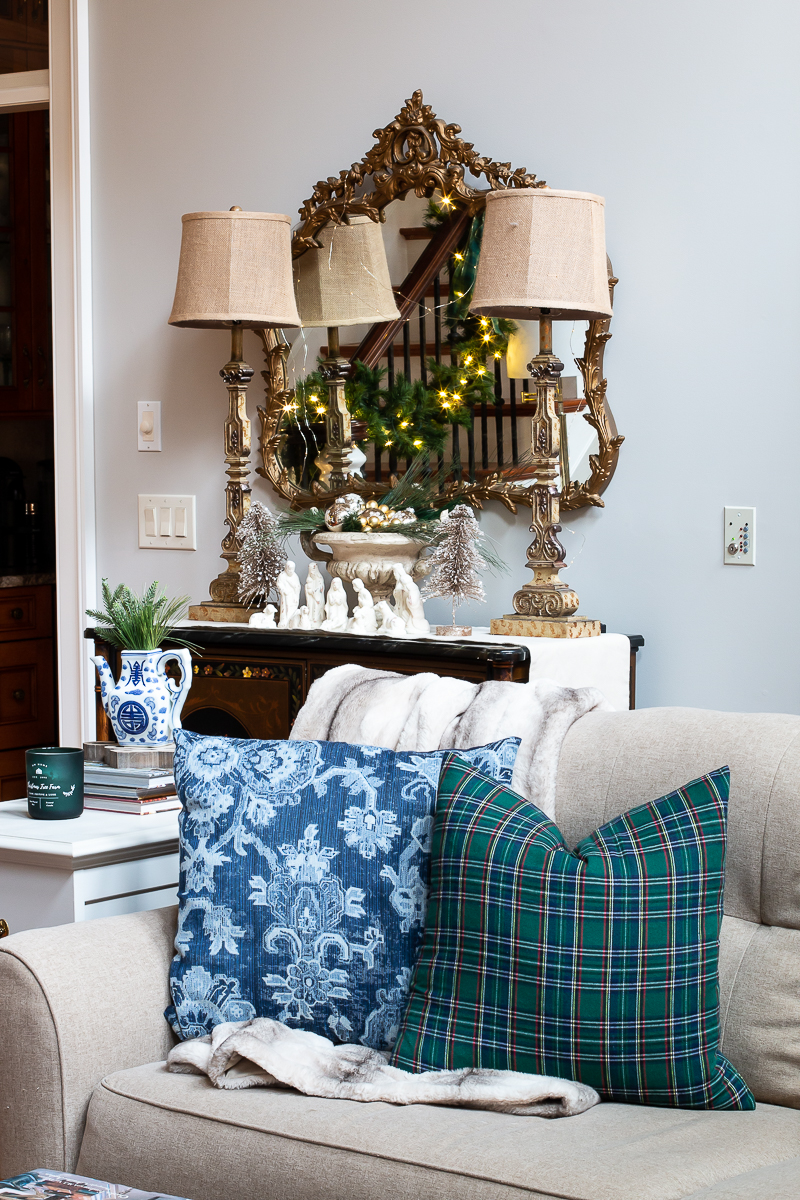 I used these plaid ones last year. They are perfect for the season.
Looking for a new artificial Christmas tree? Check out this new post for this year on the Best Christmas Trees!
It can be hard to find a great wired red velvet ribbon that works outdoors. I purchased this in 2019 for the wreaths on the upper windows. They still look great. I just ordered another spool that came in yesterday to make new bows for the lower level.
This is the velvet ribbon that I use for tree bows and ornaments.
I use this ribbon for decorating and wrapping gifts.
This ribbon is a nice match for the caramel-colored velvet ribbon. It has a very nice drape. I am using it for decor and wrapping gifts.
I also have this gorgeous green velvet ribbon.
The ones that I have used are no longer available, but these remote outlets have great reviews. These are much sleeker than mine. I absolutely love the convenience of remotes. I keep them all on the kitchen counter and can turn on all of the Christmas lights from one spot. I prefer this inside over a smart plug with apps. My husband is not into the app thing so this is easier for our family to use.
I do have the Kasa brand of smart plugs and bulbs. This way I only have to have 1 app. These also work with Alexa. You could use this for Christmas lights inside.
I use the above plugs for lamps. Keep in mind that I don't like these as much if the outlet is right behind furniture that goes behind the wall. It will make the cabinet stick out further. I use these where that is not an issue.
These are the smart outlets that I use on the front porch. I love the timer option for these in the app. I can also opt to turn them on earlier from the app or ask Alexa to do it.
Not Christmas-related, but since we are talking about my Kasa products……I LOVE these! I have these on our bedside tables and lamps on the table in the family room. I mainly bought them for travel so they would come on while we are away, but enjoying them daily.
This budget-friendly option has served us well for several years.
I just splurged on this window candle upgrade. I ordered 2 sets. They just came in yesterday and were recommended by a friend. I'll keep you posted and share in my stories later today. I plan to use them all winter in the windows so that is why I decided to upgrade them.
Sometimes there is just no way around it. Battery-operated fairy lights can really come in handy when there is not a convenient outlet.
I bought these to use on the hutch in the kitchen last week. They're very pretty and work perfectly for my needs. Keep in mind that the plug is a bit clunky and sticks out from the wall a bit and there is no remote. They do work well and have a beautiful glow!
These are the lights that I have over the kitchen hood. These are pretty great and come with a remote. They are a USB outlet so you will need a USB outlet plug. I just used an old one from a cell phone.
These are reader-favorite year after year. Curtain lights are so much fun for the holidays. They are hung from the curtain rod. You can also install command hooks above the frame.
Floral wire is a must-have for your holiday kit!
Command Hooks are a must for holiday decorating. These small ones work well for lightweight garlands and beads.
Just make sure you select the right weight limit for your hooks.
Elevate your ornaments hooks with these dressier gold ones.
Do yourself a favor and purchase high-quality batteries for your window candles and fairy lights. They will last a good month or longer with normal use.
Decorative twist ties for garlands elevate the look and protect your surface.
Flameless candles are perfect for hard-to-reach places like your mantel or if you have pets and young children.
I have purchased 2 stockings from this company, and they are gorgeous! needlepoint stockings are classic. I bought them for new additions to our family. All of ours were handmade by my late mother-in-law. These are a great blend.
I hope you have an amazing time holiday decorating!

Buffer