Spring Home Tour 2018 Part 1
This is perhaps the most excited I've been for a home tour. I felt like I was stuck with my decorating. Our main living space was in desperate need of a paint color change for a couple of years now. We'd been hee-hawing around about it for a while (that's southern for talking about doing it, but never actually doing it). I had even researched renting or buying scaffolding and fancy ladders. The family room ceilings are 24 feet high! After finally getting serious about it, I finally called and got 4 quotes. Needless to say, our jaws dropped to the floor. Our main color due to the openness carries from the foyer to the family room, 2 staircases and the upstairs landing and halls. It was a BIG job! A job that we did hire out. They finished in 2 and 1/2 days. Yes, I said that!!! I'm a slow painter…I say it would have taken me weeks and weeks!
So today, I get to share with you our freshly painted living area that was just completed a little over a week ago!
Many thanks to Marty from A Stroll Thru Life for organizing our seasonal tour!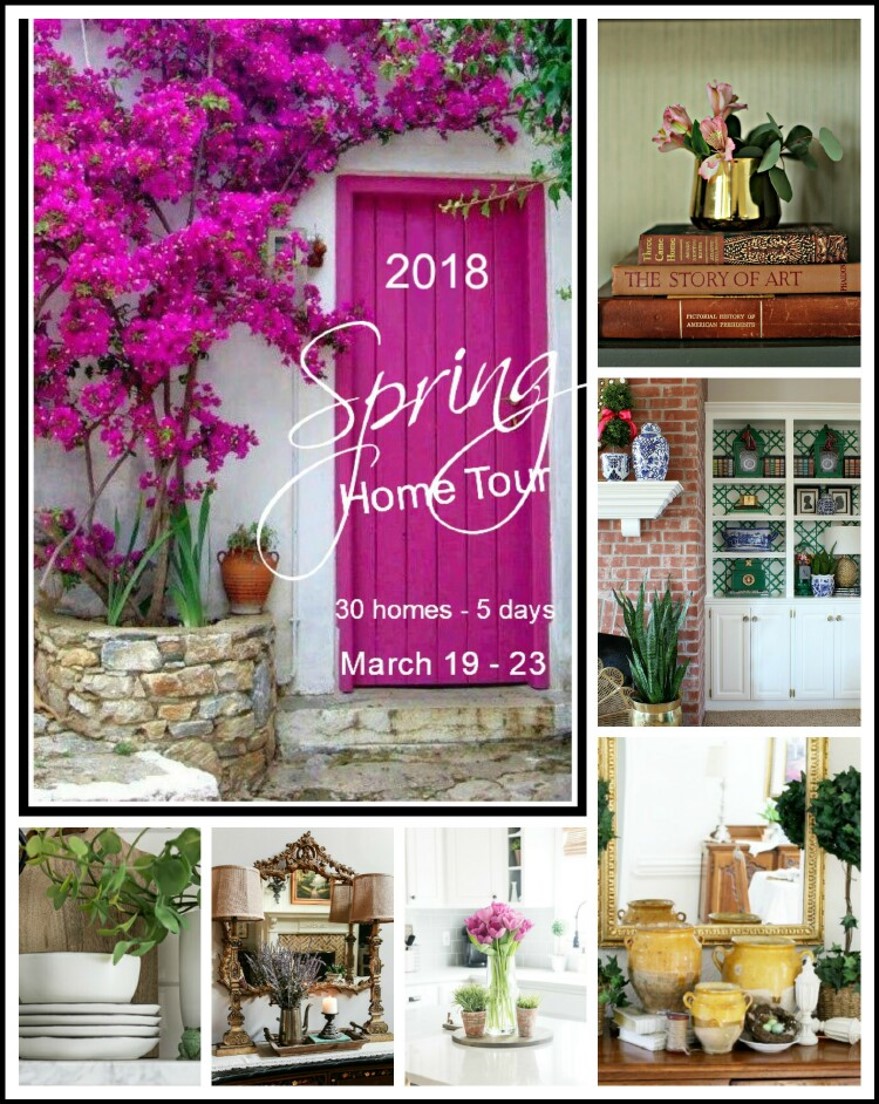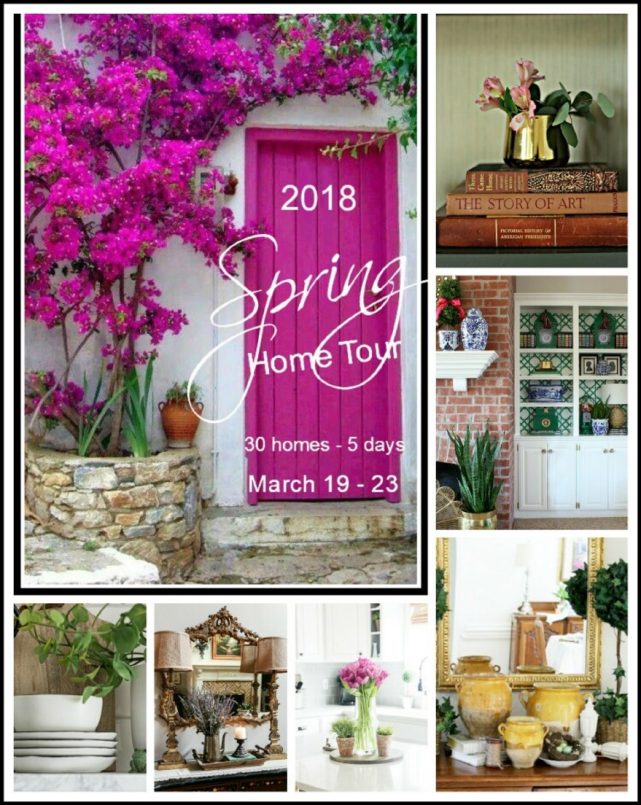 If you are visiting from Dimples and Tangles, then welcome! Jennifer's home is just gorgeous. I love her use of color!
I am going to really dive into the freshly painted family room. There are so many pictures, that I may have to do separate tours for the fine details in the kitchen and dining room, but I'll certainly give you a peek!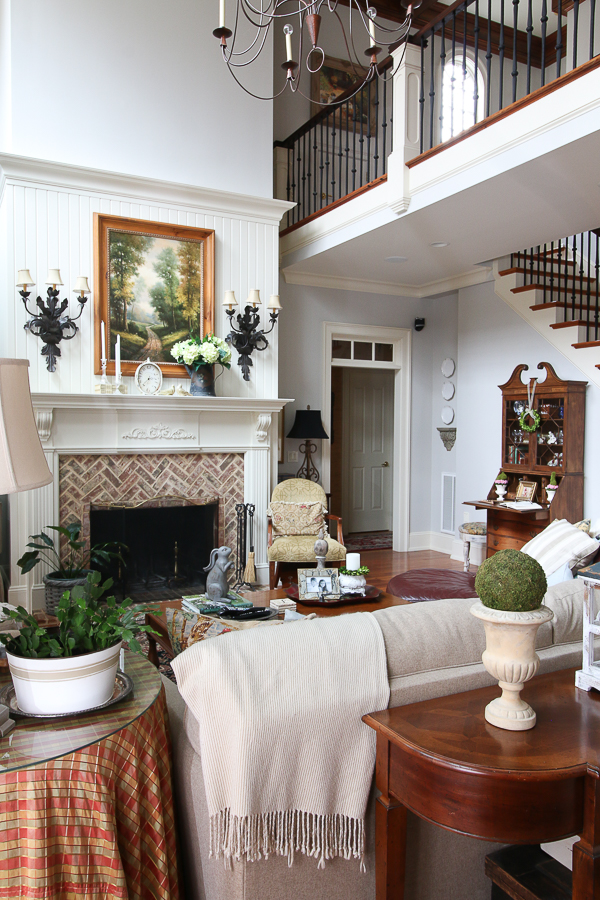 Ta-da!!!! We went with Agreeable Gray by Sherwin Williams, but used Aura paint by Benjamin Moore. The trim is Grand Teton White by Ben Moore in Advance Paints. The painters did a fabulous job!
I will start by saying that this color is much easier to photograph!
I still have a few things to do like sew a new table skirt for the round table pictured here. It's on the growing project list!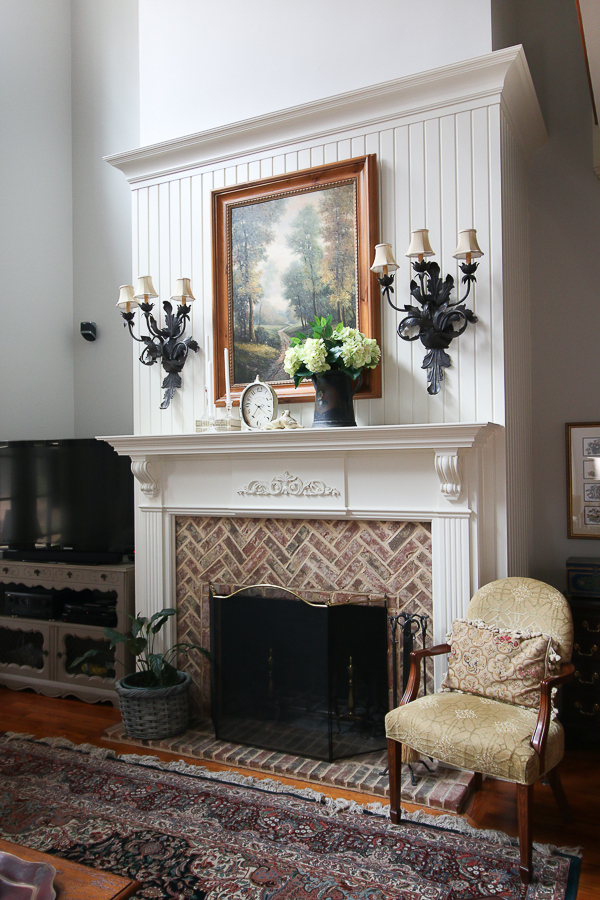 The only area that I didn't pay the painters to paint is this beadboard area surrounding the front and sides of the fireplace. I wanted to paint it in the trim color. It wasn't a quick job either. It was painted with an oil finish so I had to prime first since I was going in with the Advance paint line. I did 2 coats of primer over the green and 2 coats of the Advance. We even had to buy a new 8 foot ladder to reach the top ledge.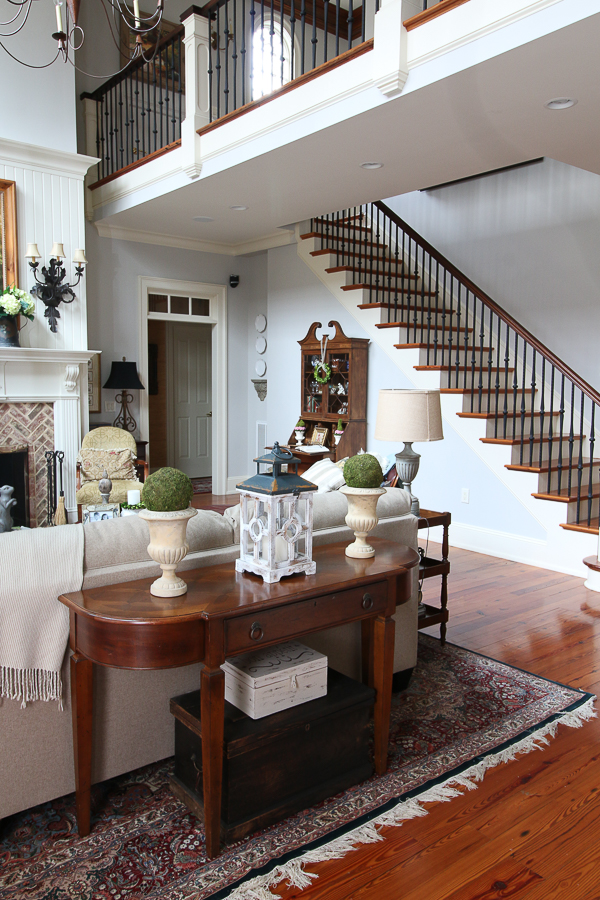 To add to the craziness of repainting so close to decorating for the tour, our dining room suite sold that I listed on Craigslist back late January. It sold 2 days after the painters finished. The new owners drove 4 hours 1 way to pick it up. They got a deal. I went online that very night and started looking for something to replace the table. I found it, we went and looked at it and purchased it! It was delivered last Thursday! Whew….I tell you this tour prep has been a whirlwind.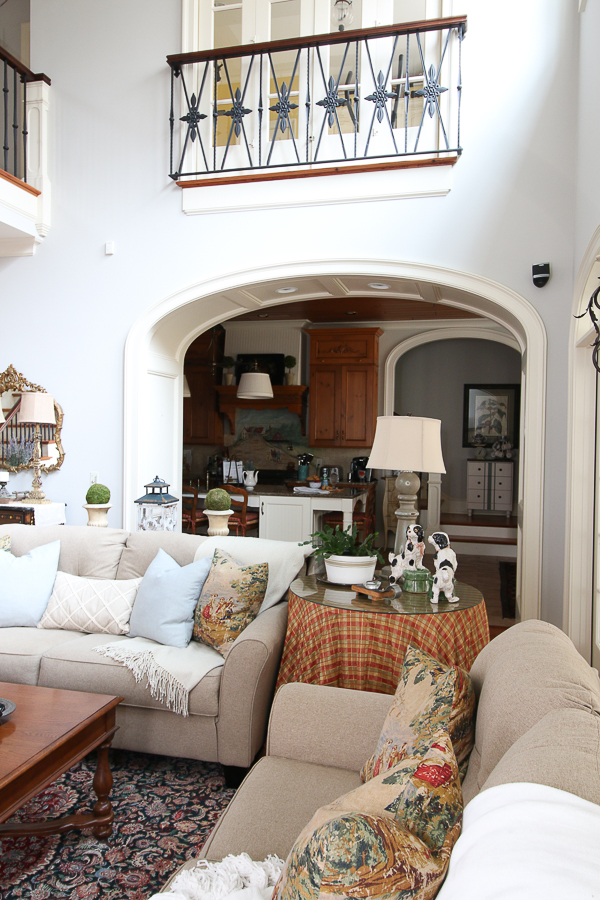 It feels like a new, fresh room. I feel like I got my blogging mojo back!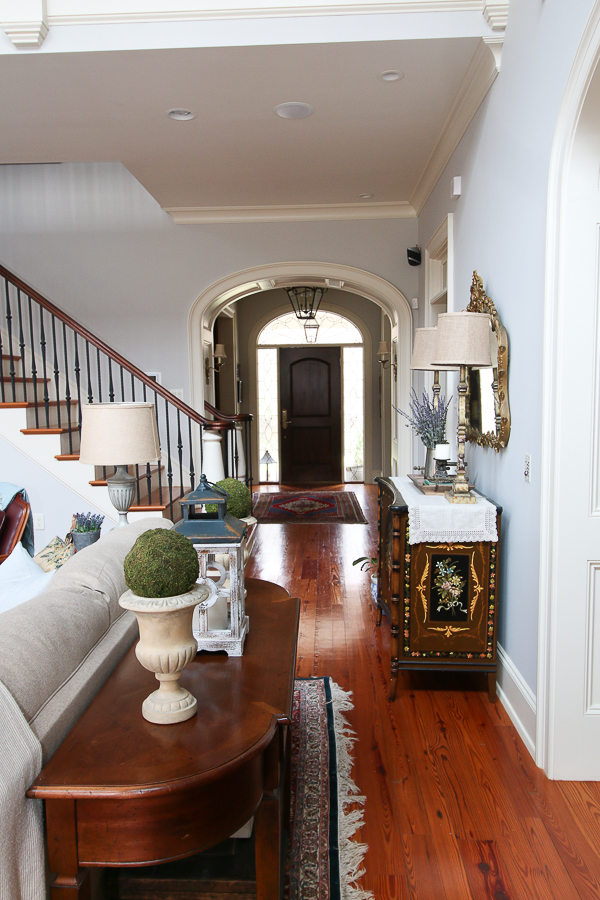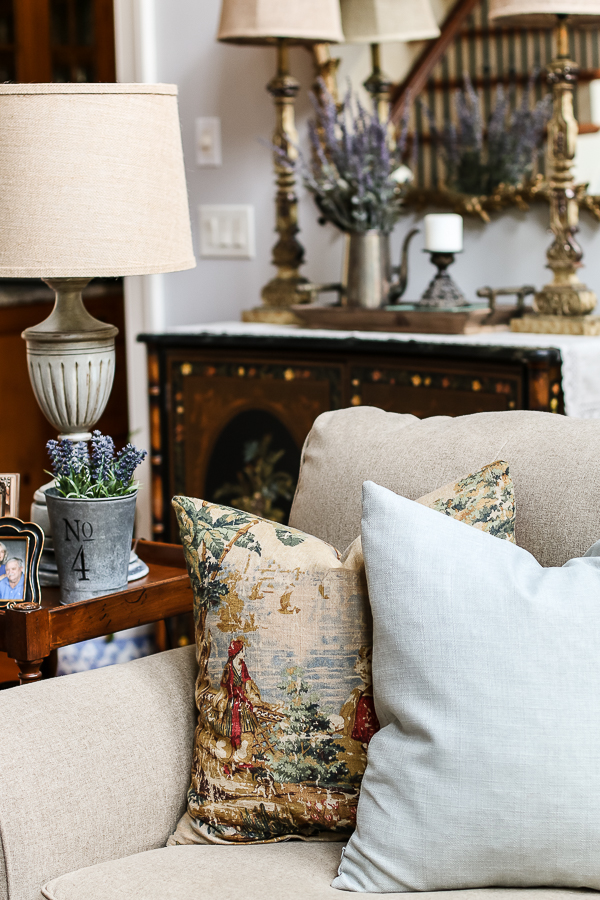 I really love this toile pattern, and it just never grows old for me. I do think I'll try to change it up for summer though!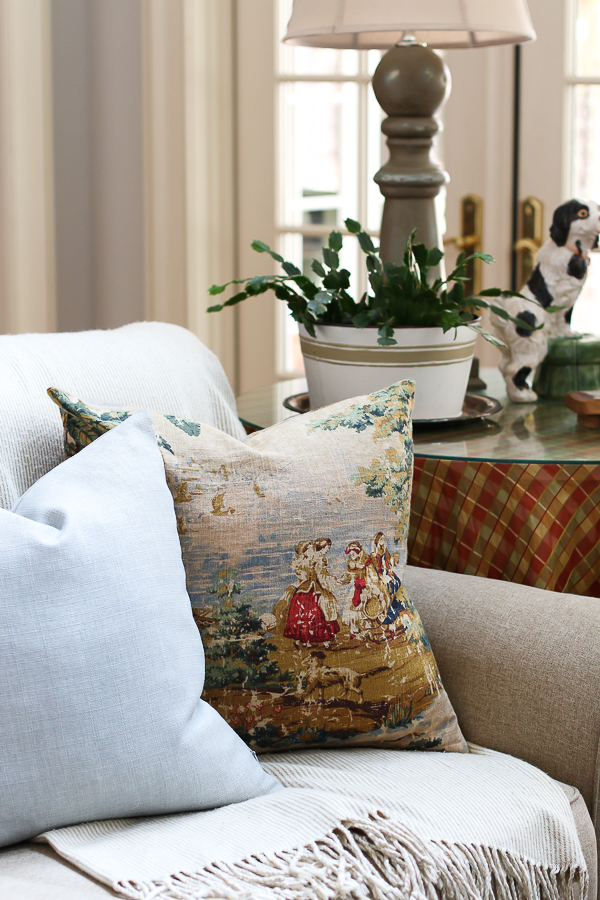 I sewed my toile pillows, but I found some ready-made ones for you for a great price on Etsy.
The lamp in the background was a thrift store makeover. Lamps are so fun, because you can really get creative with finishes. You can find this lamp HERE.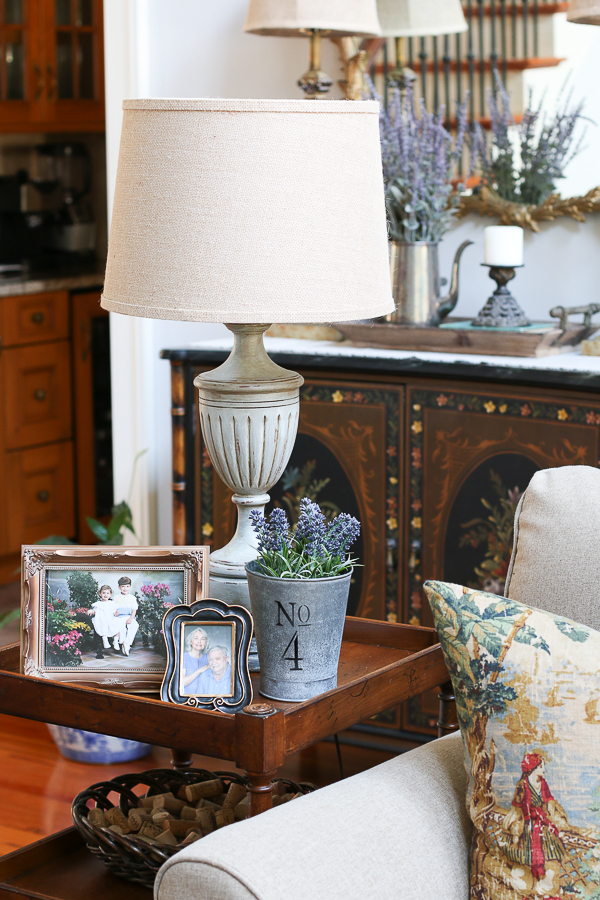 This lamp is another thrift store lamp makeover. You can find it HERE.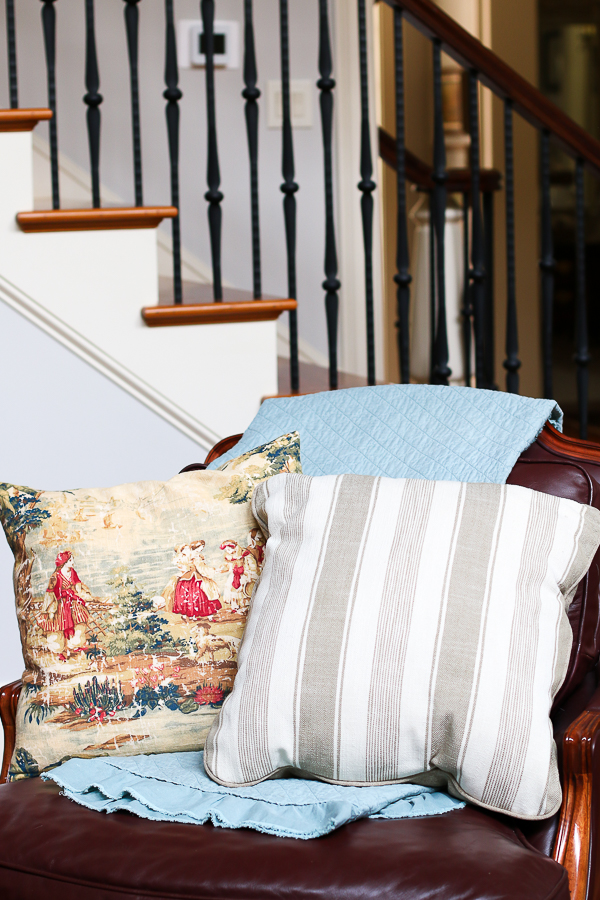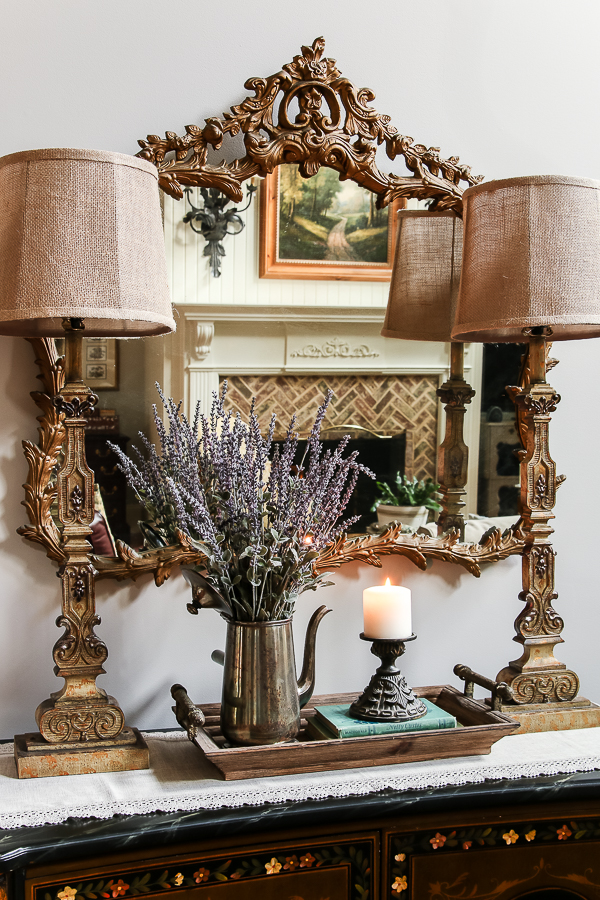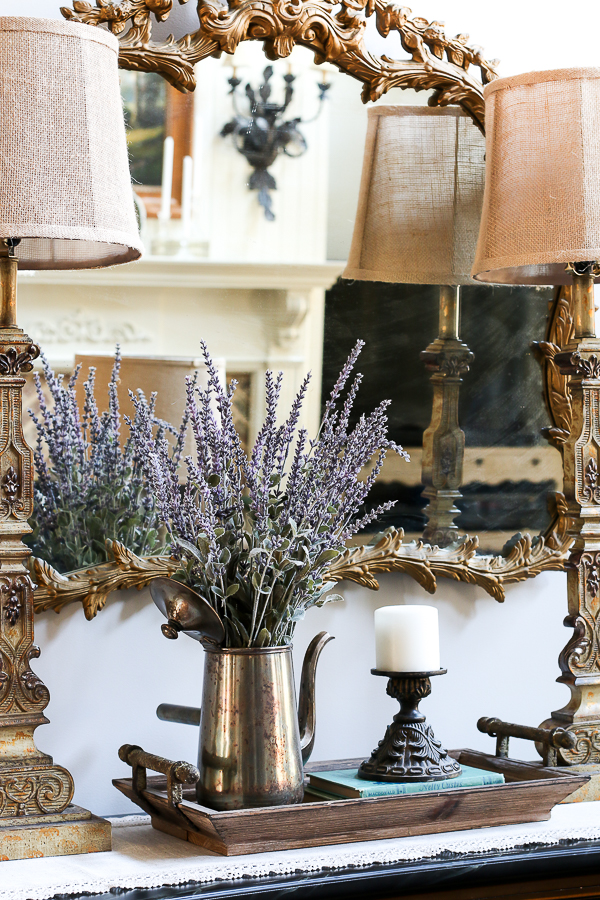 Trays are a favorite way to decorate. They bring a vignette together!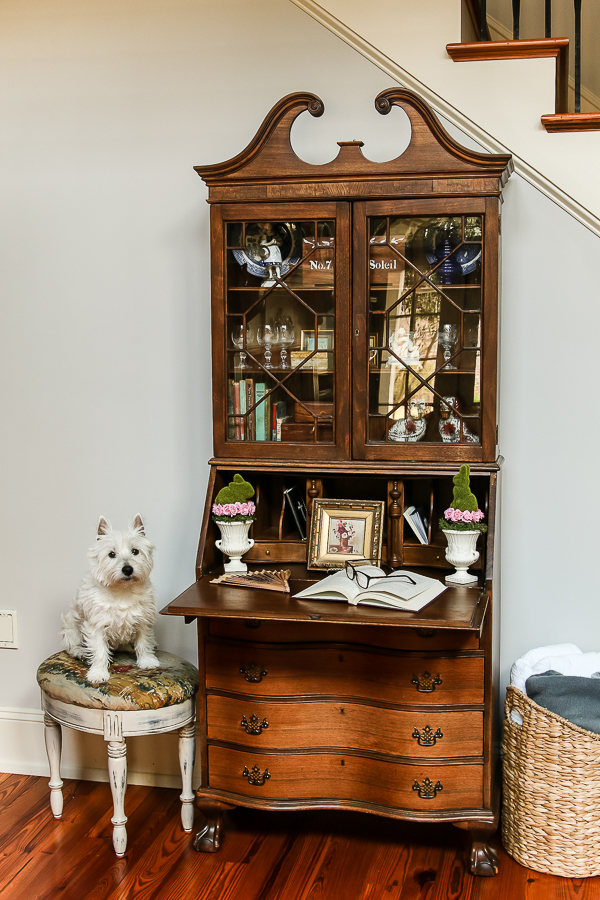 If you follow my blog, you'll remember a hunt board here. It went with the dining room suite. I purchased this secretary on Craigslist. It's not perfect, but I love it. I'm losing a china cabinet, so I knew this would be lovely to store some treasures. That vanity stool was also a thrift store makeover.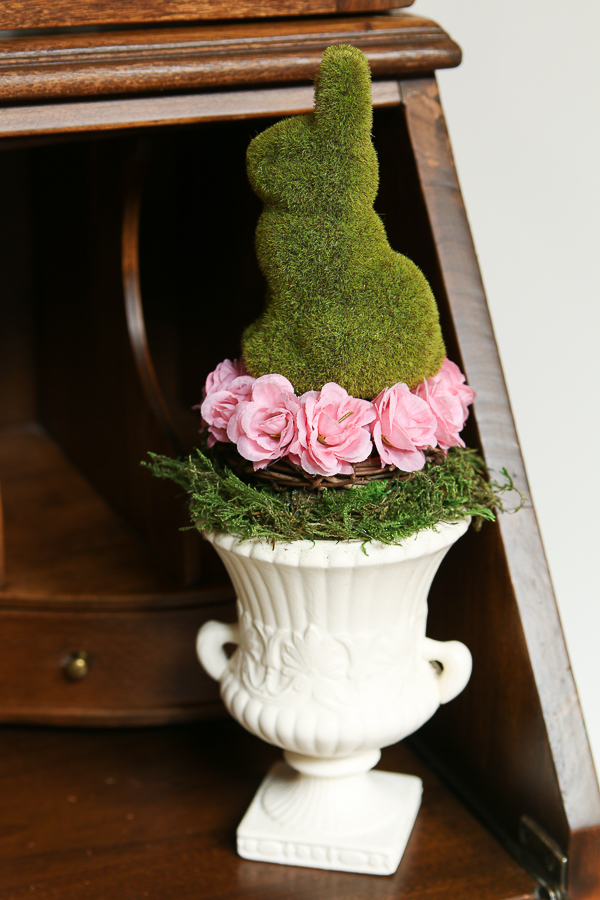 These sweet topiaries were a recent thrift store makeover.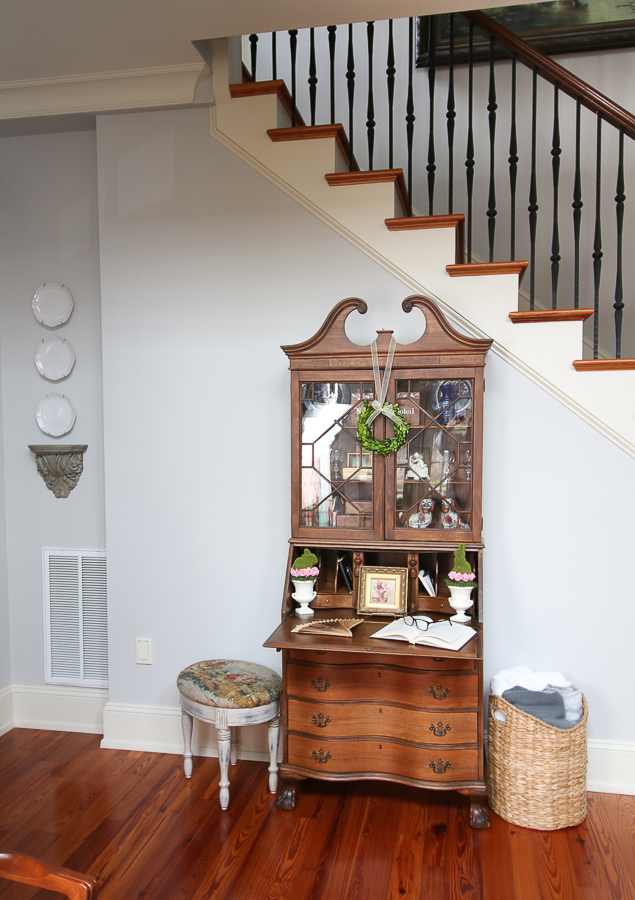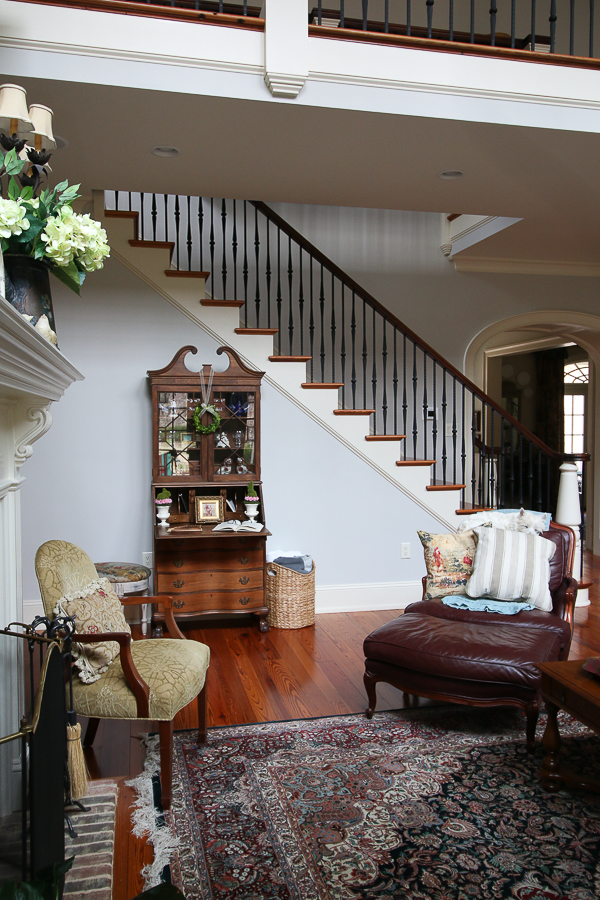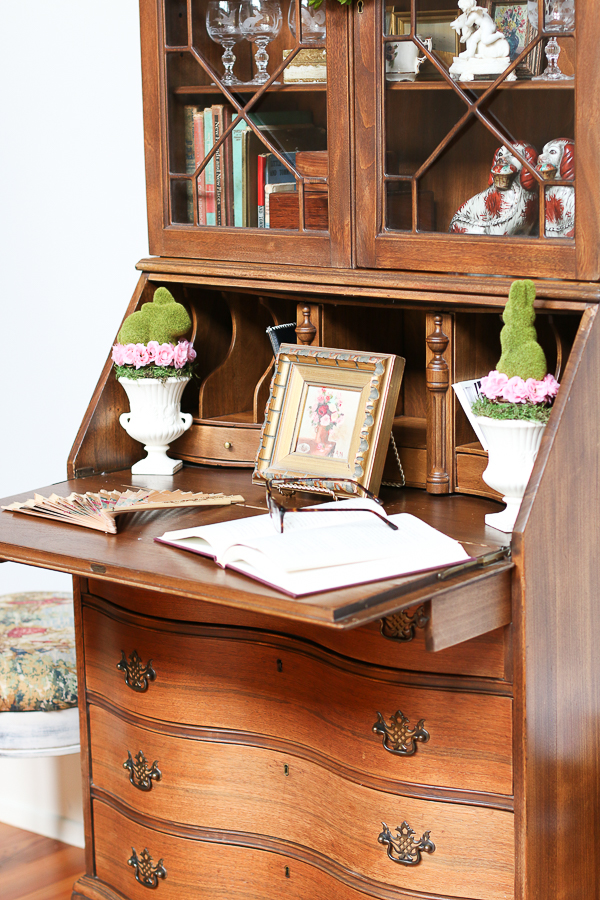 If you look hard in some of the photos, you may notice a little extra white pillow!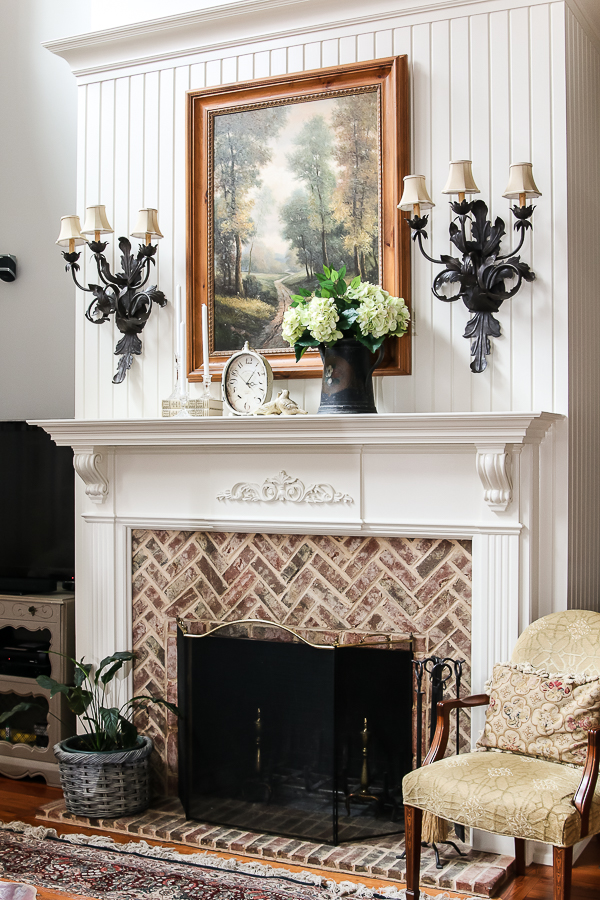 The white woodwork here used to be the same green as the walls. My husband I were just talking about how the sconces stand out so much better against the white.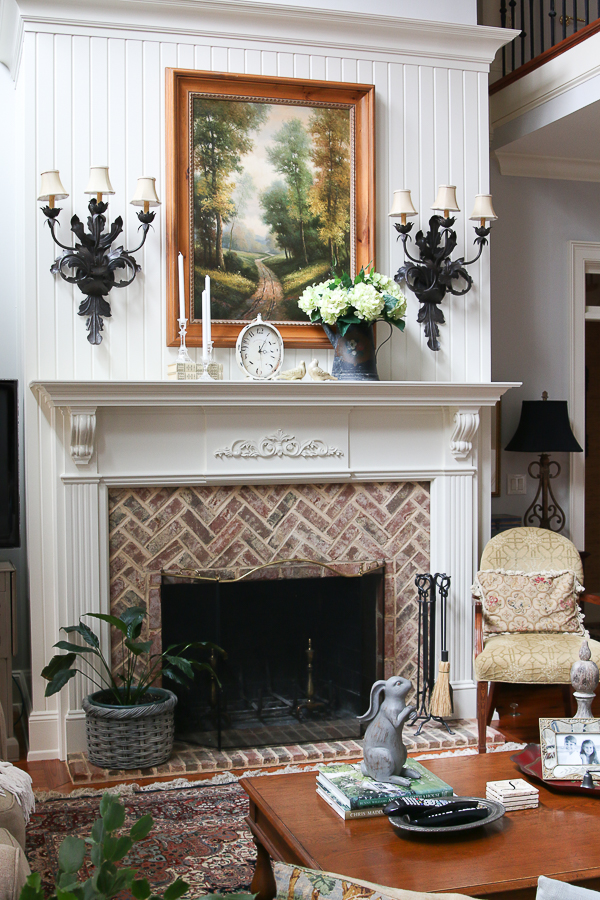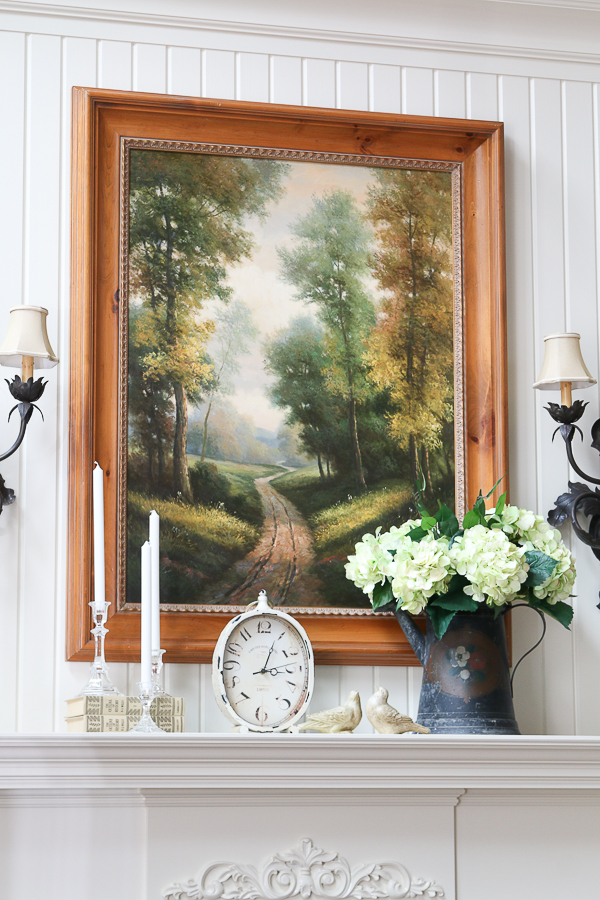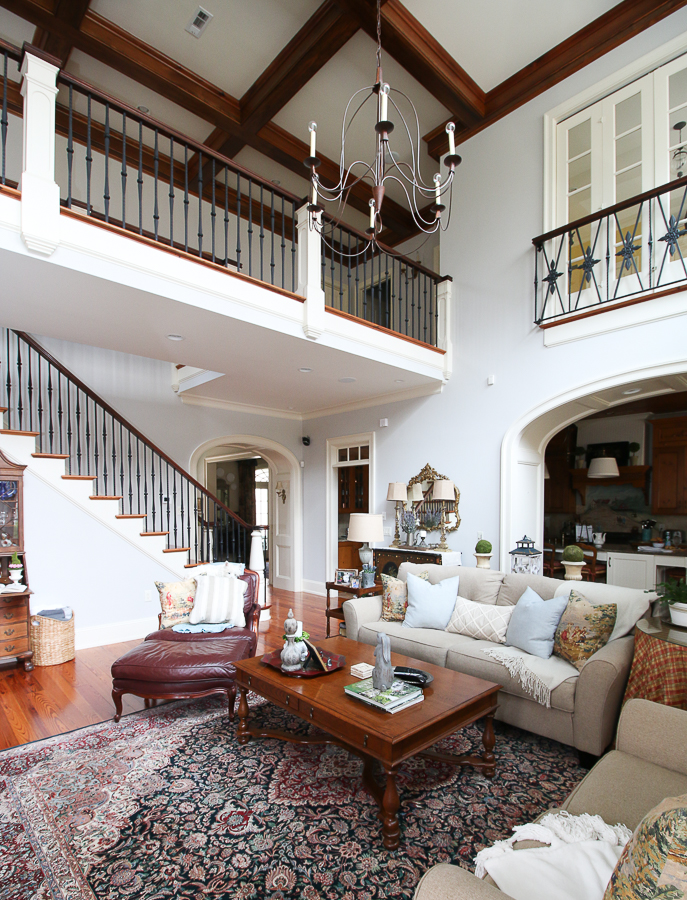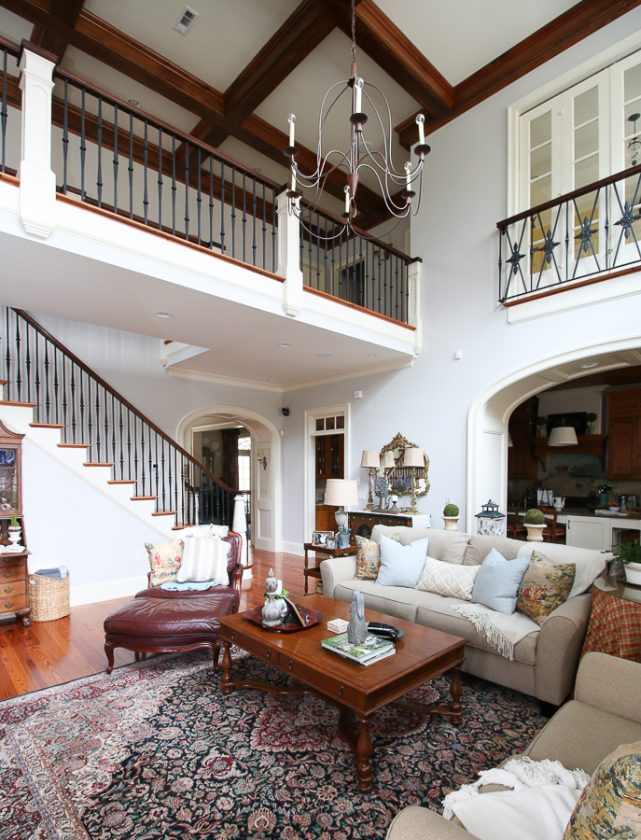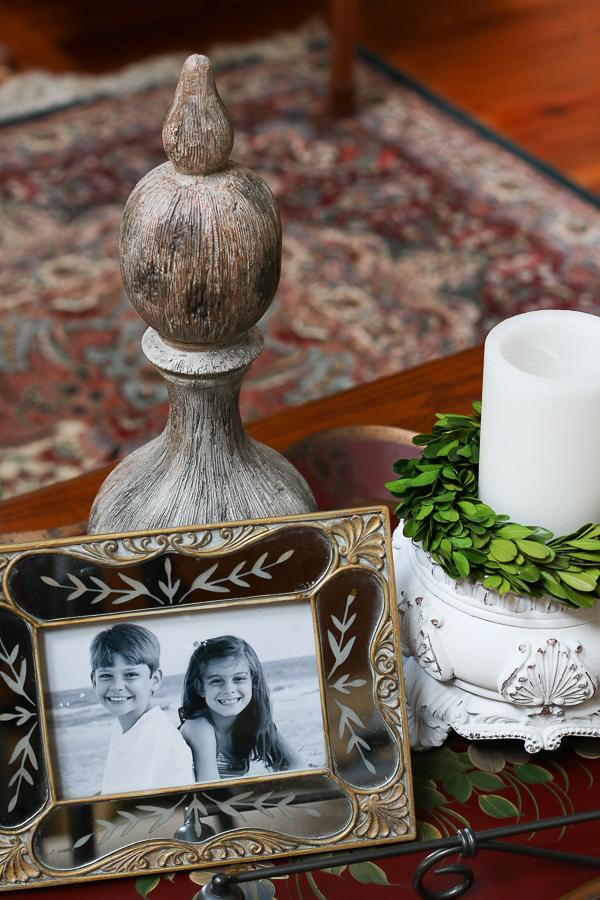 This is a favorite picture of the kids. Of course, they are 19 and 21 now! White candle holder makeover is here.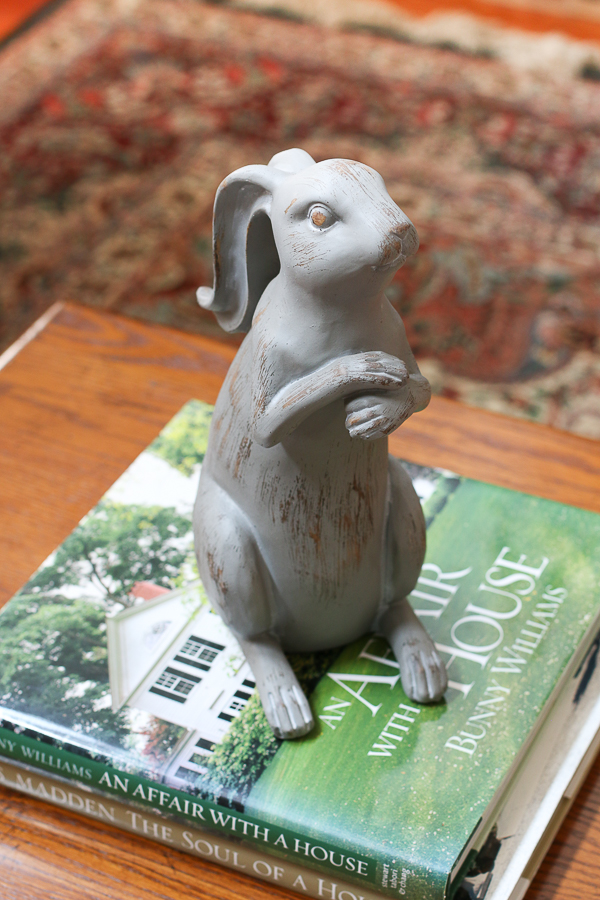 Sweet bunny statue that easily stays out through the summer. Nothing screams Easter about this one.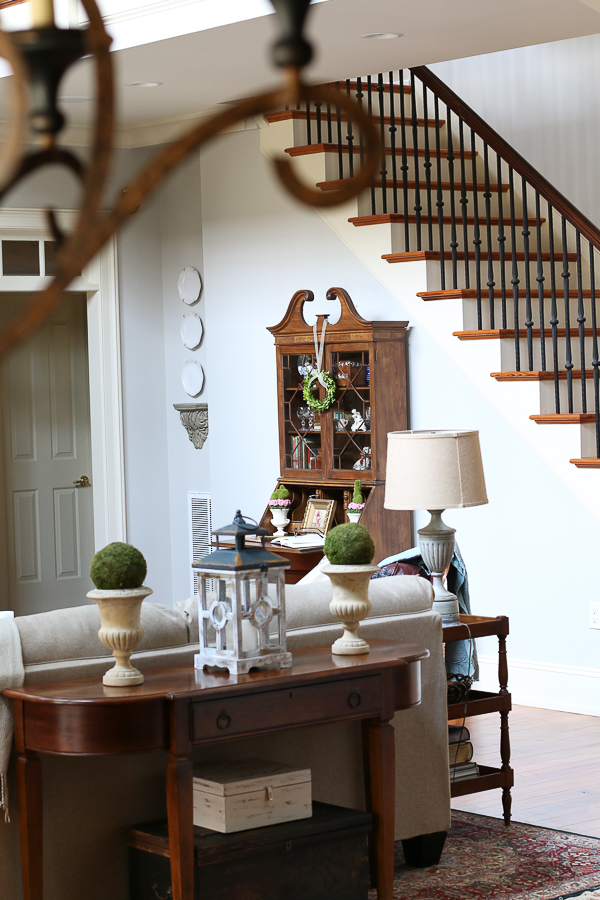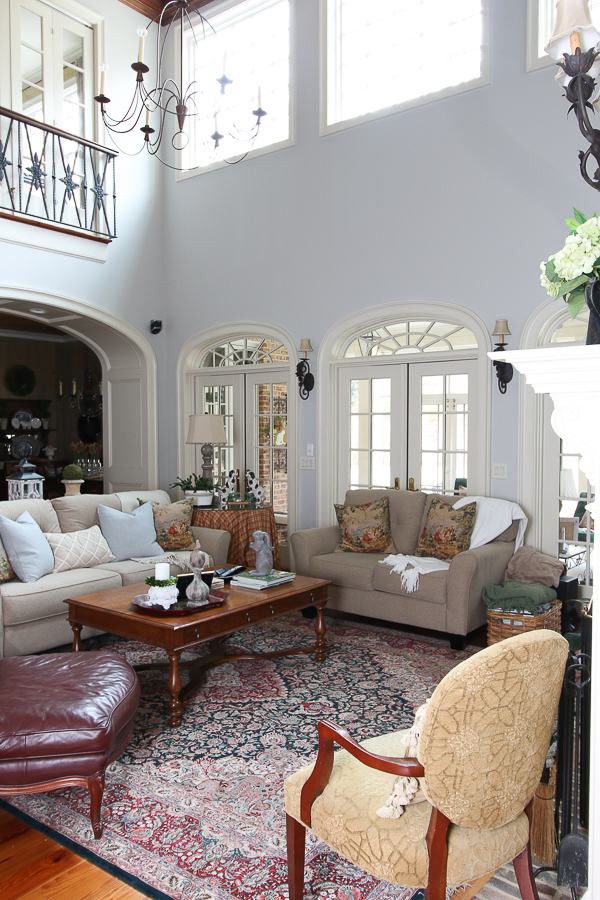 I even sweet-talked the painters into cleaning the insides of those upper windows since they had those scary tall ladders! Well worth the extra $50!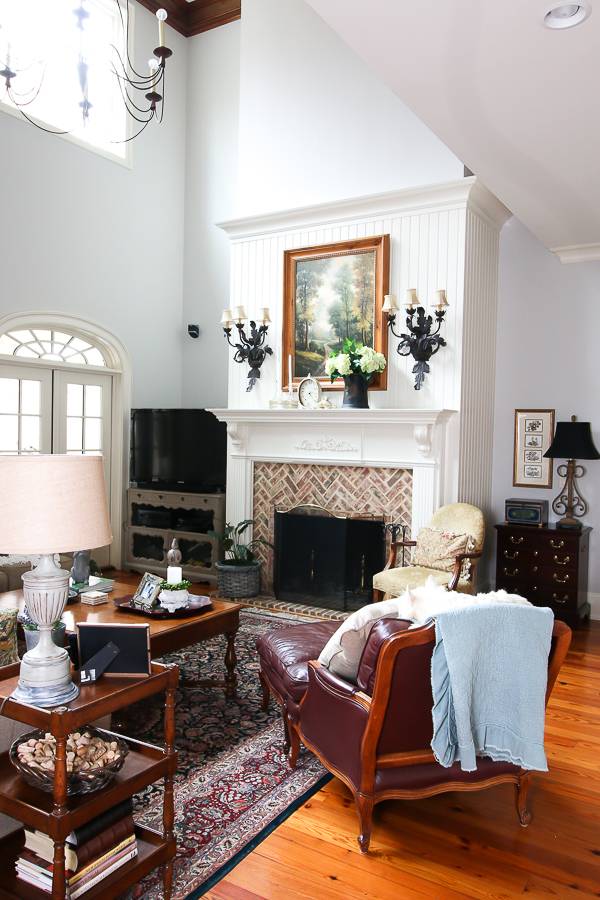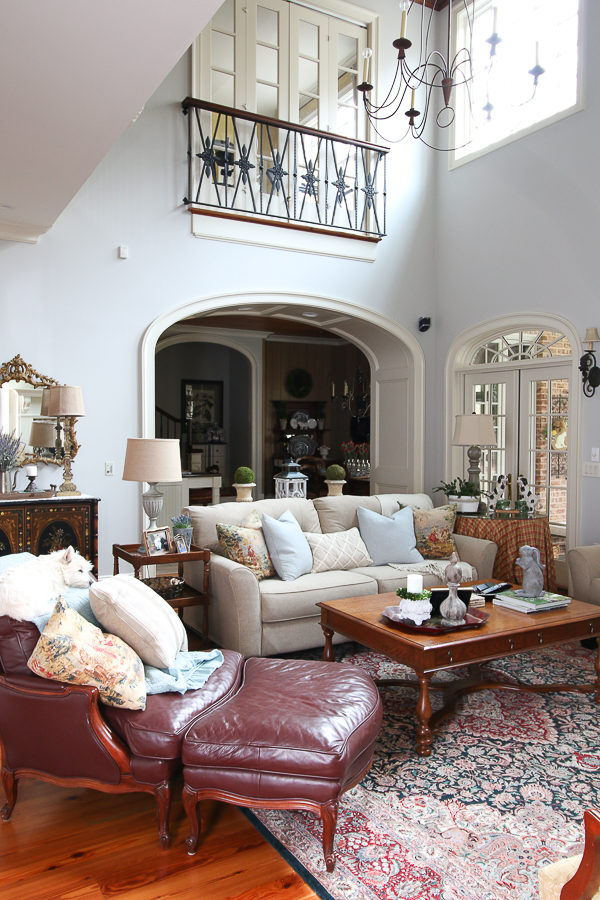 Let me give you just a peek at the kitchen and NEW dining room. I'll have Part 2 up of my tour shortly!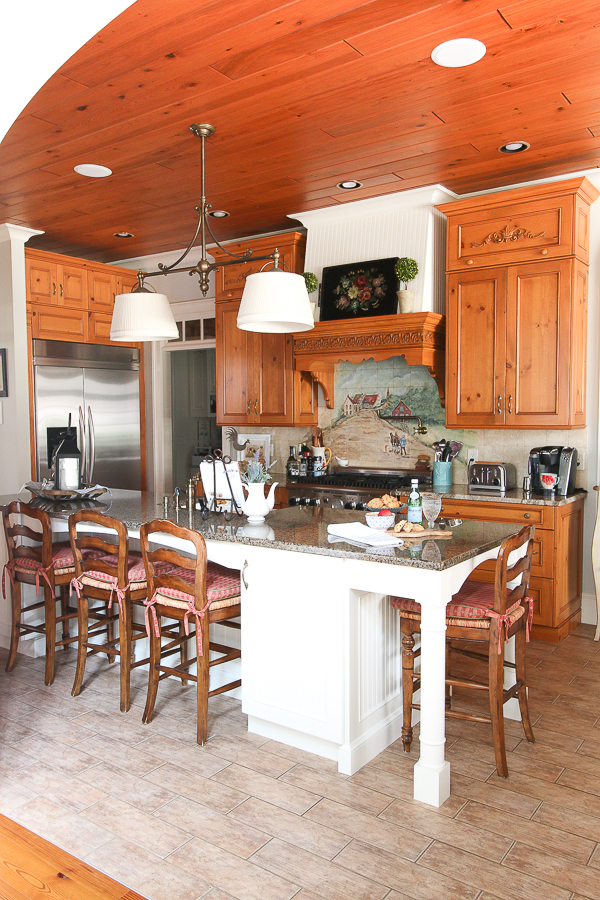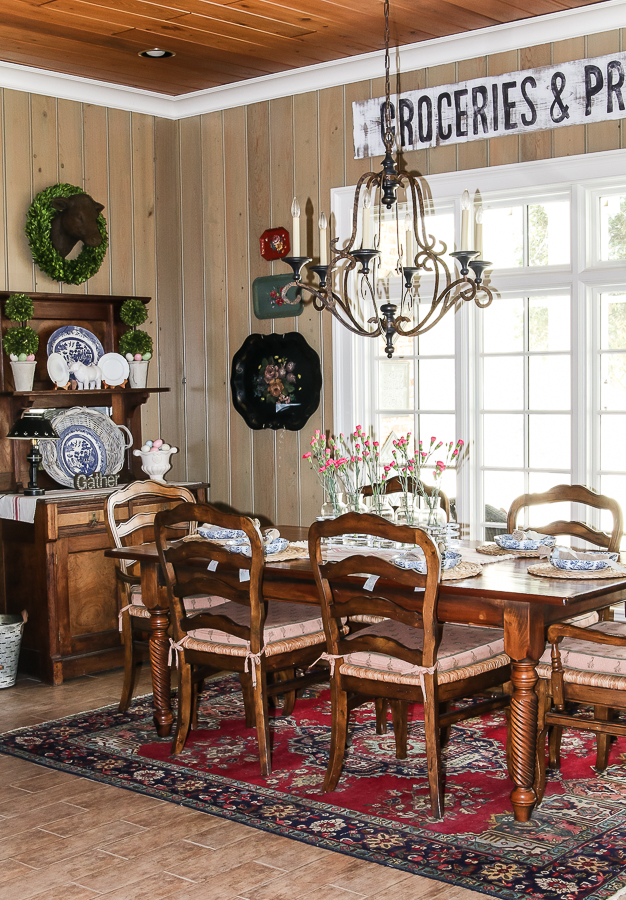 More kitchen details later this week!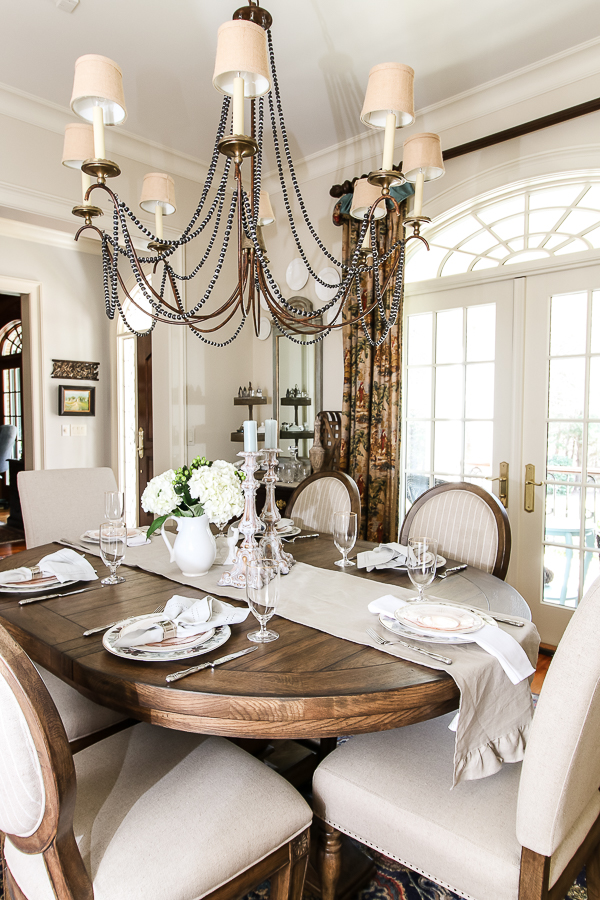 More dining room features later this week as well! I love our new dining room table and chairs!
Thanks so much for visiting with me for a bit.
2018 Spring Home Tour
Monday – March 19
Tuesday – March 20
Wednesday – March 21
Thursday – March 22
Fri –March 23
Be sure to visit Our Southern Home's Amazon shop. I am adding my favorites daily!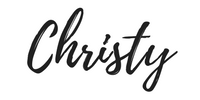 Home Stories A to Z Not Just a Housewife Kammy's Korner The Happy HousieDesign Dining and Diapers Liz Marie Blog Funky Junk Interiors Savvy Southern StyleTatertotsand Jello DIY Show Off Redoux Interiors Between Naps on the PorchThe DIY DreamerOh My Creative Little Miss Celebration Just a Girl and Her Blog Sand and Sisal InteriorFrugalista House on the WayAddicted 2 DIY I should be Mopping the FloorMiss Mustard Seed Stone Gable- The Scoop Inspire Me Tuesday Feathered Nest Friday Treasure Hunt Thursday Northern Nesting
Buffer