Creating A Christmas Mantel
I can't believe that Christmas is almost here! It has been a busy several weeks of crafting, decorating, blogging and I absolutely love it!
I have teamed up with some of the best bloggers and friends out there to bring you this fun tour called The 12 Days of Christmas with 29 other bloggers.! I must say that we have had such fun collaborating and supporting each other!
This time of year is just magical! Our family room mantel is one of my favorite areas in our home to decorate. I've gotten several emails about how I created my mantel from last week's Christmas Home Tour. I wish I'd taken step by step pics, but I'll do my very best to relay in words!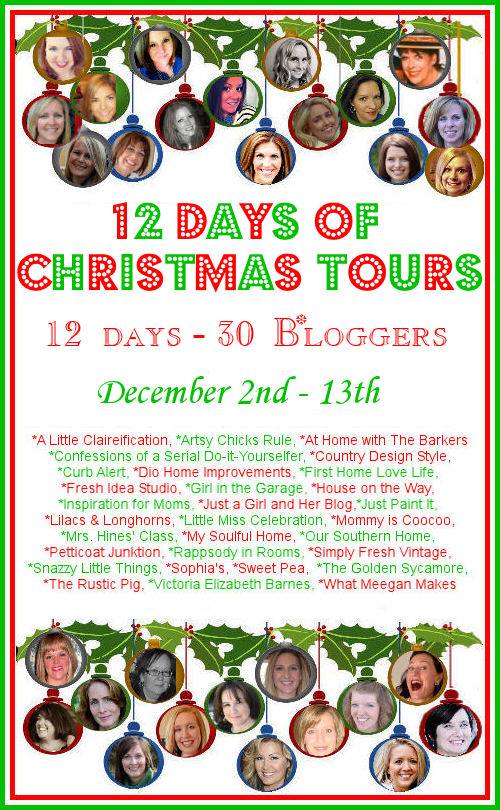 Be sure to find the entire schedule below!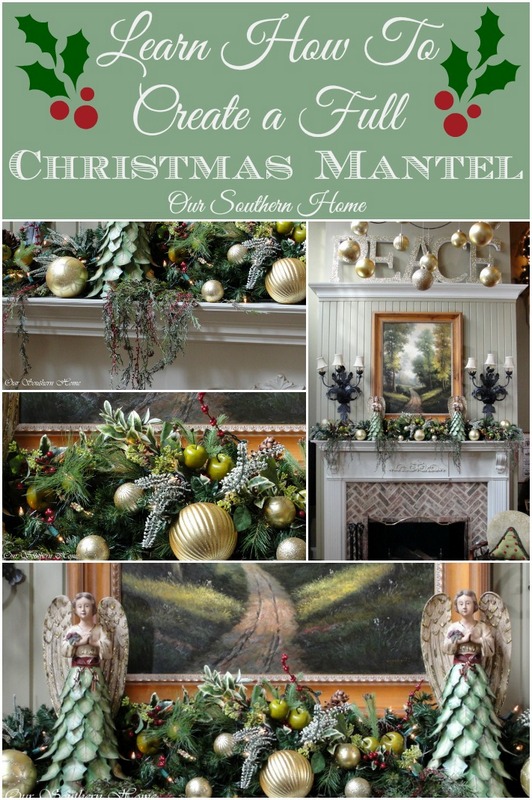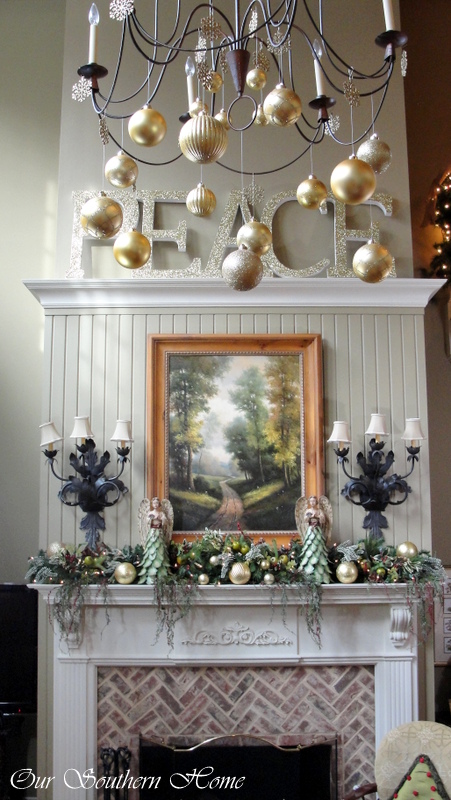 The only change to the mantel that I made this year was with the addition of the giant PEACE letters from Consumer Crafts. They are a large 23.5 inches, and I thought they'd be fun on the above ledge! I'll be sharing how easy it is to glam them up later this week!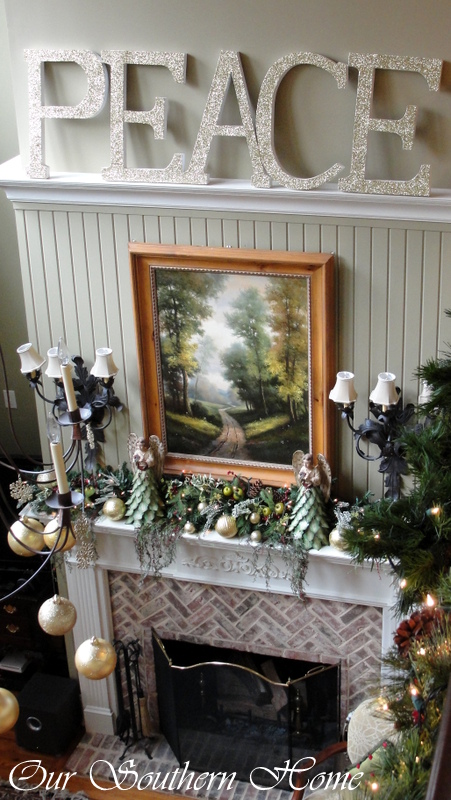 Let me share with you how I create a full and lush mantel.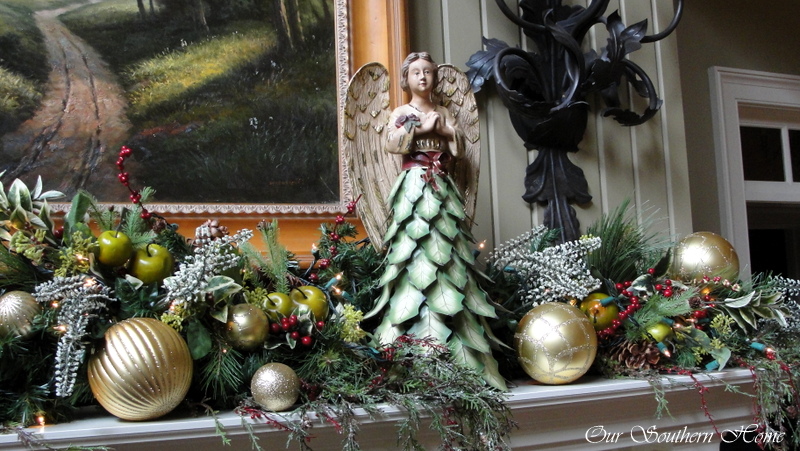 The first thing that I do is start with a greenery garland that will span the length of my mantel. You can bend and manipulate the ends so that the garland stays in place. Then I placed my two metal angels on either side of the artwork. I bought these 10 years ago at Belk AFTER Christmas at a steal! I love them every bit today as the day I bought them!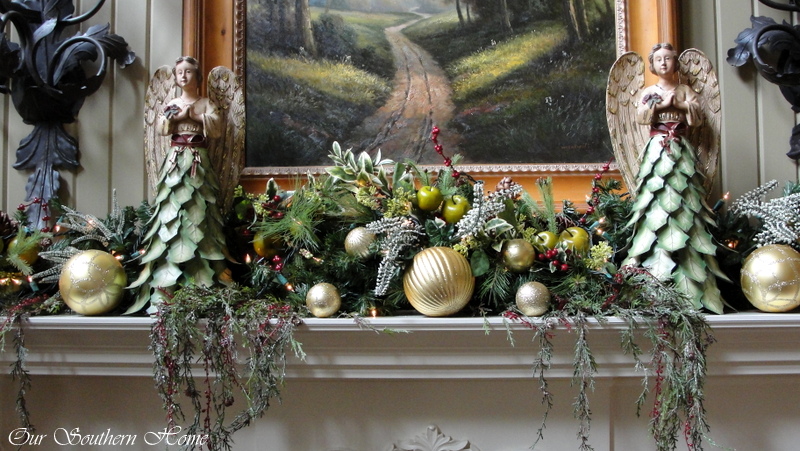 Since this mantel is symmetrical, I made sure to place all of my picks equally. I start with the largest first. The largest ones here are the ones with the green apples and pine. If you look closely, you will see that I have 5…an odd number. I have one on each end and 3 in the center.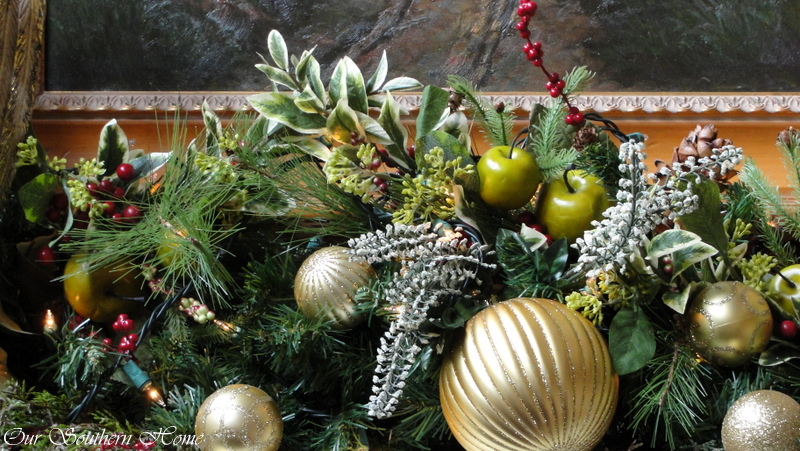 The other picks used are the whitish picks and the holly leaf with berries. Again, using what I had….I filled in equally. Whatever I do on the right of the angel, I do on the left. Then fill in the center. Stand back and make any adjustments.
Next, I add my lights. I have an outlet in the center of the mantel. I placed a remote control plug in it. They sell them in the Christmas section. I LOVE them. I have 3 that are controlled by one remote control. It allows me to easily turn on the mantel, staircase and tree with 3 easy clicks on the remote! Just weave your lights trying to conceal the wires as much as possible. I used one strand of 100 lights.
Lastly, add ornaments here and there trying to maintain balance.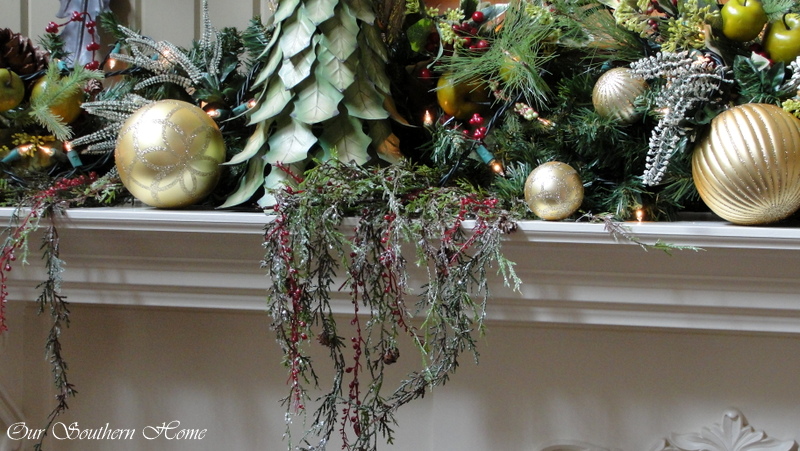 I almost forgot. Last year I added these trailing, icy picks from Hobby Lobby. They have them again this year! I added four. They were easily slid in underneath the rest of the mantel.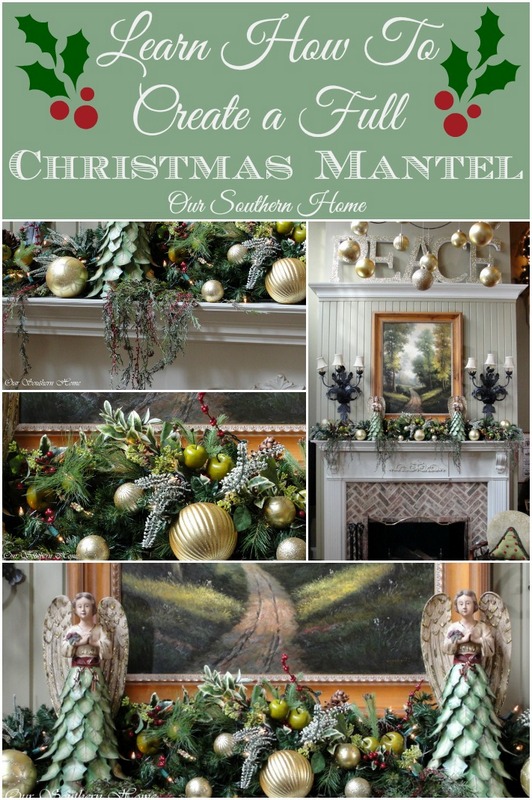 Thanks so much for stopping by. I wish you a lovely Christmas!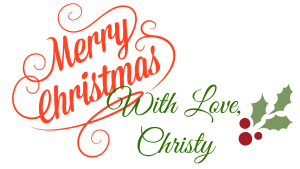 Here is the entire tour schedule! Be ready to get your pinning finger out!
Monday DEC 2nd
Tuesday DEC 3rd
AT HOME WITH THE BARKERS
RESTORING OUR 1890 VICTORIAN
Wednesday DEC 4th
FRESH IDEA STUDIO
THE GOLDEN SYCAMORE
HOUSE ON THE WAY
Thursday DEC 5th
CURB ALERT
PETTICOAT JUNKTION
Friday DEC 6th
ARTSY CHICKS RULE
RAPPSODY IN ROOMS
Saturday DEC 7th
SIMPLY FRESH VINTAGE
COUNTRY DESIGN STYLE
Sunday DEC 8th
MRS HINES CLASS
SNAZZY LITTLE THINGS
Monday DEC 9th
JUST PAINT IT
THE RUSTIC PIG
JUST A GIRL AND HER BLOG
Tuesday DEC 10th
OUR SOUTHERN HOME
VIRGINIA SWEET PEA
MEEGAN MAKES
Wednesday DEC 11th
SOPHIAS DECOR
A LITTLE CLAIREIFICATION
GIRL IN THE GARAGE
Thursday DEC 12th
MOMMY IS COOCOO
LITTLE MISS CELEBRATION
INSPIRATION FOR MOMS
Friday DEC 13th
MY SOULFUL HOME
CONFESSIONS OF A SERIAL DIYer
LILACS AND LONGHORNS
Link Parties that OSH parties at on occasion!
Monday: Between Naps on the Porch, Boogieboard Cottage – Masterpiece Monday
Tuesday: The Scoop at Cedar Hill Farmhouse and Inspire Me Party at A Stroll Thru Life, Setting for Four – Project Inspire{d}
Wednesday: Savvy Southern Style
Thursday: From My Front Porch to Yours, 52 Mantels, Stone Gable, Home and Garden Thursday at A Delightsome Life, The Shabby Creek Cottage ,No Minimalist Here
Friday: French Country Cottage, My Repurposed Life, Miss Mustard Seed Furniture Friday, Common Ground, The Charm of Home, Rooted in Thyme,Imparting Grace, Keep Calm and Link Up, at the picket fence – Inspiration Fridays, My Romantic Home – Show and Tell Friday, Craftberry Bush – Inspiration Gallery Friday, SnapCreativity – Show and Tell
Buffer