Thrift Store Chandelier Shades Makeover
This isn't your everyday thrift store makeover!
It's special.
Welcome to the 2nd Annual Thrift Benefit.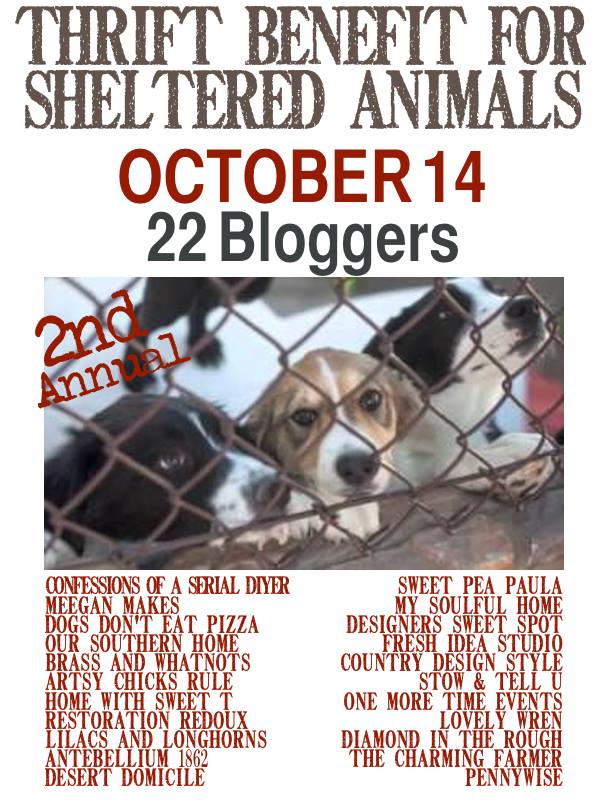 This is my first year participating. I hope to do this every year. It was eye opening for me. I had no clue that there were thrift stores like this.
I asked friends on my personal Facebook page if they knew of one in our area.
Sure enough a sweet friend knew of one.
I found Second Chances Thrift Store in Greenville, SC that benefits Concerned Citizens for Animals (CCA). I pulled the information below directly from their site.
"Concerned Citizens for Animals is celebrating 32 years in the business of improving the lives of dogs and cats in our community! We're a 501(c)(3) nonprofit, powered by volunteers. Not only do we operate Upstate South Carolina's oldest no-kill shelter, we also run low-cost/no-cost spay neuter program.
As the oldest no-kill shelter in Upstate South Carolina, CCA is happy to provide a chance for abandoned, sick, injured or otherwise unwanted animals to receive a new start with a loving family.
The combined efforts of a heavily involved management team, our caretakers and an active volunteer base ensure that all shelter residents receive first-class care and socialization. All CCA animals are fully vetted upon coming into the shelter and are spayed or neutered prior to placement in a new home. Any medical care the animal might need is provided."
I found this list of needed items on their site. I am sure you can find something similar in your area. I'm sure the following items are a pretty universal need for most shelters.
Canned cat food

Laundry detergent

Dishwasher detergent

Tidy Cats® scoopable litter for multiple cats

Bottled water for volunteers

Glass cleaner

Pine Sol® or similar cleanser

13 gallon garbage bags

30 gallon garbage bags

Cat & dog treats of all kinds!
If you are in the upstate you may contact CCA: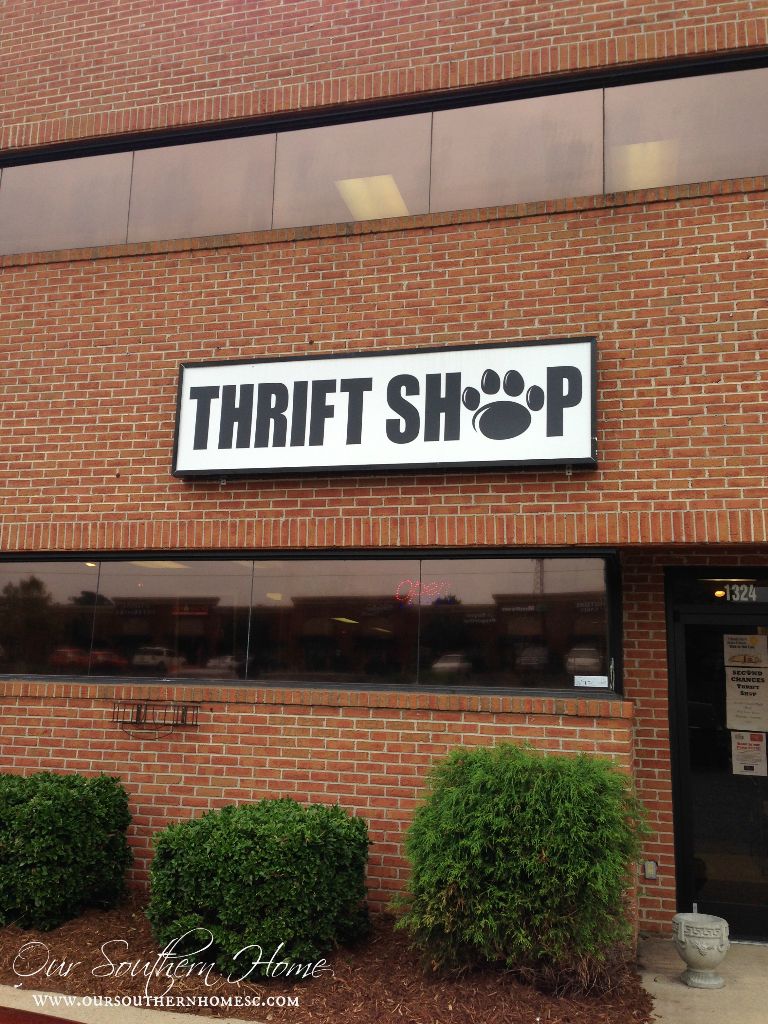 The Second Chances Thrift Shop is at 1324 Miller Road, Greenville, SC 29607, just a block off Woodruff Road. If you're looking for bedding, home goods, books, clothes — just about anything — they've got it!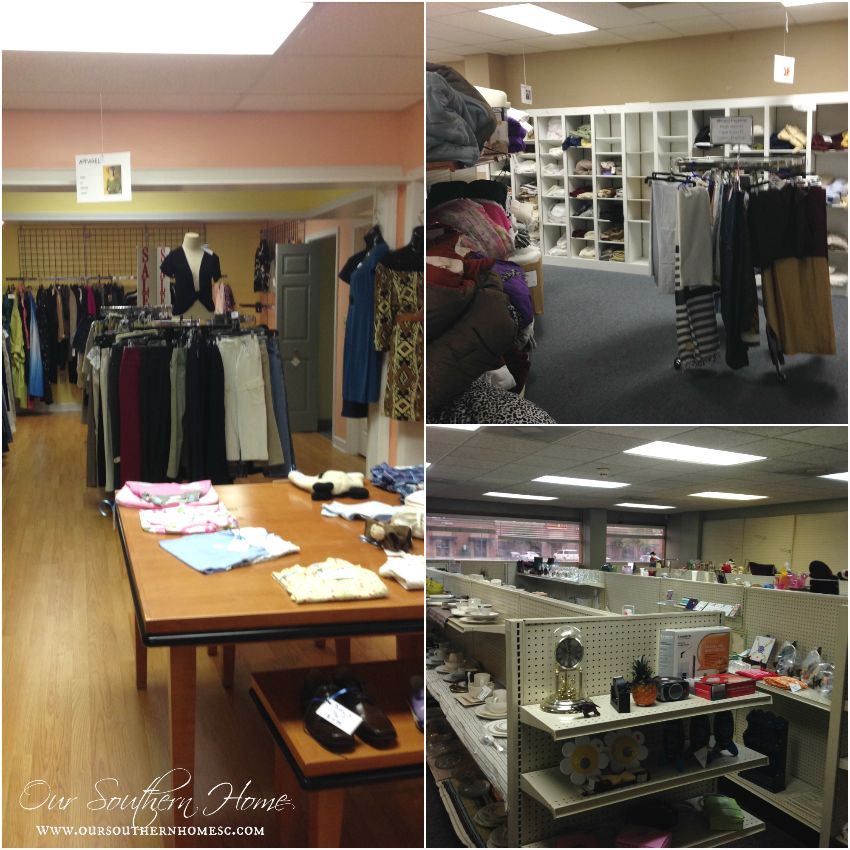 It's 2 stories of fabulous goodies. It was so neat and tidy. You can tell that the volunteers love what they do!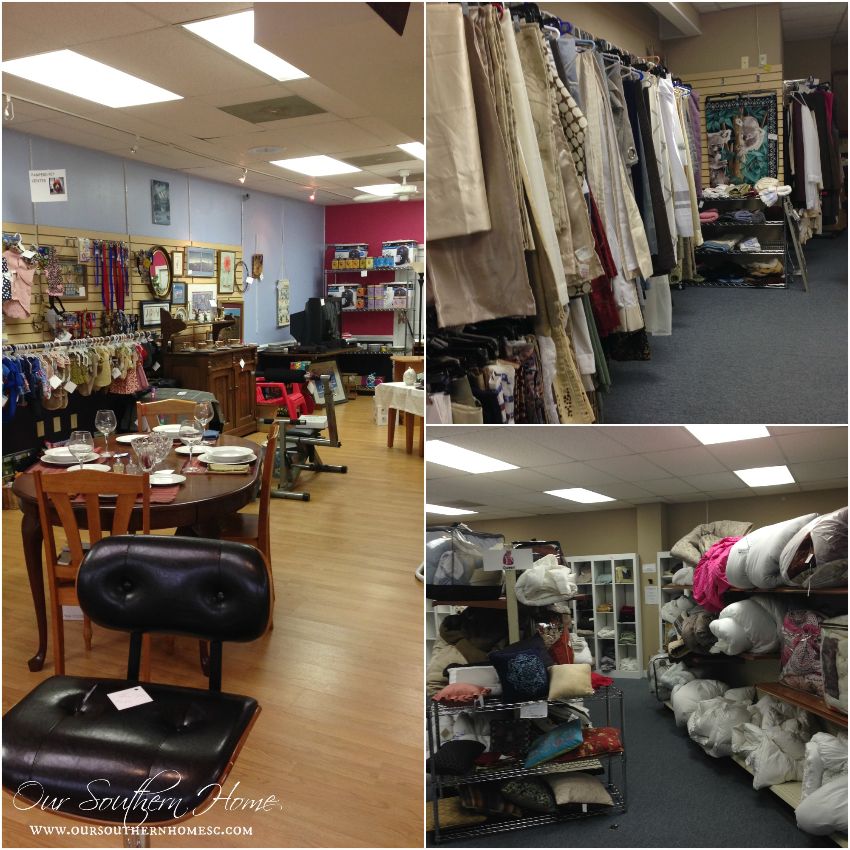 I spent a long time browsing!!! The staff is made up completely of volunteers. They were so sweet and helpful!
Folks wishing to donate gently used furniture, household items, books, games and toys should contact us at (864) 243-4CCA or [email protected] to make an appointment to drop off before the event. Tax receipts will be provided.
open for business Thursday through Saturday from 10 a.m. to 6 p.m., and closed on Sunday
Now onto my purchase here. We were challenged to do a thrift store makeover. Here's mine.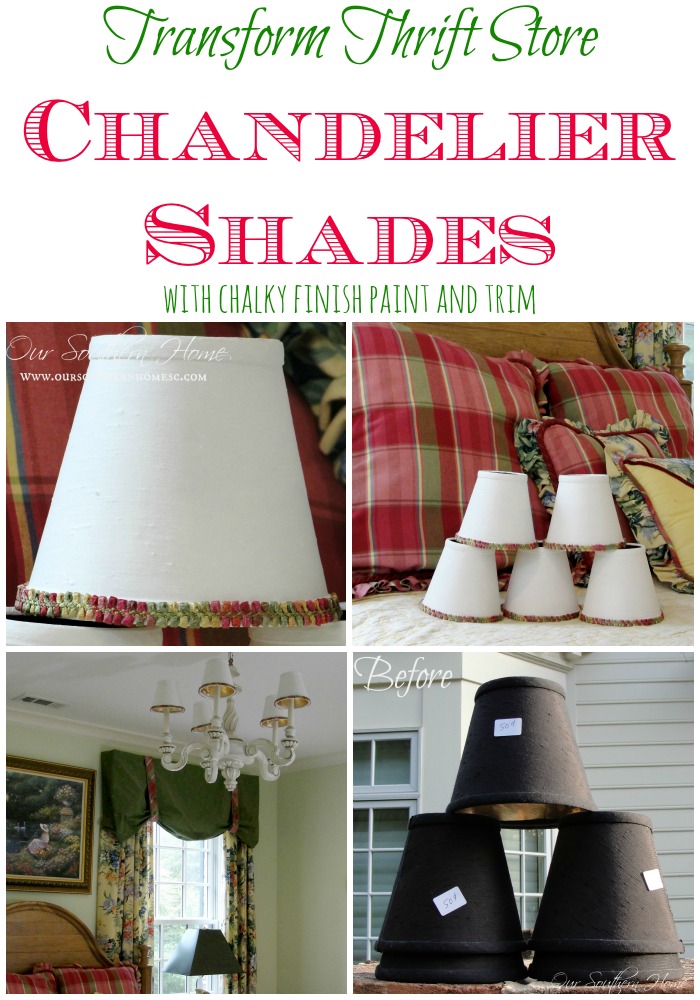 Here is the before of my daughter's room without the shades.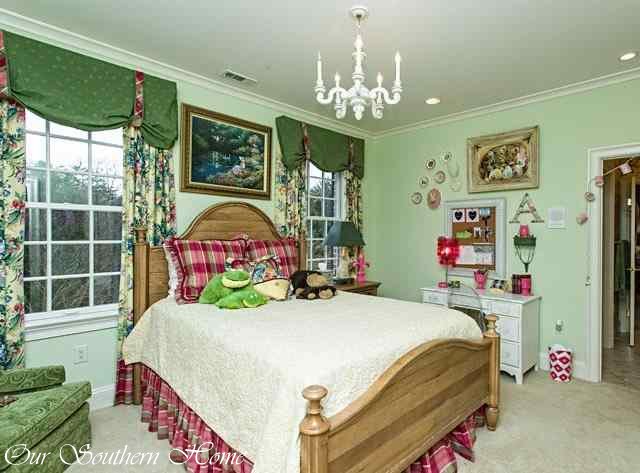 She has been wanting shades for quite a while, but we just couldn't find the right ones at the RIGHT price. Chandelier shades can be quite expensive!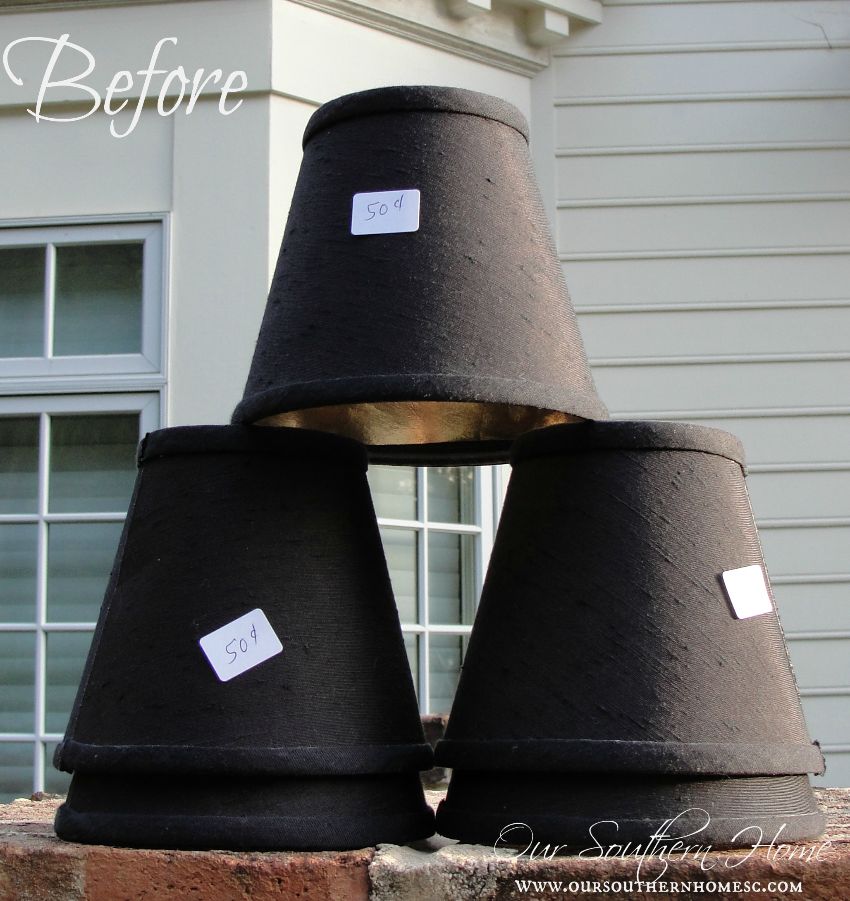 These were better than right price wise…..color not so much! I knew that I could easily fix that with chalky finish paint by Americana Decor Chalky Finish paint in Everlasting. At $2.50 they were a bargain!
I painted them with 3 coats of paint. I then finished them off with 1 coat of matte finish poly in a spray can. I could have waxed, but this was faster and I knew would work well.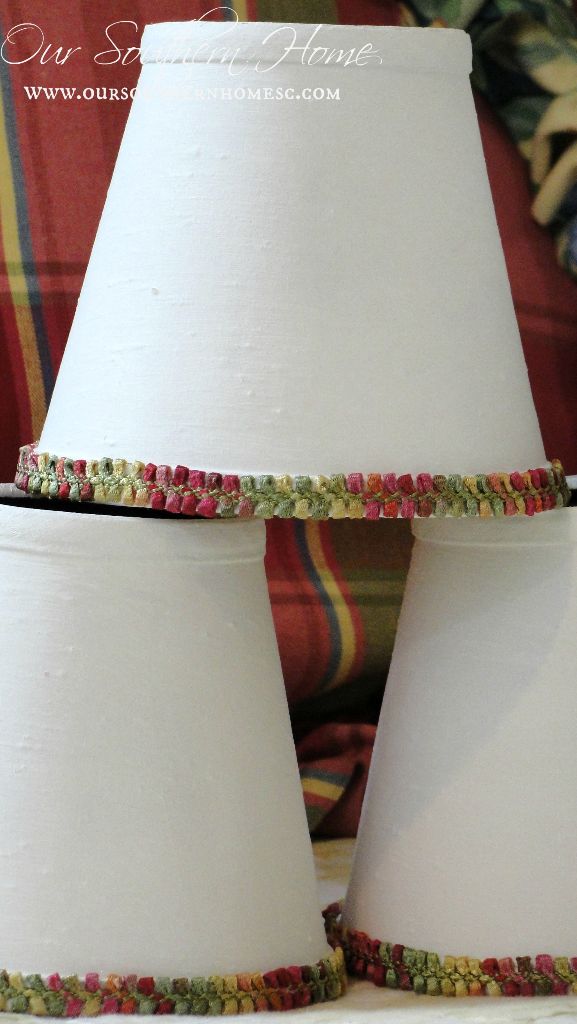 We found this great trim in a 9 foot spool for $3.99. I simply hot glued it to the bottom edge. I didn't have time for this post, but plan to go back and buy one more spool to do the top edge as well.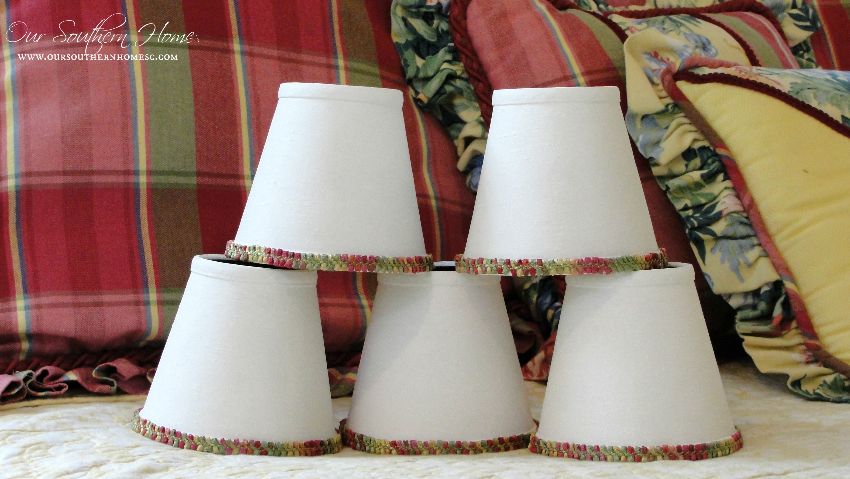 It matches her bedding perfectly!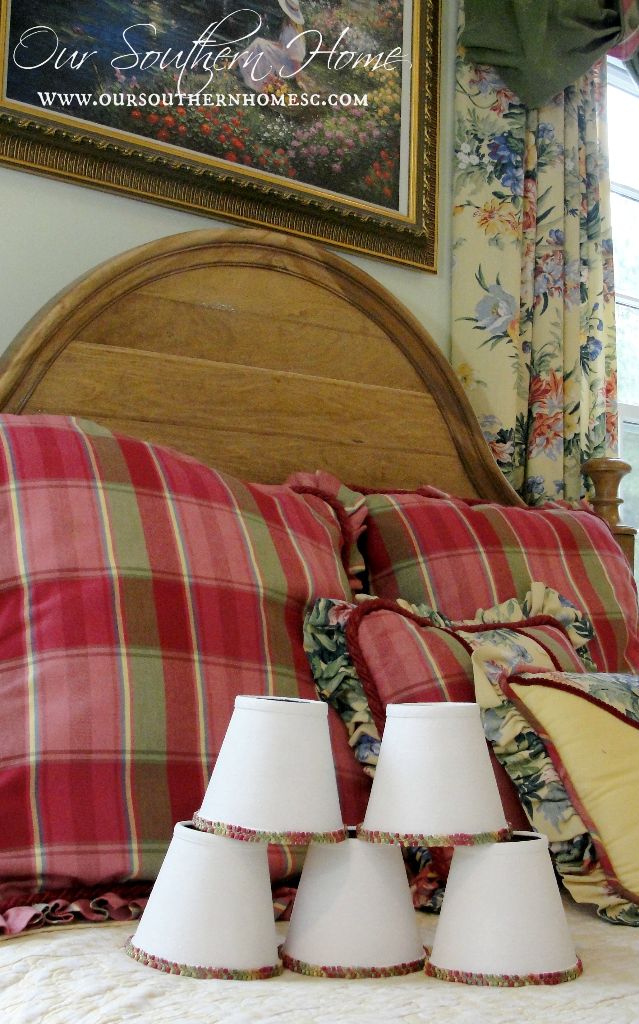 The fabric shades look so crisp and fresh now!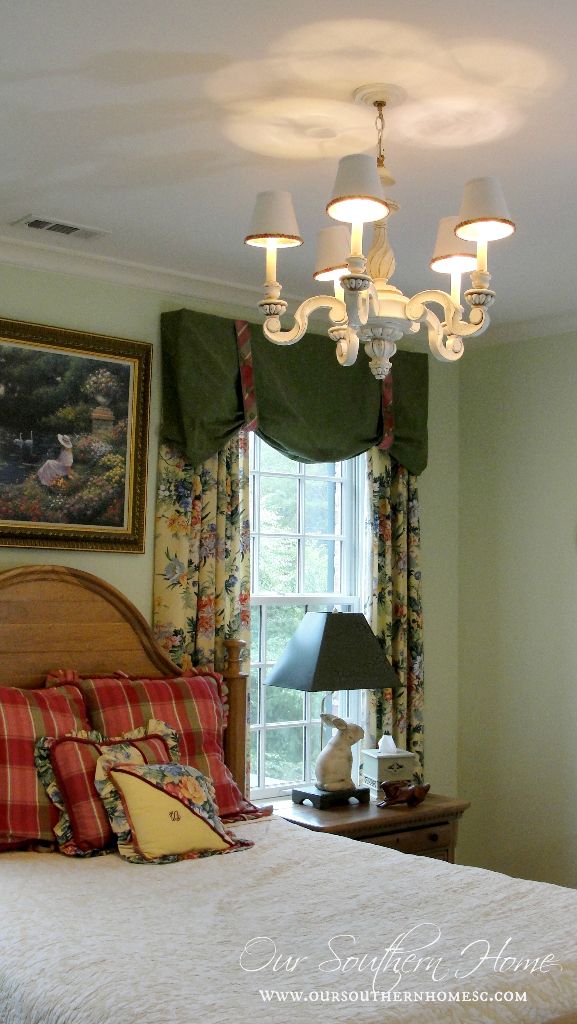 We've had clouds and rain for several days now, so the lighting was tricky. I took one with and one without the light on.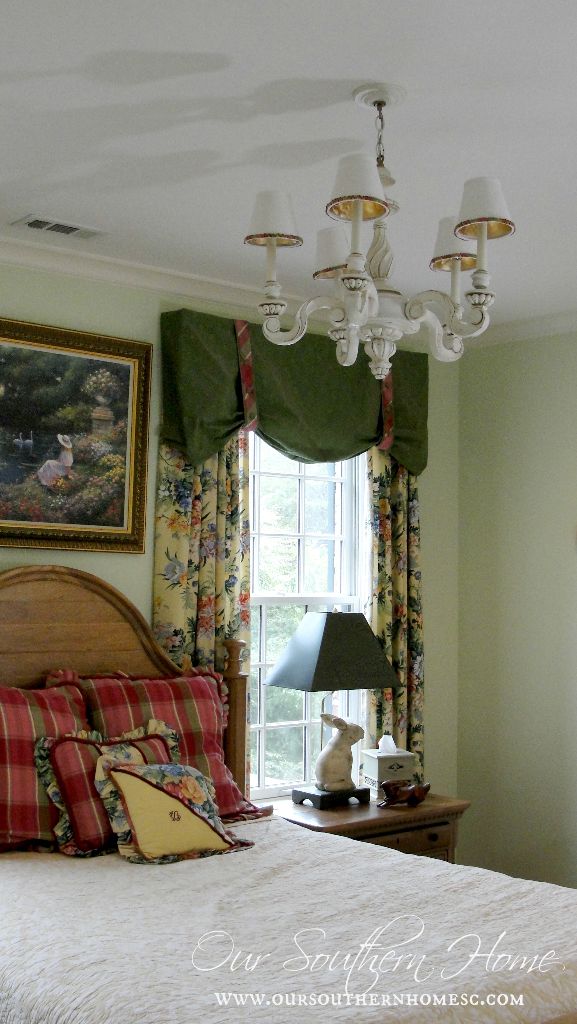 It really gives it the finished look she's been wanting for quite a while now on a small budget!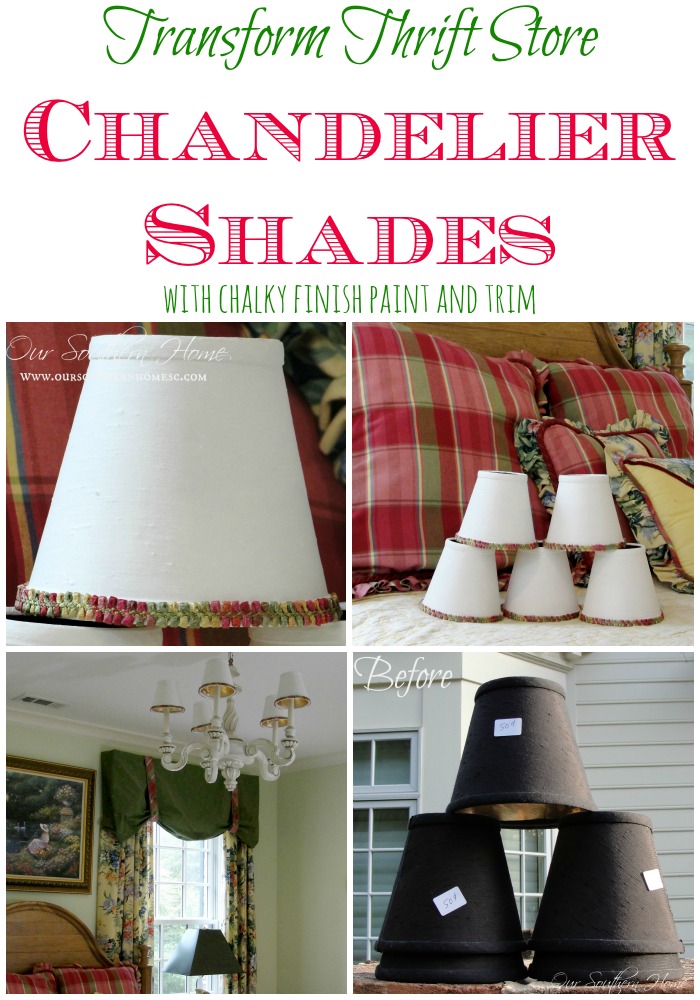 I encourage you to ask around in your area to see which thrift stores benefit animals. Until this benefit, I didn't know!!!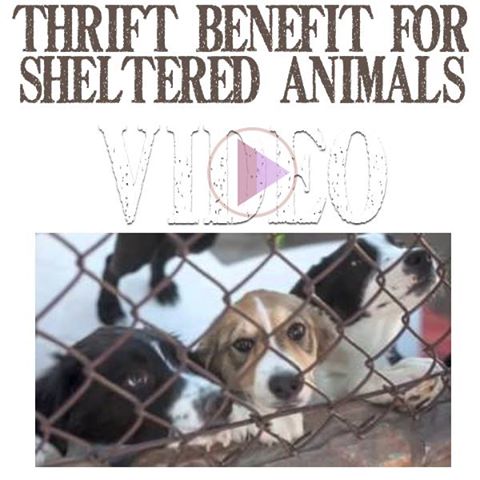 Click the photo above to watch this wonderful video put together by my wonderful blogging friends!!!
Did you know that October is Adopt-A-Shelter-Dog-Month?!!!!!!!
Visit the ASPCA site to find a local shelter near you!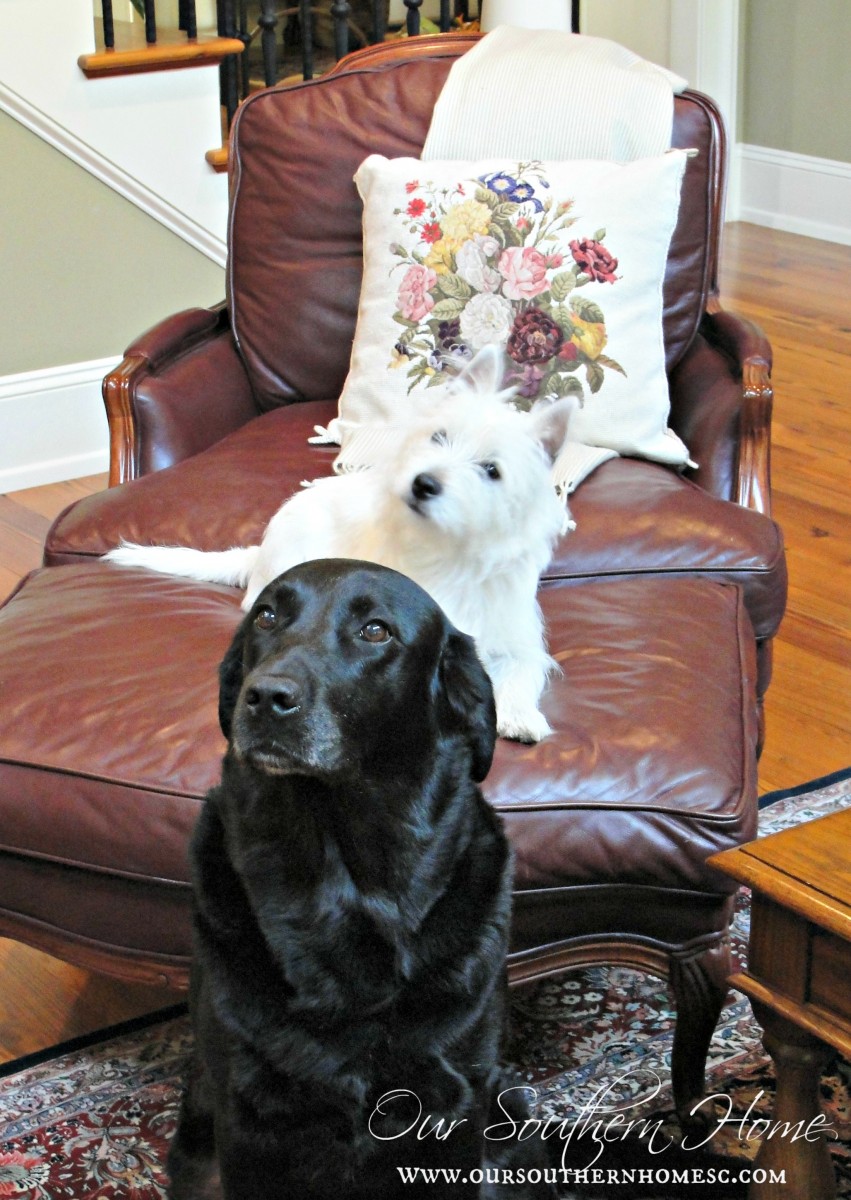 Whether your fur baby is a shelter, found stray or pure bread…….we love them all the same! Lizzie and Bentley last month.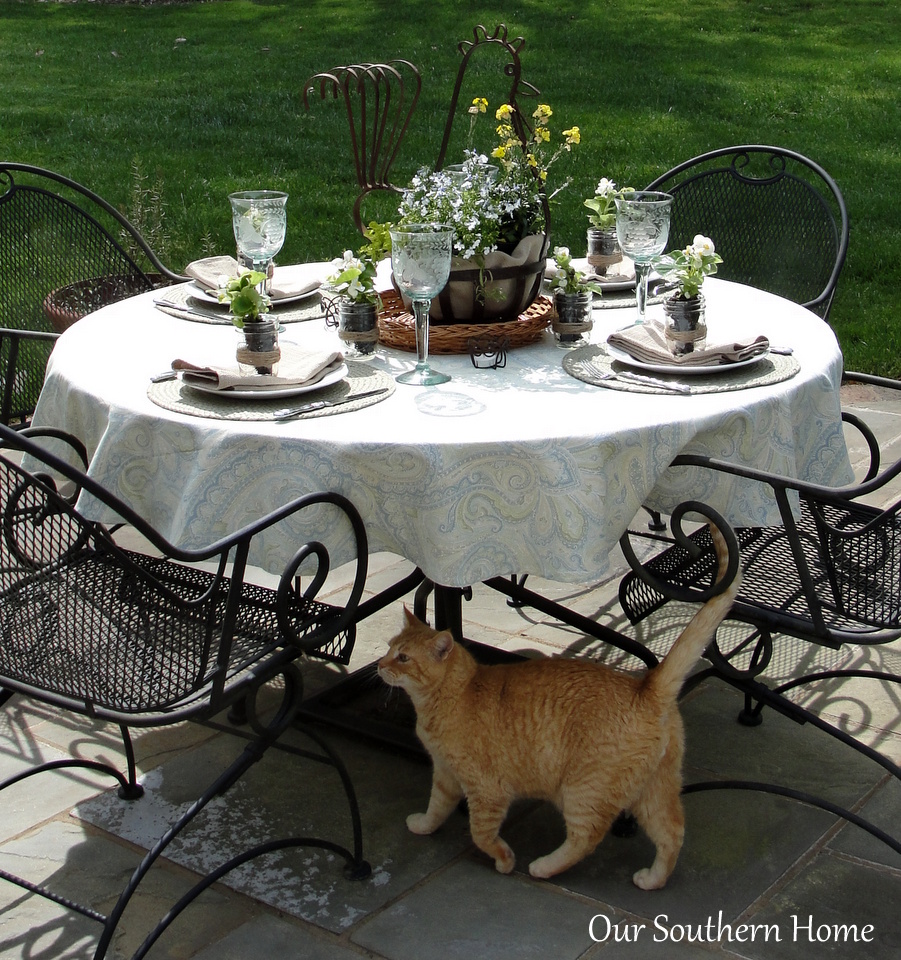 Rocky is the king of the household….or so he thinks!! He's right at 11 years old now. We rescued him off a loading dock in Columbia, SC. He slept all the way home in the car in Ashlyn's lap. He is such a sweetie. Unfortunately, his meal of choice is bird and squirrel. He is very nosy.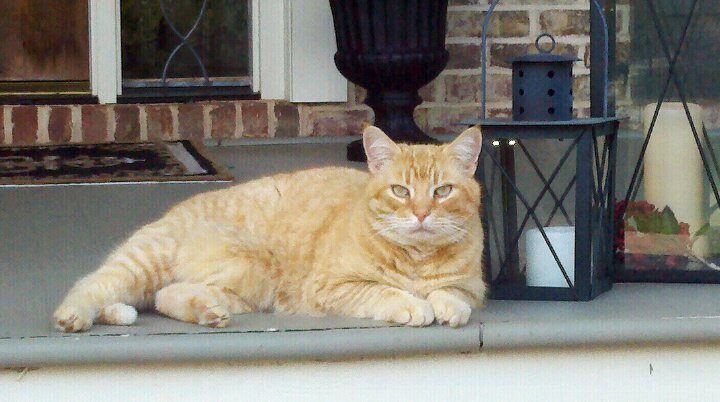 …….and photogenic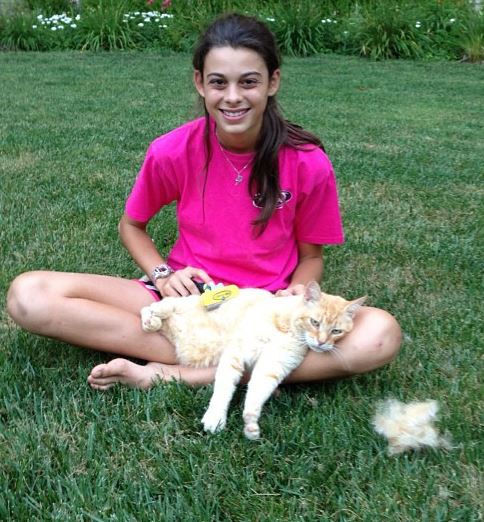 He loves to be brushed!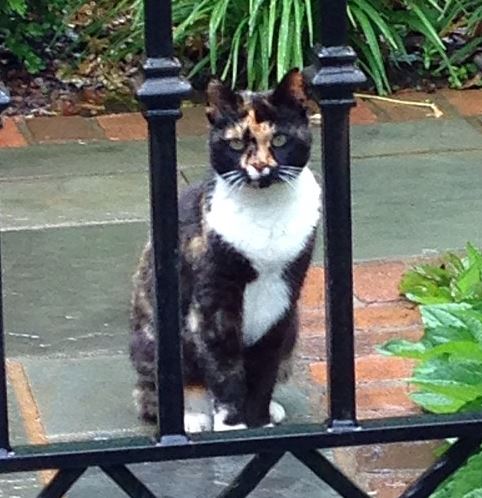 And sweet Josie. She showed up on the back patio during a family Mother's Day dinner over 12 years ago. She's a tiny little thing. She is very shy and really won't come to you until she knows you. We've tried repeatedly, but it freaks her out to come in the house. They have a cat door in the potting shed. We call it the cat room complete with space heaters in the winter.
I dedicate this post to Lucy. Lucy passed away on November 13, 2011 at the age of 25+. It was the first cat that my hubby and I had when we first got married. She was a stray that came from the lake. She loved Ashlyn as most animals do. She was my girl. I miss her…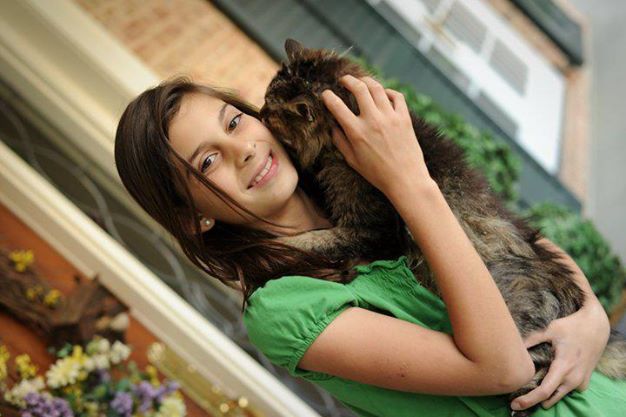 Lucy and Ashlyn
Another way you can help is to foster animals. We kept 2 puppies for over a month a couple of years ago when they were dropped off on our country road. We were able to find a no-kill rescue that places them. They were at capacity. We kept them until they had a spot. It wasn't easy. They were very scared. We'd let them out in the back yard, and you'd think you'd never get them back in the kennel. I think the time with us helped them adjust to human love and how it can be. Luckily, they were quickly adopted.
Please be sure to visit all the other fabulous thrift store projects below. I'm sure many wonderful animal stories will be shared.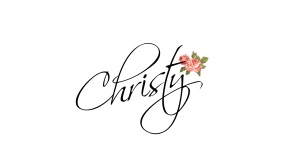 Link Parties that OSH parties at on occasion! Sunday: DIY Show Off Monday: Between Naps on the Porch, Home Storis A to Z , Inspiration Monday– Refresh Restyle Tuesday: Not Just A Housewife, All Things Heart and Home, The Scoop at Cedar Hill Farmhouse and Inspire Me Party at A Stroll Thru Life, My Uncommon Slice of Suburbia Wednesday: Savvy Southern Style Thursday: My Repurposed Life, From My Front Porch to Yours, Friday: French Country Cottage, Miss Mustard Seed Furniture Friday, Common Ground, Imparting Grace, Keep Calm and Link Up, Craftberry Bush – Inspiration Gallery Friday, SnapCreativity – Show and Tell, Tatertots and Jello

Buffer