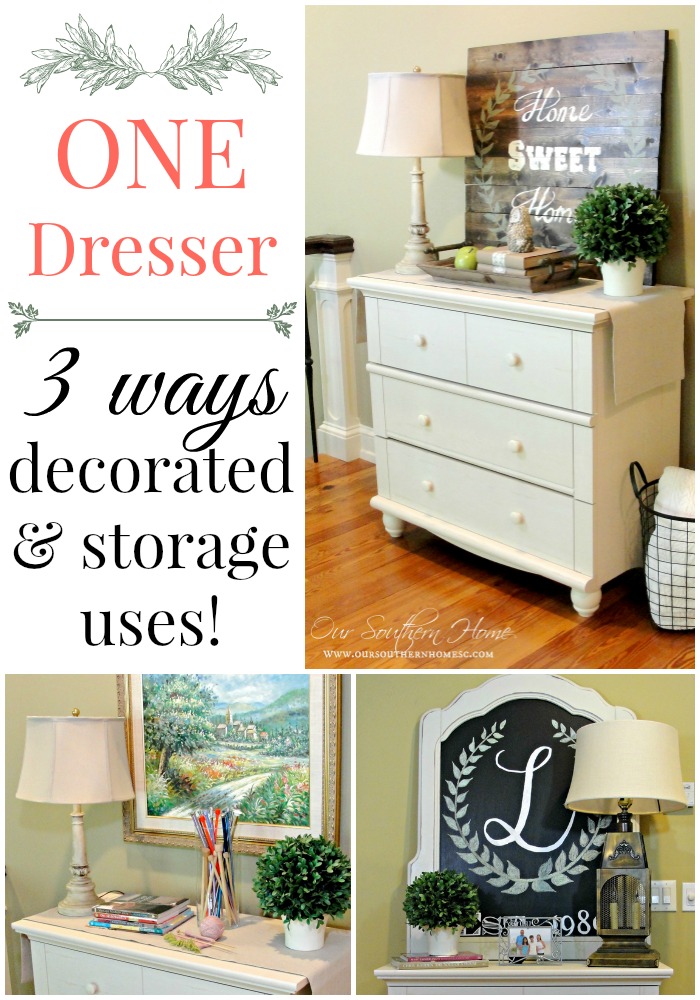 I've been decorating a home now for quite a while now. One thing that I've learned throughout the process is to pick furniture pieces with versatility!
If you treat a nightstand as just a nightstand…then that's what you have! What if you used that nightstand as an end table, a computer printer center or maybe as small linen storage in a bath!
Take my vintage styled dresser from Sauder as an example. Back in June, I showed you how I placed it in our playroom as a slumber party center.
It served this purpose splendidly! I am so in love with this piece….why? I can move it all over the house to change looks and function in our home! School is back in session. Slumber parties are still going to be happening, but I'm ready for a change!
I moved it to the upstairs landing. I love it here. It looks great against the mossy green walls.
Do you have a guess as to what I am using it for here? Most of you know that I'm an avid knitter. I have a nice collection of knitting books and a hoard like collection of yarn!
It works great to store my yarn in the drawers. You could also use a dresser to hold scrapbooking materials or other crafting supplies!
It's all nice and in plain view. I can see me placing yarn for upcoming Christmas gift projects in the drawers to keep it all organized.
Just to show you a bit more versatility, I decorated it in a different way in the same spot!
Now, it is used for an entirely different purpose!
With cooler weather right around the corner, it could be used as a scarf, hat and glove center. Perfect for a foyer or mudroom!
It keeps my knitted scarves, shrugs and cowls all neatly in one organized space. Before they were just tossed in a large basket. This will keep them snag-free and dust free!
I love the vintage feel of this dresser. It works perfectly with our decor.
This look showcases my DIY plank wood sign, my late mother-in-law's owl, old painted brass lamp and other treasures.
Do you have a piece that works in multiple ways for you? I'd love to hear about it!
Sauder has many beautiful, affordable pieces. I'm looking forward to years of versatility and the vintage style that I adore from this piece.
You can find more information about my vintage styled chest/dresser HERE.
Curious about other creative ways to use furniture! Visit my Pinterest board HERE. I'll be searching ways to help spark your creativity!
Thanks for stopping by!
This is a sponsored conversation written by me on behalf of Sauder. The opinions and text are all mine.
Buffer