French Inspired Chest Makeover
**This is sponsored post through DecoArt featuring their Americana Decor Chalky Finish paint line. All opinions and work produced is that of Our Southern Home!! I absolutely love this product**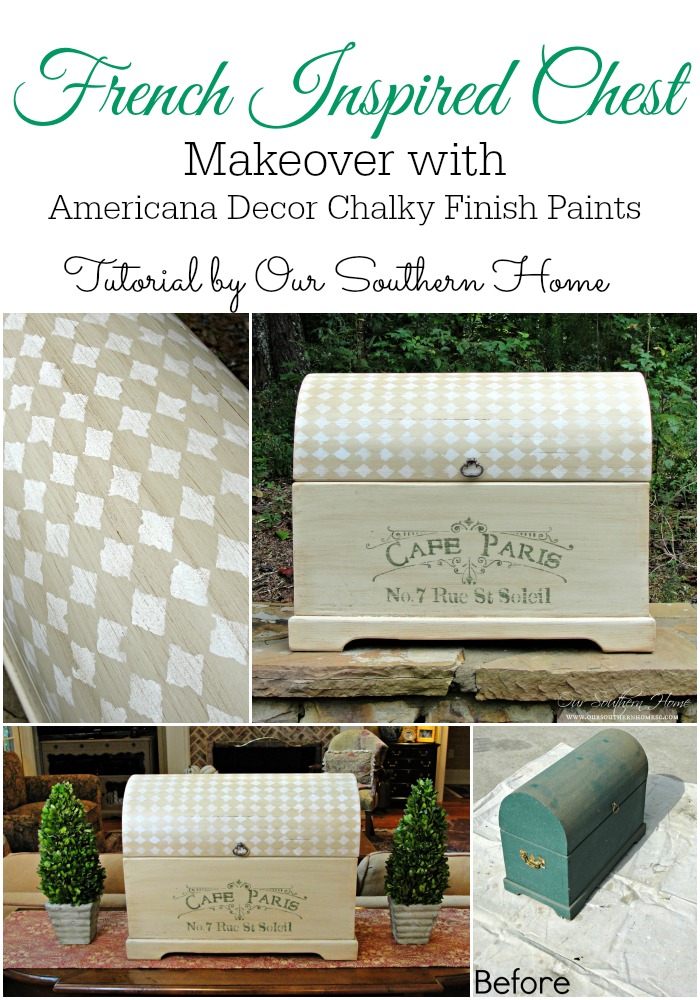 I adore French Inspired Painted Projects with beautiful fonts! I knew that when I came across this chest it was calling for a French look with topography!
This project started out with a thrift store find.
It was one of those finds that you grab and walk around the store with….not sure if you are really going to purchase, but know you'd better keep it in your hands.
It had this stone spray paint finish. Really hard and thick.
Wasn't sure what it may look like underneath that paint??? How hard was it going to be to get that gunk off???
I bought it…of course!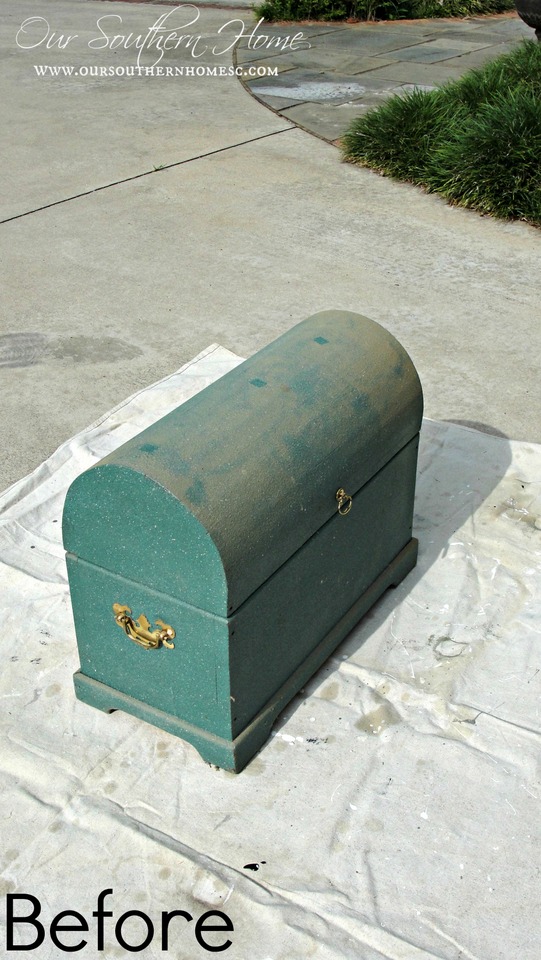 It's a great chest. Here is the before in all its stone finish glory.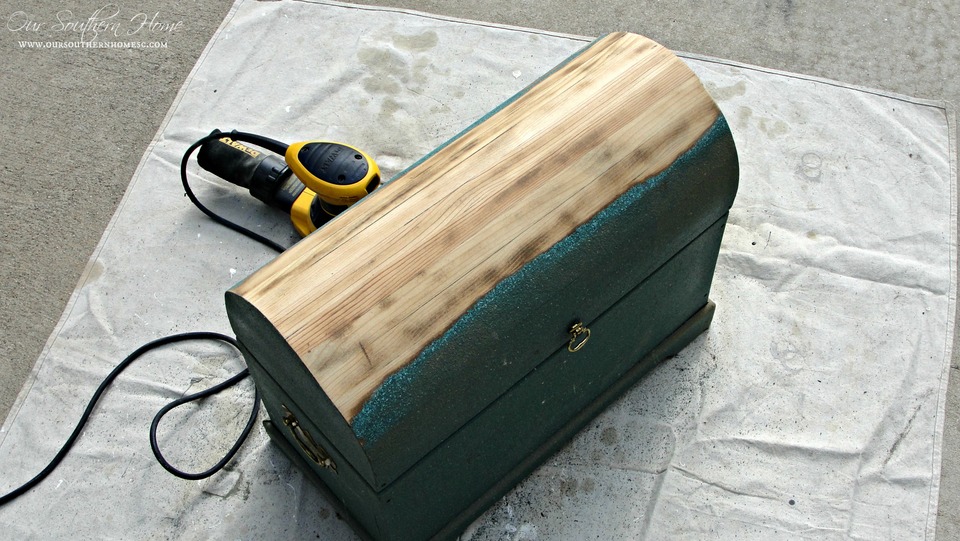 Surprisingly, it was coming off better than I hoped! It was work, but so thankful that I didn't have to use a paint stripper. I removed it with a course grit paper. Then I went over it with a fine grit paper to really get a smooth finish.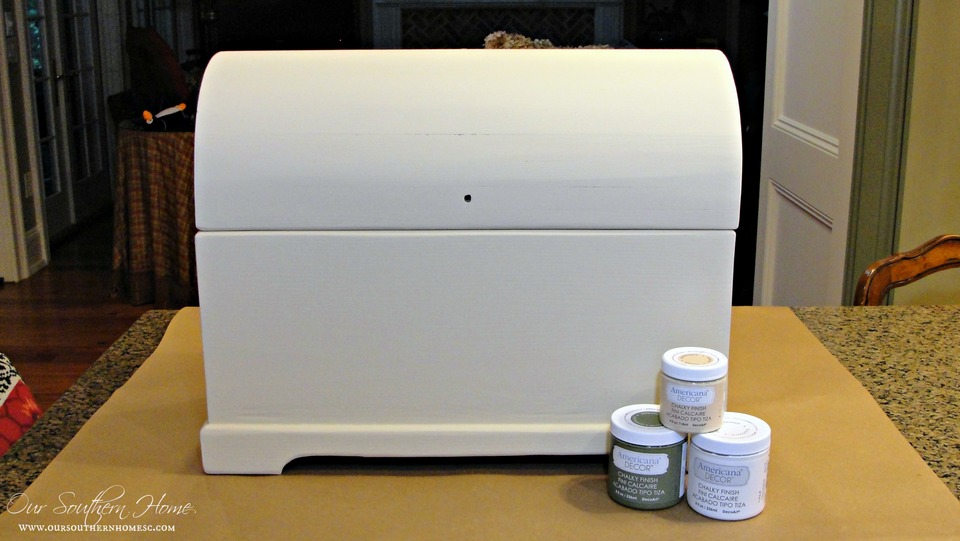 No priming was necessary. I painted 2 coats of Americana Decor Chalky Finish in the color Timeless. I had originally planned to paint it all white, but really loved the warmth of this color. Let it dry thoroughly in between coats.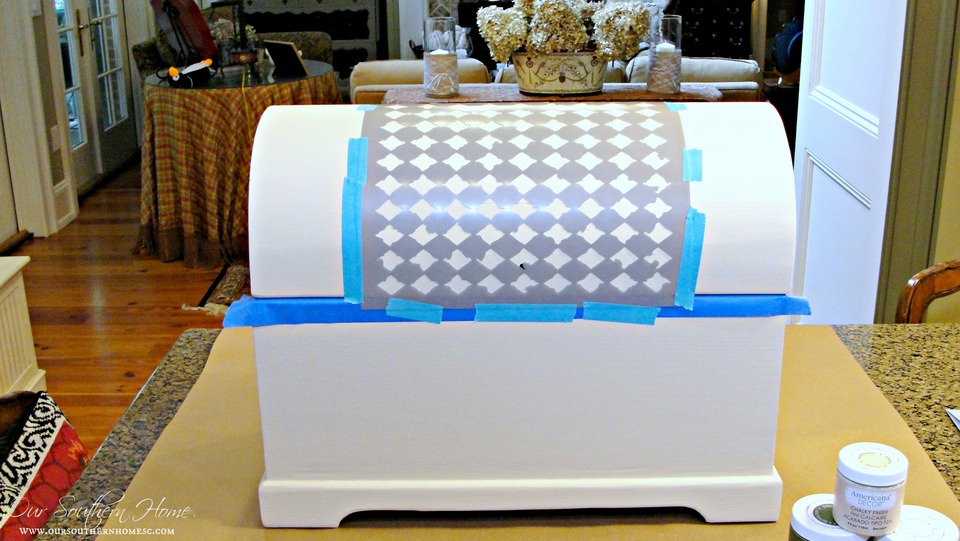 Next came the Distressed Harlequin stencil also from Americana Decor. I stenciled with Americana Decor Chalky Finish paint in Everlasting.
In this case, you want to stencil the entire center first. The stencil did not cover the entire center of the top. Once painted, I removed the stencil and let the paint dry completely on the top. Then I used the "X" marks on the stencil to match up the pattern to apply the next set to complete the center. You can adhere the stencil with a stencil spray or stencil tape.
I then had to follow the same procedure for both sides.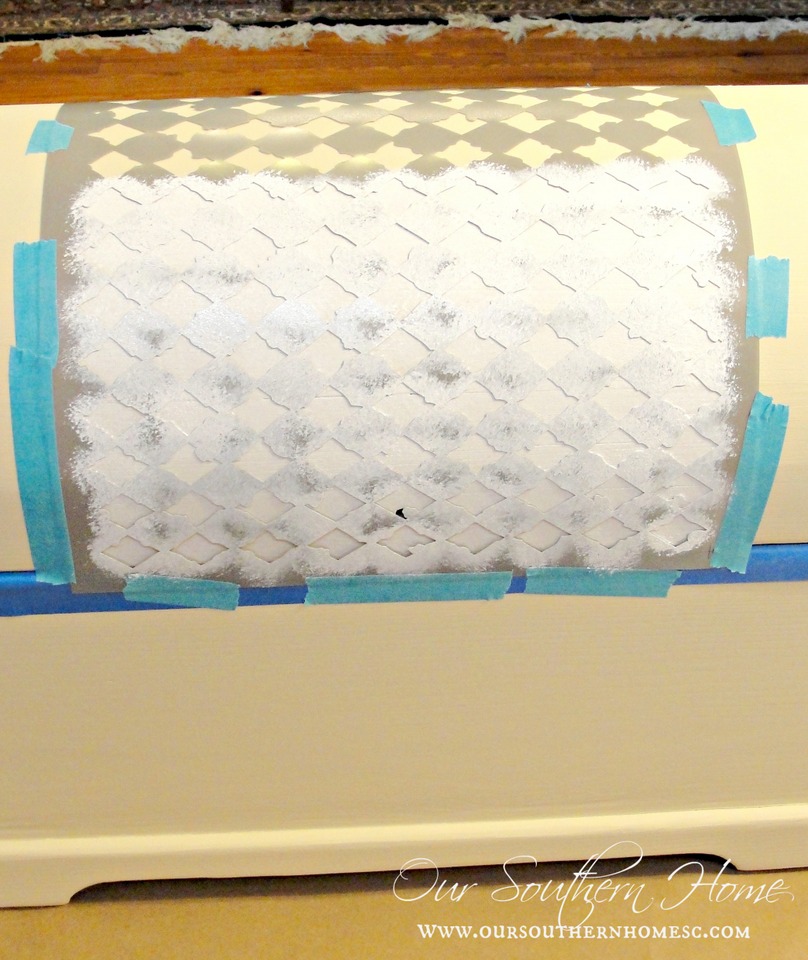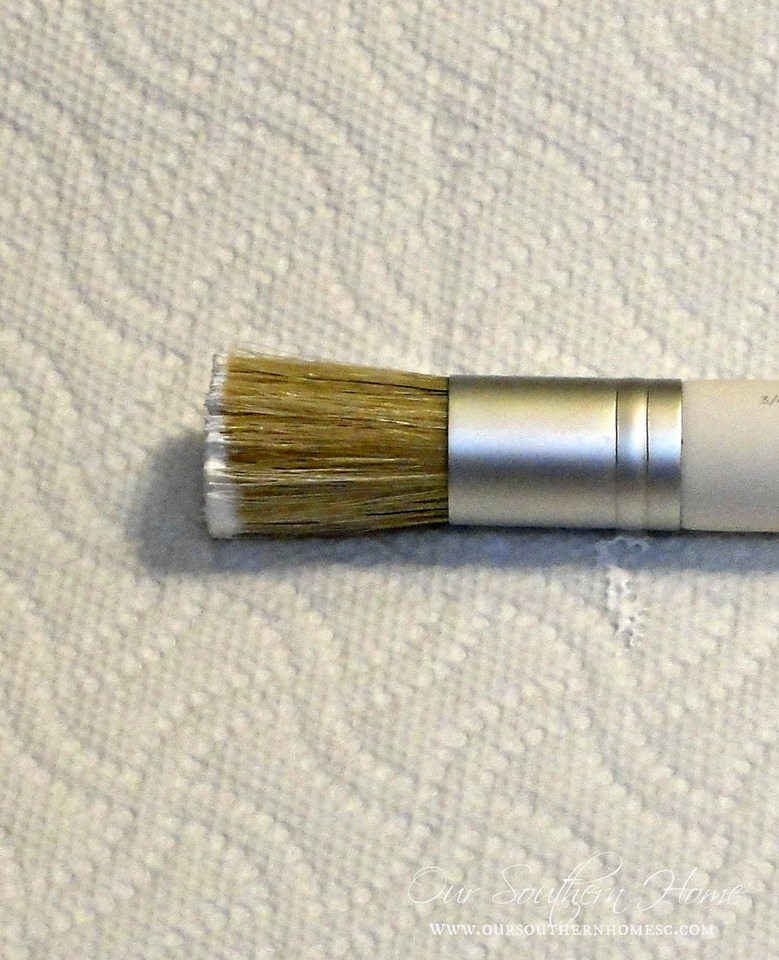 Ever so slightly dip your stencil brush in the paint to load it. Then have a paper towel handy to blot off the excess. Too much paint and it may seep under the stencil. Do not brush with a stencil. You want to pounce with it.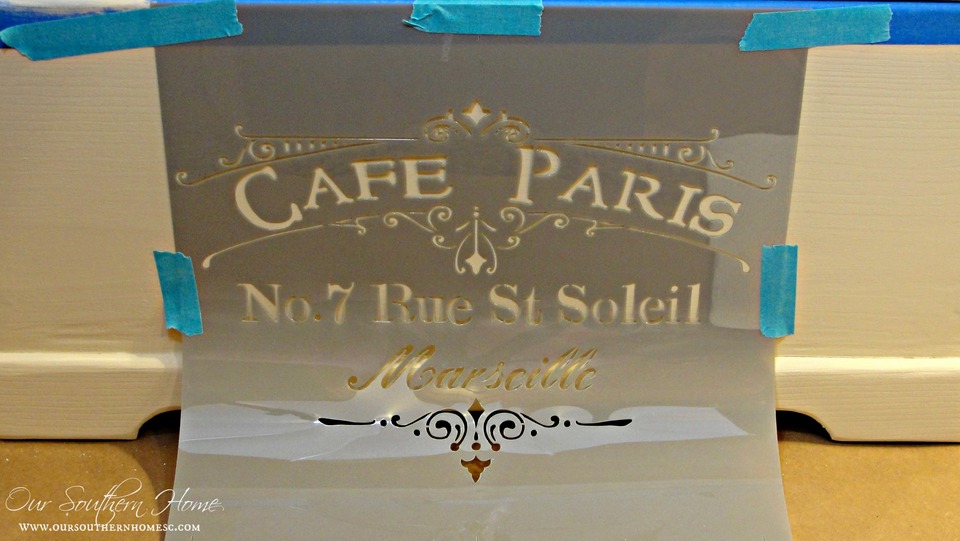 I used a portion of the Cafe Paris stencil from American Decor on the front panel. I stenciled it in the same paint with the color Enchanted…a nice olive green color.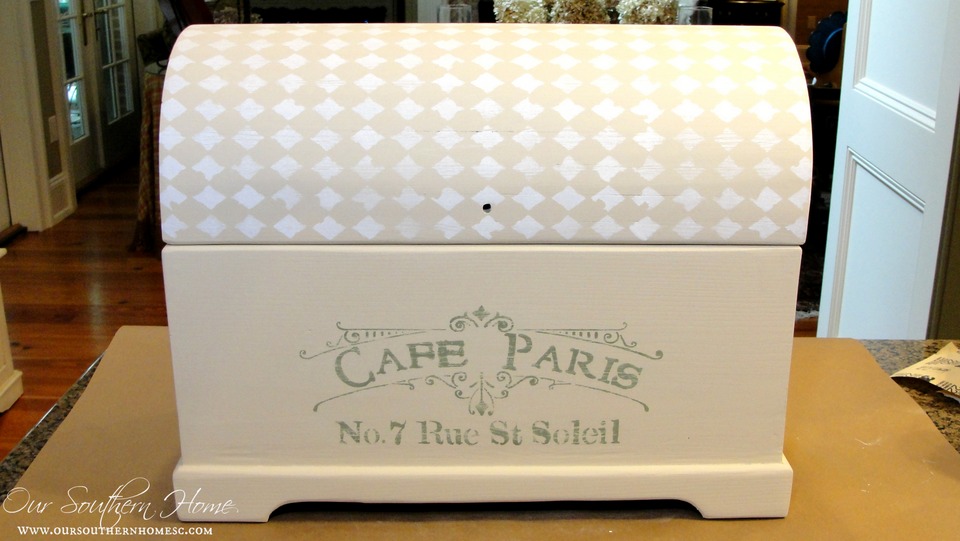 Here it is all painted. I love it! It was a little too new looking for me. I distressed it on the top Harlequin pattern and across the font with fine grit paper. When sanding over stenciled areas, it's best to sand in one direction instead of back and forth.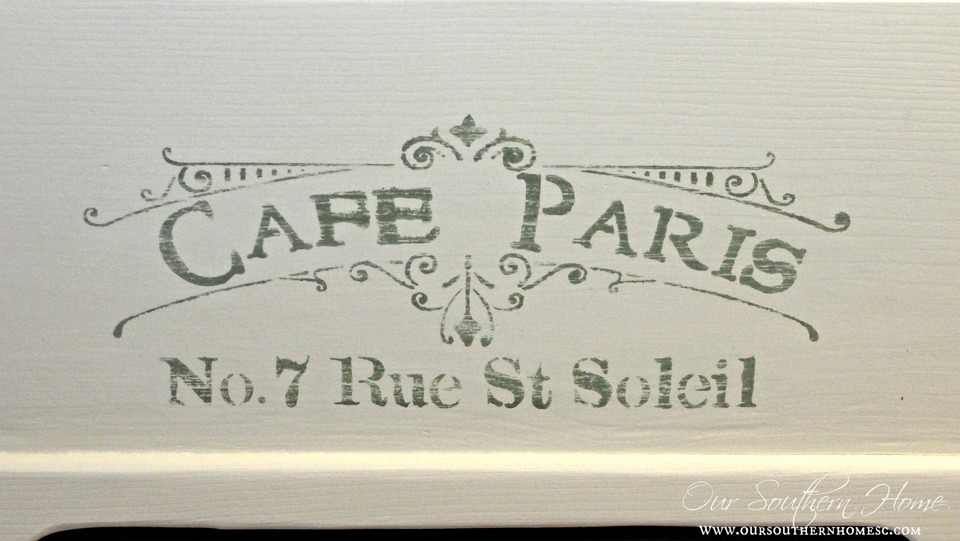 After I lightly distressed, I used my vacuum cleaner attachment to remove all of the dust.
I applied a coat of clear creme wax from Americana Decor and let it dry. Then I applied a coat of dark wax in Deep Brown by American Decor.
You can see my tip on applying this creme wax HERE. It is different from a paste wax. I prefer this creme wax. So simple to use!
Once it is dry……buff to desired shine.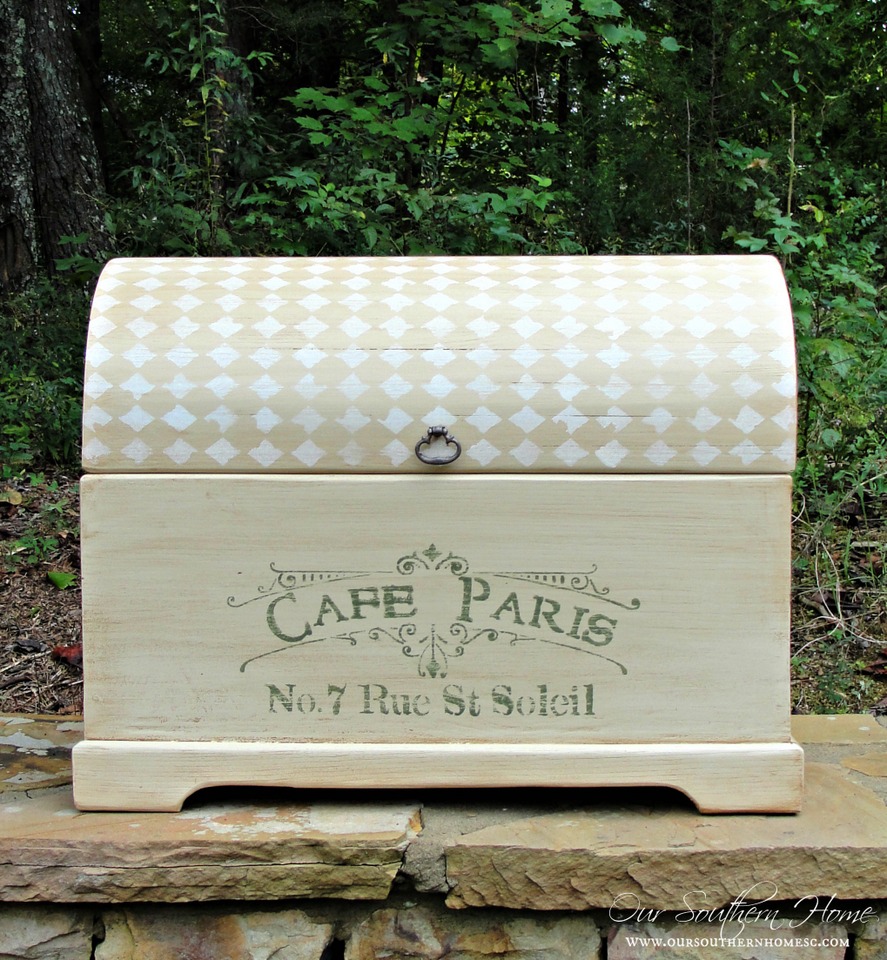 Here's an outside shot for natural lighting.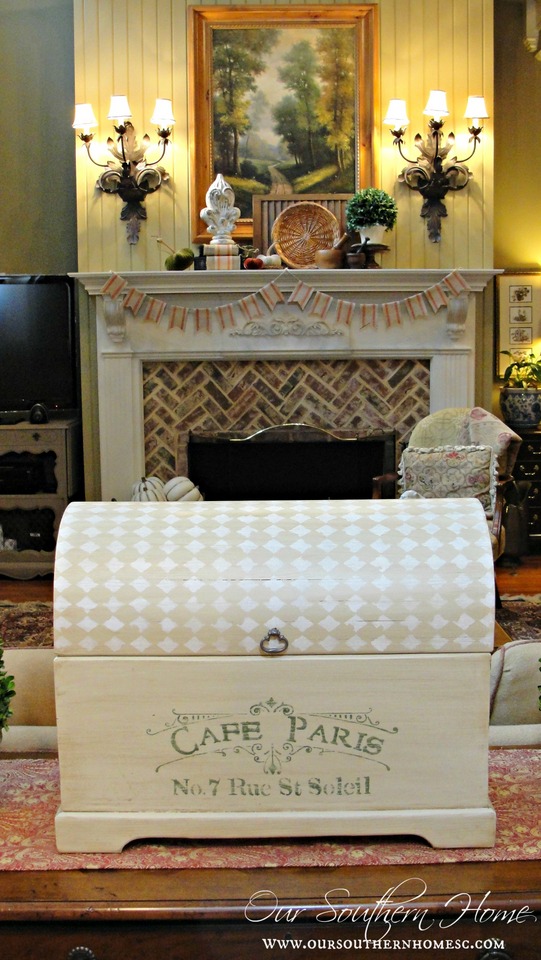 I spray painted the shiny brass hardware with a brown hammered finish.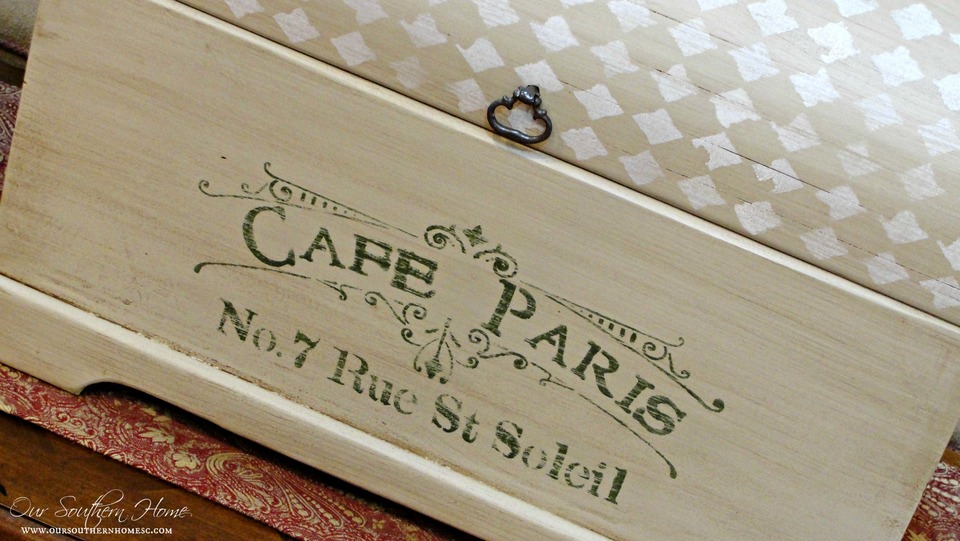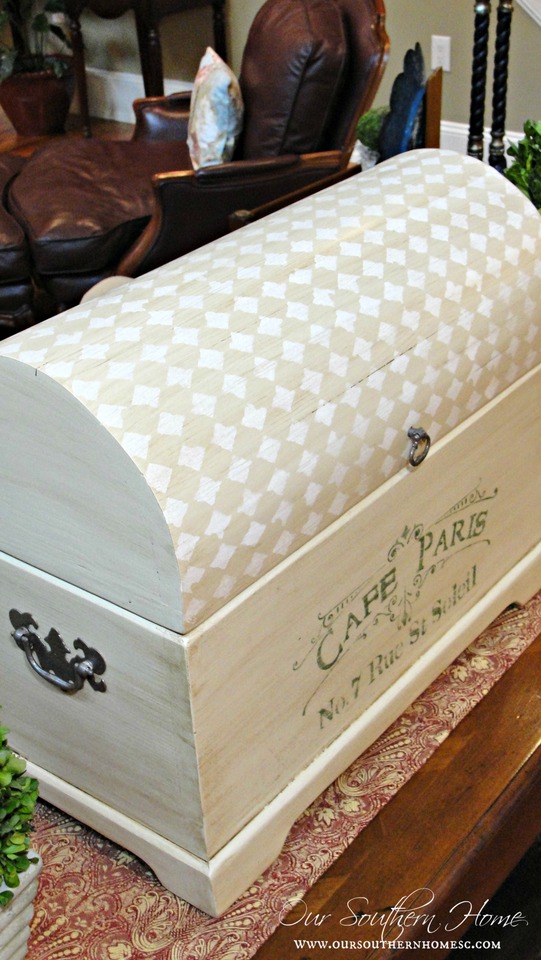 Other projects that I've completed with Americana Decor Chalky Finish Paints:
Chalkboard Menu Board from a coffee table top
To view all the locations available to purchase Americana Decor Chalky Finish paints visit HERE.
Americana Decor Chalky Finish paint is available in Home Depot, Hobby Lobby, Michaels, A.C. Moore and other stores.
Visit the DecoArt Chalky Finish website for more chalk paint ideas and inspiration.
Thanks for stopping by!
Happy Painting!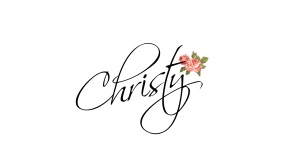 Buffer