**This is a sponsored post for Online Fabric Store. I was compensated for this post. All opinions are my own. My new fabrics are fabulous!!**
I've teamed up with a few of my blogging friends today to bring you fabric inspiration courtesy of the Online Fabric Store! Be sure to visit the others! Their links will be listed below.
I have not 1, but 3 makeovers to share with you today! I used a beautiful apple green Premier Prints Outdoor Fabric from the Online Fabric Store to update the front porch and a bright yellow Premier Prints Outdoor Fabric to update the sitting area around our fire pit on the back patio.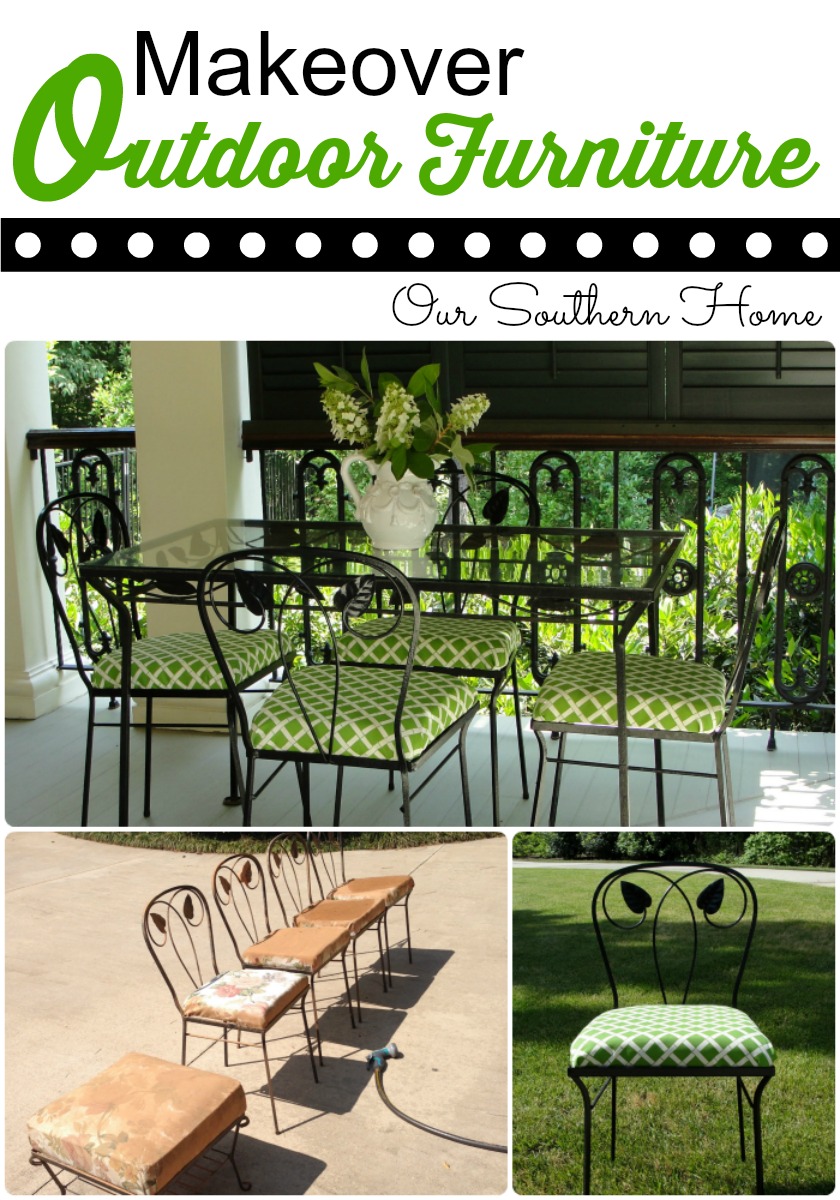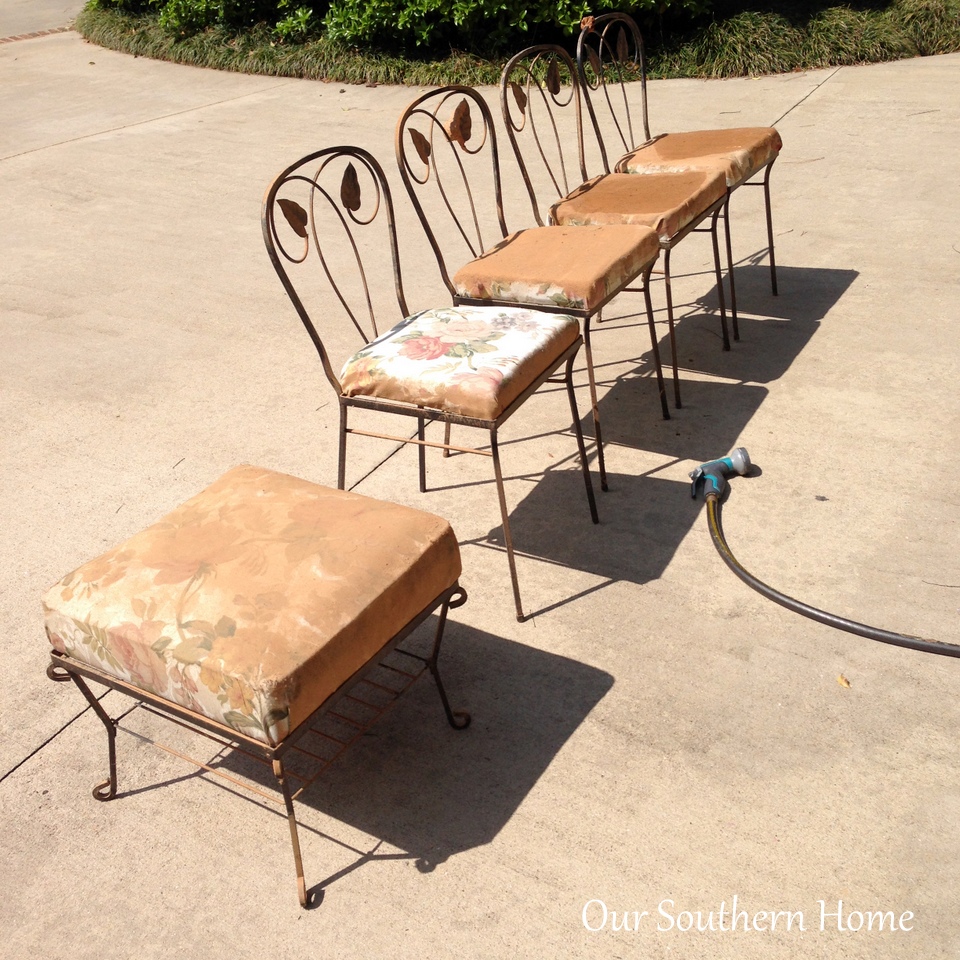 I know…YUCK!!! These chairs have been sitting in the loft of our barn for over 10 years!!! I didn't put them back out when we moved. I purchased antique iron furniture for $100 out of the paper 15 years ago and this stuff came with it. I only wanted part of it, but it was a package deal! Honestly…pretty sweet deal for a couch, 2 lounge chairs, end table, coffee table, dining table, 4 dining chairs and an ottoman. Nothing had cushions so I had those made. You can see the sitting area on our screened porch HERE.
I cleaned and scrubbed the chairs, ottoman and fabric. I let it thoroughly dry in the sun. I plan to put a fresh coat of spray paint on them this weekend so overlook a little rust and dullness for now. 🙂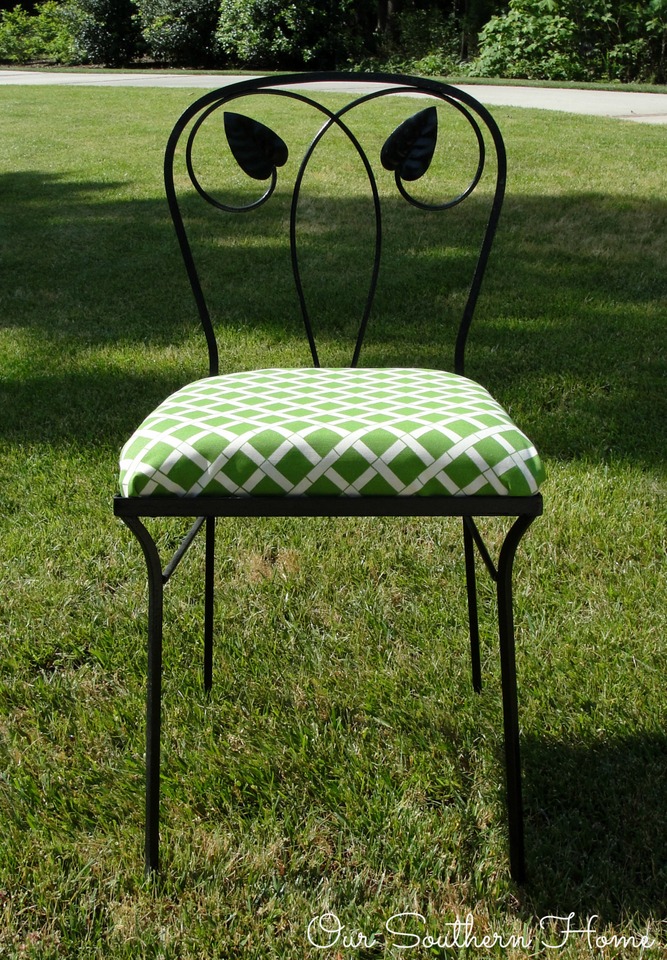 Why in the world did I forget about these sweet chairs? I just love this fresh fabric! You now green makes me happy! This is a Premier Prints Outdoor Cadence Greenage Fabric which can be found at the Online Fabric Store. It is on sale now for $7.48 per yard!!!
I ordered 3 yards of this fabric. You won't believe all that I made with 3 yards!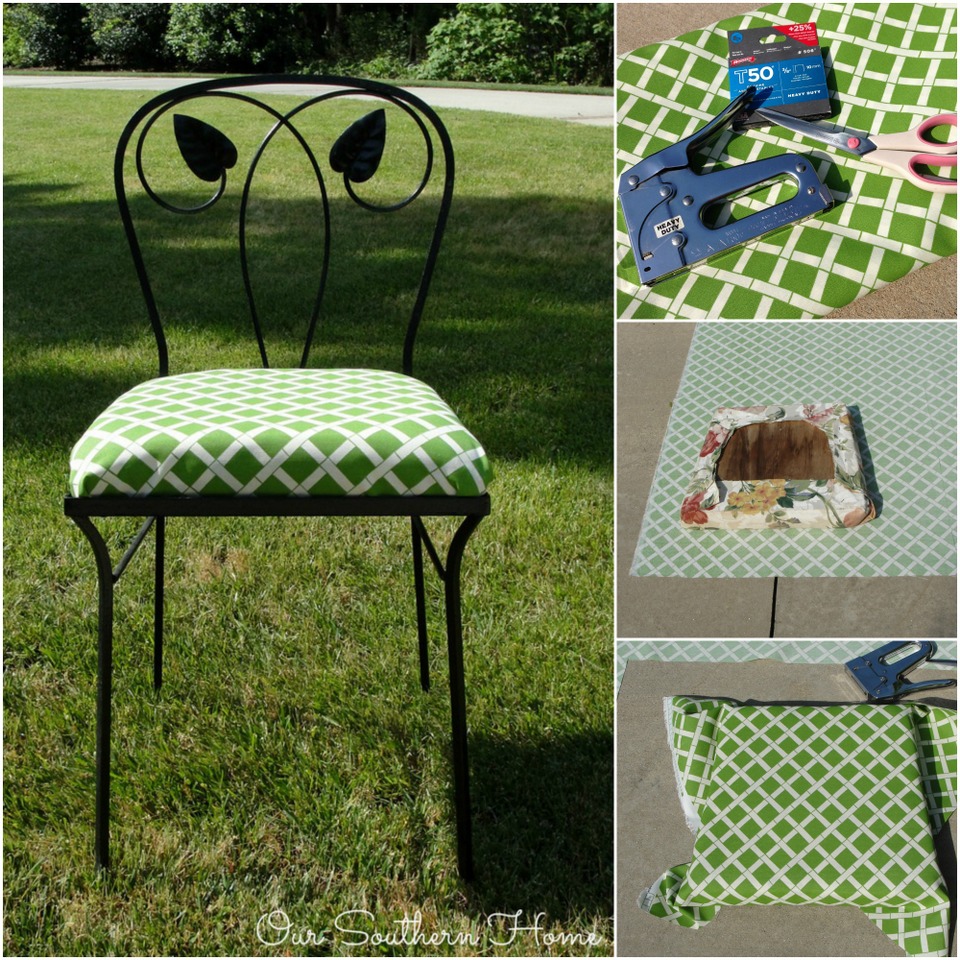 I had 4 cushions to cover. This is really an easy beginner project. You will need a heavy duty staple gun. Turn your fabric upside down and place the cushion as shown on the fabric. I don't use any fancy measuring. Just fold the fabric up so you have enough to staple to the back. Cut it out and staple. I start by placing 1 staple in the middle of each side. Make sure the fabric is taunt as you go around. Flip it over to see how it looks. Then proceed with stapling the fabric around. You can go back and trim up and excess. This took no time at all! What a simple update! Just measure your intended chair cushions add the thickness + about 2 inches to staple to the back to figure up your yardage needed. This is an all over print so there really was no waste.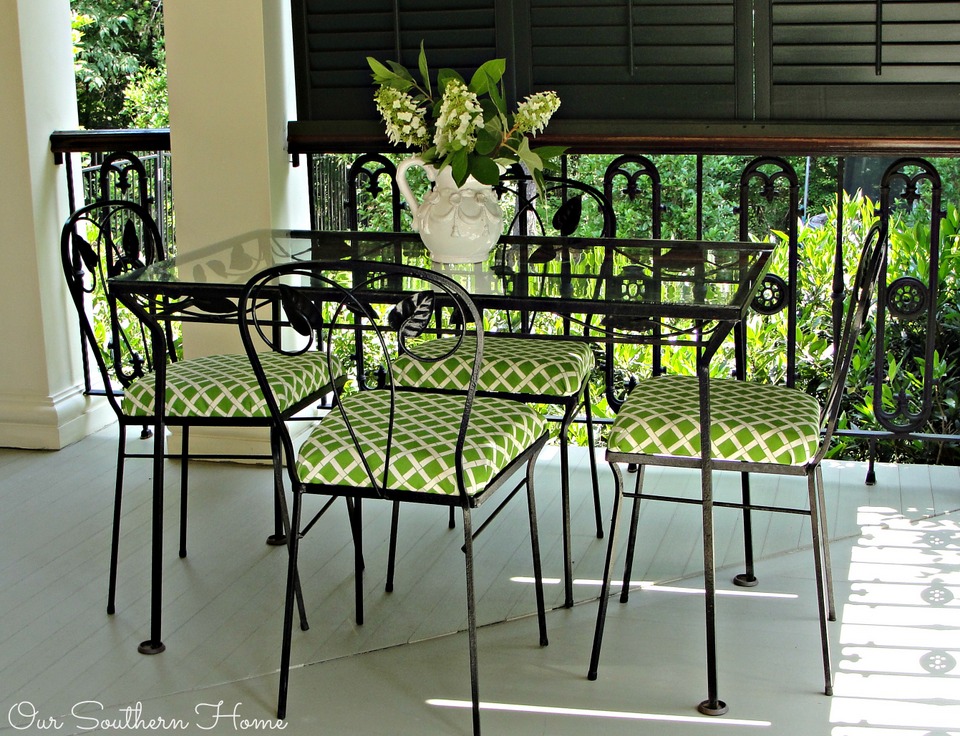 I had quite a bit of my 3 yards of fabric left so I decided to carry this fabric theme to the 2 benches in front of the house. I purchased these 4 pillows last year, but I am so bad about putting them away in the winter! They have faded a lot. DO NOT throw you old outdoor pillows away if they are still structurally in good shape! You or someone you hire can recover them for you!!! This saves a lot of money!!!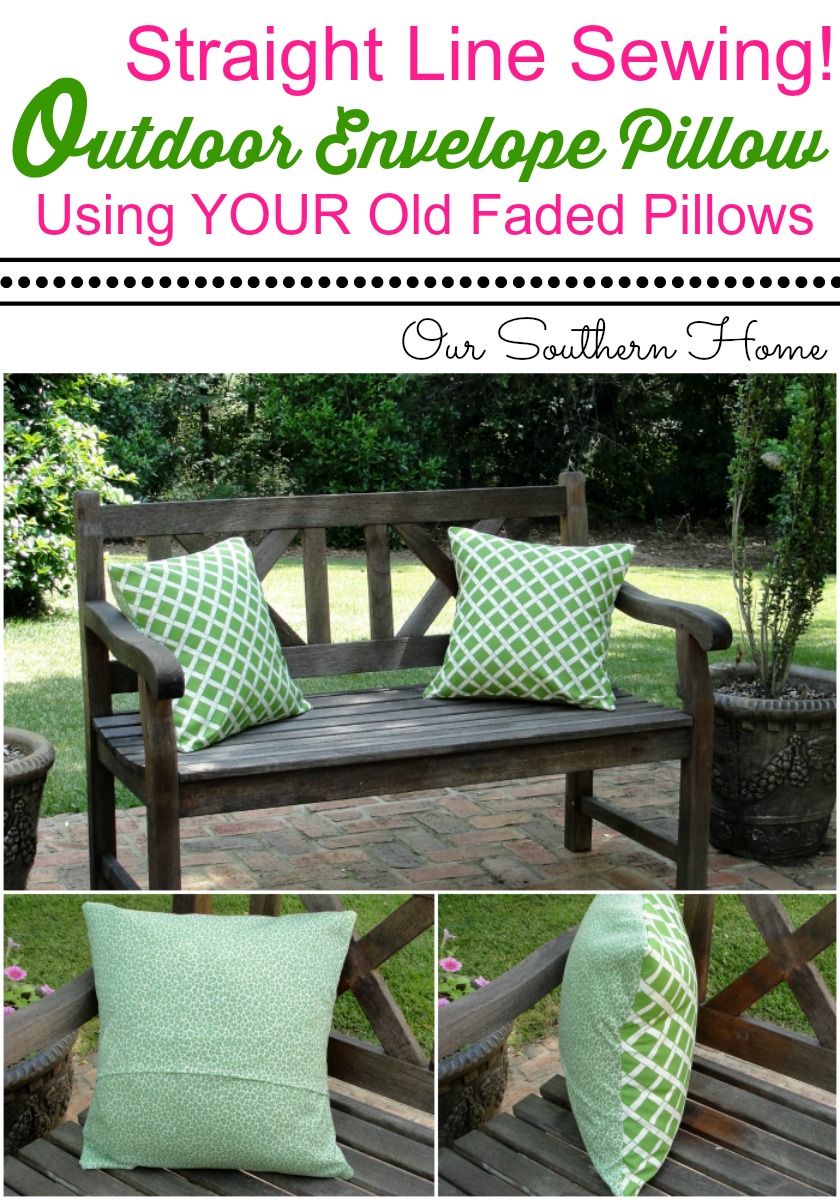 Notice I used a different fabric for the backs. I'll explain in a bit!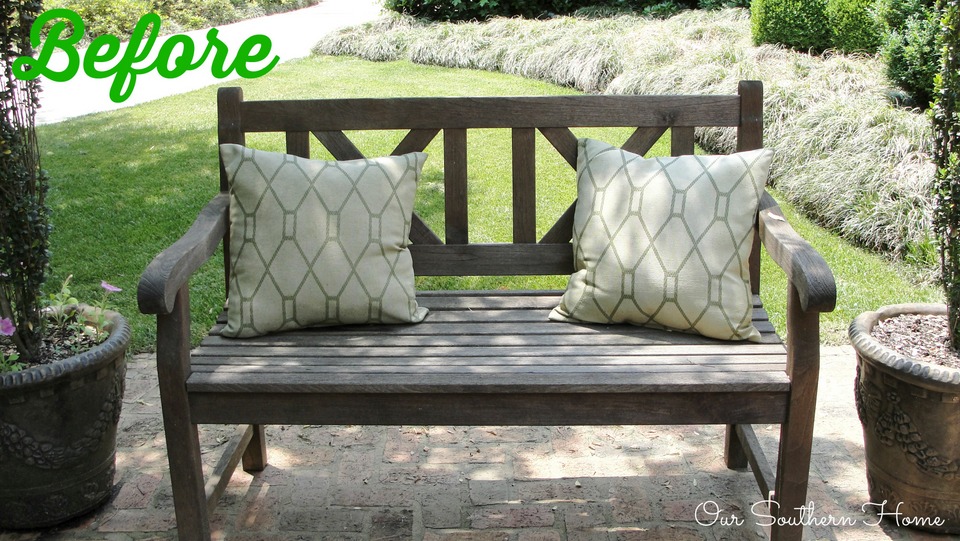 Of course, my hubby saw nothing wrong with the before here. They are horribly faded and just look yuck! The pillows themselves are in perfect condition. They are a great candidate for recovering!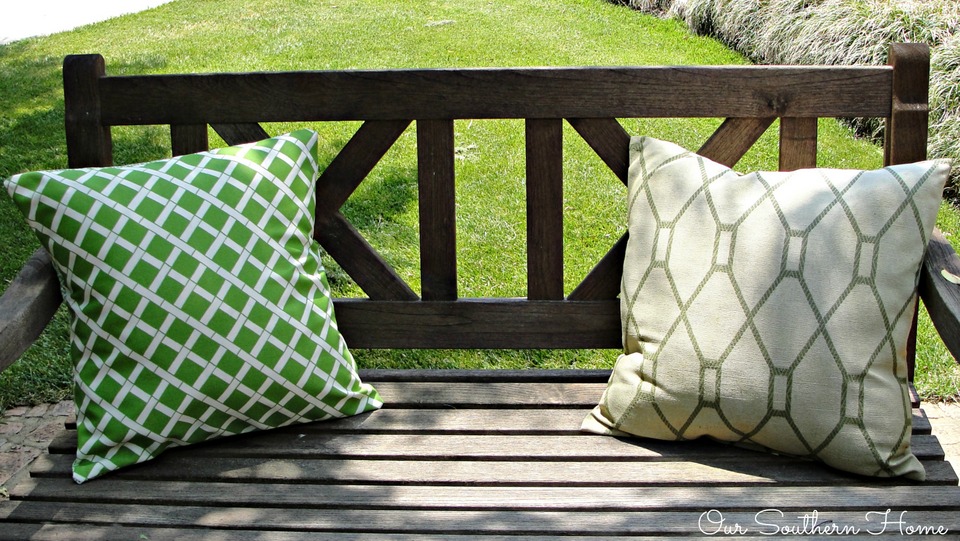 I like the after much better……bright and fresh! Ready for summer!! I'll share directions for making this envelope cover below with the yellow pillows. One thing I did do here though is use a different fabric for the backs. With an envelope pillow there is a right and wrong side. That's the only draw back. It just makes it easier to change out the pillows and to remove them for cleaning. I had some green leopard outdoor fabric in my craft room closet. I bought quite a bit of it many years ago at a steal and have used it several times to back pillows (that I paid someone to make!!!—-not again). This way I can use the pretty lattice pattern on the fronts that will be seen. This means I can stretch the fabric I want seen in more ways. This look made 4 – 18 inch pillows. I still have enough fabric to make a couple more pillows for the porch chairs! All that I have shown you so far is with the 3 yards of the green fabric. I've covered 4 chairs and 4 large pillows with leftover fabric!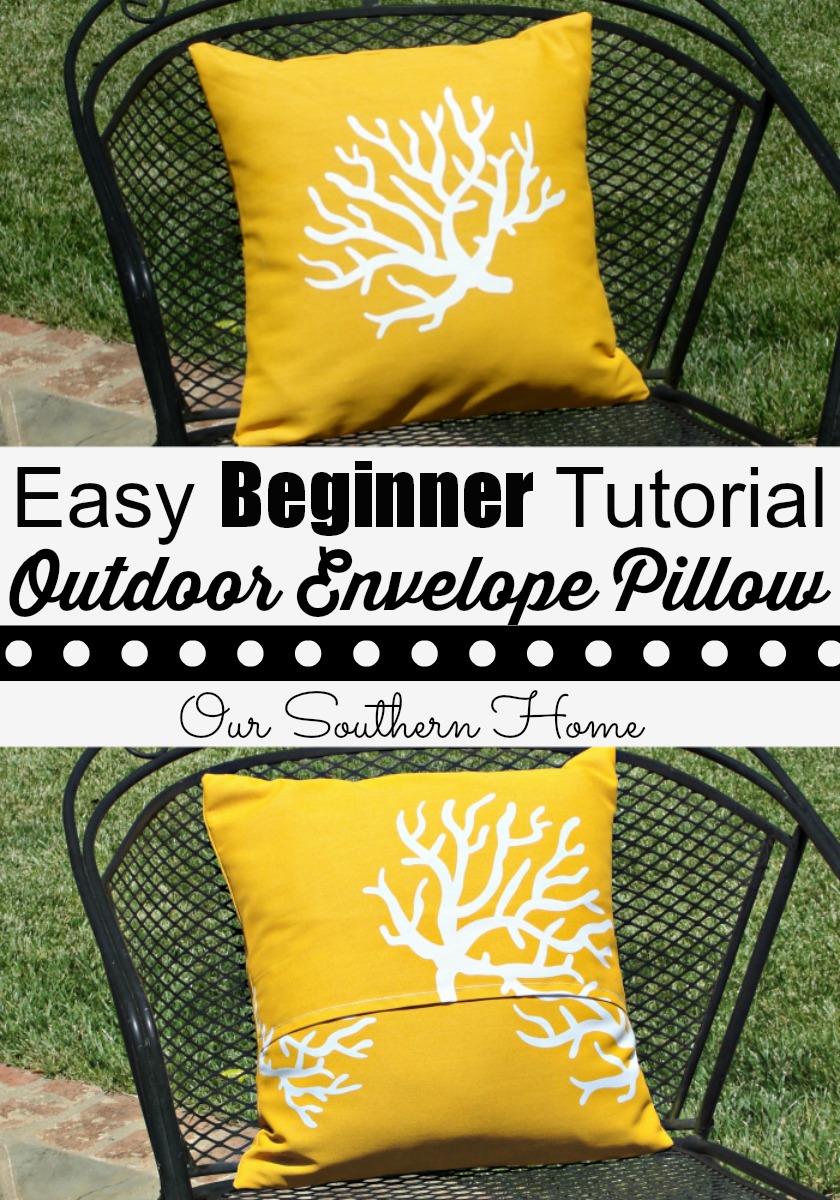 We have a sitting area around the fire pit on our back patio off the screened in porch. It's pretty plain and uninviting with just the black wrought iron chairs (another find from the paper….pre-Craigslist).
I had these 4 outdoor pillows that have been sitting in the workshop waiting for an update. Don't throw those pillows away!!!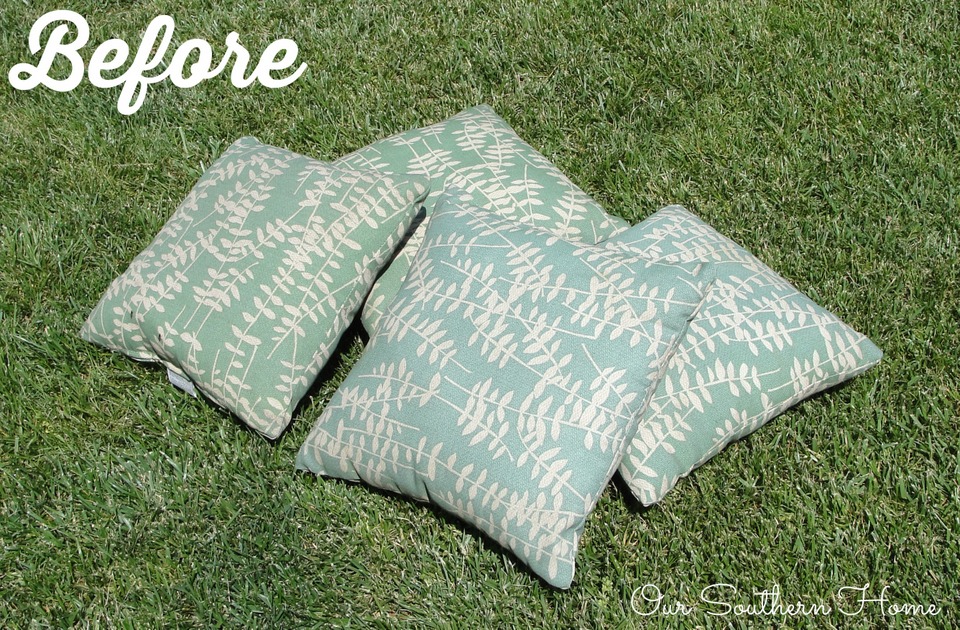 Again…..Pillow forms are in great shape. Fabric is just faded and dirty looking.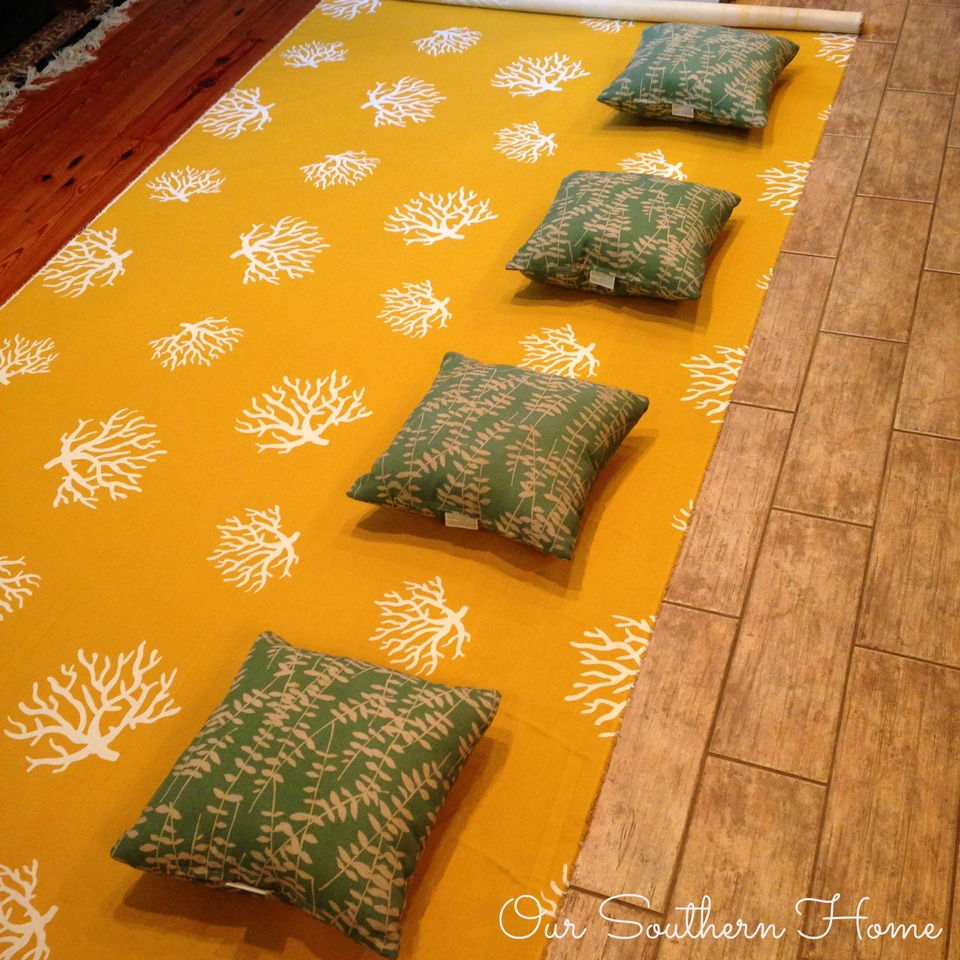 We love spending a lot of time at the beach in the summer. I wanted to bring a little of the coast to our home. I love this bright yellow coral fabric from Online Fabric Store. It's a little different for me, but I wanted to go bright and bold this summer! It is on sale for $7.48 per yard. I had 3 yards of this to work with as well! A little confession! This is the first time that I have sewn pillows before. I have made window treatments, runners, Halloween costumes and dresses for my daughter, but NO pillows!!! How crazy is that? If you can sew a straight line…you can make this pillow! I used the same directions as I did for my No-Sew pillow that I made in the spring!
WARNING!!!! I am now addicted to pillow making…you may see more!
The coral print is rather large….so I had a bit of waste fabric with these pillows. I positioned each pillow over a large coral motif . I just eyed it. Again….no fancy measuring for this part.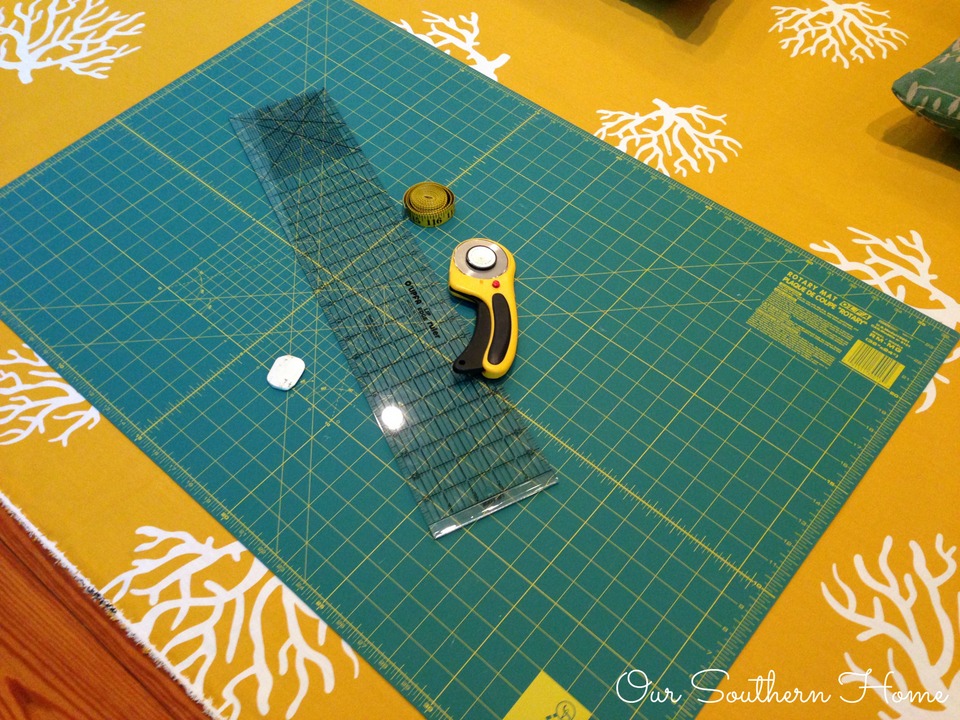 This cutting mat, clear straight edge ruler and rotary cutter are a sewing girls best friend! It allows straight cuts with minimal work of drawing out lines.
Basic Instructions for an Envelope Pillow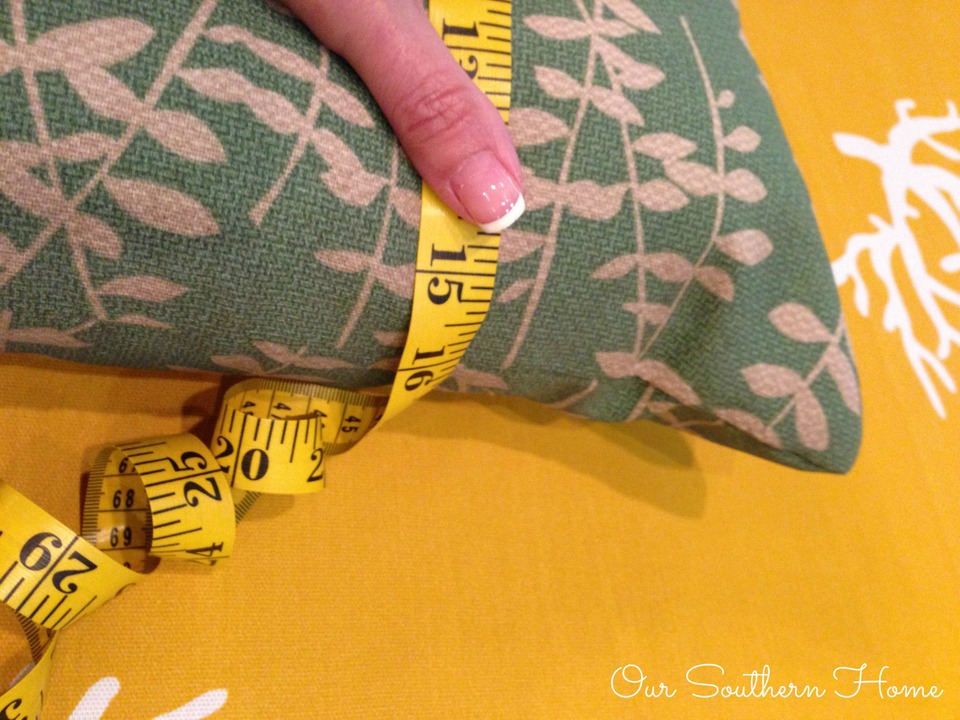 1. Use a tape measure and measure from seam to seam. My pillow is square at 16 inches. I added 1/2 an inch to each side to allow for seam allowances. I cut 4 fronts for the 4 pillows at 16-1/2 inches square.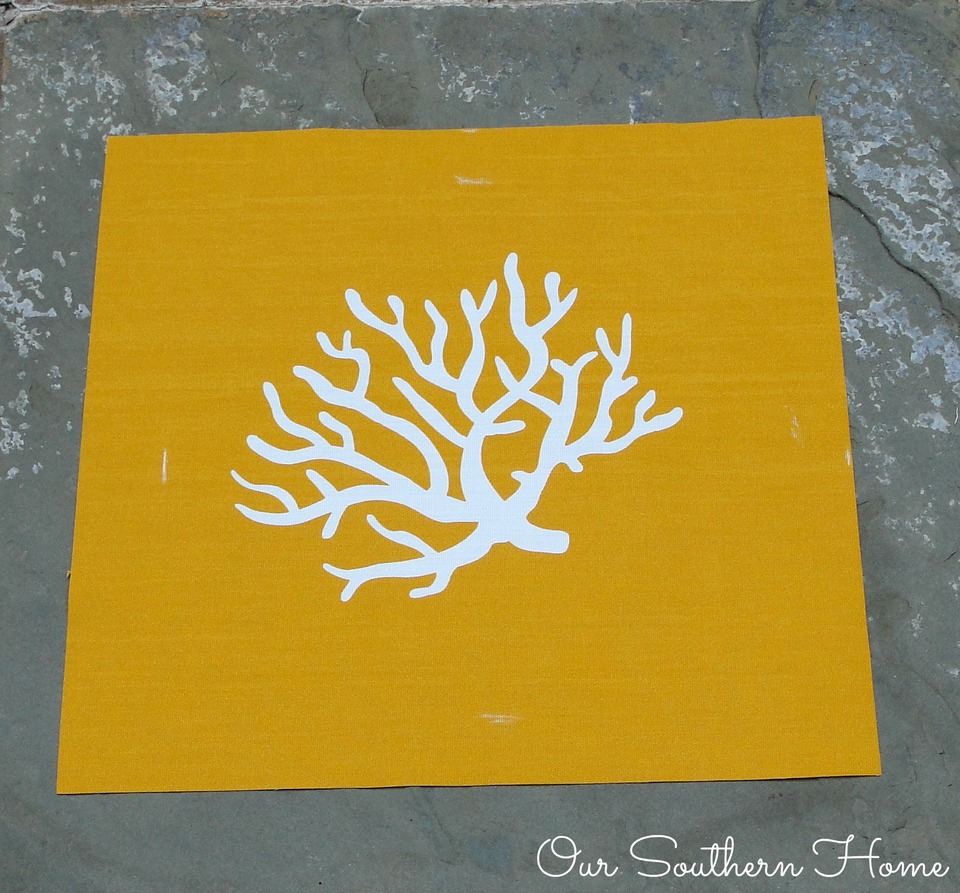 Here is one square front piece.
2. There is no need to make the back of the envelope pillow look as nice as the front in terms of fabric placement. You will cut one larger piece of fabric for the back. Here is the formula. Pillow size + 6 inches. Don't stress…very simple math!
Here is what mine looked like.
16″ + 6″= 22″
I then added 1/2″ for my seam allowances.
I cut the back to this measurement:
16-1/2″ by 22″. Here it is not necessary for the length to have added seam allowances because these parts overlap.
Now cut that piece in half! You will have 2 pieces for each back that will be 16-1/2 x 11″.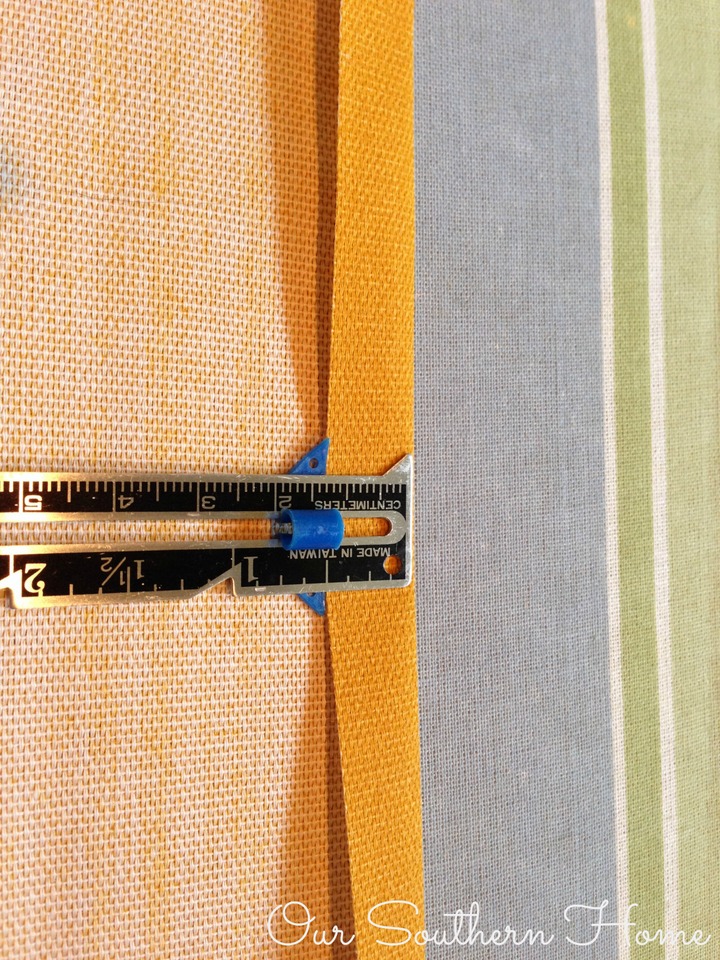 3. Iron and pin a folded seam at 1/2″ on one edge of each of the 2 back halves. It will be folded along the edge that is 16-1/2 inches wide.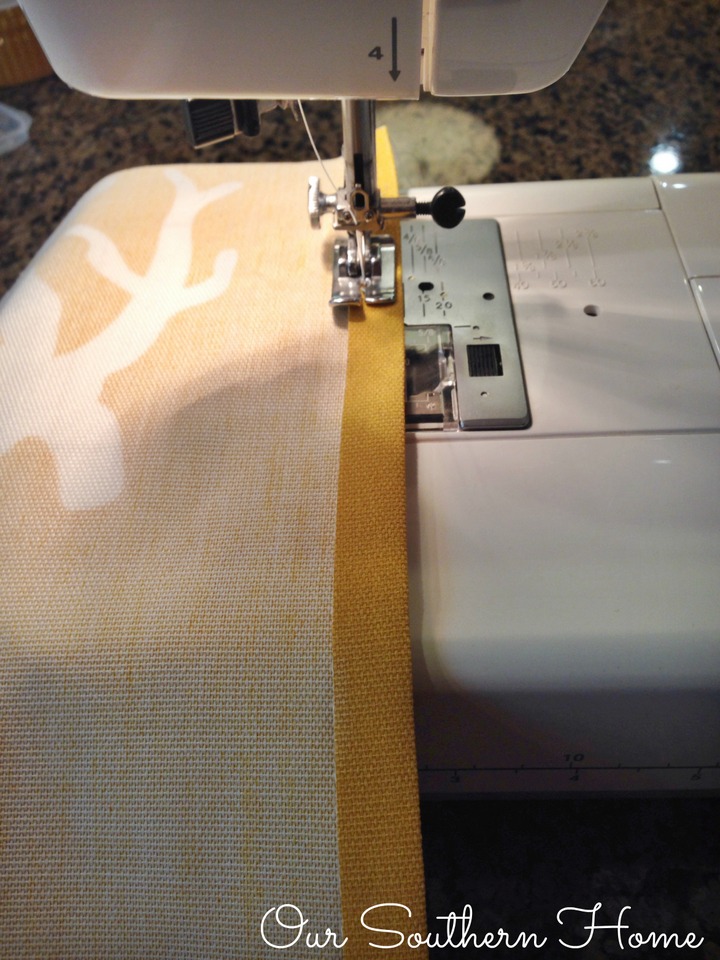 4. I stitched just along the edge using the side of the foot as a guide. The next pictures should shed some light on what you are doing with the back.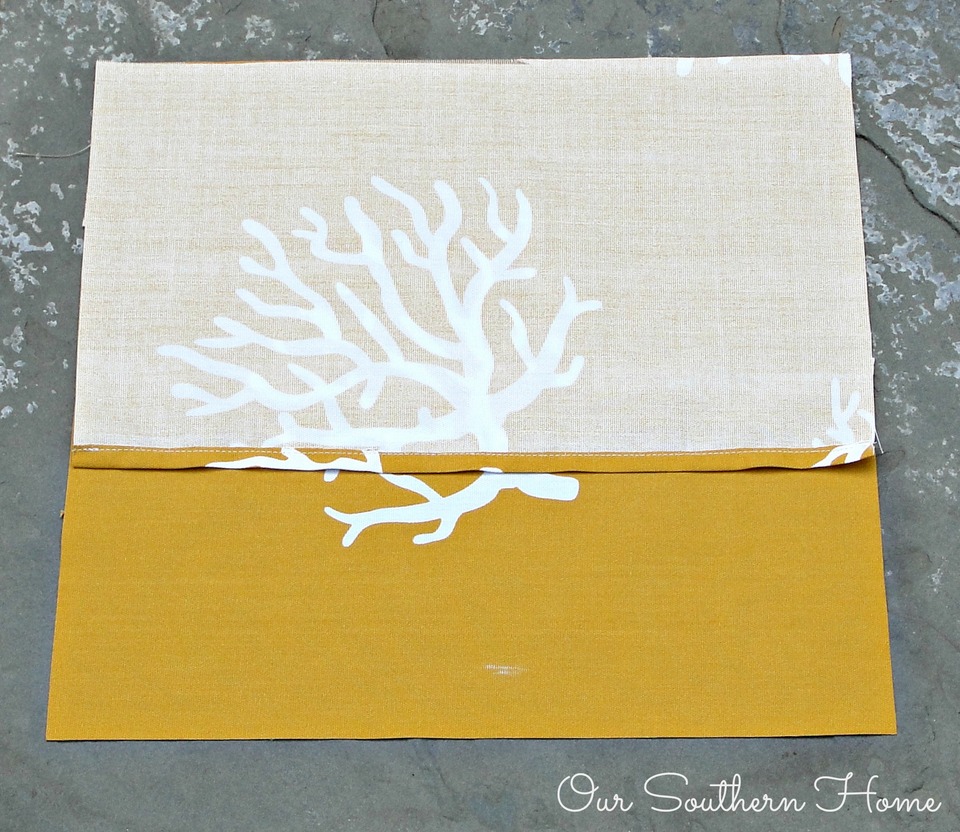 5. Placement is very important! Pin with RIGHT sides together. Place the back top half on first. See the reason for the 1/2″ seam? This is where you will be placing the pillow in the back. It will give a clean, finished edge.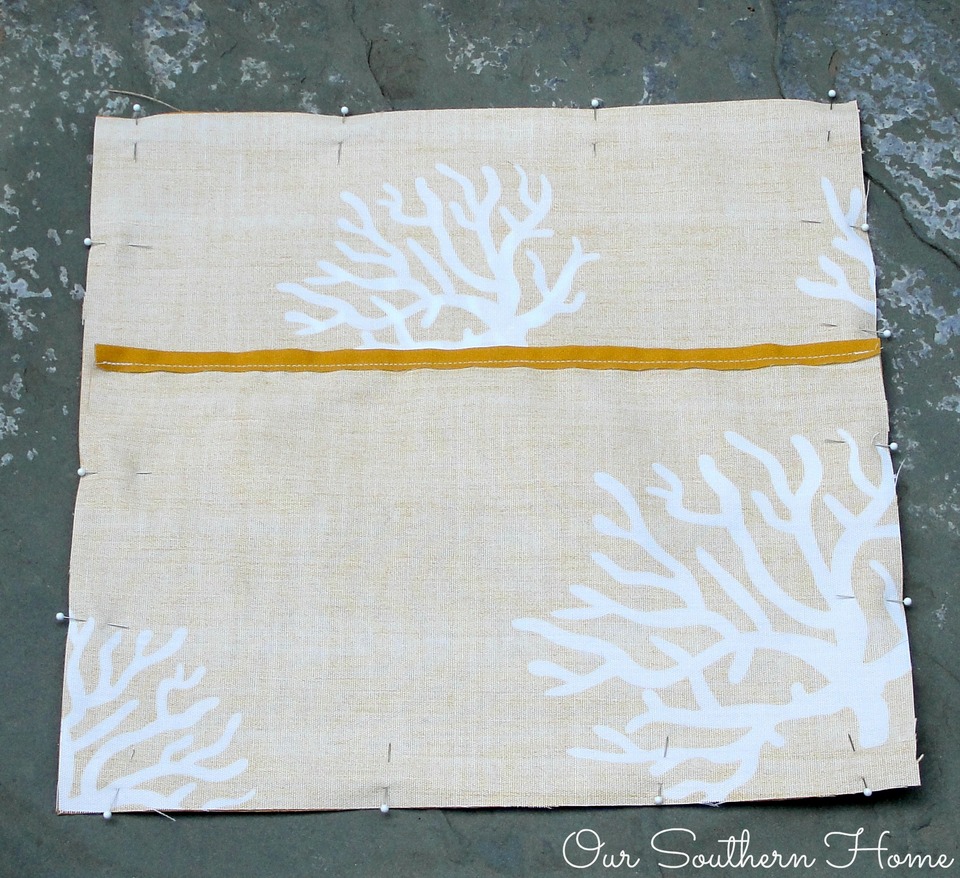 6. The second back piece will be positioned in this manner so both folded seamed pieces meet in the middle overlapping. This overlapped area creates the opening for the pillow form. Pin your pieces. Double check before sewing to make sure RIGHT sides are facing each other.
7. Stitch the pillow using a 5/8″ guide on your machine.
8. Turn inside out pushing out those 4 corners.
9. Insert pillow and enjoy!!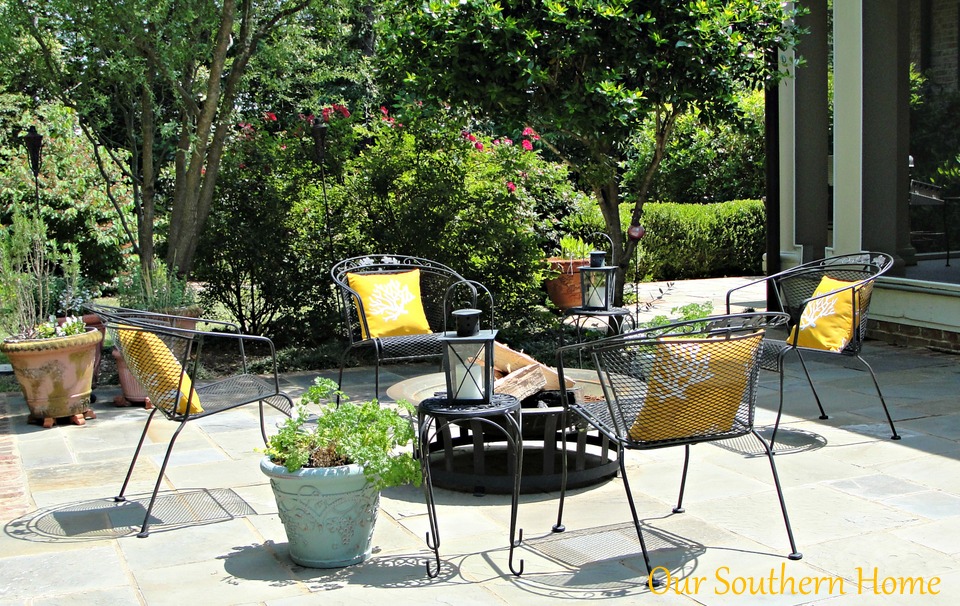 We are all ready for comfortable lounging around the fire pit this summer!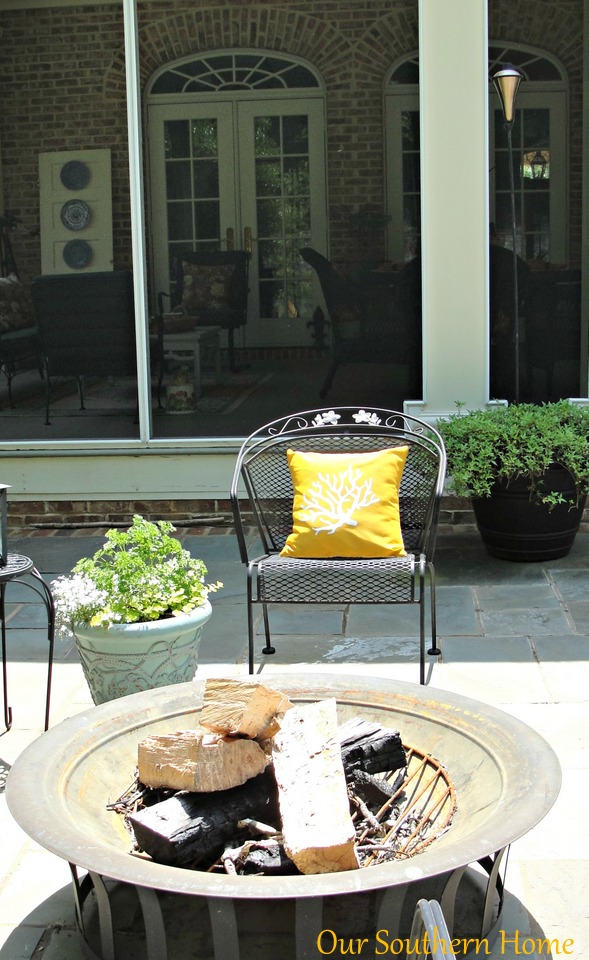 I still have enough of the yellow fabric to make a couple more pillows for this patio!
Here are the links to my fabrics used. You can click to check them or the HUGE selection they have to offer at Online Fabric Store. Shipping is very fast!!! Happy sewing! Pinning greatly appreciated! 🙂
Premier Prints Outdoor Cadence Greenage Fabric
Premier Prints Outdoor Coral Yellow Fabric
Be sure to visit the other ladies today showcasing their creativity with Premier Prints from Online Fabric Store!
Connect with the Online Fabric Store on social media!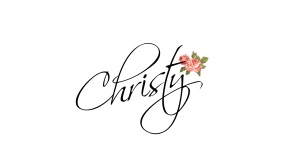 Link Parties that OSH parties at on occasion! Sunday: DIY Show Off Monday: Between Naps on the Porch, Home Storis A to Z Tuesday: Not Just A Housewife, The Scoop at Cedar Hill Farmhouse and Inspire Me Party at A Stroll Thru Life, Setting for Four – Project Inspire{d}, My Uncommon Slice of Suburbia Wednesday: Savvy Southern Style Thursday: My Repurposed Life, From My Front Porch to Yours, Home and Garden Thursday at A Delightsome Life ,No Minimalist Here , Imparting Grace Friday: French Country Cottage, Miss Mustard Seed Furniture Friday, Common Ground, The Charm of Home, Rooted in Thyme, Imparting Grace, Keep Calm and Link Up, My Romantic Home – Show and Tell Friday, Craftberry Bush – Inspiration Gallery Friday, SnapCreativity – Show and Tell, Tatertots and Jello
Buffer