Painting with Chalkboard Paint
Have you joined the Chalkboard Movement yet?  I have, and I am loving it!  I have only painted a couple of things so far.  One that we have used lots is a 50 cent tray from Goodwill.  I spray primed it before painting with the chalkboard paint.  My second chalkboard project was this.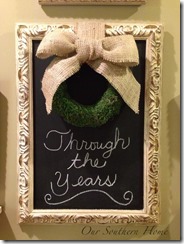 I have a set of these in the attic.  I painted the frame first with Annie Sloan Chalk paint using this method here first.  This project is part of my gallery wall that you can find here. 
First clean the glass and tape off the frame.  I highly recommend painting your frame first and then painting the chalkboard paint.  You risk the chalkboard paint peeling off of the glass or mirror if you do the reverse.  I am sure it would be much better to prime the glass or mirror first especially if this is going to be a board that you will change frequently.  Mine is part of a gallery wall that will pretty much keep the same writing all of the time so I wasn't concerned about regular use.  Of course the kids have been told to keep their teen hands off of it!
I used Valspar Chalkboard paint from Lowes and have been very happy with it.   It paints on so smoothly.  I ended up painting 3 coats.  I highly recommend a light sanding between coats for a smooth finish for writing.
Pull the tape off very carefully so you do not pull the paint away.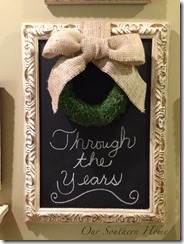 I allow the paint to cure over night before writing on it.  First you will need to "prime" it with chalk before actually writing.  Do this by taking a piece of chalk on its side and coloring over the entire surface.  Then erase the chalk and write.  I used a wet paper towel to get a cleaner, new look on mine.  I just simply wrote in cursive.
My next goal is to master the beautiful chalkboard art!!!!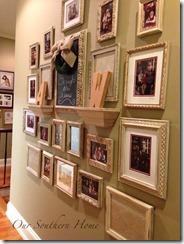 If you'd like to see more photos of my Santa Photos Gallery Wall post please go
here
. 
The final post in the gallery wall series will be on making the simple moss wreath that hangs on the chalkboard.
Buffer