Broccoli and Bacon Salad is the perfect make ahead side dish to accompany any meal from a large family dinner to a cookout or picnic.
Latest from OSH
It's time for another group of fabulous recipes with my blogging friends. I'd like to give a big shout-out to my friend Marty from A Stroll Thru Life for organizing this each month for us.
Broccoli and Bacon Salad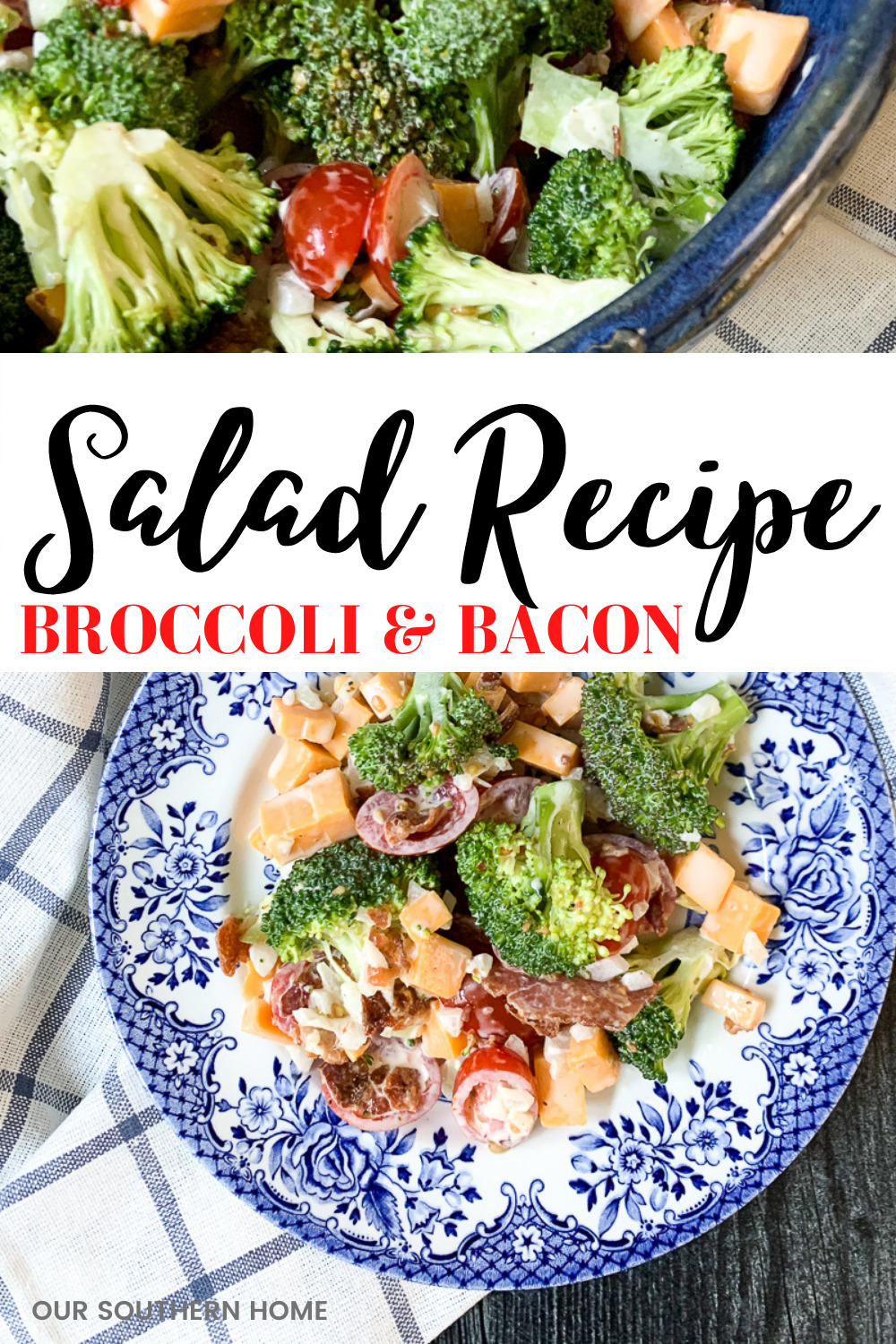 Be sure to read until the end of the post to get the links to this week's yummy collection of recipes.
You'll find the printable recipe below. This is so easy! It's one of those recipes that you could add a bit extra of everything and it would still be so good. It doesn't have to be exact.
It's one of my go-to recipes when we go to someone's house for dinner or for a crowd.
I love anything when entertaining that is make-ahead.
It's perfect for summer when you don't want to heat up the kitchen.
Let's Talk Cheese
A great way to change it up would be to use gouda cheese instead of cheddar.
I'd advise against using grated or shredded cheese for this. It will have a tendency to clump up. Dicing it as I have done in cubes is best.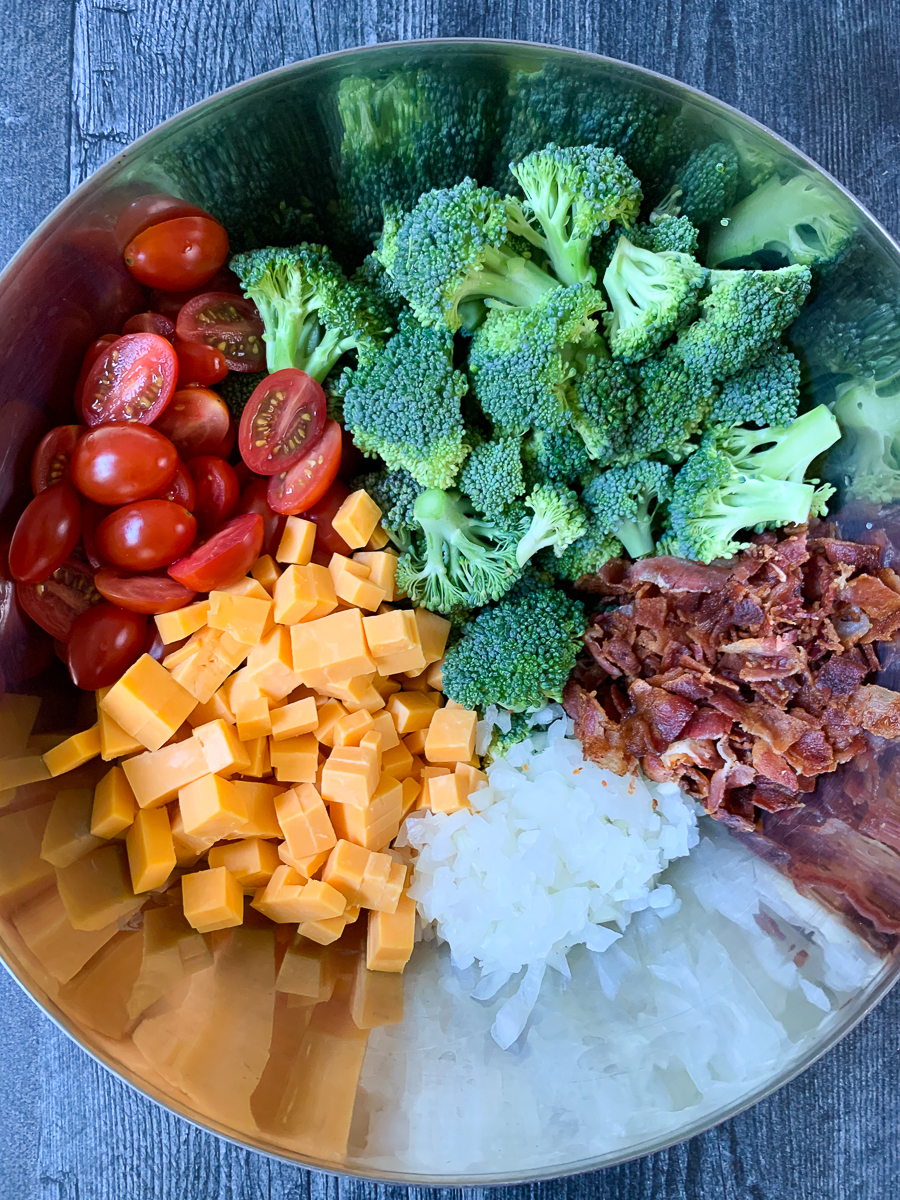 It's definitely a colorful salad.
Mix your mayonnaise sauce in a separate bowl.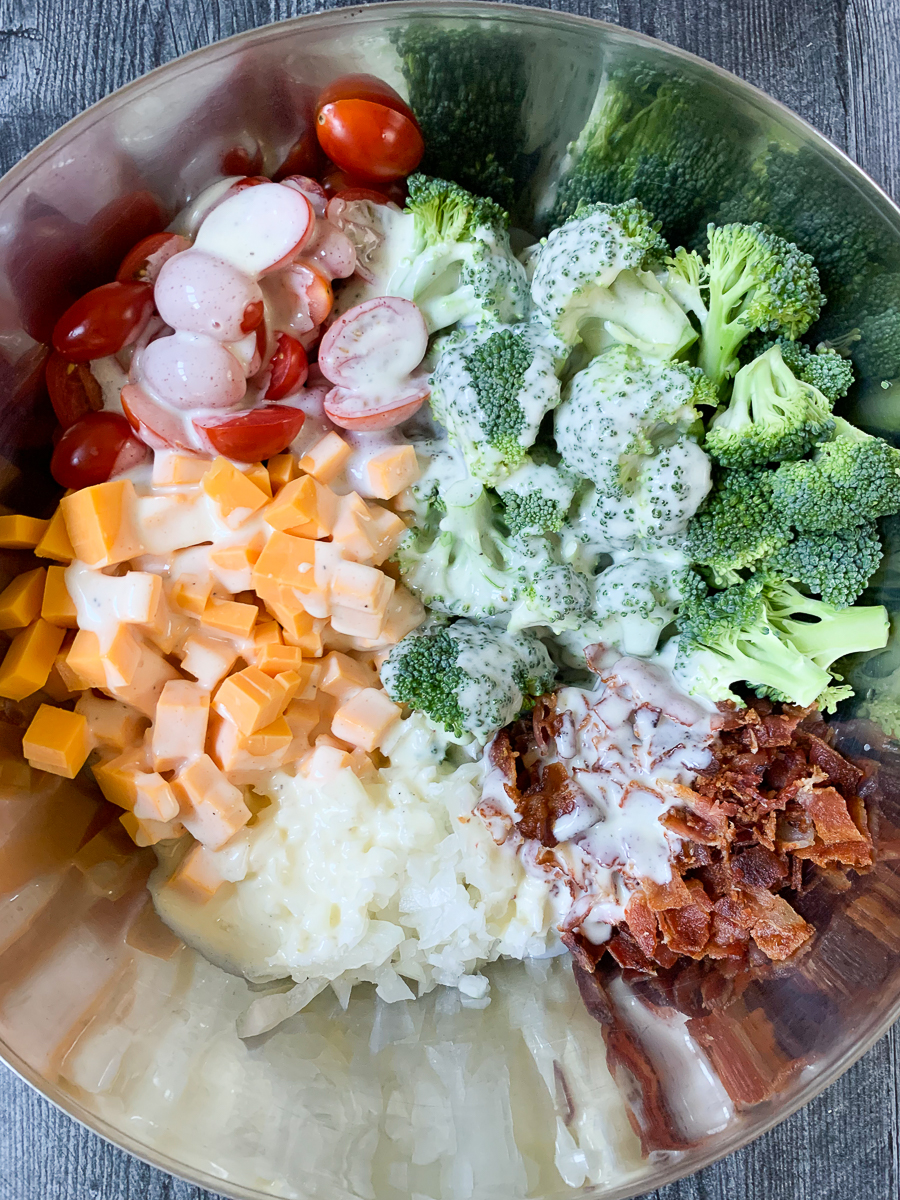 Fold in the mayonnaise mixture and blend together with the broccoli mixture.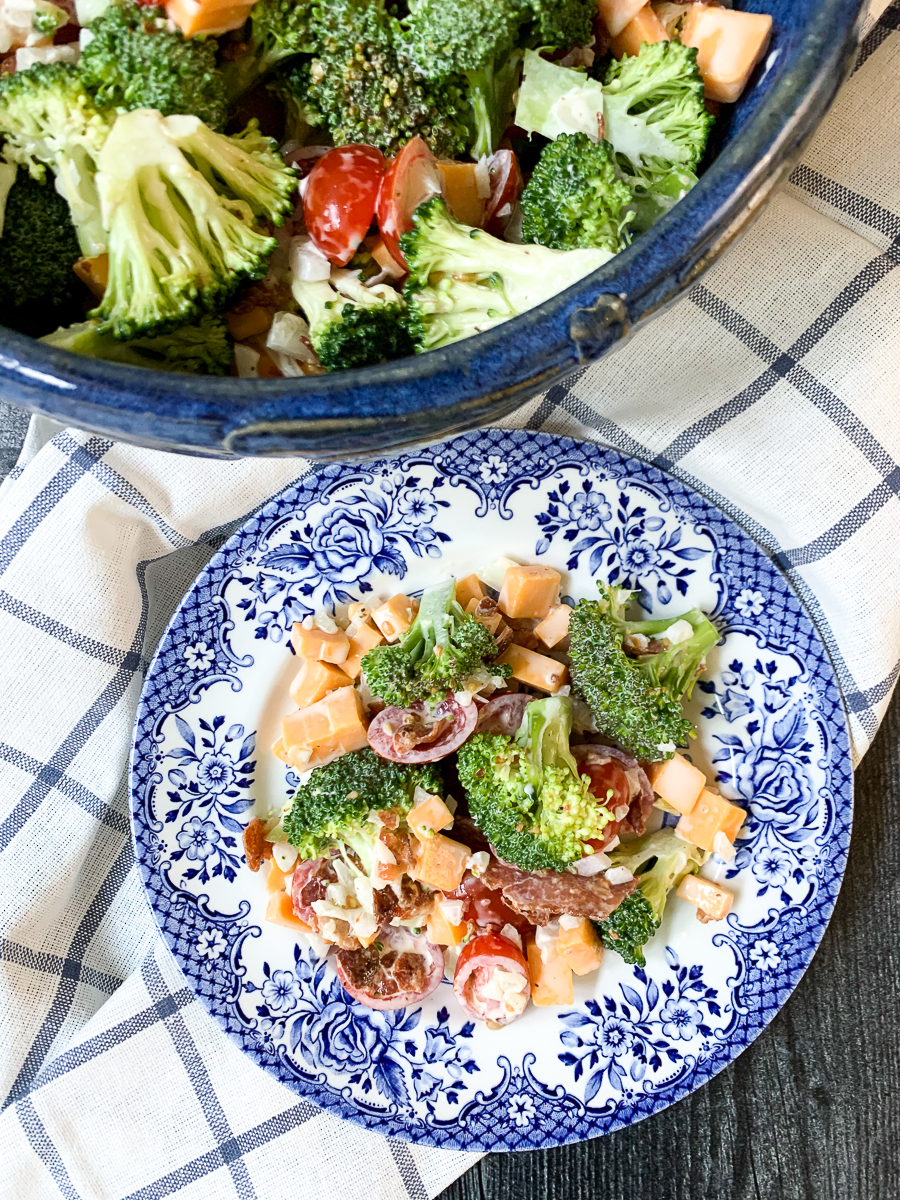 News flash…..I do not like raw onion. For the longest time, I left the onion out. My entire family loves fresh onion. I started adding it in, and I confess that it does give it extra flavor. Don't tell them that I admitted it.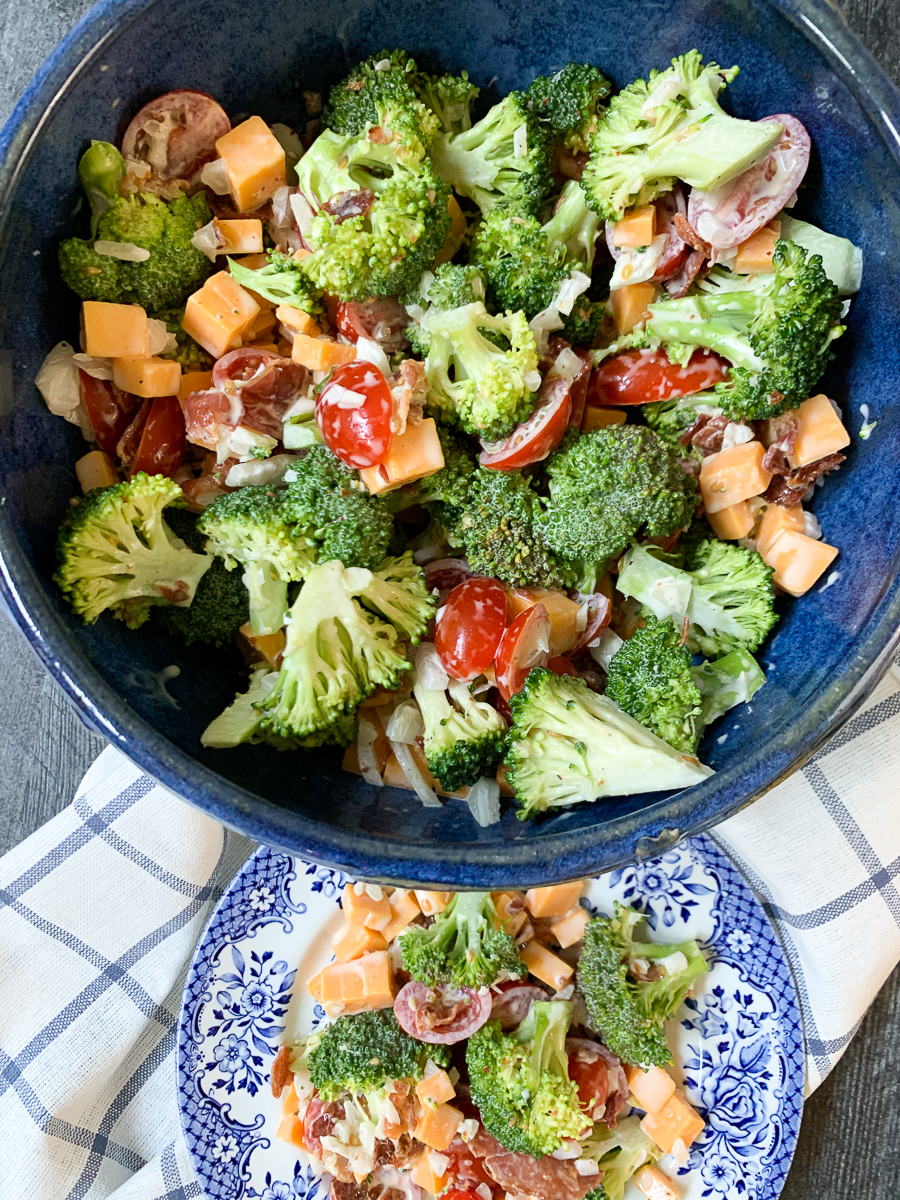 It's such a yummy side dish. I love to make it in the summer especially since it doesn't require cooking.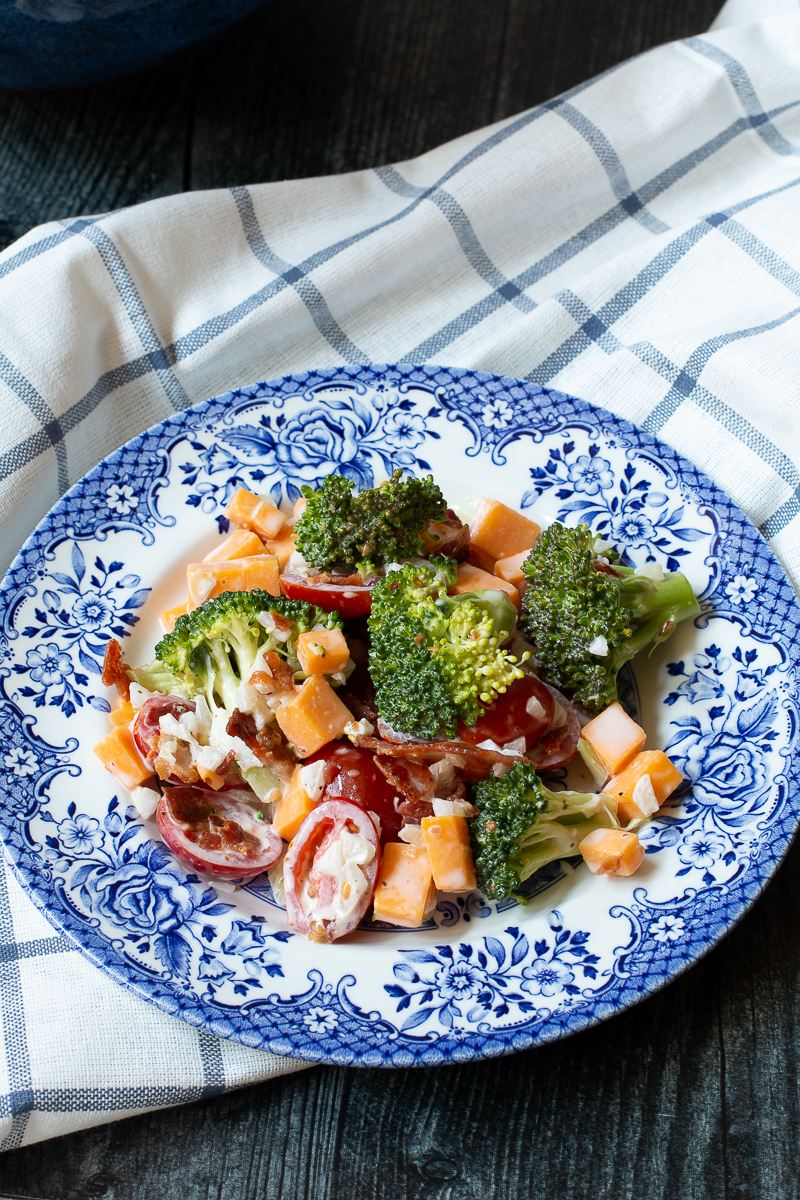 In a pinch, instead of the precooked bacon that you heat in the microwave, I'll buy a larger sized pouch of real bacon pieces in the salad section.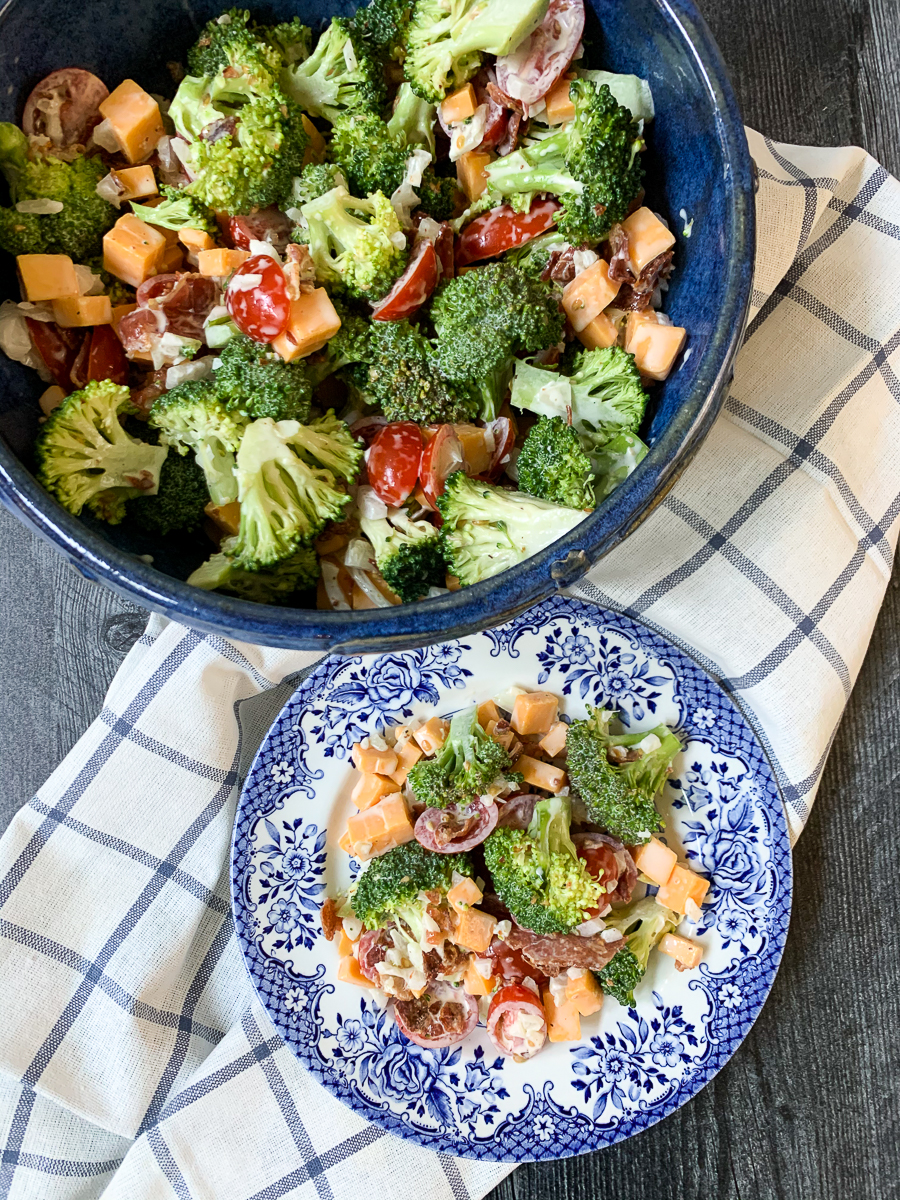 I hope you enjoy it!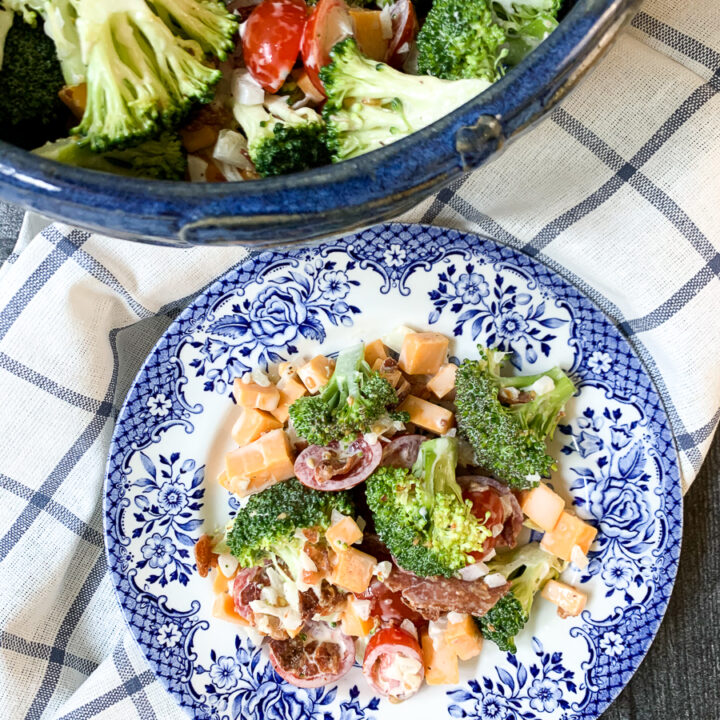 Broccoli and Bacon Salad
This family favorite is the perfect side dish to accompany many meals. If having for dinner, I make in the morning.
Ingredients
1 Head of Broccoli
12 slices of precooked bacon, chopped
1/2 cup diced sweet or red onion
8 ounce block of cheddar cheese, cubed
1 cup of mayonaise
2 tablespoons of vinegar
1/4 cup of sugar
1/8 teaspoon of ground pepper
10 ounce carton of cherry or grape tomatoes, halved
Instructions
Remove broccoli stalks and cut the head into bite-sized pieces, rinse well in a colander.
Prepare the bacon according to packaging and chop.
Place broccoli, bacon, onion, and cheese in a large bowl.
Combine mayo, vinegar, salt, and pepper in a bowl. Wisk to blend.
Add halved tomatoes to the mayo mixture and toss to coat.
Fold in mayo mixture with the broccoli mixture gently blending.
Refrigerate until ready to serve.
Notes
I typically make it in the morning if serving for dinner.
I purchase a 2.1-ounce box of precooked bacon from Aldi.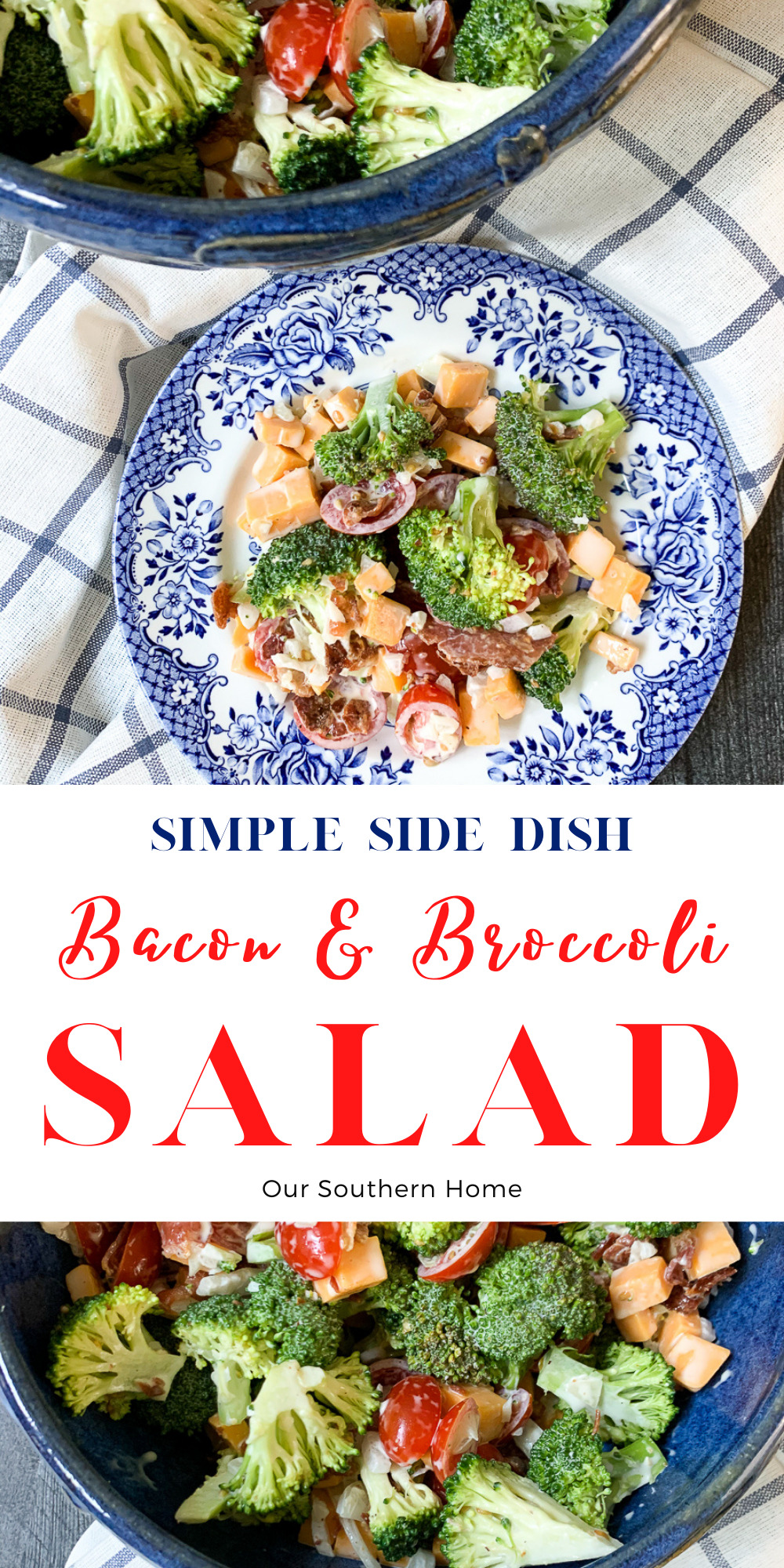 Check out the other recipes from the girls!

Our Southern Home | Worthing Court | CitrineLiving
Dixie Delights | Hymns and Verses | Thrifty Decor Chick
Decor to Adore | A Stroll Thru Life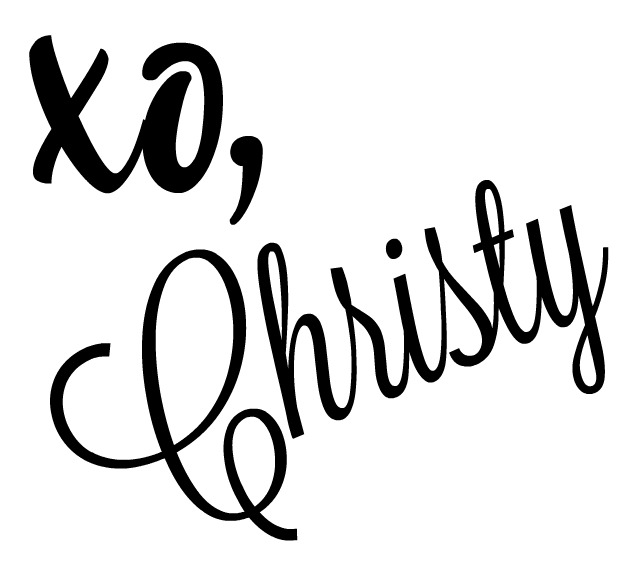 Buffer