Family Room Fall Mantel was created with classic details such as blue and white porcelain and traditional fall colors to create a cozy look.
Family Room Fall Mantel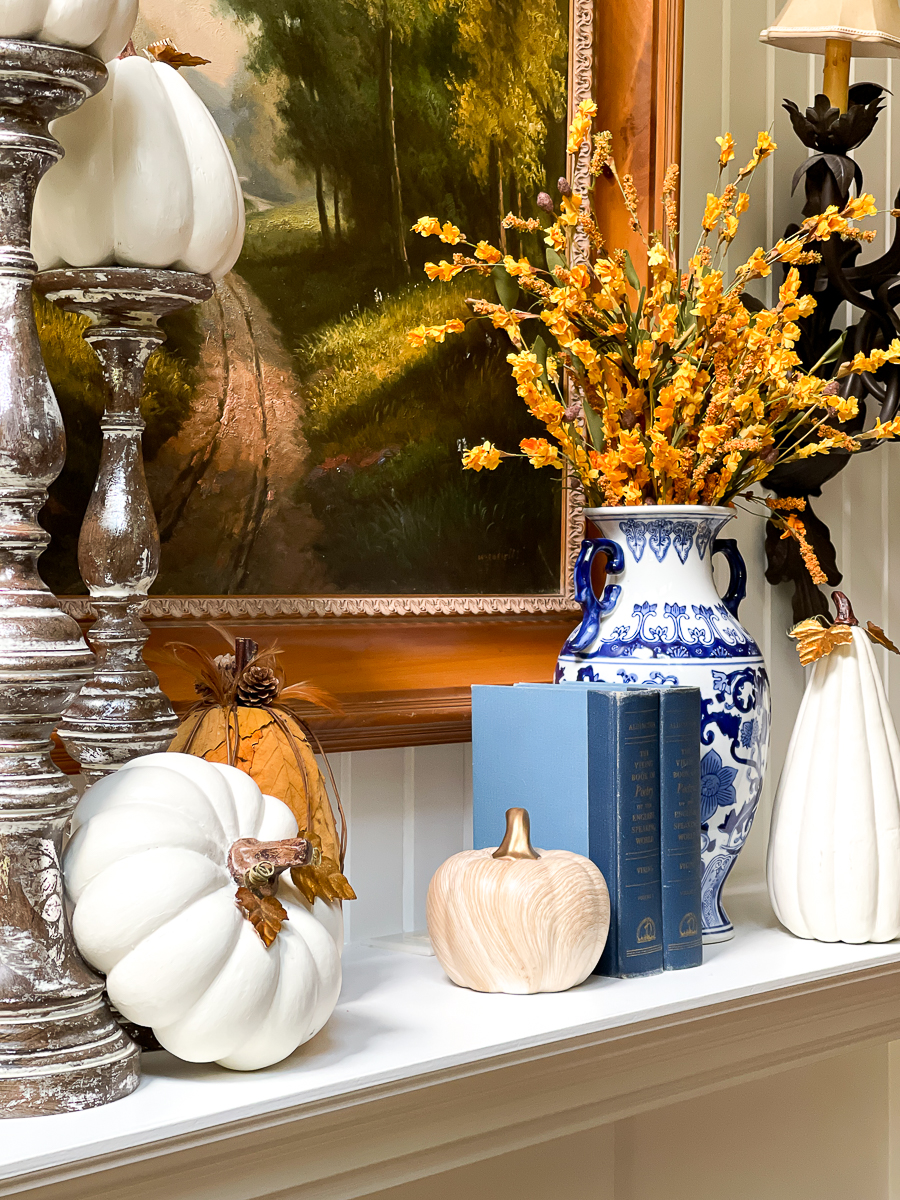 While I adore all seasons, there is just something about fall. Call me crazy, but after the long hot summers that we have here in the south, I always look forward to the crisp morning air, heartier dinners, and yes….the time change with dark coming sooner.
We typically start eating dinner earlier and I love to light candles and enjoy lamp light longer. Throw on a cozy throw blanket, and that's a wonderful evening.
I typically start decorating for fall right after Labor Day, but I had no problem digging through the attic for my pumpkins a bit early. (or the kids did….I refuse to go in the attic…snake sighting)
BE SURE TO FOLLOW TO THE END OF THE POST WHERE YOU WILL FIND A LIST OF ALL THE BLOGS ON TODAY'S TOUR AS WELL AS MY SHOP THE POST FOR THIS FALL MANTEL. YOU'LL ALSO FIND ITEMS LISTED UNDER THE PHOTOS.
Latest from OSH
This post may contain affiliate links. If you purchase something using one of my links, I may earn a small commission from the retailer costing you nothing more. You can read more on my disclosure page. YOU WILL FIND A SHOP THE LOOK FOR OUR HOME AT THE BOTTOM!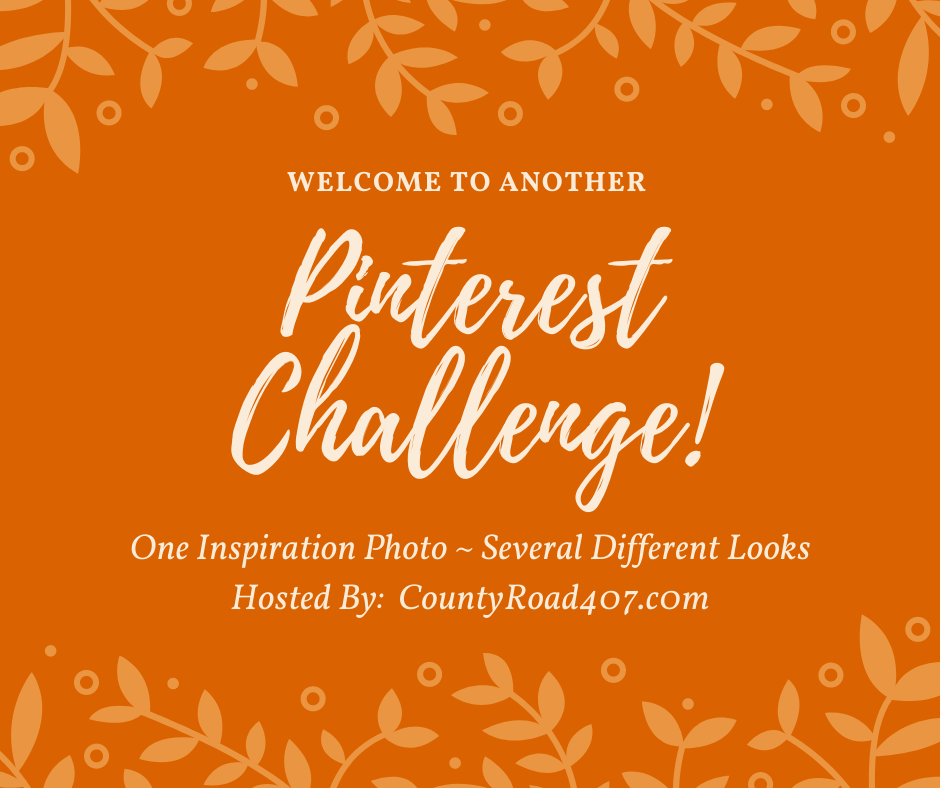 This month's Pinterest Challenge marks my very first post of the fall season. Cindy from County Road 407 plans each month's challenge. I just love her creativity!
This month our inspiration is a stunner!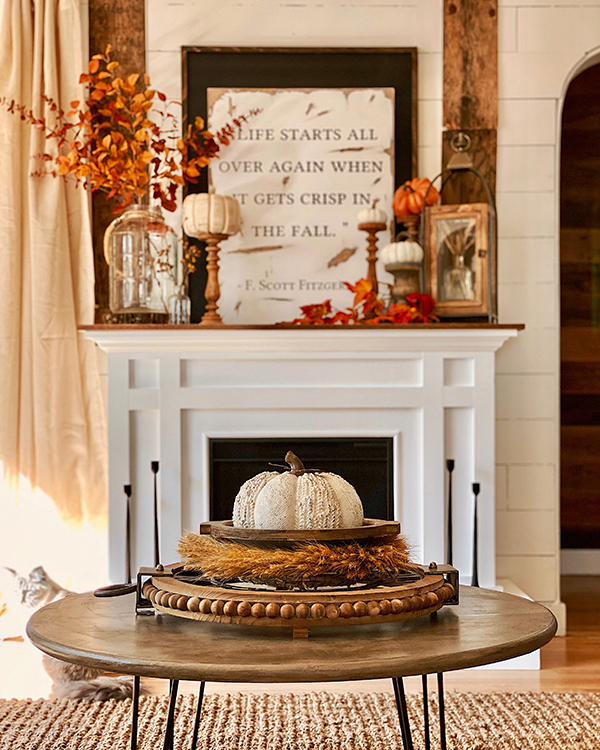 If this fall mantel inspiration photo doesn't inspire you to get your fall decor out of your attic, I don't know what will! Be sure to visit Janelle Trinette for her complete fall tour from last year. It is a stunner!
Inspiration Takeaway
Seasonal floral element in traditional fall colors
Candlesticks used as risers
pumpkins
vessel
If you are popping over from Marty's site, A Stroll Thru Life, welcome! Marty lives out west and has a beautiful, classic style!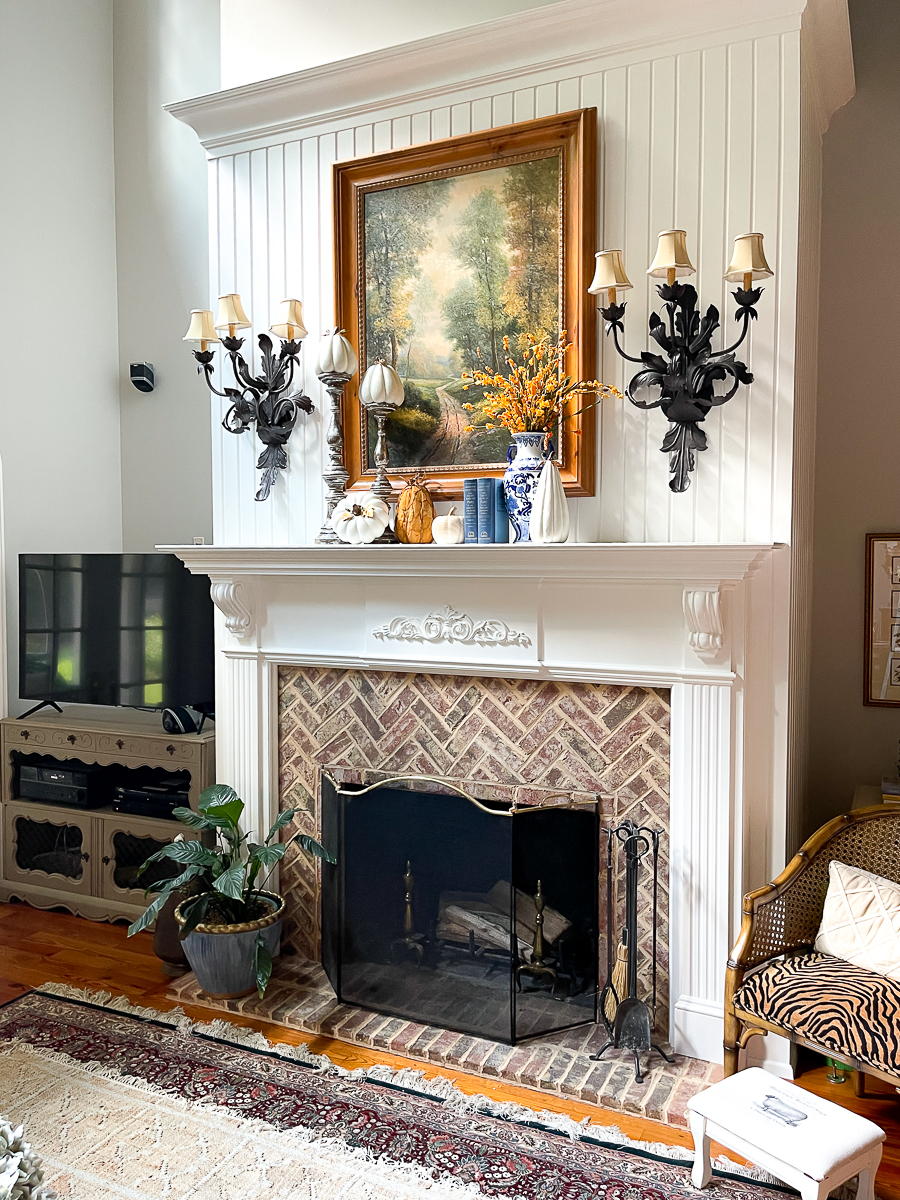 Similar Candlesticks | Similar Pumpkins | Pumpkin with Texture | Similar Vase | Similar Flowers | Similar Books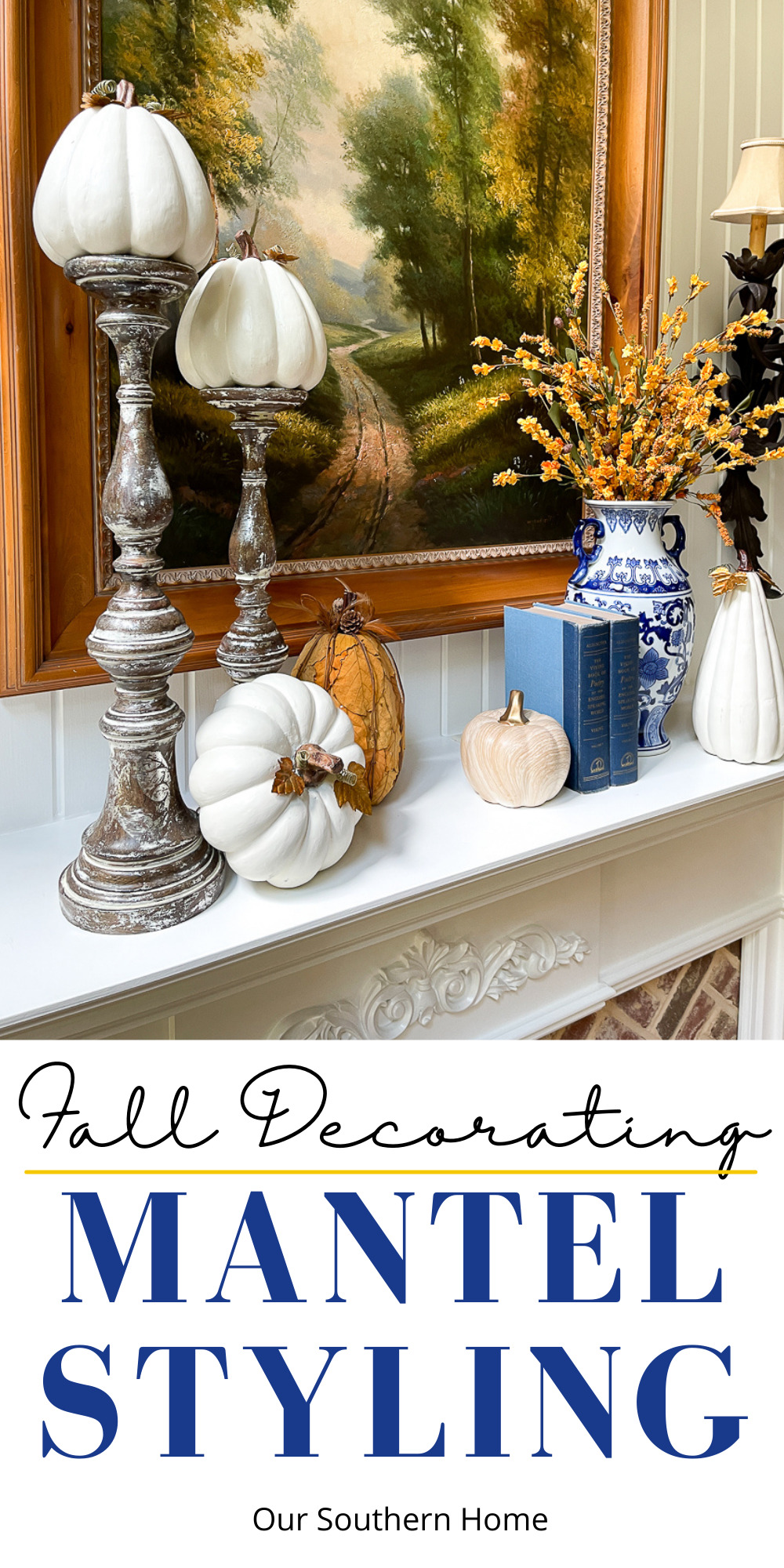 I admit that I have a big crush on this year's family room fall mantel.
There just wasn't enough open space to add in a tall floral as well as a lantern. I tried but just didn't like the look with the sconces.
I'm a bit more limited to the center of my mantel when it comes to decor due to the hardwired wall sconces. They are large and make quite the statement.
That's an important thing to point out when duplicating a look whether it be from Pinterest or a magazine.
Don't feel like you have to duplicate item per item. Pick and chose those elements that work for you.
I invite you to join this month's challenge and share it in my DECORATING ENTHUSIASTS FACEBOOK GROUP!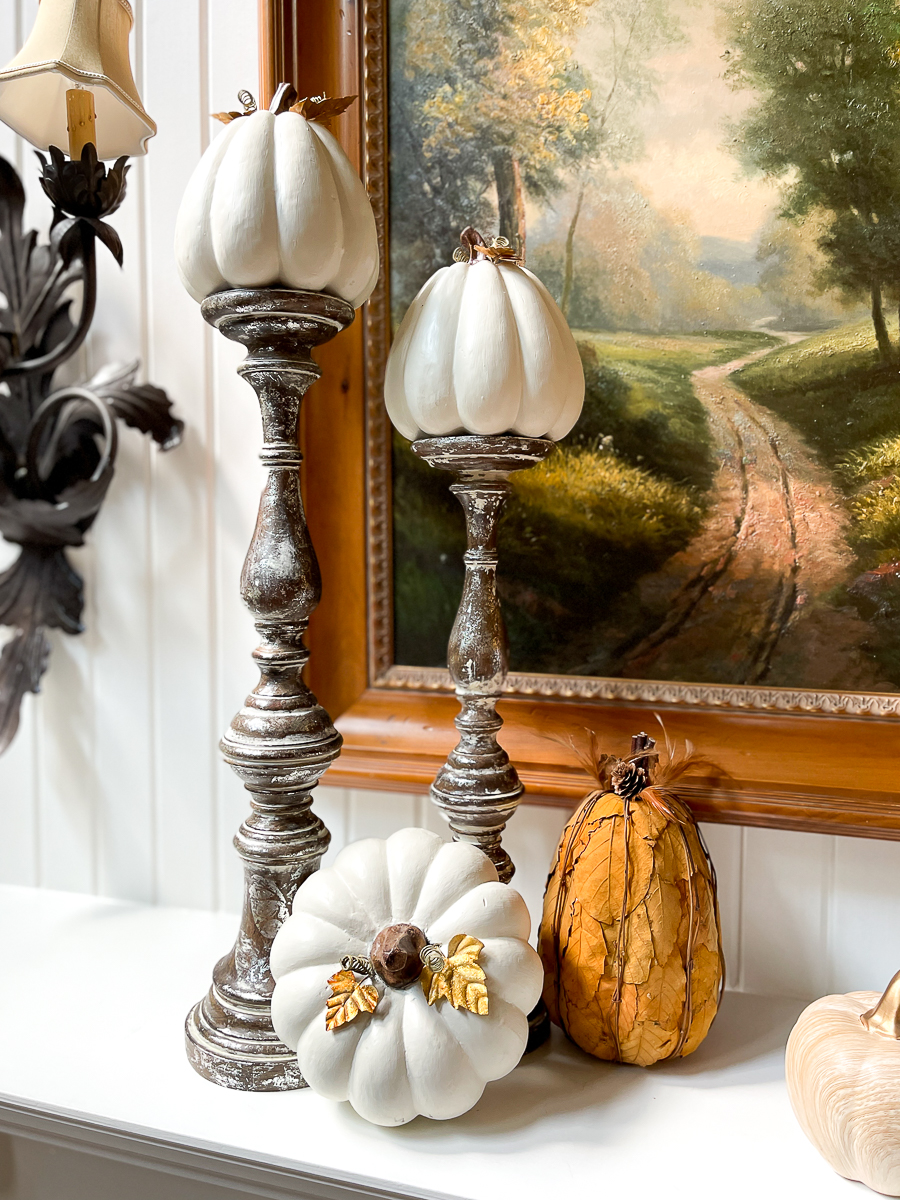 One of my absolute favorite things to do is to place pumpkins on top of candlesticks. It's the perfect way to add varying heights to your mantel and any vignette.
While I do use candles on the mantel, I rarely light them. This mantel is pretty high, so not the easiest to attempt to deal with fire without a ladder.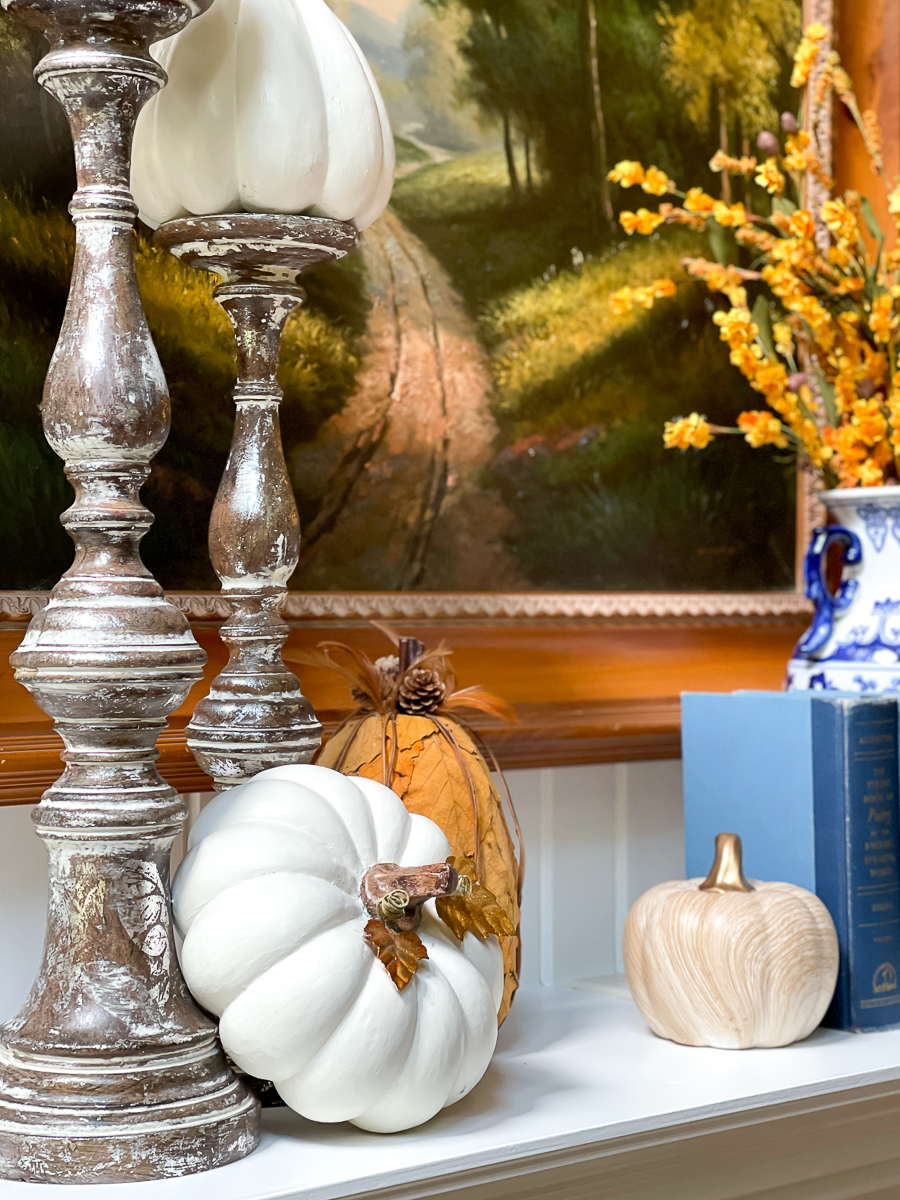 Similar Candlesticks | Similar Pumpkins | Pumpkin with Texture | Similar Vase | Similar Flowers | Similar Books
Two candlesticks side by side allow for the perfect opportunity to prop a pumpkin. With the height of the mantel, it's fun to see a bit of its stem.
Do you have a faux pumpkin that is aging or you'd like to change the color? I do this all the time! It's quick and cheap. You can read all about it HERE.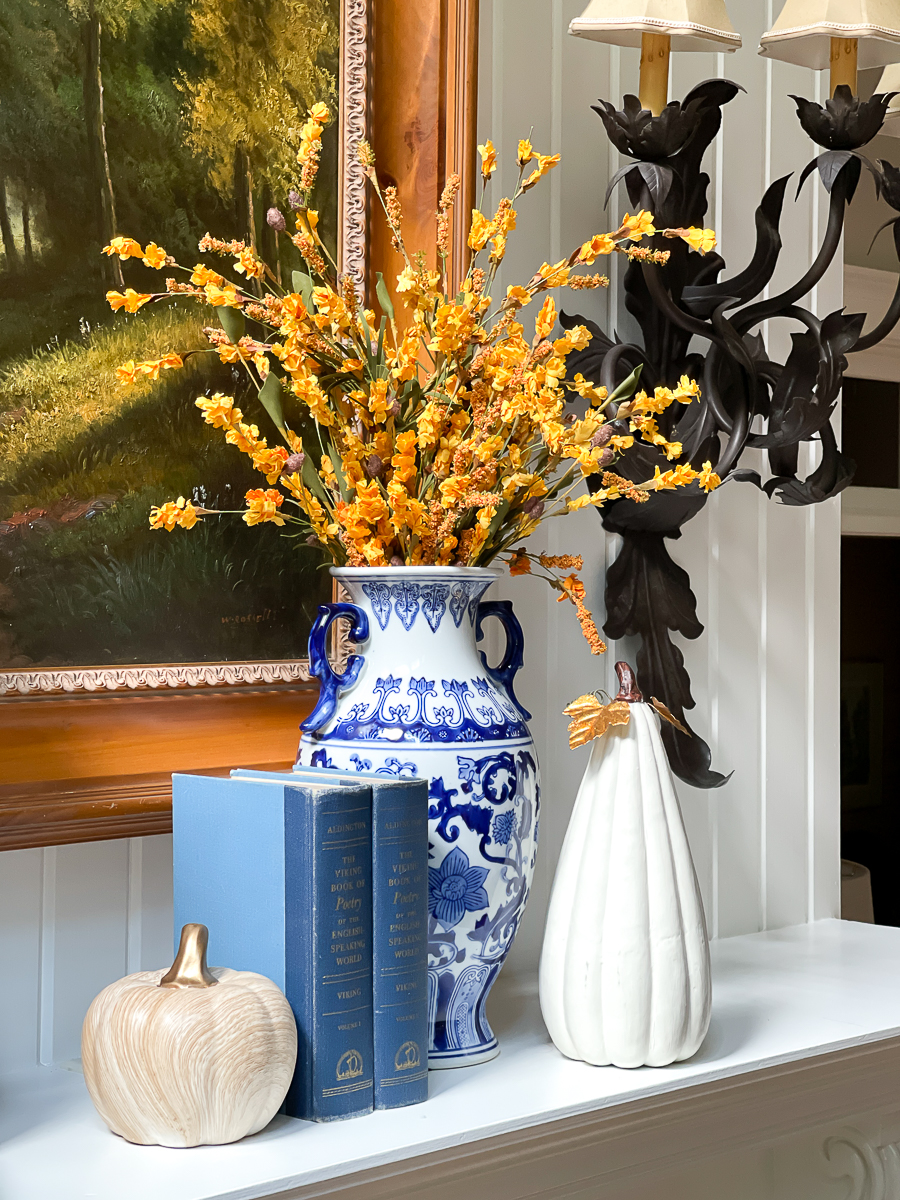 Instead of clear glass for my vessel, I opted to use my large blue and white porcelain chinoiserie style vase. It's so pretty with the colors of fall. It also adds a little pop of pattern and color to my style.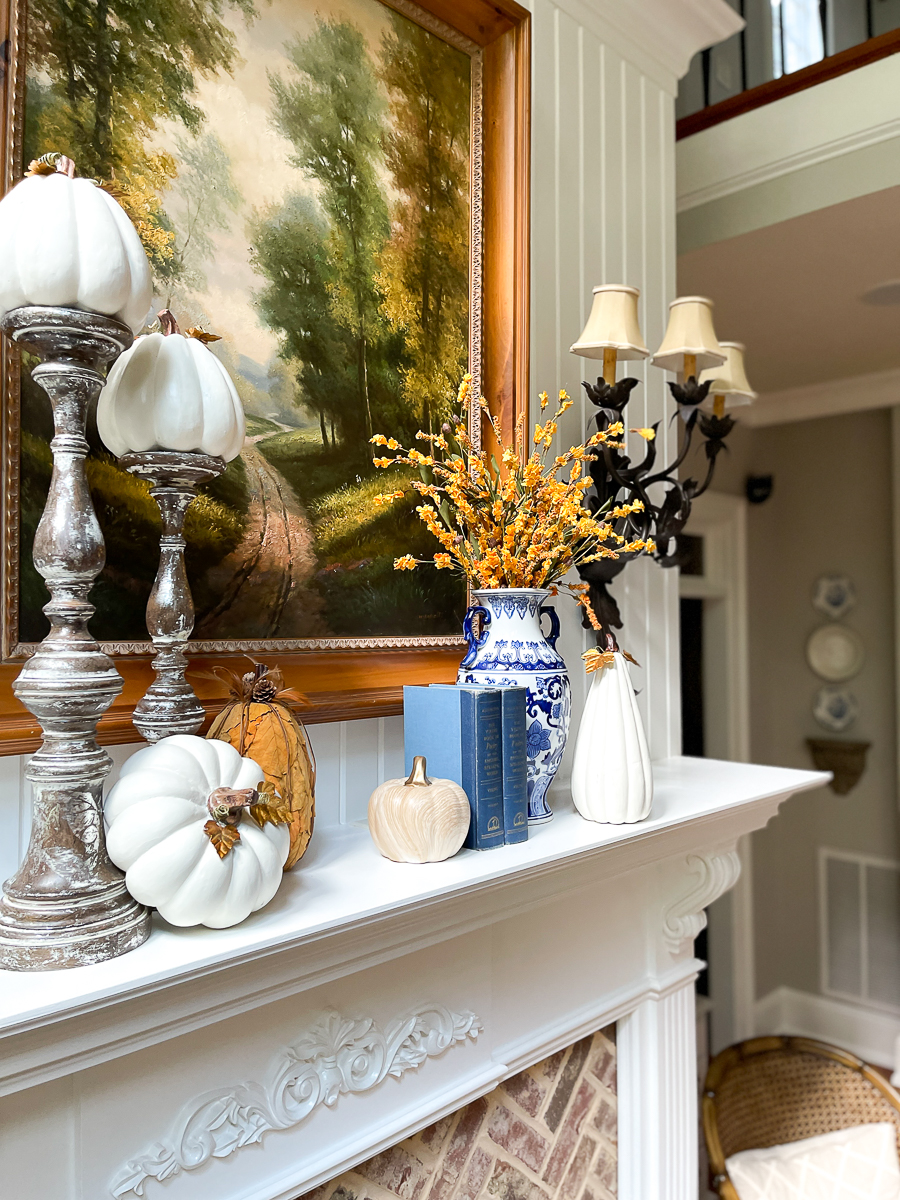 Similar Candlesticks | Similar Pumpkins | Pumpkin with Texture | Similar Vase | Similar Flowers | Similar Books
No vignette is complete for me without adding some pretty books. Some of mine are vintage and some are not. I always check newer book covers by removing the paper jacket. Check out this past post on DECORATING WITH BOOKS!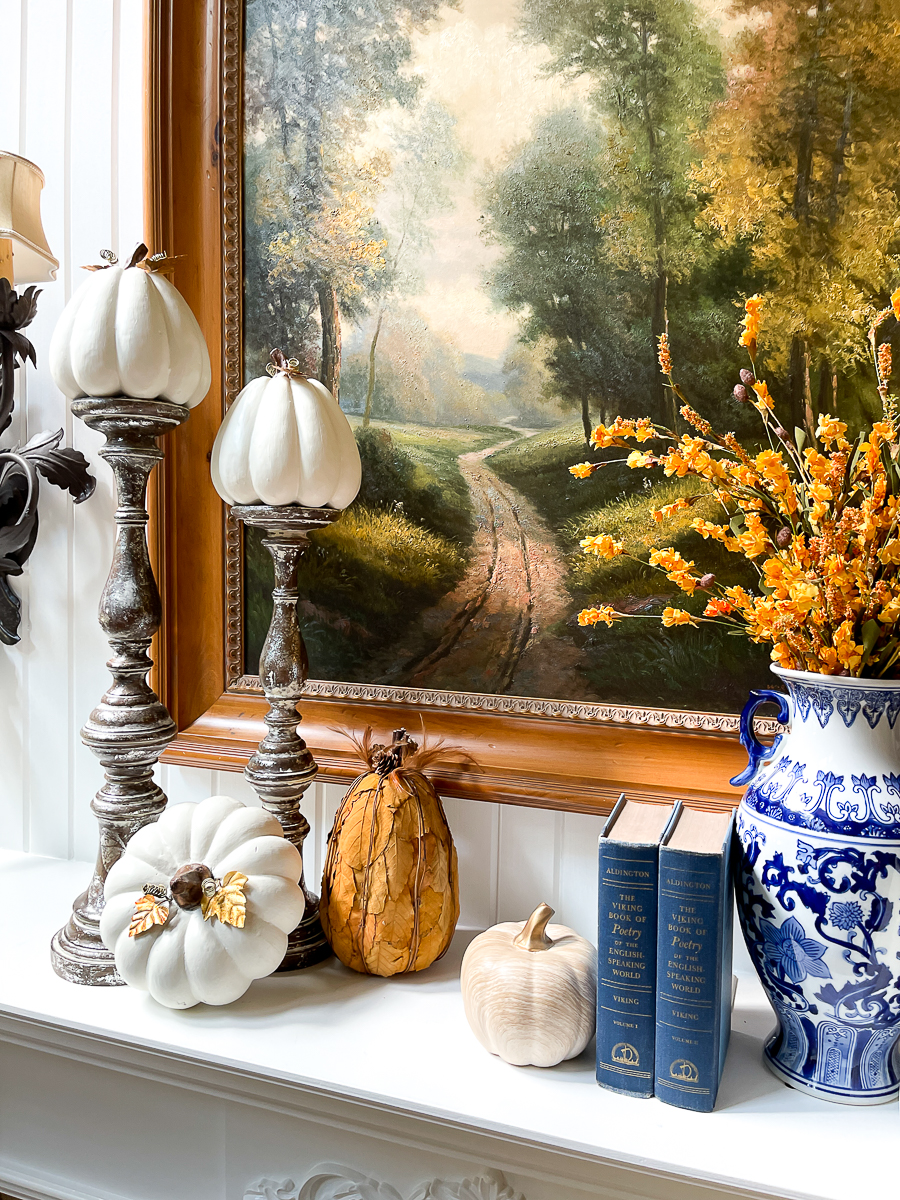 See where the orange leaf pumpkin is? I had a white pumpkin there, but it looked a little flat.
I must have played with this mantel and created about 5 looks before deciding on this one. Creating a mantel can be a lot of trial and error….adding and taking away.
I decided to add the orange pumpkin to balance out the fall floral element.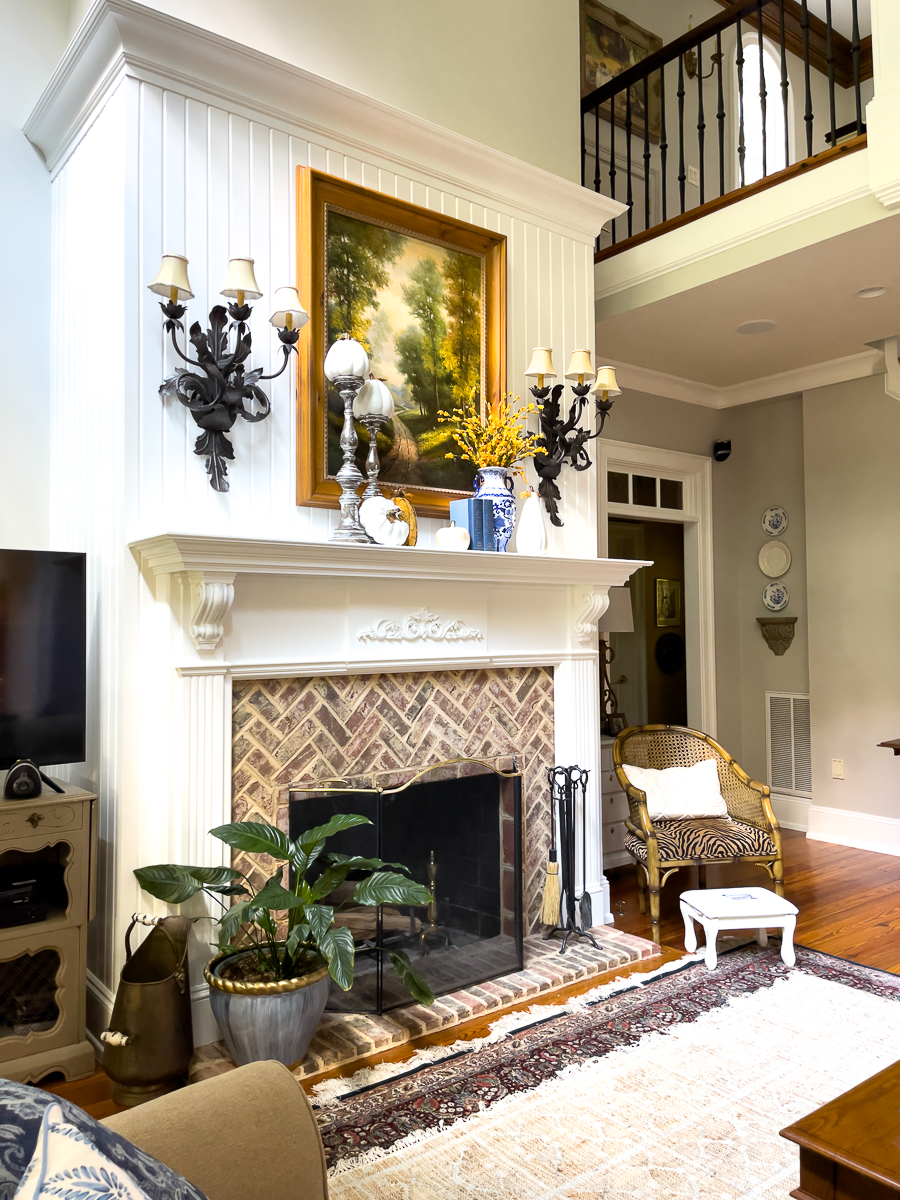 Now that I have the mantel complete, I'm itching to get the house in full-on fall mode! How about you?
Be sure to visit Crissy from First Day of Home. Her outdoor spaces will have you swooning!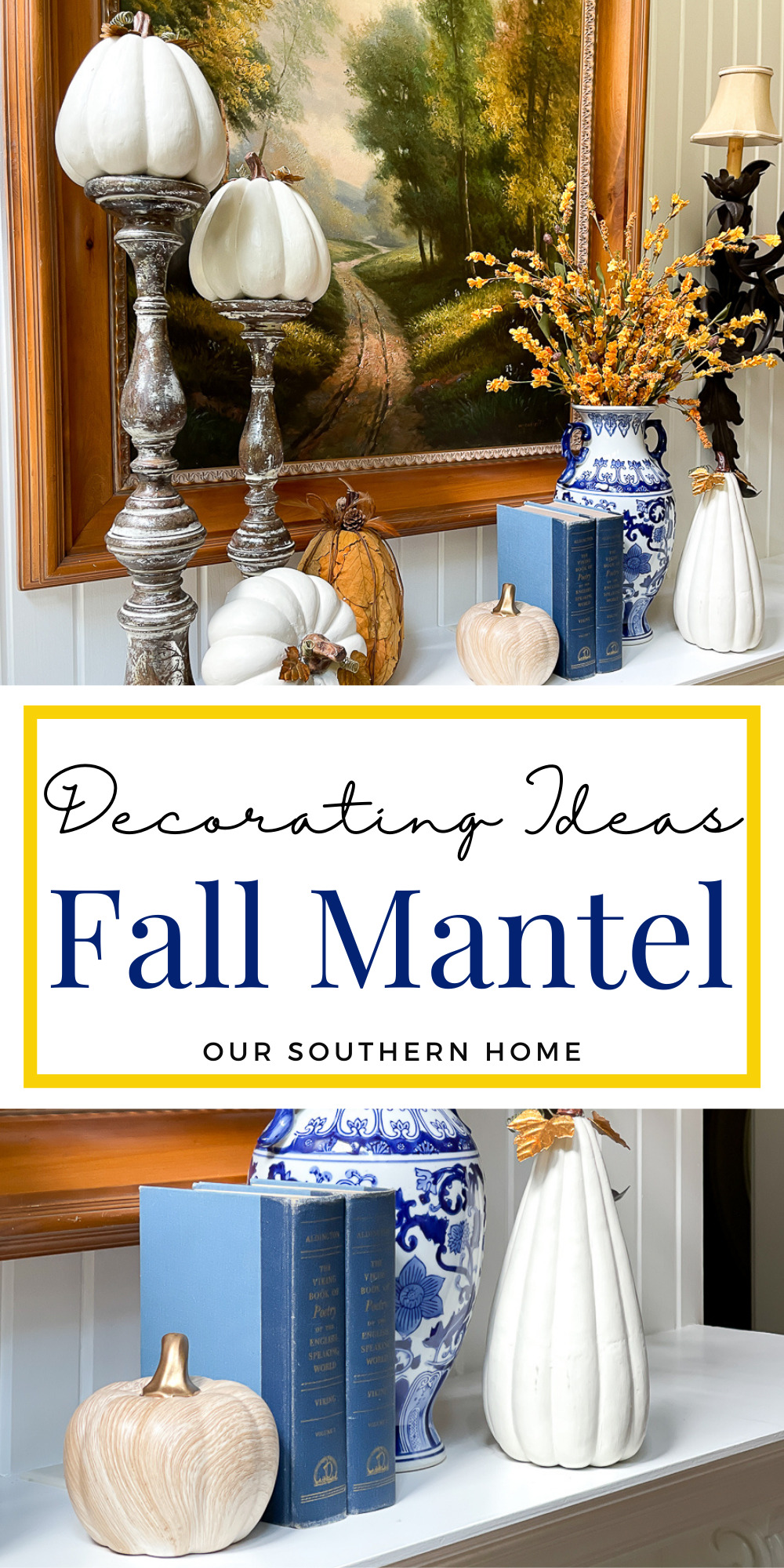 15 Fabulous Fall Mantels!

Buffer