This post is sponsored by Krusteaz. All opinions and text are that of Our Southern Home
We are one sports loving family! Our kids grew up playing either baseball, football, basketball, soccer, tennis or golf. Both of our kids went on to receive athletic scholarships. Our daughter plays collegiate tennis and our son plays collegiate golf. Even our daughter understands all sports from watching with her dad and brother all her life. I find it comical to listen to her yell at the tv over a bad call. I'm the first to admit that while I enjoy watching with friends and family, I'm not so in touch with the rules of the game. For me it's all about the fellowship and that favorite team!
Watching sports on TV at home is a great time to host a party with friends or a fun time with family.
I find that for sporting events, either finger foods or soups work best for a crowd. It becomes very self-serve and being able to munch throughout the big game. It also allows the host to enjoy the game as well. I'm all about the pre prep!
With college football coming to a close, it's time to focus on those Sunday football games. This is by far my family's favorite soup recipe. I always prepare it in a slow cooker, but I'm sure you could adapt it easily for the stove top or Instant pot.
I know you will love my Chicken Taco Soup!
Just because your soup is homemade, doesn't mean you have to spend time making everything from scratch! I really like to have a healthy mix of both.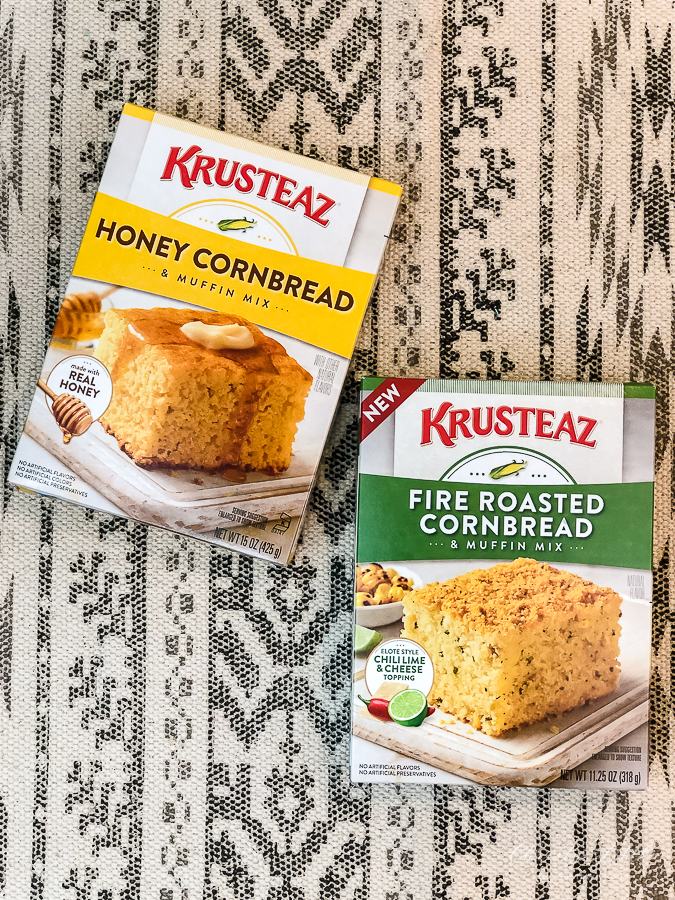 I prepared these 2 cornbreads from Krusteaz! I must say that they were so good. I made them as muffins, but could prepare in a sheet pan or cast iron skillet. Muffins are easy for serving a crowd and for leftovers. They are great warmed up the next day for leftovers and a snack…..if f there are any!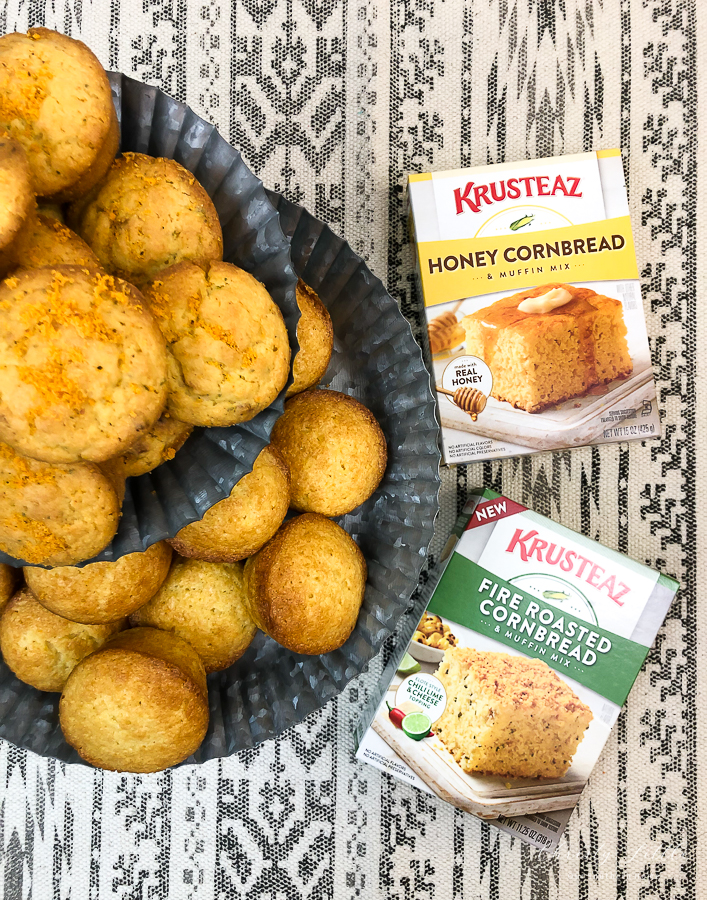 They really are as good as they look! The honey are on the bottom and the fire roasted are on the top. They are so moist and flavorful!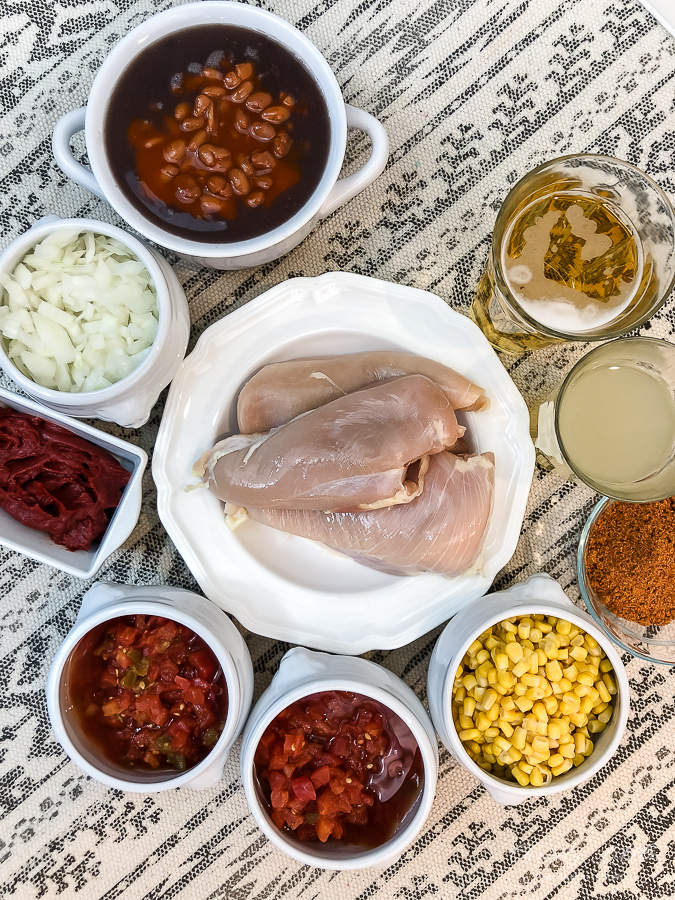 Here are the ingredients for the Chicken Taco Soup. It's such a simple recipe for game day in that you dump it all in the slow cooker and go about your day!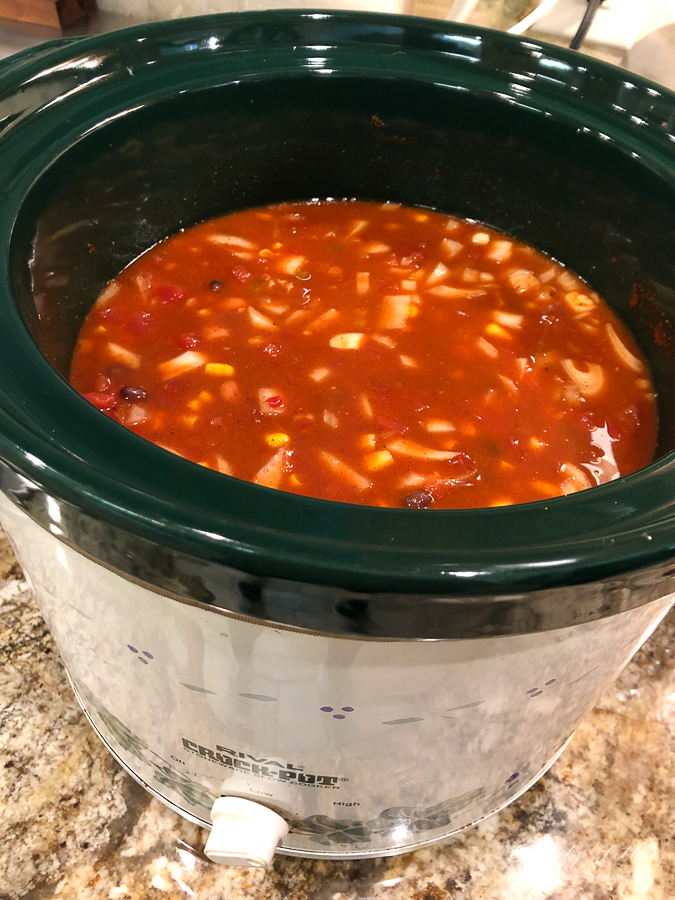 Here it is ready to cook all day!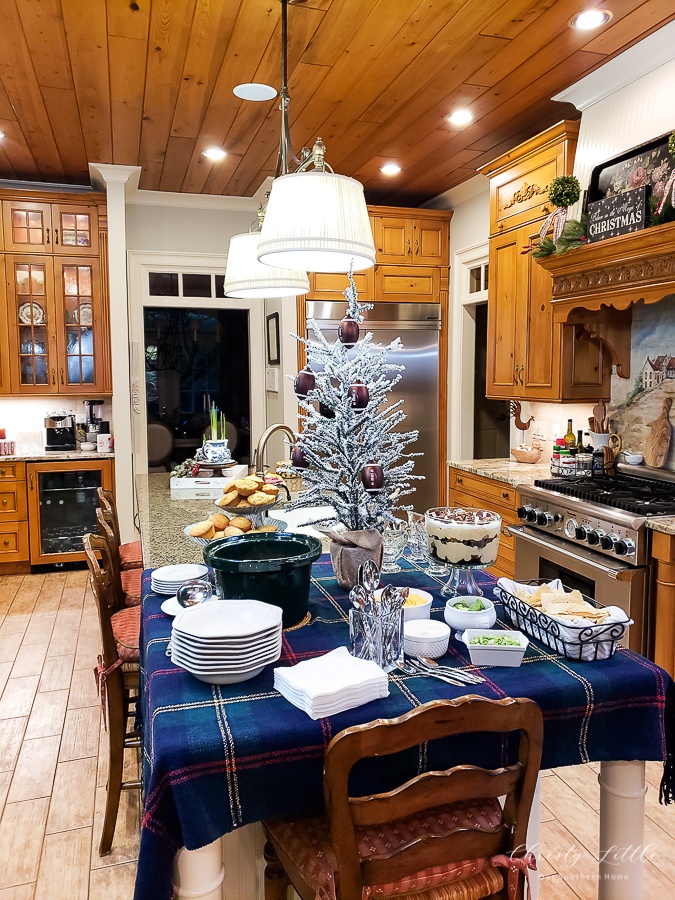 Our island is always the perfect set up, but you could easily do this on a sideboard or dining table. I use decorative throws as tablecloths all the time.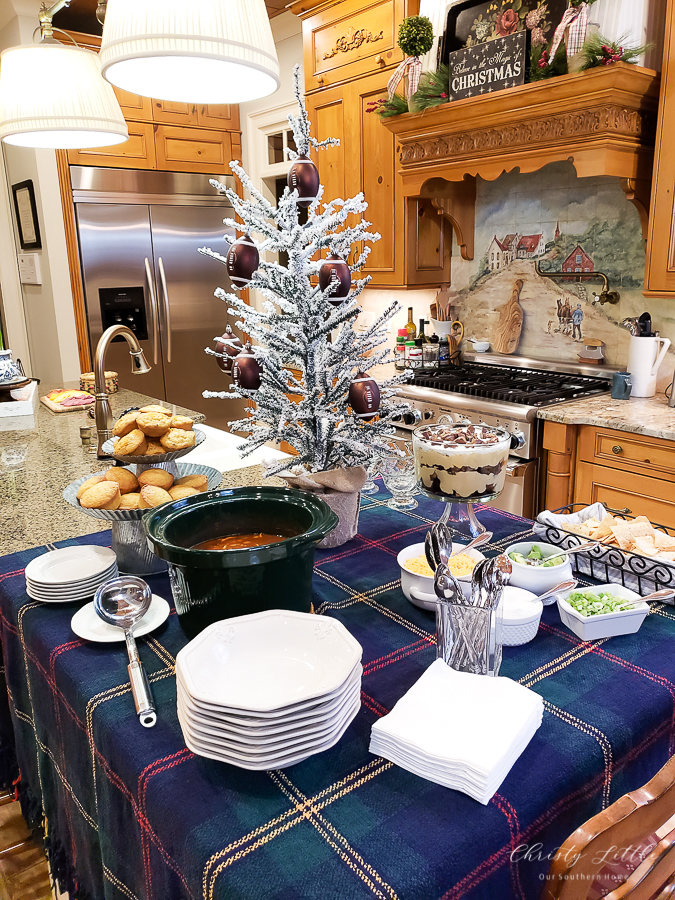 If you regularly host football viewing parties, then be on the lookout for some football ornaments. I hung them on a tree that could really be used beyond the holidays. You could also string the ornaments to a ribbon and have a garland to hang. Also hang them from ceiling lights!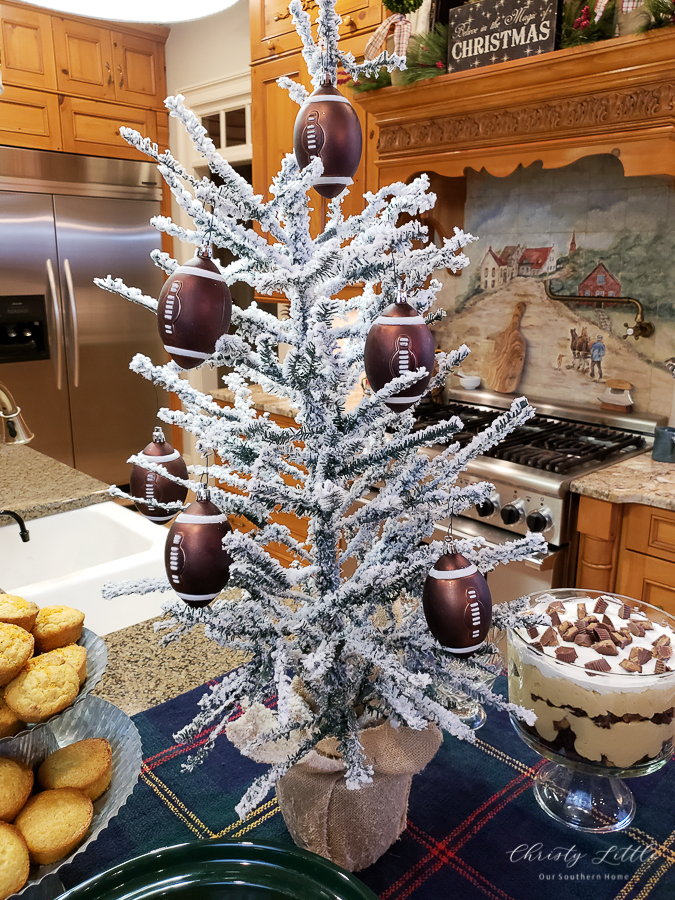 See how cute the ornaments are!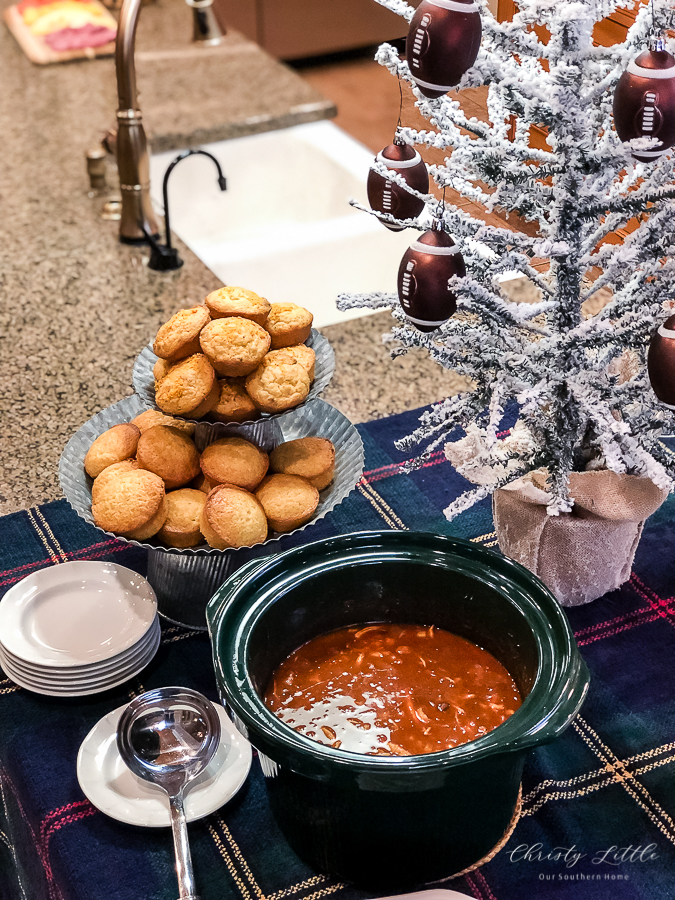 Look how yummy that Krusteaz cornbread looks on these tiered serving trays!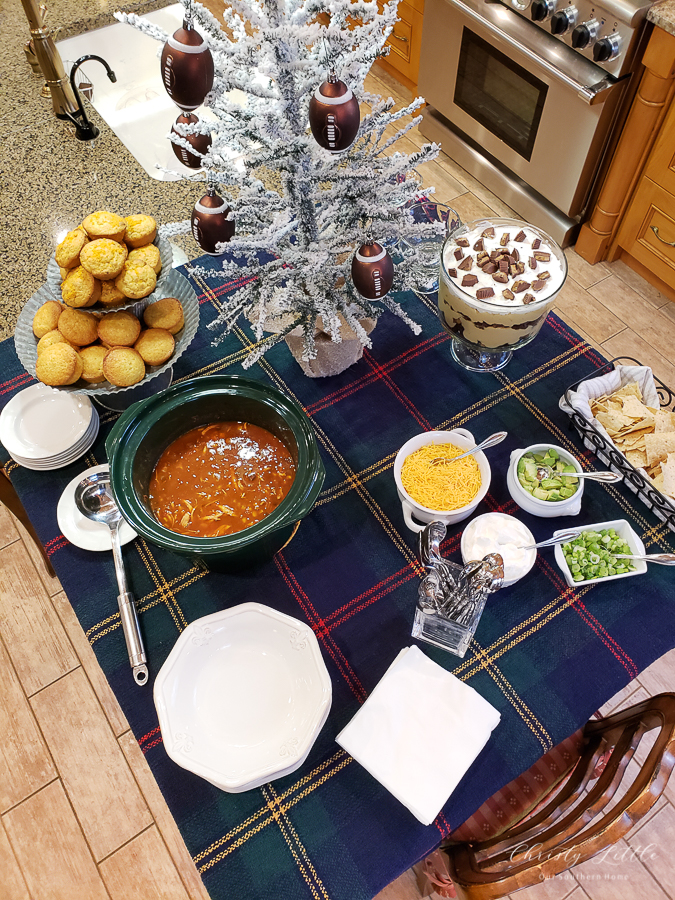 It's a relatively simple spread, but hearty and filling!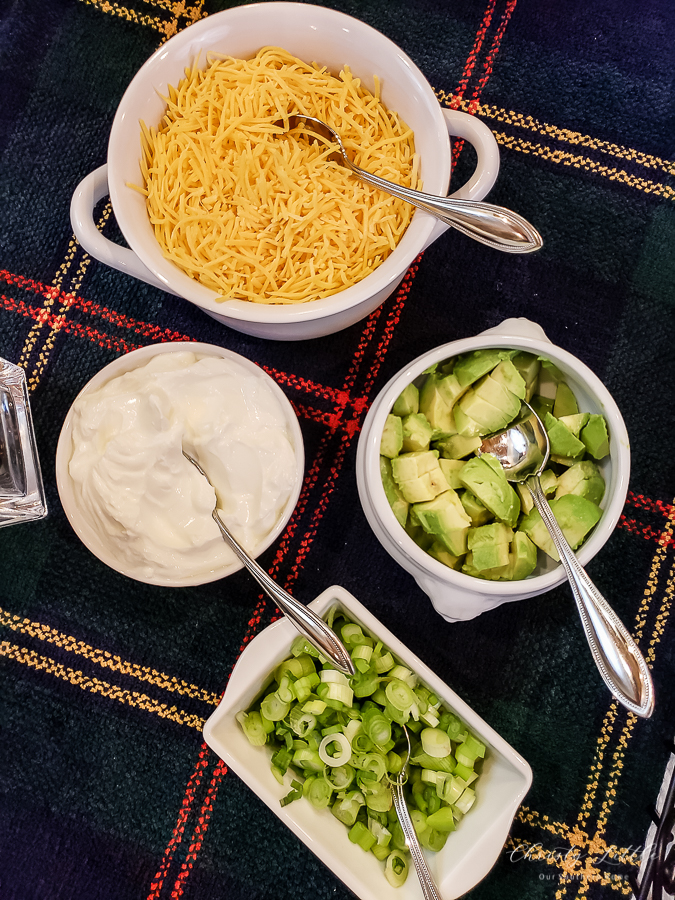 I like to put the condiments for the soup in individual bowls.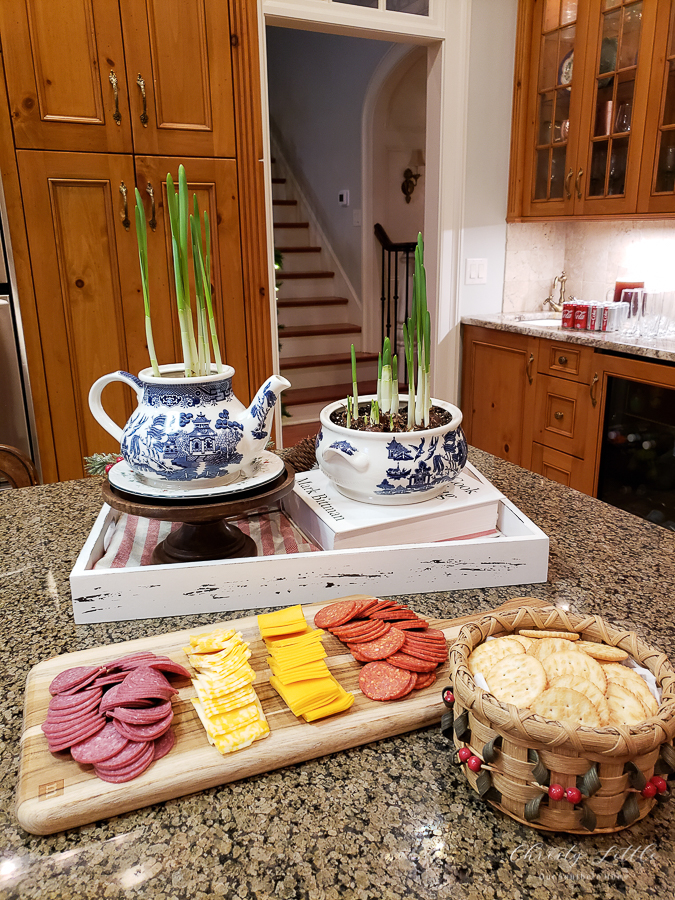 A simple cheese board is great to have on-hand throughout the game.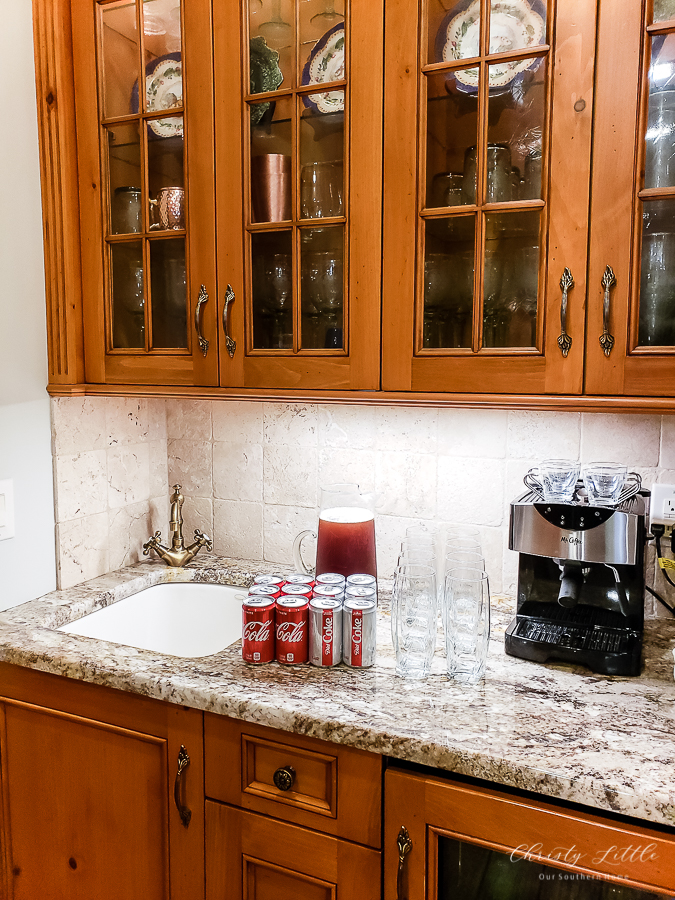 Have a simple self-serve drink station set up with beverages & glasses…..near the ice and water.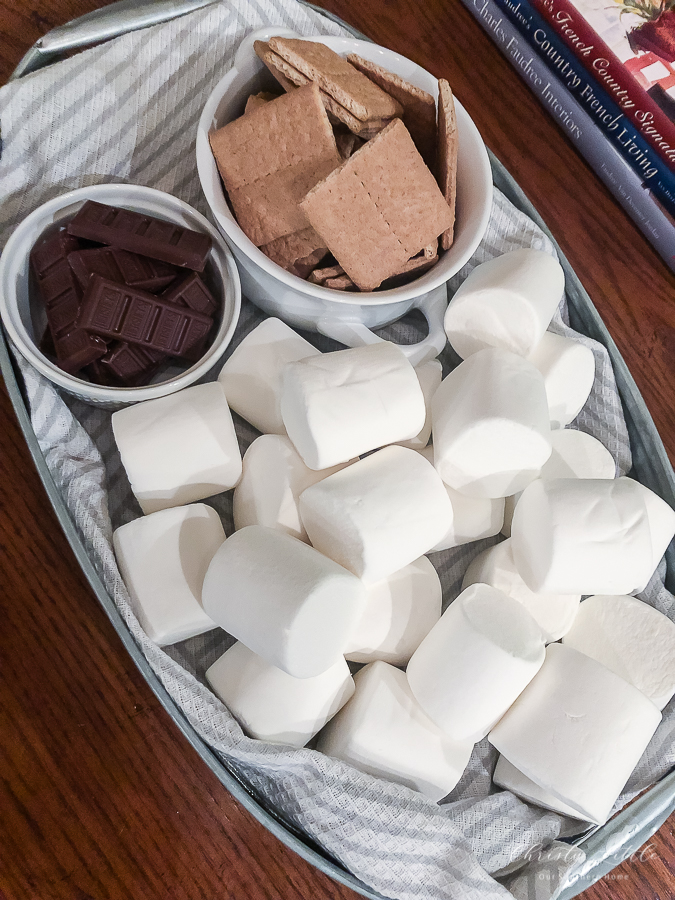 I also set up a S'mores station in the family room by the fireplace. It's fun and interactive especially for any kids during commercials or halftime.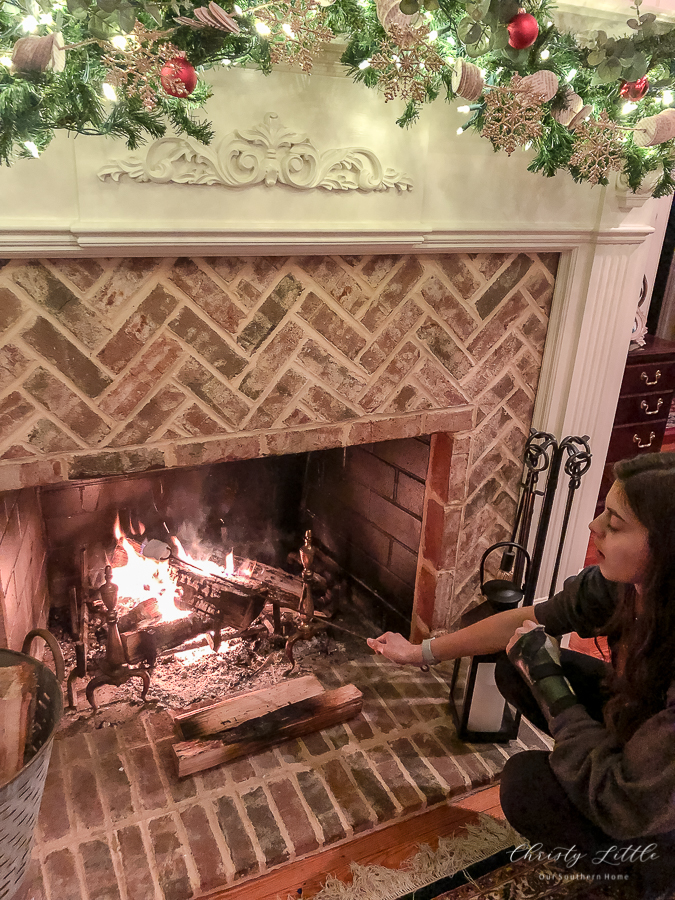 Even big kids love S'mores!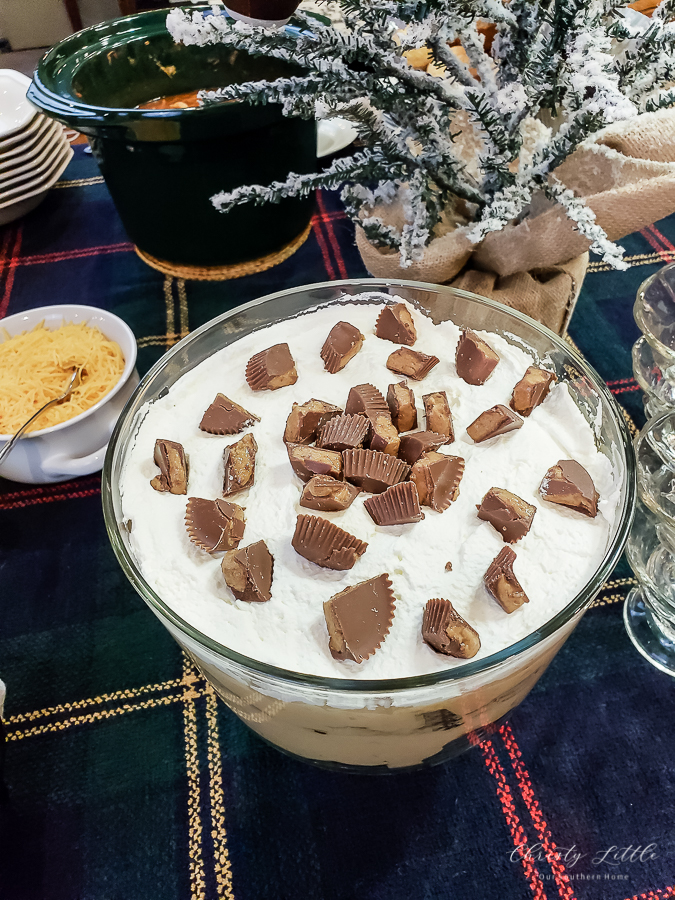 This Brownie Peanut Butter Trifle is so good!!! It is made ahead and a crowd pleaser!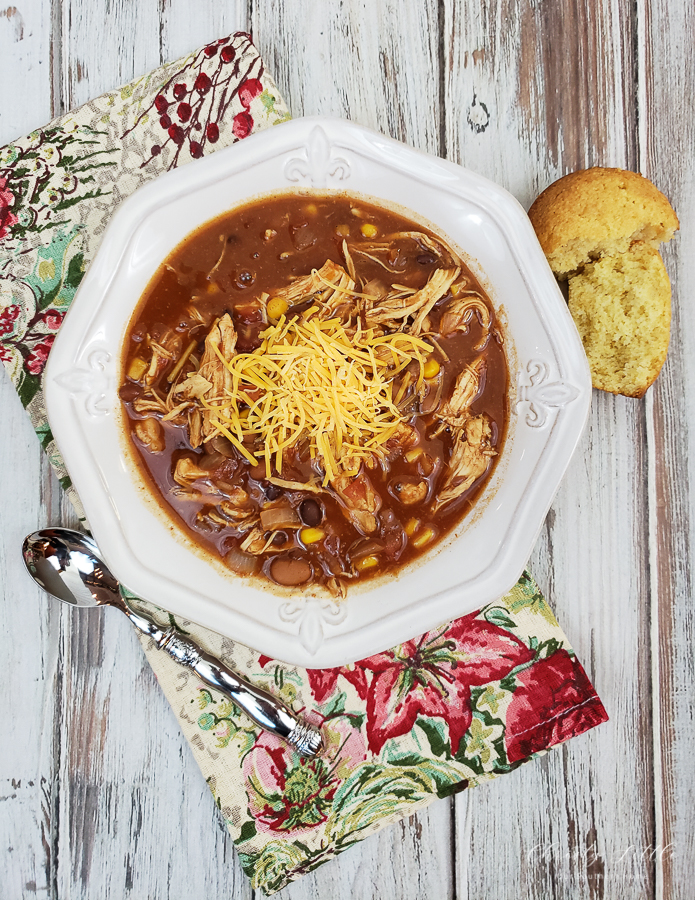 This is perhaps the most requested soup in our family. Paired with the Krusteaz cornbread varieties = the perfect meal!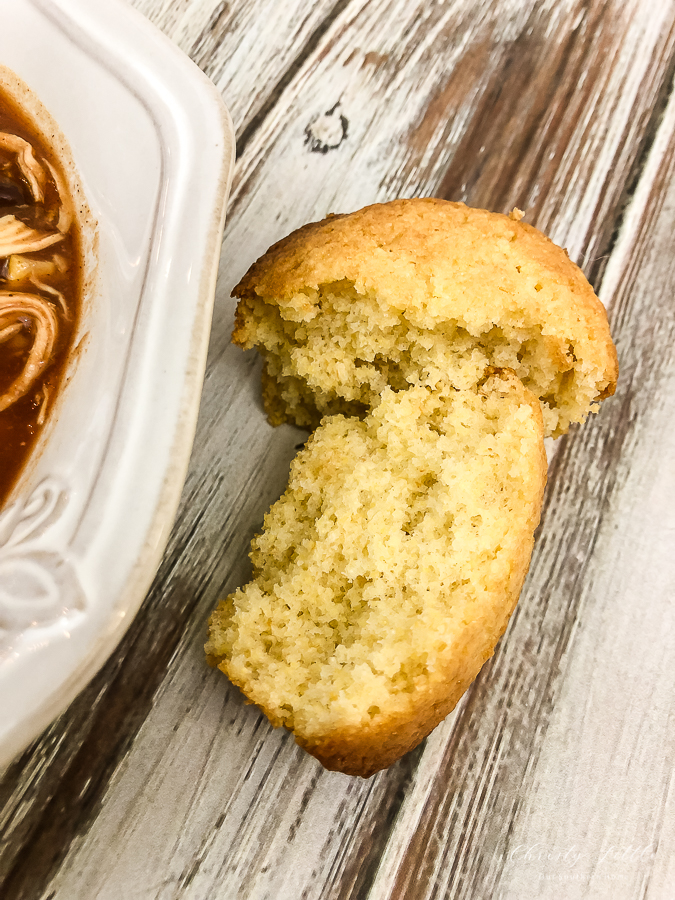 I think I need another muffin!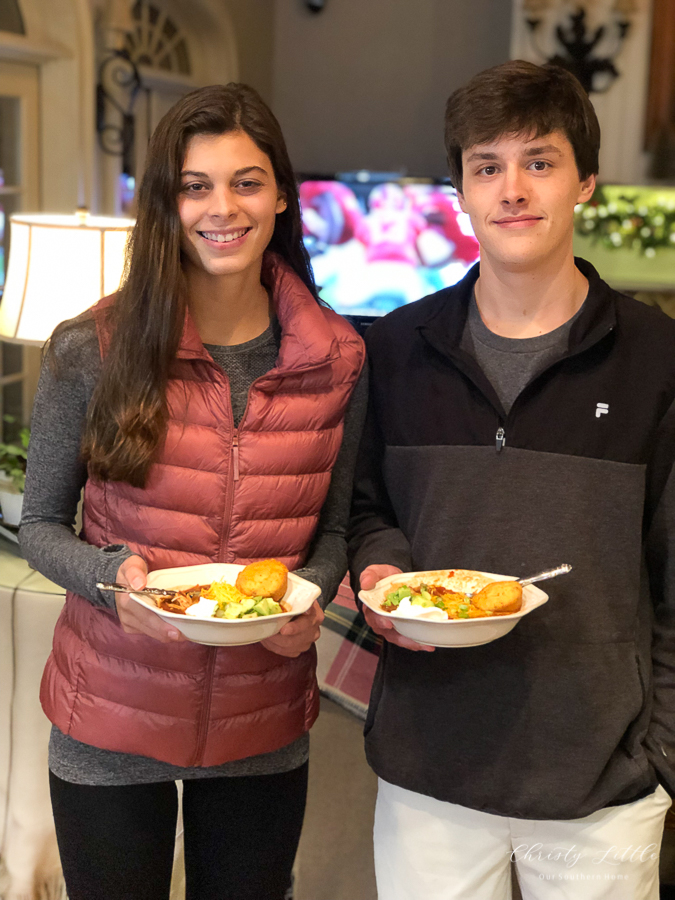 These two definitely approved this game day meal!
Chicken Taco Soup
Yield: 8 servings

Cook Time: 7 hours

Total Time: 7 hours

Hearty soup sure to please a crowd!
Ingredients
1 onion, chopped
1 (16 ounce) can of mild chili beans
1 (15 ounce) can of black beans
1 (15 ounce) can of whole kernel corn, drained
1 (8 ounce) can tomato paste
1 (12 ounce) can or bottle of beer
1 cup of chicken broth
2 (10 ounce) cans of diced tomatoes with green chilies, undrained
1 (1.25 ounce) package of original taco seasoning
3 large, skinless and boneless chicken breasts
Condiments such as: shredded cheddar cheese, sour cream, diced green onion, chopped cilantro, diced avocado
Instructions
Combine all ingredients in slow cooker except chicken and condiments
Mix well
Add the chicken breasts making sure they are covered by mixture
Cover and cook on low 5 hours
Remove the chicken to a cutting board and shred with a couple of forks
Add the shredded chicken back to the slow cooker and stir
Continue cooking for another 2 hours on low
Serve with condiments
Great with Krusteaz Cornbread!
Notes
You can omit the beer and use 12 ounces + the one cup of chicken broth instead. You can rinse the black beans if you desire, but not necessary. This has been a family favorite for a few years now. I have a really large slow cooker and have even made a double batch for larger crowds. **I use mild with all ingredients. You can go spicier if you desire with the can goods. I do use original with the taco seasoning, but you could go mild with that as well. It is quite spicy enough for us and the kids this way**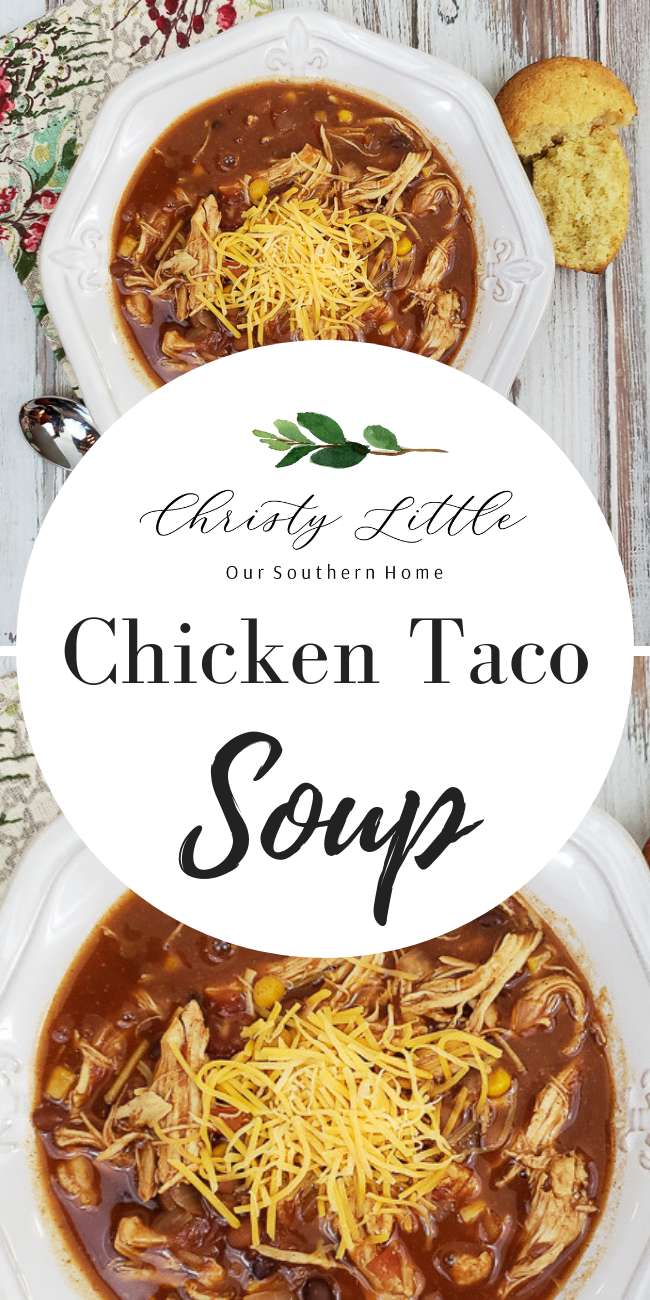 Be sure to print and pin the recipe for later! Great not just for gameday, but anyday you need something warm and hearty!
Be sure to check out Krusteaz and all of their wonderful offerings! Their site is gorgeous from products to recipes!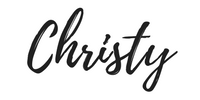 Buffer