Decorating Bookcases for Teen Boys
Are you ready for this month's challenge?
In case you missed it – Decorating Bookcases and Wall Shelves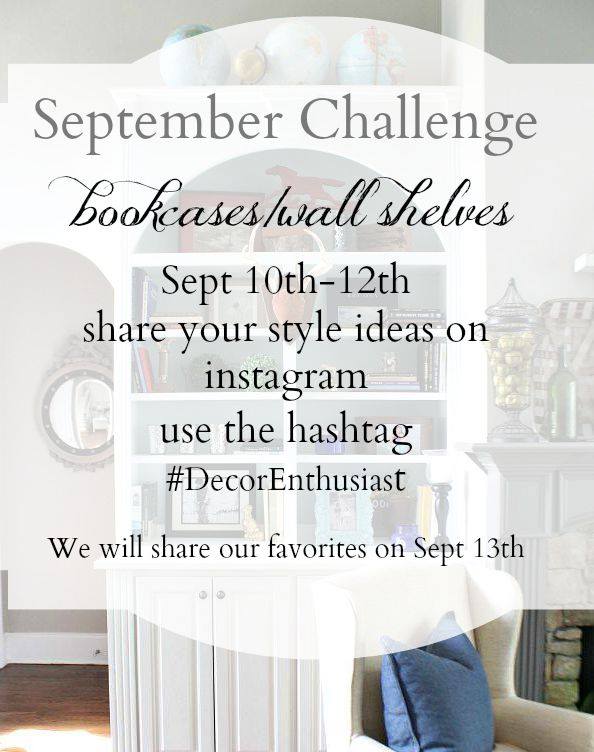 I'm not sure if my challenge was the bookcase or actually finding time to get it done!
The gang is all here this month along with our newest edition, the fun and talented Shannon from Fox Hollow Cottage! Welcome, Shannon!
I originally had planned to re-decorate the bookcases in my husband's study, but it is such a big job! It will wait on me I'm sure.
I wandered around the house and landed in my son's room. He's away at college. Let's just say that he didn't exactly leave his room in the best shape.
I'll be sharing my Ideas for Decorating Bookcases for Teen Boys.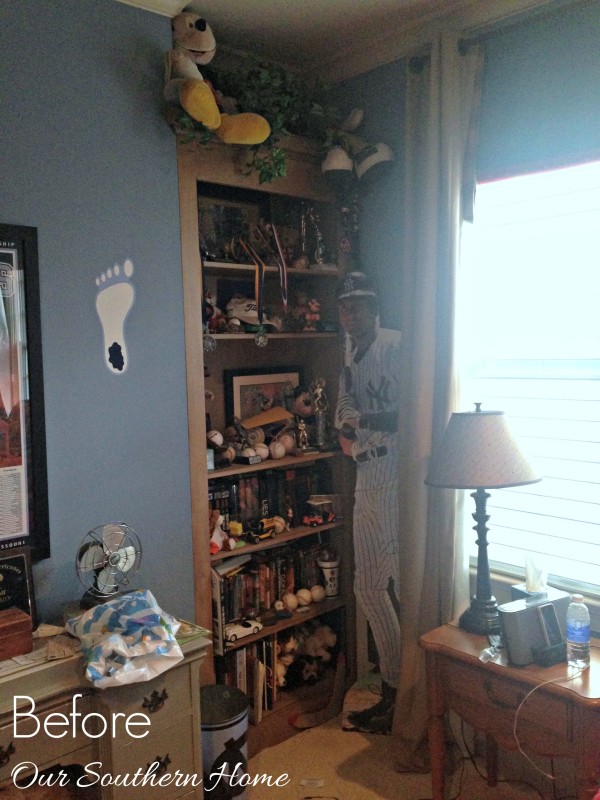 Really bad cell phone picture when I was trying to decide what to tackle. I honestly do not think that these bookshelves have been dusted since I relinquished bedroom cleaning duty to my son. The dust was unreal. I should have worn a mask.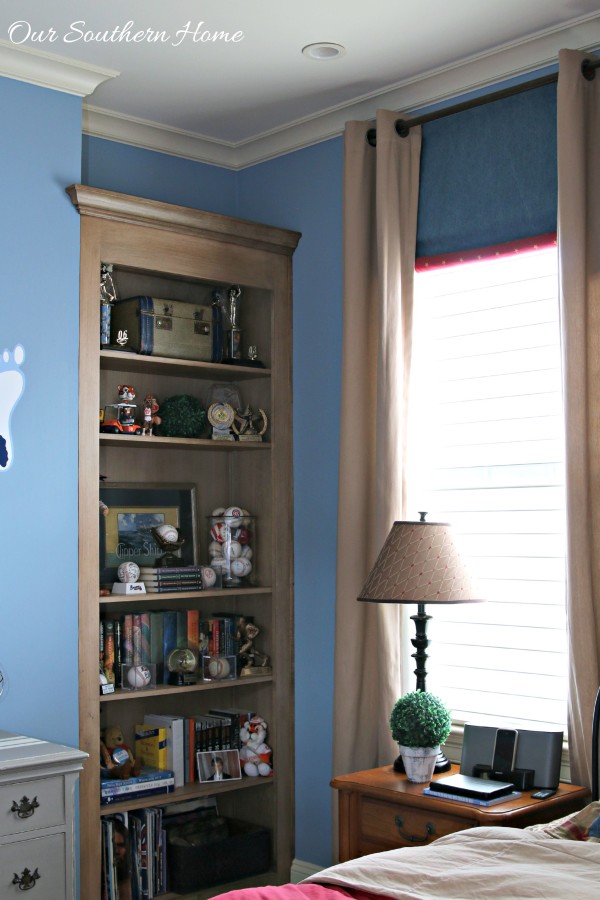 But…..when I was finished, I was left with this. Clean and organized…..well at least this half of the room.
Here are some tips to help you tackle your bookcase!
remove all items

as you remove, group similar items together

go through the books

donate books or take them to a used book store to sell if they are no longer of interest

box ones that are juvenile that you'd like to keep, but really don't fit the teen room any longer

create a donate or yard sale pile

remove most of the stuffed animals – they are major dust catchers

dust off stuffed animals with a vacuum

keep favorite stuffed animals in a basket

dust all items

dust the books including the spines and edges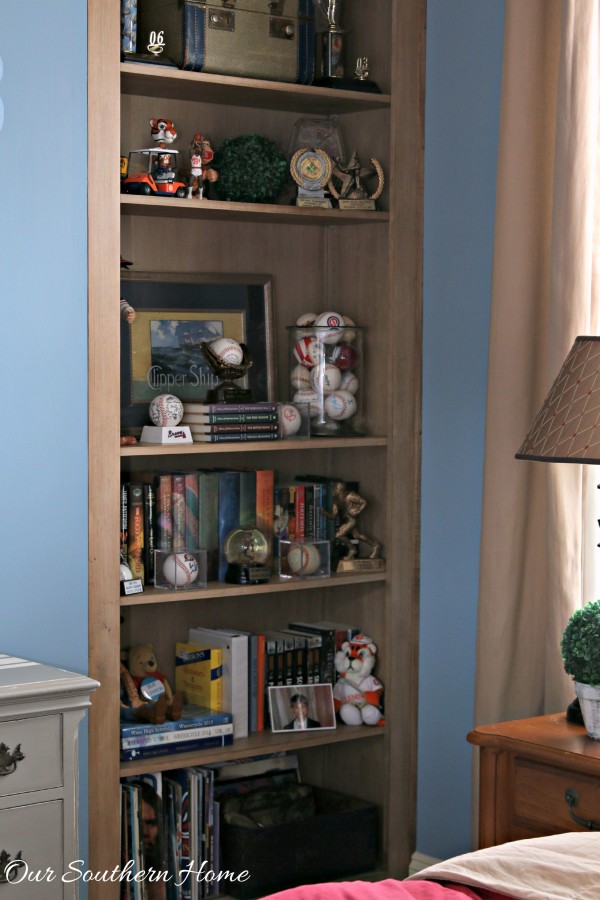 I kept the main area that was eye level and above more "decorated" that the lower shelves.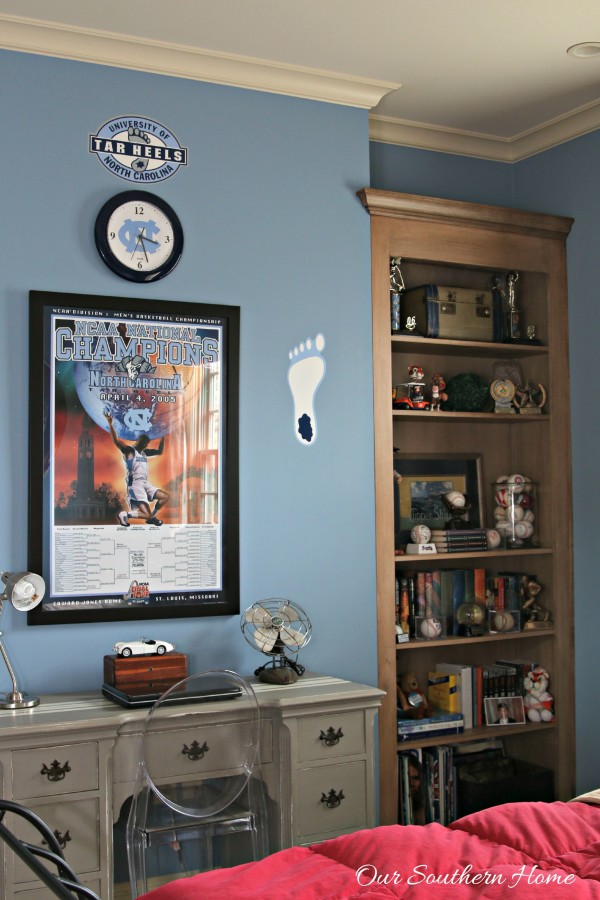 I kept the lower shelves for magazines and books. That desk chair actually belongs in my daughter's room. I haven't found the perfect chair for the desk yet. It will be going back to her room.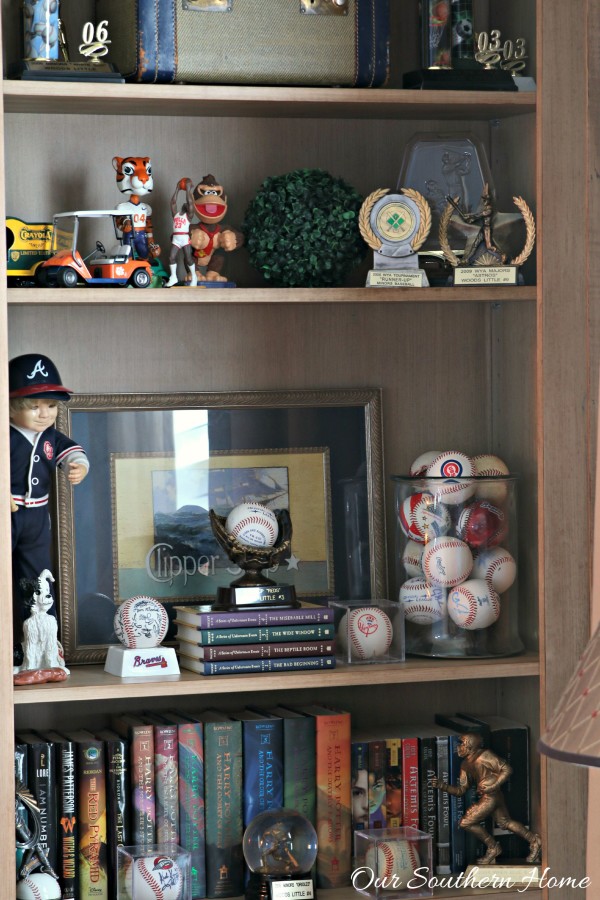 My son has so many trophies from sports ranging from tee ball to high school golf. I tried to group the tallest at the top and sprinkled them in from there.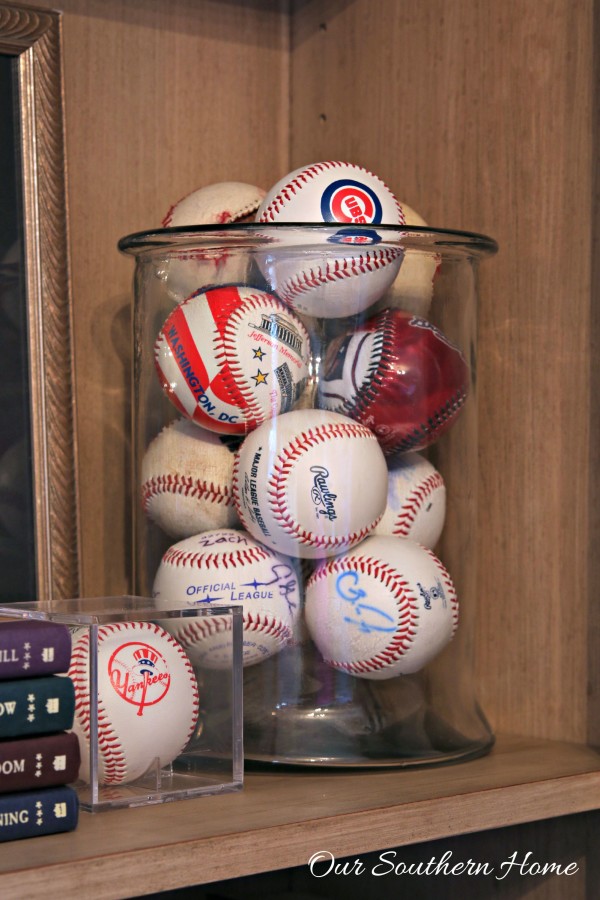 I had no idea that he had so many treasured baseballs. Until I can find a wall mount, I placed them in this glass canister. They fit perfectly. I'm actually liking this look!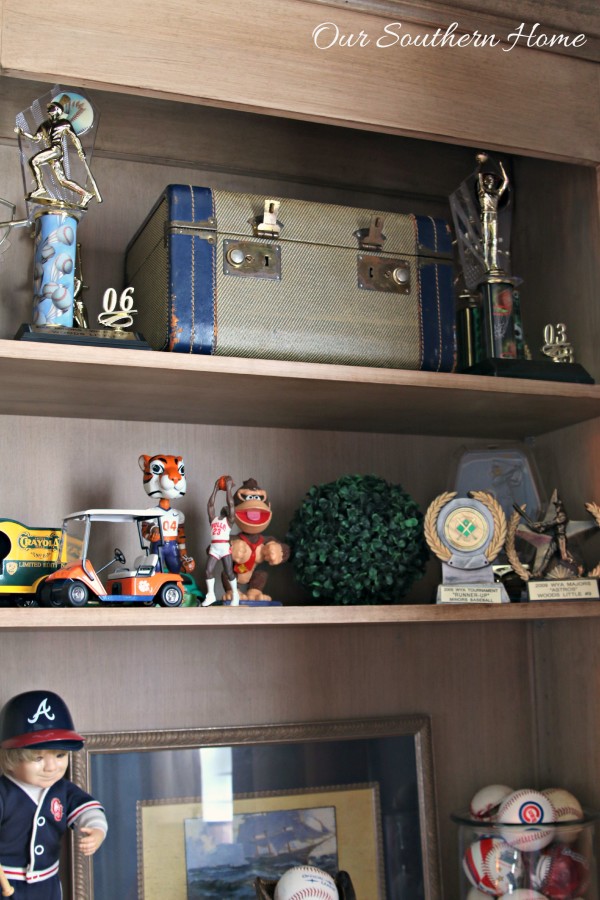 I completely forgot about the vintage case! It was on the very top with dusty faux ferns. The ferns were donated and the case move down to a shelf.
It is perfect for all of those small trinkets that kids collect through the years. It can easily be removed to go through on occasion.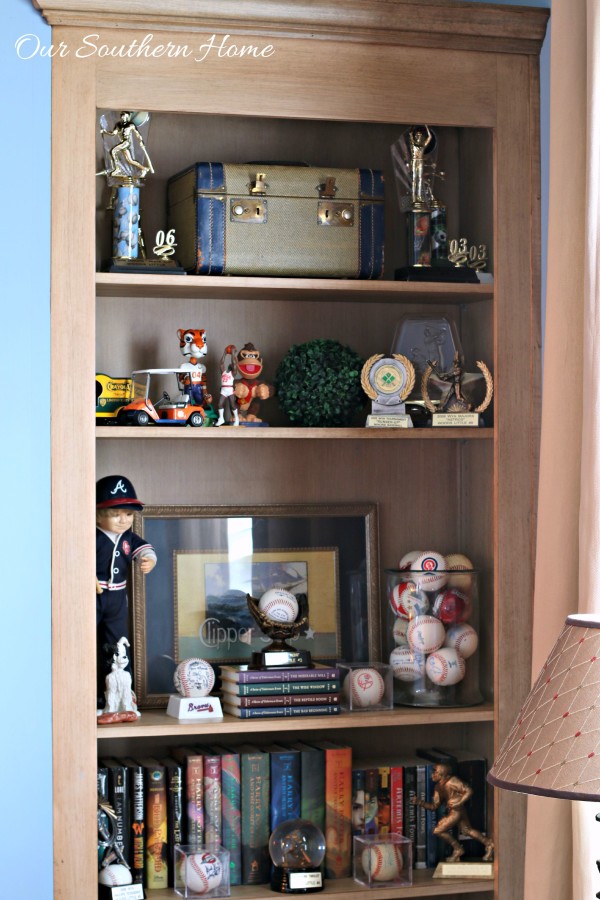 I even tucked in a faux boxwood ball for a little greenery.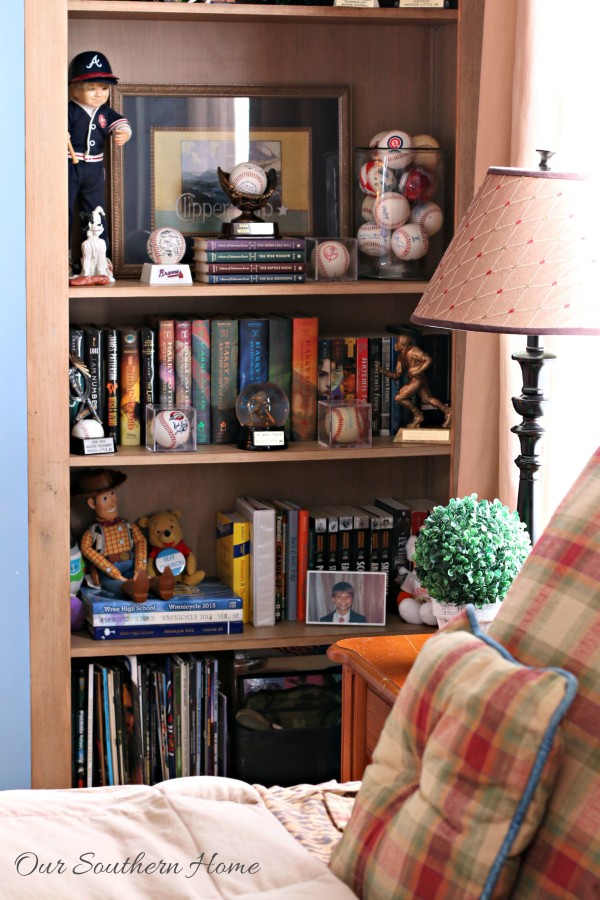 I wonder if he will notice the next time he is home?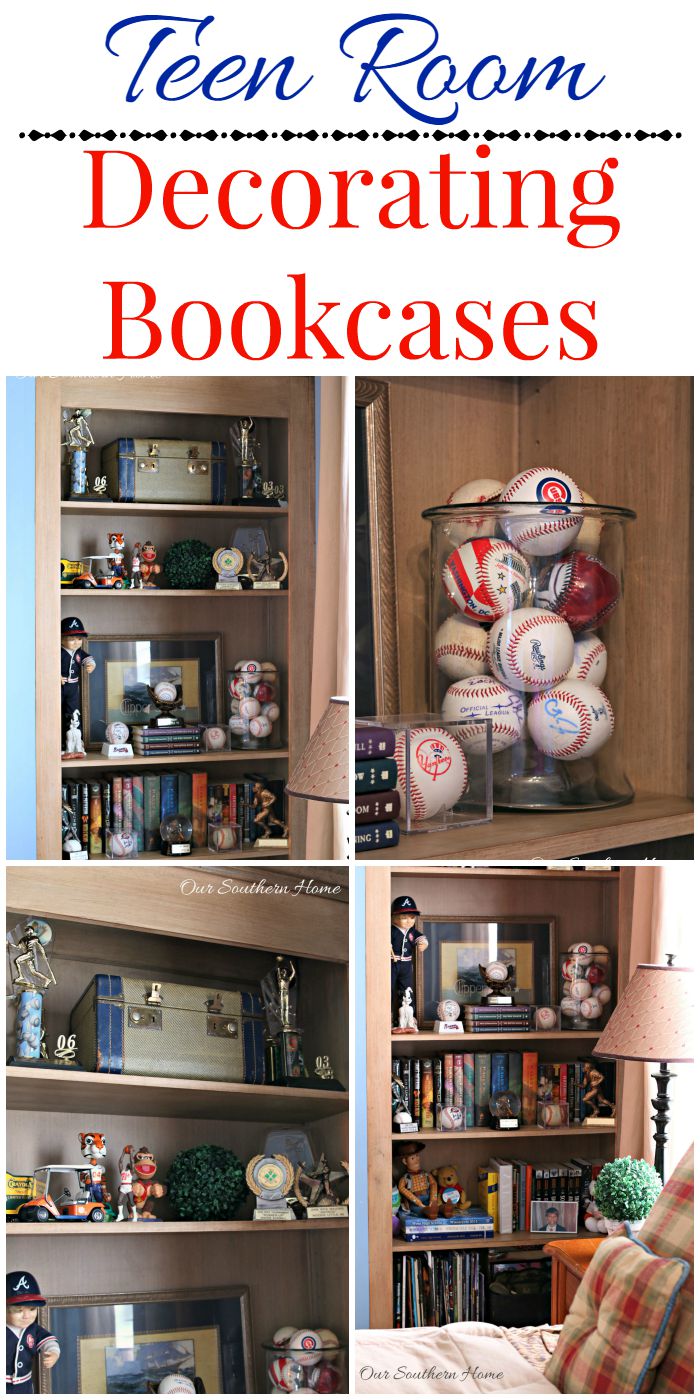 Be sure to check out these other fabulous bookcase posts below! (in order of collage below)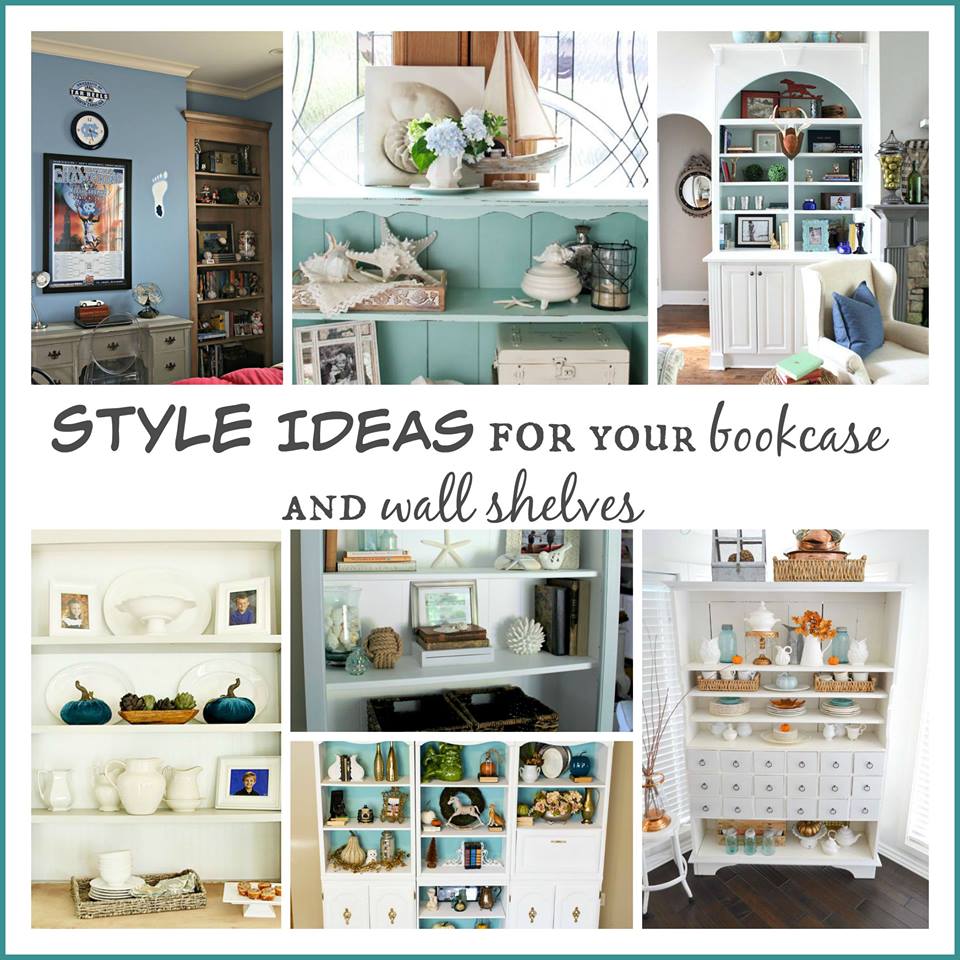 Have you joined our Decorating Enthusiasts Facebook Group? Join to find out the next challenge HERE. It's a place to share and and ask for decorating advice.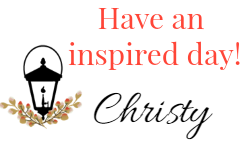 Buffer