Greetings from South Carolina and welcome to our home! I hope that if you have been in the path of one of the recent hurricanes that you are safe! Our weather has been horrible today as we are feeling the effects of what is now Tropical Storm Irma. The only nice thing from our storms is that we've had temps in the high 50s and low 60s. That's kind of unheard of this time of year! It's definitely felt like fall around here and now it's looking like it!
Many thanks to Marty from A Stroll Thru Life for organizing another fabulous seasonal tour! It's always such a treat to see what each blogger has to share with us each time! If you are stopping by from Decorating Delirium then a big WELCOME!
Fall this year is a bit…well a lot different for us. Both of our kiddos are in college, and we are empty nesters. Some days it is great and others it is really rather sad. Things are very quiet. I've been using the time to really clean and organize the house. Once that is done….I'm going to start repainting the interior rooms. I've already painted in recent months the dining room, kitchen and Ashlyn's bedroom.
This year with our "simpler" lives, I decided to go simpler with our fall decor.
Welcome to Fall in the Family Room!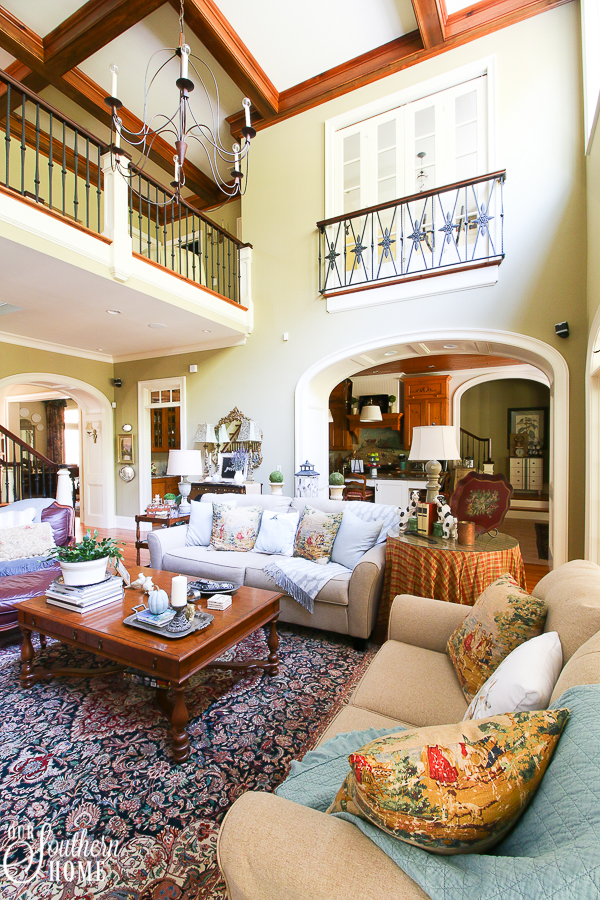 If you've visited my blog before, you may notice that I have different couches! These are actually couches that I use for home staging. I didn't have a current home to use them in when I recently moved my inventory out of a sold home. I decided to use them here. We are loving the new look.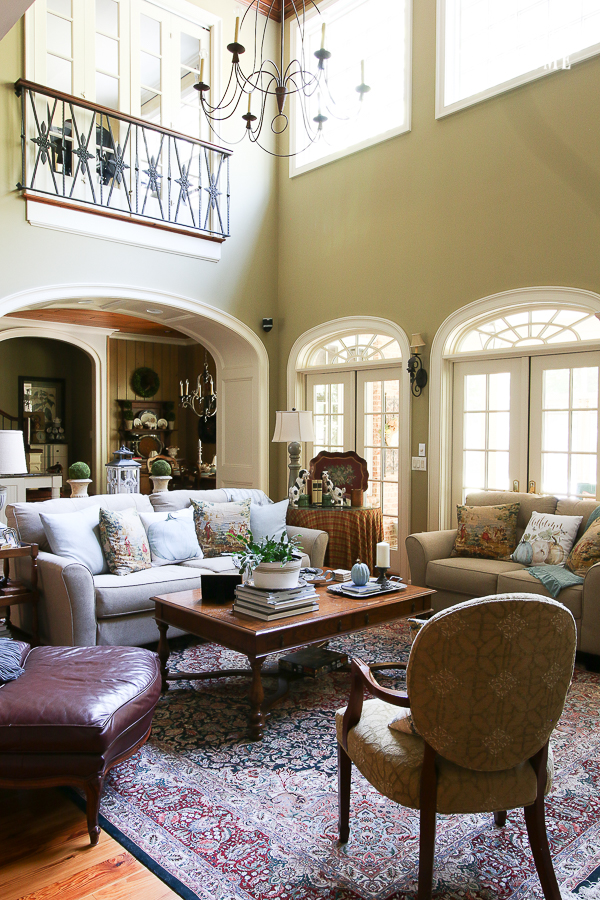 If I could only talk the hubby into selling the rug and updating it, but we bought this rug for keepers about 24 years ago. It was quite pricey. I don't dislike it at all. Now, I'd rather spend much less and not feel at a loss if I wanted to change things up! Maybe I should layer a solid on top of it?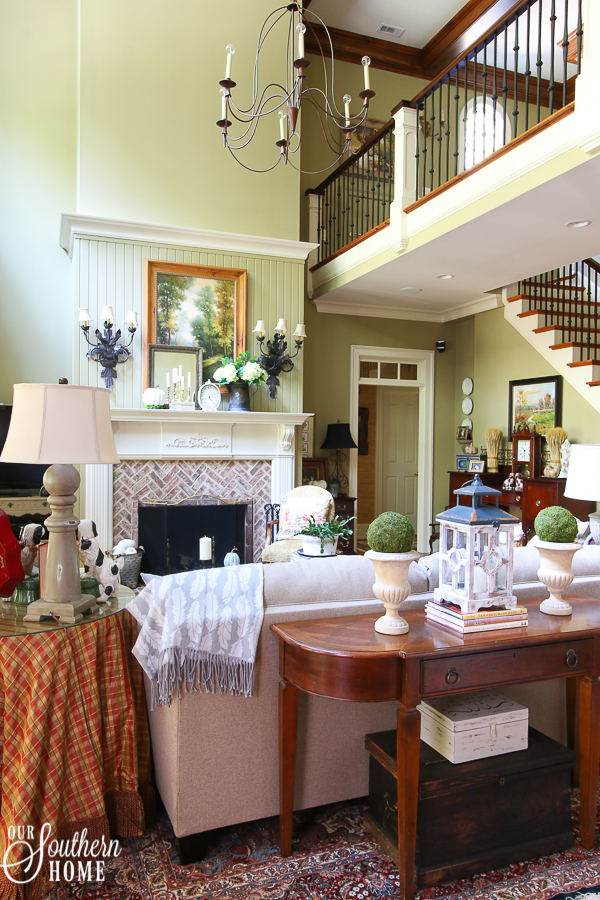 We built our home in 2004, and we still adore it to this day. I'm a big believer in a mix of new – budget and high-end with antiques, vintage and thrift store finds. Thrift store finds make great accessories. The lamps on either side of the couch are thrift store makeovers.You can find them HERE and HERE. Even that little box under the table is a thrift store makeover.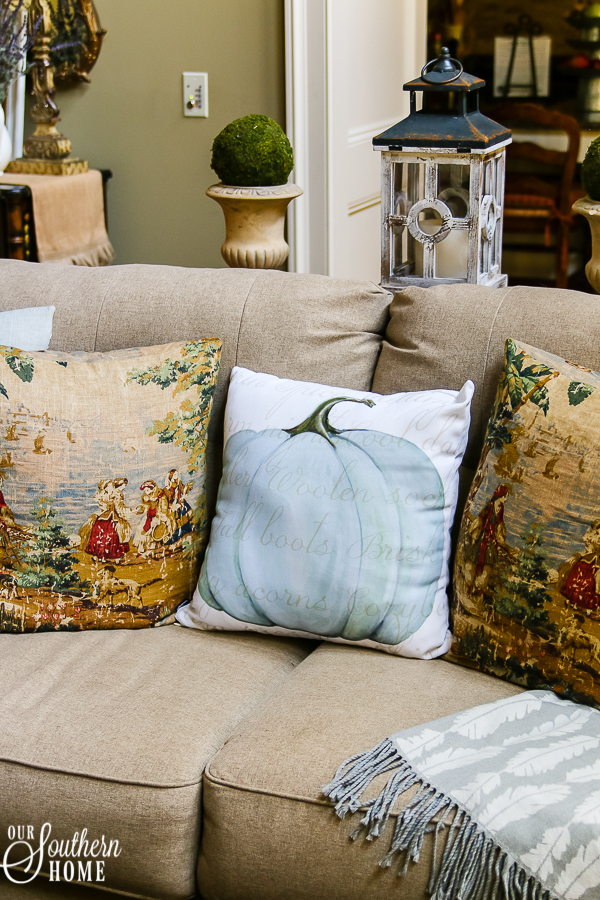 I adore my new fall pillows from Society 6. One is by Craftberry Bush and the other by Jennifer Rizzo.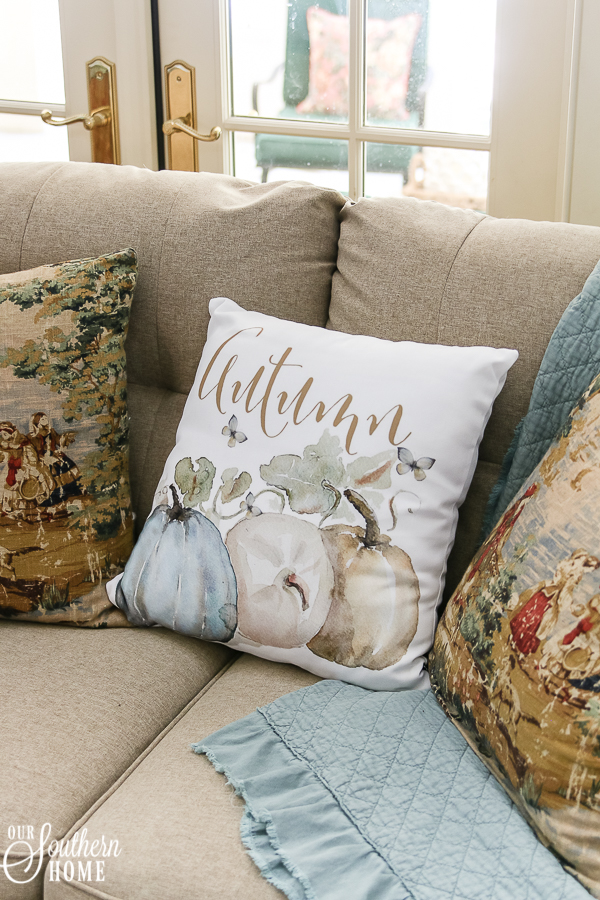 They go beautifully with the toile pillows that I recently finished up sewing and the solid blue ones from Homegoods. Love this Autumn pillow also from Society 6!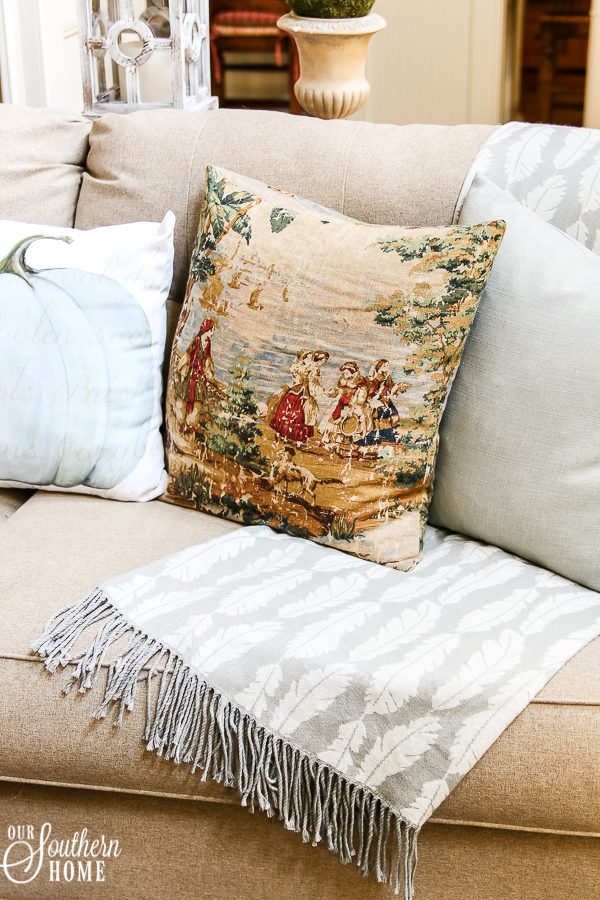 If you can sew straight lines, then you can sew this simple envelop pillow. You can find my tutorial HERE. If you'd like to just purchase a cover, you can HERE with my affiliate link.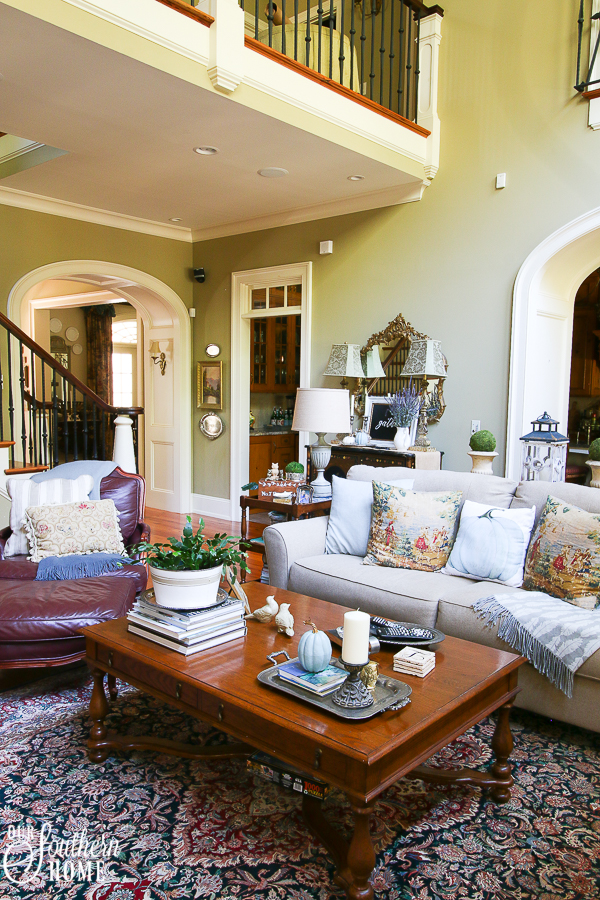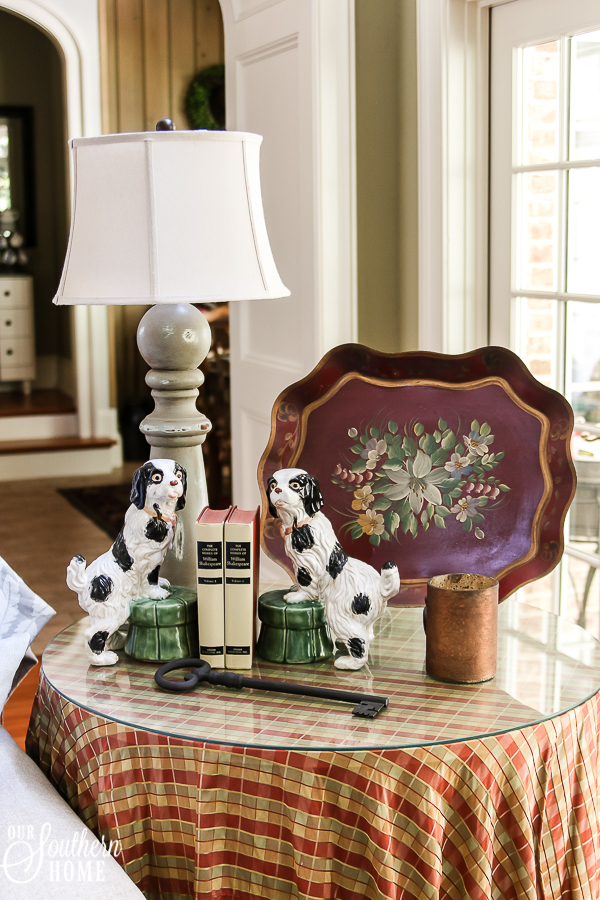 I recently changed out the lamp here to a more casual look. It's one of my very first projects for the blog back in 2012!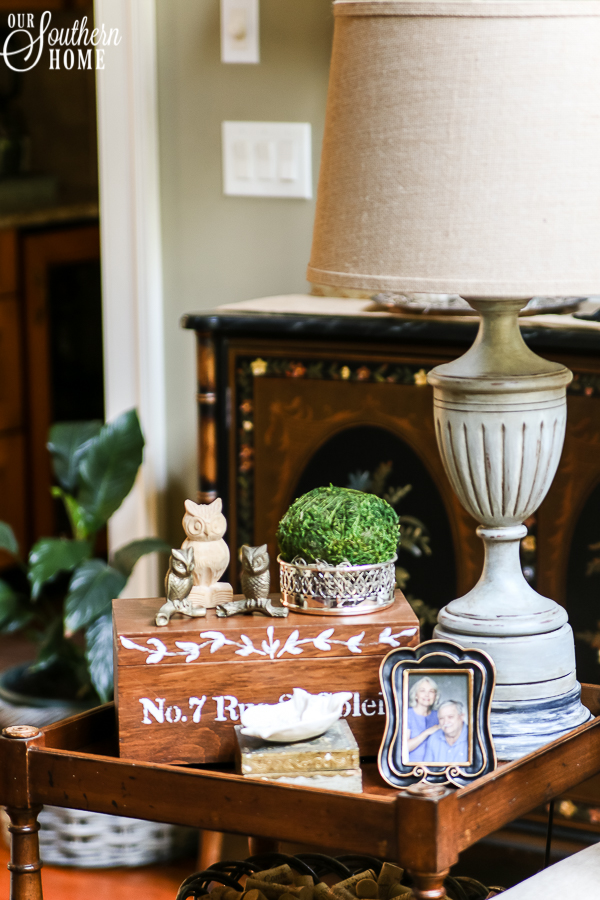 My late mother-in-law collected owls. I have several of them. I always display them in the fall. Two more thrift store projects round out the look here with this lamp, the painted box and the grey plant basket in the background.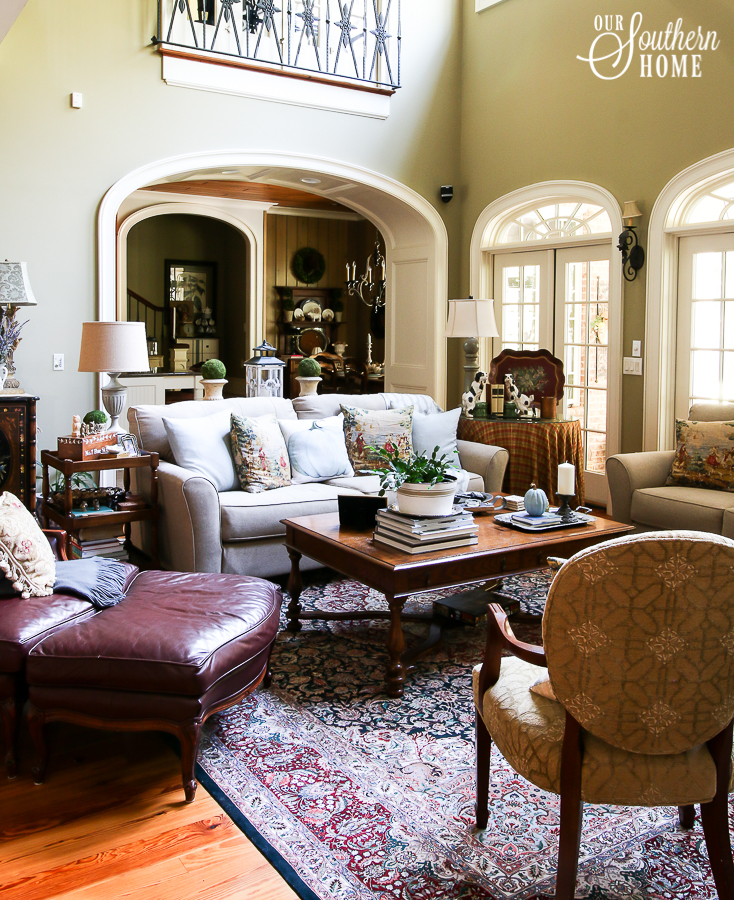 I collect thrift store silver. I use it throughout our home. I have a few pieces hanging on the wall, but most serve a function as a tray to display a vignette like the one with the pumpkin and candle.
Thrift Store Silver has many uses!
wall hanging
hold remotes
place under a plant to collect any water spills
arrange candles
vignettes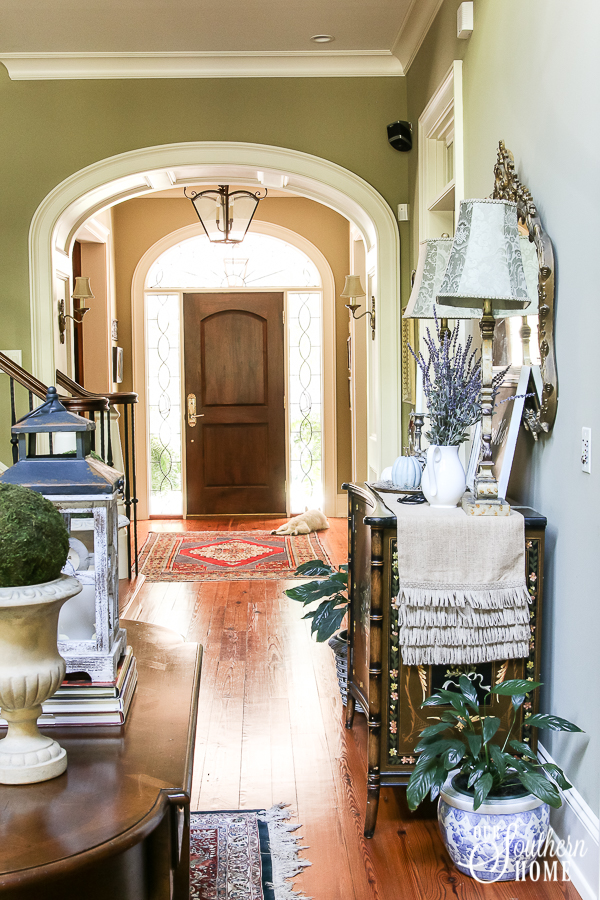 Do you see my sweet grandpup, Bentley, in front of the door. Not sure if he is watching the rabbits in the front yard or anxiously awaiting for his mama to return from college. It has been a hard adjustment for him missing her. She just left for her freshman year.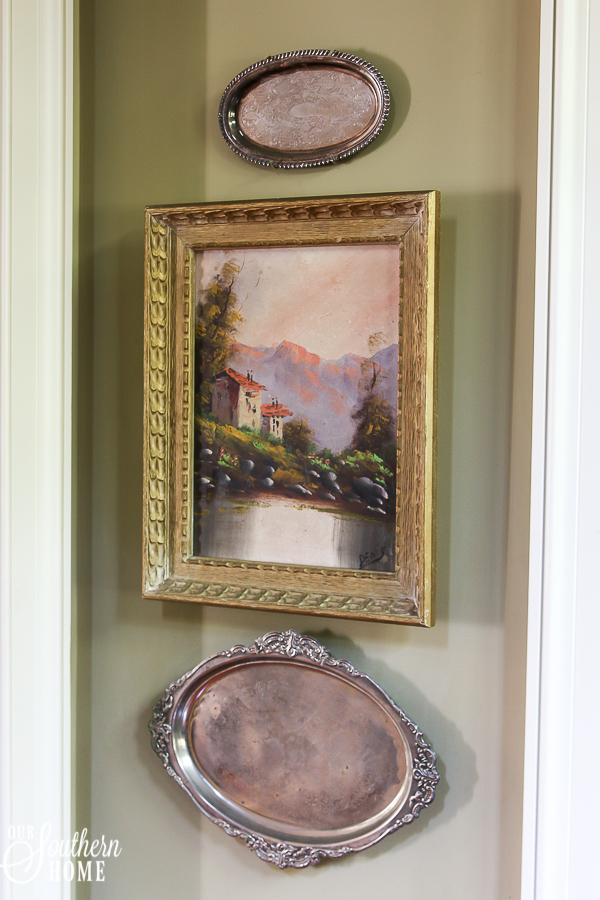 Thrift store trays are simple to hang with Command Strips
.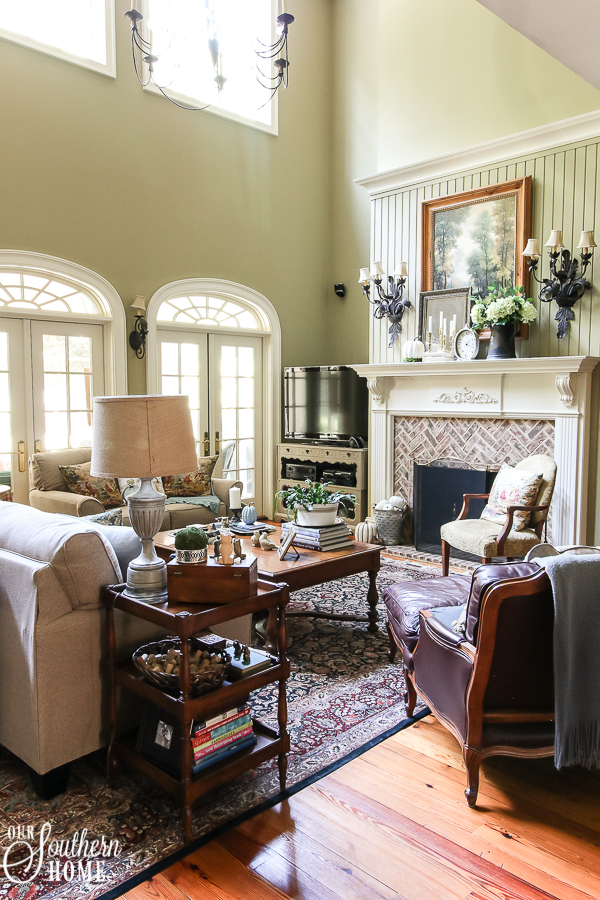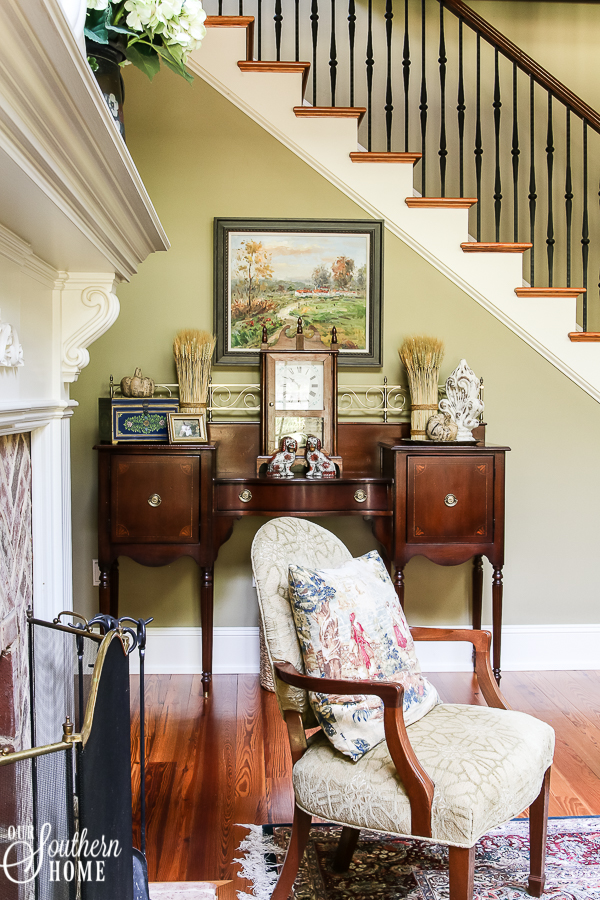 Again, just simple fall touches!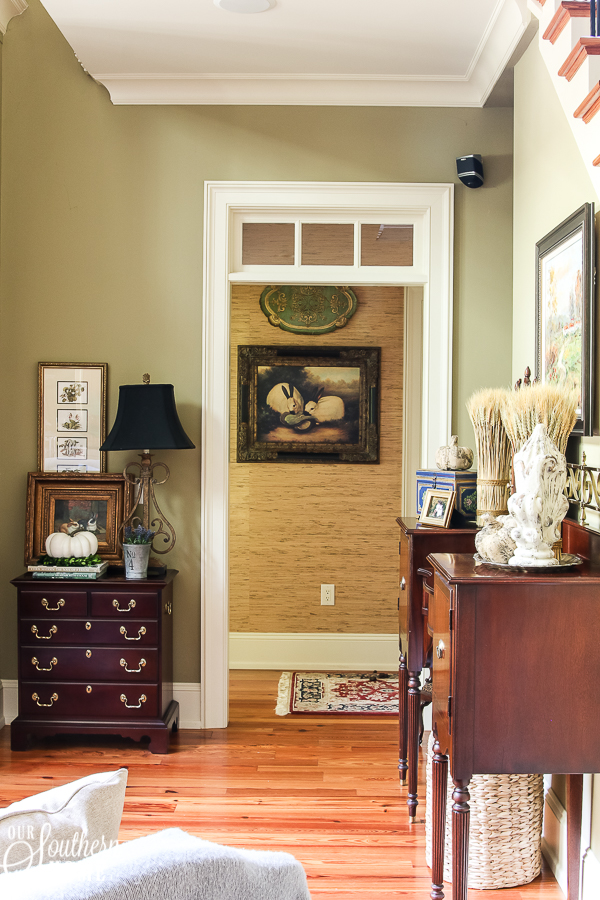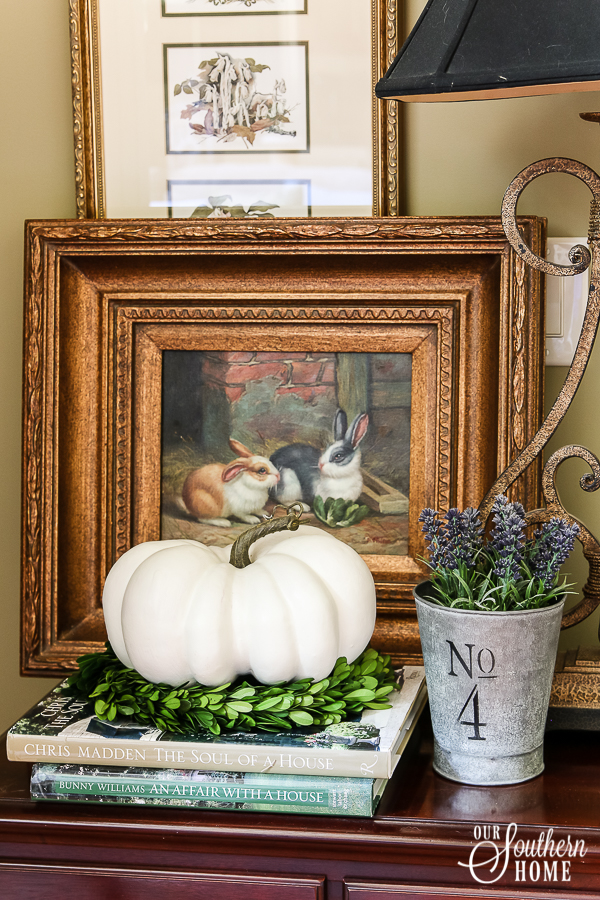 Great pumpkins are nowhere to be found right now around us. What's a girl to do? Paint faux ones. Walmart has some great faux ones with realistic stems. These were from last year.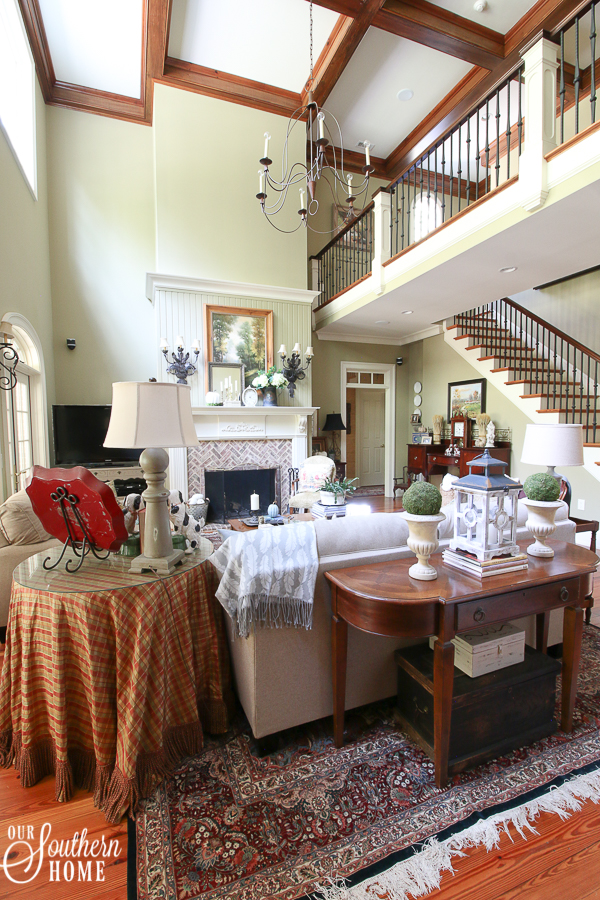 I feel like this room was meant to do fall!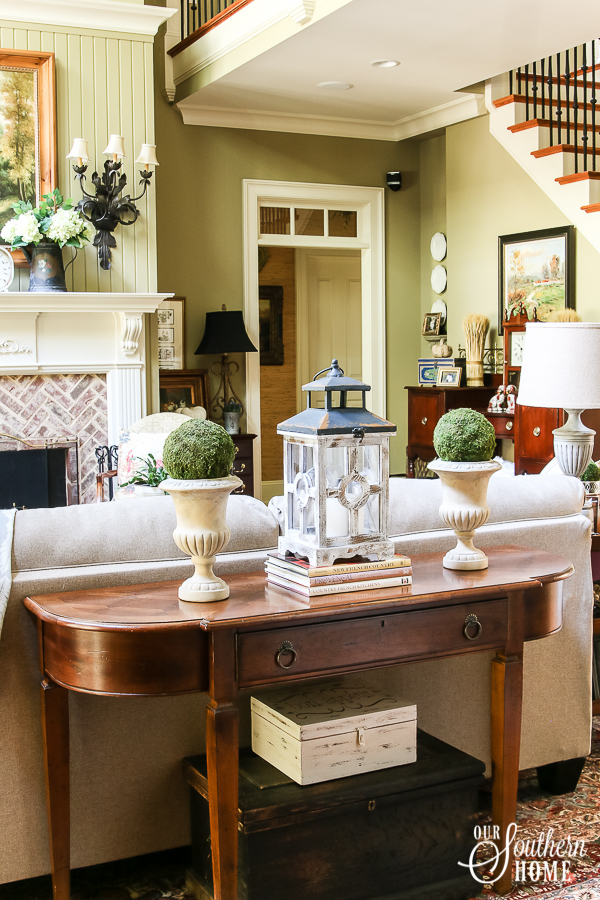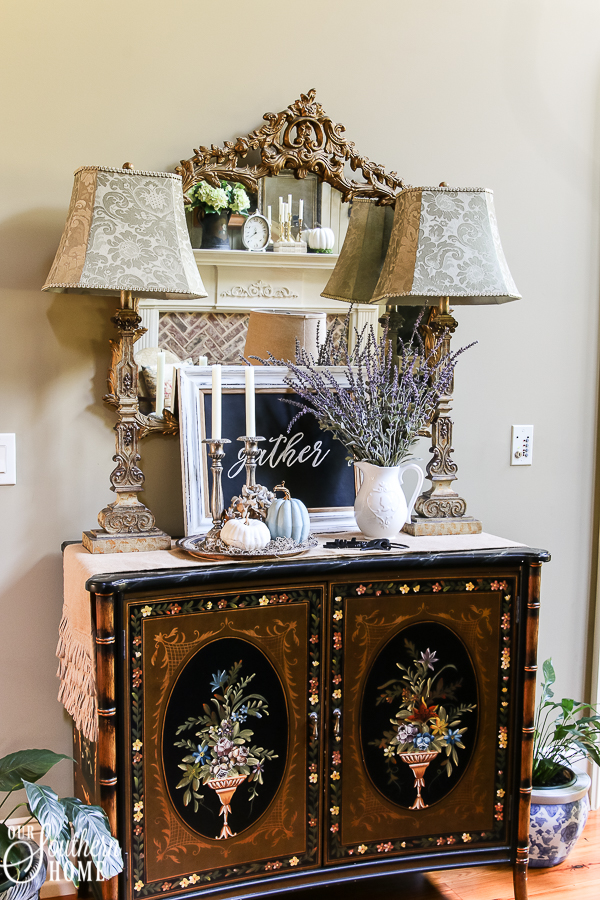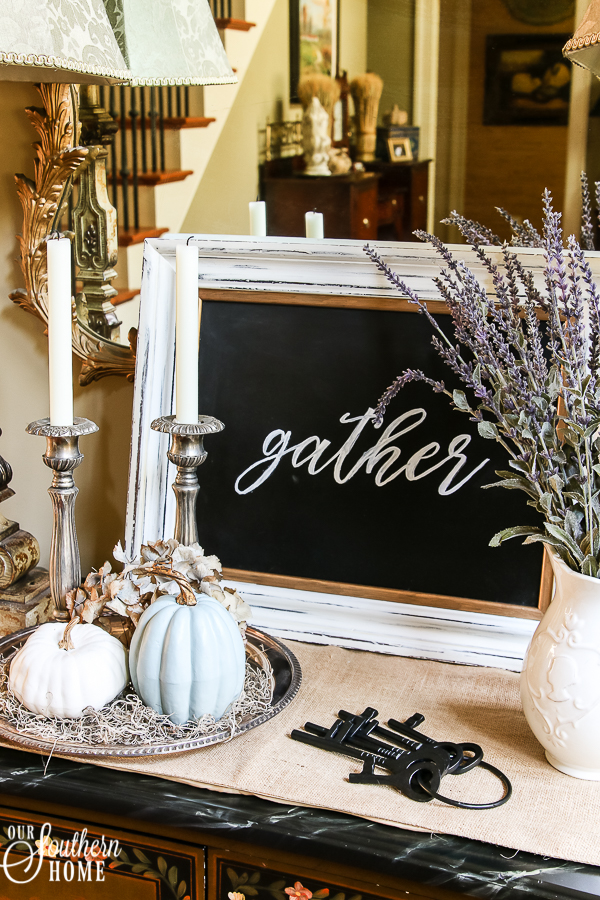 Old thrift store art is perfect for chalkboard art!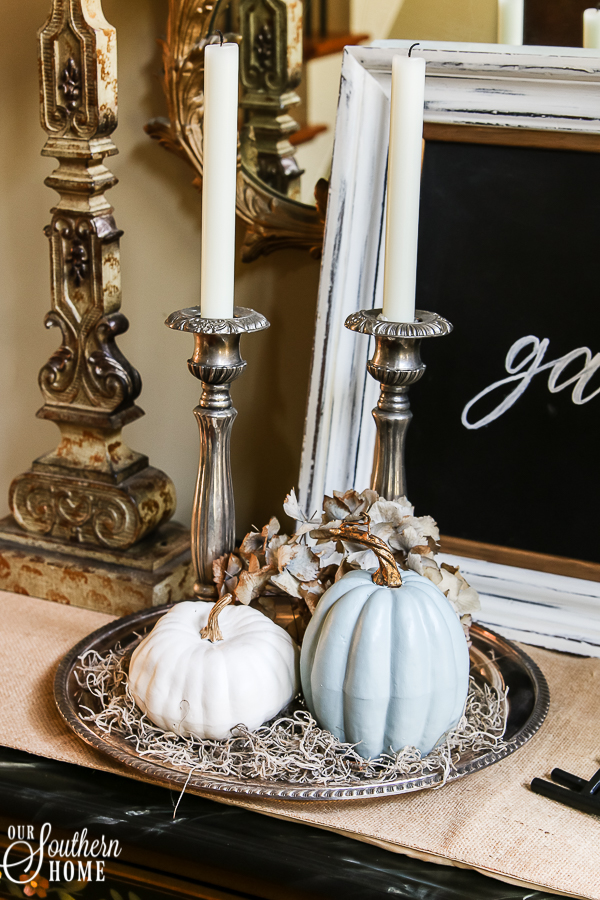 These silver candle holders were a pleasant thrift store find. I'm totally fine with them tarnishing. Adds that vintage look like is perfect with a French Farmhouse look. More painted faux pumpkins.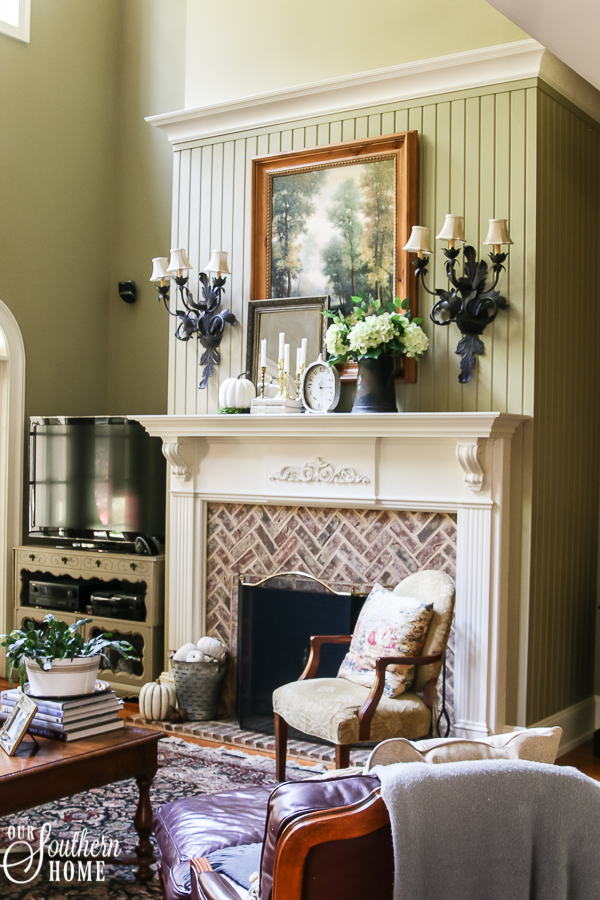 The fireplace is my favorite part of the room. I can't wait to have our first real wood-burning fire of the season.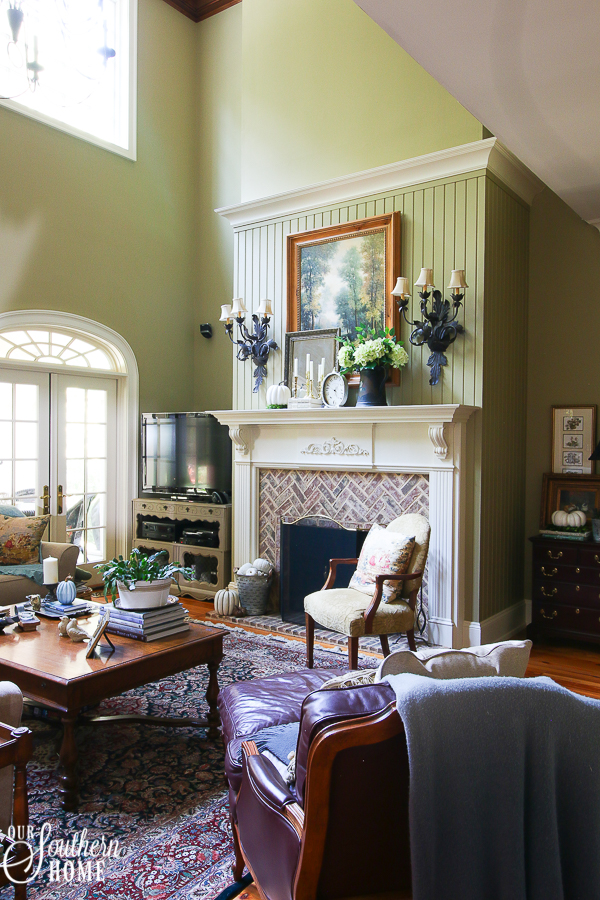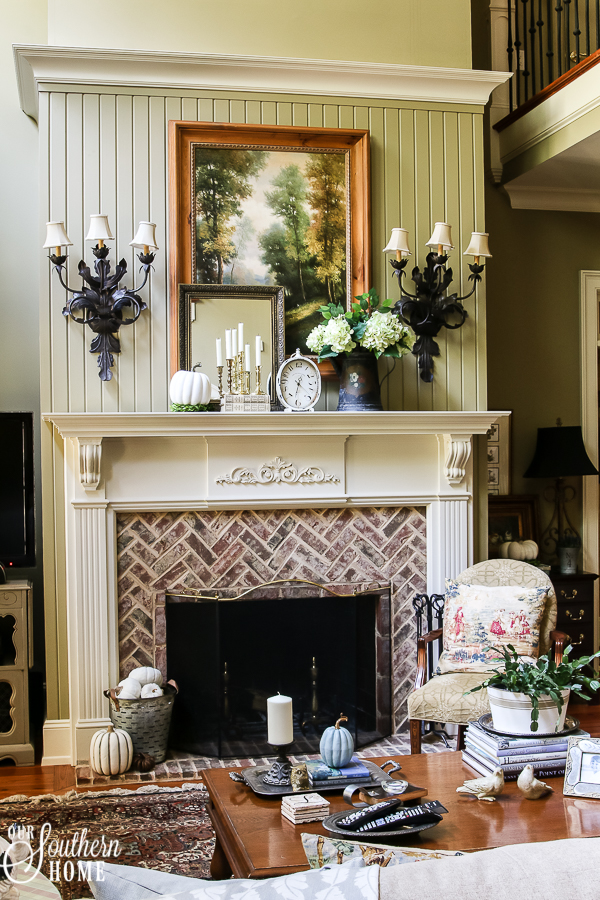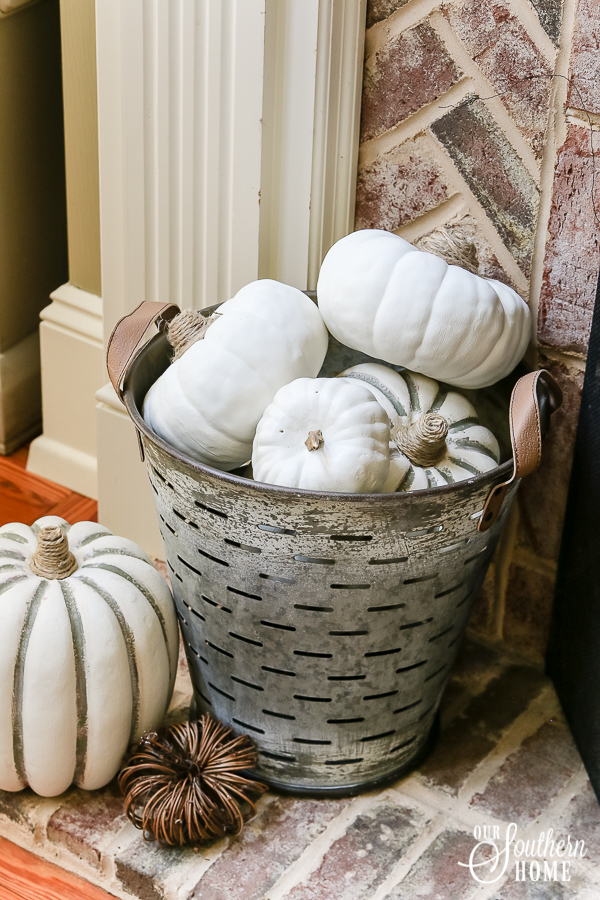 Nothing better than an olive bucket full of faux painted pumpkins!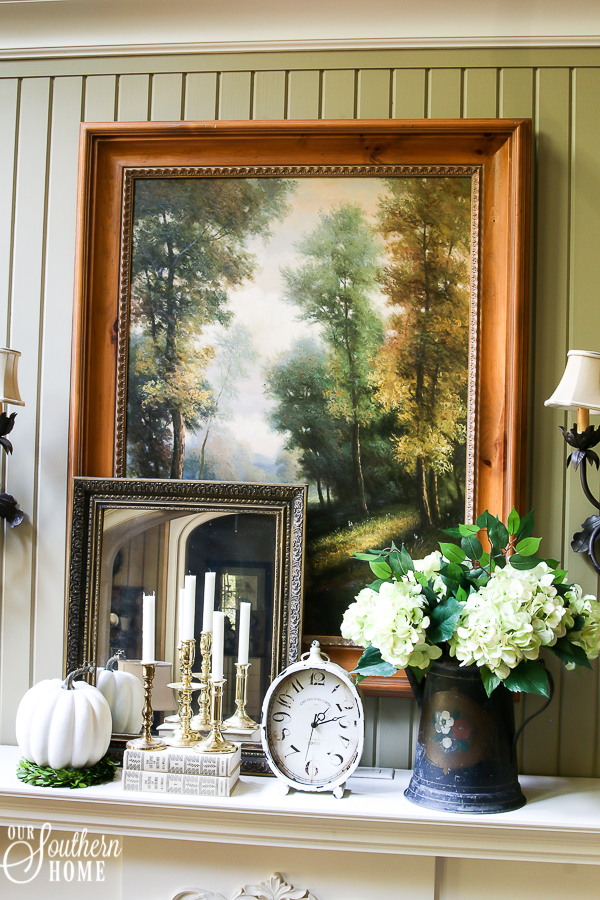 This mantel truly shows my love of mixing a little bit of everything! We've got high-end, antique, budget finds and thrift store decor represented in this one spot!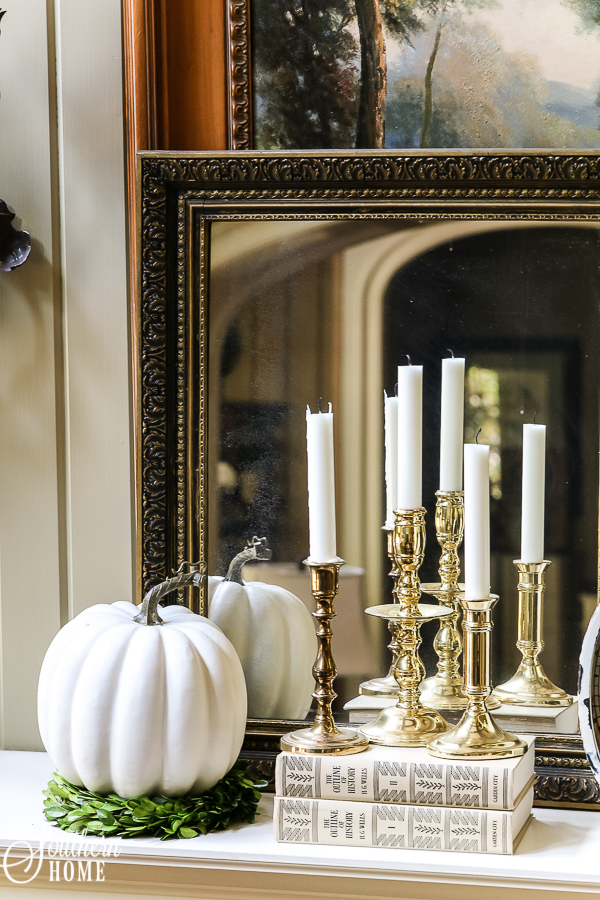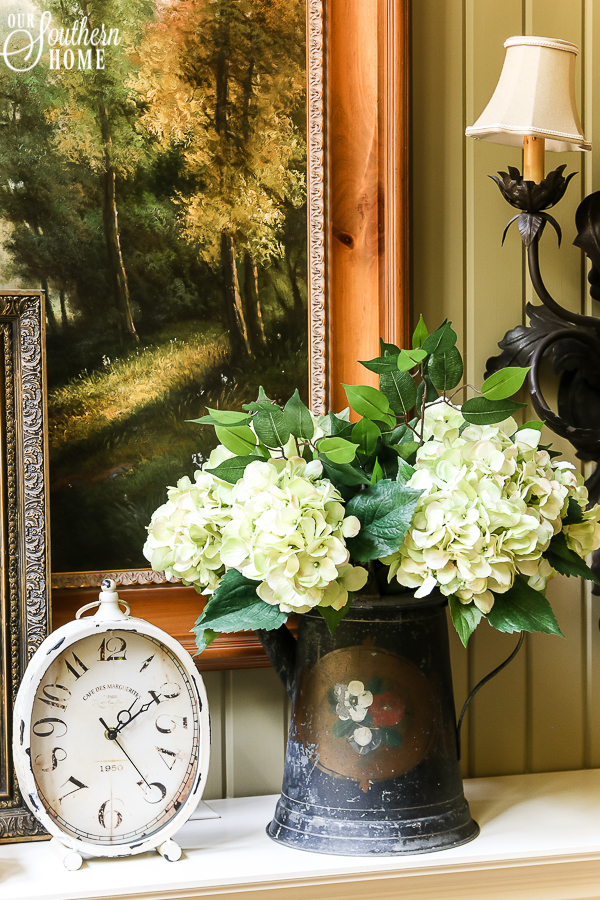 This antique tole watering can was seriously a run and grab moment! Anything tole sings my name!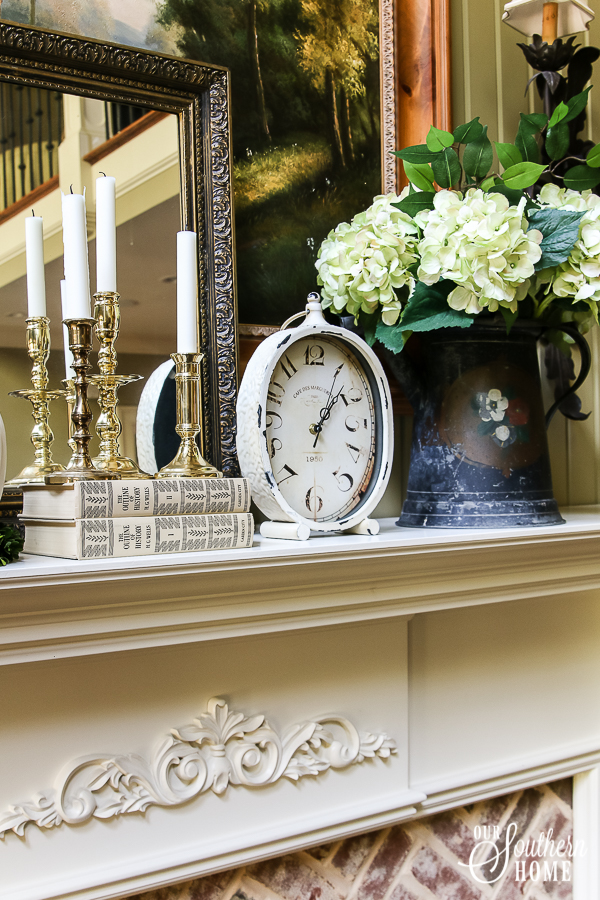 Wow! I had so much to share with you in the family room, that I'll save the fall kitchen for next week! Here's a sneak peek!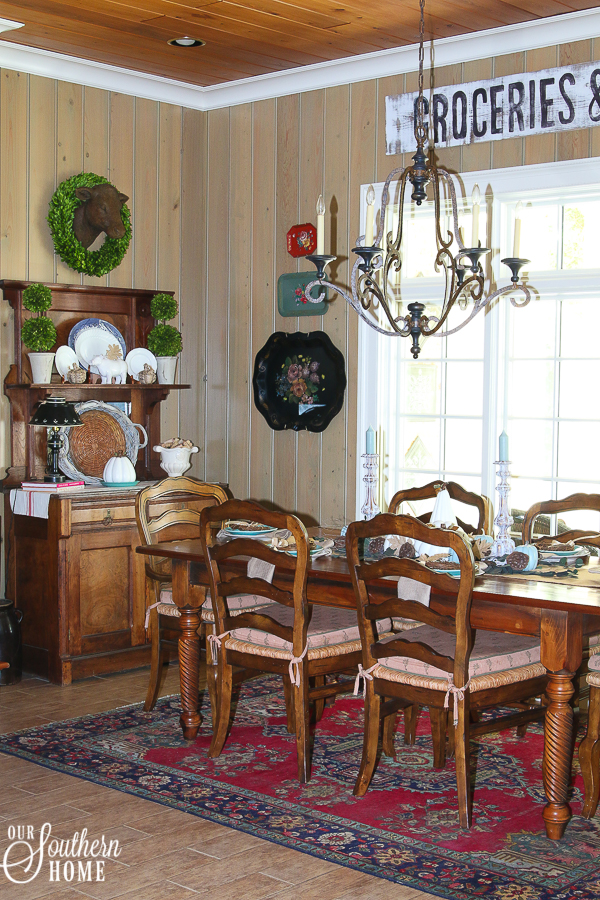 Thanks so much for stopping by! Happy autumn to you! Up next on the tour is Life Love Larson.
Complete Fall Tour Lineup!
Monday
Tuesday
Wednesday
Thursday
Friday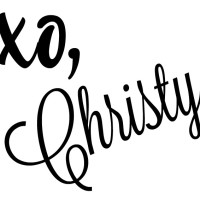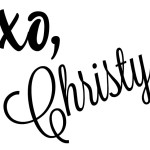 Buffer