Friends I've got another day of sharing outdoor living with you.
Today The Decor Enthusiast Style team is sharing ideas to create beautiful outdoor living spaces.
Outdoor living is a huge part of our lives from May through late September.
Since we spend so much time outdoors, I love the challenge of bringing the indoors out and creating outdoor rooms.
There are so many affordable options out there these days.
My outdoor living areas are a combination of new purchases, thrift store and consignment store makeovers. Some of the furniture was even purchased from the want ads long before Craigslist.
Today I'm going to share a sprinkling of the ways in which I create livable outdoor spaces.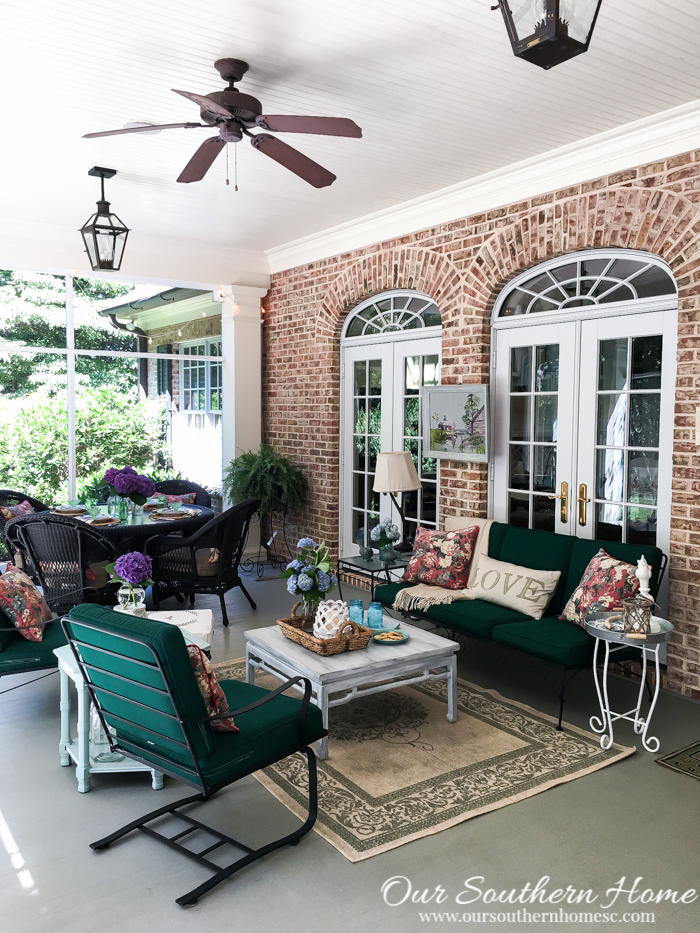 Our screened porch perfectly showcases my love of mixing found items to create that haven of rest. You can see the full tour HERE.
The sofa and 2 chairs were newspaper finds. They are antiques and were just the frames. They were in such bad shape that I had them sandblasted to remove the layers of paint and rust. I was left with a perfect surface to repaint. I then had to have custom cushions made. Even with that….I still came out ahead. I've had the set about 15 years. I'm ready for a cushion update, but they are just so comfy and still in great shape so just can't justify the expense. I update the look with pillows which is much more affordable.
With the porch being screened and deep, I am able to add a throw blanket and the regular indoor pillow that says HOME. Just a simple touch makes the space feel a bit new to me.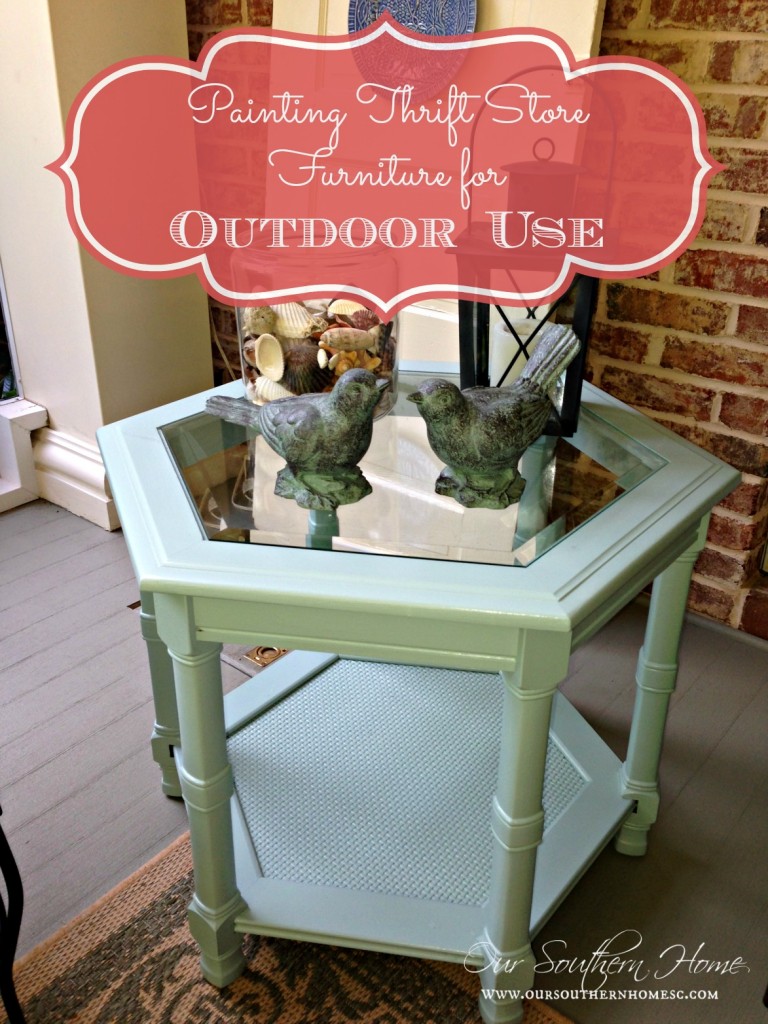 Painting thrift store furniture is perfect for your covered porches. It's affordable and if painted with a good paint can last many years.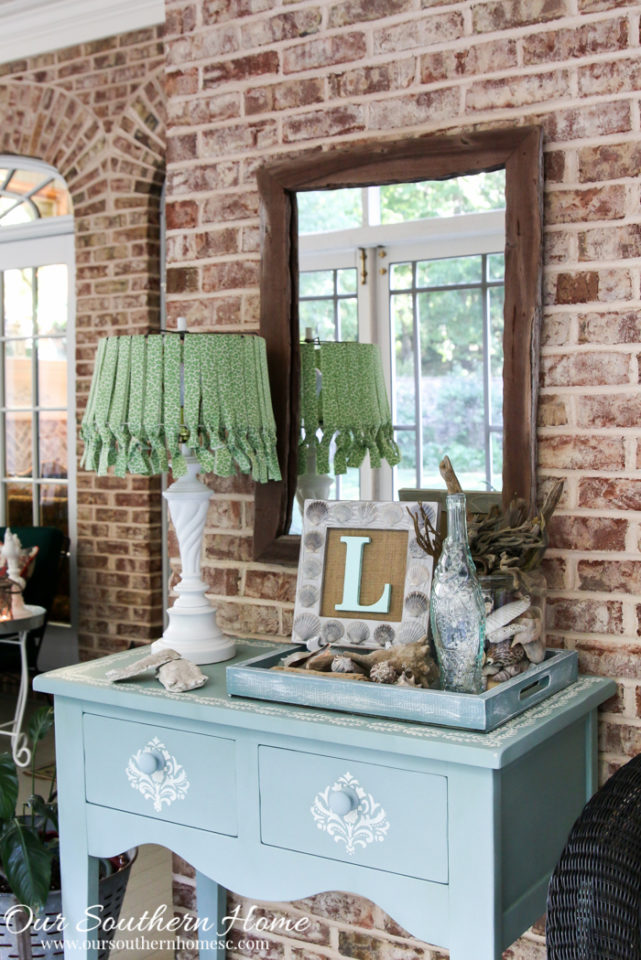 You can even get a little fancy with your furniture painting and add stencils like I did on this server.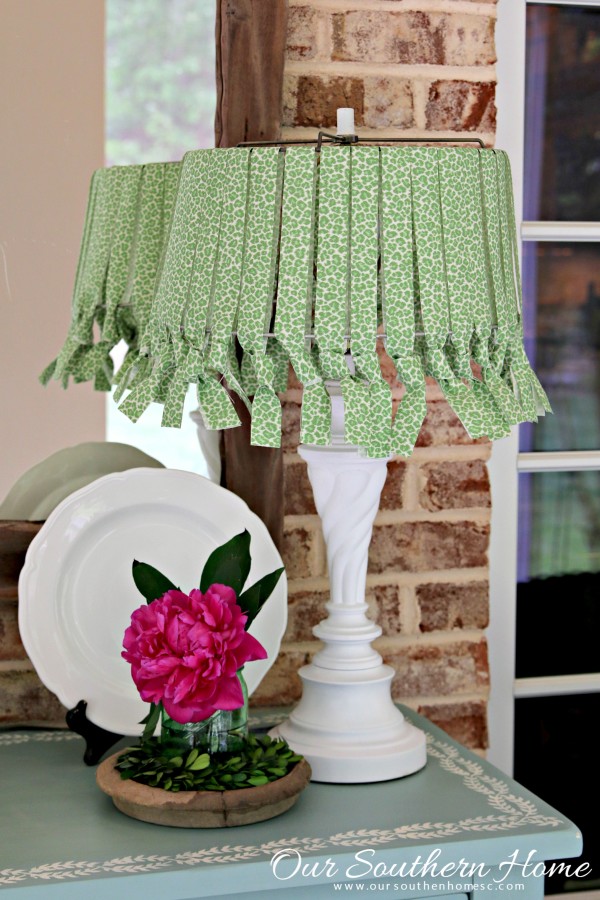 A thrift store lamp can easily be used on a covered porch, but not a regular shade. They get moldy fast. You can easily update the shade with outdoor fabric like I've done HERE.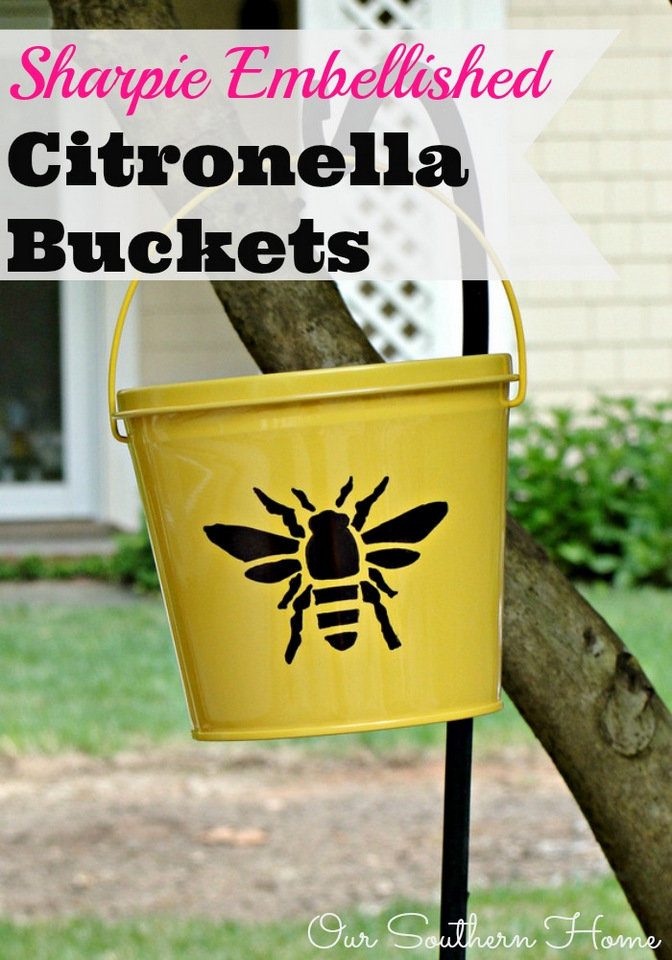 Make plain citronella candles work in your decor my stenciling designs on them with a Sharpie.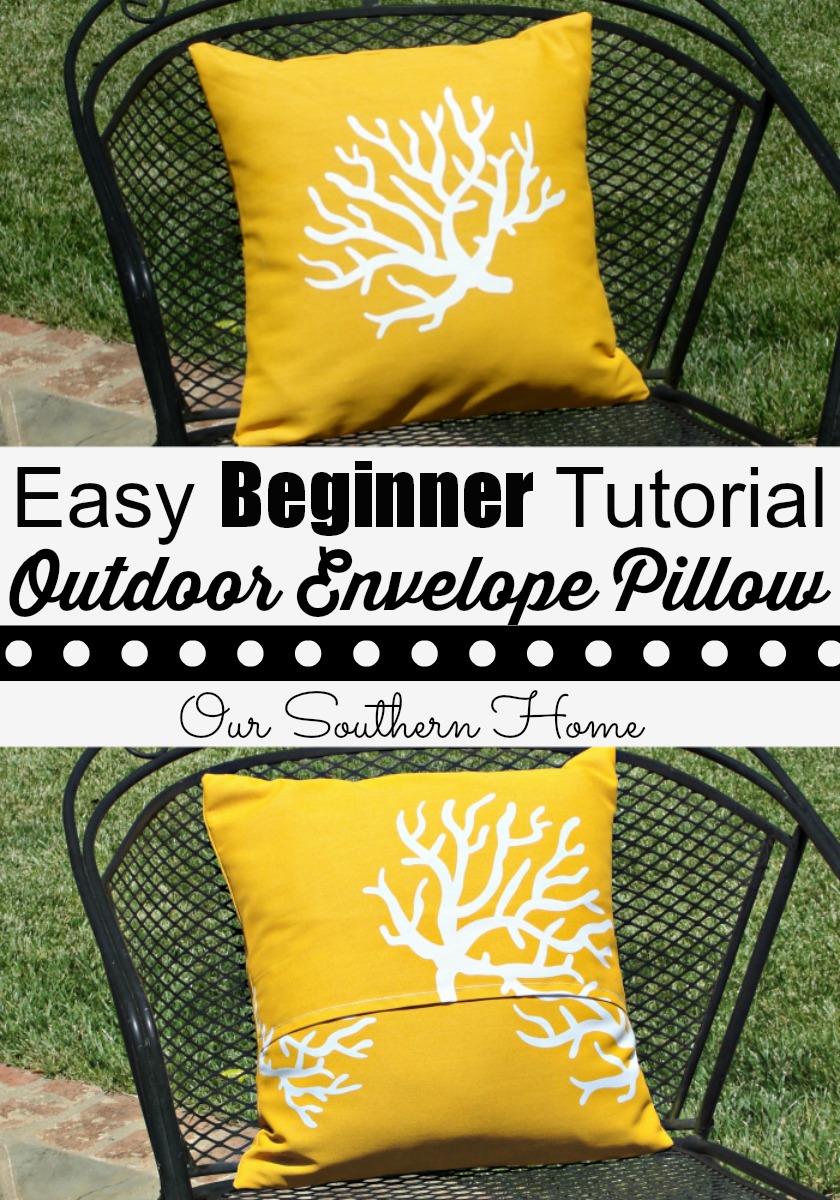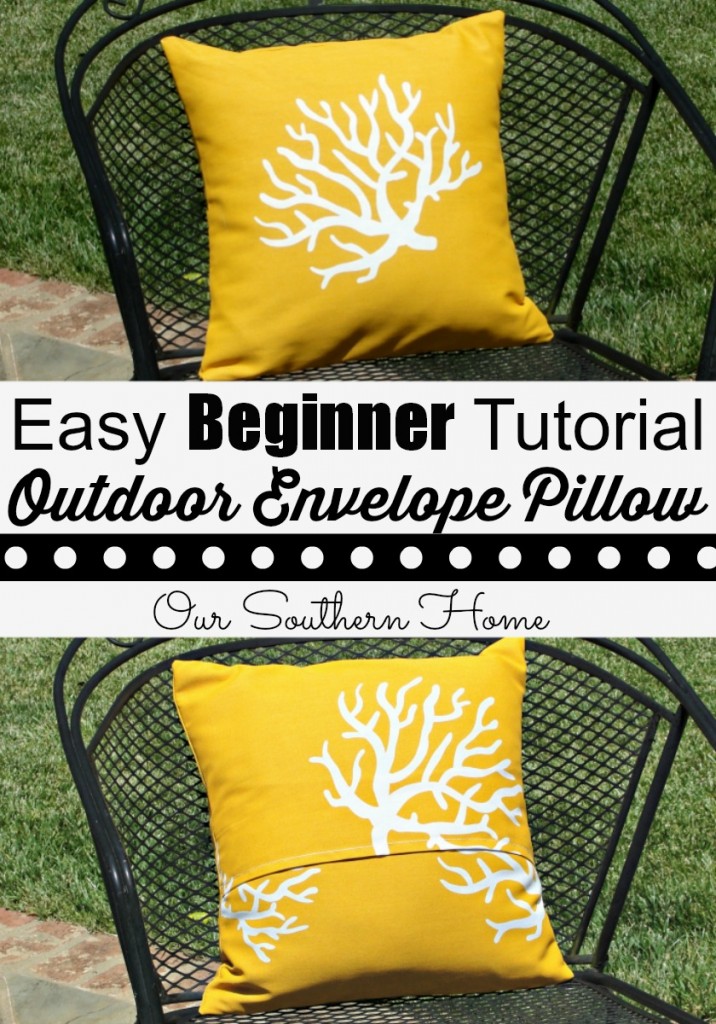 One thing that I did a couple of years ago was sew simple new covers to my faded existing outdoor pillows. Cutting the fabric and sewing assembly style fashion made it faster.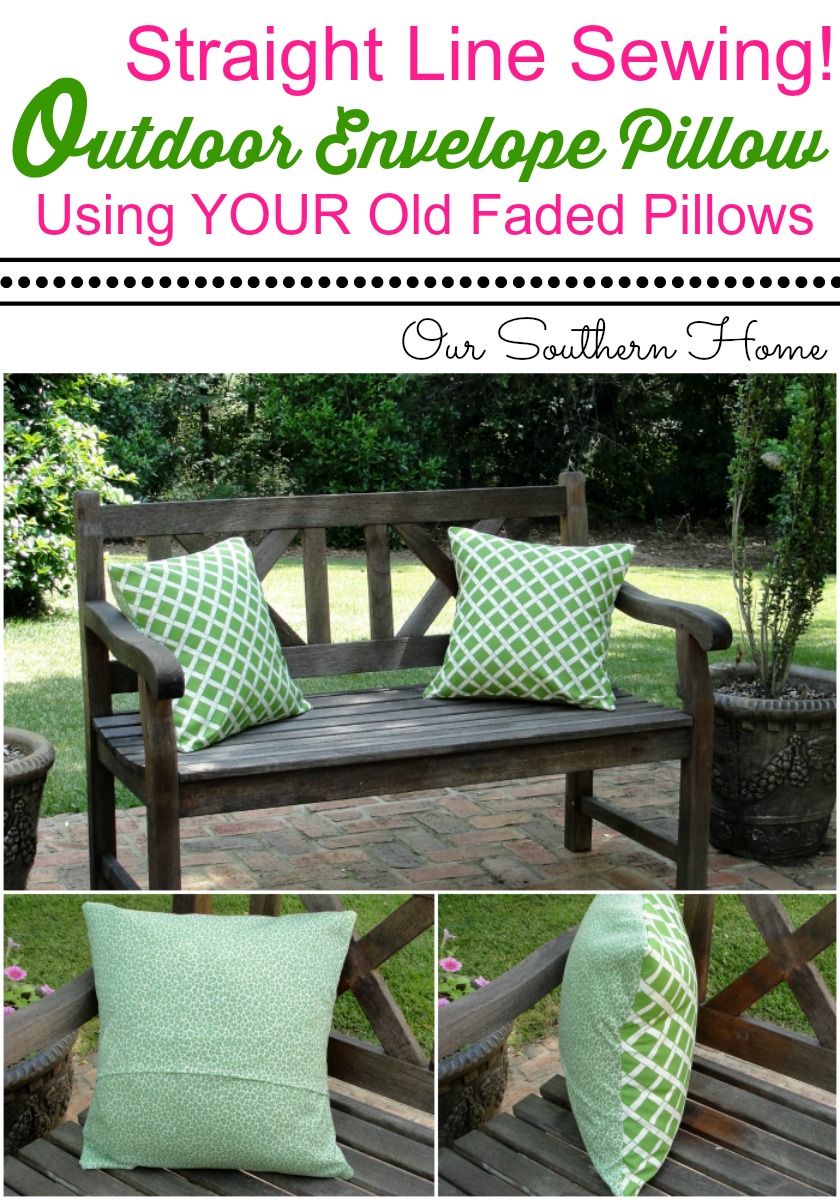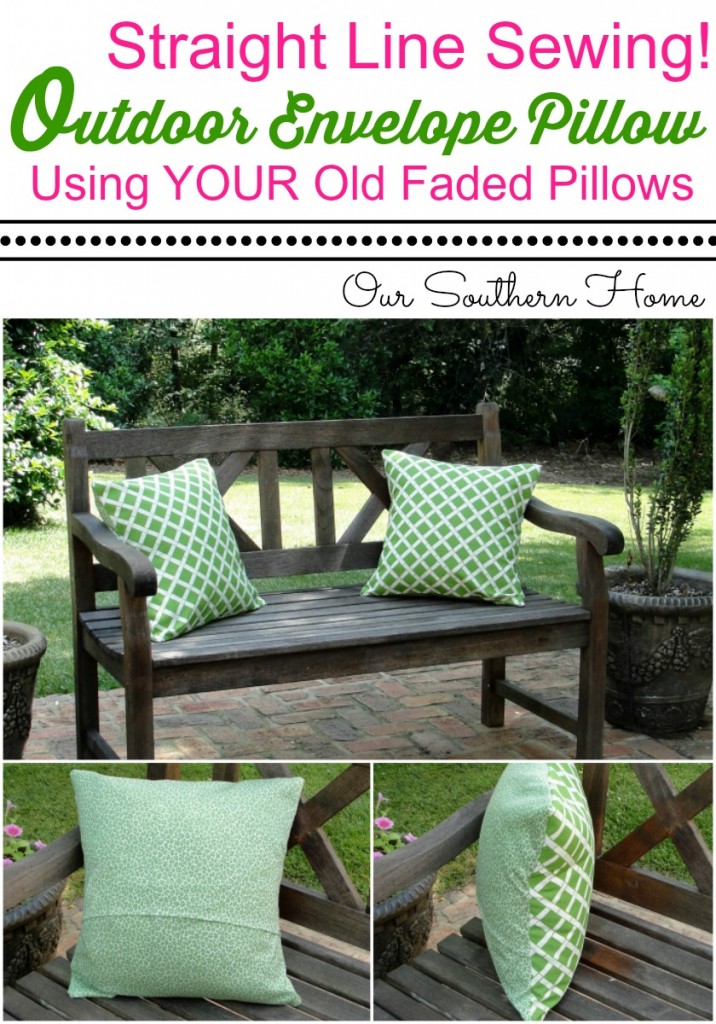 More outdoor pillow updates with a tutorial.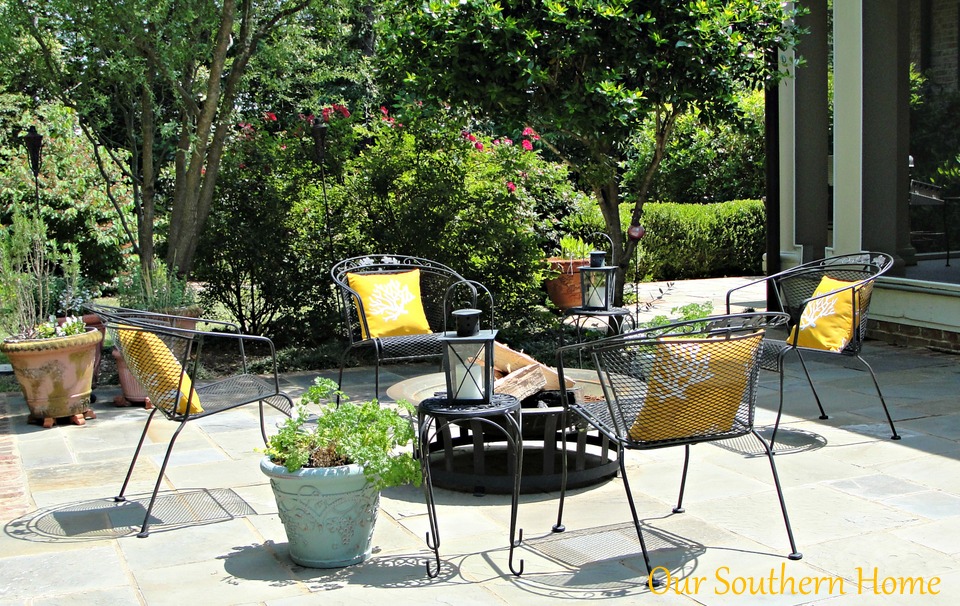 The new pillows look so nice around the fire-pit area.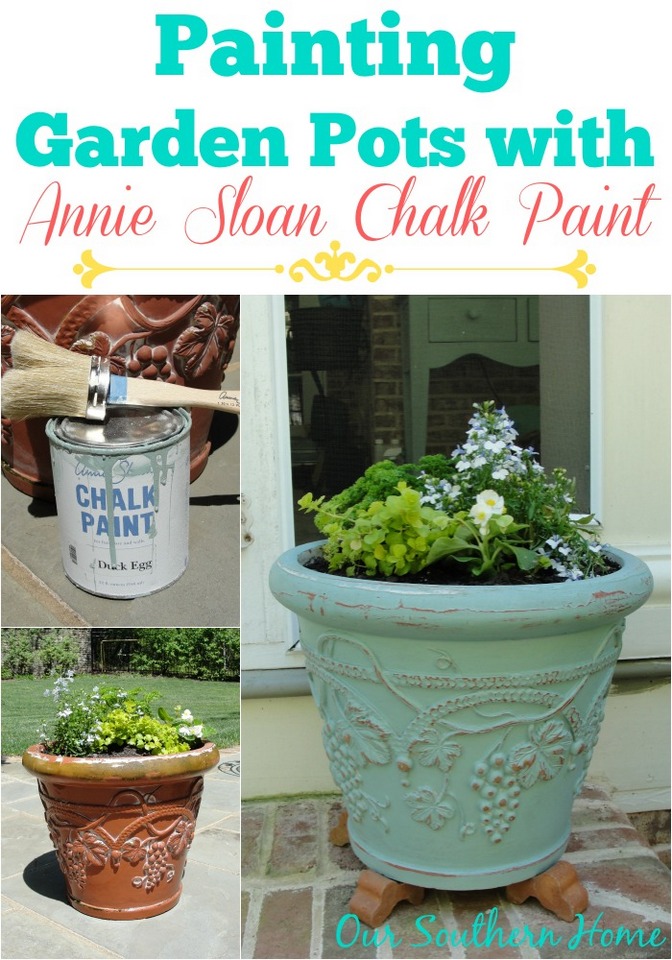 I've even painted garden pots that were ready to be replaced. It's a great way to get extra life out of them. These were actually just featured in a magazine! Squeal!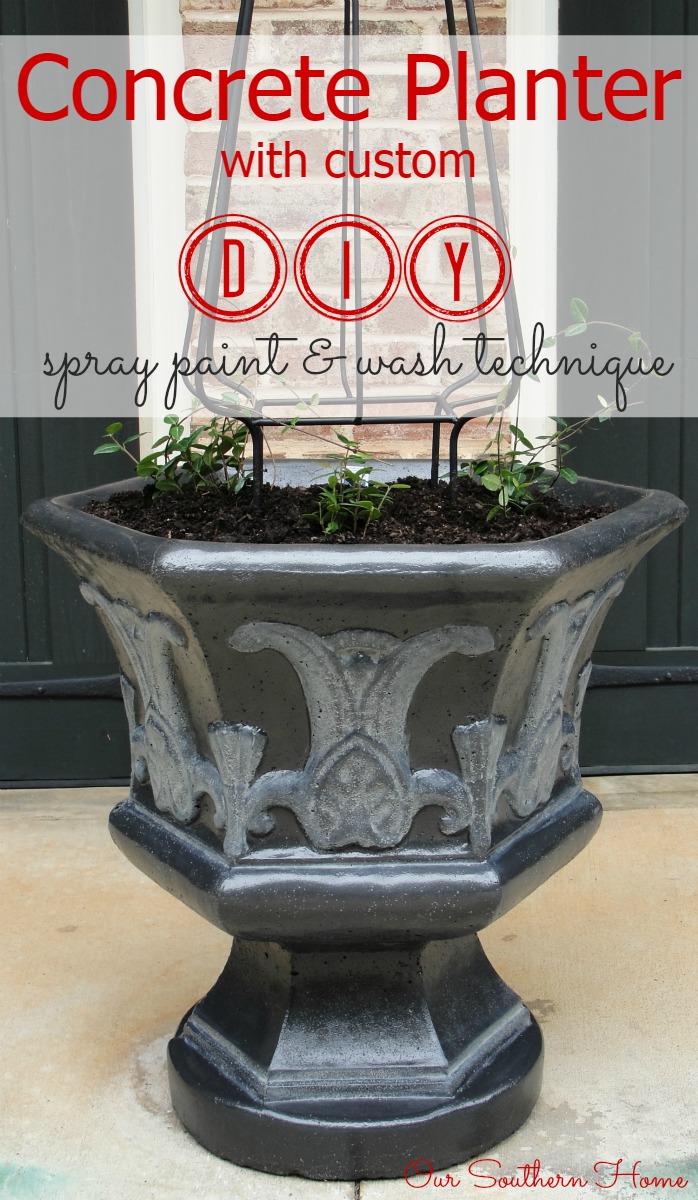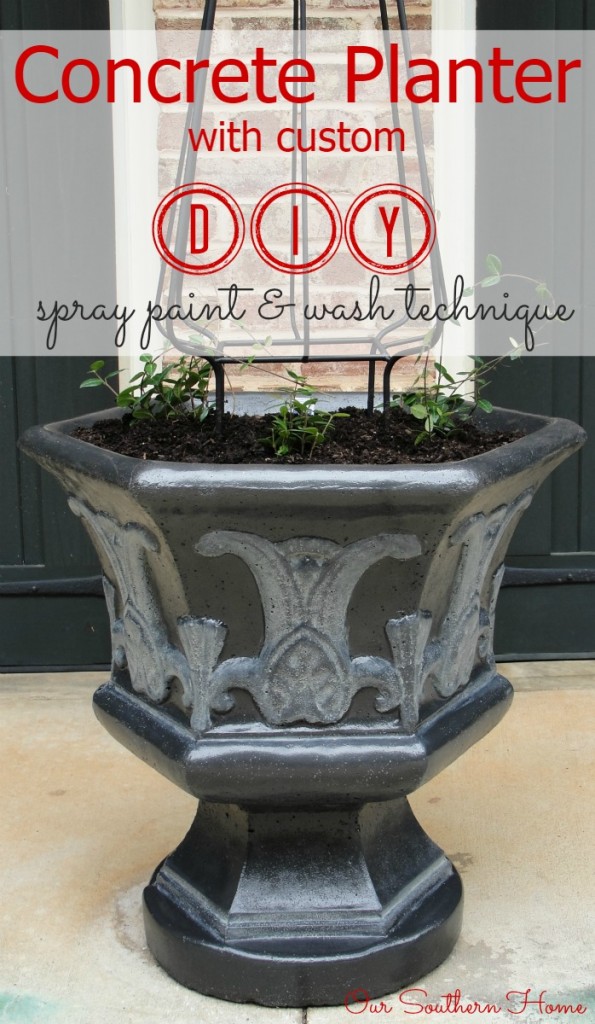 Here is another planter idea using spray paint.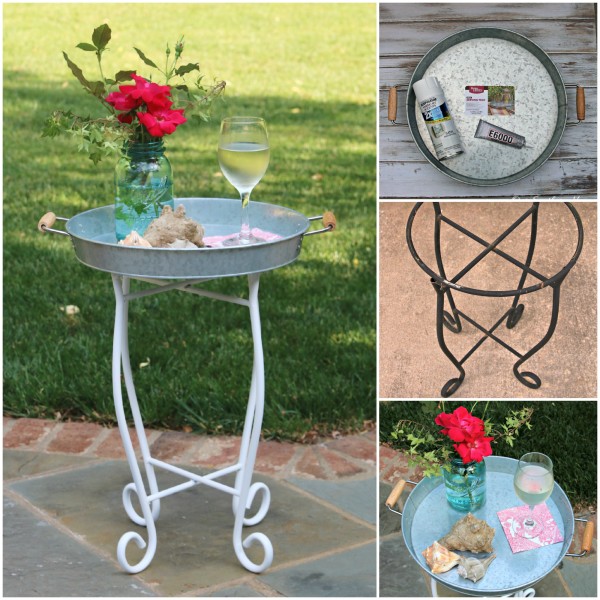 Upcycled tray table from an old broken table base.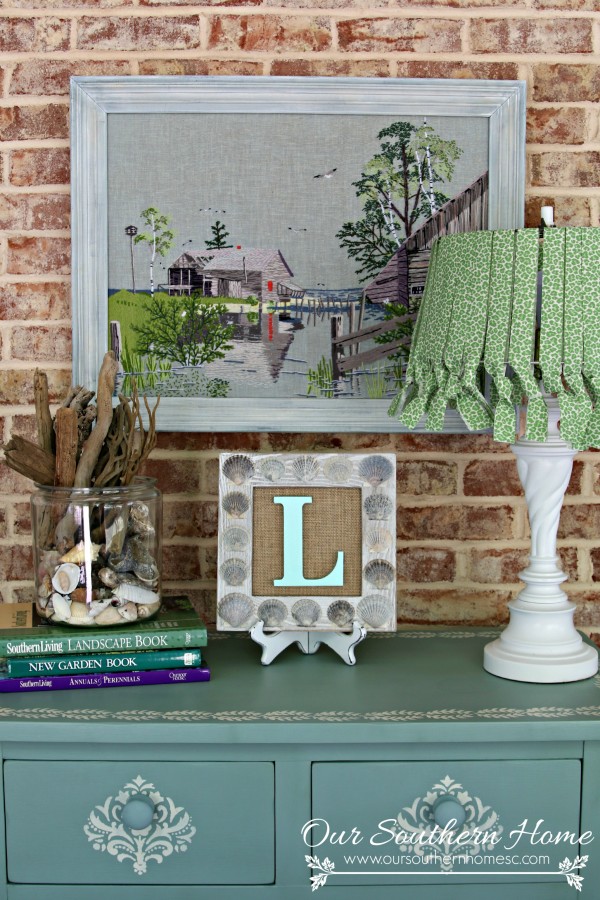 I found this old needlepoint wall art at Goodwill last year. I just painted the frame, and it's a great addition to the porch.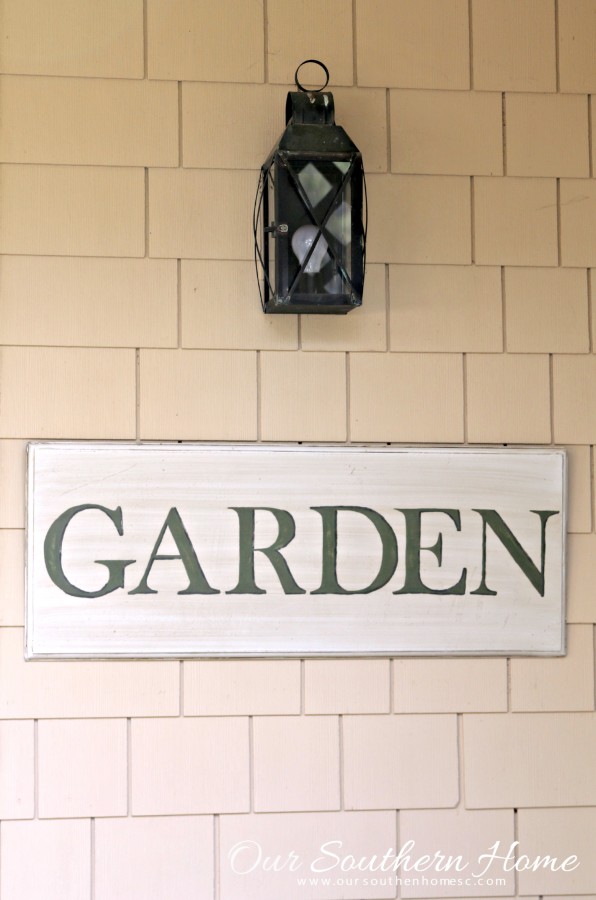 Outdoor signs can be made with paint appropriate for the elements.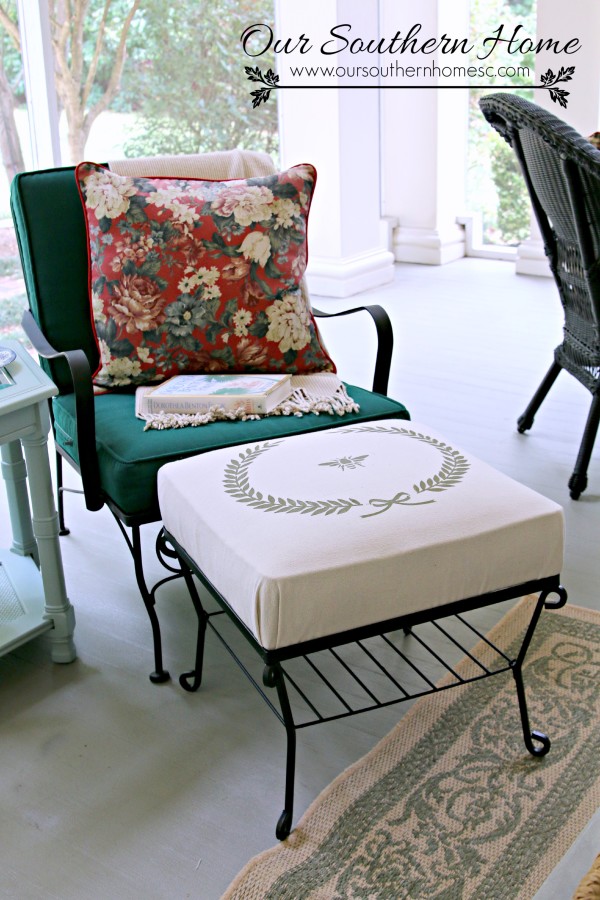 Jazz up an outdoor ottoman with a stenciled drop cloth.
Changing the color of outdoor furniture is as simple as picking up a paint brush or spray can!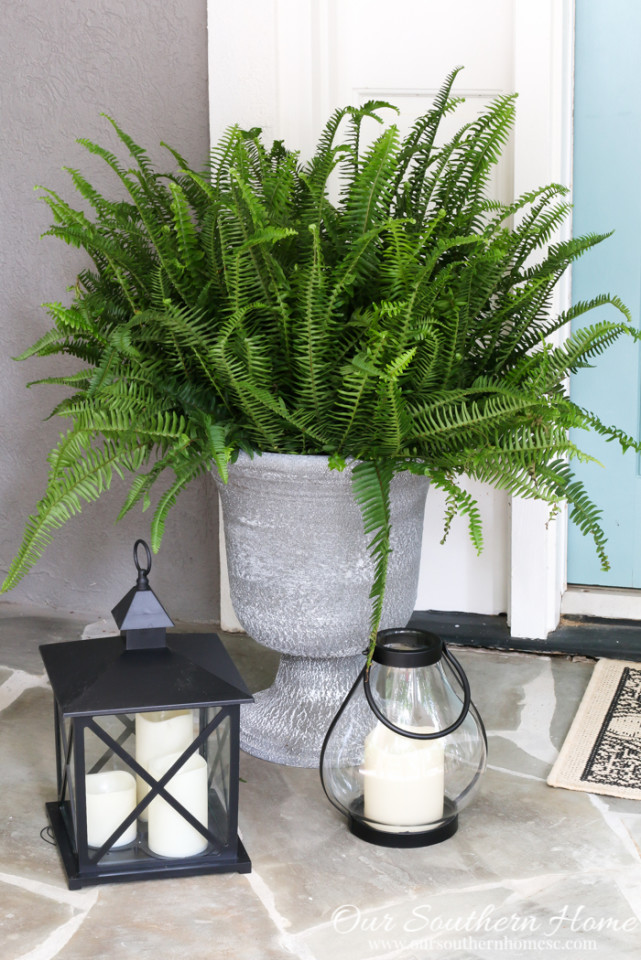 Don't forget your budget friendly stores for great affordable decor.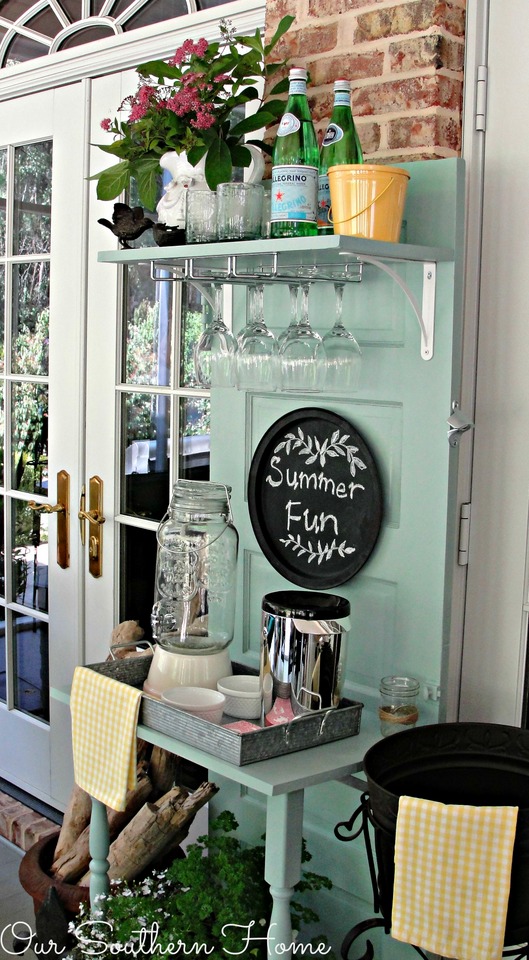 Perhaps my all-time favorite outdoor project was this beverage station made from an old door a few years ago.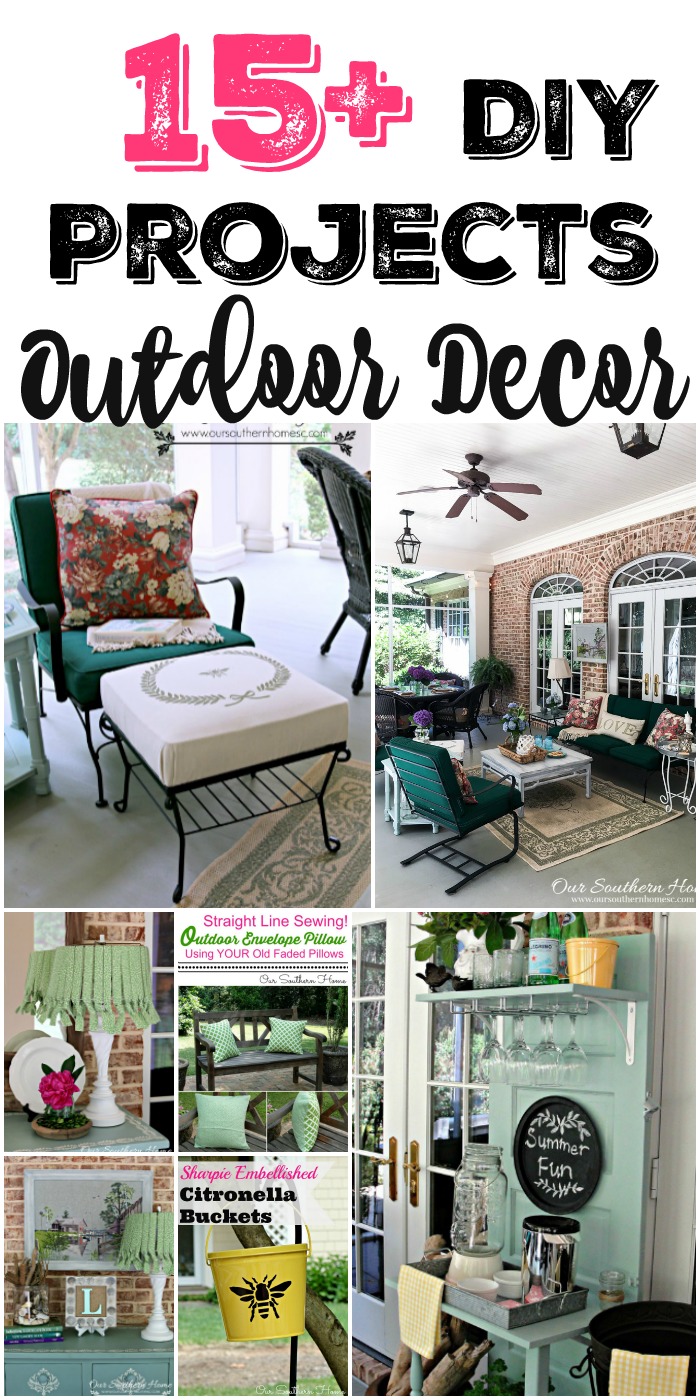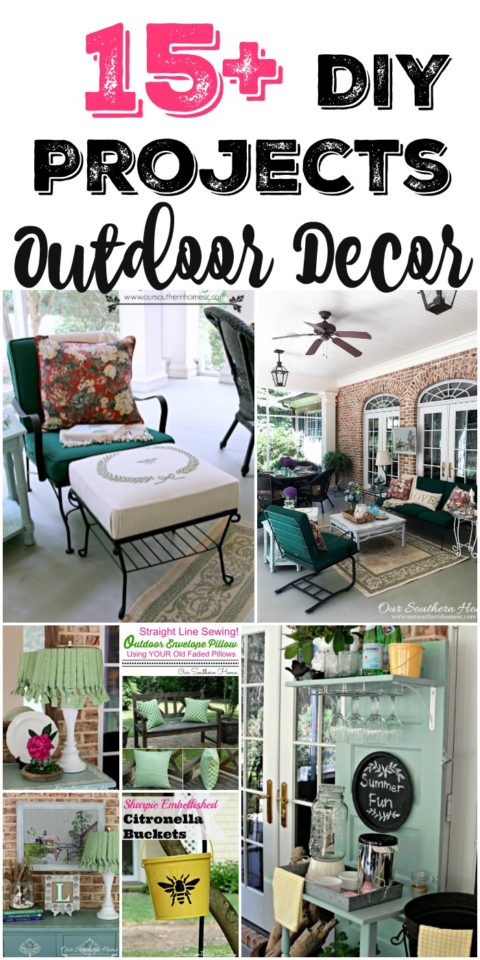 Please PIN the above image for later and share with your friends!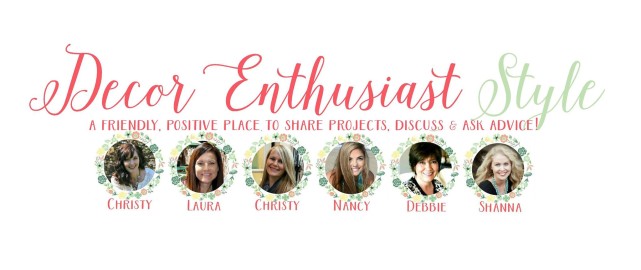 Now lets check out the other projects from the other members of the Decor Enthusiast Style Team!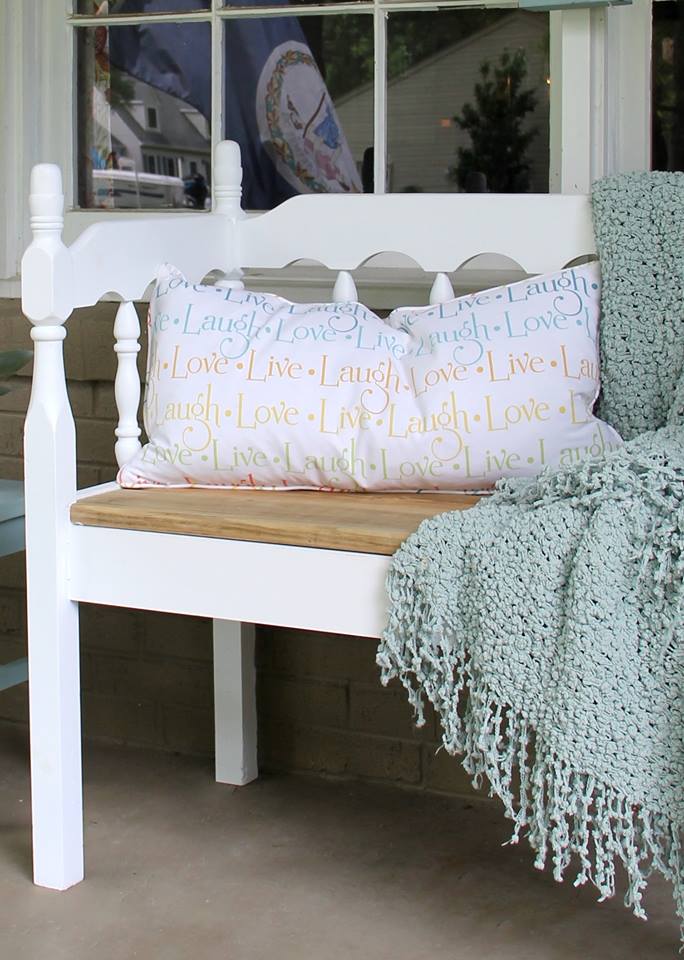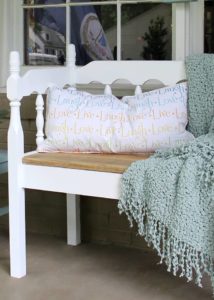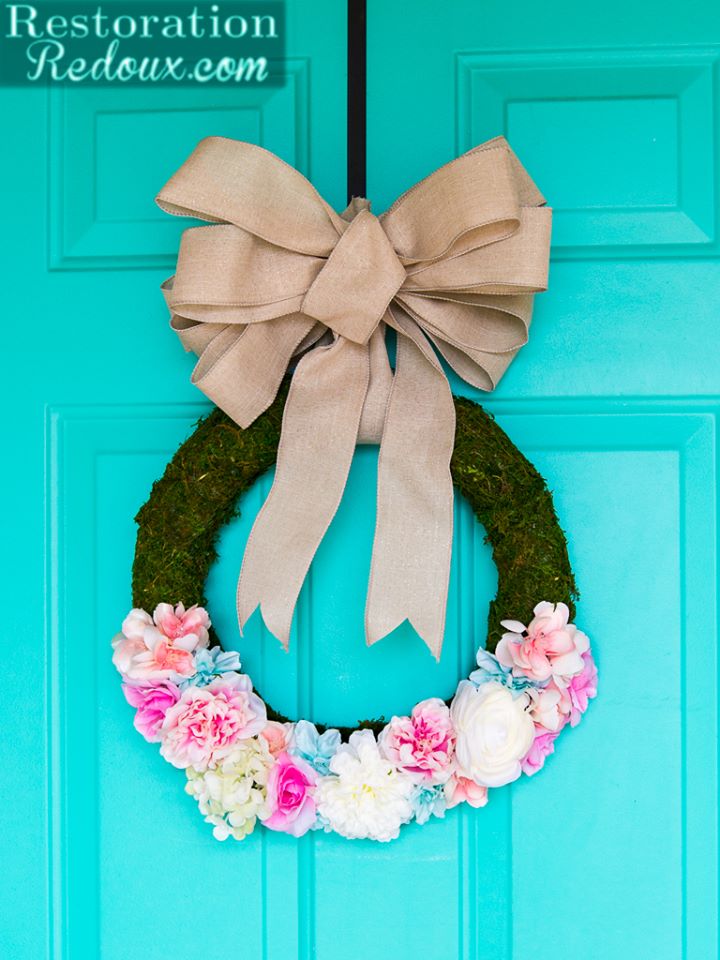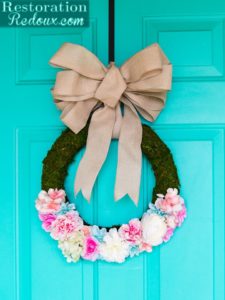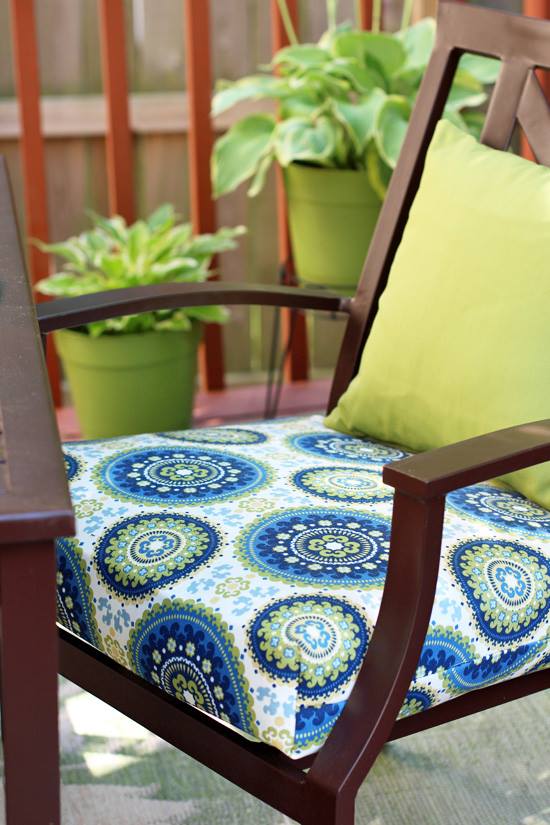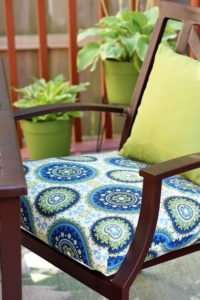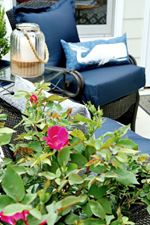 Don't forget to join the challenge on Instagram this month #DecorEnthusiastStyle
Join us on Instagram (click on each name):
Refresh Restyle – Duke Manor Farm
Artsy Chicks Rule – Restoration Redoux
Our Southern Home – Confessions of a Serial Do-It-Yourselfer
Are you following the Decor Enthusiast Facebook Group? We have so much fun over there. It's a place to share your decorating & DIY adventures as well as ask advice! We'd love to have you! Just remember….it's a nice group…no negativity allowed. You can find it HERE. Share your outdoor decor ideas with us in the group!
Next month the theme will be thrift store decor!
*contains affiliate links*
Here are a few outdoor decor items that I thought you might enjoy!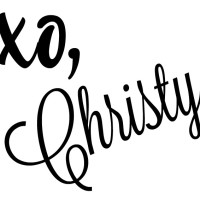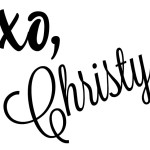 Buffer