Decorating Ideas for Porches
Good News! I think the bulk of the pollen is behind us here in South Carolina.
That means I can finally start decorating our porches for outdoor living.
To get my creative juices flowing, I 'd thought I check out some inspiration. I hope these inspire you as well.
Decorating Ideas for Porches
Town and Country Living always inspires me with her cozy, inviting farmhouse style. I'm hoping to get started on painting our porch ceiling haint blue soon.
The Everyday Home has really created a heart warming porch with reds. I especially love the touch of the fabric panels.
Cupcakes and Crinoline has an adorable porch with the whimsical bird sign.
Love the door color with the blues from Town and Country Living
What Meegan Makes proves that even a condo porch needs styling. Meegan is so creative with her thrifty finds!
A Stroll Through Life is not afraid of patterns and color. I love the combination to create this welcoming front porch.
Cedar Hill Farmhouse has a lovely porch at the ranch. I adore her porch with vintage finds. She even found that daybed on Craigslist!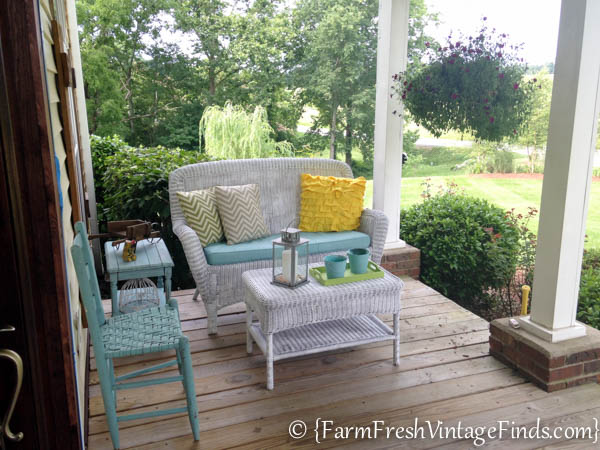 Farm Fresh Vintage Finds is fabulous with the paint brush. Do you have cushions you are tired of….Beth painted hers!
Country Design Style is just that…comfortable, gorgeous country-style. I'm smitten with the window color. Smart how she brought the color out with the pillows.
Lovely etc. created this to die for porch floor!
Design Dreams by Anne has a great deck that feels like a porch. The reds in the flowers look so great with the aqua bench.
Top This Top That has fabulous style. The neutrals with the yellow accents are perfect!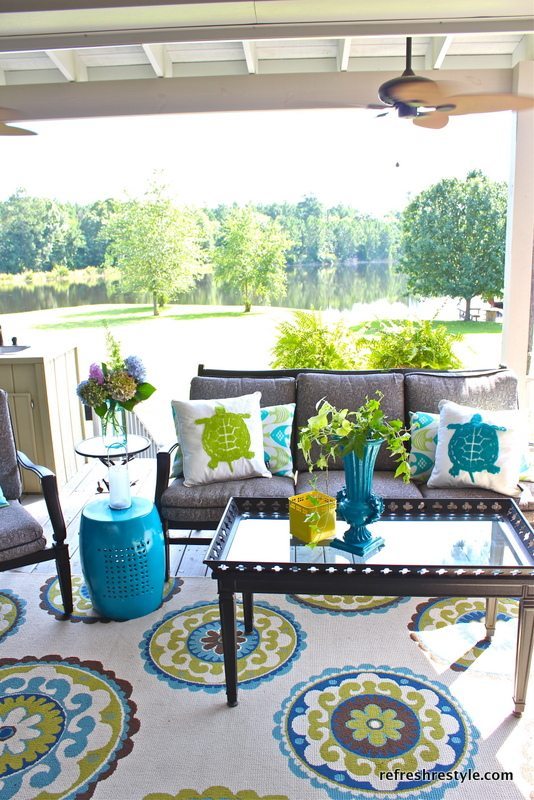 Refresh Restyle has a fun, creative style that matches her shining personality!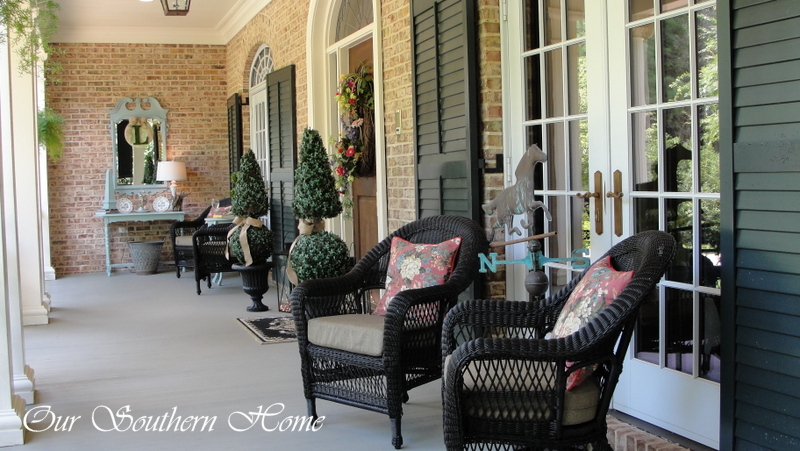 Our Southern Home (me) My front and screened porches are perhaps my favorite spots to decorate.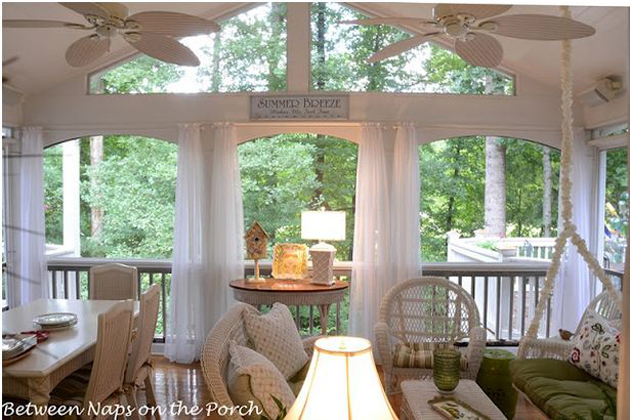 Between Naps on the Porch always amazes me with her ability to create an outdoor room.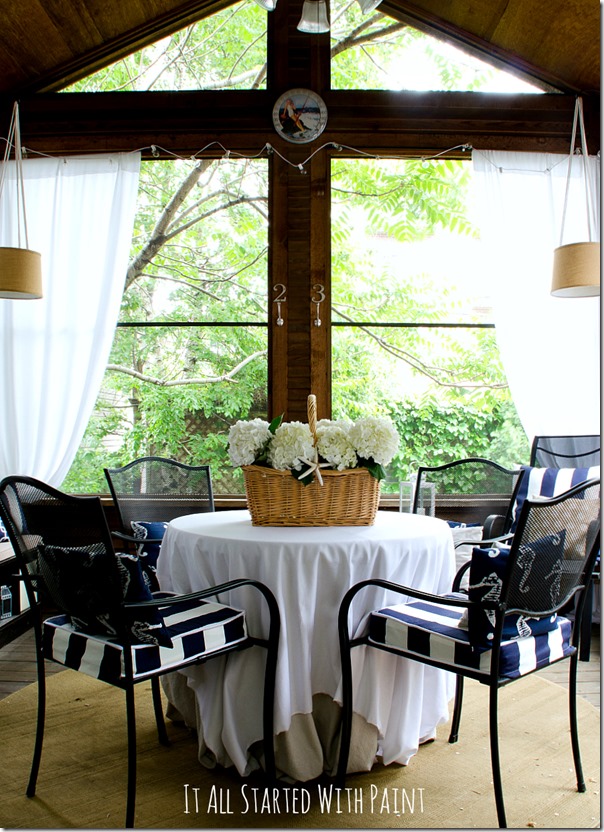 It All Started with Paint goes bold with stripes! It's classic and allows you to add additional patterns and colors. Aren't the Hydrangea beautiful!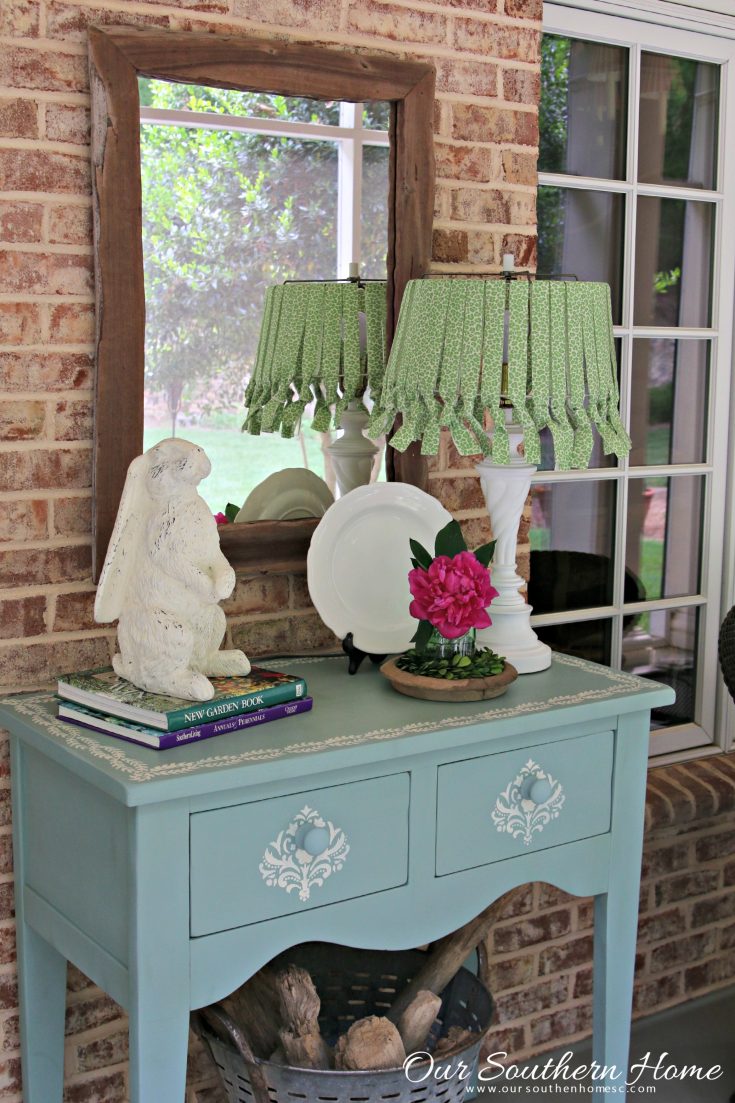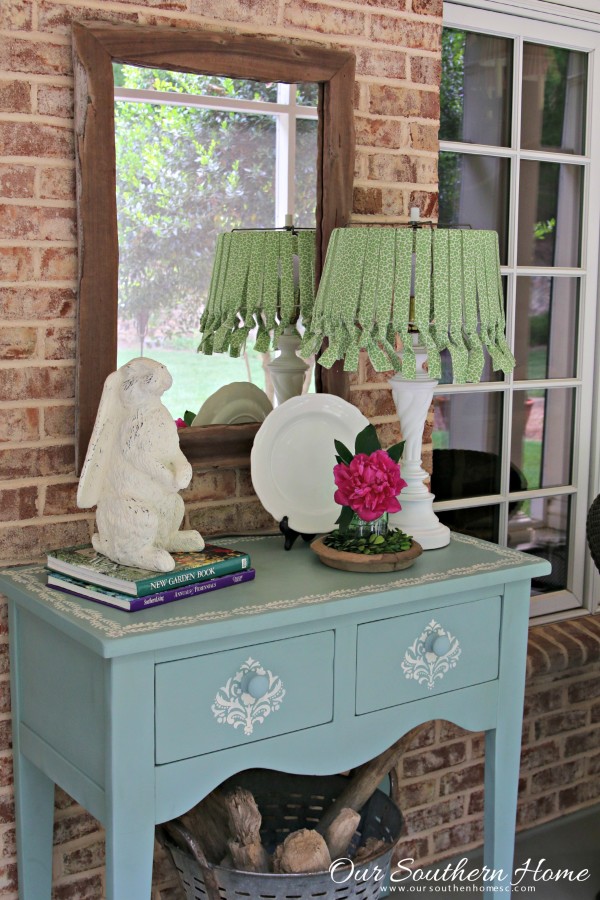 Create a fun porch lampshade with outdoor fabric by Our Southern Home.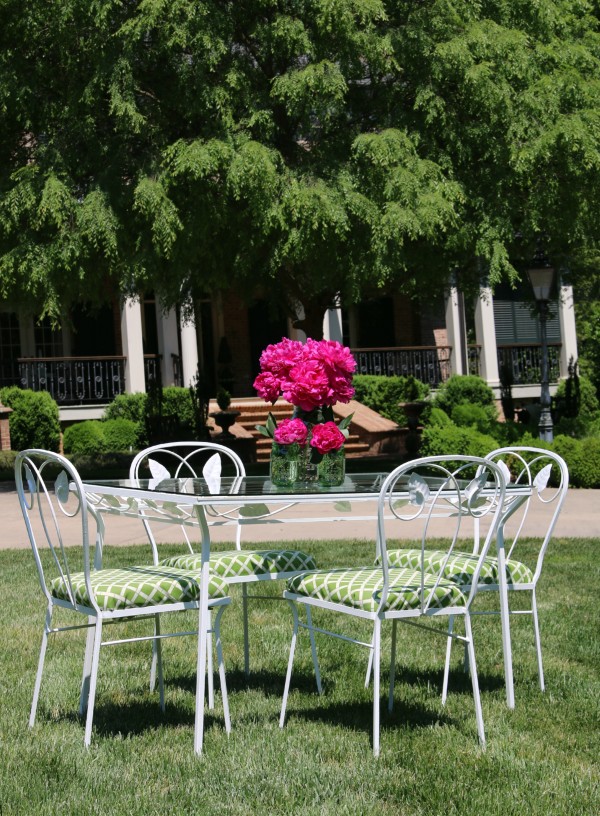 Chalk paint your outdoor furniture in a new fresh color!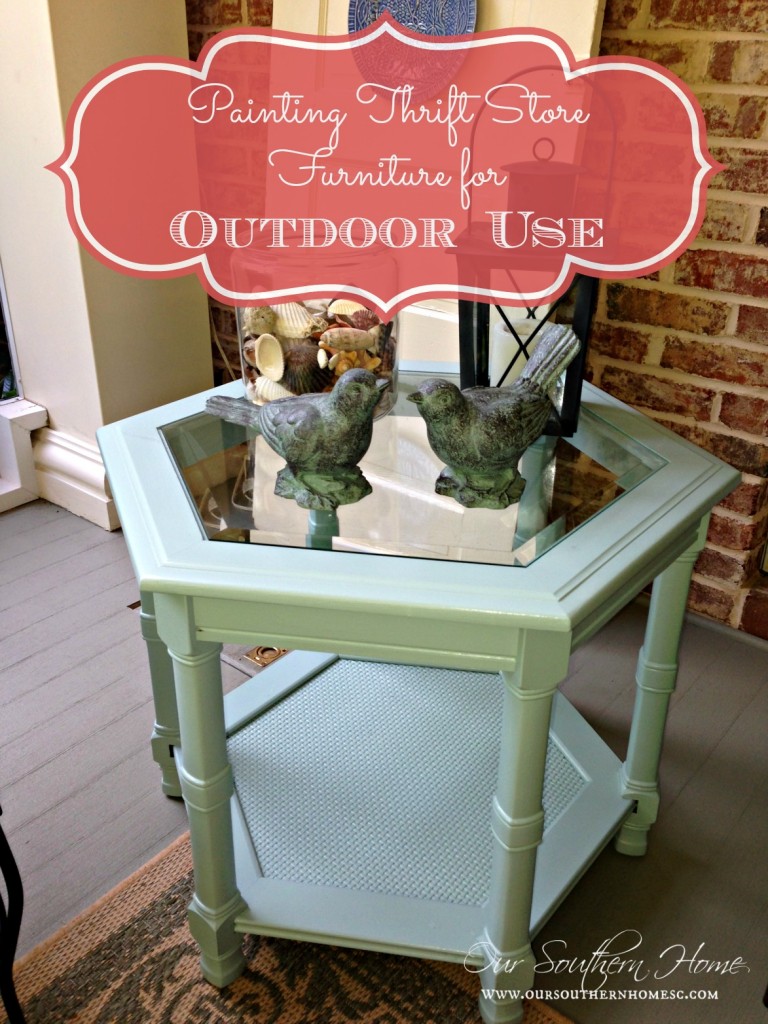 Thrift store furniture is a perfect addition to porches.
Tip to bring the indoors out!
Lamps can be used on a covered porch when further away from the elements….up close to the house
Mason jars of all sizes make fun candle holders and vases
Outdoor pillows are readily available at all price points
An outdoor rug can really define a sitting area
Don't be afraid to bring interior items outside to decorate for a party
Decorative plates are great accents on a porch. TJ Maxx and HomeGoods are wonderful sources
Thrift store finds make excellent candidates for the porch when painted with outdoor paints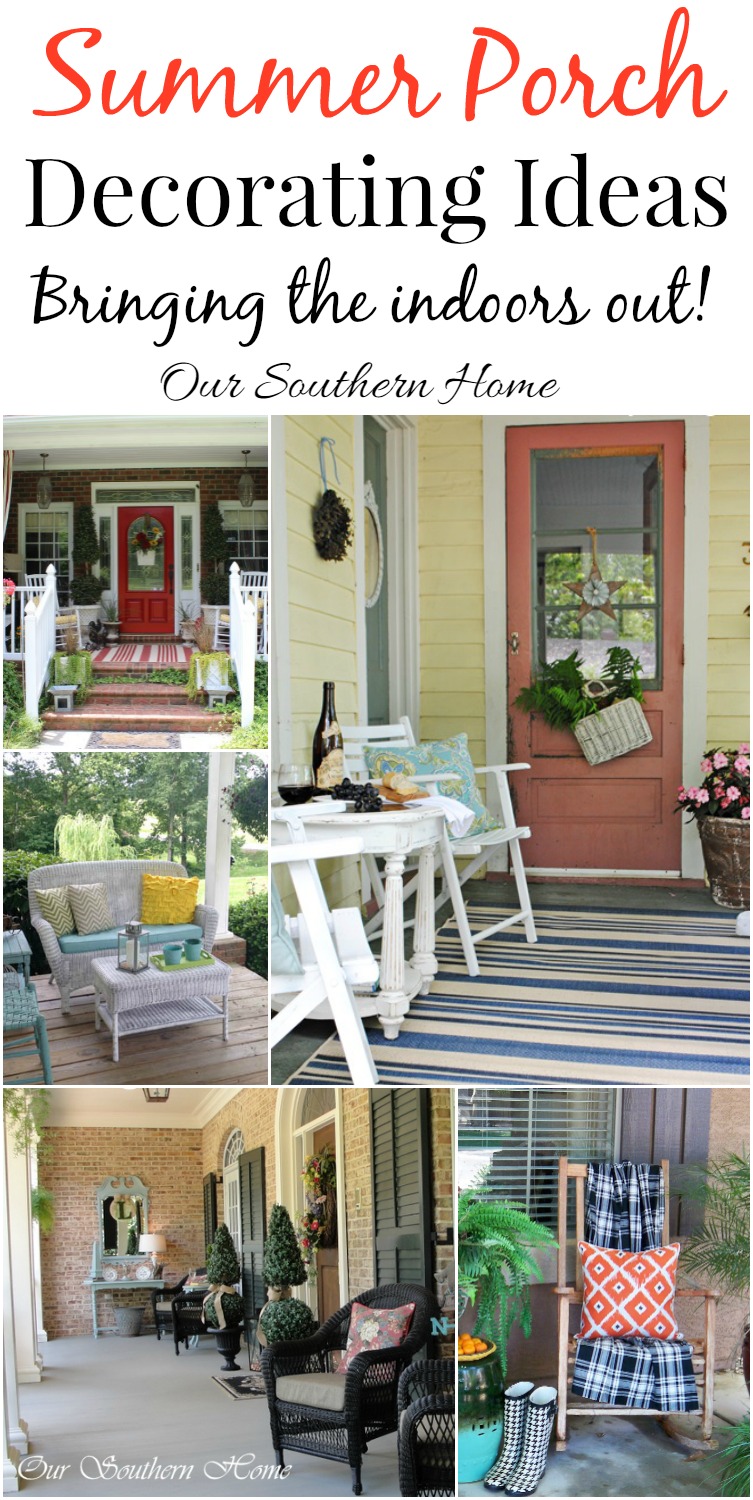 Please share your porch decorating ideas!
I'd love for you to follow along on social media!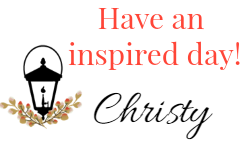 Buffer