Cleaning Patio Furniture for a Virtual Party
This is a sponsored post on behalf of Procter & Gamble. All writing, photos, and opinions are that of Our Southern Home.
Clean your patio furniture with these cleaning tips using Tide and Dawn to get your space ready for a fun virtual party!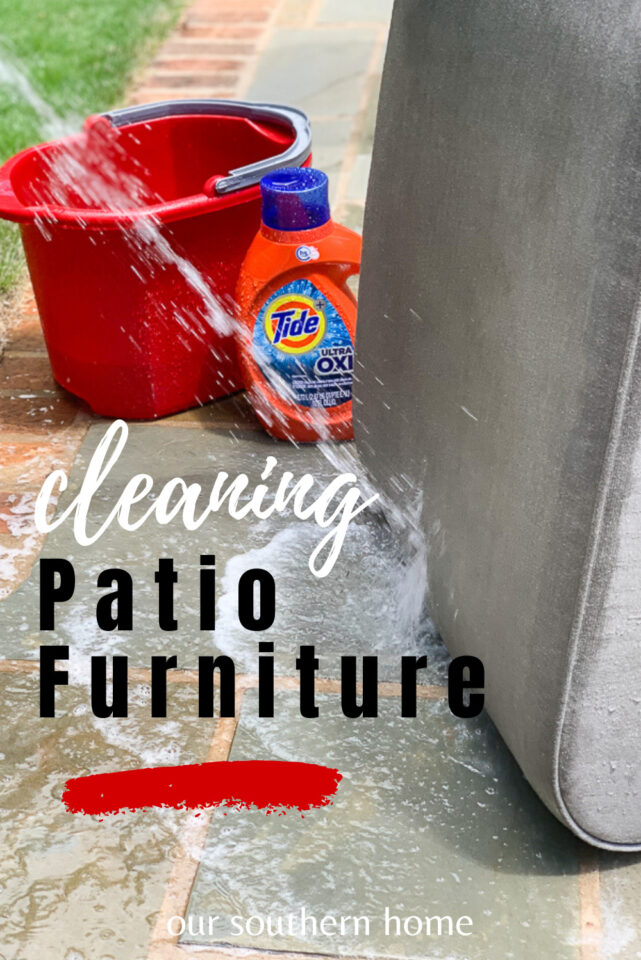 Now is the time to purchase Tide, Gain, Dawn, and Febreze products at Big Lots with the Buy $30 in participating P&G products. Get $10 Big Lots gift card as part of the Save on Your Faves promotion now thru 7/17/20!
We are all staying home more and more with the ongoing state of the Covid-19 crisis. It is perhaps our new normal for many months to come.
My family has adjusted to spending so much time at home. We have started more home improvement projects in recent months than we typically do in an entire year. Our yard has never looked better! On a whim, I started painting our large upstairs bonus room. It's a job that I've been putting off for too long.
With the ongoing state, many of us are missing time with family and friends that may have been spent at cookouts, parties, and dining out.
With the technology available to us, we can get together with our loved ones virtually!
Last week I cleaned our patio furniture and set up a simple area on the patio to host a virtual party!
Tip & Supplies for Cleaning Patio Furniture
brush off loose dirt and debris with a soft brush
always check the manufacturer for cleaning instructions
spot test first
1/4 cup of Tide with about 2 gallons of water for cushions, pillows, and umbrella
a squirt of Dawn with a gallon of water for tables and accessories
soft scrub brush for furniture and cushions
hose with nozzle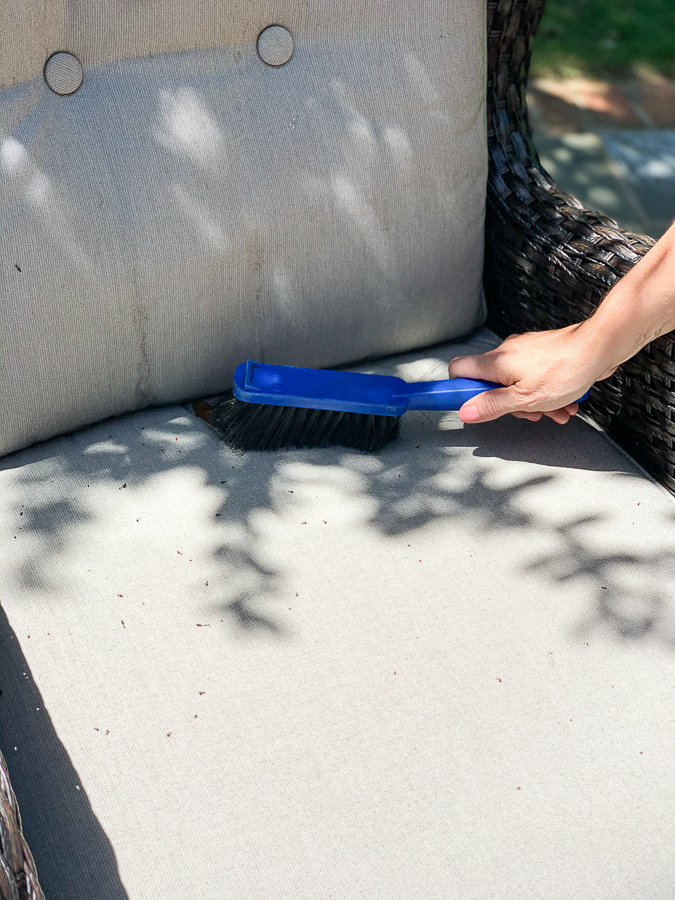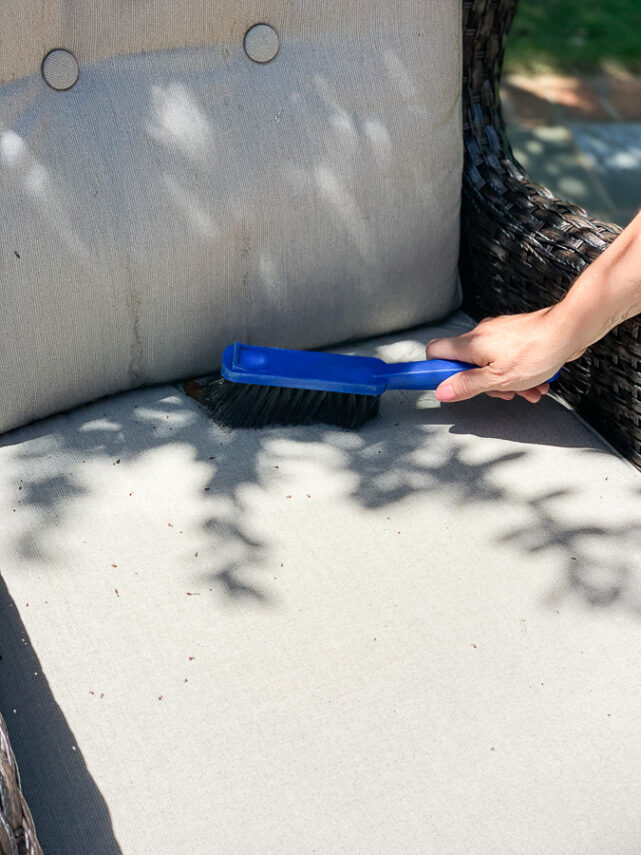 Brush off loose dirt and debris from your furniture with a soft brush or a broom.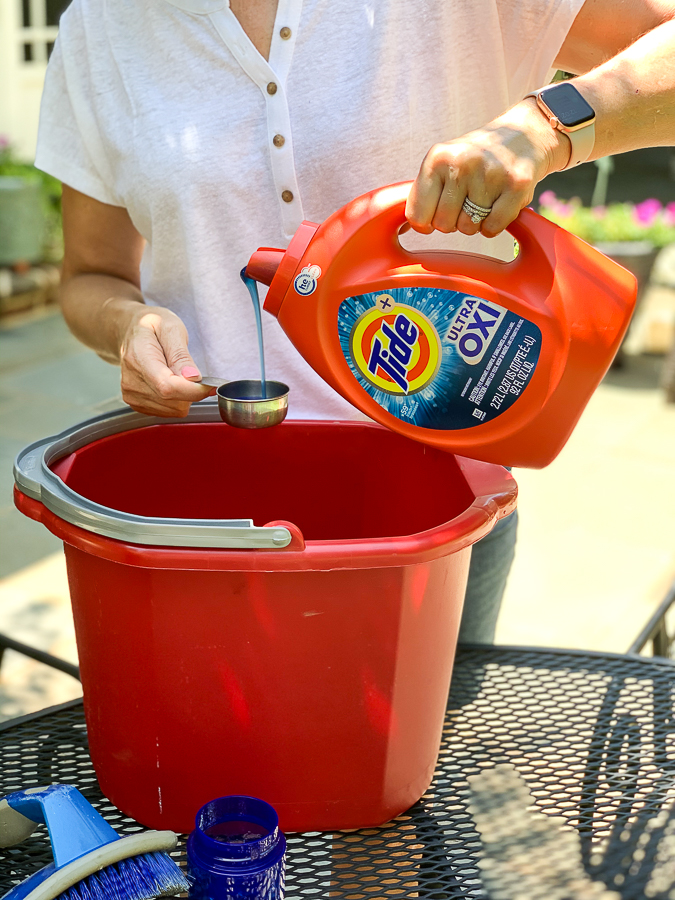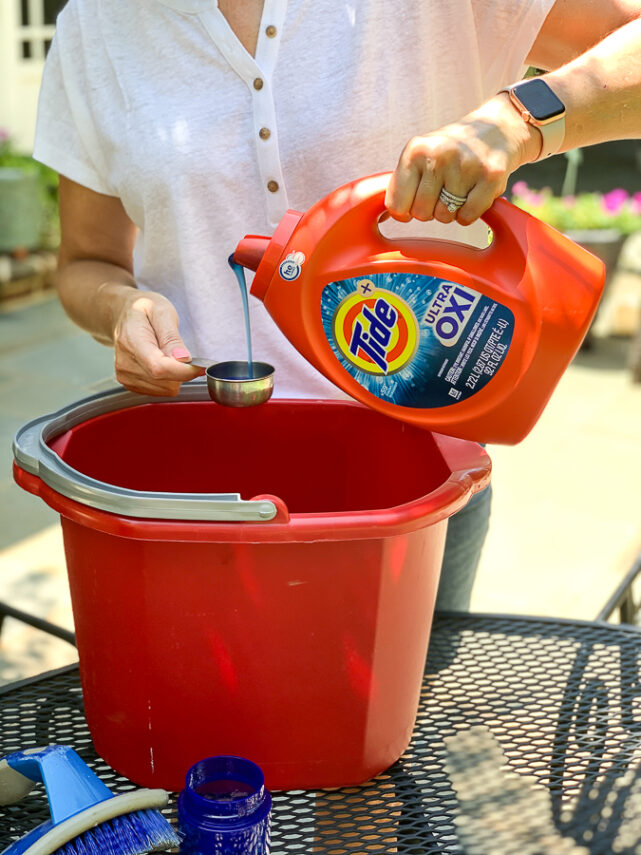 To clean my outdoor cushions, pillows, and umbrella, I add 1/4 cup of Tide with about 2 gallons of water in a bucket.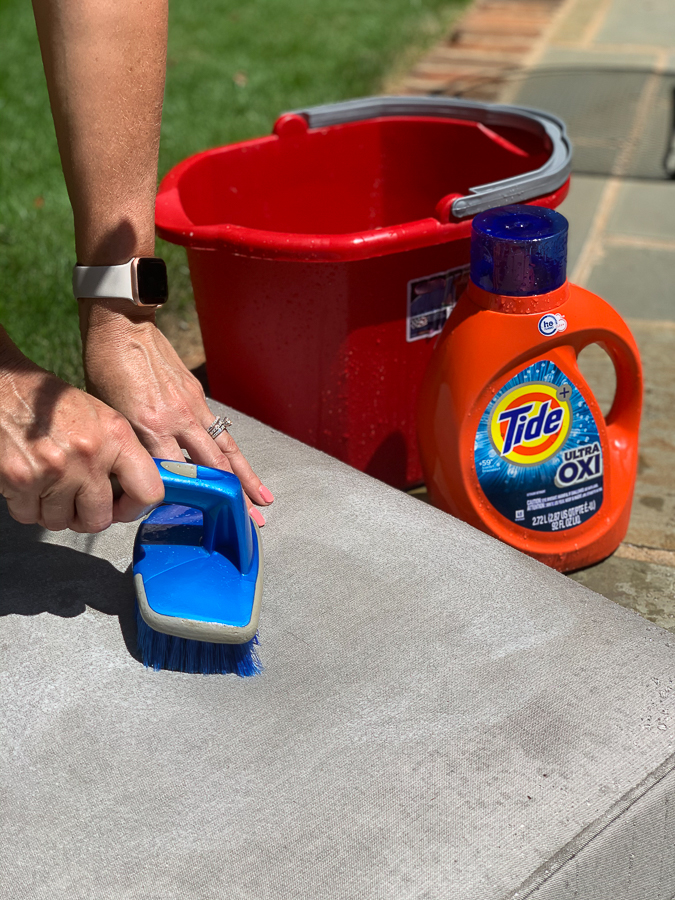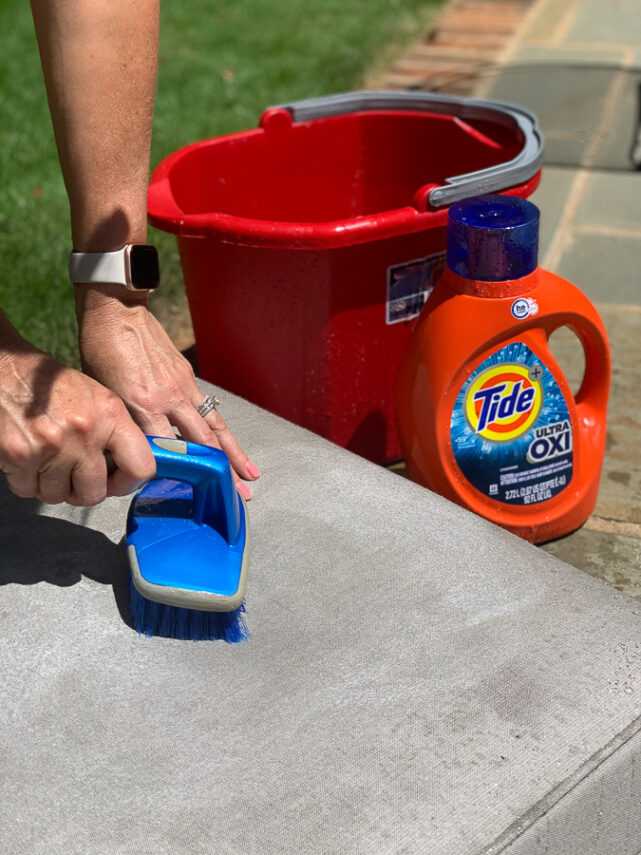 I use the same scrub brush that I use on our car tires. It's a touch firmer than the one that I use on the tables. It works to get the stains out. Wet the fabric and scrub the cushion to remove pollen, dirt, and stains. I was able to get our every spot and stain on our cushions.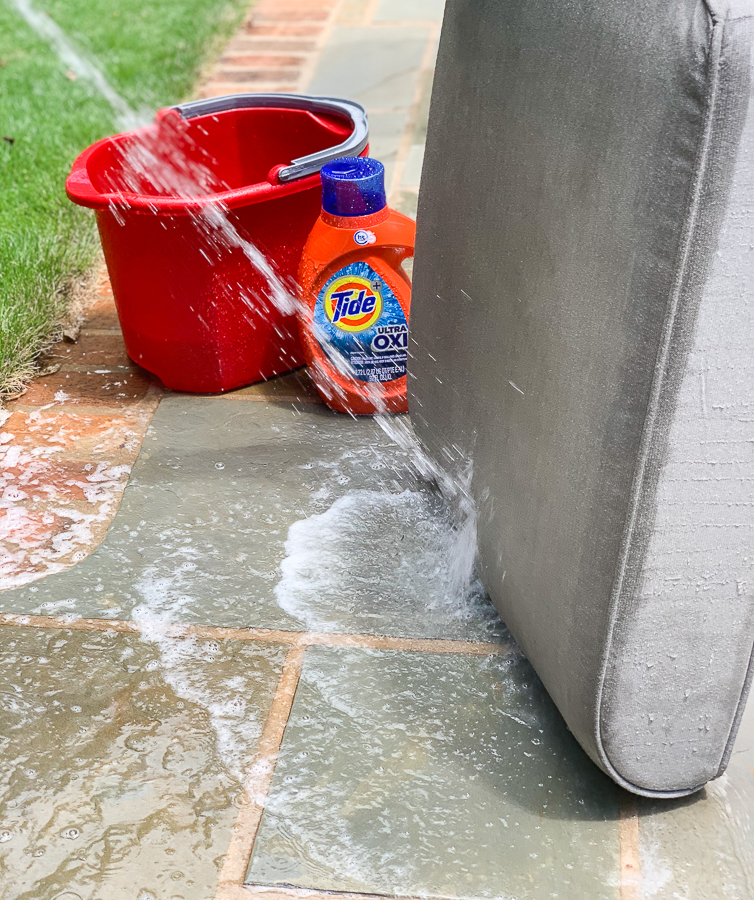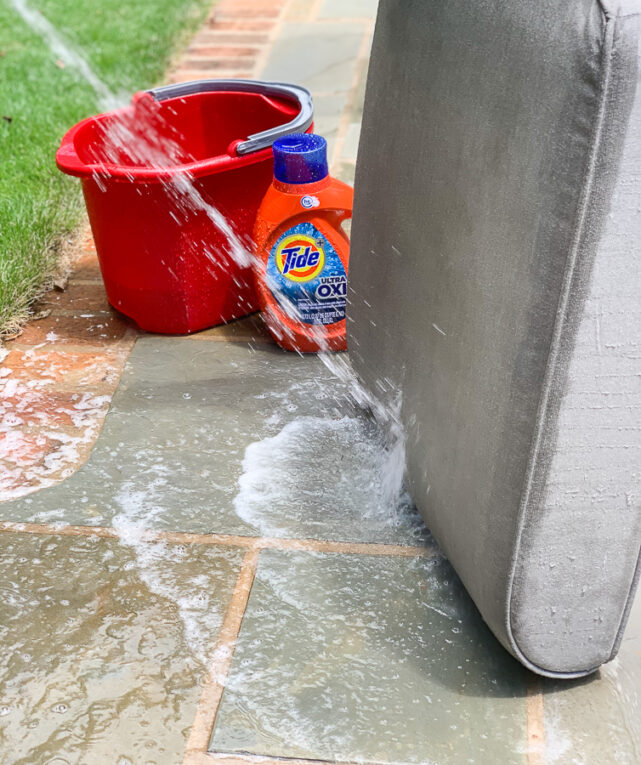 I like to hold the cushions up vertically as I spray off the cleaning mixture. I feel like this doesn't get them excessively wet all the way through. You'll see the soapy water rinse off. I place them in the patio chairs vertically to drain and dry in the sun.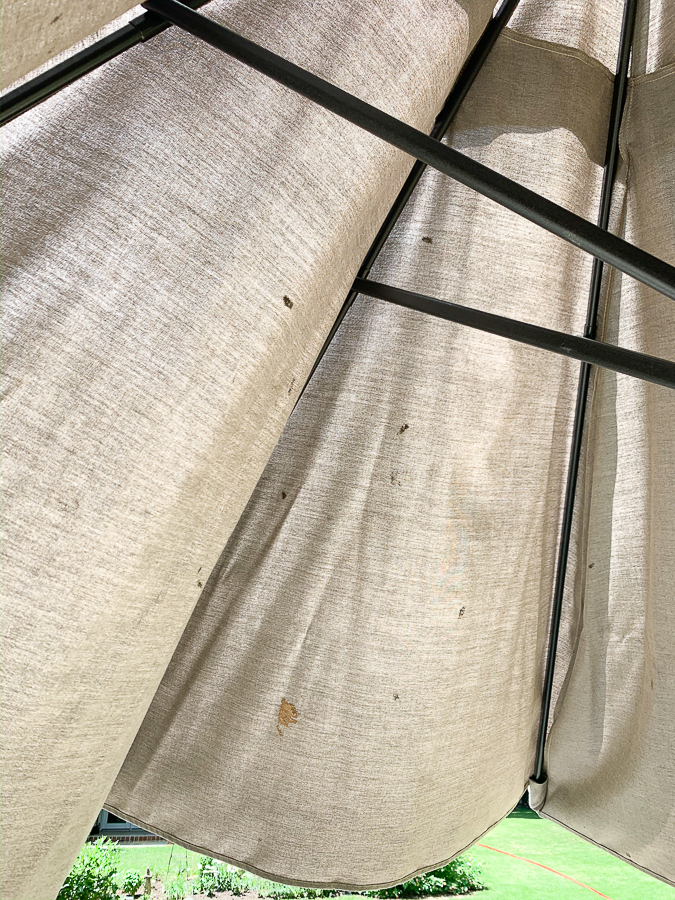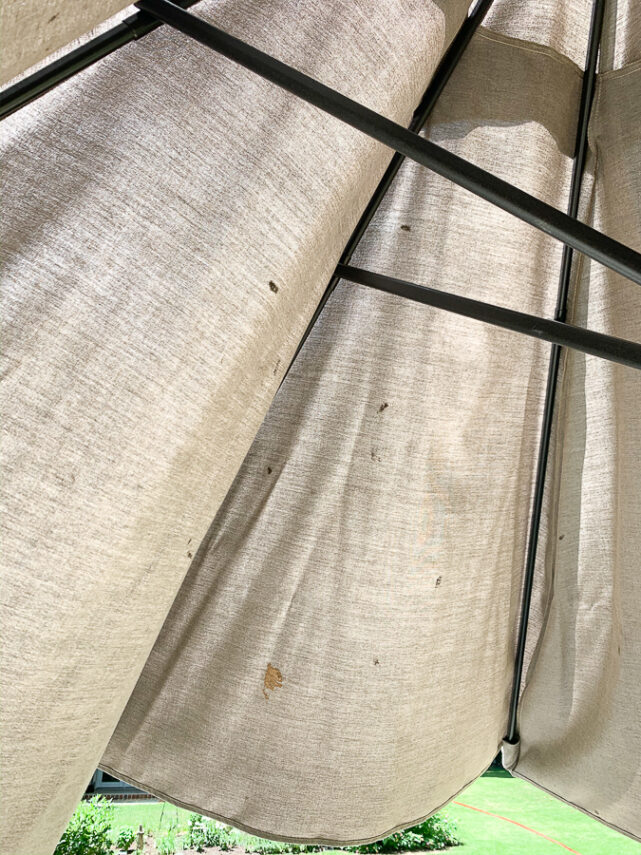 Late last year, our umbrella blew into the yard while we were out of town. We totally forgot to put it away before leaving. As a result, it got very dirty underneath. I followed the same technique as I did with cleaning the cushions and it looks brand new! Be prepared to get wet when you clean this one!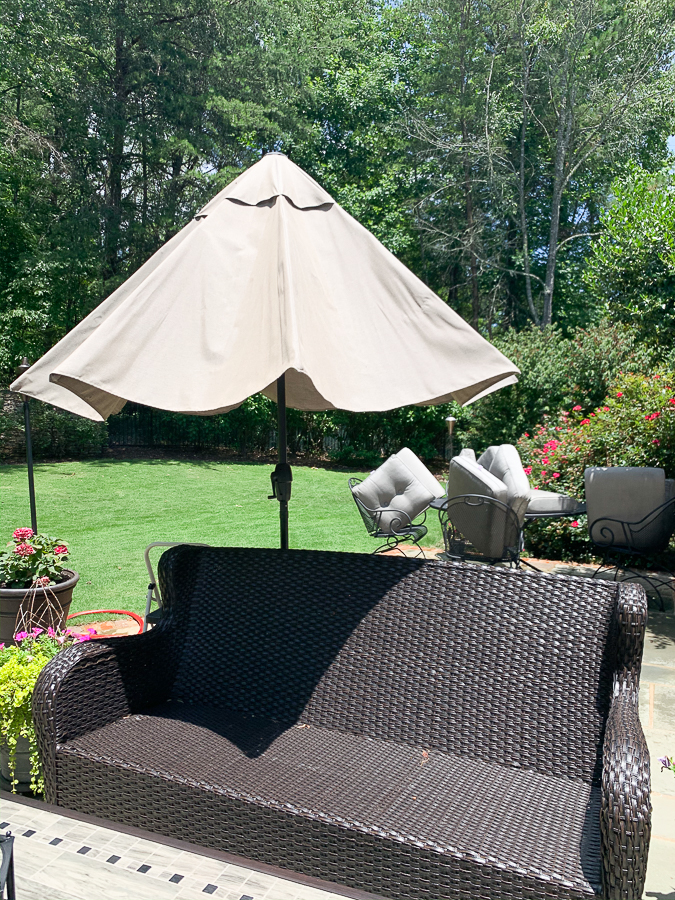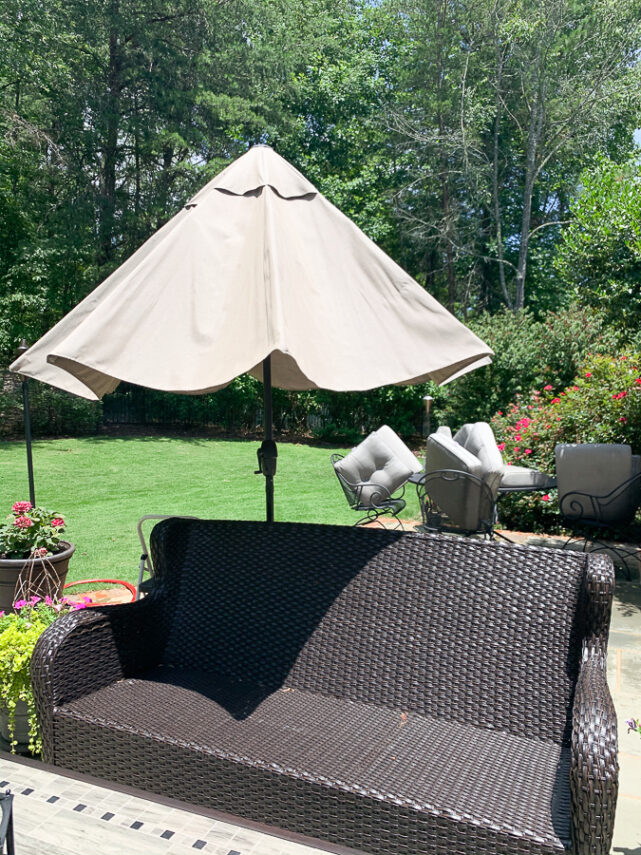 After all of the fabric items have been cleaned, I move onto the furniture bases, tables, and accessories.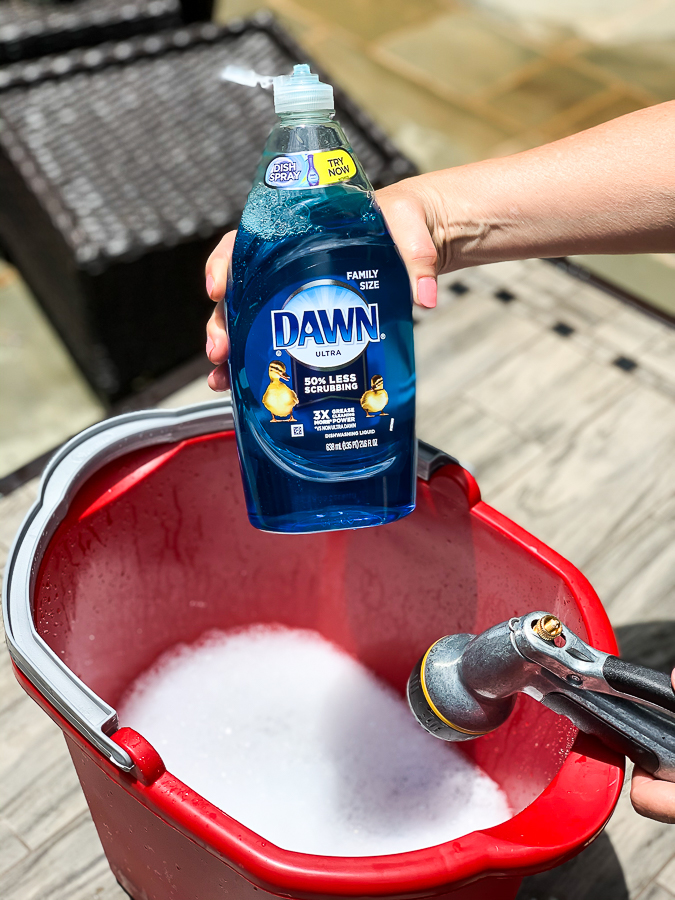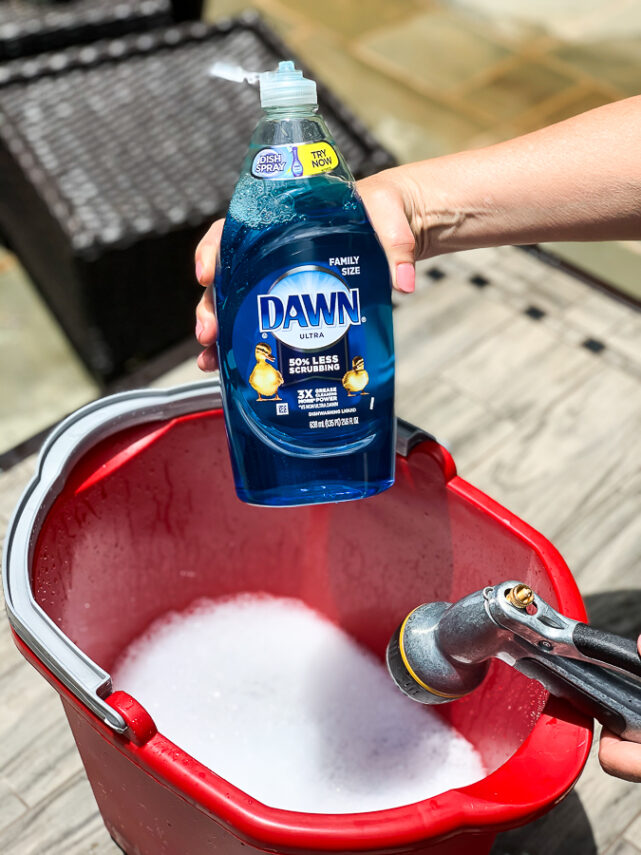 I mix a squirt of Dawn with about 1 gallon of water. I use this to clean the hard furniture surfaces and accessories.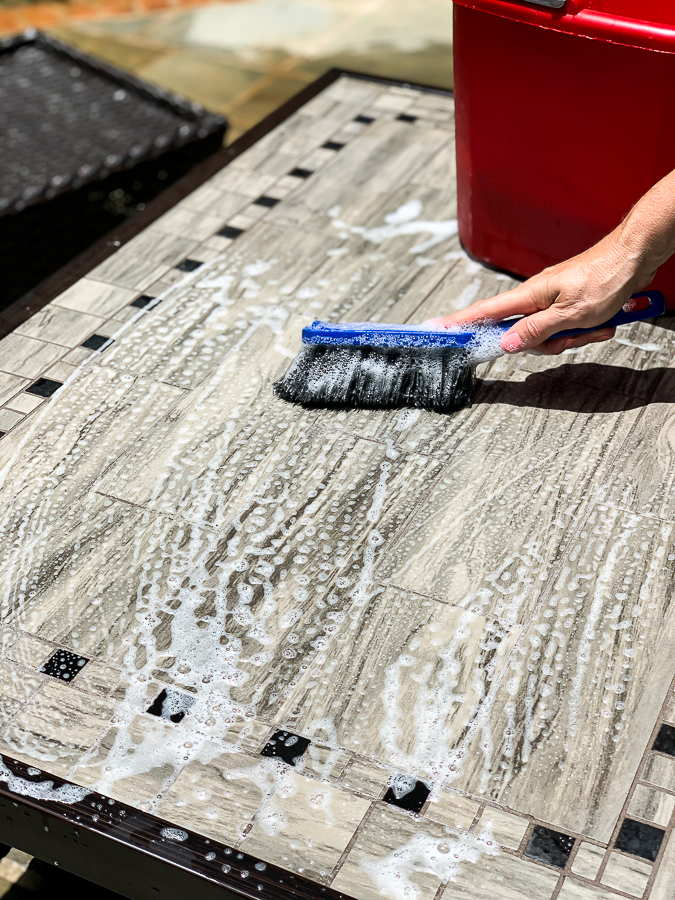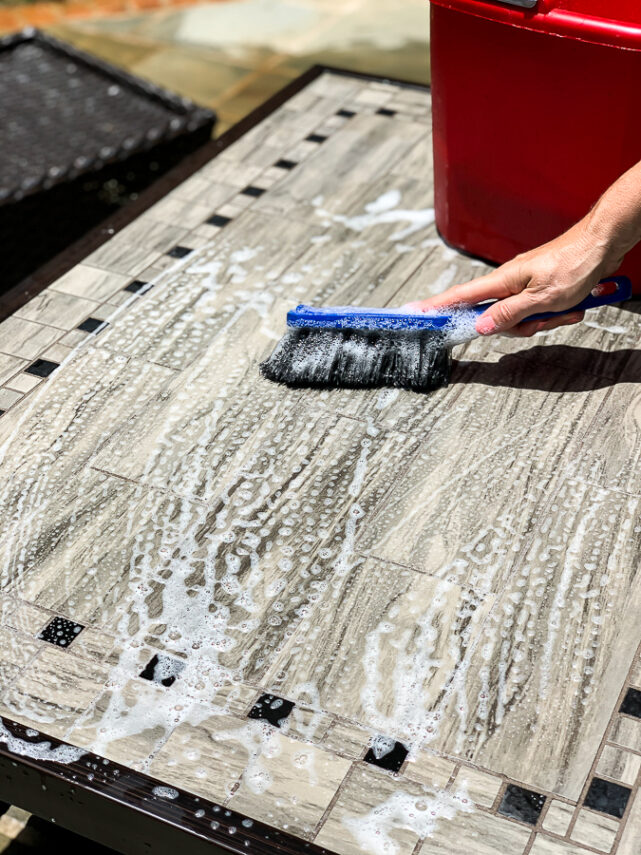 You will notice that I am using the same brush that I used to dry brush debris from the furniture. This brush is softer than the one that I used on the fabric.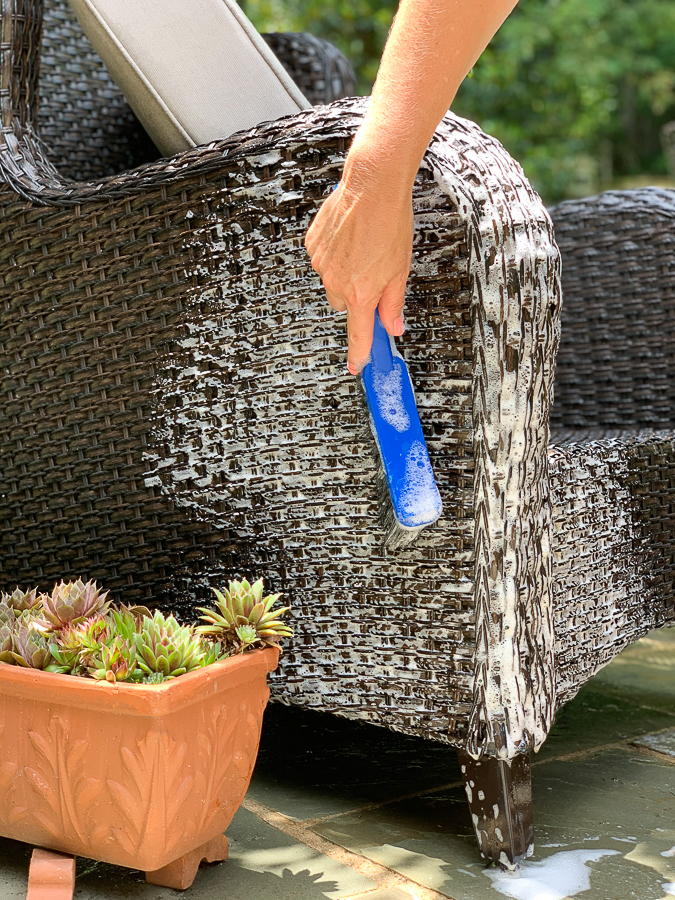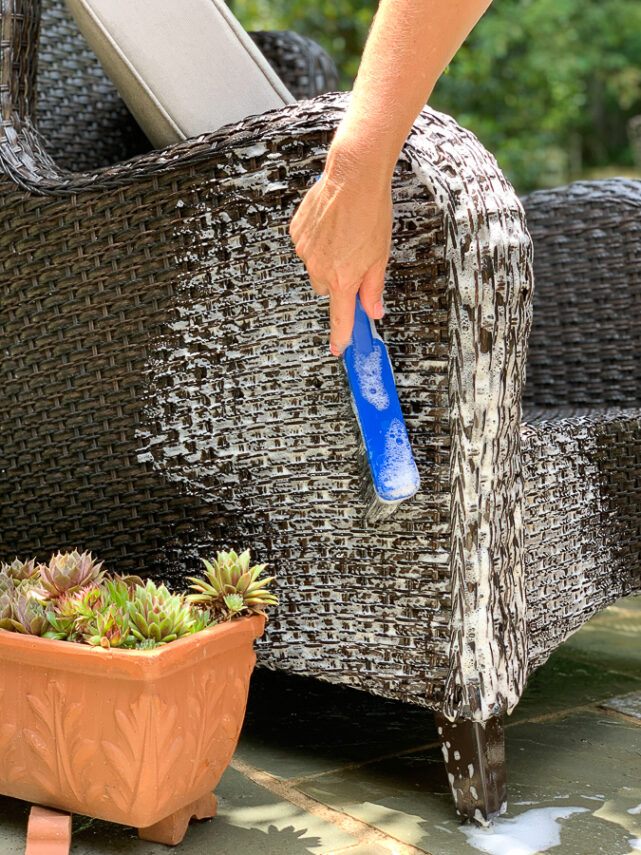 I use the Dawn mixture to lightly scrub the outdoor, resin wicker. It really gets the dirt out of the fine weave.
Rinse everything well. Let everything dry well while you take a much-needed break and put your feet up!
Now that everything is clean and put back together, I can do the fun part…..
Host a Virtual Party Outdoors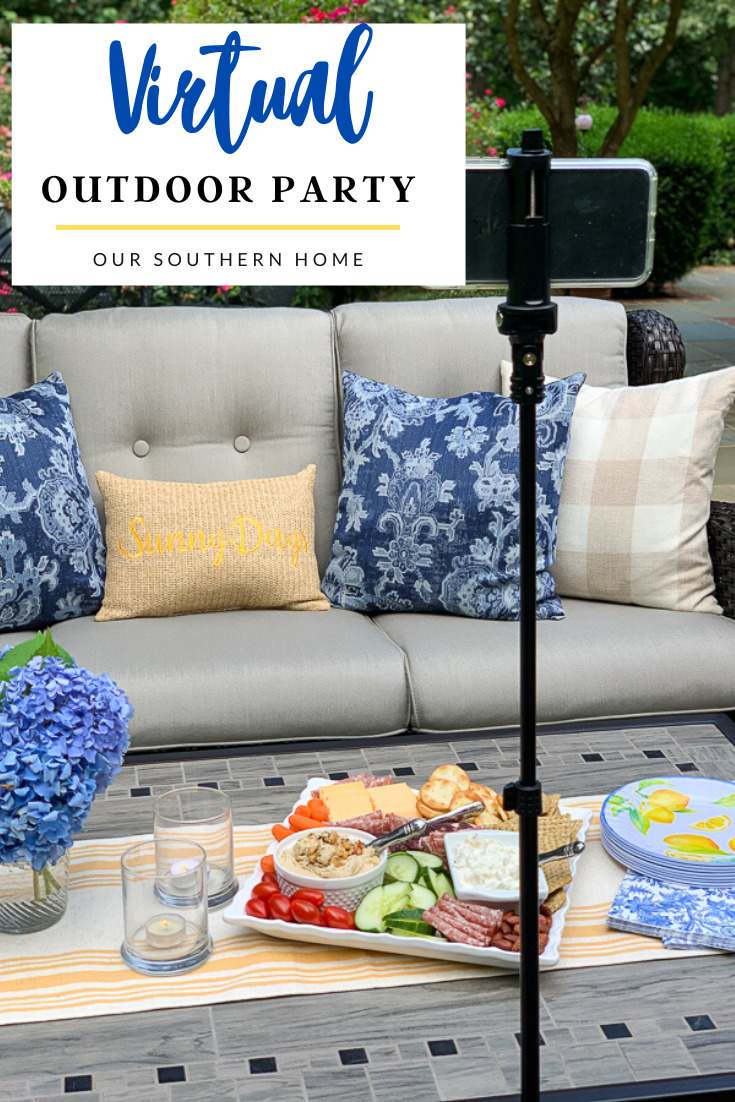 Now that everything is clean and looking beautiful, you can decorate for a simple virtual party.
All you need is a smartphone with an internet connection and a tripod with a cellphone mount. If you don't have a tripod, you can stack books or boxes to hold your phone.
There are various group streaming apps that can be used.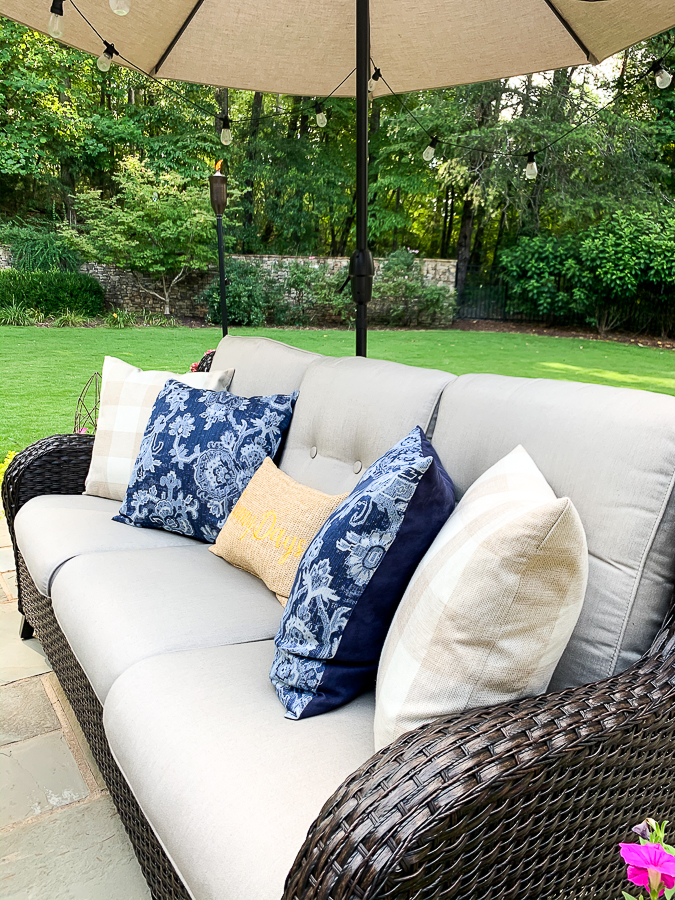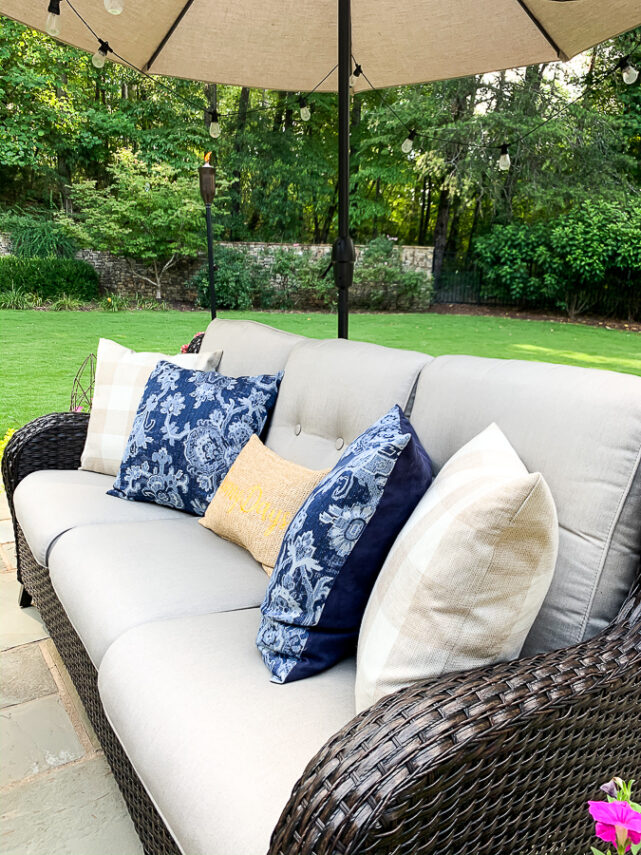 Look how clean the furniture is!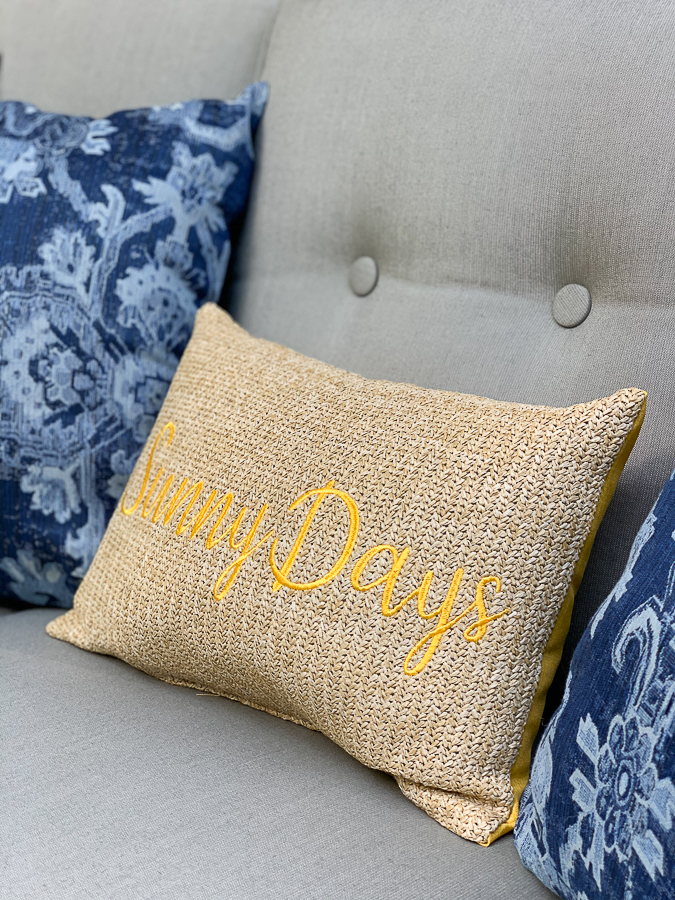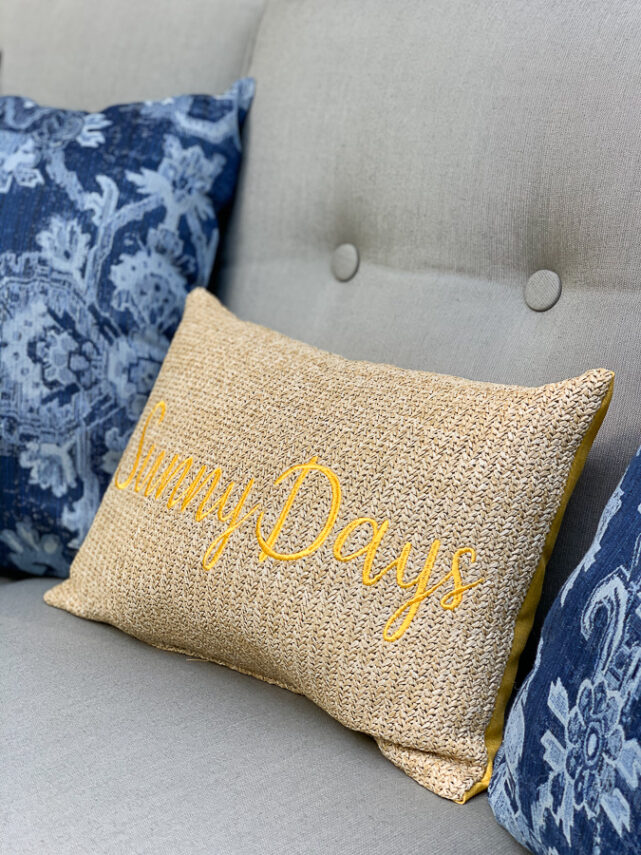 Big Lots has beautiful home decor. I can never stop in just for home necessities without browsing the decor section. They always have a huge outdoor living section. I couldn't resist this Sunny Days outdoor pillow in yellow. It's beautiful with my existing pillows.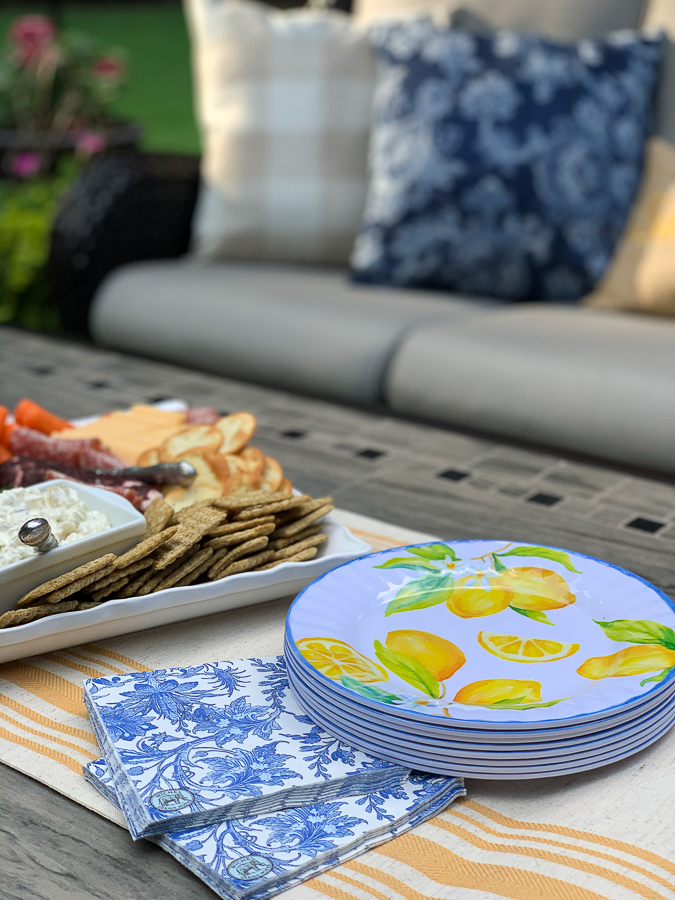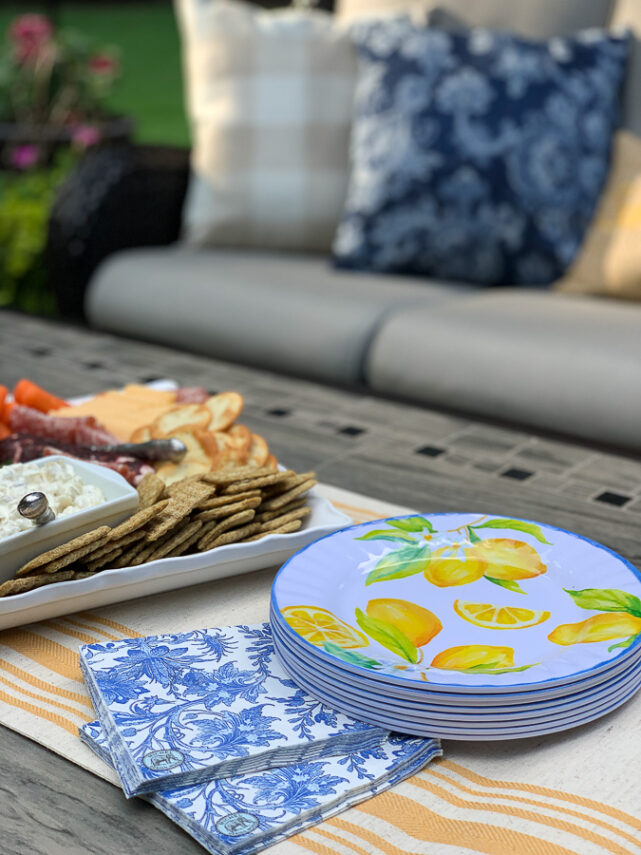 After picking up the pillow, I got excited when I came across these adorable melamine plates with lemons. How cute are they!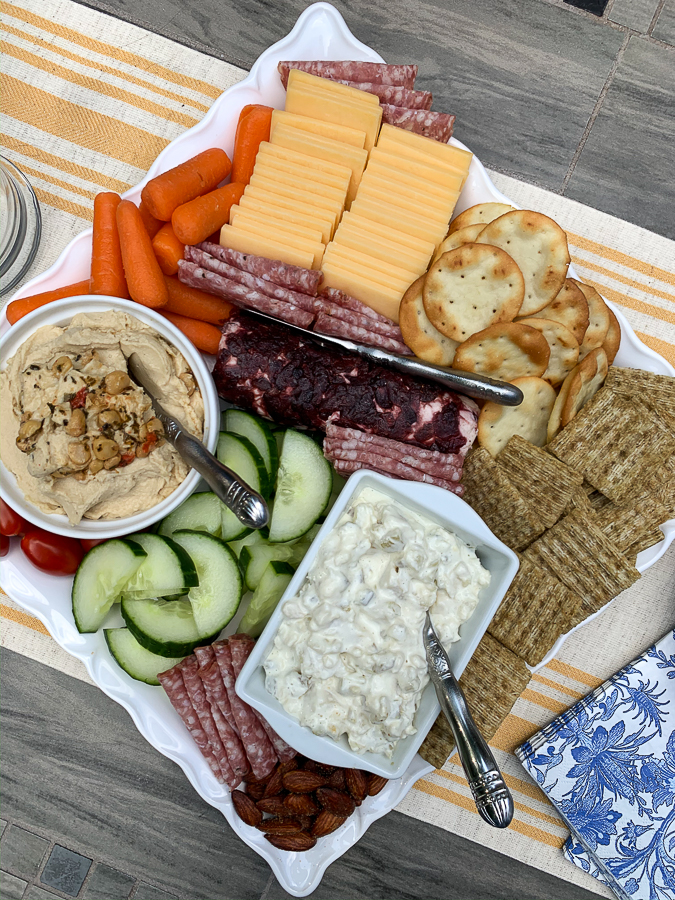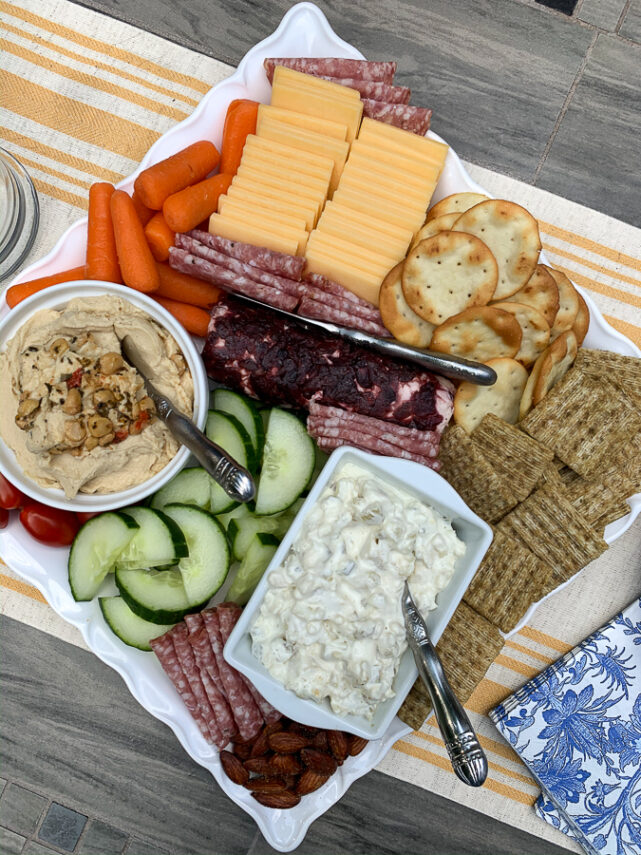 A charcuterie board is one of the easiest things to arrange for an event with ready-made items.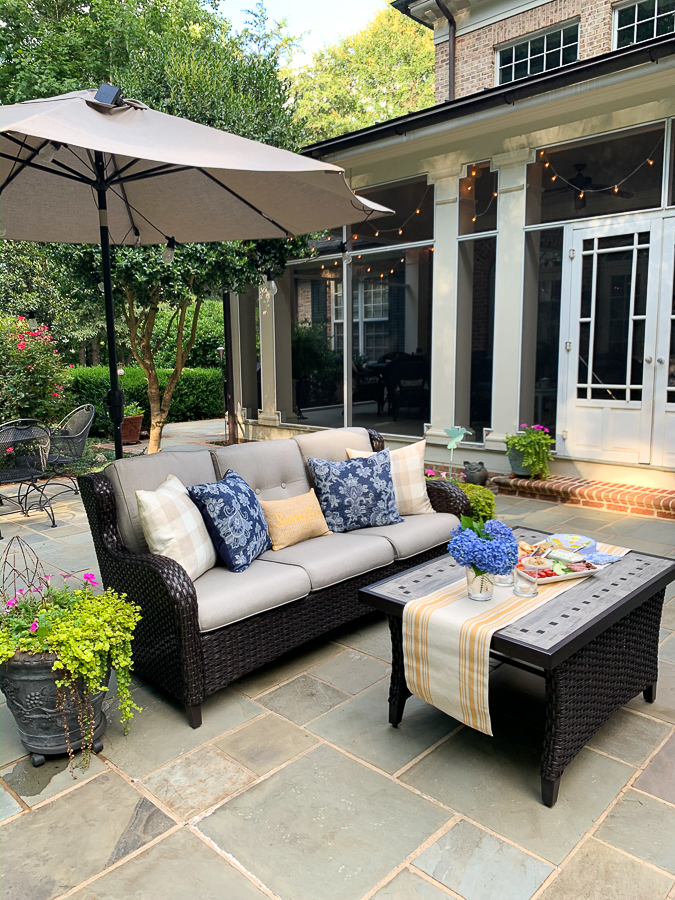 Tips for Hosting an Outdoor Virtual Party
plan the date and call or send out cute invitations
decide on a theme: charcuterie, desserts, appetizers
encourage everyone to create their own charcuterie board
decide if you are going to sit around and talk or play a game
there are games that can easily be placed virtually like charades
outdoors is a great area to host the party because natural light is the most flattering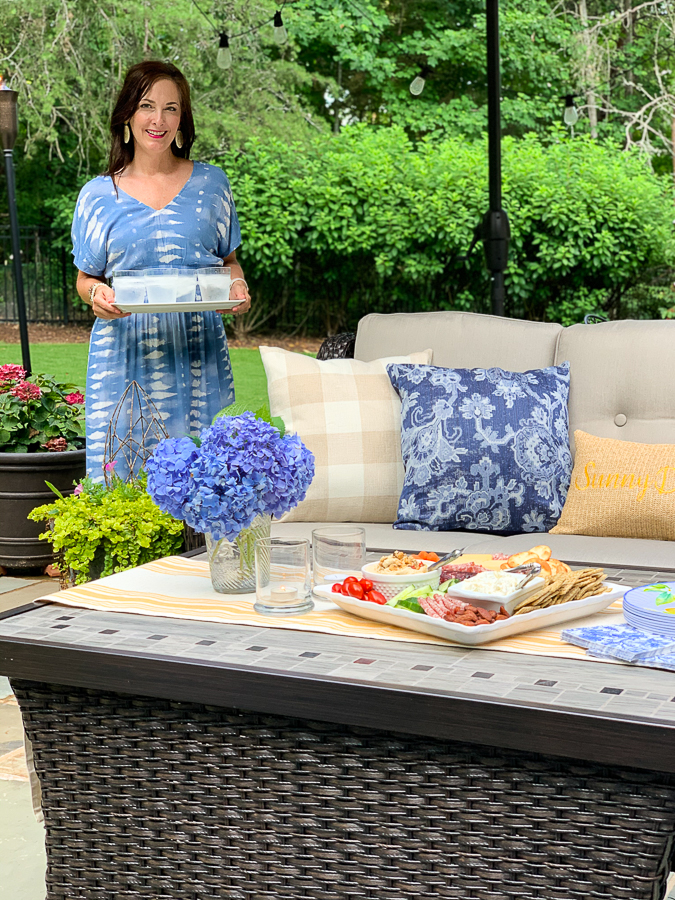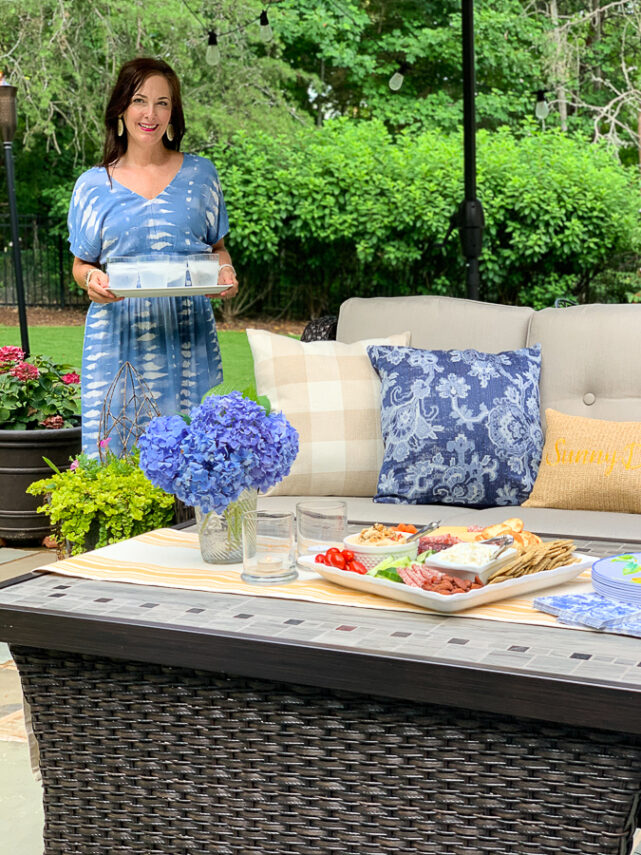 After days on end of uber-comfy clothes, dress up in a cute outfit for the party! I bought this dress in February and this is the first time that I've worn it!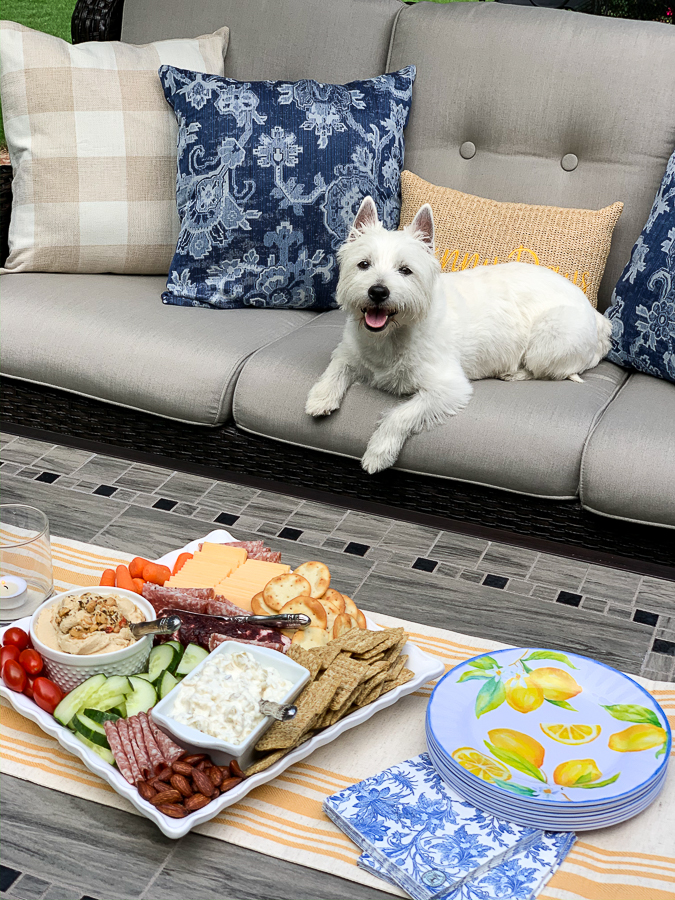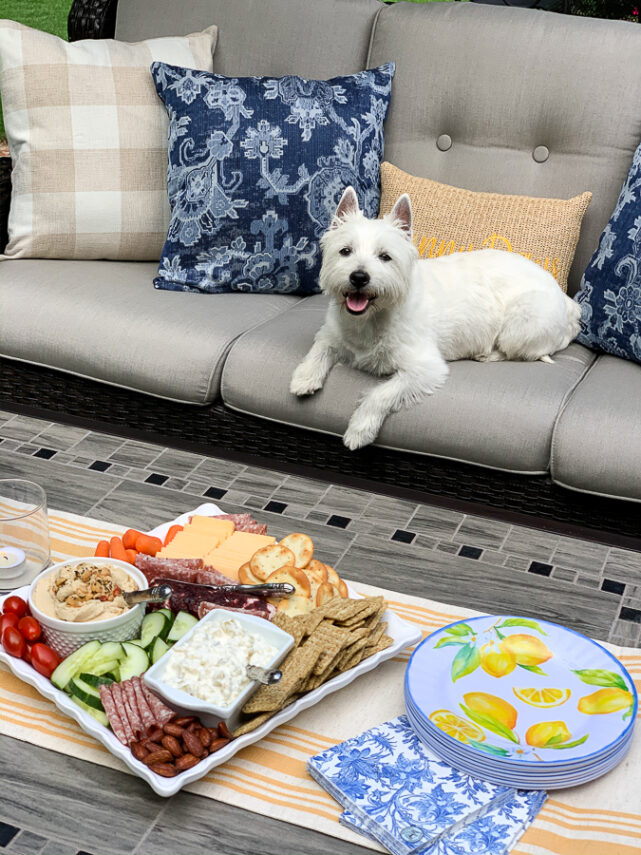 Don't forget to include your pets! They are always entertaining and can create fun conversations.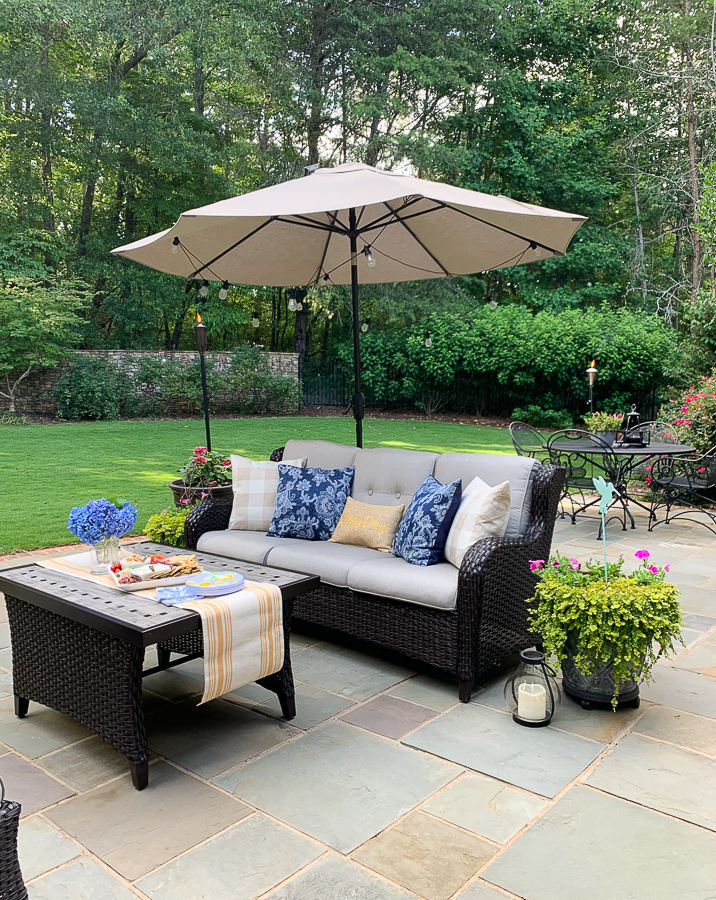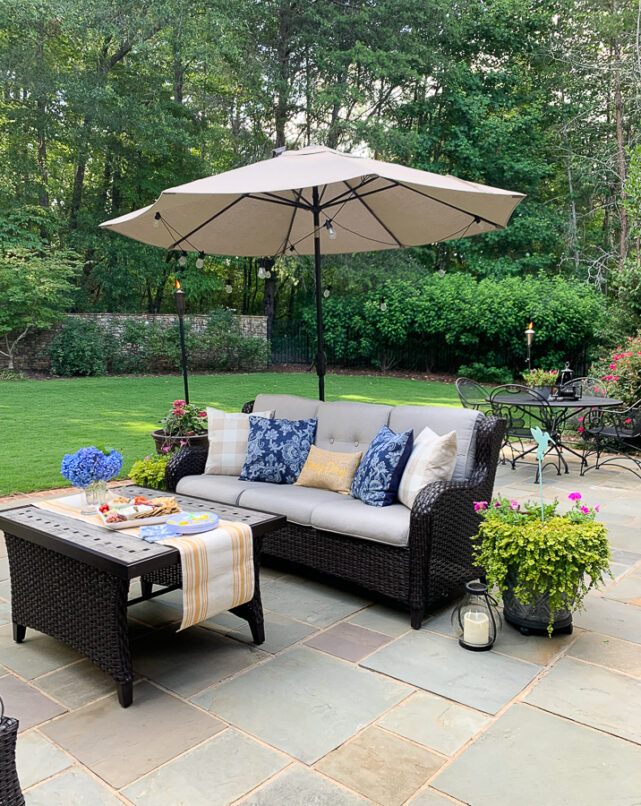 Keep it simple! You will be confined to a specific area with your phone.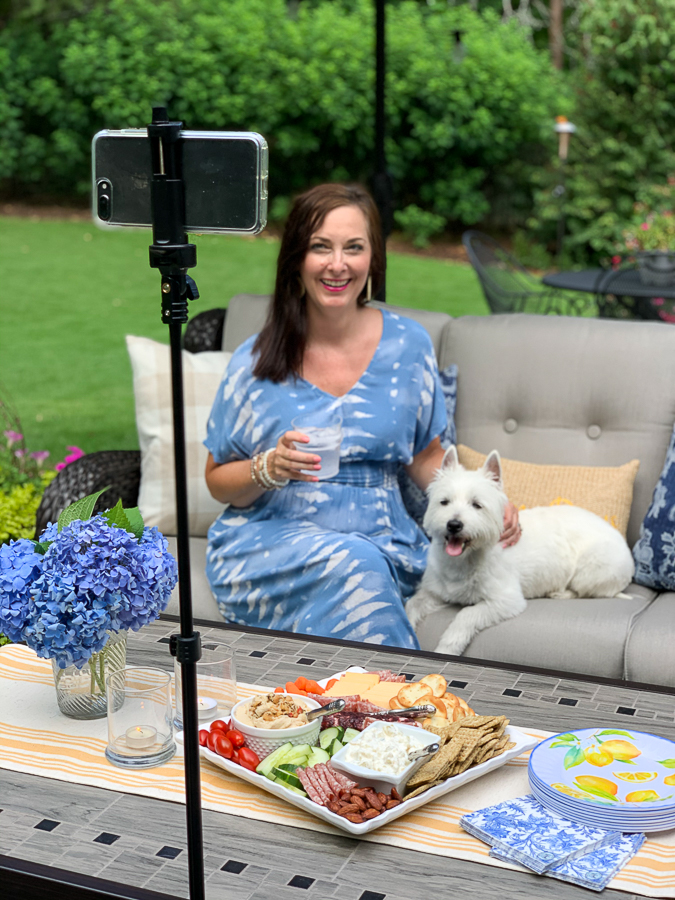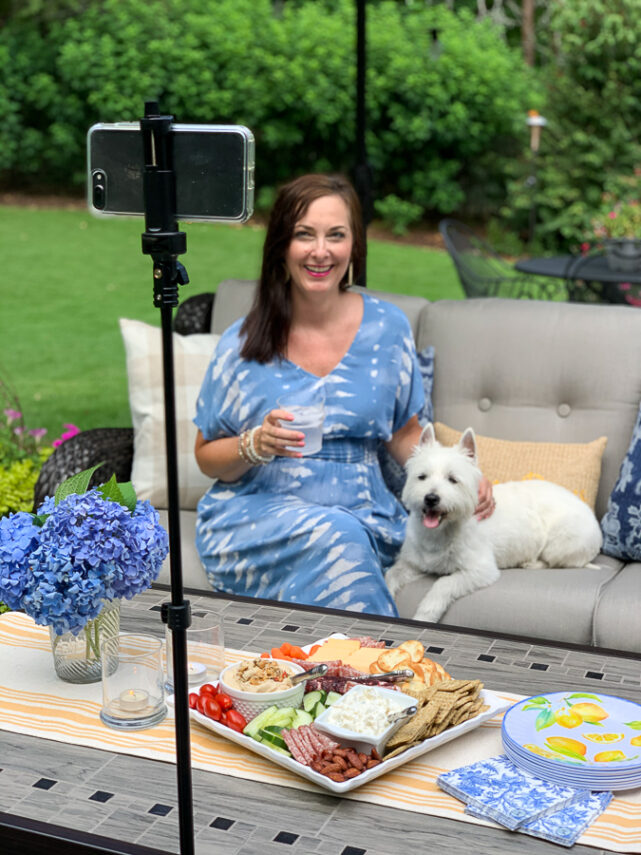 Set up your tripod ahead of time and test the position with your phone in camera mode. This will allow you to get the best frame to fit everyone that will be joining you.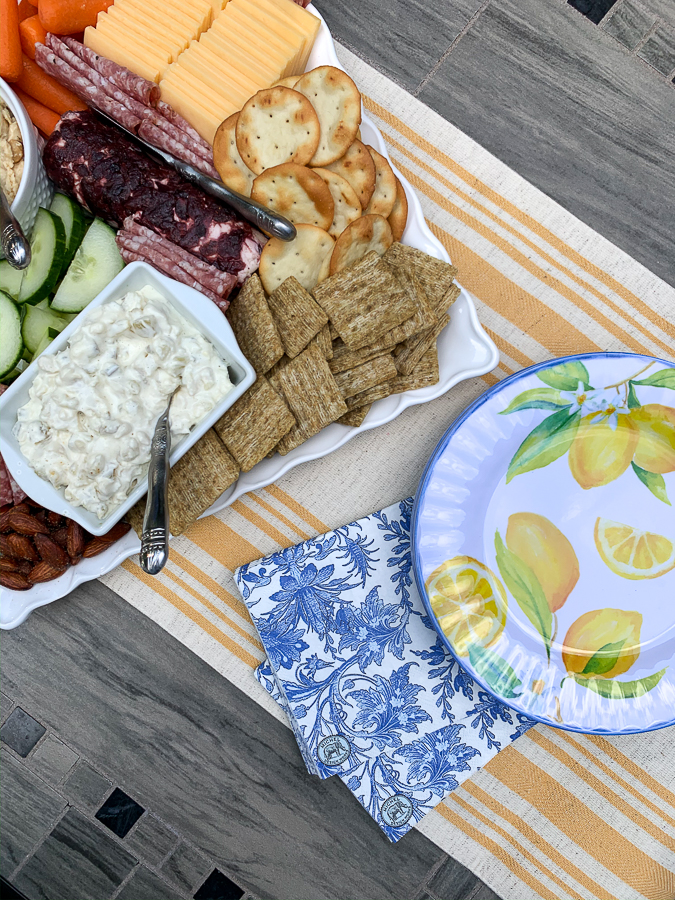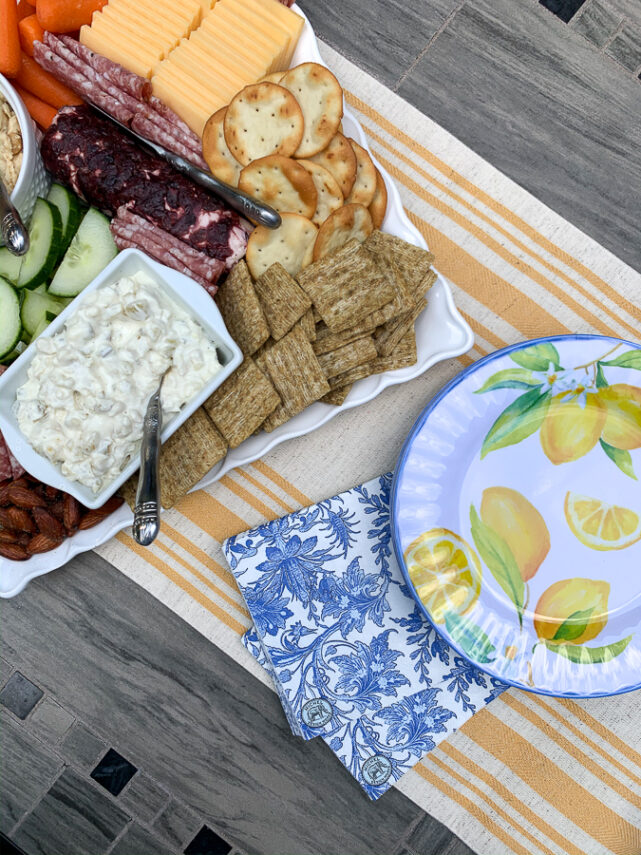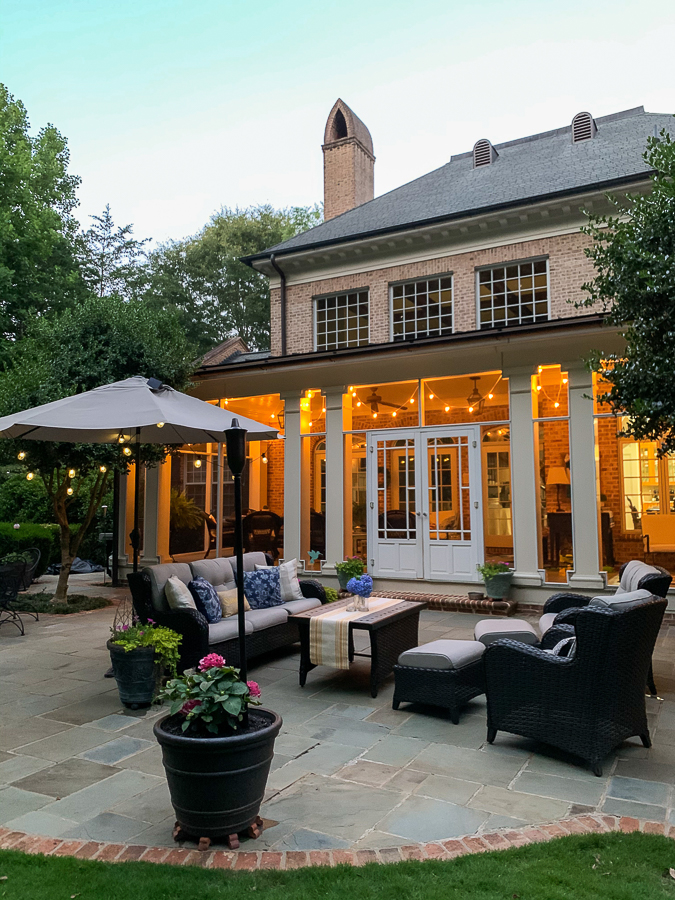 I hope you have been inspired to host your own virtual event!
Do you have any ideas for a virtual party? I'd love to read those in the comments!
Visit Big Lots to purchase Tide, Gain, Dawn, and Febreze products with the Buy $30 in participating P&G products. Get $10 Big Lots gift card as part of the Save on Your Faves promotion now thru 7/17/20!
Buffer