Thanksgiving Tablescape 2018
As I write today's post, it is 39 degrees, very rainy, very dark….did I mention cold! It feels like we've gone from Indian Summer straight into early winter. Some of you already have snow, but I live in the south. It's really early to be this cold for a daytime high. It makes me realize how thankful that I am for heat, warm slippers, hot tea, cozy blankets, four walls and more. Even when troubles hit our family (and yes they do), there is always something to be thankful for in this life. I can't even imagine what the people are going through in California right now with the horrific Woolsey fire. Just so much tragedy around the world at every turn.
Thanksgiving seems even more important this year…….count your blessings and be thankful!
I'd like to give a huge thank you to Amber from Follow the Yellow Brick Home for organizing our Gather 'Round the Table blog hop this year.
Please be sure to follow all the way to the end for the entire list of tour links! So much inspiration in store for you today. Get your pinning finger ready!!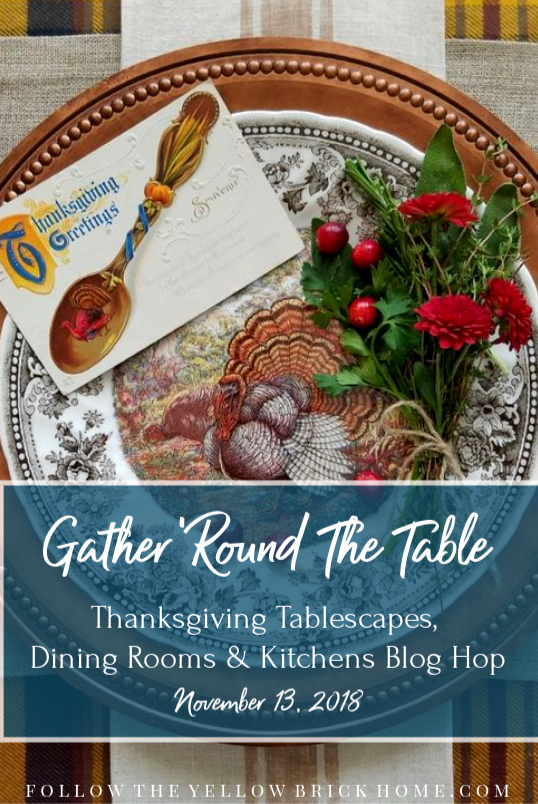 If you are visiting from A Stroll Thru Life, welcome! Marty has been a long-time blogging friend. I just adore her gorgeous home and timeless style. She is truly the sweetest!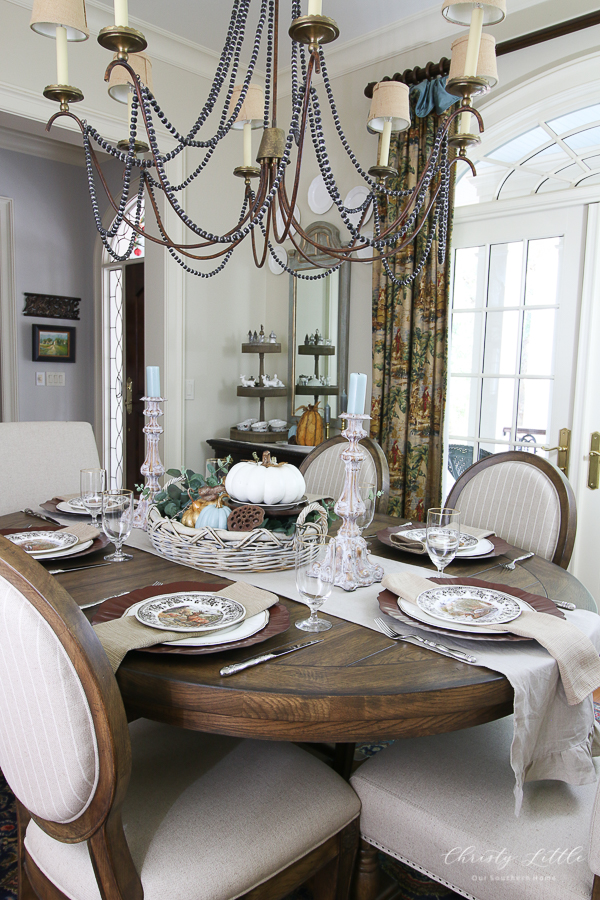 This is our first fall in what feels like our new dining room! In February, I sold our loved dining room suite to make room for a family heirloom which I am working to move into this space. We bought this smaller dining table and chairs to accommodate the antique armoire which is still in the garage.
I seriously love this space. It's light and airy with a feeling of rustic elegance. I do miss the size of the other table. It was nice to extend it all the way out into the foyer and seat 12! Of course, that rarely happened, but nice to have that option. We can only seat 6 now at this table, but a nice size for an intimate dinner.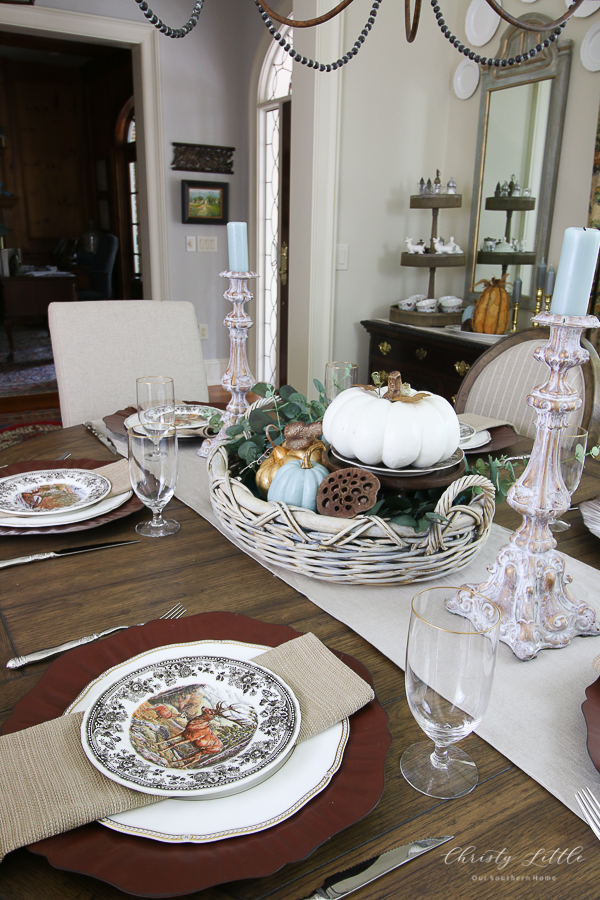 We actually use this room more often and I am thankful for that!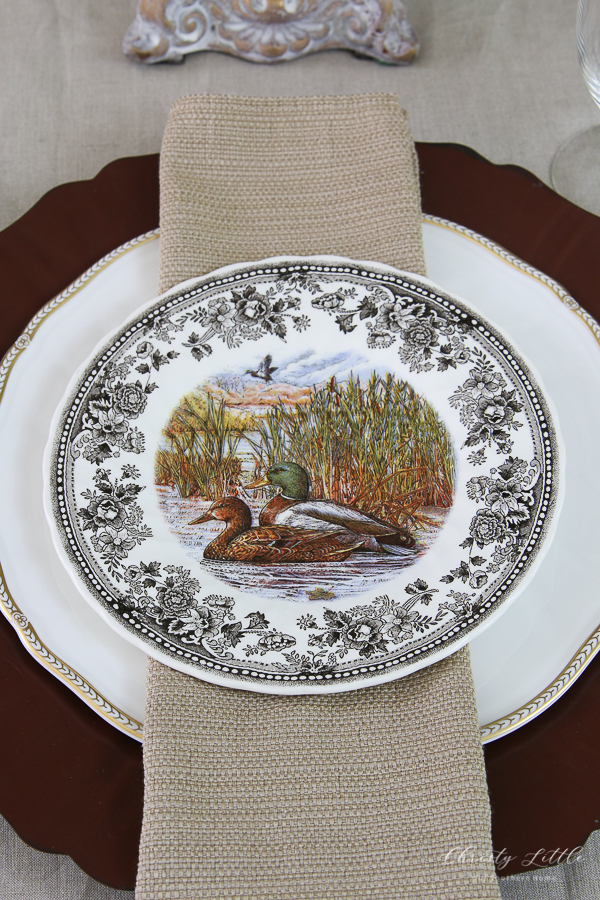 It's perfectly ok to layer formal china with more casual pieces.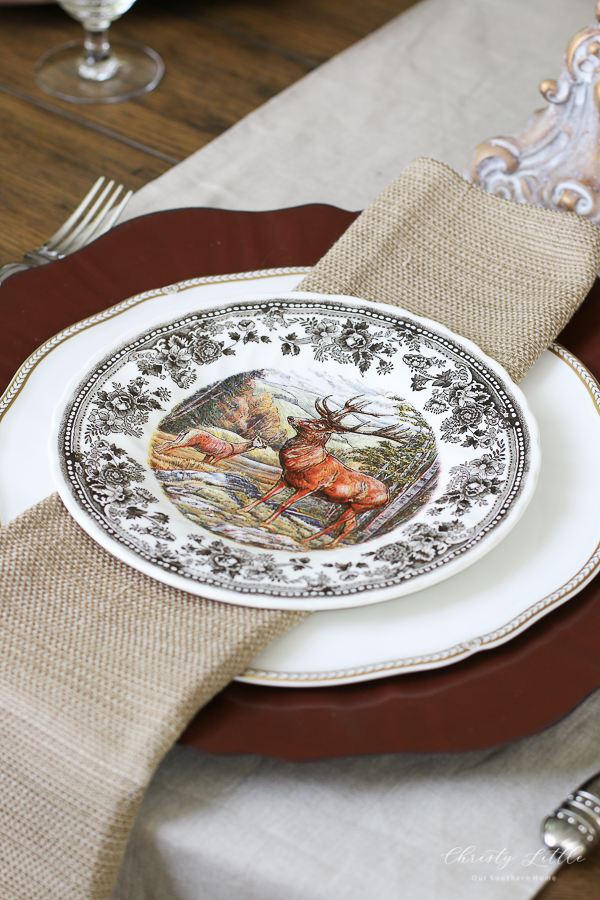 Here I've layered fabric, a metal charger, bone china and porcelain. It feels elegantly casual. We are a casual family.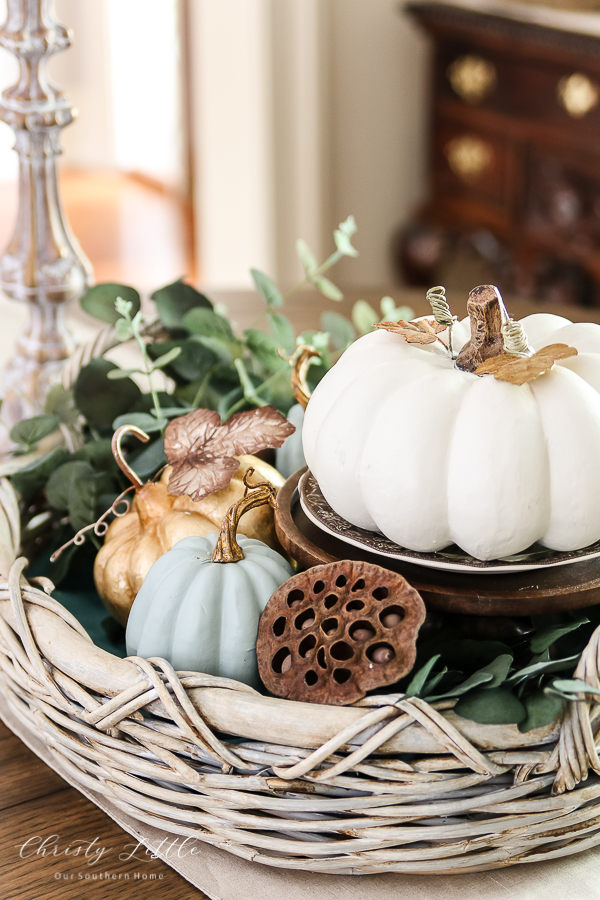 I love using baskets with tablescapes. They can easily be removed to accommodate dishes of food if desired and popped right back in place after the feast.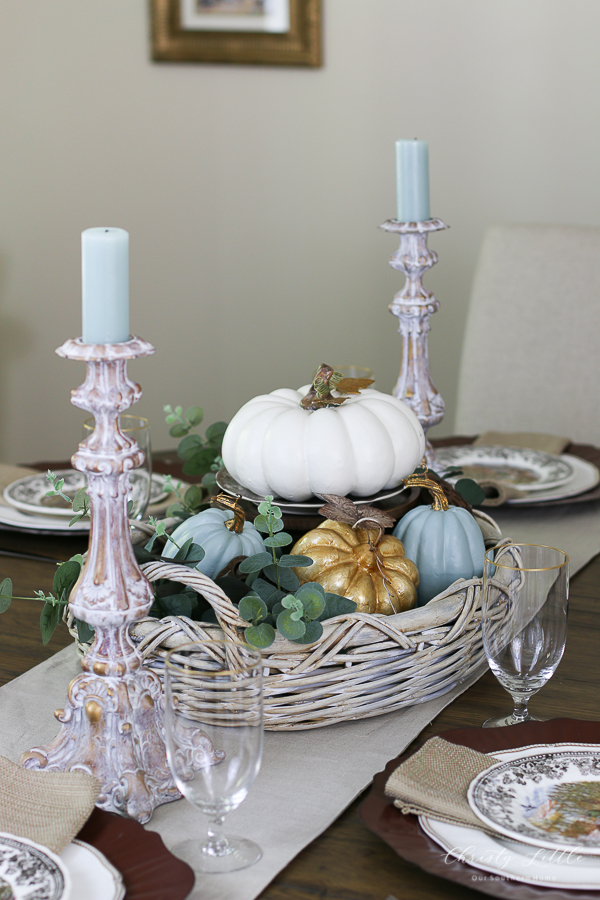 I decided to go simple this year with the table. Who knows……maybe I'll get wild and fancy for Christmas!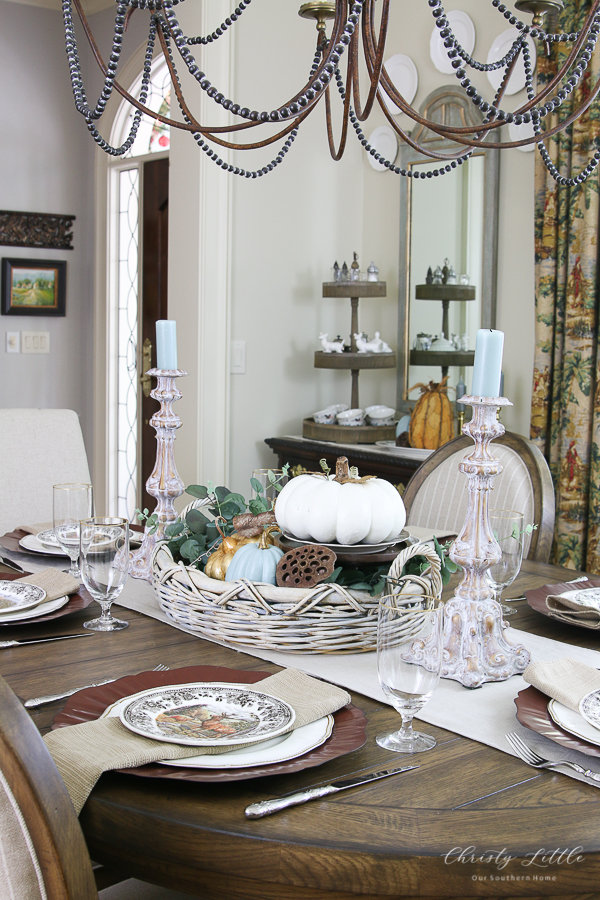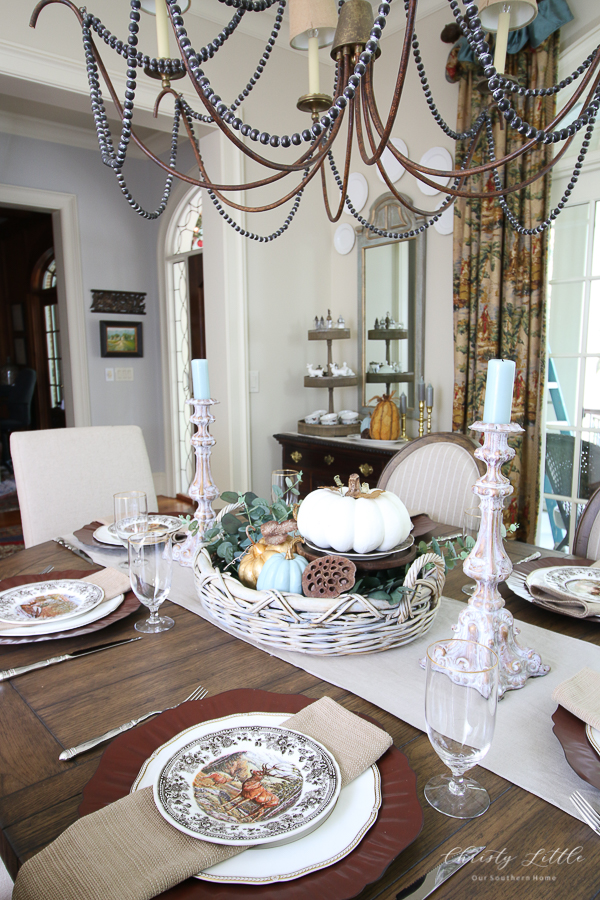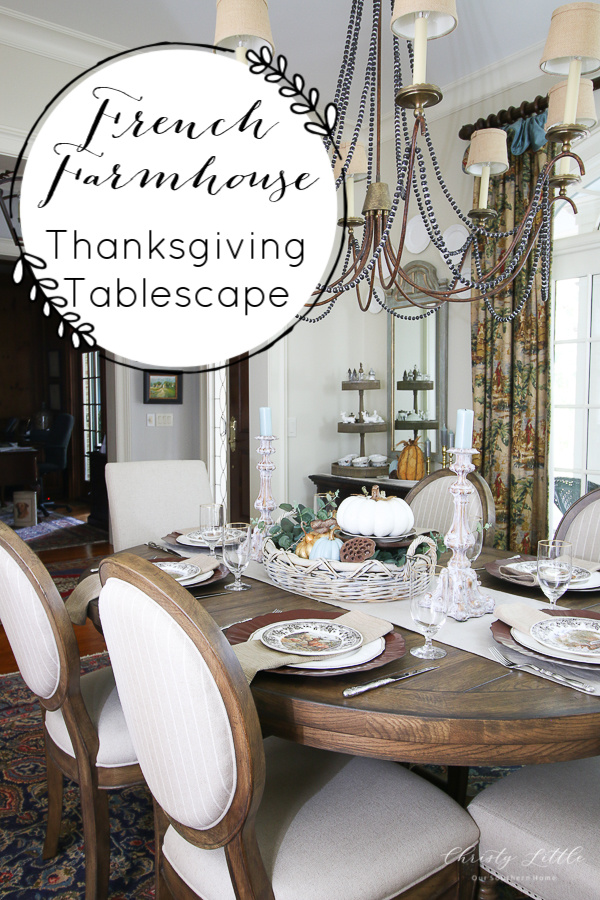 You are in for a treat! It's now time to visit the stunning home over at Decor to Adore! So much holiday inspiration!!!
Check out the other blogs on today's tour!!

Follow the Yellow Brick Home | Poofing the Pillows | A Stroll Thru Life | Our Southern Home

Decor To Adore | Petite Haus | Rosemary and Thyme | Botanic Bleu

My Thrift Store Addiction| Let's Add Sprinkles| The Painted Hinge| Belle Bleu Interiors

Art and Sand| Virginia Sweet Pea| Debbee's Buzz| White Arrows Home

The Crowned Goat| Lora Bloomquist| Beauty For Ashes| County Road 407| Decorate and More with Tip
Happy Thanksgiving, friends!!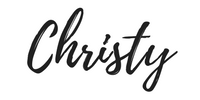 Buffer