Easy Font Transfer Tutorial with ASCP
Today was the day…..the kids went back to school. I'm not one wanting to rush them out the door. I love them being home, but it's time to get back into a routine and blogging! I've taken a bit of a break while they were out of school.
I hope you had a wonderful holiday season with friends and family.
I picked this wonderful vintage tool box up a while back. It is huge!!! I want to share with you how we transformed it and an Easy Font Transfer Tutorial using Annie Sloan Chalk Paint.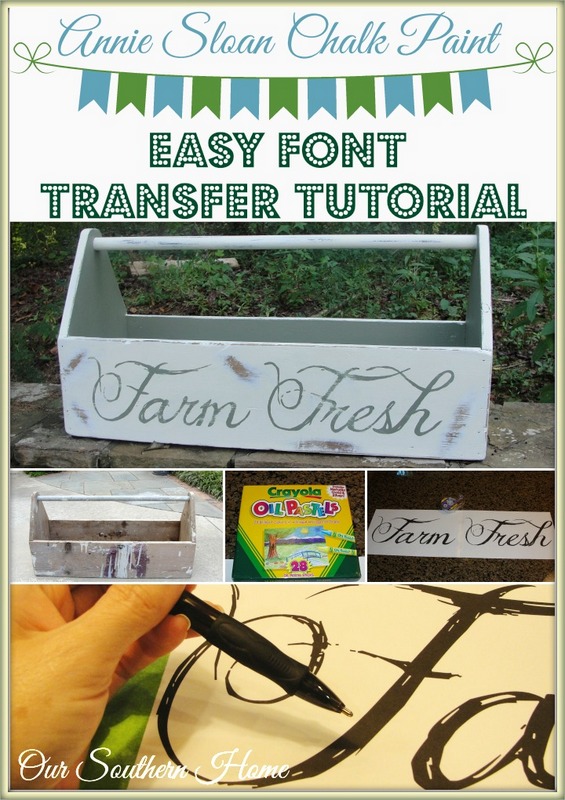 Over the summer, my daughter took on the project.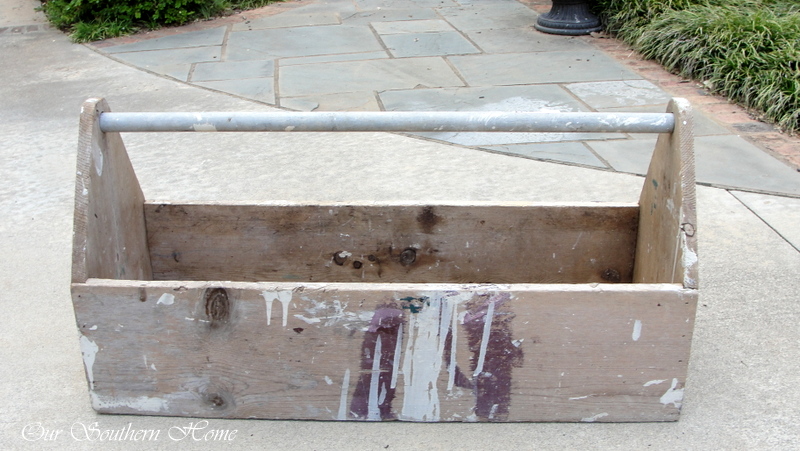 It needed some clean up work before painting. She used a putty knife to scrape off gobs of paint.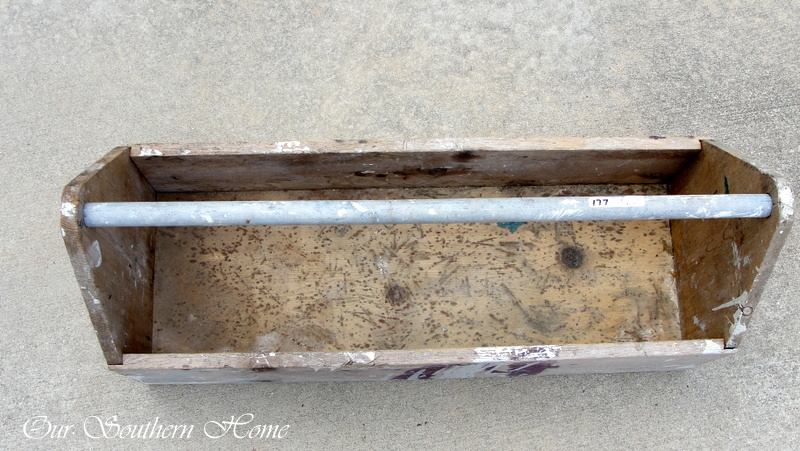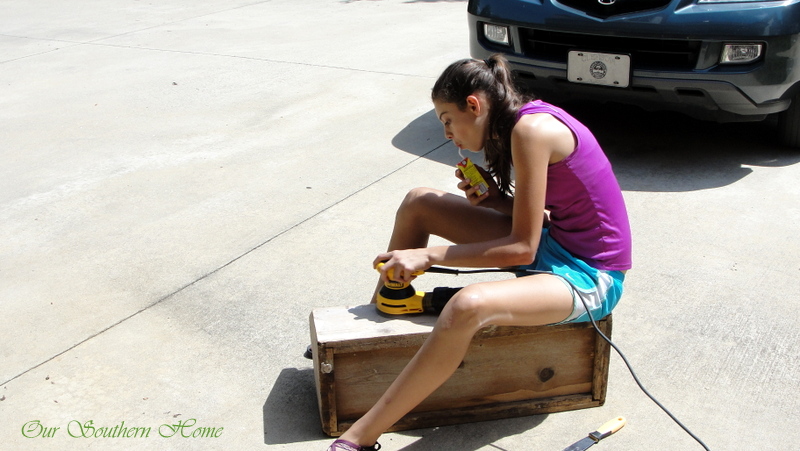 She then sanded the box. Ashlyn loves helping and asked if she could do the tool box. She did everything except the letter transfer, distressing and waxing. I did make her put the safety glasses back on!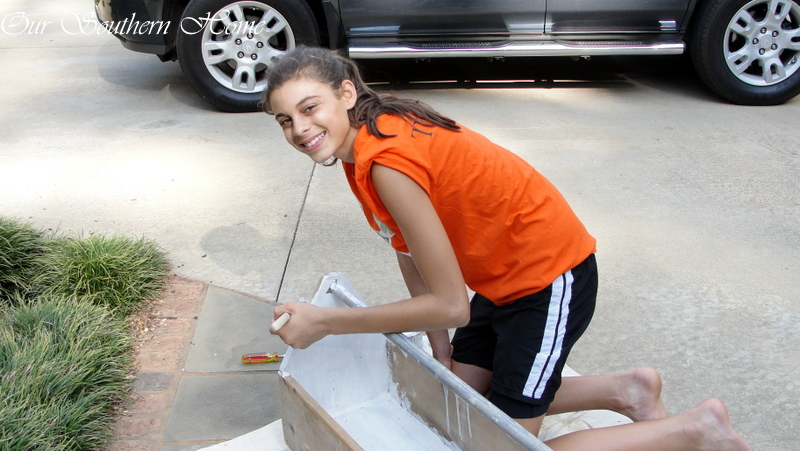 She ended up painting 2 coats of Annie Sloan Chalk Paint in Old White on the areas that are all white.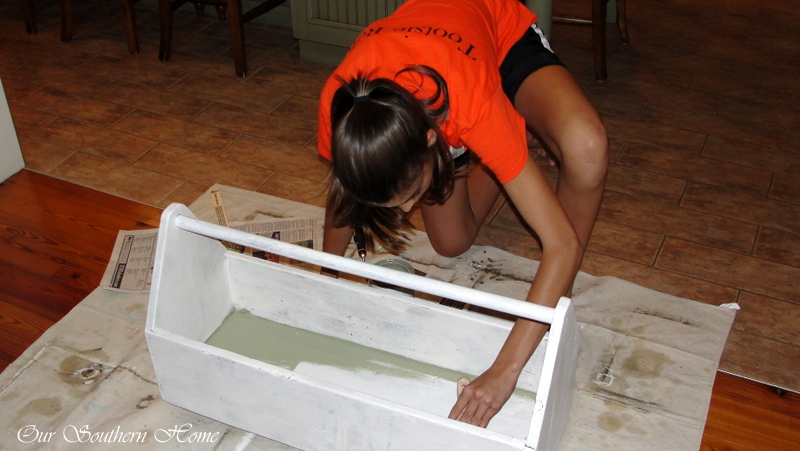 She then came up with the cool idea to paint the interior in Chateau Grey from ASCP. Chateau Grey is one of my favorite colors. It's really more of a sage green. The green is 2 coats. You can really tell here how large this tool box is!
I knew when I saw it that due to its size, it was a perfect candidate for a large font.
This was my first time trying this method, and I knew I had to share with you…..it is so fast and easy! It could be used with fonts and images.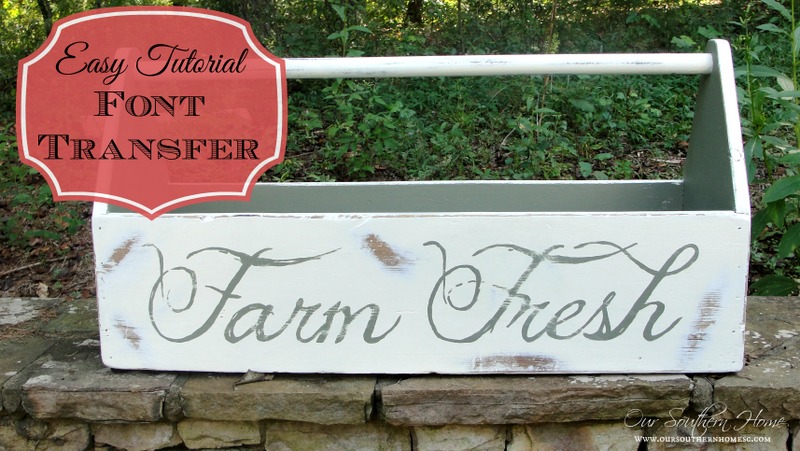 Materials that I used:
Computer
Pic Monkey
printer paper
oil pastels
pen
painter's tape
Annie Sloan Chalk Paint and small brush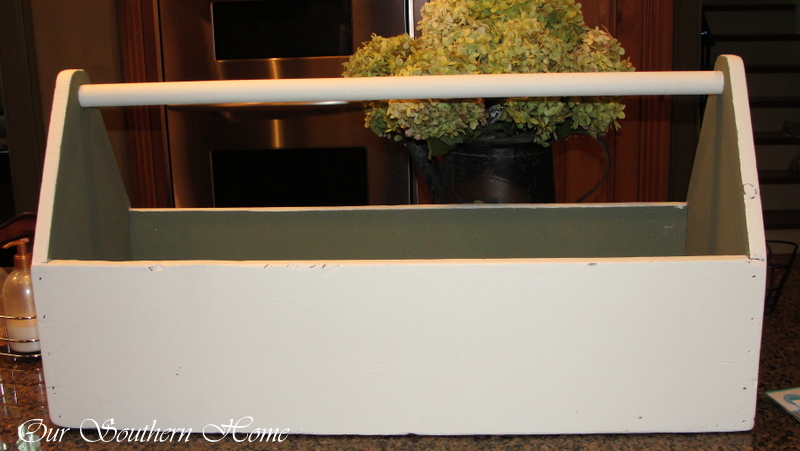 Here is the before. The exterior is painted in Old White and the interior is in Chateau Grey. It just needed something more!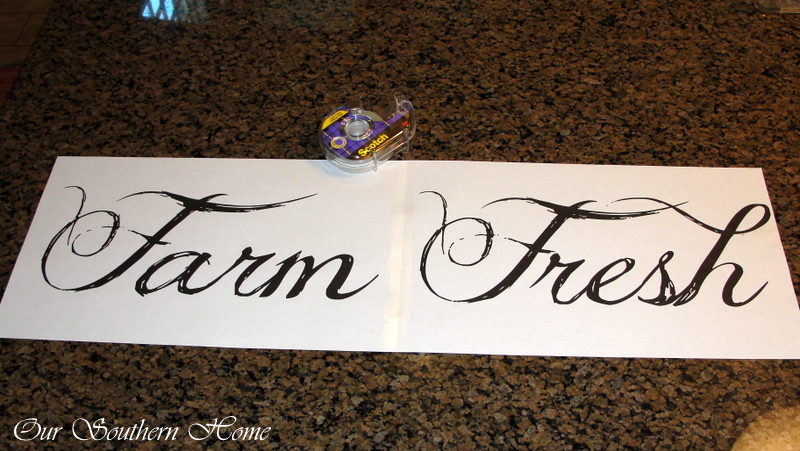 This part takes a bit of trial and error. PicMonkey is a free online photo editing site that is fabulous! I have a yearly paid subscription that allows me full access, but the free portion will give you lots! You could also make this in any word processing program like Word. I chose PicMonkey because of the awesome fonts like Delicious Cake that I used here. You will need a blank image. Just email me on my blog ([email protected]) if you need me to send you a quick file to use for it. You will upload the blank image as a photo edit. I went up to font size 987 which fits perfectly on the tool box. What I did was saved each word separately as a png file so they would print large. Again, this was printing a copy and looking at it on the tool box and making adjustments. This size will give you an idea based on your project. In other words, Farm was a file and Fresh was a file.
Here is the FREE printable for FARM FRESH.
To print this, I used Windows Live Photo Gallery. I printed each word on a legal sized piece of printer paper using landscape mode. Print as a full-page un-checking "Fit to picture frame." I then taped the two pieces together to get my font.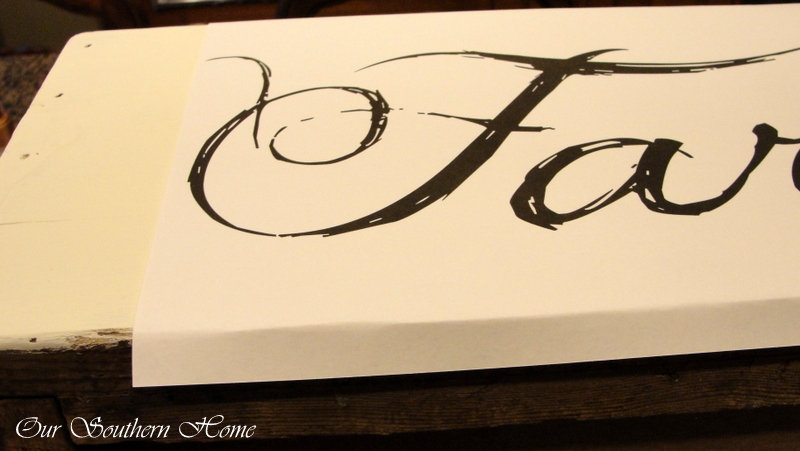 I then placed it on the box panel to get it centered. It was pretty easy, using the straight edge of the paper as a guide.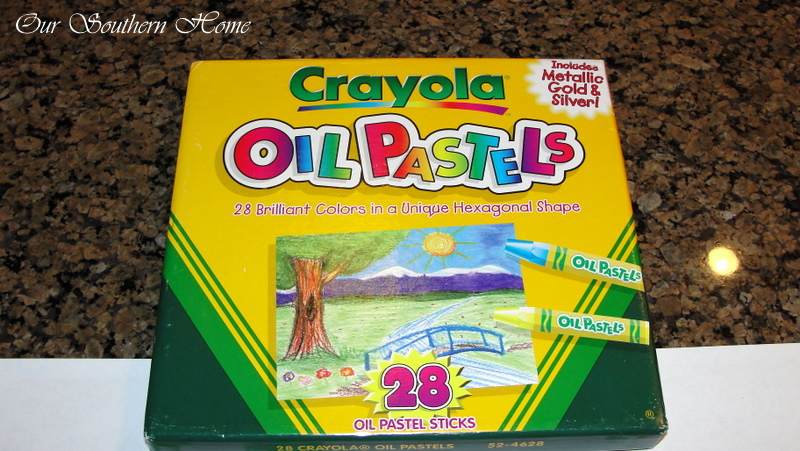 My daughter already had these so that is why I used them. Some people use colored chalk. I really like how these performed though. I had no trouble with any color transferring anywhere other than where I wanted it! I knew that I was going to use Annie Sloan Chalk paint in Chateau Grey to do my lettering on the Old White. I chose the green pastel…the one closest to my paint color.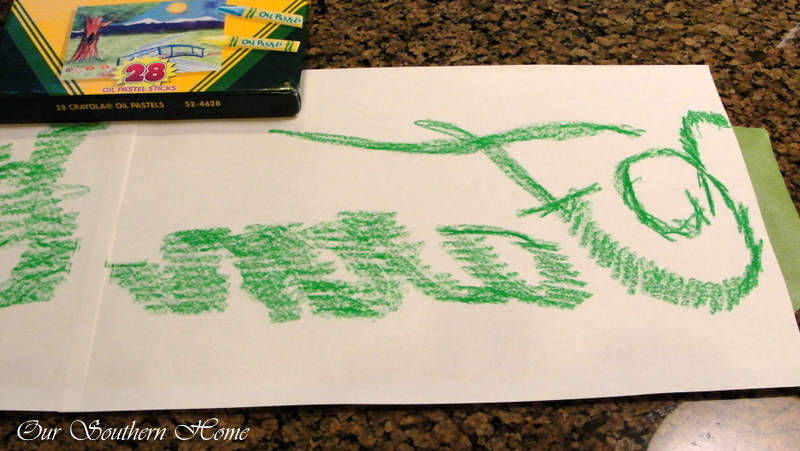 Turn your paper to the back side and color just in the area of the font.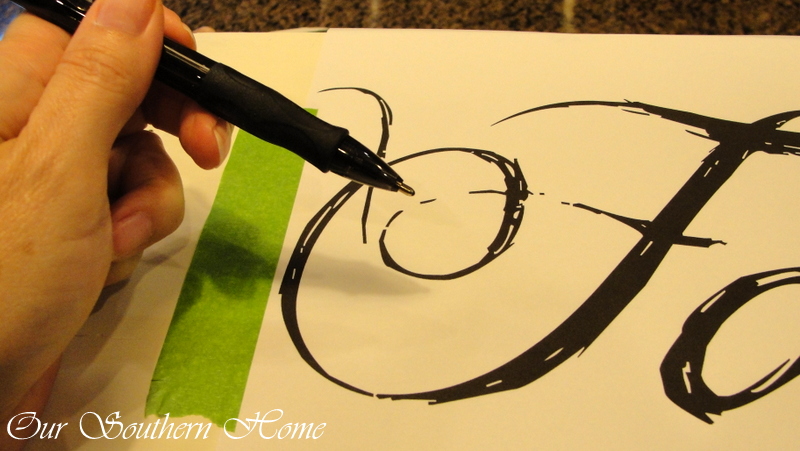 Flip it over and carefully place back where you originally centered it. Center before coloring so you don't transfer any unnecessary oil pastel. I taped in place with painter's tape. Resist the urge to lift it up to see if it is working. You may shift it causing it to come out of alignment. Take a ball point pen and trace and shade in. Because of the detail of my font, I completely colored it all. You may just need to do the outline.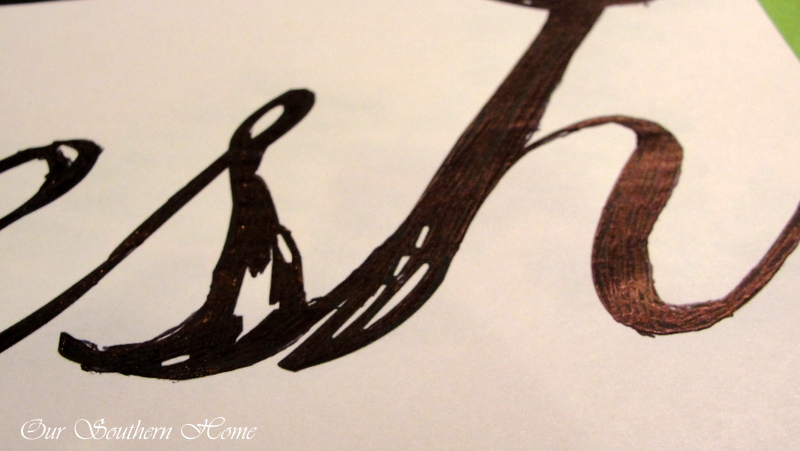 Can you tell how it looks with it traced with the pen. This transfers the green oil pastel to the tool box.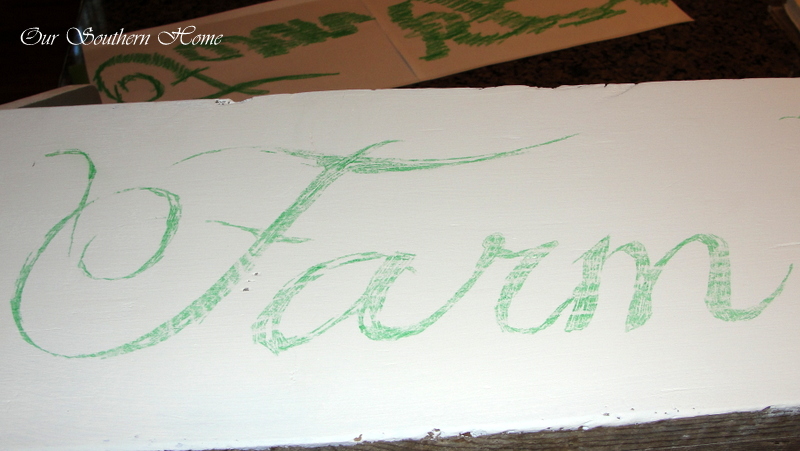 When I am finished with the pen, I remove the printer paper, and this is what I'm left with….an easy font transfer that is ready for paint. You could use acrylics or paint of your choice!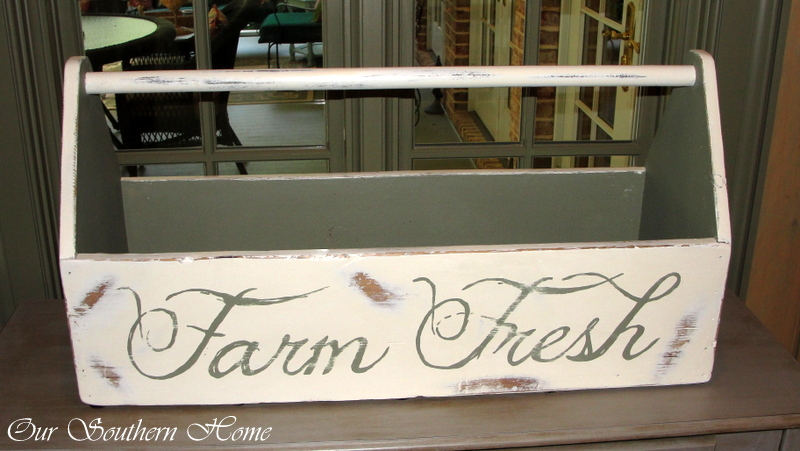 I just did one good coat in Chateau Grey since I was distressing. After it dried, I distressed with a sanding block. It was then finished with two coats of clear wax. So easy!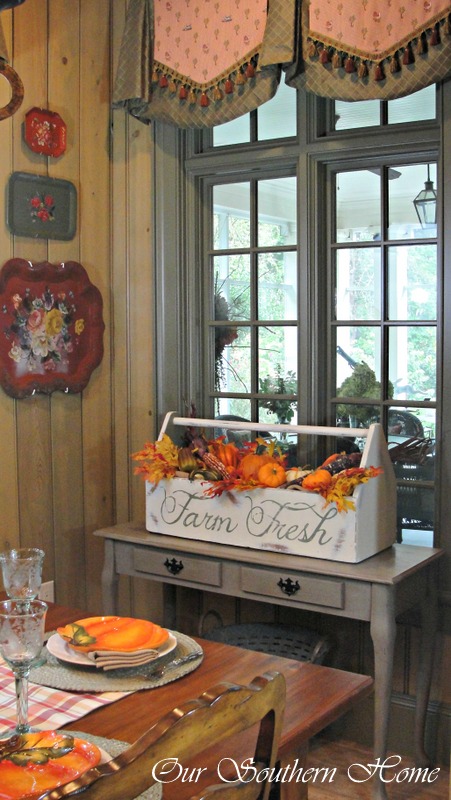 Here it is in our breakfast room for fall.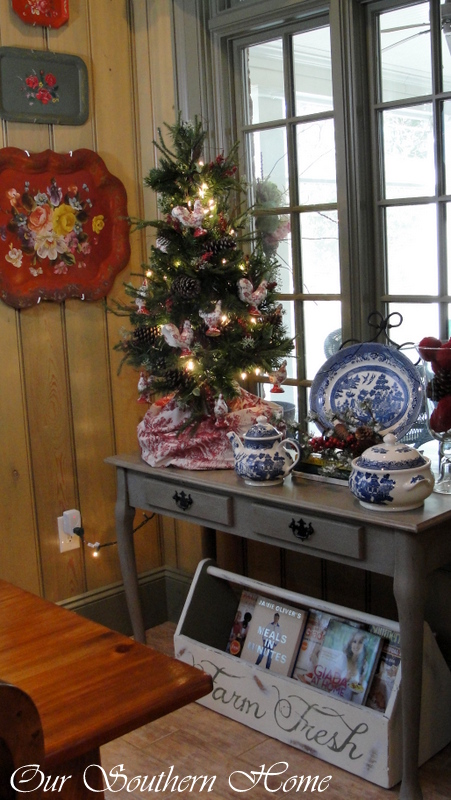 Here it is at Christmas. I think this is where I'll keep in now. It has been great for cook books that I regularly use! I am thinking about adding smaller bun feet to the bottom to raise it off the floor.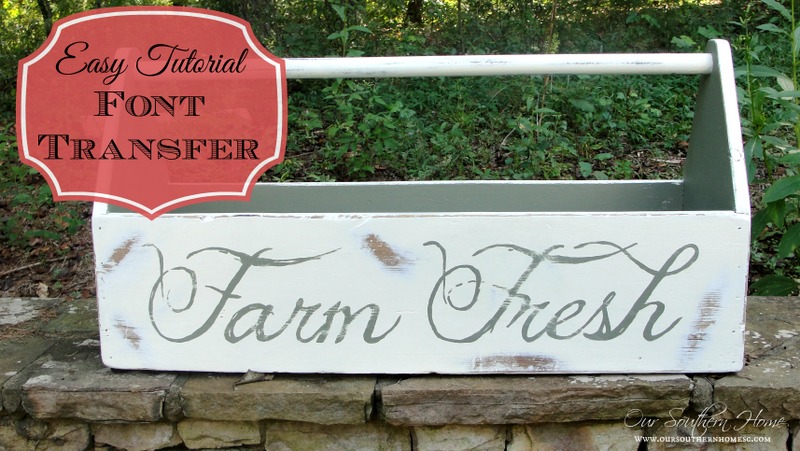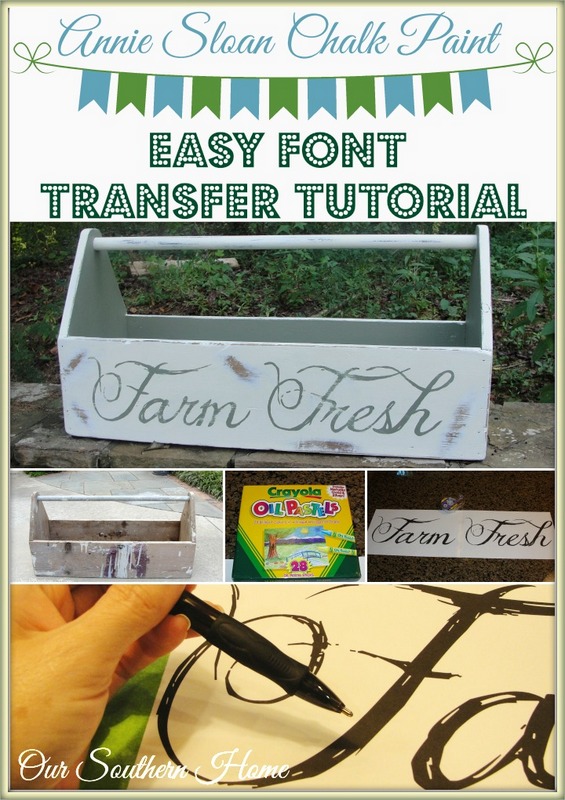 Happy New Year! I'd love for you to follow me! Lots to in 2014.
Our Southern Home, blog Facebook / Pinterest / Instagram / Twitter / Hometalk / Google+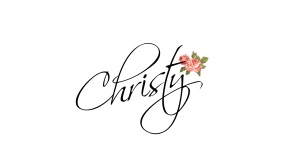 Link Parties that OSH parties at on occasion!
Monday: Between Naps on the Porch
Tuesday: The Scoop at Cedar Hill Farmhouse and Inspire Me Party at A Stroll Thru Life, Setting for Four – Project Inspire{d}
Wednesday: Savvy Southern Style
Thursday: From My Front Porch to Yours, 52 Mantels, Stone Gable, Home and Garden Thursday at A Delightsome Life, The Shabby Creek Cottage ,No Minimalist Here
Friday: French Country Cottage, My Repurposed Life, Miss Mustard Seed Furniture Friday, Common Ground, The Charm of Home, Rooted in Thyme,Imparting Grace, Keep Calm and Link Up, at the picket fence – Inspiration Fridays, My Romantic Home – Show and Tell Friday, Craftberry Bush – Inspiration Gallery Friday, SnapCreativity – Show and Tell
Buffer