All Things Home is back for our fall home tours! This week you will get to virtually visit 25 blogger's homes all decked out in fall finery!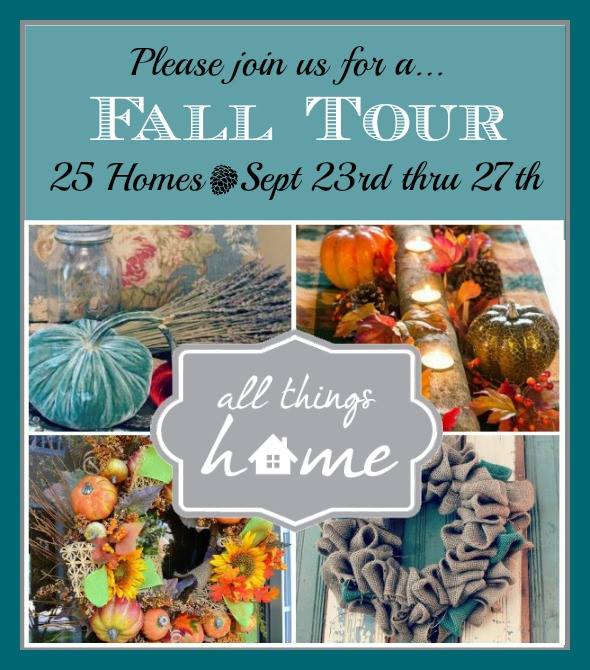 I'd like to welcome you to my home today. Fall is probably my favorite season! I love pulling out my fall clothes, cooler temps, changing colors, crackling fires, pumpkins, apple picking and new fall TV shows are starting!
Welcome to Our Southern Home!!!! I am so excited to have you visit!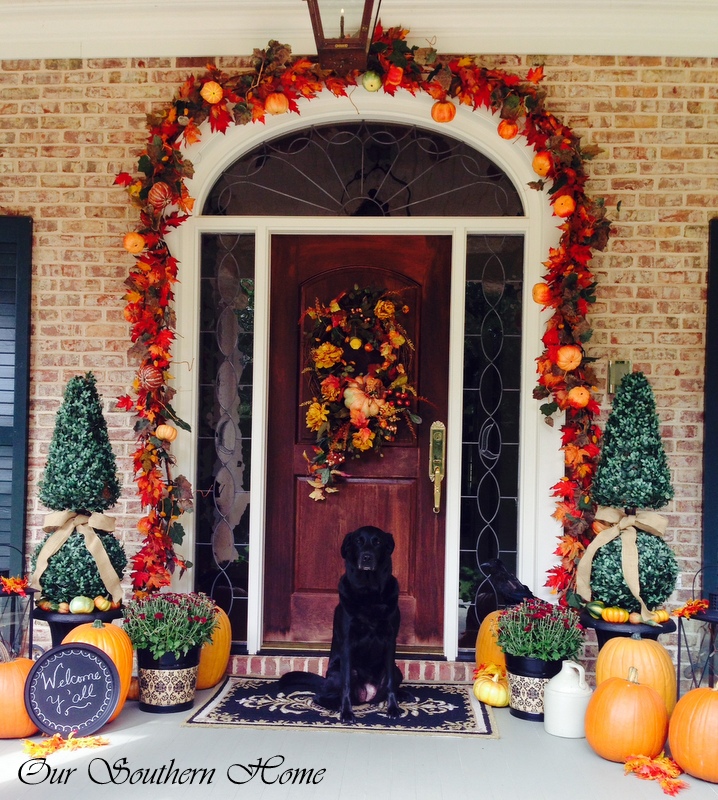 Lizzie is here to welcome you! I know this is not the best pic, but the only one with her!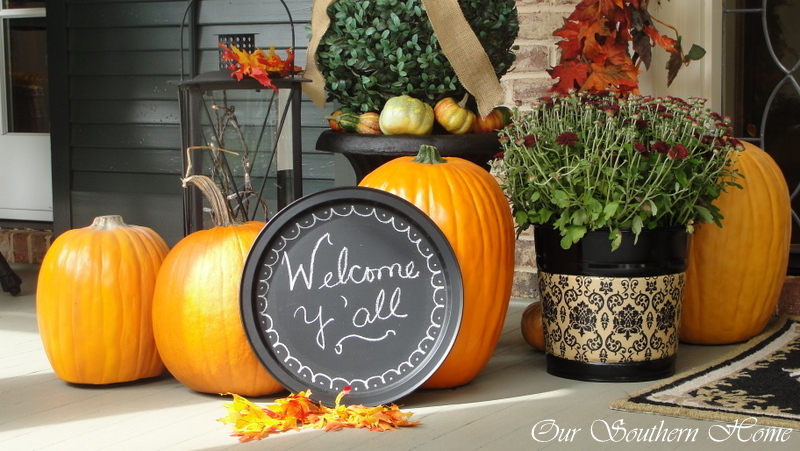 I use a mixture of real and faux pumpkins. The mum bucket was a Mod Podge project from last year found HERE. The chalkboard tray was $1 from the thrift store. I think it was covered in Easter rabbits.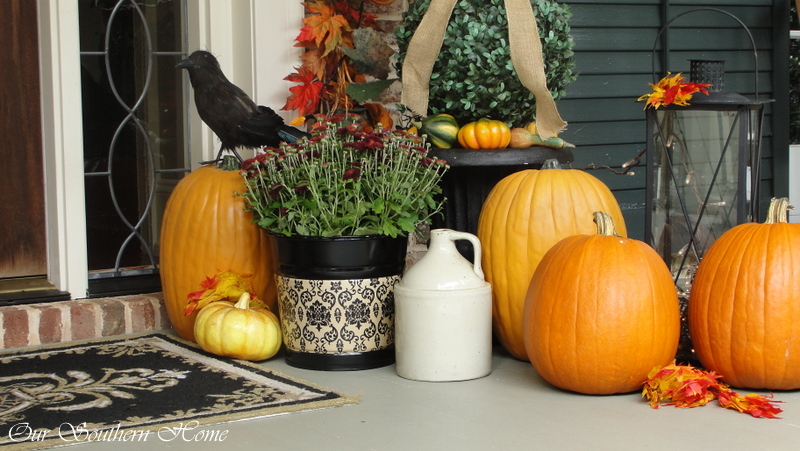 The crow has been with us for years! I still get a bit spooked out when I see it!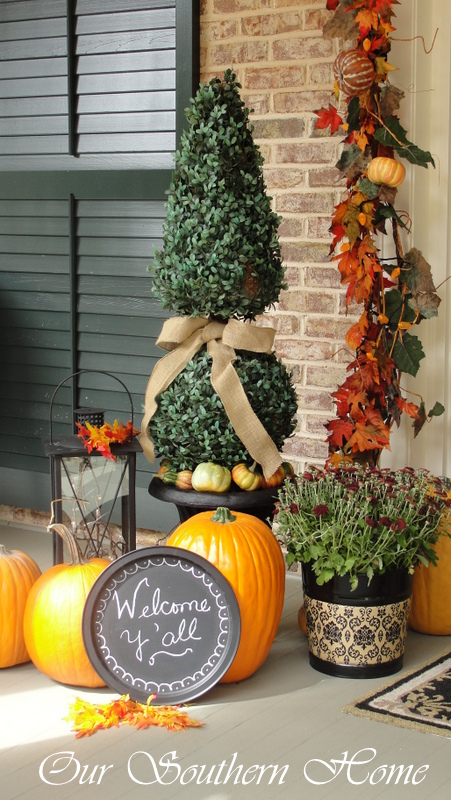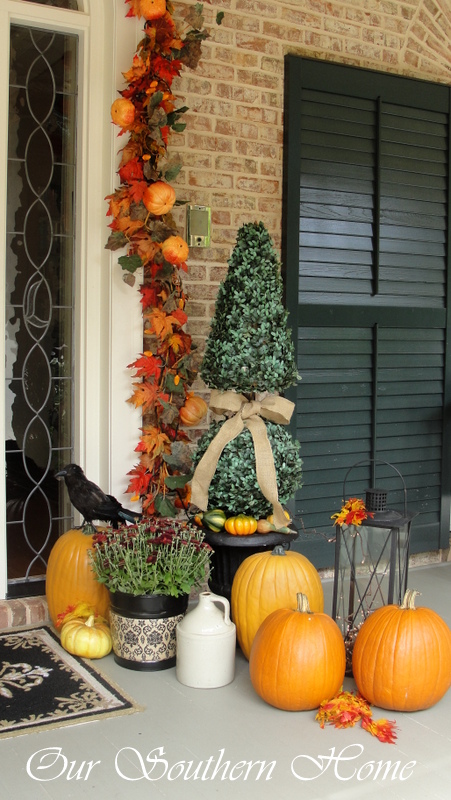 It is finally starting to cool a bit in South Carolina. We are expecting upper 70s this week. It is just too hot to keep regular candles in my lanterns. They melt and make such a mess! Now I just light them with string lights.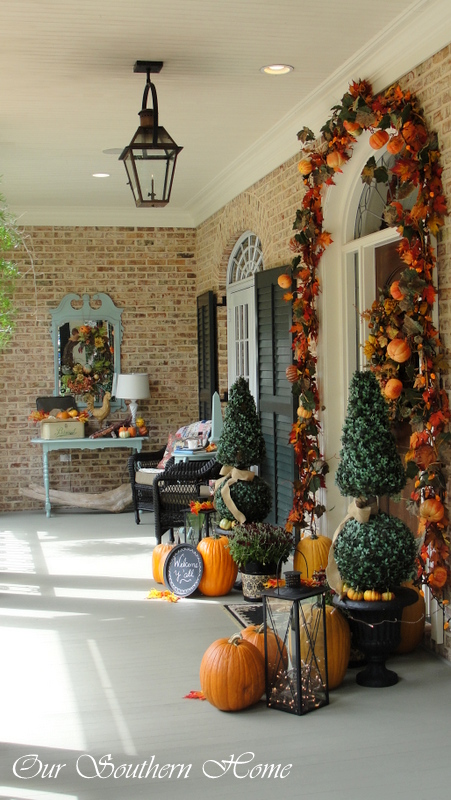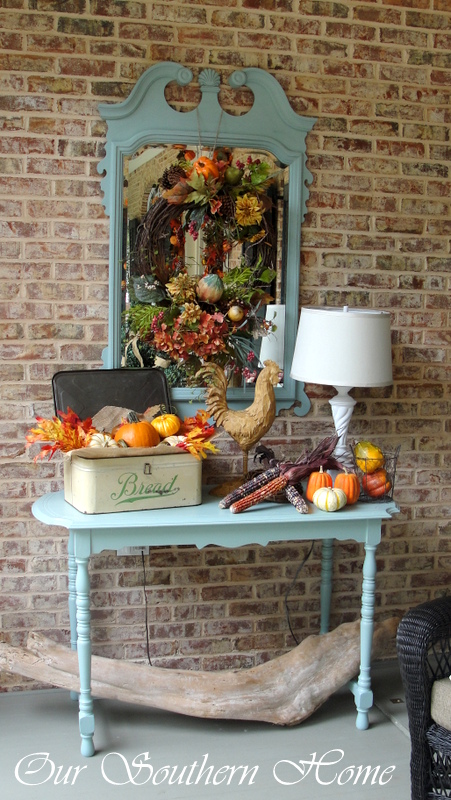 The large piece of drift wood is from our beach trips this summer on Caswell Beach, NC. It is such a cool shape! The vintage bread box was a consignment shop find in Southport, NC.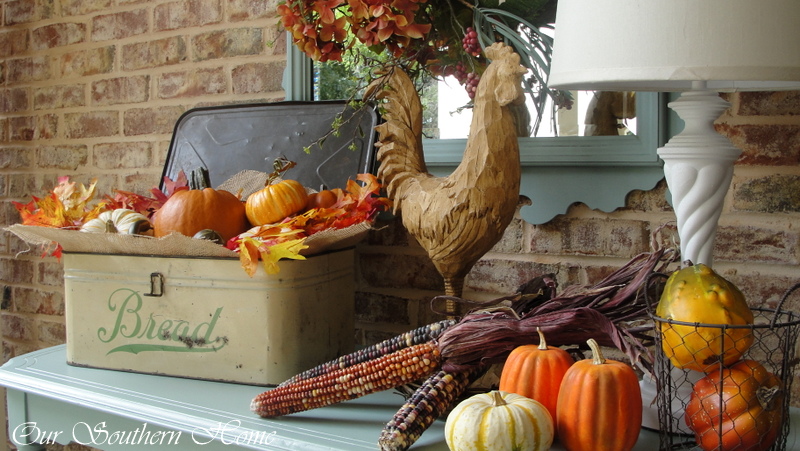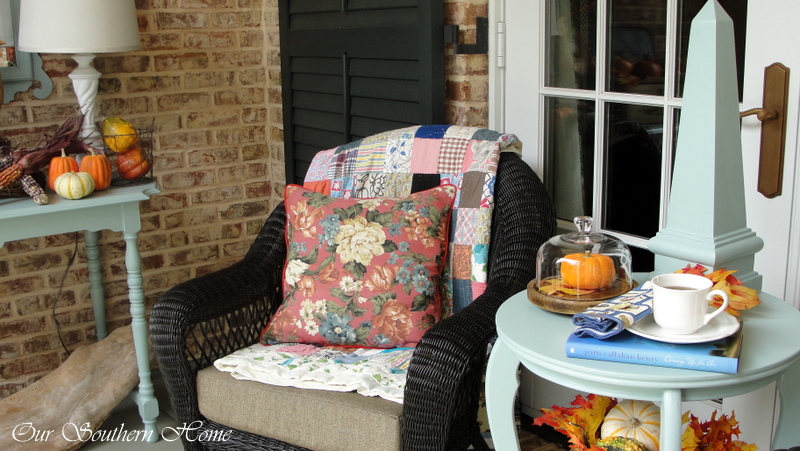 I love using items from thrift stores to decorate our home. The tables, cheese dome, obelisk, baskets, ironstone, and quilt were all fabulous finds!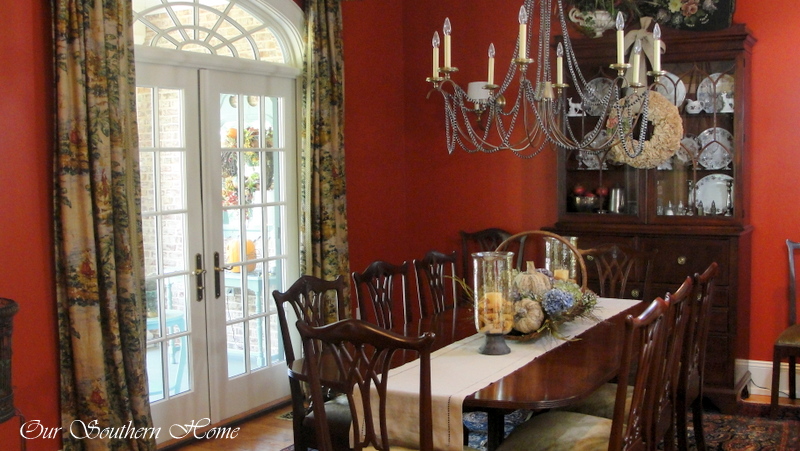 Welcome to our formal dining room! Honestly, it is only used a couple of times per year, but it is right when you walk in the front door so I enjoy decorating it for the holidays. This year I decided to keep it very simple!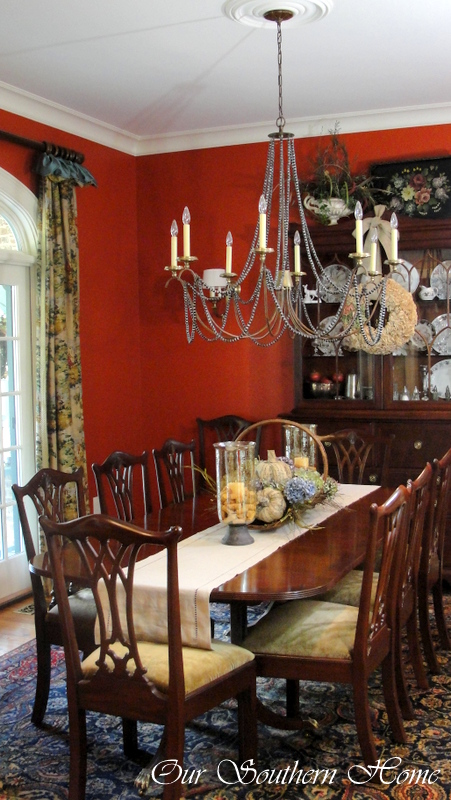 The rug was one of those "cross your fingers" EBay purchases at a rock bottom price! It is a vintage rug.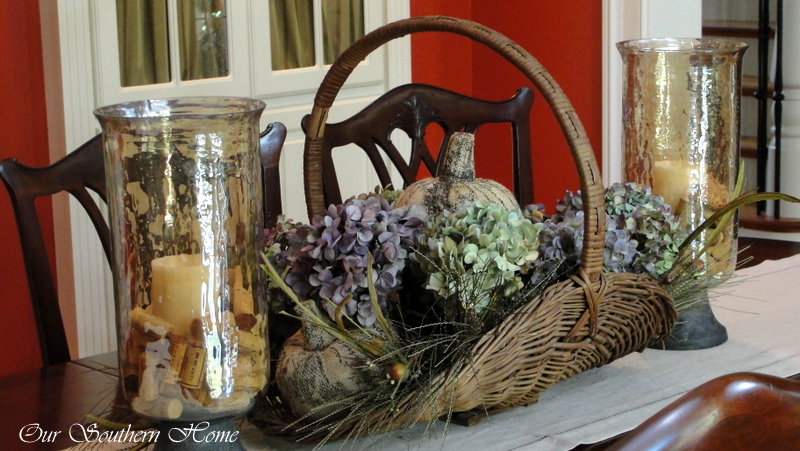 The basket was a recent $1 thrift store purchase. It has seen better days, but I love the way it turned out for the table…kind of a more relaxed formal look this year!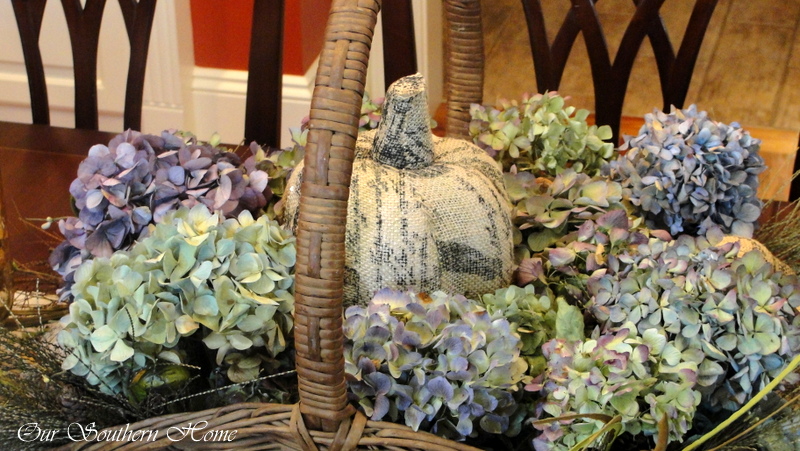 The burlap pumpkins were a Hobby Lobby purchase last year. The hydrangeas are from our gardens this year. They start out a beautiful blue. I have found that they work best for drying after they have been on the branch a while and are starting to change colors and dry a bit on their own. They have quickly become my favorite flower! I just filled in with a few artificial branches from Hobby Lobby. I have no problem mixing real and faux.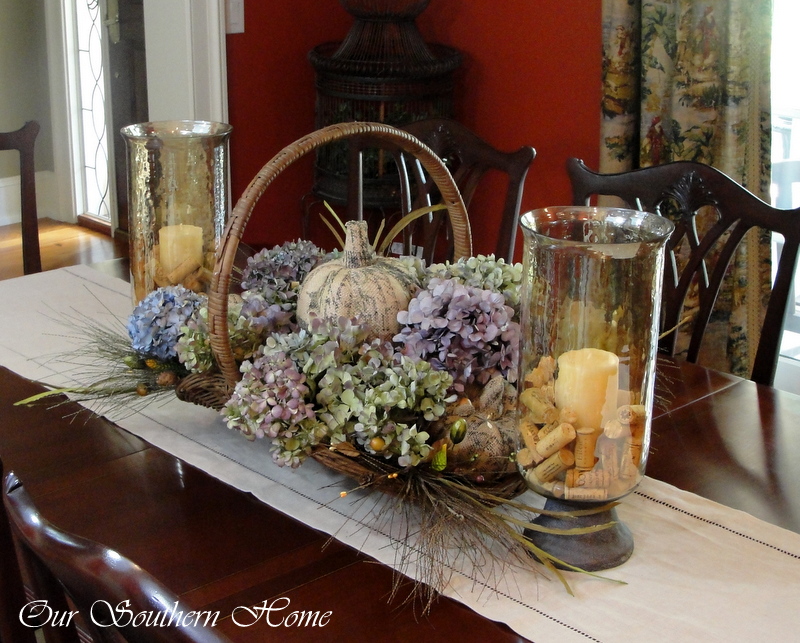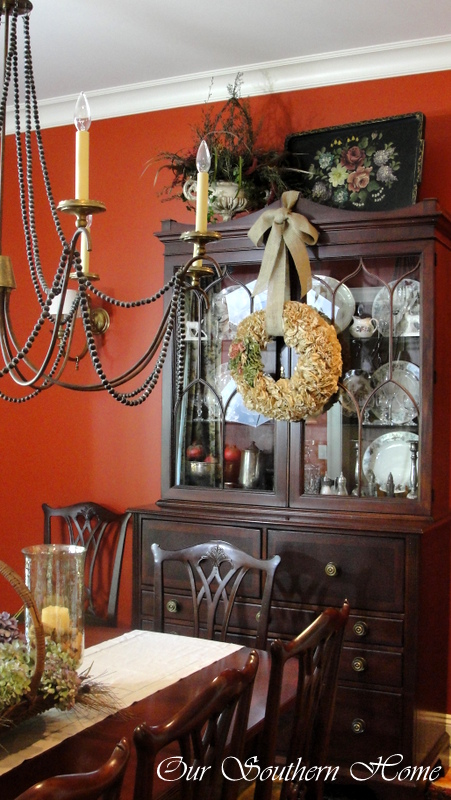 I recently made my very first coffee filter wreath! There will be a full tutorial later. I think it is perfect with the hydrangeas!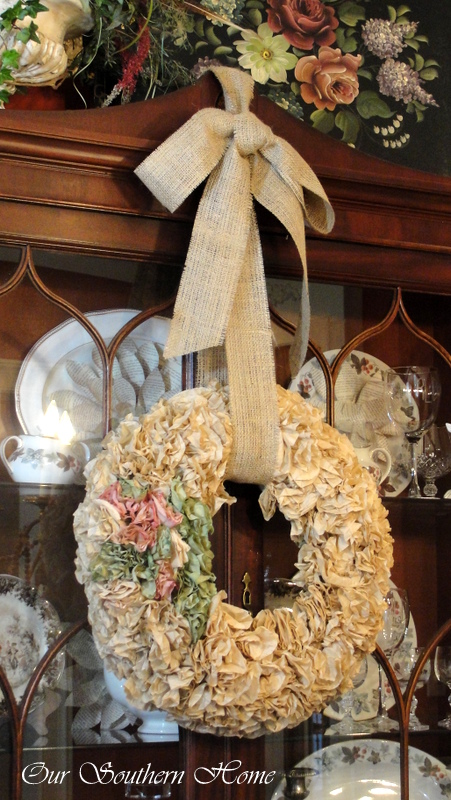 Simply attach a Command Hook upside down behind the hutch pediment and you have instant hanging power with no damage!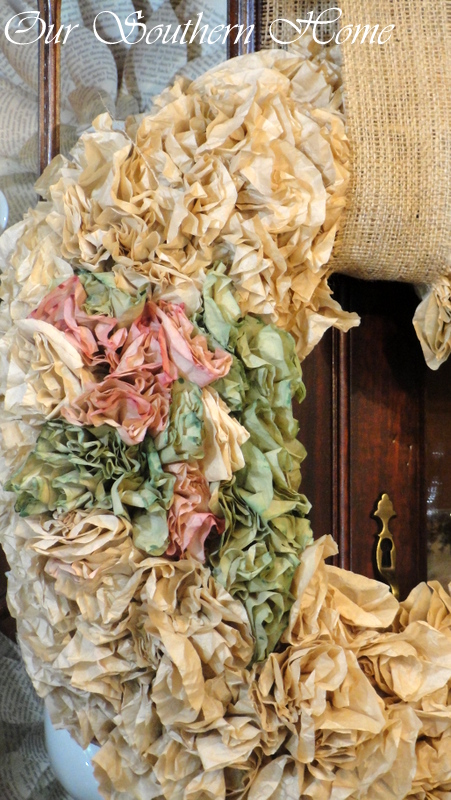 On to the family room…..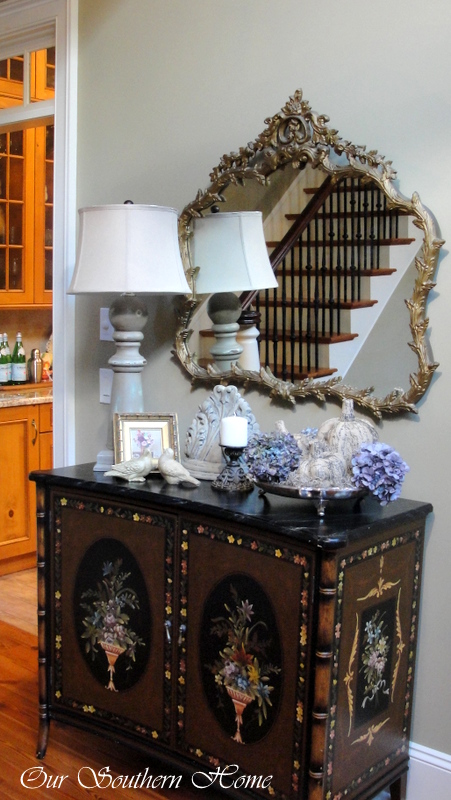 More hydrangeas and moss in my mother's footed silver tray she gave me a few years ago along with burlap pumpkins.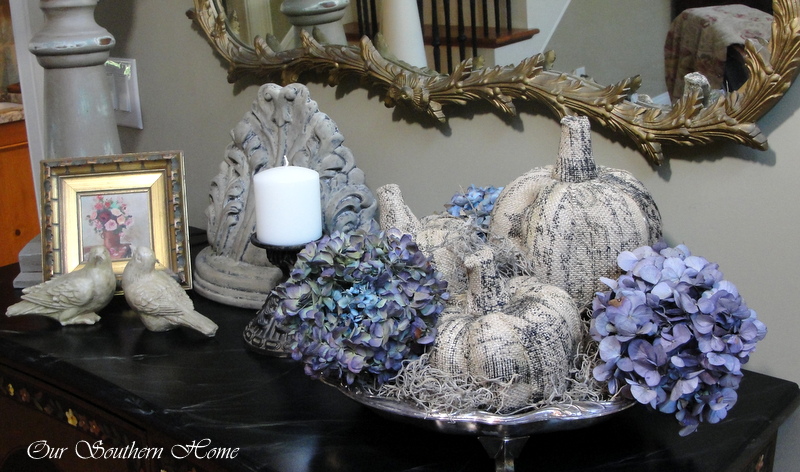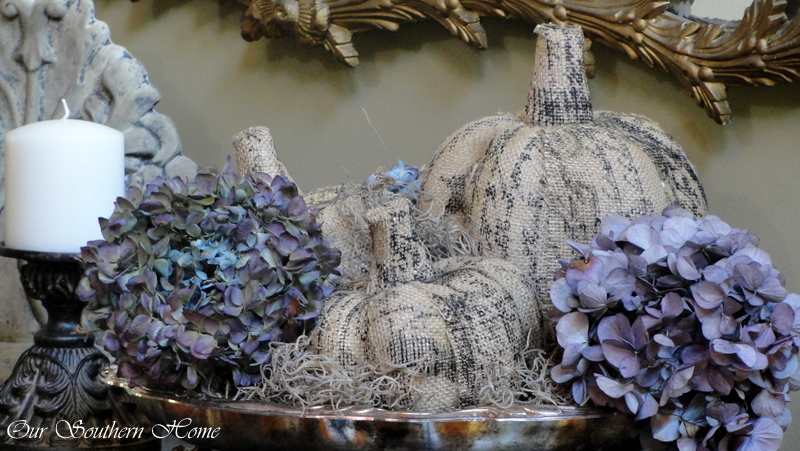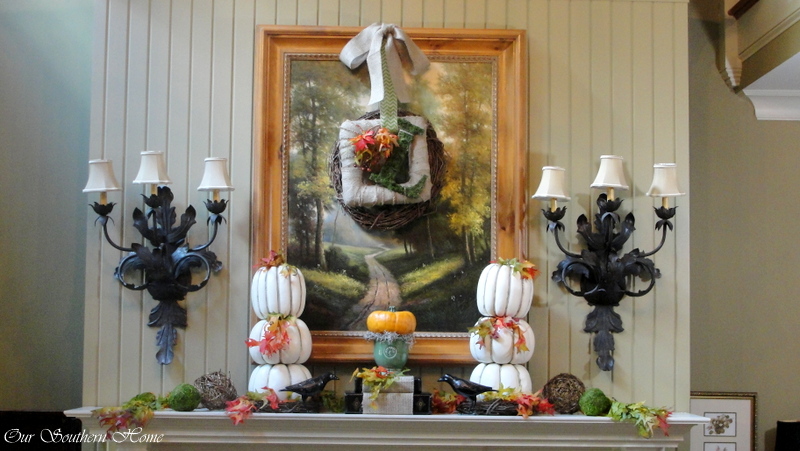 The mantle looks quite different this year! It has always been decorated for Halloween. My kids love it! Not this year….or at least not yet! These pumpkin topiaries started out as orange Styrofoam pumpkins from Wal-Mart! I'll be sharing soon how I transformed then with ASCP and acrylics.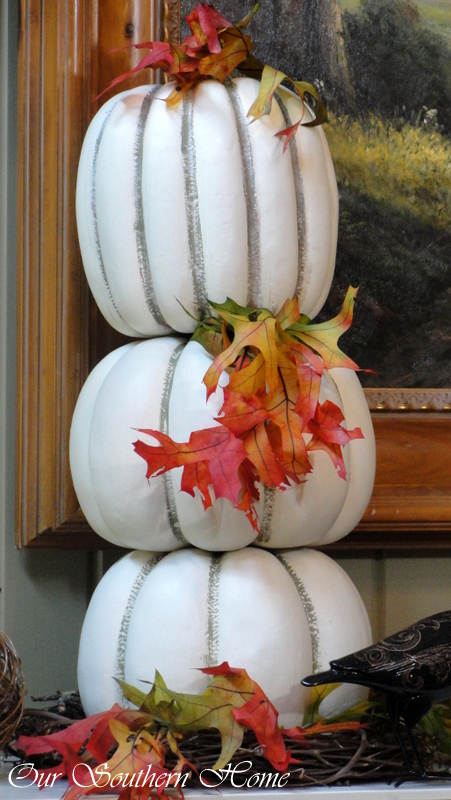 Not bad for a project costing less than $15!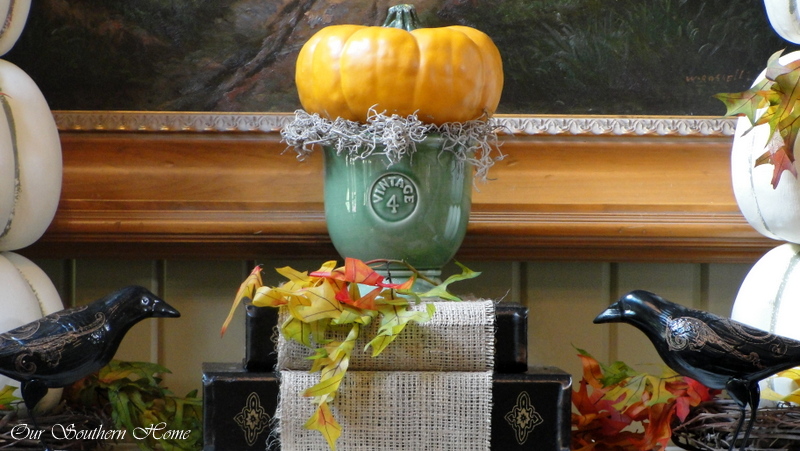 I simply wrapped these faux books in burlap for my summer mantel and left them as is for fall.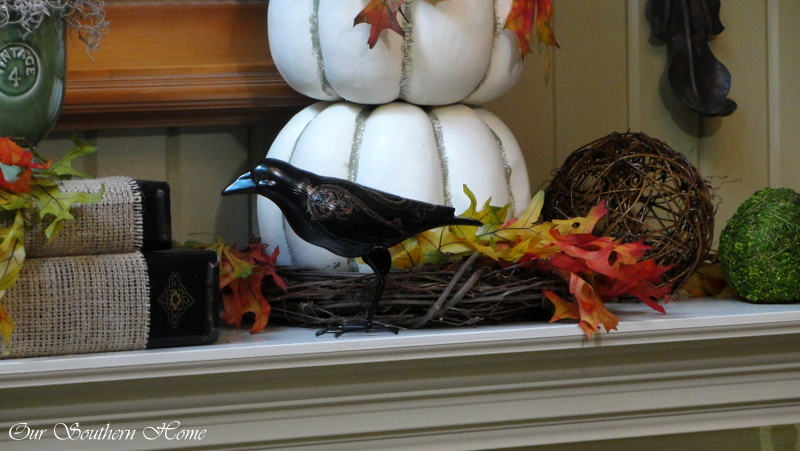 The moss and twine balls were also from my summer mantel. They actually belong in an arrangement upstairs. Don't be afraid to borrow from other areas of your home to save on money!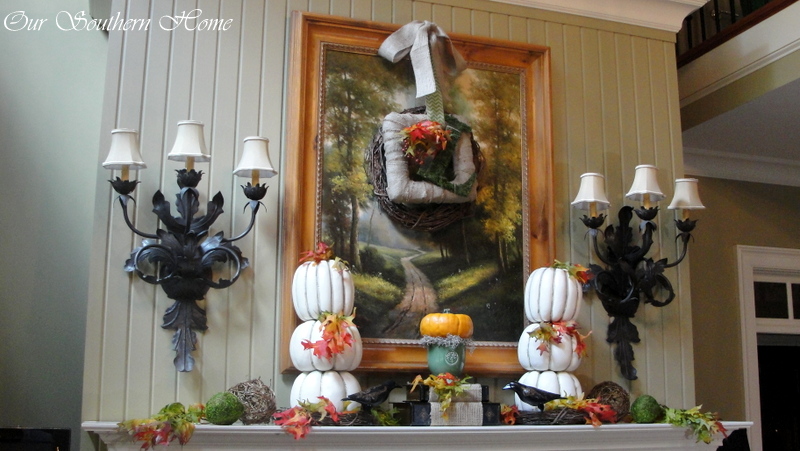 Even my wreath was re-purposed. I made the burlap square wreath at Christmas last year from a thrift store form. I removed the "L" from my summer embroidery hoop wreath. It was all a little too small for the art so I retrieved an old grapevine wreath not being used and layered the two together. Nothing is permanent. It is all wired or tied with twine for easy removal for use in a new future project!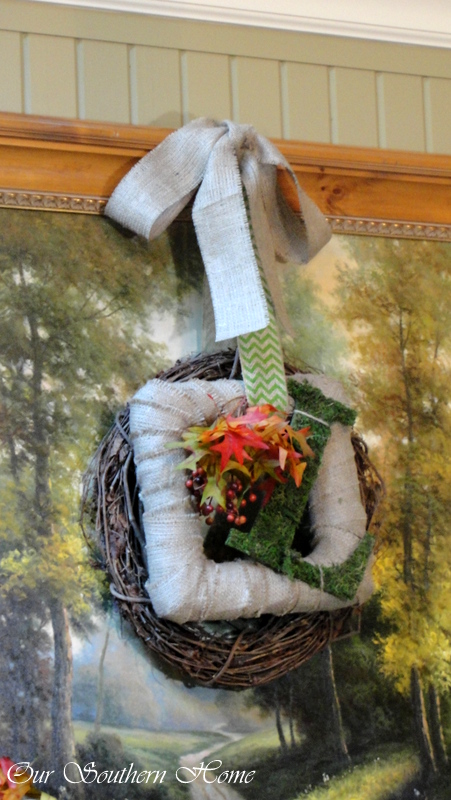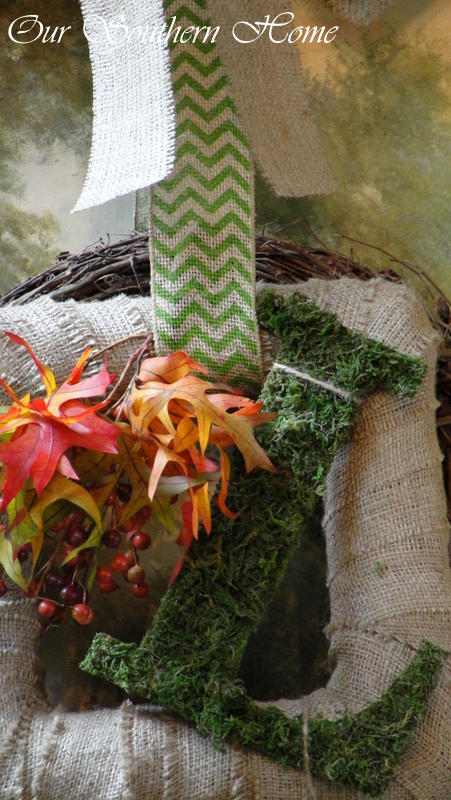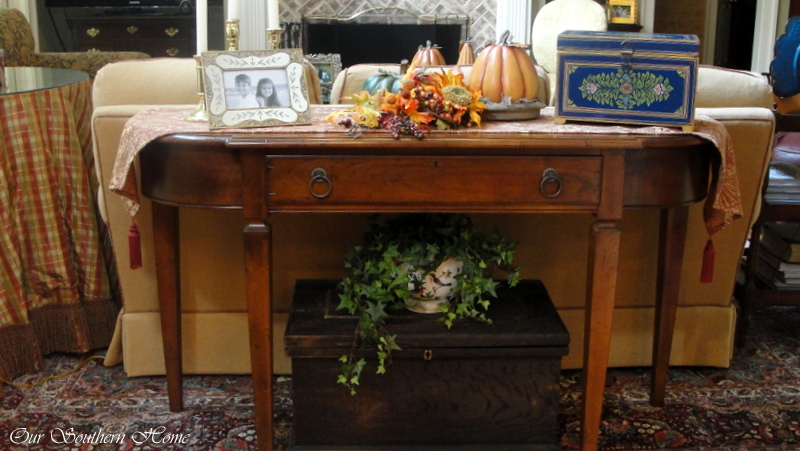 The chest is an antique sea captain's tool box.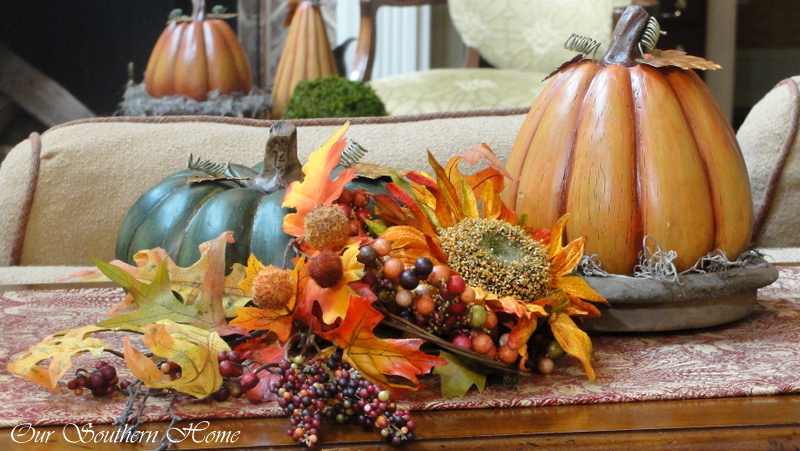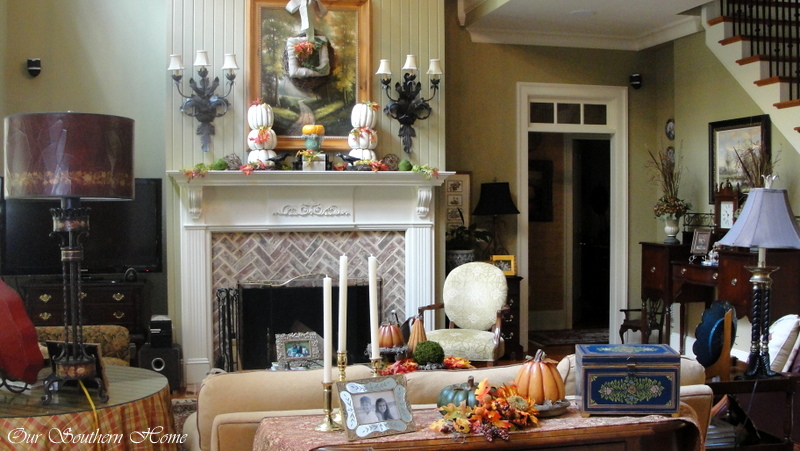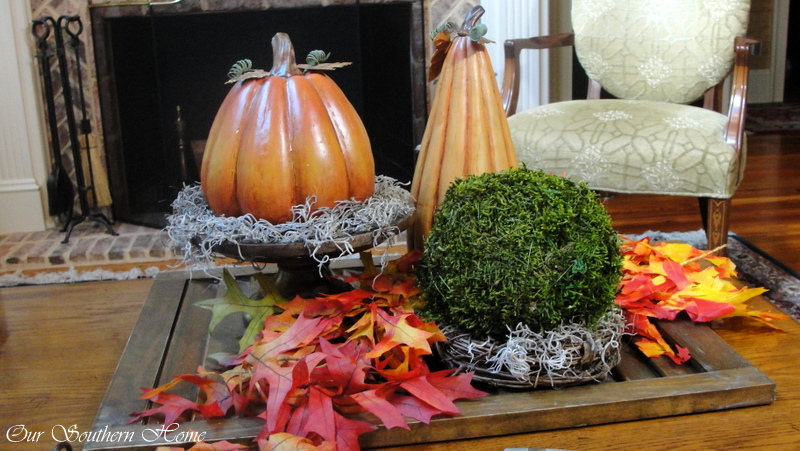 This $2 thrift store shutter was actually the door to a medicine cabinet. I just unattached it and tossed the plastic cabinet. With the addition of felt pads on the bottom, it makes a great tray. I've used it all over the house!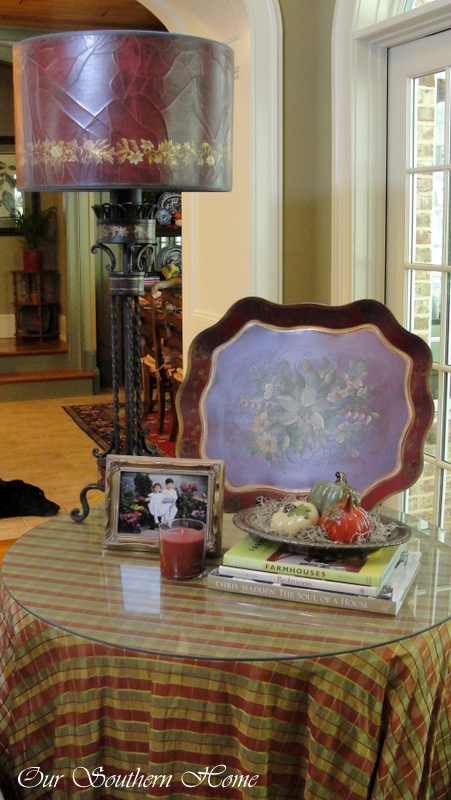 I'll admit….I have a problem buying thrift store silver, but when it is a $1 and a pretty shape….I have a hard time not bringing it home. I like the tarnished look of it.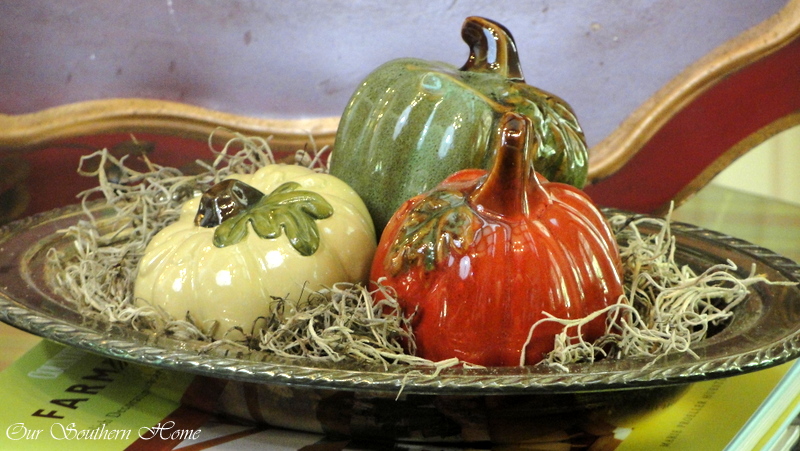 Simply fill the silver try with a little moss and these 3 adorable ceramic pumpkins from the Dollar Tree. Don't they look expensive!
Let's head to the kitchen~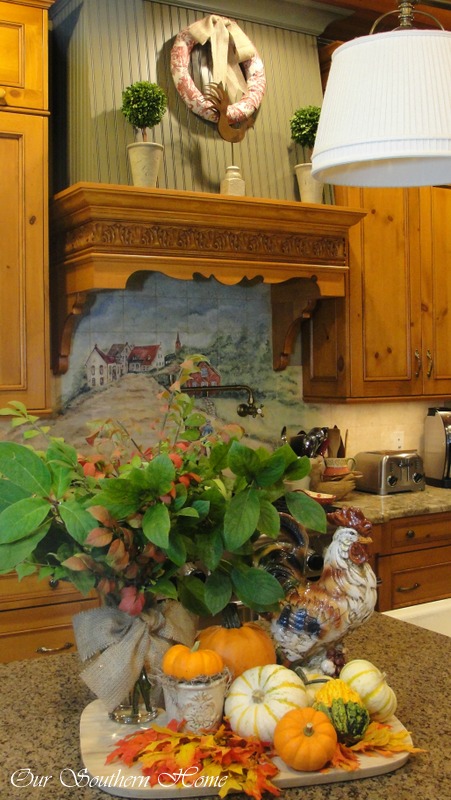 Again, I just added a few fall touches. The entire vignette on the chopping block makes it easy to remove if needed.The vase is full of branches from the yard.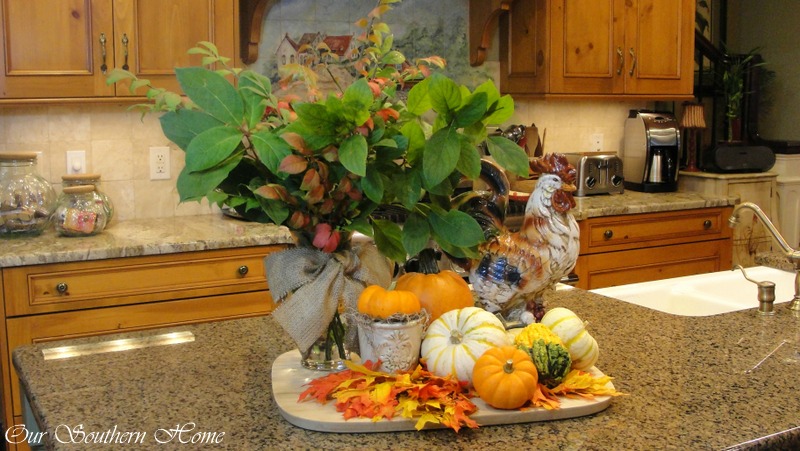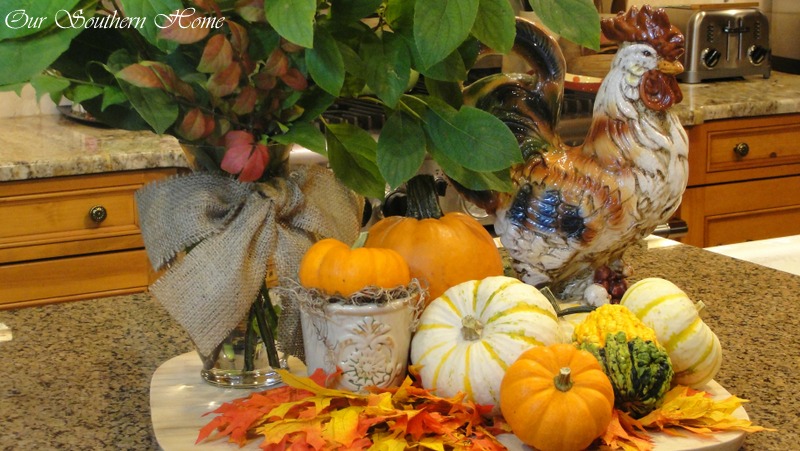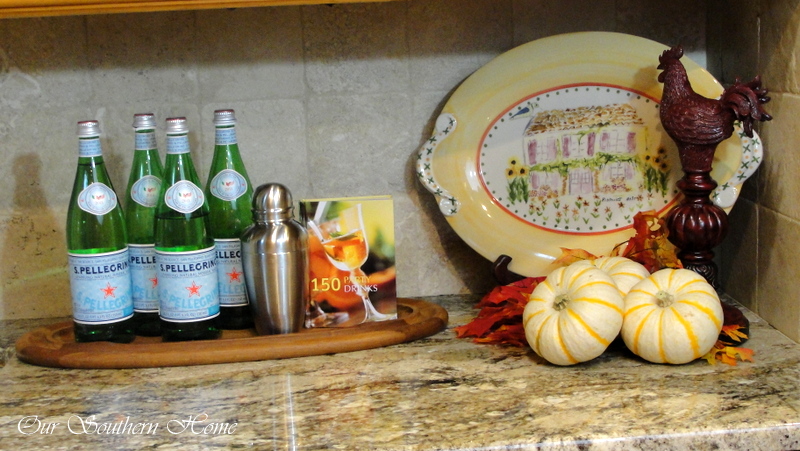 Just a simple vignette for the wet bar area~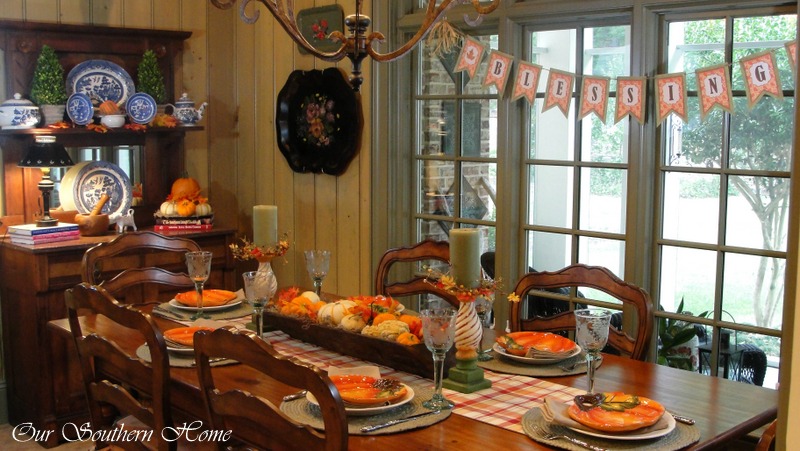 This is the dining area in the kitchen. I'll be sharing the simple banner soon as well!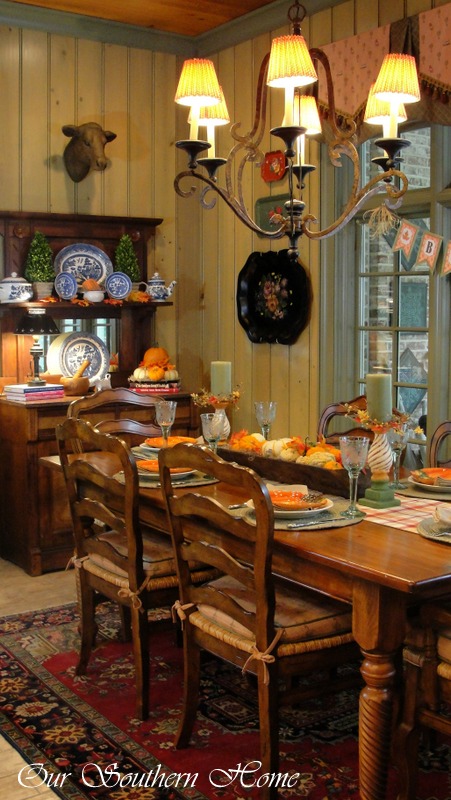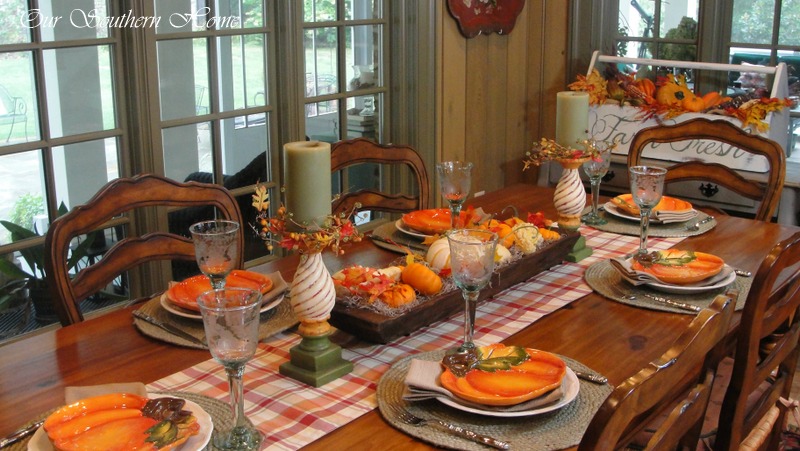 I removed the faux green apples from the dough bowl and added real pumpkins and gourds with a little moss for fall.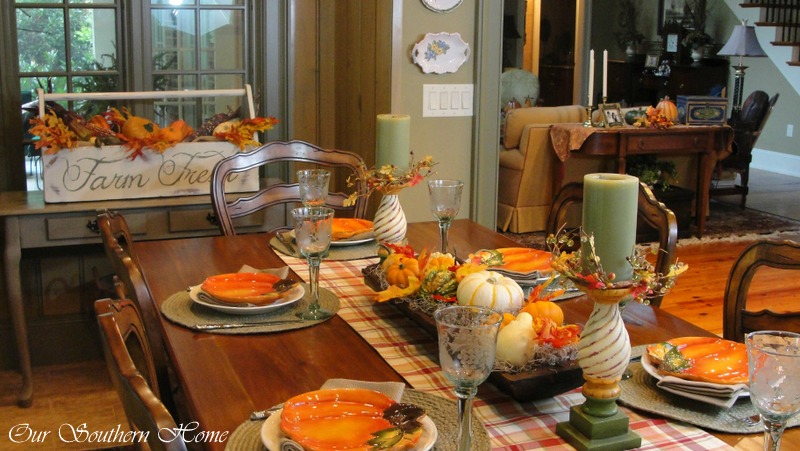 The sage green place mats (new) are from Kohl's as well as the neutral napkins from last year. The table runner is new from the Better Homes and Gardens collection from Wal-Mart.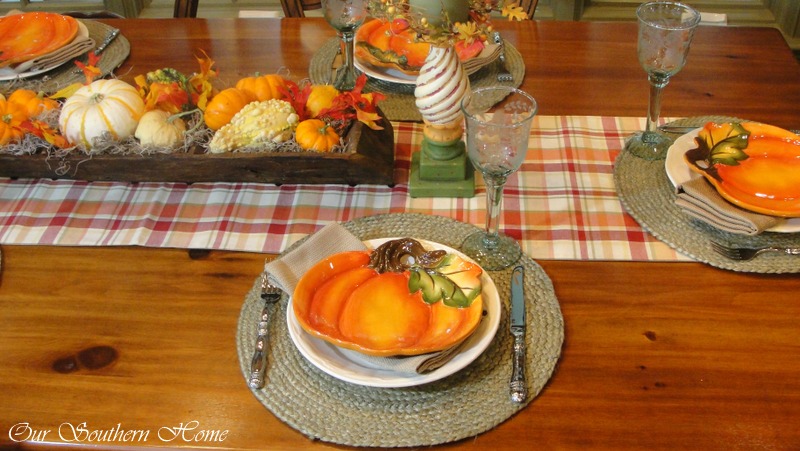 I scored the white ironstone dinner plates for 50 cents a piece this summer! Needless to say, I was quite excited. The pumpkin plates are from Wal-Mart this year for less that $3 each from the Better Homes and Gardens line.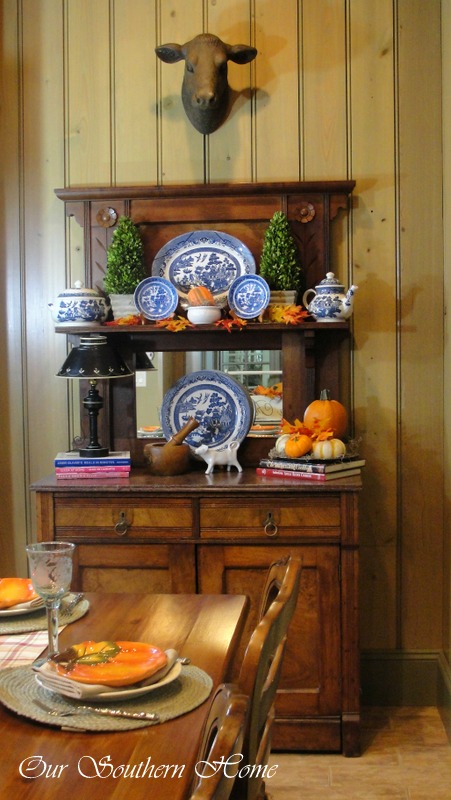 I just love the colors of fall. The everyday colors in our home really remind me of fall and winter.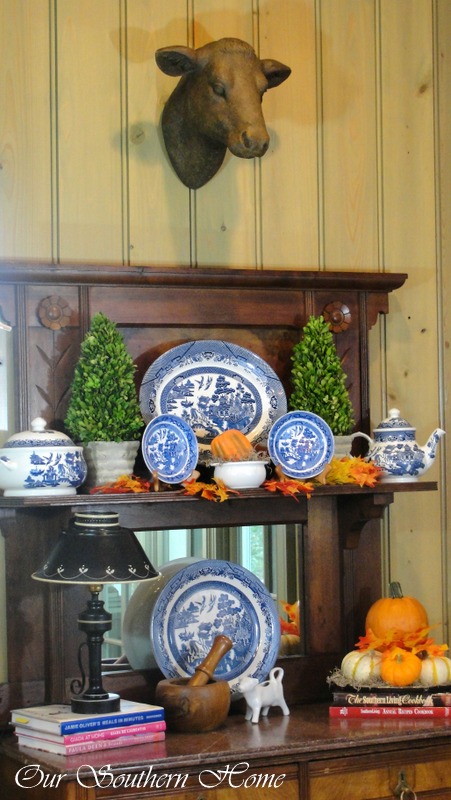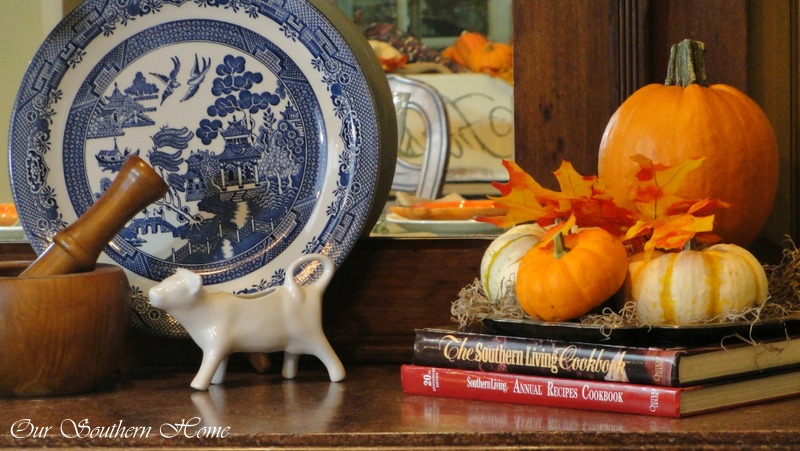 Again, I've used a small round silver tray to hold a few real pumpkins and gourds.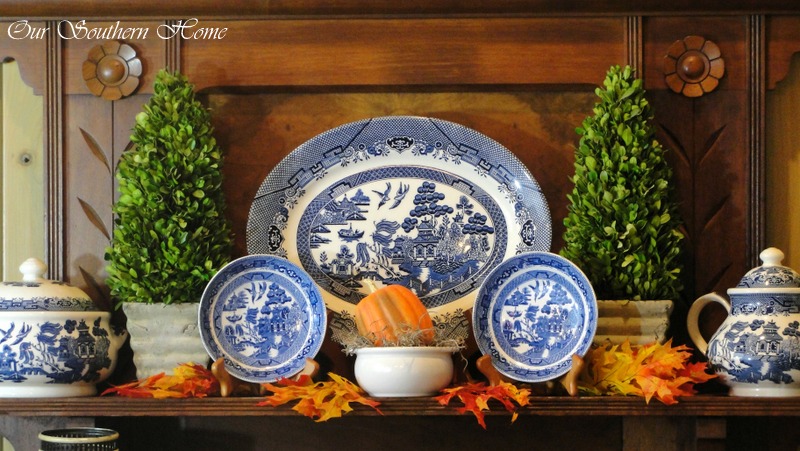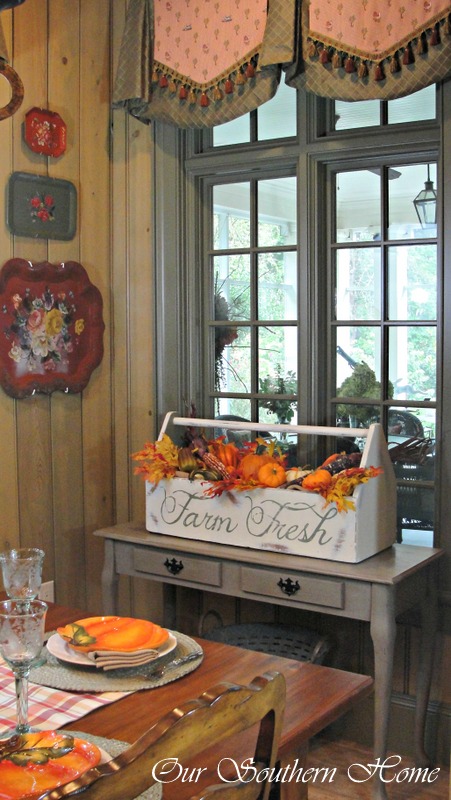 This table was my first ASCP project in French Linen 1-1/2 years ago. The table is actually very inexpensively made in a shiny cherry finish. I only paid $20 in a thrift store for it. A little paint, and it is really an improvement. The vintage tool box, I recently completed in ASCP with Old White and Chateau Grey. I'll have a tutorial up soon on the lettering.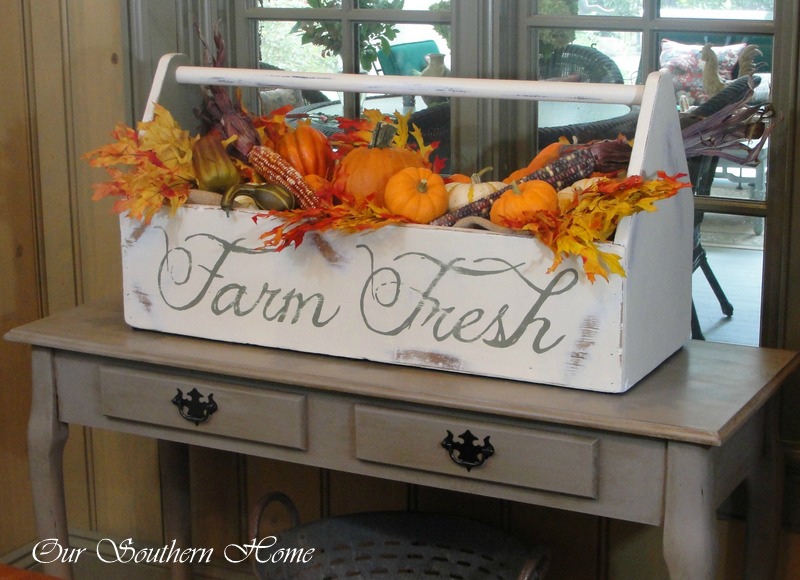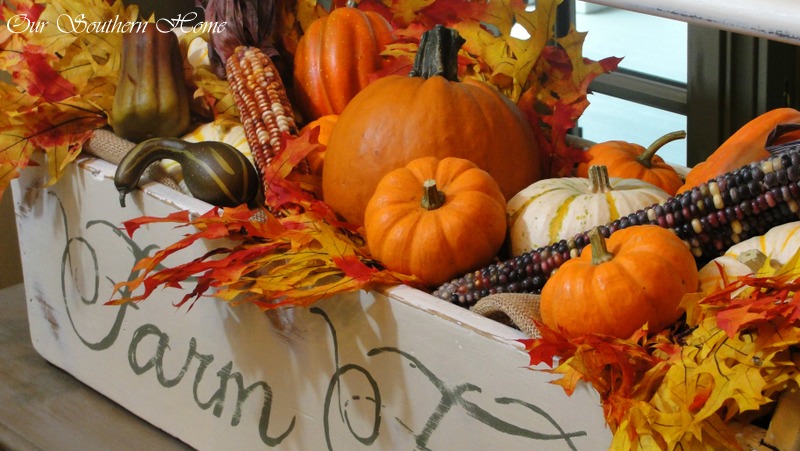 A little hint: Stuff containers with old blankets or towels, then add a pretty fabric on top as a base for your "actual" filler that you want seen.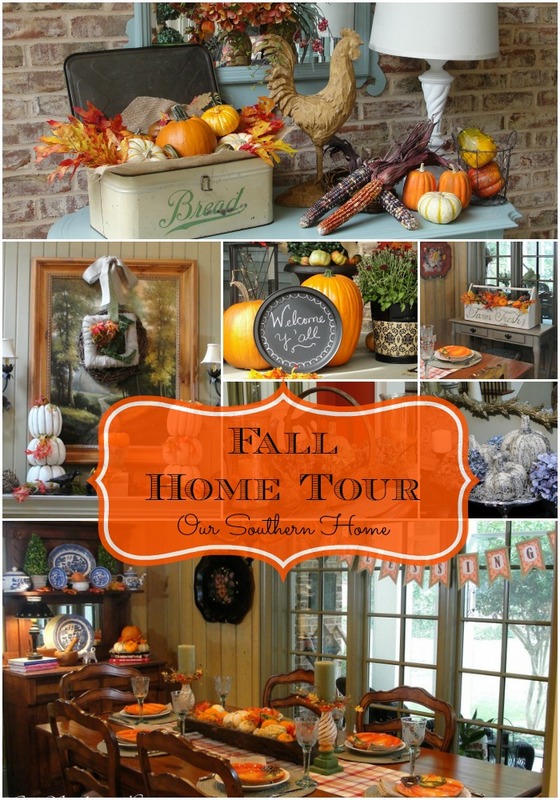 Thanks so much for stopping by for my fall tour! Be sure to check out all of the others listed below!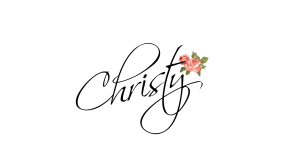 Here is the schedule:
Monday, September 23
Nellie Bellie
The Rustic Pig
French Country Cottage
House of Hawthornes
Town and Country Living
Tuesday, September 24
Mom 4 Real
Our Southern Home
Stone Gable
Fox Hollow Cottage
So Much Better With Age
Wednesday, September 25
Marty's Musings
A Button Tufted Life
AKA Design
Decor Adventures
Confessions of a Plate Addict
Thursday, September 26
Worthing Court
Everyday Home
Back Porch Musings
Inspiration for Moms
House on the Way
Friday, September 27
Setting for Four
My Uncommon Slice of Suburbia
Imparting Grace
DaisyMaeBelle
At Home with the Barkers
Link Parties that OSH parties at on occasion!
Saturday: Funky Junk Interiors
Sunday: DIY Showoff, Three Mango Seeds
Monday: Between Naps on the Porch, Alderberry Hill/Make the Scene , Amaze Me Monday
Tuesday: The Scoop, My Uncommon Slice of Suburbia, Home Stories A2Z/Tutorial and Tips, Inspire Me Party, Project Inspired{d}, Brag About It Tuesday
Wednesday: Savvy Southern Style
Thursday: From My Front Porch to Yours, 52 Mantels, Stone Gable, Home and Garden Thursday at A Delightsome Life, The Shabby Creek Cottage,No Minimalist Here
Friday: French Country Cottage, My Repurposed Life, Miss Mustard Seed Furniture Friday, Common Ground, The Charm of Home, Rooted in Thyme,Imparting Grace, Keep Calm and Link Up
Buffer