Game Time Goodies for a Football Party
I am a member of the Collective Bias® Social Fabric® Community. This shop has been compensated as part of a social shopper amplification for Collective Bias and its advertiser.
Does the idea of throwing a party leave you anxious and stressed? It shouldn't be!
Watching a football game on television with friends should be relaxed and stress-free.
Dive it! Go on and invite a few friends over for the big football game! I've got a few football party ideas to share with you to make your party easy with a few game time goodies from Nestle. I headed off to Walmart to purchase the following Nestle products:
1 – Stouffers Party Size Lasagna with Meat & Sauce
1 -12 ct. pack Hot Pockets Ham & Cheese with Croissant Crust
1 -12 ct. pack Hot Pockets Pepperoni Pizza with Garlic Buttery Seasoned Crust
1 – DiGiorno Rising Crust Supreme Pizza
1 – EDY'S or DREYER'S Limited Edition Touchdown Sundae Ice Cream
1 – 8ct. pack NESTLE Crunch Dipped DRUMSTICK Cone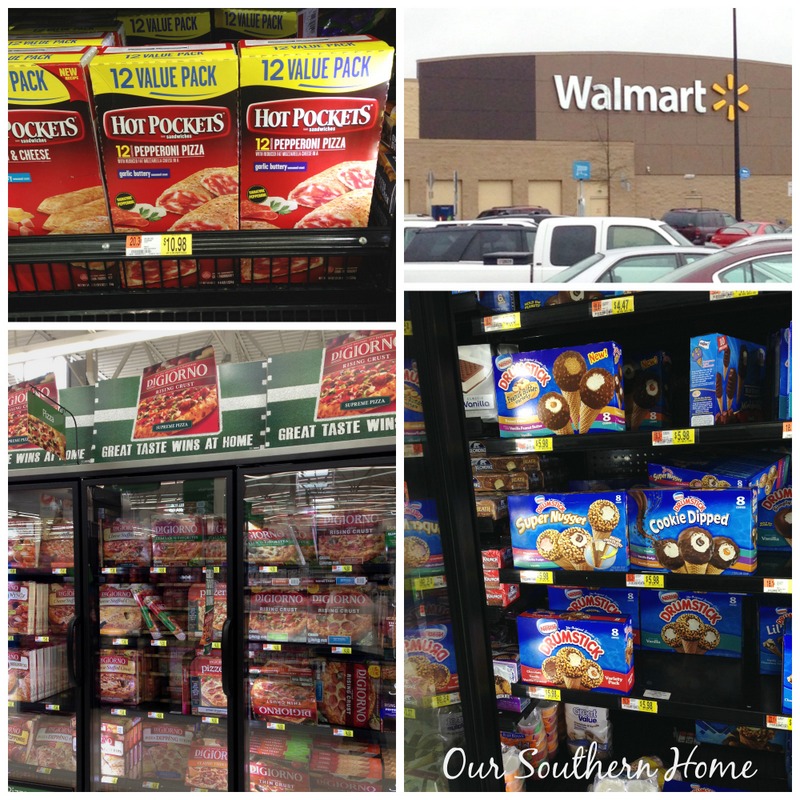 Walmart is great for one-stop shopping! My Walmart was sold out of two of the items, and I can sure see why!
I substituted Vanilla ice cream for the Limited Edition Touchdown Sundae Ice Cream and 6-2 ct. boxes of the Hot Pockets Ham & Cheese with Croissant Crust instead of the 12-ct. box. The croissant crust is so yummy and I can't wait to check back for the Touchdown Sundae ice cream!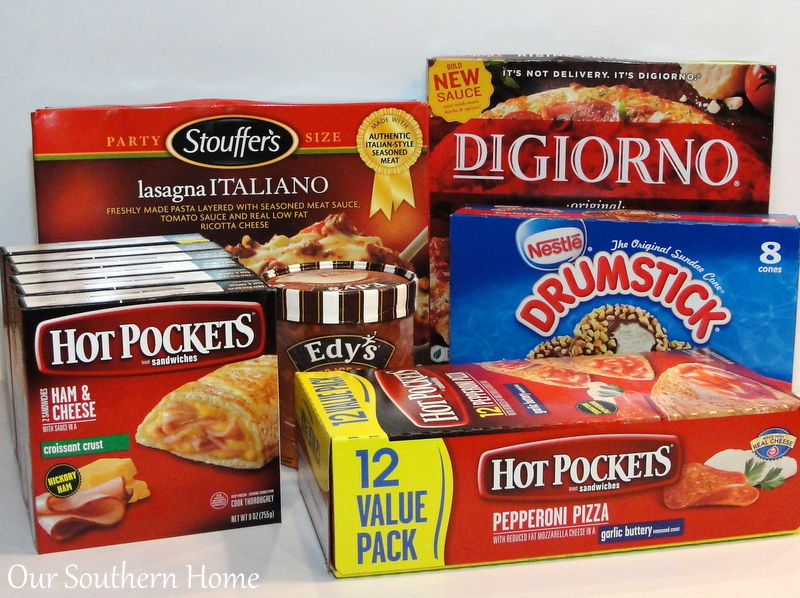 Let's look at my simple party! You will notice that everything that I used was ready-made! This really made the prep fast. I wasn't worn out before my guests arrived, and we were able to enjoy each others company!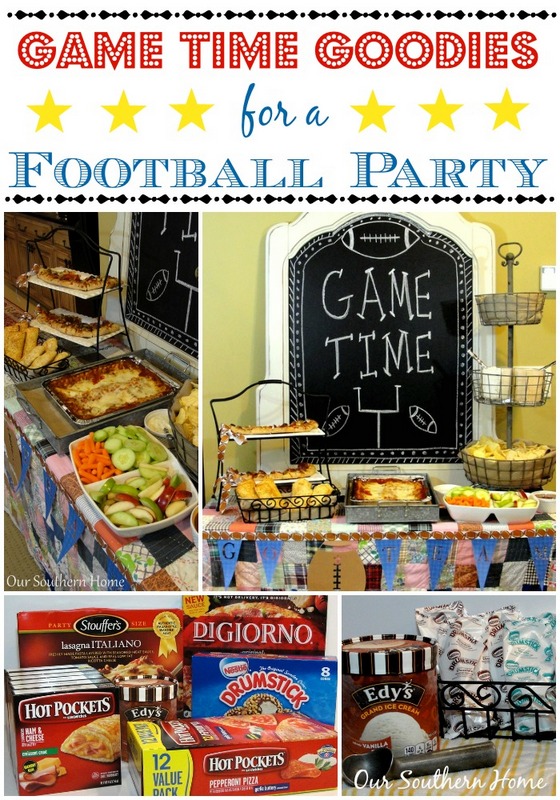 One of the things I do earlier in the day or the day before is to prep my table. I place my dishes out to make sure everything in the area will fit so it makes actually plating the food fast and simple!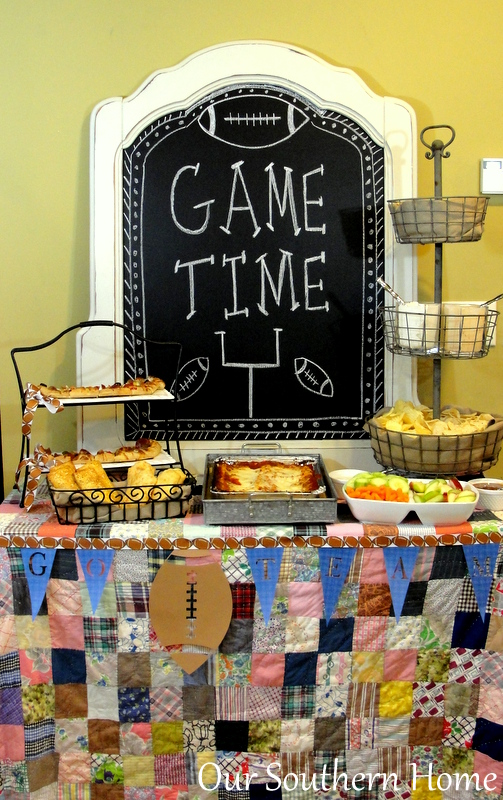 Our big screen TV is in our upstairs family room so I planned to have the party there. Don't feel like you have to go out and buy party supplies! Use what you have! I placed an old thrift store quilt over the table for a vintage old school feel. It makes the event feel even more relaxed! I used my ironstone white plates from the thrift store and everyday silverware since I just had 8 people. By all means, use paper products!
This isn't a huge table, but if you use tiered serving dishes, you can fill in a lot of food with limited space! Borrow things from the house! The wire tiered stand normally holds my craft supplies, but today it is holding chips, dips and party mix with the aid of cloth napkins to corral the game time goodies.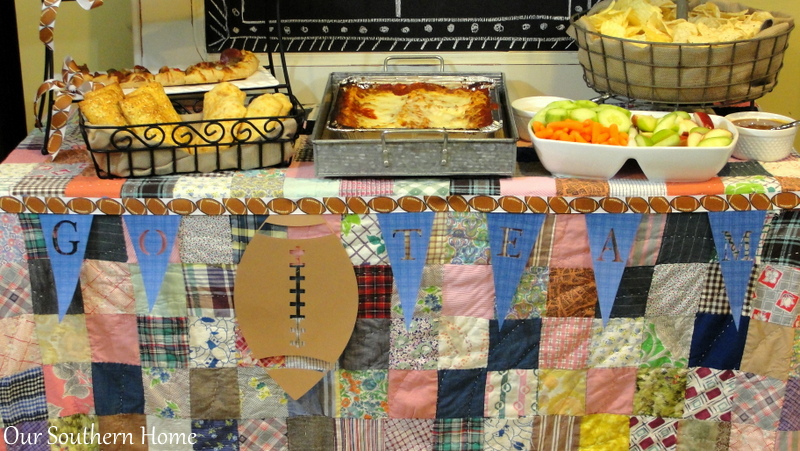 While shopping in Walmart, I came across this adorable football themed ribbon. I made a simple "Go Team" banner for the front with scrapbook paper on-hand and my cutting machine. You can easily do the same by cutting out triangles and writing on them with markers! Double stick tape holds it to the ribbon. Straight pins secure it to the quilt. It took no time to put this together.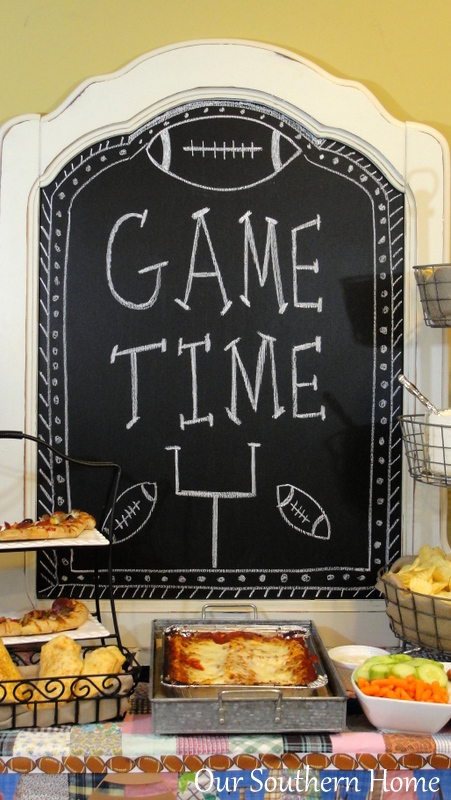 Then I used my thrift store mirror turned into a chalkboard for a little freehand chalk art! It doesn't need to be perfect…just write away and go back and thicken/darken the lines with chalk!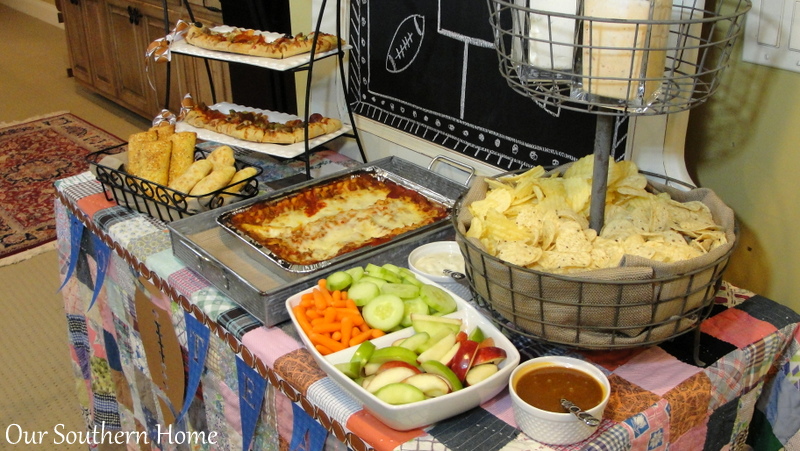 We invited another family that we are good friends with to come over Sunday evening to watch the big football game with us and enjoy the goodies. The table was self-serve and a huge hit…especially with the kids! I kept extra Hot Pockets wrapped in foil and in the oven to replenish the table as needed. The oven was turned off, but its warmth kept the extras warm.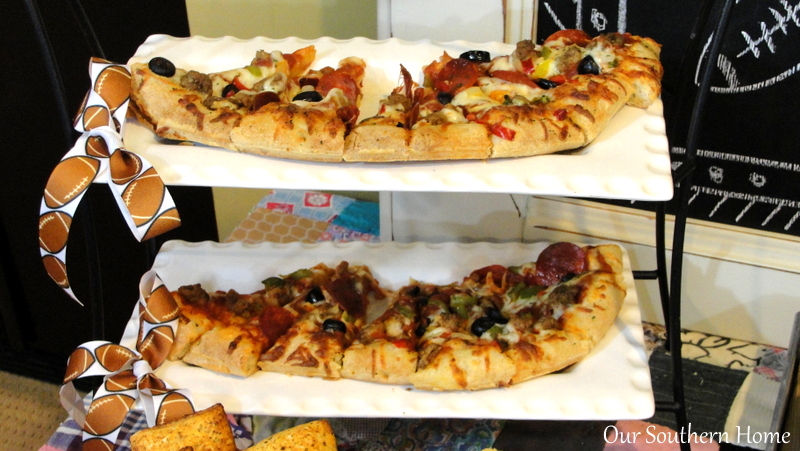 Here I have the DiGiorno Rising Crust Supreme Pizza cut into small triangles and placed on the tiered serving stand.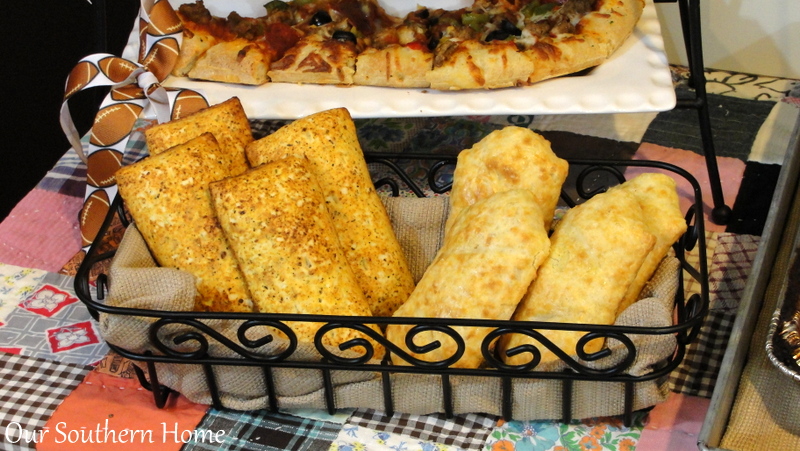 I placed the Pepperoni Pizza with Garlic Buttery Seasoned Crust and Ham & Cheese with Croissant Crust Hot Pockets in this wire basket with cloth napkins. Talk about making self-serve easy!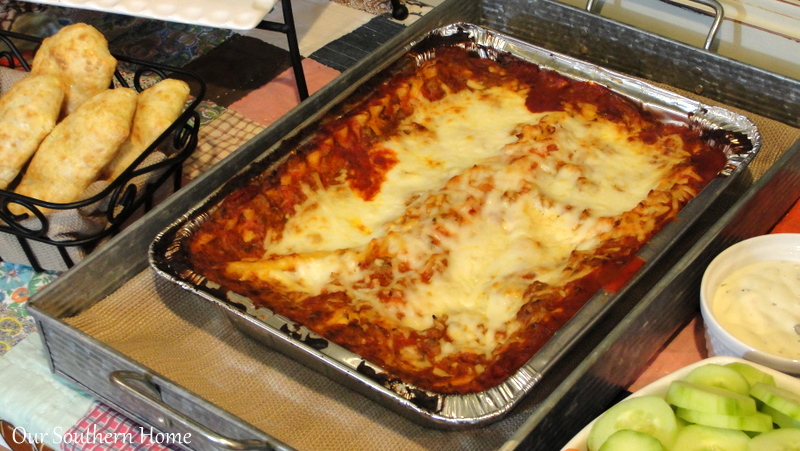 For ease, I left the Stouffers Party Size Lasagna with Meat & Sauce in the original tray! To dress it up, I took a galvanized metal tray, lined it with the same cloth napkins and places the lasagna tray inside. It also helped to contain any yummy cheese drips as it was served.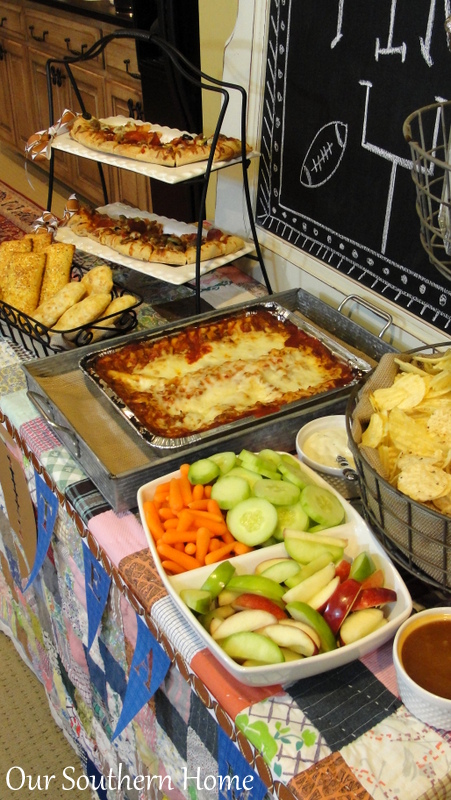 I just added a few veggies, fruits, chips and dips to round out the meal table.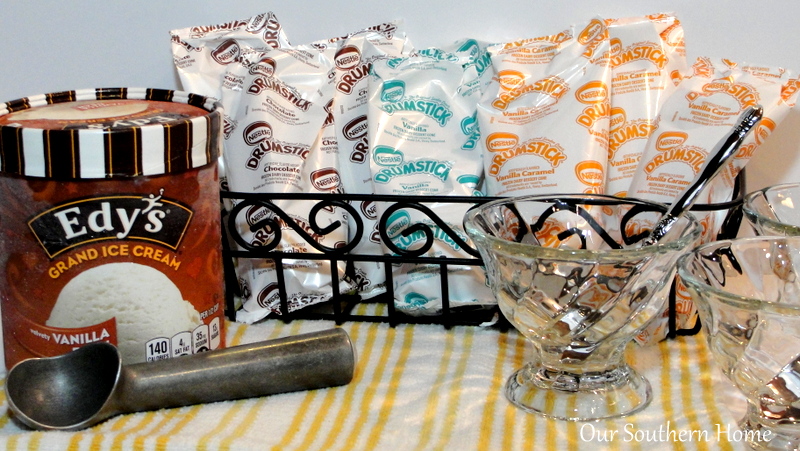 On the kitchenette counter, I set up a drink station and later in the evening set up a quick dessert station with the 8ct. pack NESTLE Crunch Dipped DRUMSTICK Cone and the Edy's Grand Ice Cream in Vanilla!
So what's stopping you? Let's get to planning for the BIG Football Game Party!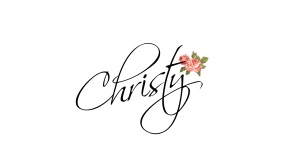 Buffer