**This is a sponsored post by Duluth Trading. Our Southern Home is compensated in the form of monetary payment and/or product for review. All opinions are my own**
In August, I had the pleasure of going to my very first blogging conference, Haven in Atlanta.
It was the closest thing that I've had to a girl's weekend in a long time.
While there I got to meet many of the fabulous bloggers that I had been Ooooing and Ahhhhing over for quite sometime. I also go to meet and talk with many of the vendors.
Duluth Trading was there and strangely they were new to me. Now, I am recognizing their commercial spots on TV! I was immediately taken in by all of the samples that they had there for us to look at. The one item that struck me as one that I had to have was the Women's Crosscut Flannel Shirt. It is item #65500 and retails for $54.50. The tall, thin rep looked so hip in it!
Needless to say when in early fall Duluth contacted me to do a product review, I jumped at the chance to try the shirt I had been drooling over.
Anytime that I need to feature a real, live person……I use my kids! Warning!!!! My daughter insisted that I should wear the shirt for the review and not her! I agreed and handed the camera over to her. This will probably be my only chance to be a super model (at least on my blog) so please indulge me as I strike a pose and vogue!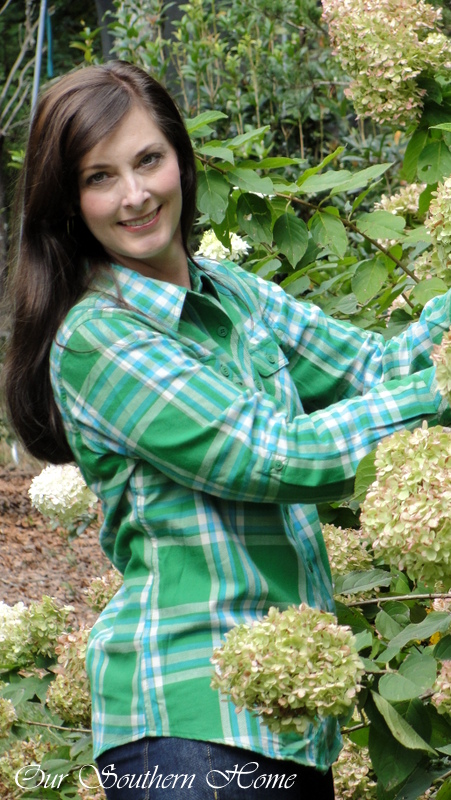 Green is my favorite color so I gladly picked this one. They have other colors, and I really had a hard time deciding!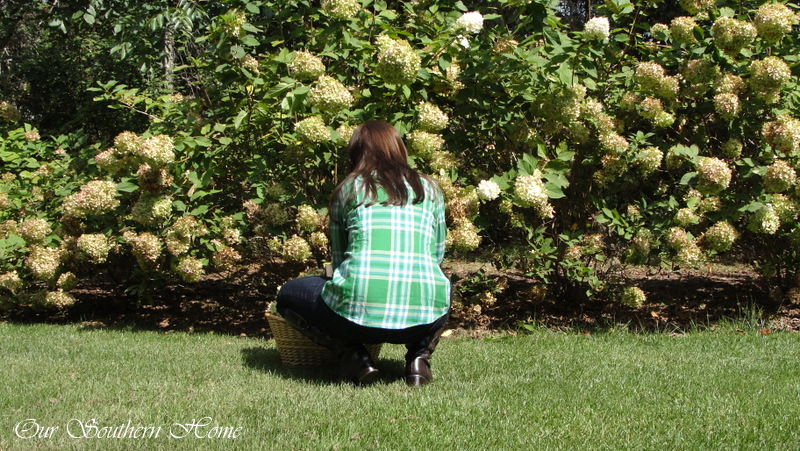 Do you notice how I'm bending down and it is covering and NOT riding up! The length is just perfect!
Here are other details:
Feels plush yet wicks moisture from skin
Ideal weight for active work
Prewashed to fend off shrinkage
Bi-swing back and underarm gussets for freedom of movement
Convertible sleeves secure with button/tab
Shirttail Shammy microfiber cleaning cloth under front hem
Natural fit
60% cotton/40% polyester
Machine wash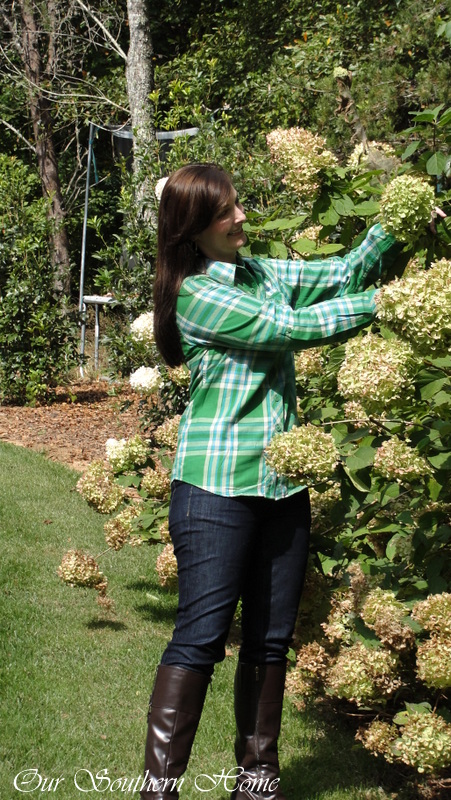 It's a nice shaped natural fit to reveal feminine curves without being restrictive.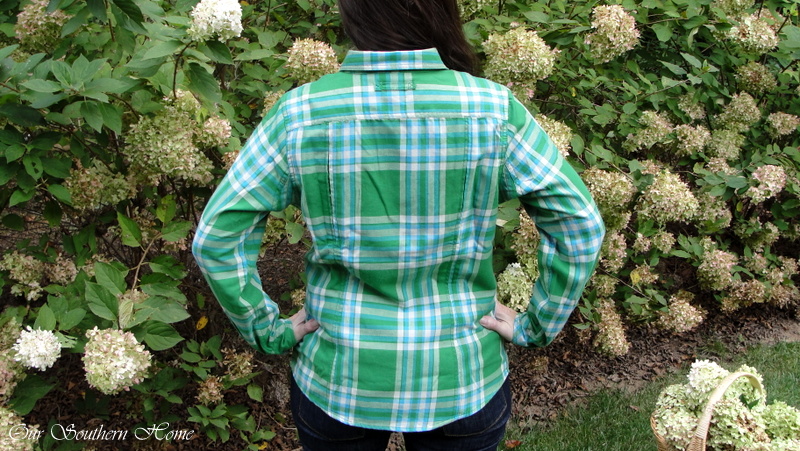 Even with my hands on my hips, there is no stretch against my shoulders. It is built with ease of movement in mind!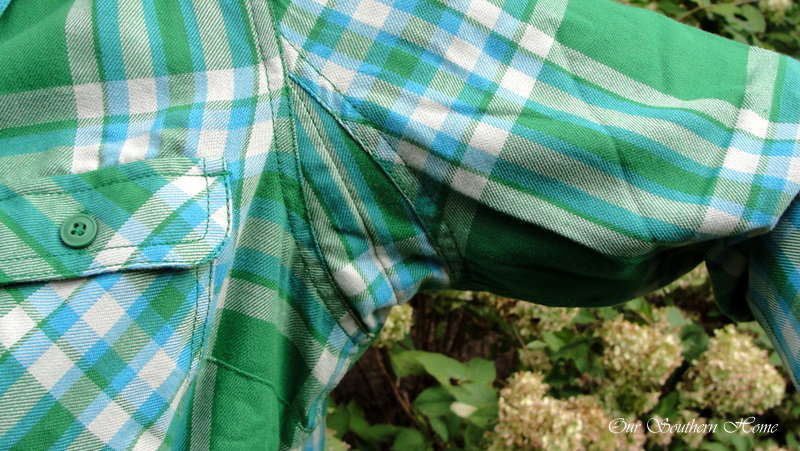 Underarm gussets make the shirt so comfortable.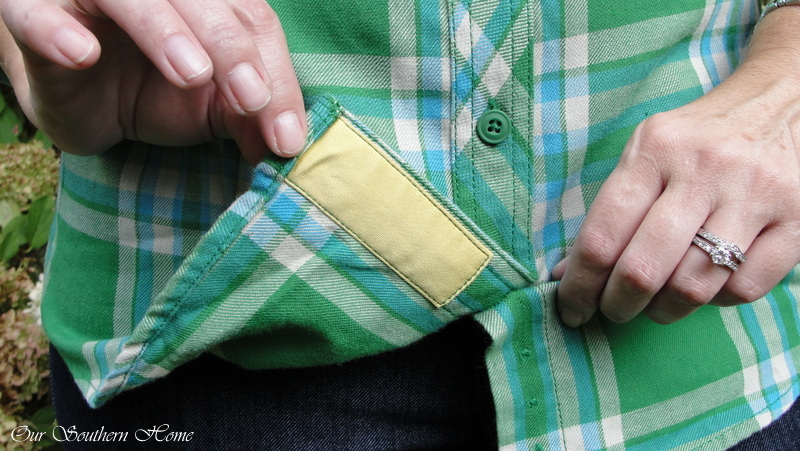 Shirttail Shammy microfiber cleaning cloth under front hem to clean off your electronics screen!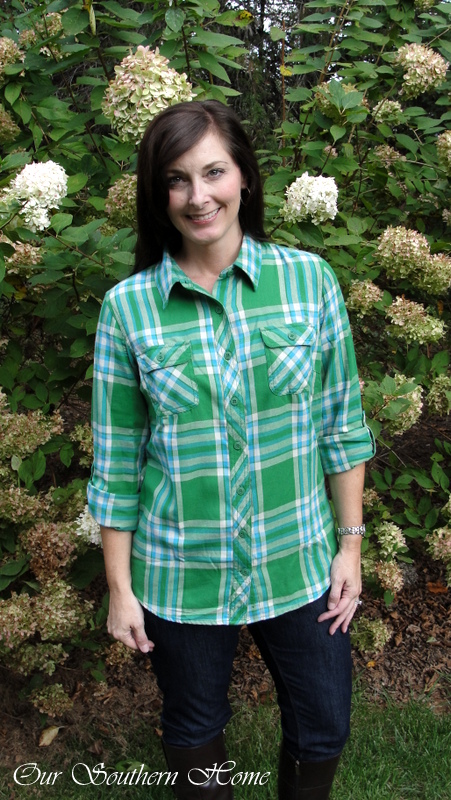 Convertible sleeves secure with button/tab to roll up on those days that it ends up a little warm like here in the south.
This jacket is on my wish list! I love the back tabs. Adds a nice feminine touch!
My husband just got this thermal tee for his birthday from my mom. He loves it. He has long arms and frequently has trouble finding a good arm length. This one is perfect!
They wash up beautifully! Sadly, the only issue that I have with my flannel shirt is that I rarely get to wear it! My teen daughter has taken it over. When I want to wear it, I have to go to her closet! She loves it. She has worn it with skinny jeans, light brown knee boots and a quilted chocolate vest. She gets many compliments from friends. It looks so hip on her like this. I wish I had a picture to share with you! So Duluth….teens love your flannel, too!!!
Please consider Duluth Trading for any last-minute Christmas gifts. You will bring a smile to your loved one's face!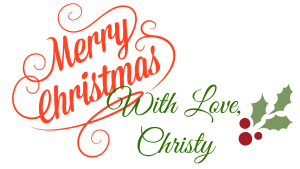 Buffer