Goodwill Mirror to Chalkboard Tutorial
I confess I have a bit of a problem with finding my way into thrift stores. I've even gone out of my way to turn around and go back after my inner self said"NO"….keep driving. My inner self starts screaming, "You have a growing stash in the garage. Where will you park your poor car if you buy another piece!"
On a lighter not, I have been staying away until I get caught up on what I have. I do struggle with that nagging feeling that I may be missing out on that perfect find!
This summer, Ashlyn and I found this very heavy dresser mirror at Goodwill. It's not perfect..looks like it was part of a set due to the unevenness of the sides. Do you notice? Once it is in place and things are around it, it disappears. I knew exactly where I wanted it to go, and it is now hanging or rather leaning in our family/media room over a table that we made this summer.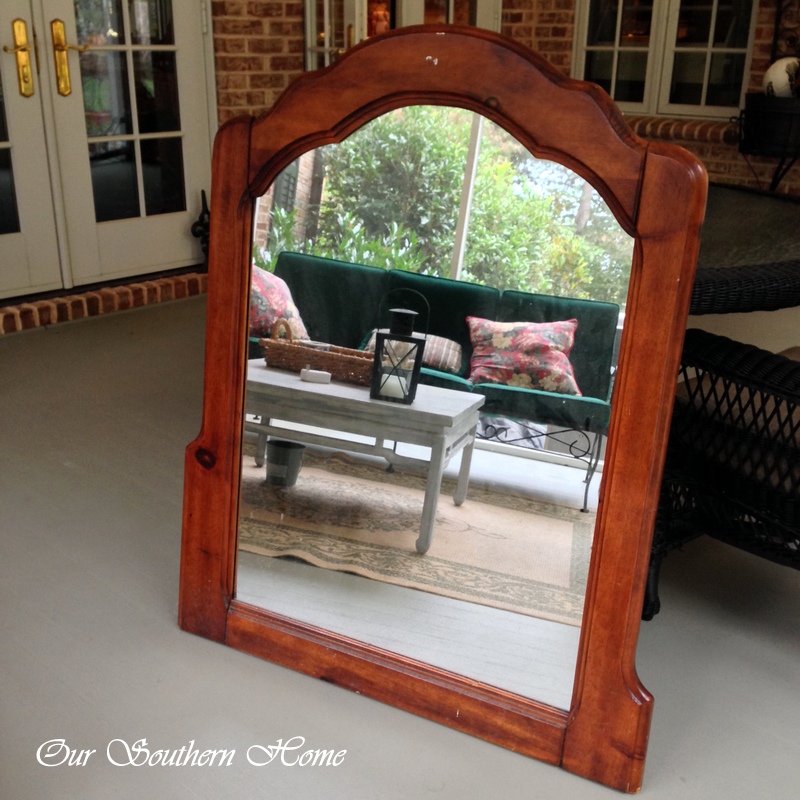 I removed the backing and took out the mirror. Without the mirror, it's not near as heavy! Don't throw the backing away or any filler material used to fill the space between the mirror and the backing. In this case, it is several sheets of cardboard.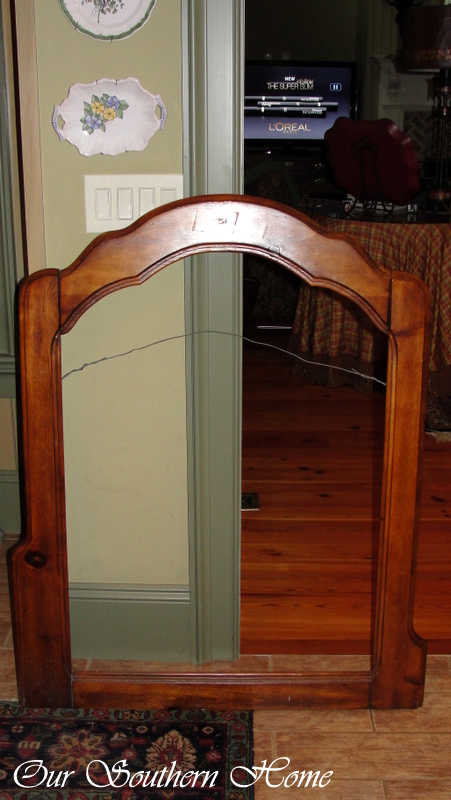 Clean the mirror well before painting.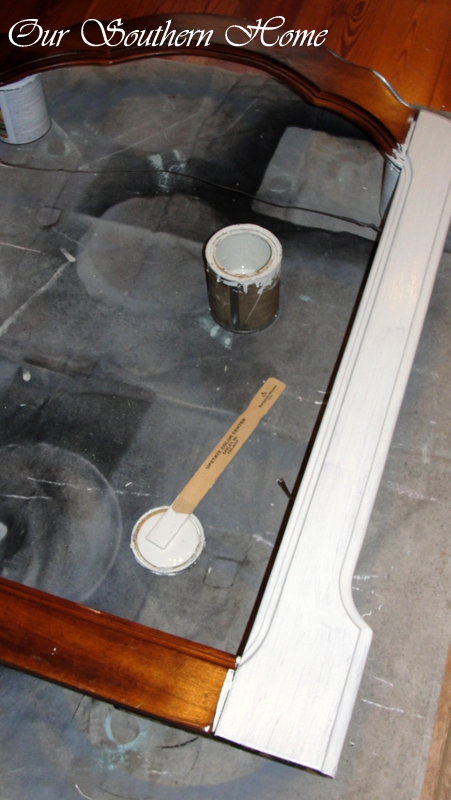 Since I knew I wanted to place this chalkboard over a table that my husband and I made this summer, I decided to use the same paint color. I still need to share that table with you! With chalk paint there is no need to sand or prime. I painted on two coats of Maison Blanche paint in La Bonne Terre. I love this color. It is a creamy off white with a hint of green.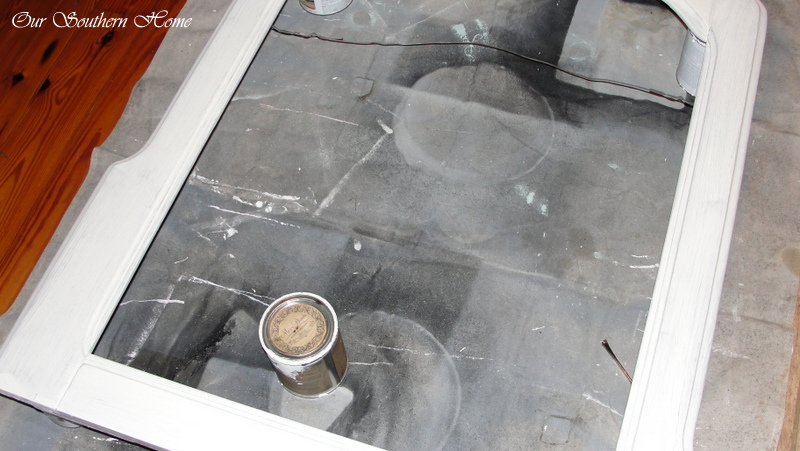 Two coats were all it needed!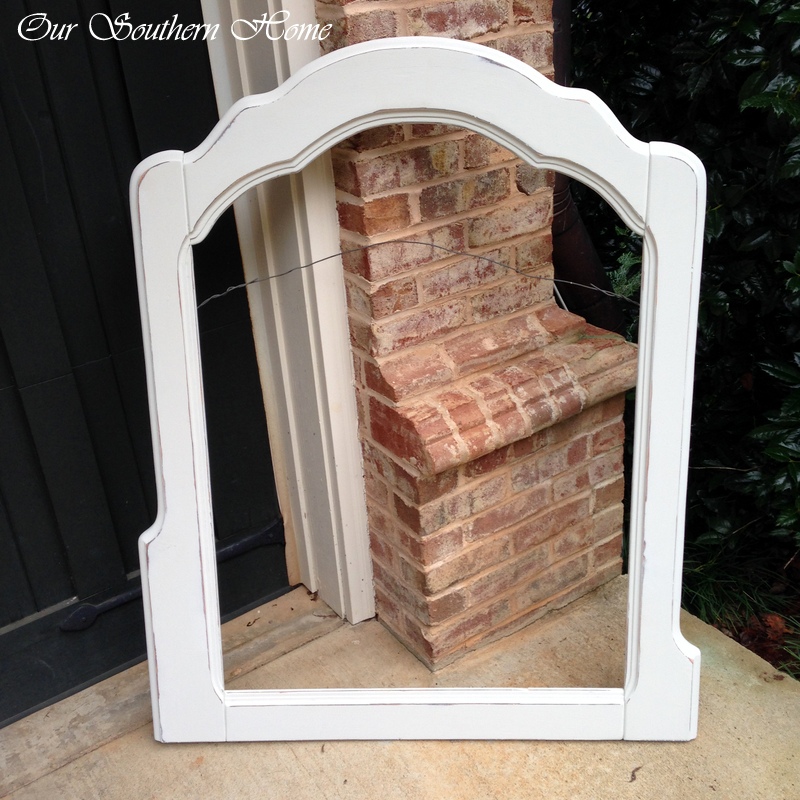 Dry time is very fast with this paint. Later that day, I took it outside and lightly distressed it with my electric palm sander. This make the job so fast! You could also use medium grit sand paper or a sanding block and just a bit of elbow grease. My hubby gave me my sander for Christmas last year, and I love it! My old one had worn out!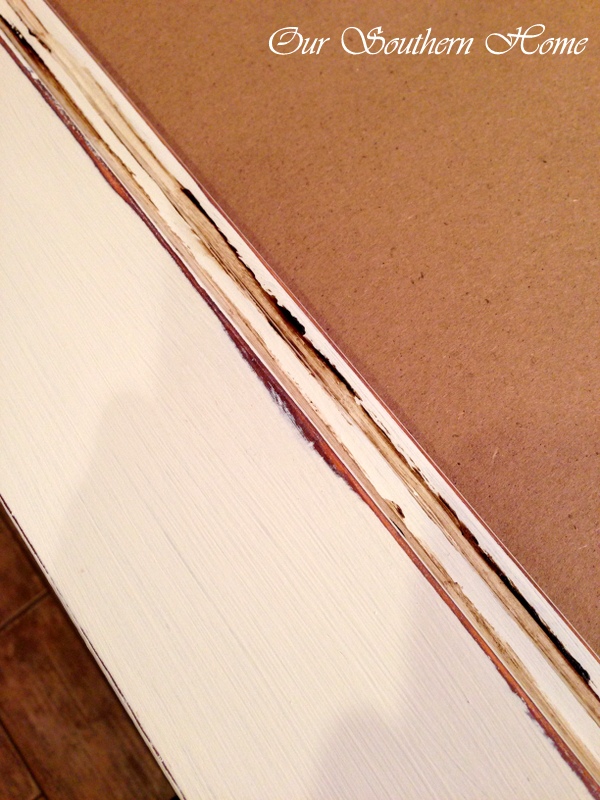 Here is up-close detail of the light distressing. I finished with two coats of clear wax and a light buffing.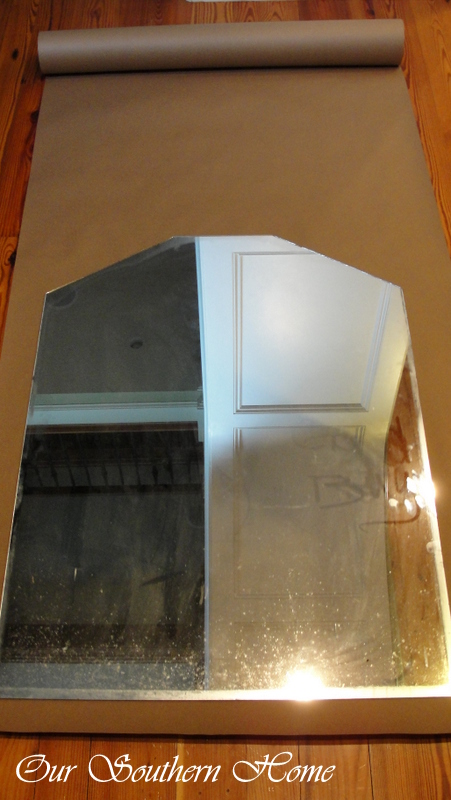 This mirror fit into a grooved out area. Don't throw the mirror away until you trace it to make a pattern. I used my roll of brown paper from Lowe's.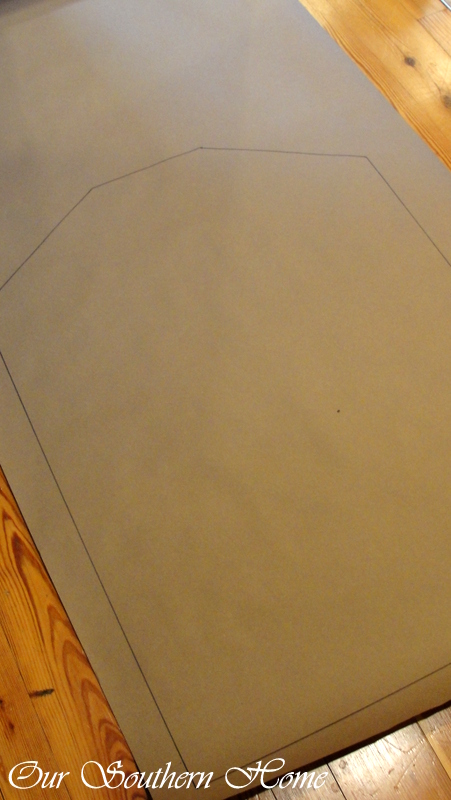 Trace and cut out the shape for the chalkboard. This will be used to cut out whatever you use for the chalkboard.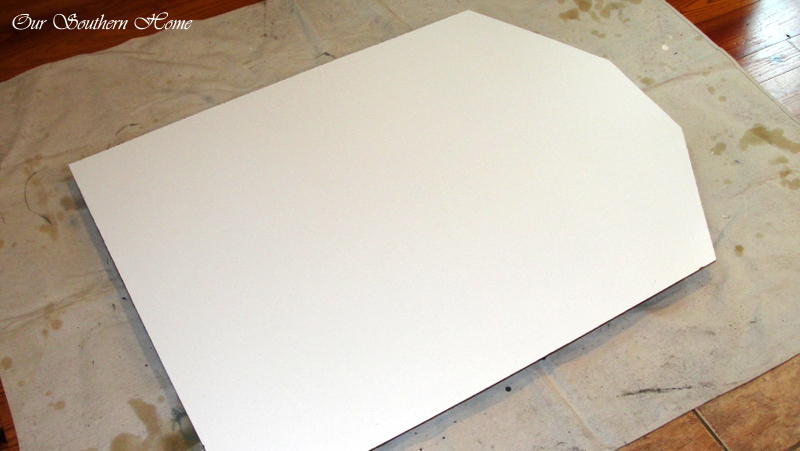 I know that home improvement stores will cut measurements of wood for you….no sure about specific patterns. With this, we have a friend that had this scrap piece in their garage. It is very thin and looks like particle board on one side and like a white board surface on the other side. It was cut with a miter-saw. I thought I'd give it a try to see if it would work. I cleaned it well before painting.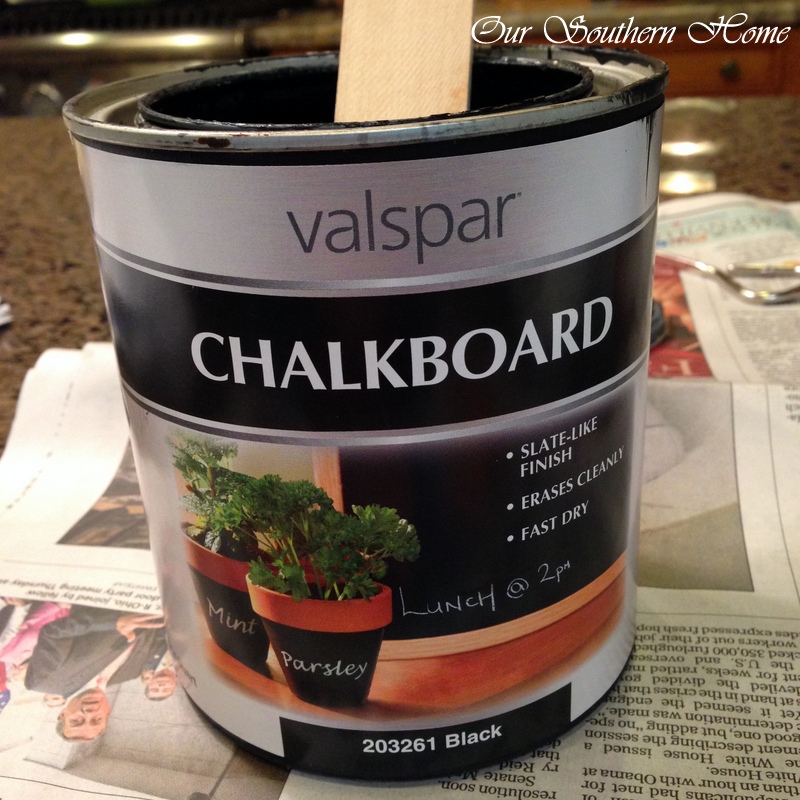 I applied two coats of chalkboard paint straight on the white side of the board. Any type of smooth board will work. I've even seen people use cardboard as the surface in smaller frames.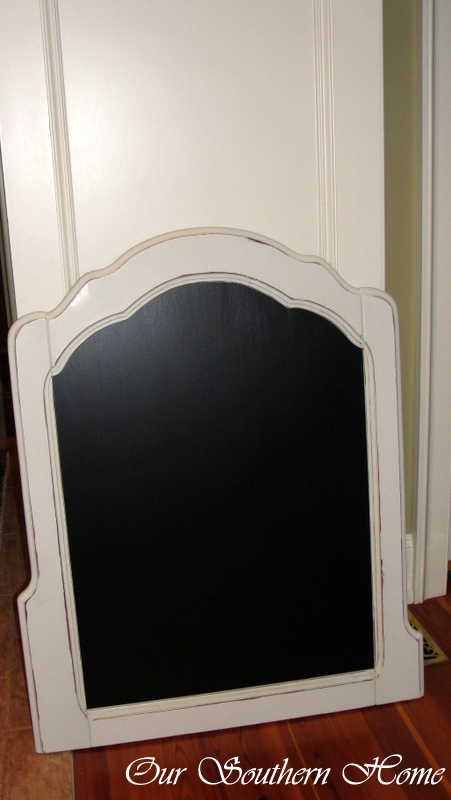 After the board was dry, I placed it back where the mirror had been. Then added back the filler sheets of cardboard and finally the backer board. Basically, you are putting the frame guts back together in the exact way that it was without the mirror.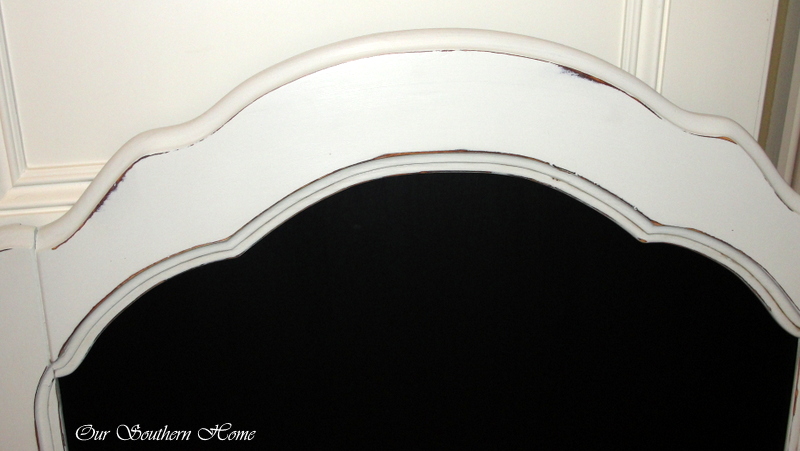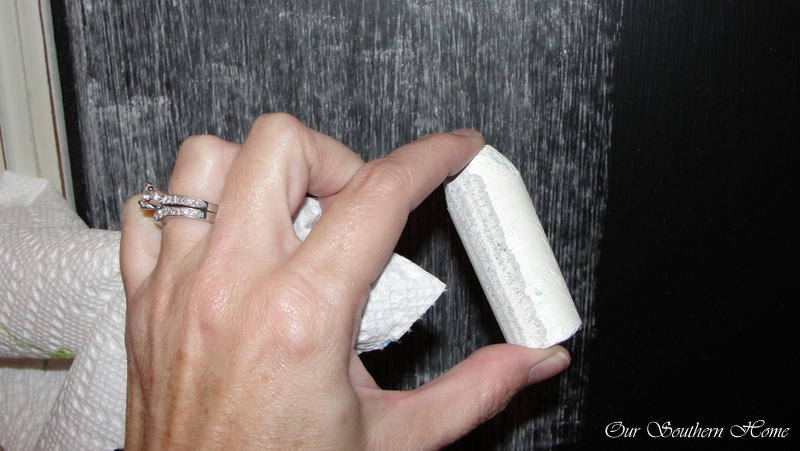 Be sure to prime the chalkboard surface first by writing all over it with chalk on its side. Then take a towel or eraser and work the chalk into the surface. This creates a surface which can easily be erased. If you prefer the new, freshly painted look….you can draw and wipe away with a wet cloth.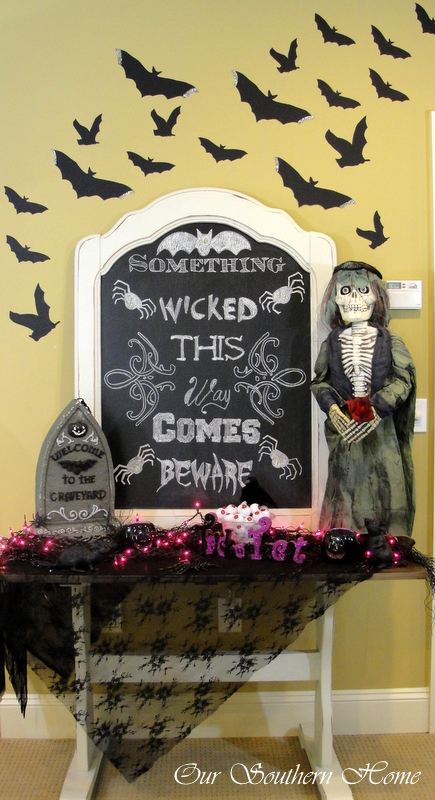 Here it is in my Halloween vignette. You can learn how to create chalk art like this HERE.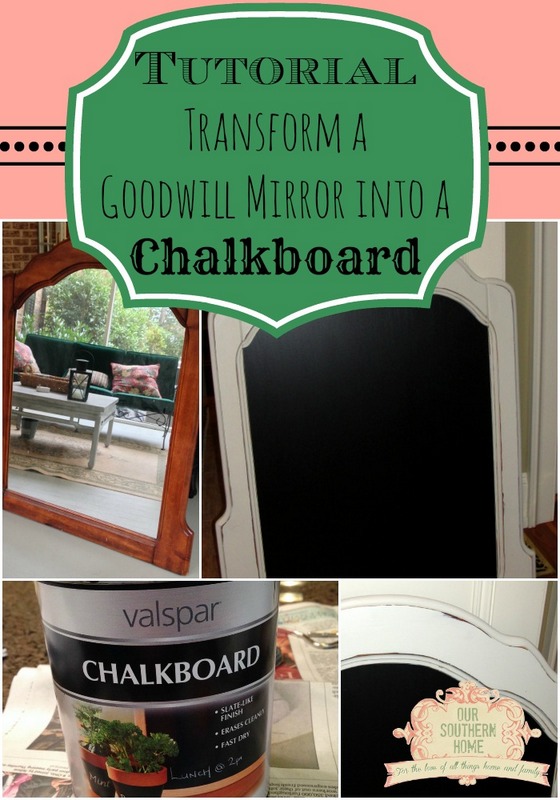 Thanks for stopping by! Let me know if you have any questions!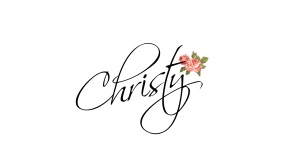 Buffer