No Sew Drop Cloth Curtains
I have decided that I am in love with the concept of No Sew Drop Cloth Curtains! Yes, they are not new…..I didn't invent them. They have been all over the internet for quite sometime. My craft room is upstairs and shares space with ugly exercise equipment. It is usually in such disarray that the door stays closed. This project is budget friendly with no sew drop cloths used as curtain panels with toile trim for a craft room update! This post features a full tutorial!
Since the new year, I've been on an organizing kick or overhaul! I must say that I have been very pleased with myself! I wanted to pretty up the room in the hopes that it would motivate me to keep it super organized. My hubby and family are betting against me. It is the room where the kids dump anything that they no longer want or all their school stuff that I want to keep.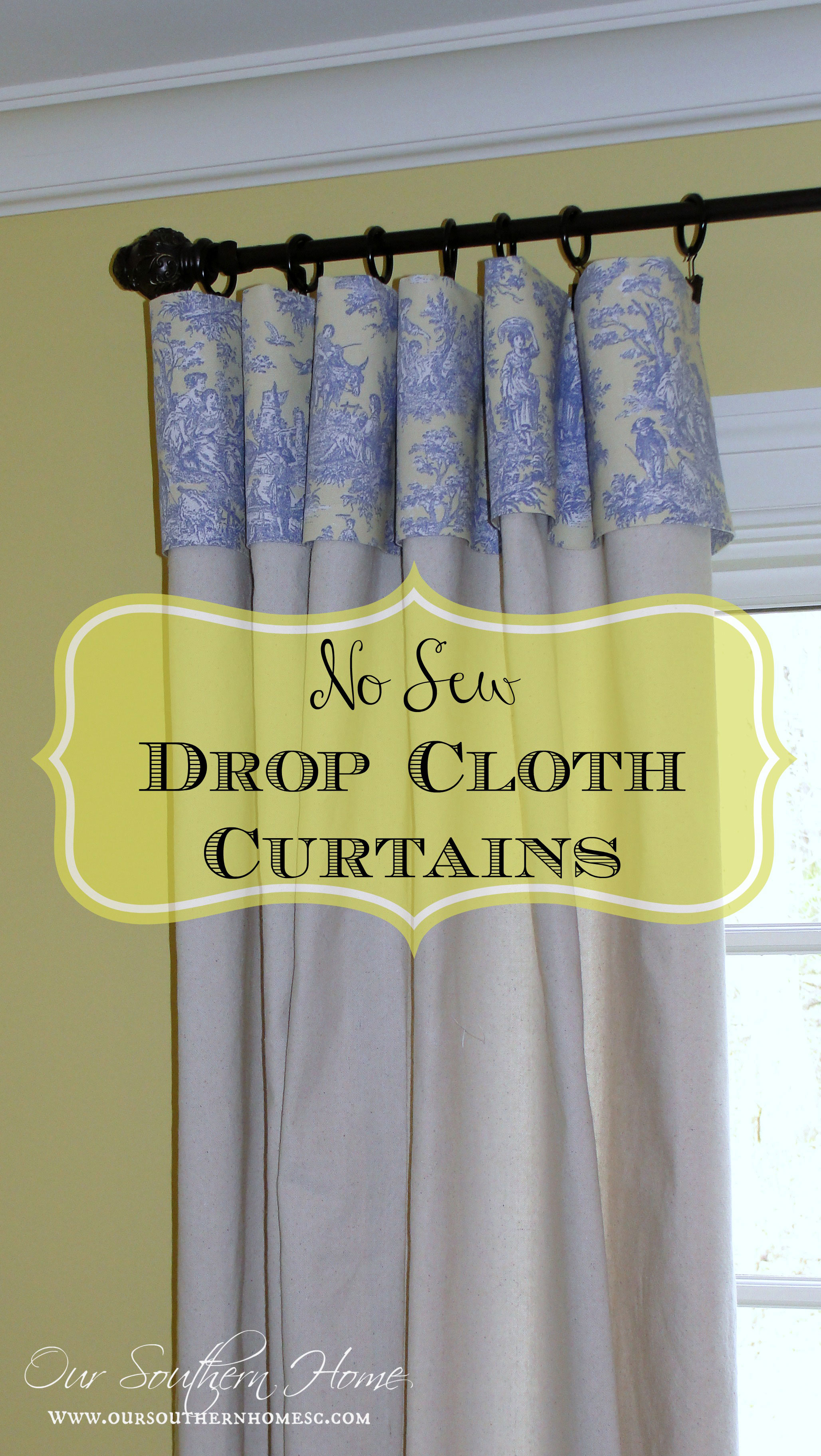 I can sew…..straight lines. BUT I didn't want to fool with it for this room that really no one sees. I decided to try the drop cloth idea!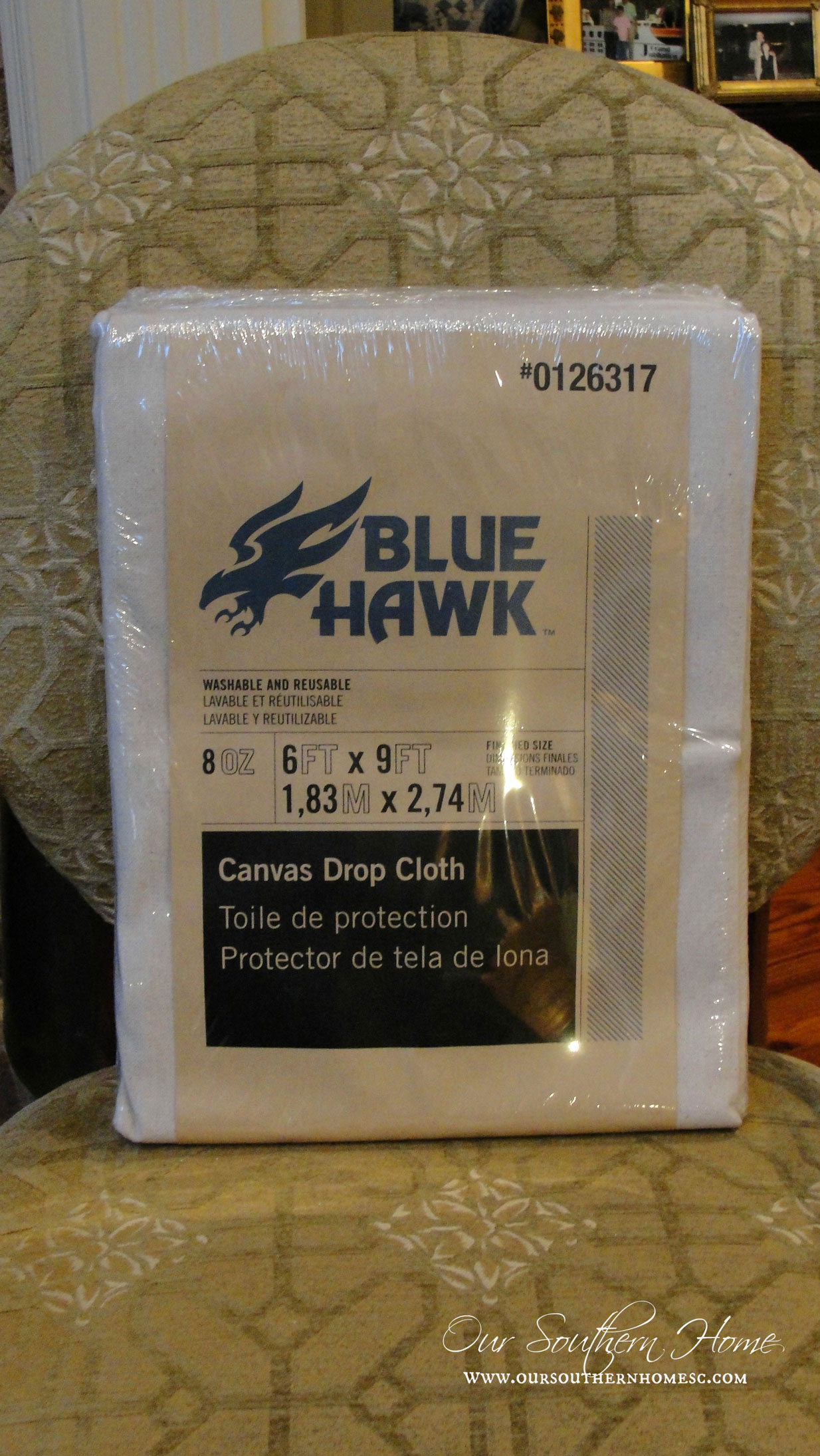 Each panel was only $10.98. I was so excited….hubby was skeptical!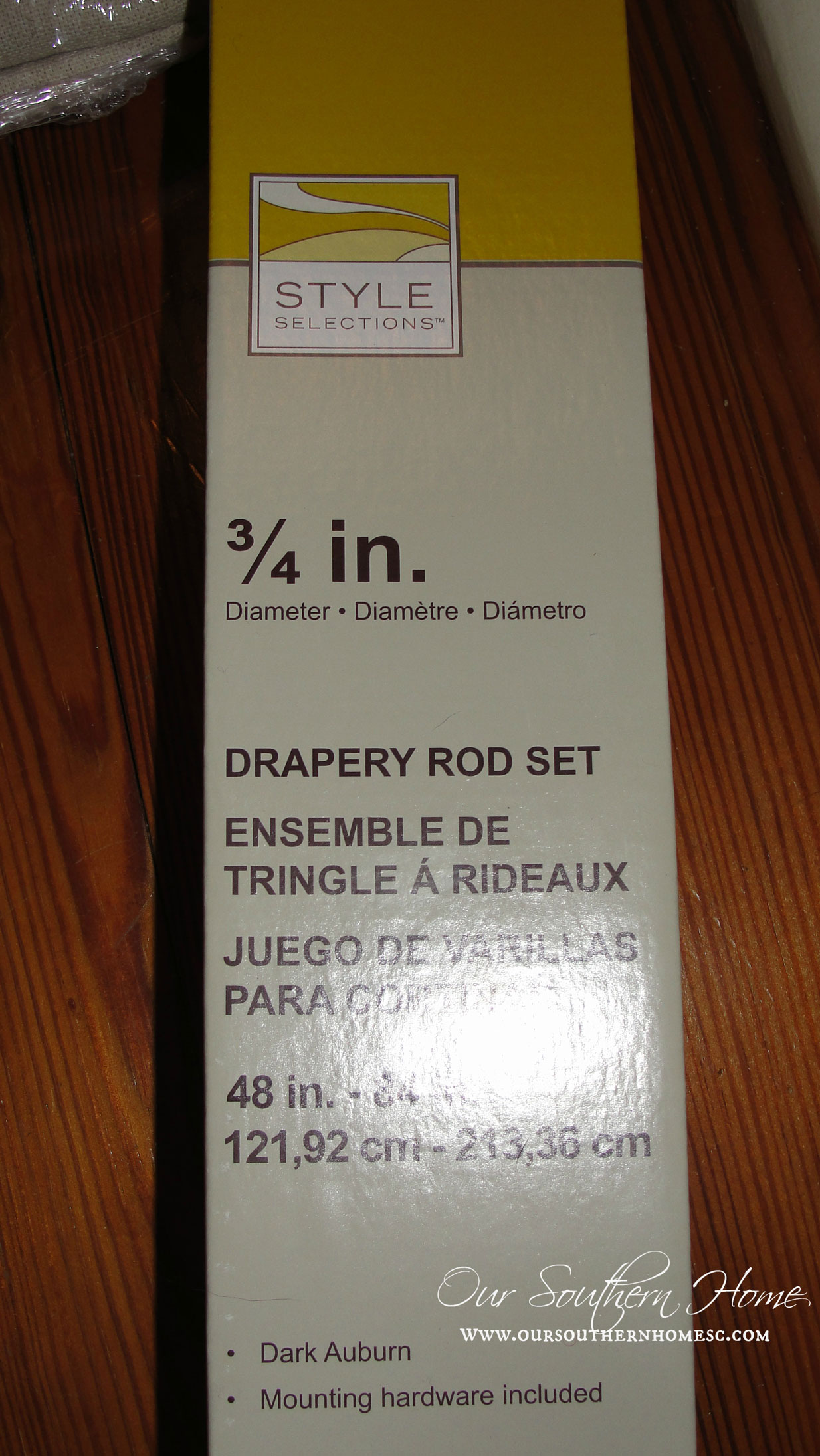 I purchased this inexpensive rod from Lowe's for around $25. I couldn't find it online to give you a link.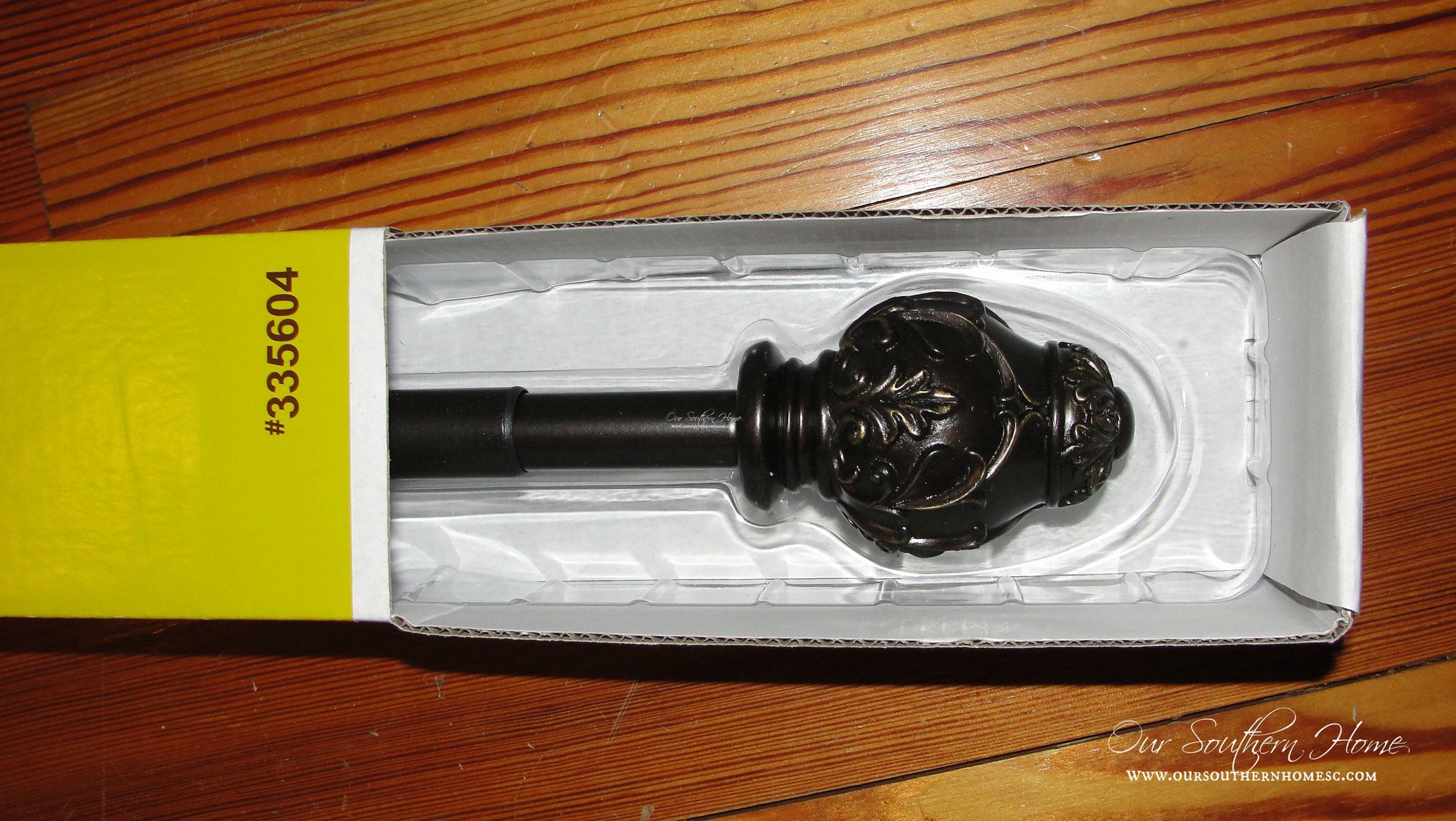 I failed to take a before picture, but just envision the rod brackets not there! LOL!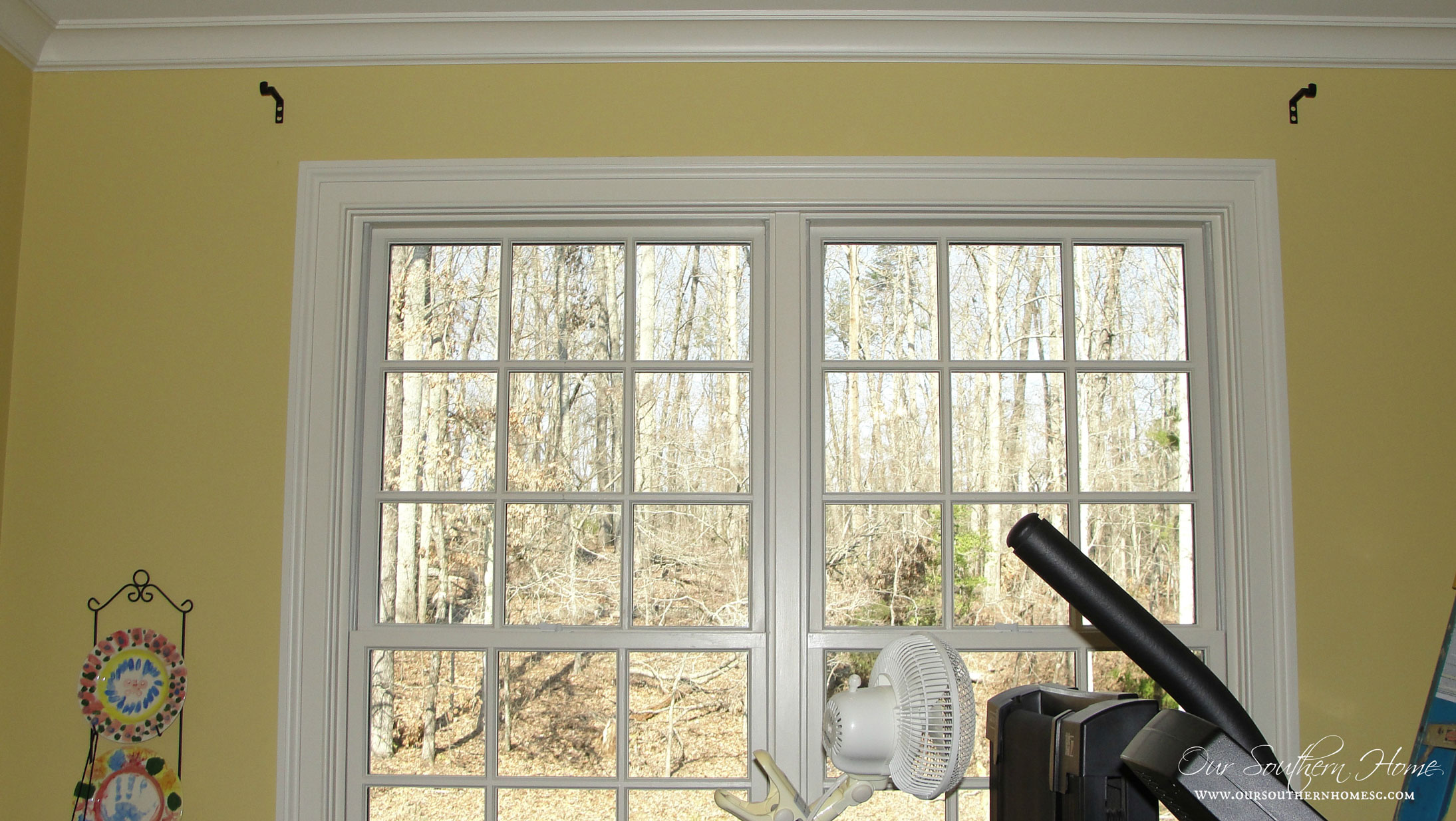 While we hung the hardware, I had the drop cloths washing in a normal cycle with cold water and dried them on low heat. They did shrink a tad bit.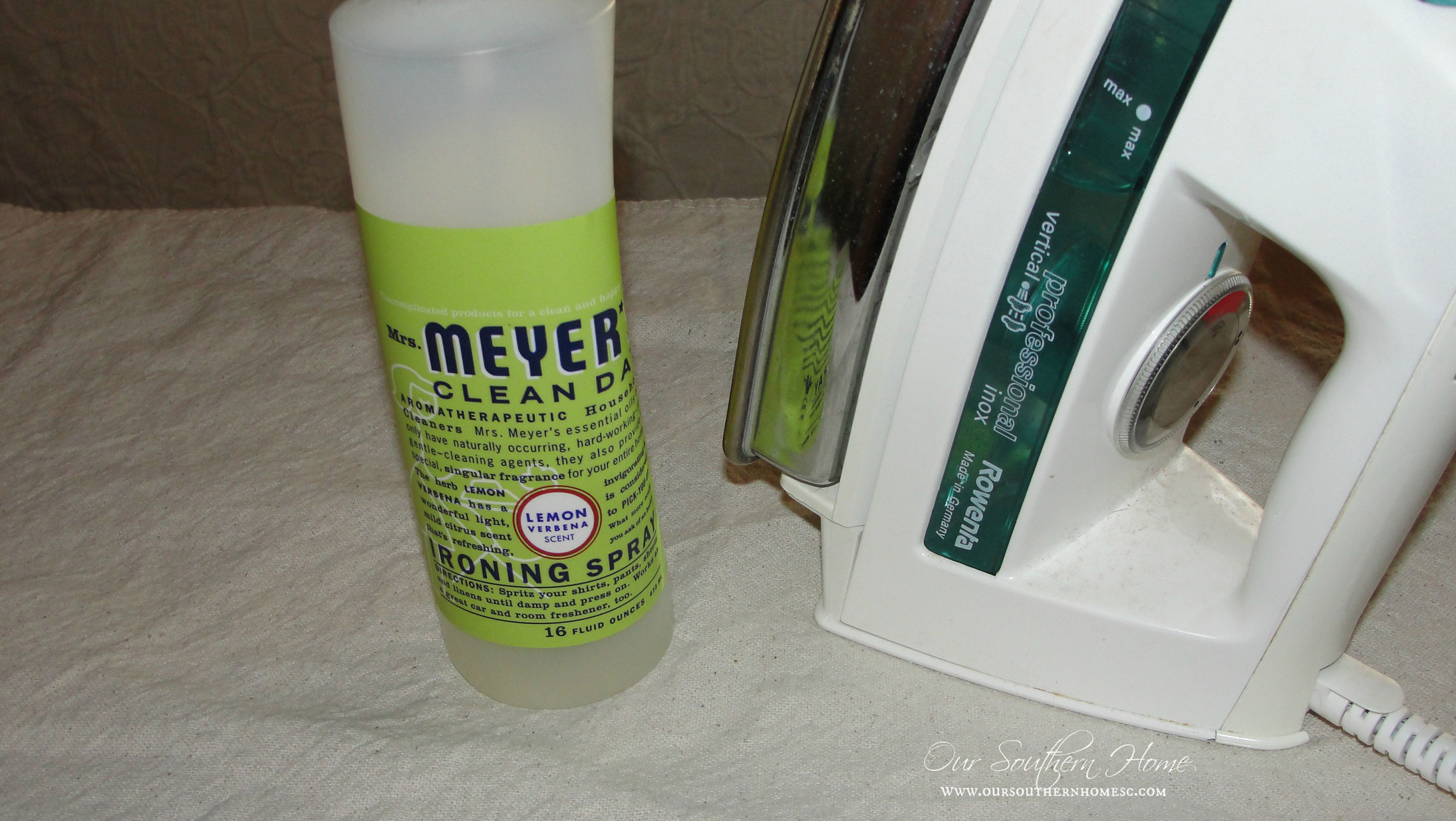 As you can see, they are quite wrinkled after washing. They ironed up nicely, but not quickly! Watched a little TV while ironing.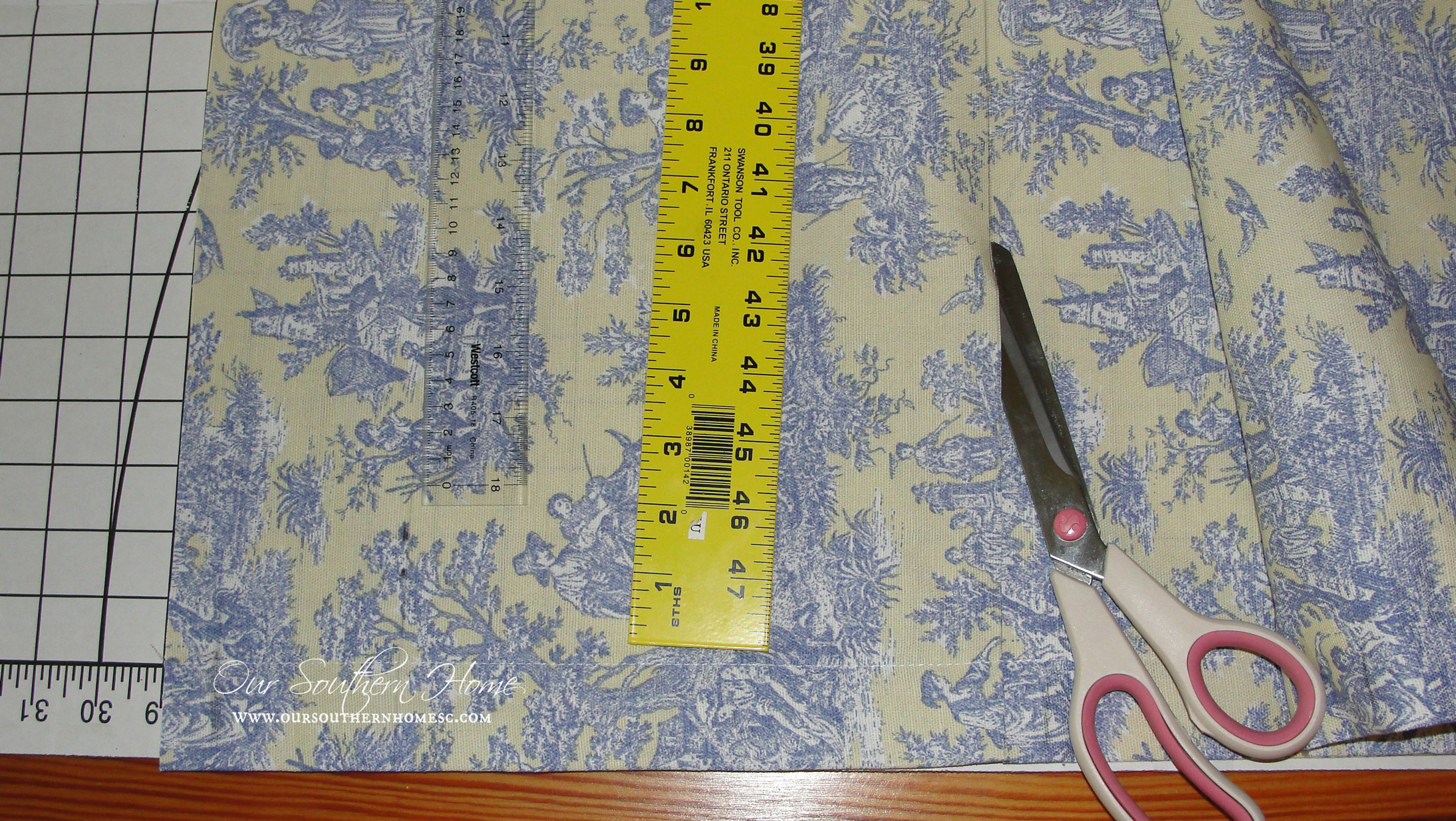 Enter the toile fabric. I had this toile fabric left over from another simple project for this room that I will be sharing with you soon. I was able to look at the repeats and get 4 equal strips from it. I needed 2 strips for each panel. I can't tell you how excited I was that this worked out! No fabric waste……wooo hooo!!!! The reason that I needed 2 strips was that 1 strip wasn't wide enough for 1 panel. I had to seam 2 together then cut a bit off.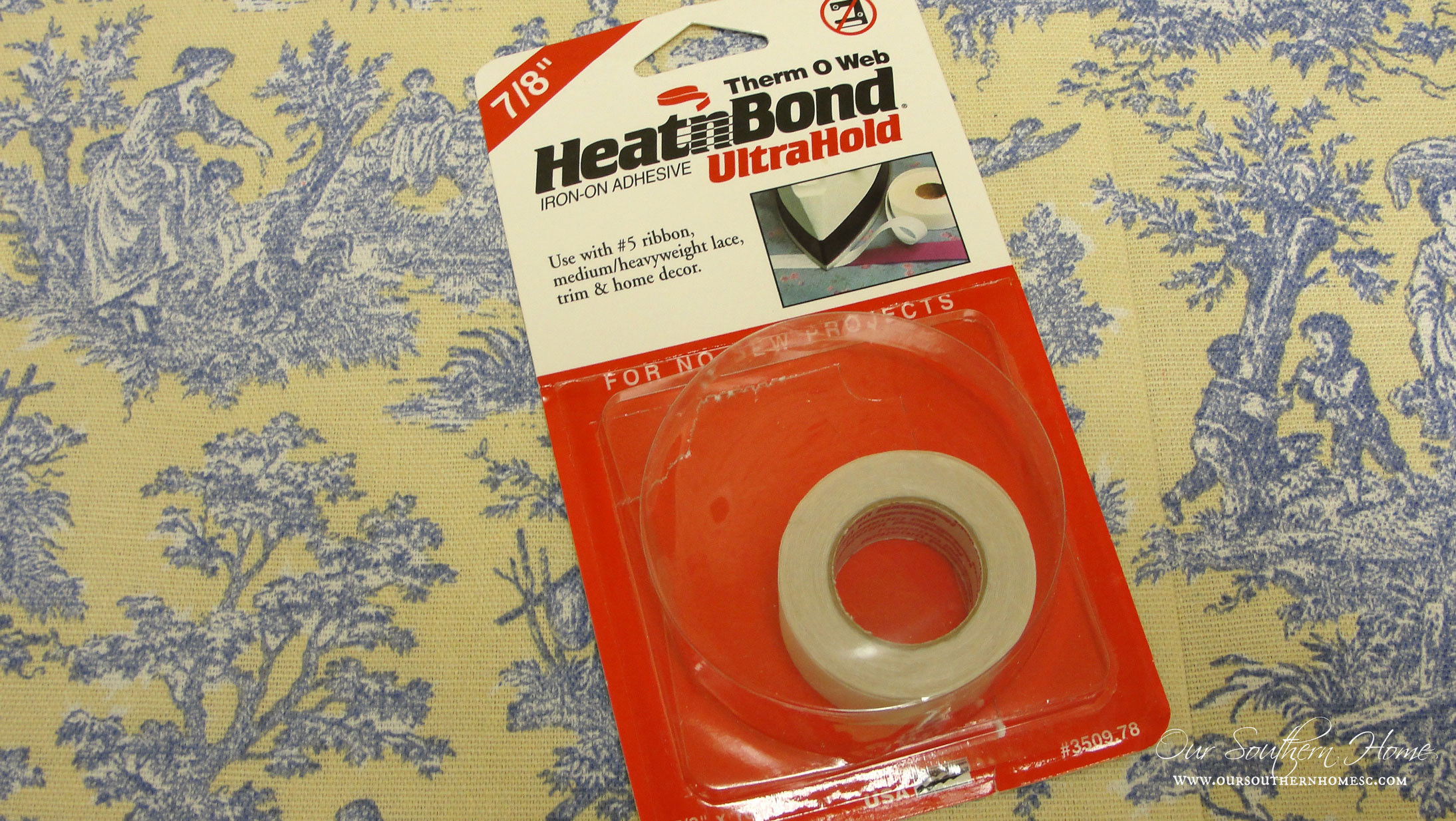 I had this iron on tape already on hand so I decided to skip the sewing machine. If you can iron, you can do this project! Just follow the directions on the product you use.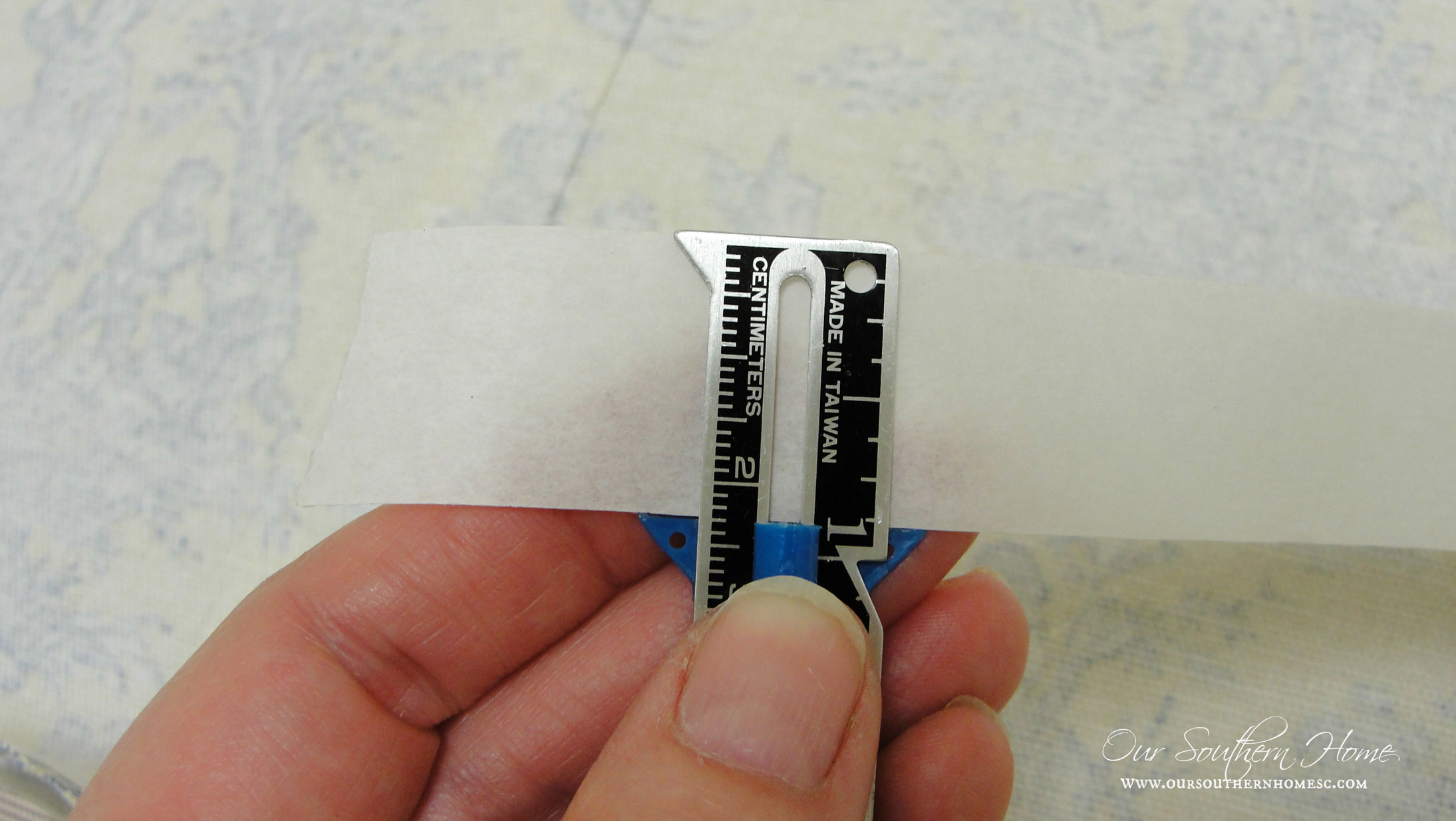 Please try to ignore my pitiful hands. I had this New Year's goal of taking care of my hands and keeping nails painted. It lasted about 1 month. My hands are a tool! I measure the width of the iron on tape and this became my hem width.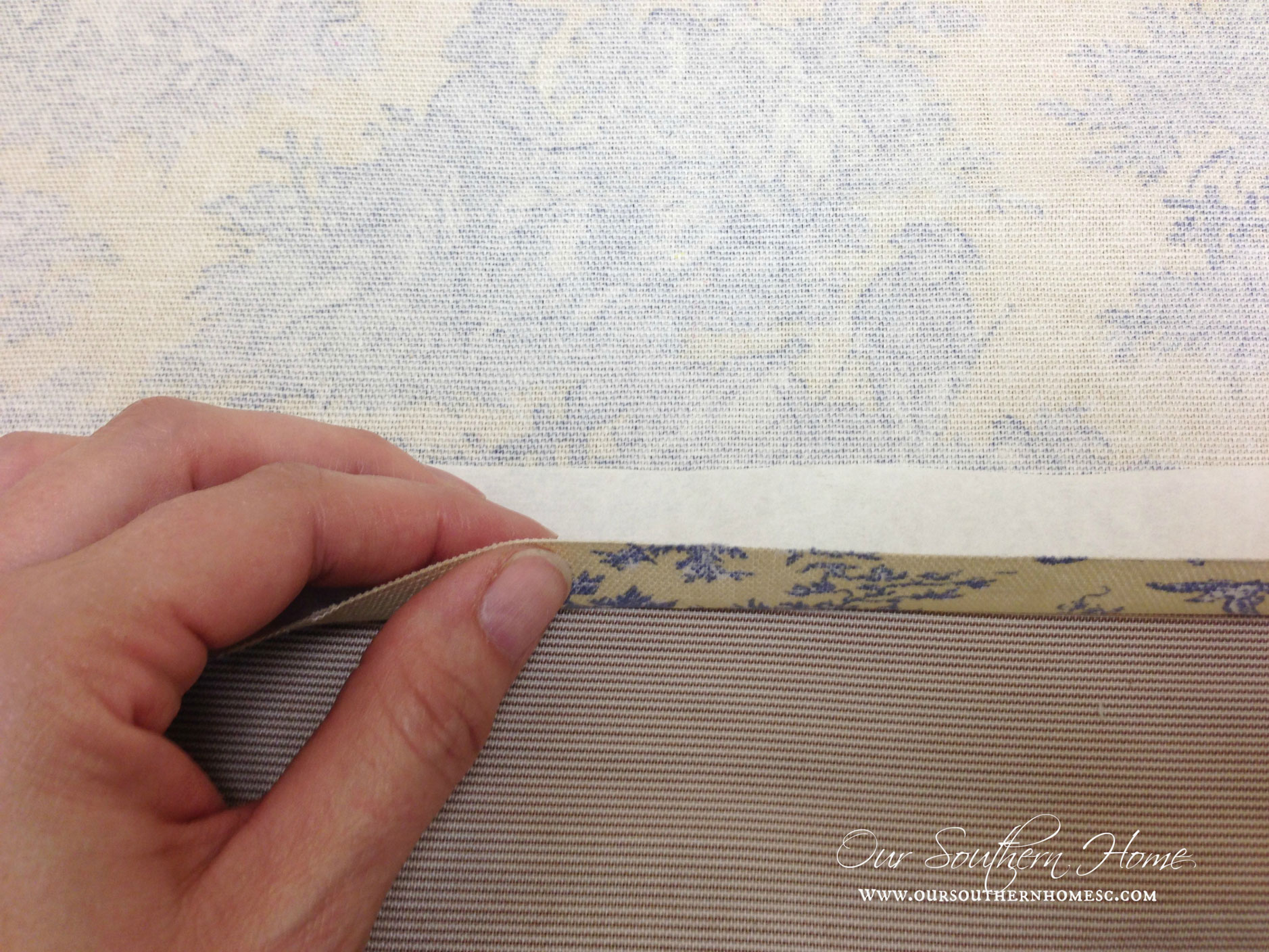 What I did next was took the measurement of the tape, folded over the hem and ironed it. Then I sandwiched the tape per the directions and ironed it to the fabric. I hemmed the bottom and side hems just like this.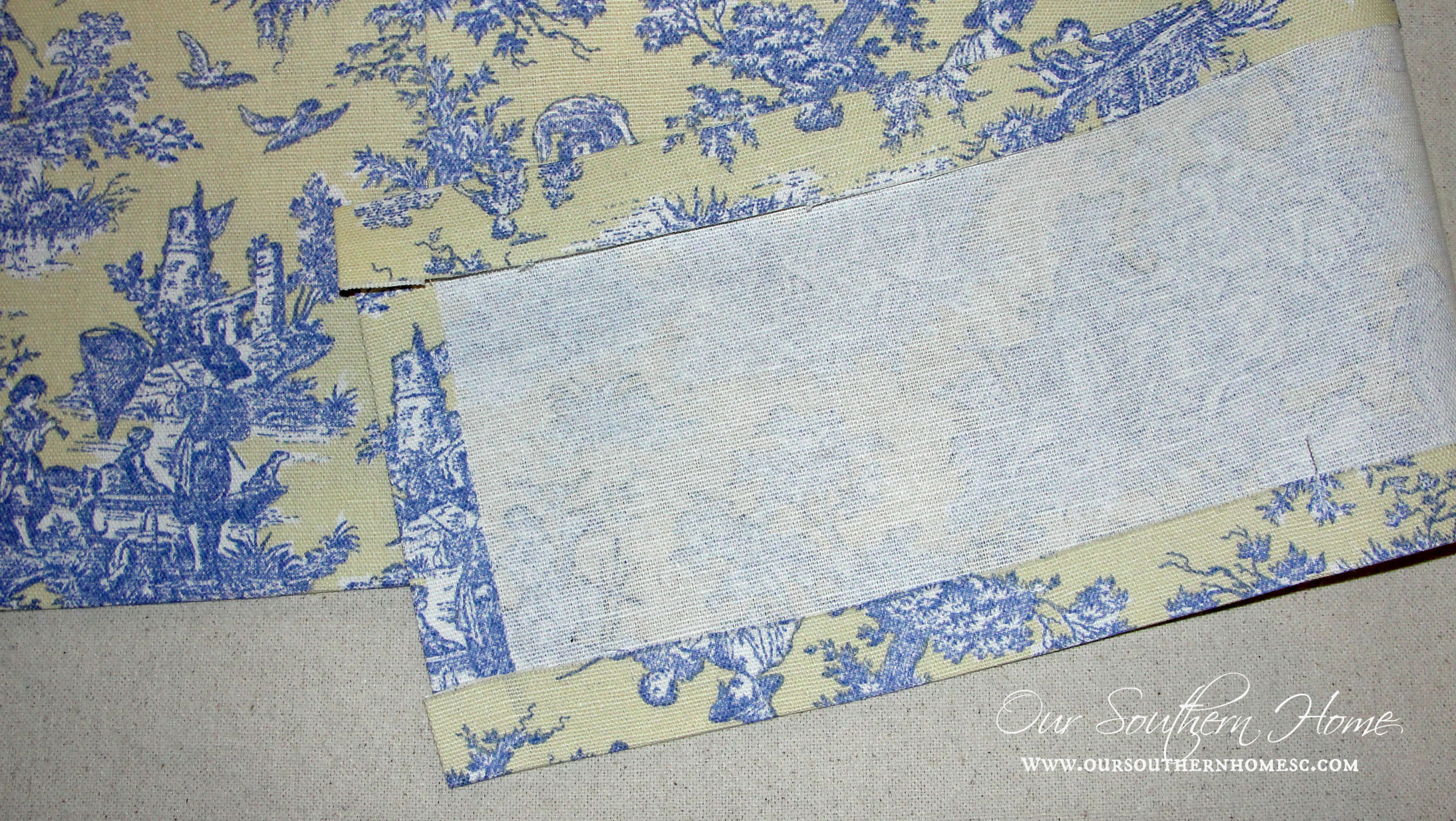 Notice carefully! I did not apply the tape to the top hem! Yes, I skipped a step, but I'm going to show you why!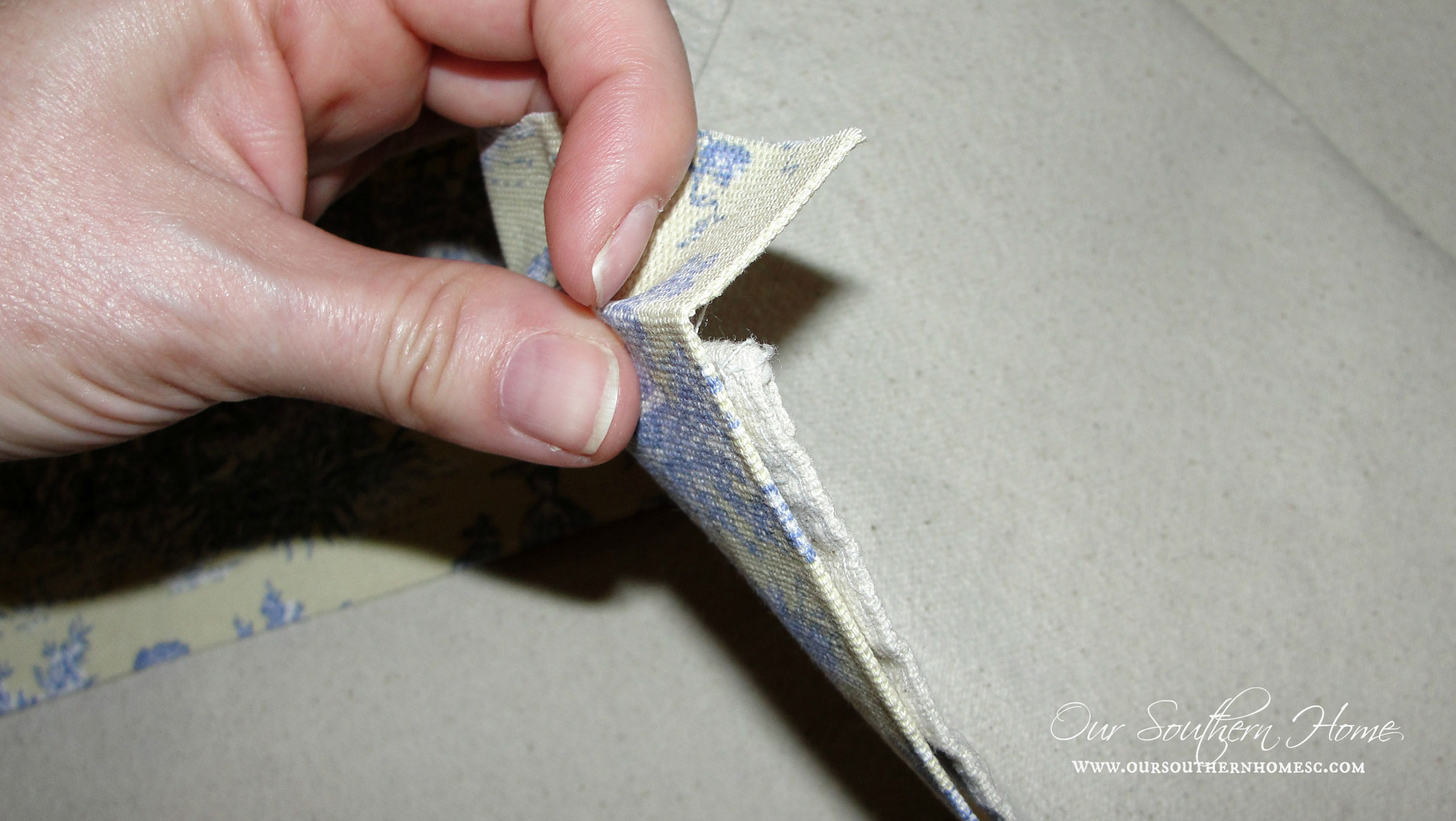 I wanted the toile to look like it was attached to the drop cloth for a more finished look so the hemmed edge acted as a guide. I laid it over the top edge of the drop cloth and hung with clips. The drop cloths were a bit long so NO hemming was necessary. All you need to do is fold the cloth back. I promise no one will know!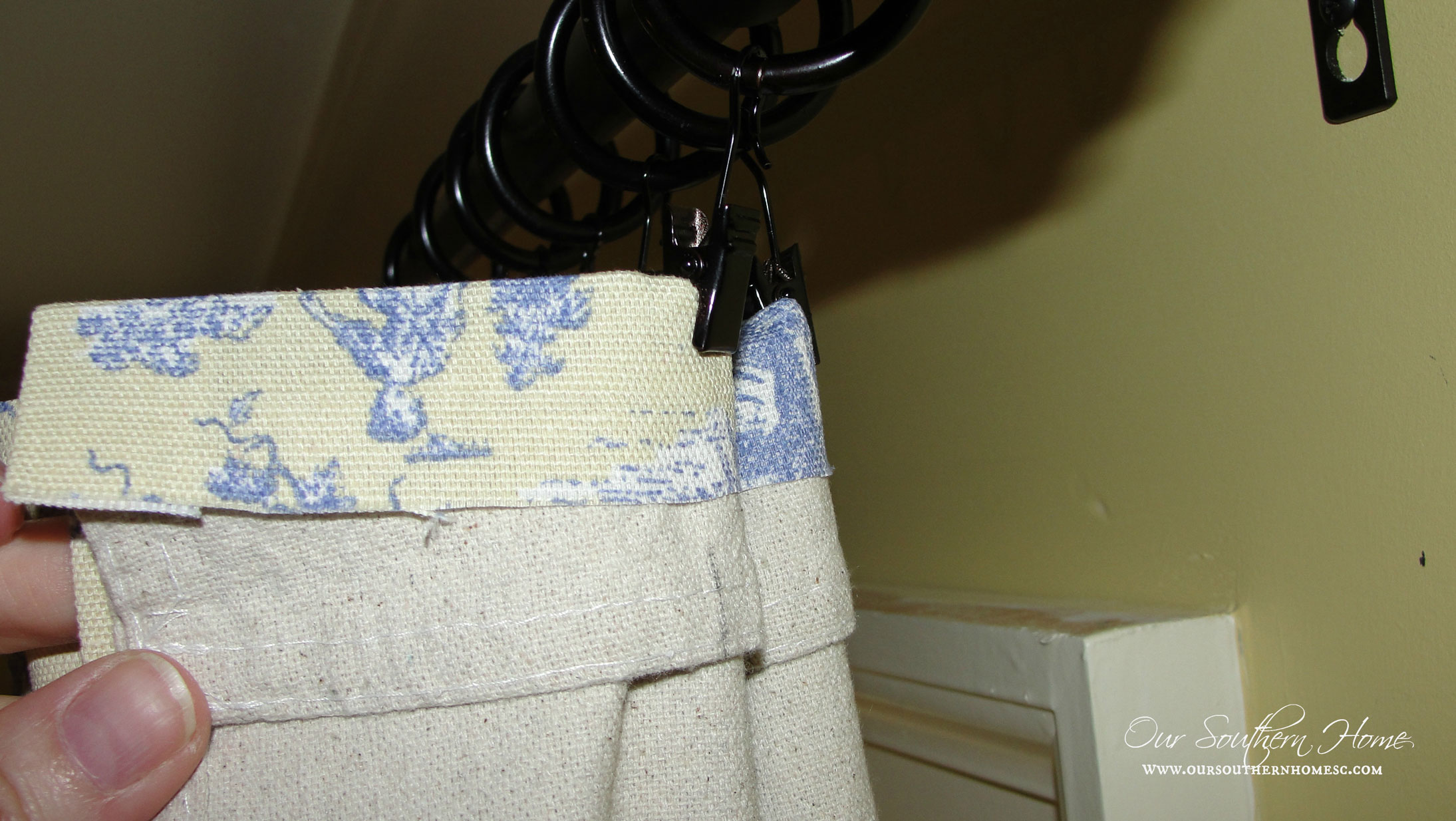 Notice the beauty of the drop cloth in that it is all hemmed!!! BIG MAJOR PLUS!!! Do you see how the toile is folded over and attached with clips? Save yourself some time before crawling on the ladder to hang on the clips. I laid out the drop cloth on the floor. I measured the width of the curtain. I decided to position each end clip 3 inches in. I have a total of 7 clips for each panel. This leaves me with 5 clips left. I then measured the long width in between the 2 clips. If you draw a line on paper and place 7 slashes to represent the clips you will see that you have 6 spaces in between the remaining 5 clips. I divided the remaining measurement by 6 spaces in between the 5 remaining clips. This gave me the inches to place my 5 clips. The beauty of the clips is that you do not have to be PERFECT! I had 3 inches in on each end for a clip and the remaining 5 had approximately 10 inches in between. Whew! Did you get that? Please contact me if I can explain further. DO it on paper first. If you look at the before picture, you can see the slight pencil mark.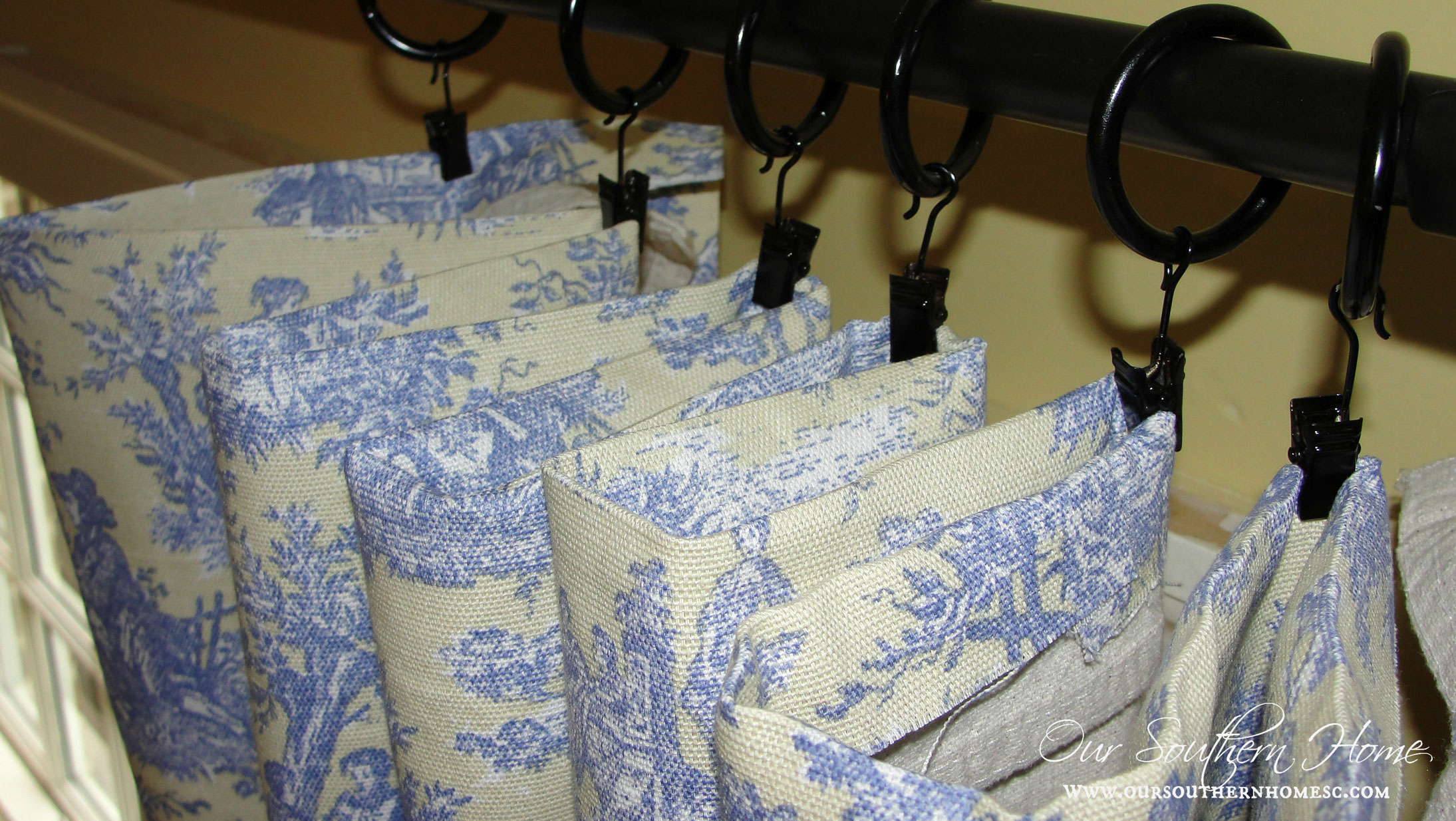 That technique helps to keep the folds all a uniform width.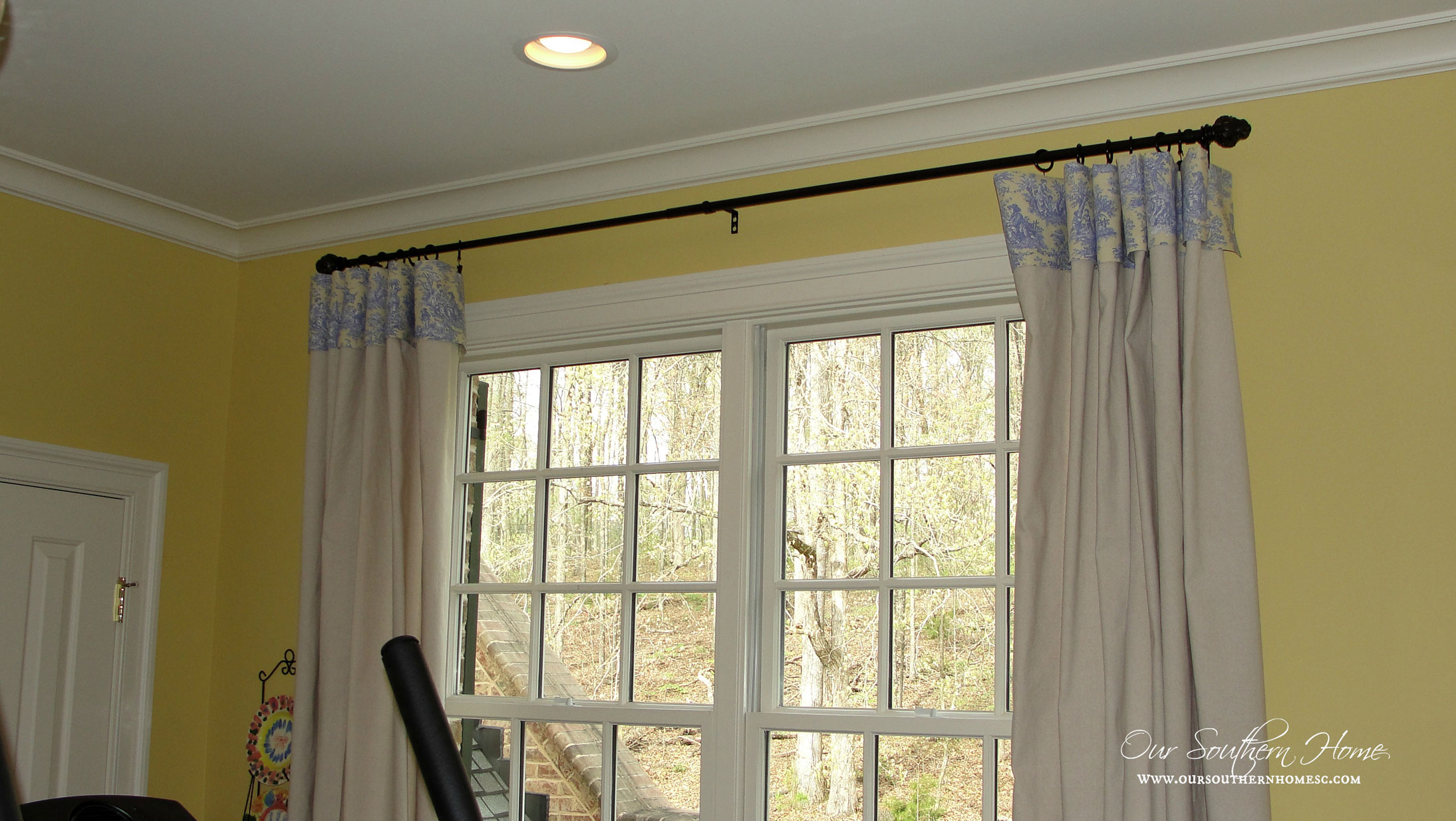 Needless to say I am over the moon with them. Hubby is too, especially the price! My poor downstairs guest room has been curtain-less for far too long. I am considering them for there, and it is downstairs!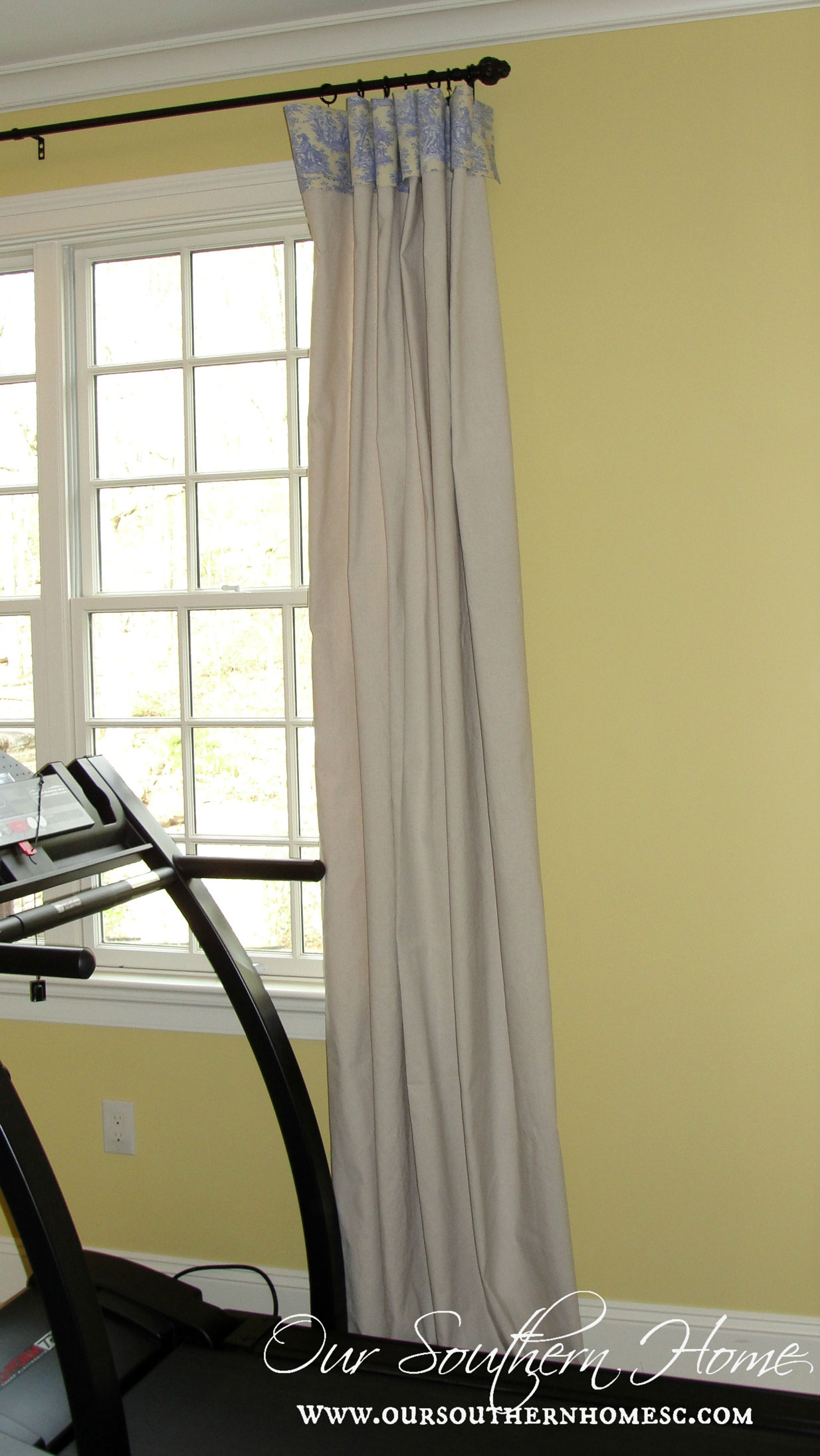 Since the toile is not attached to the drop cloth, I can always reuse them for another purpose. Hopefully, it will not be painting since I spent all that time ironing!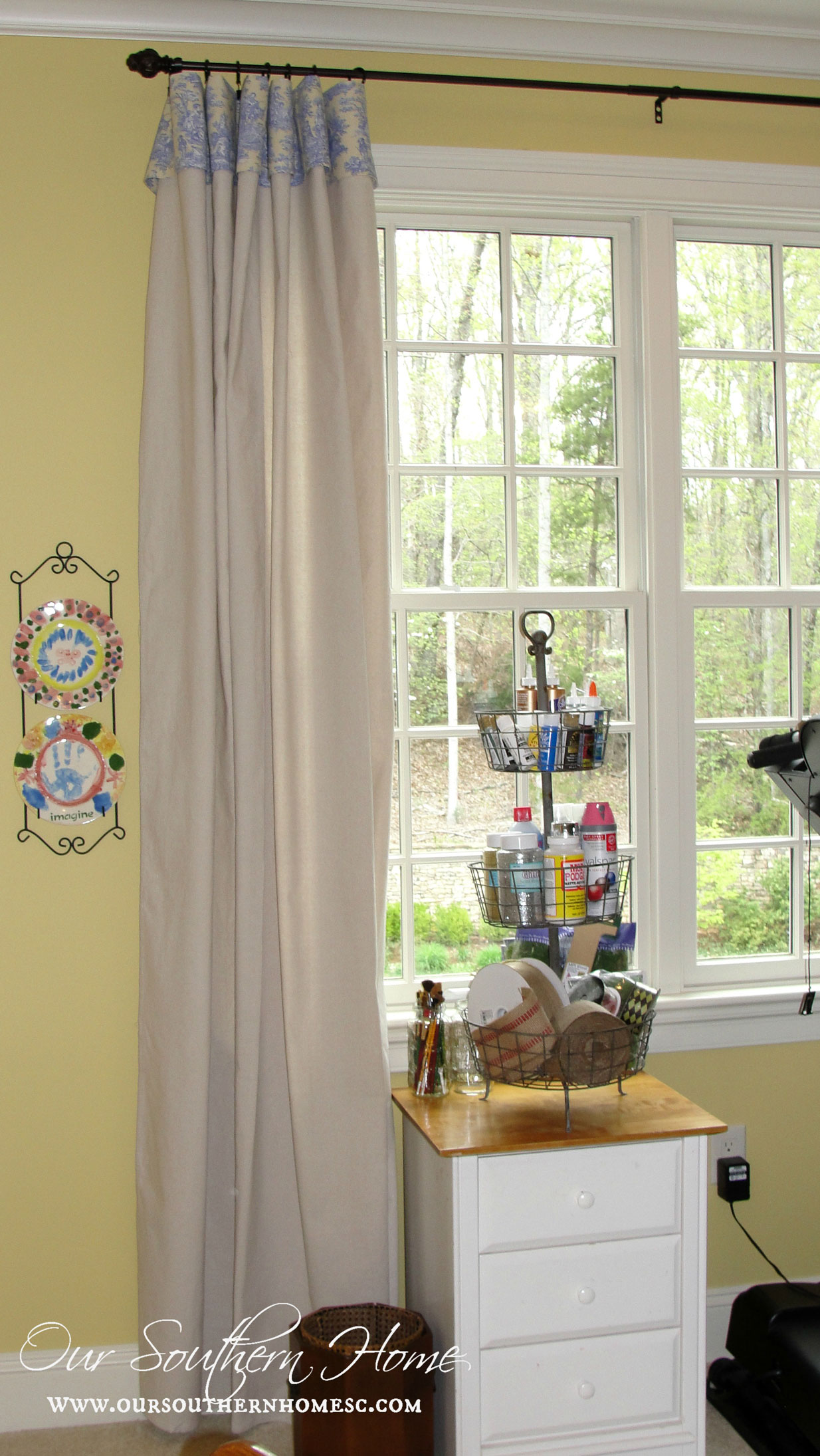 Drop cloth curtains are a very affordable way to dress your windows. I have 9 foot ceilings upstairs, and it impossible to find attractive curtains and at a low price to fit our windows. I would highly recommend this project for those wanting big impact with a small cost!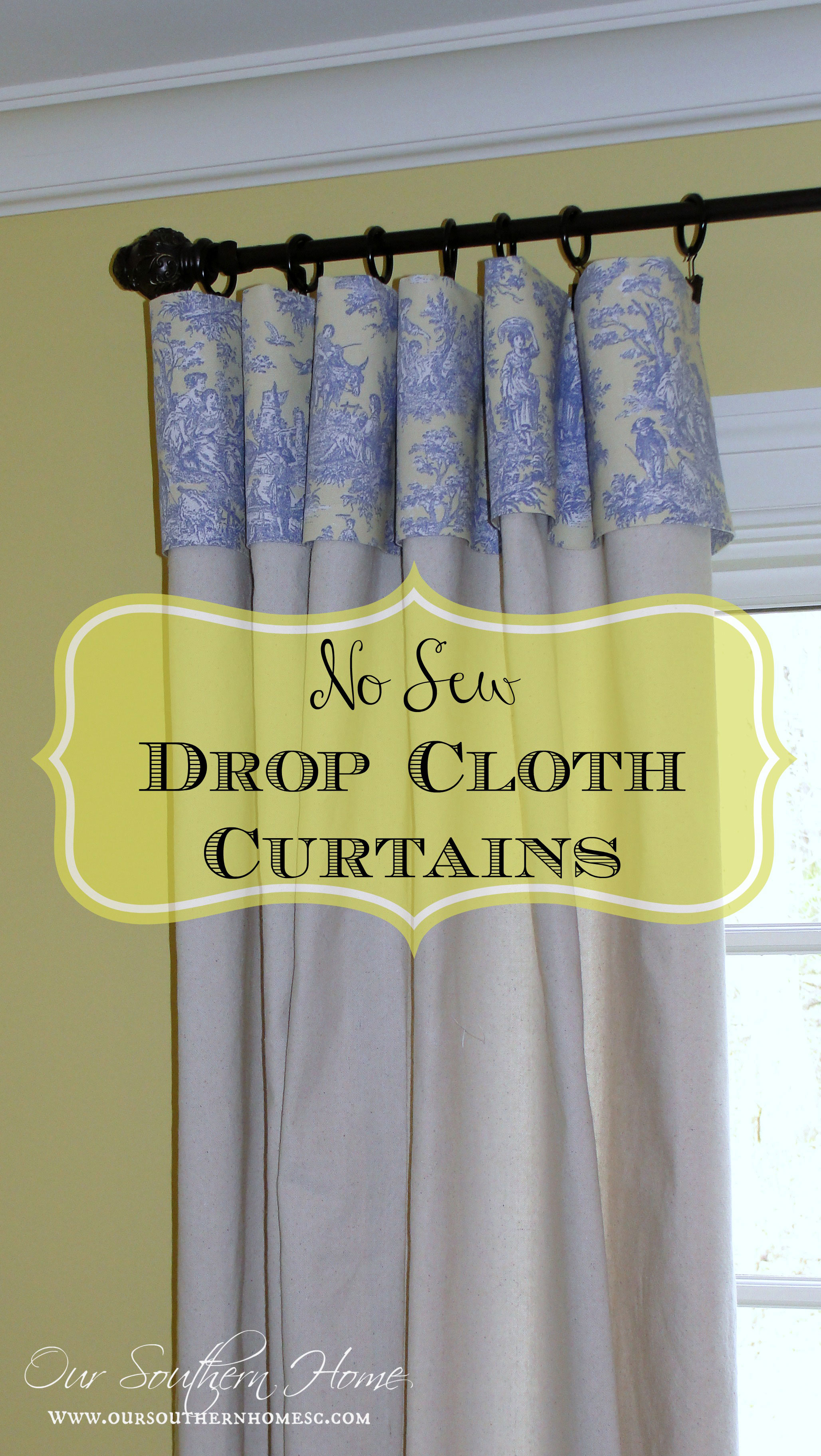 I'd love for you to follow Our Southern Home! The various ways are in the sidebar! I have a couple of other projects to show you in this room. My home tour is also getting ready to start! I'll be starting with my 2 favorite rooms- the kitchen and screened porch! So please follow along so you won't miss anything!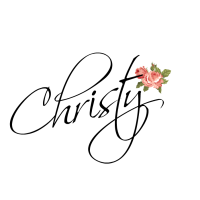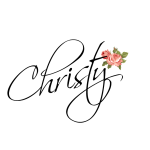 This post was featured!!!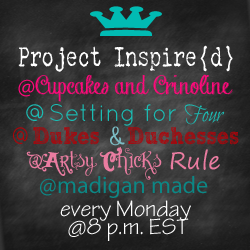 Link Parties OSH occasionally participates
Sunday
I {heart} Nap Time, Nifty Thrifty Things, Flamingo Toes, DIY Showoff, The Creative Home Acre Blog Hop, Homemaker on a Dime Blog Hop Party , Three Mango Seeds,
Monday
The Girl Creative, Craftomatic, Market Yourself Monday, Between Naps on the Porch,Alderberry Hill/Make the Scene Monday, Clever Chicks Blog Hop, Motivate Me Monday, Skip to My Lou, Craft and Tell by Cherished Bliss, The Winthrop Chronicles, The Dedicated House, Uncommon Designs, Under the Table and Dreaming, Project Inspire
Tuesday
Inspire Me Party, Coastal Charm, Cedar Hill Ranch Cow Girl up, Homework: Be Inspired, Not Just a Housewife, Tip Junkie, A Diamond in the Stuff, My Uncommon Slice of Suburbia, Our Thrifty Ideas, The Kurtz Corner, Elizabeth & co, Creatively Living Blog, Home Stories A2Z/Tutorial and Tips, Sugar Bee Crafts, Chef In Training,Today's Creative Blog , Tip Junkie, Carolyn's Homework, Inside BruCrew Life
Wednesday
Savvy Southern Style, SNAP Show and Tell, Someday Crafts, Lil' Luna , Creations By Kara,
Lady Behind the Curtain, Southern Lovely, Life in Grace
Thursday
From My Front Porch to Yours, Live.Laugh.Rowe, Somewhat Simple, Yesterday on Tuesday,
The Shabby Creek Cottage, Delightful Order, 52 Mantels, The 36th Avenue, House of Hepworths
The CSI Project, Someday Crafts , Stone Gable, No Minimalist Here,
Home and Garden Thursday at A Delightsome Life,
Friday
French Country Cottage, The Tidy Mom, Design, Dining + Diapers, Liz Marie Blog, A Night Owl,
The Frugal Girls, My Repurposed Life, Craftionary, The Shabby Nest,
Miss Mustard Seed Furniture Friday, At The Picket Fence, WhipperBerry, Five Days Five Ways
504 Main, Keep Calm and Link Up, Common Ground, Redoux, Debbiedoo's, The Charm of Home, Rooted in Thyme,
Fridays Unfolded at Stuff and Nonsense, Imparting Grace, Serenity Now, Diana Rambles Pin Party, Anything Blue Friday
Saturday
Funky Junk Interiors, It's Overflowing, Six Sisters Stuff, Tatertots and Jello , Positively Splendid
Monthly
A Glimpse Inside My Romantic Home
Passion Parade Link Soiree at Petites Passions,
, Debbiedoo's Newbie with a Twist Party
Buffer