Thrift Store Mirror Makeover
I so look forward to the last Wednesday of each month because it is Thrift Store Makeover Day!
Thrift Store Mirror Makeover
This just may be one of my favorite makeovers. Have you ever finished a project and kind of wowed yourself? LOL! It doesn't happen very often, but this one sure has my heart.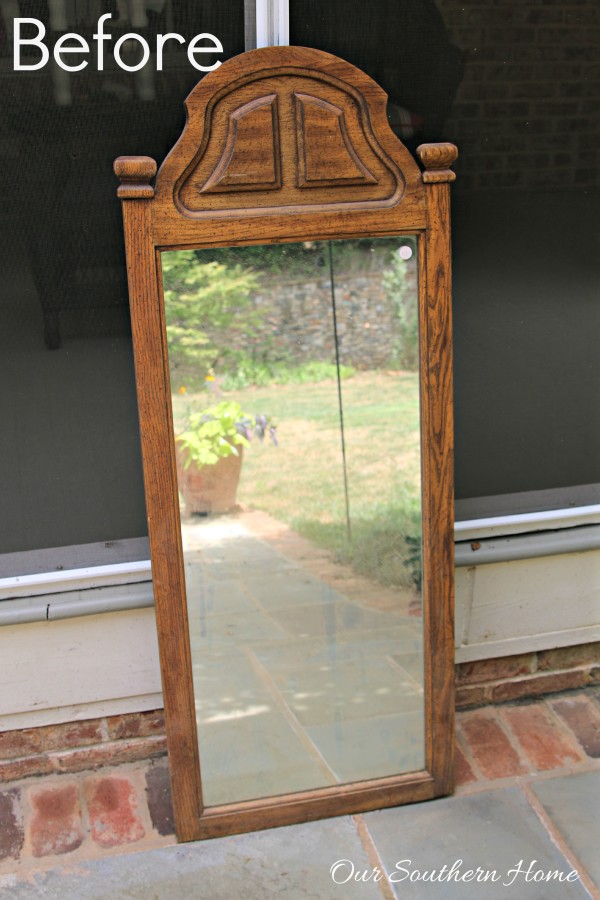 This mirror was part of a set. It lost its dresser.
I've described my style to you before as Eclectic French Country Farmhouse, and this mirror so falls into that category.
This thrift store mirror becomes a French Country treasure with a simple paint technique.
This baby was $10 at Goodwill. It most likely came from a dresser in the 1970s. It's real wood and very heavy.
I like the narrow shape. It is the perfect mirror for our dining room.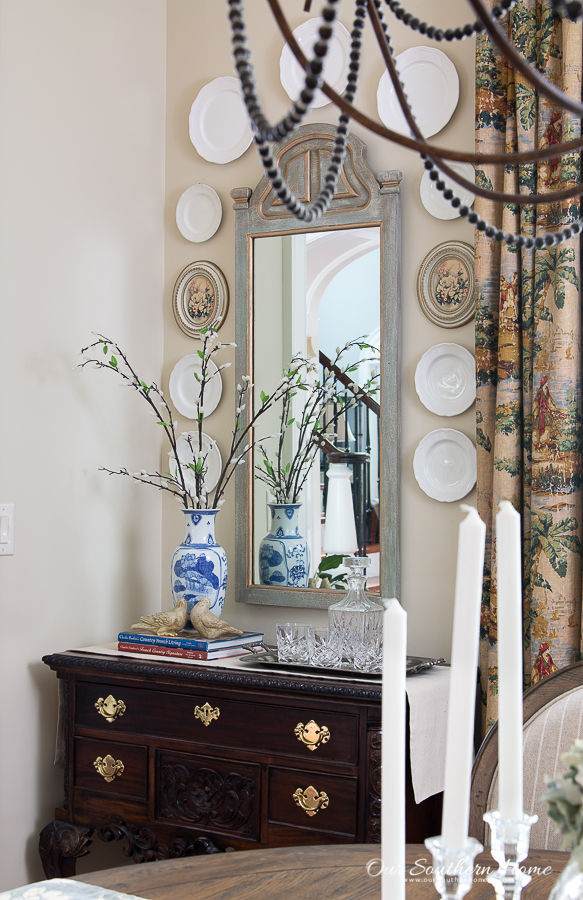 I adore the color on my new neutral walls. It brings out the teals in the fabric panels. I adore my blue and white vase and need more! Here is one similar.
Let's talk about how I achieved the look. The trick is layering the paints.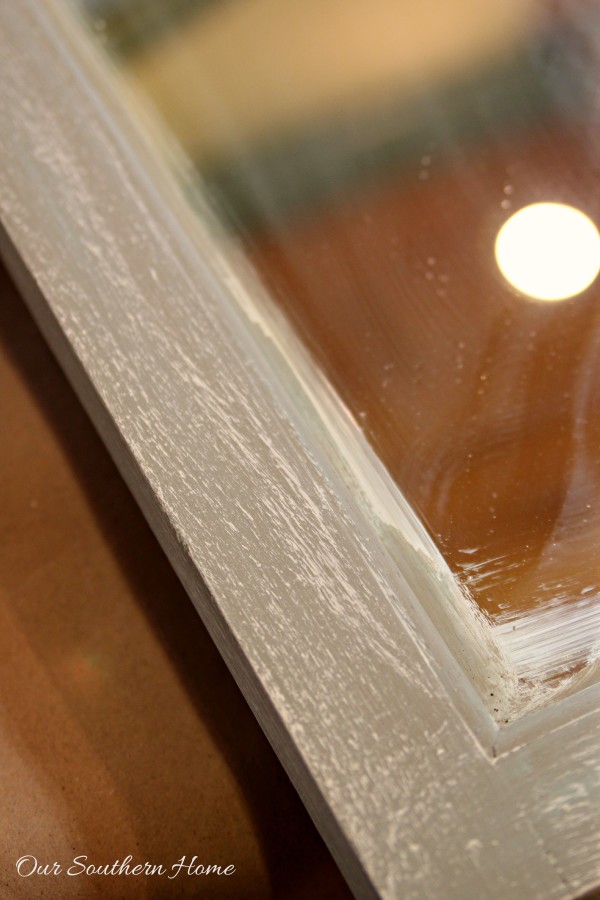 I used all Annie Sloan Chalk Paints. You'll find the exact colors in the printable instructions.
I know it may sound c-r-a-z-y, but I completed this mirror in a little over an hour start to finish.
Thrift Store Mirror Makeover
Layering paints create a fabulous finish for vintage-looking pieces.
Materials
Annie Sloan Chalk Paint in Duck Egg
Annie SLoan Chalk Paint French Linen
Annie SLoan Chalk Paint Old White
Annie Sloan clear wax
Annie Sloan dark wax
Gold Leaf
Instructions
Application Steps
Clean the surface to be painted thoroughly.
Paint 1 coat of your base color. Mine was French Linen. Let dry.
Dry brush Duck Egg. Dries almost instantly.
Dry brush Old White.
Repeat dry Brush Duck Egg.
Let dry.
Apply one coat of clear wax.
Apply one coat of dark wax.
Buff to a sheen.
Now I know y'all are wondering what dry brushing is. It is so easy.
Dry Brushing Technique
Dip your brush lightly in the paint color.
Now wipe that brush on a paper towel to remove it slightly.
With a slight touch, ever so lightly brush the paint on.
Do this quickly.
You want to start out ever so lightly so that you don't have a highly concentrated area of paint to start.
As a result, you will see lots of the base color coming through.
Continue to layer the colors that you want to use.
I used 3 colors which I think has a good blend. Less is more.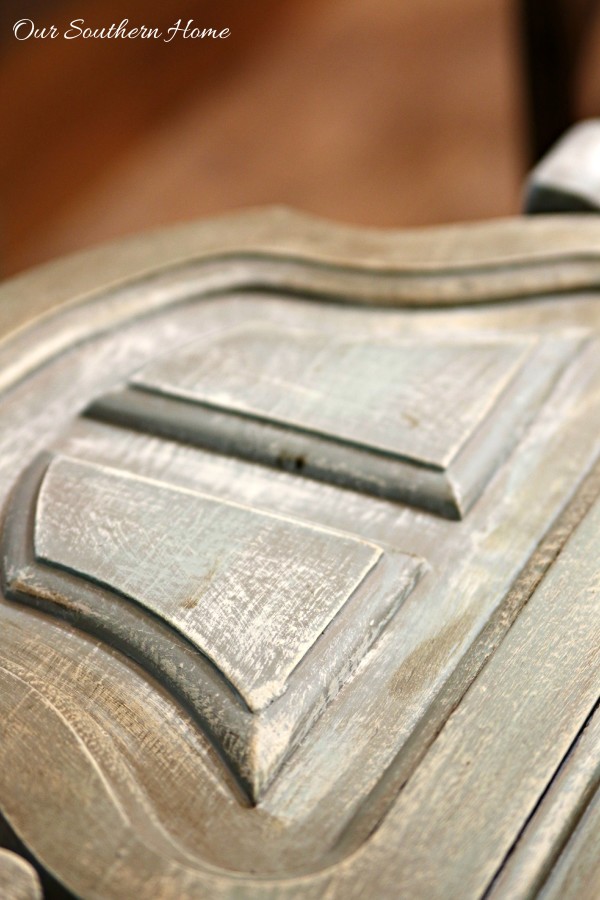 The mirror has one coat of clear wax. Always apply clear wax first if using dark. Look closely. I have applied the dark wax to the outer edge. Can you see how the dark wax ages it? Of course, I went back and wiped a lot of the dark off in the process. This shows where the wax was initially applied. The entire mirror received a coat of dark wax.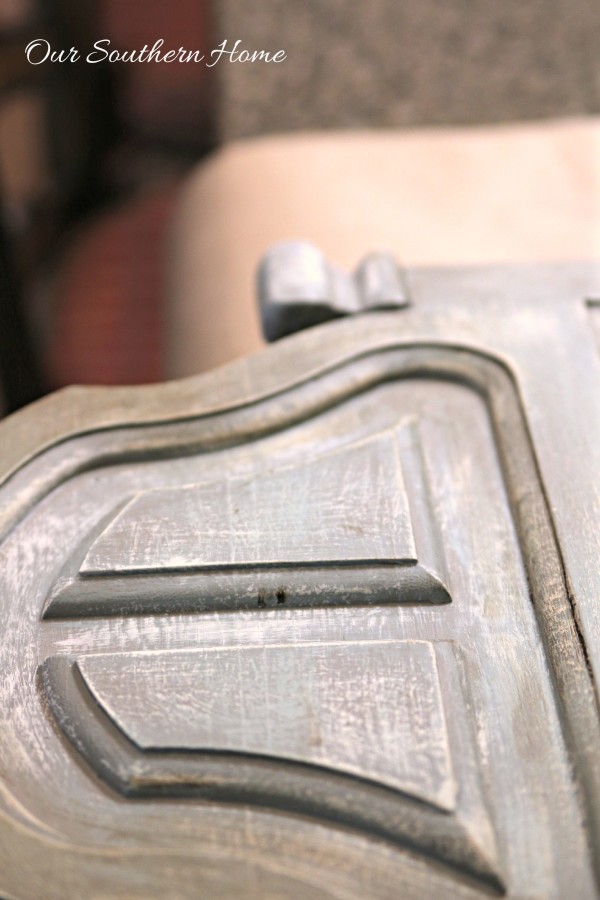 Here is another angle of the dark wax going on.
I didn't originally plan on adding gold leaf. It just looked like it was missing something. It looked boring.
I had a new bottle of Plaid Gold Leaf in Classic Gold. It is a liquid. I used an inexpensive artist brush and just toss it when finished. One bottle has lasted me for years. I let it dry then went back and very lightly distressed with a fine-grit sandpaper. It took very little sanding. Apply a coat of clear wax over the areas painted gold to seal.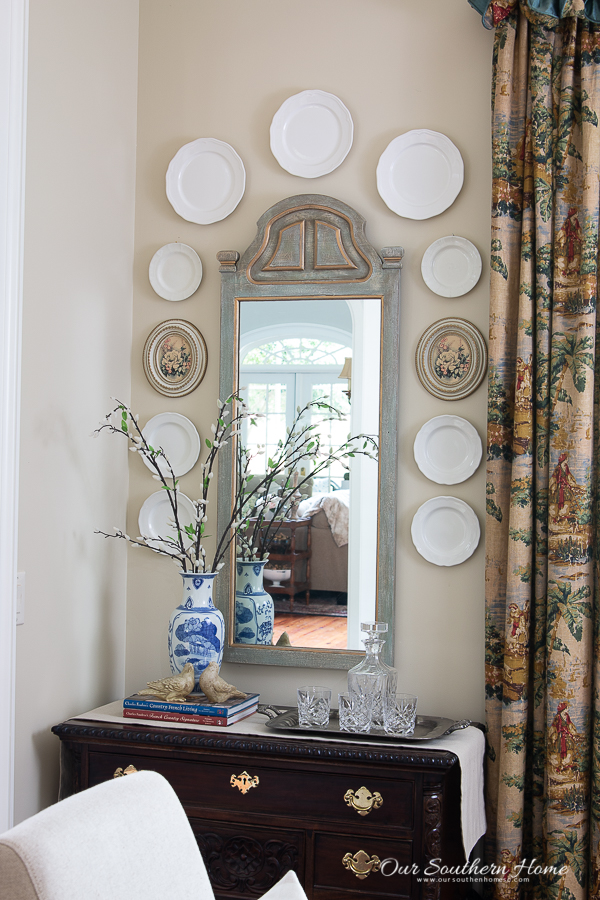 The only distressing that I did was on the gold areas and along the outer edges of the mirror. The dry brushing gives it all the aging you need.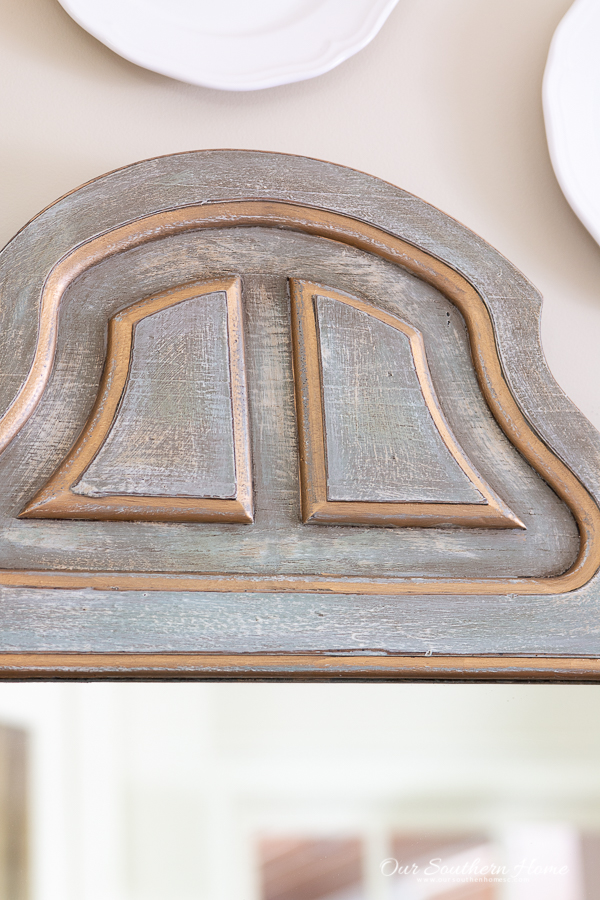 Now I have a very inexpensive vignette over the antique reproduction lowboy in the dining room with an expensive look!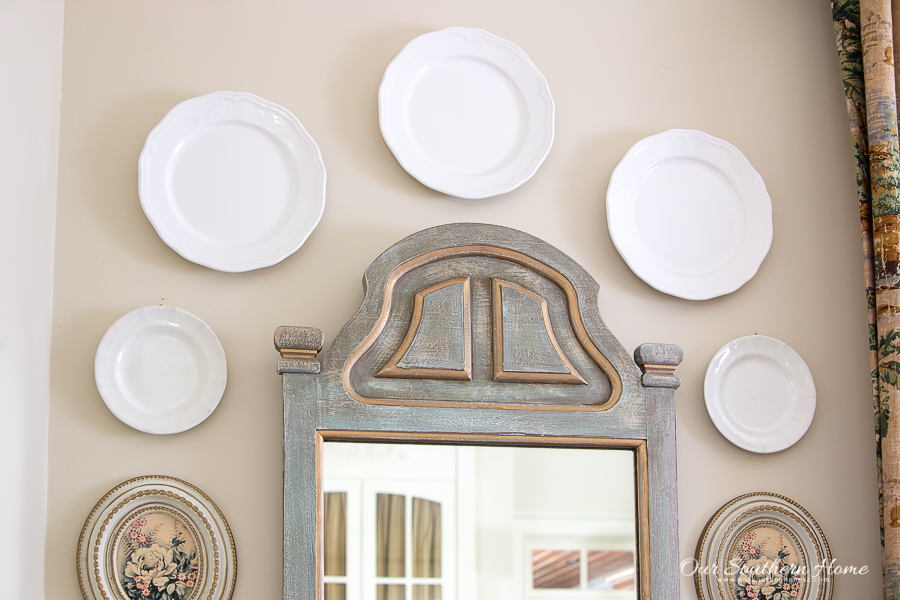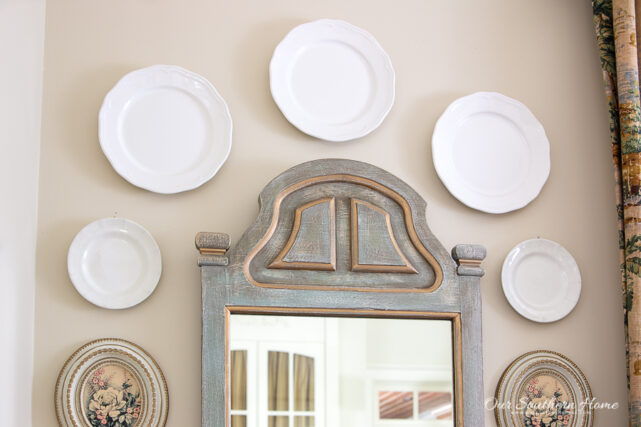 The 3 larger white plates that are hung above are from Ikea. The other plates are ironstone from the thrift store as well as the vintage art. The vintage art was a set of 2 for $1.25.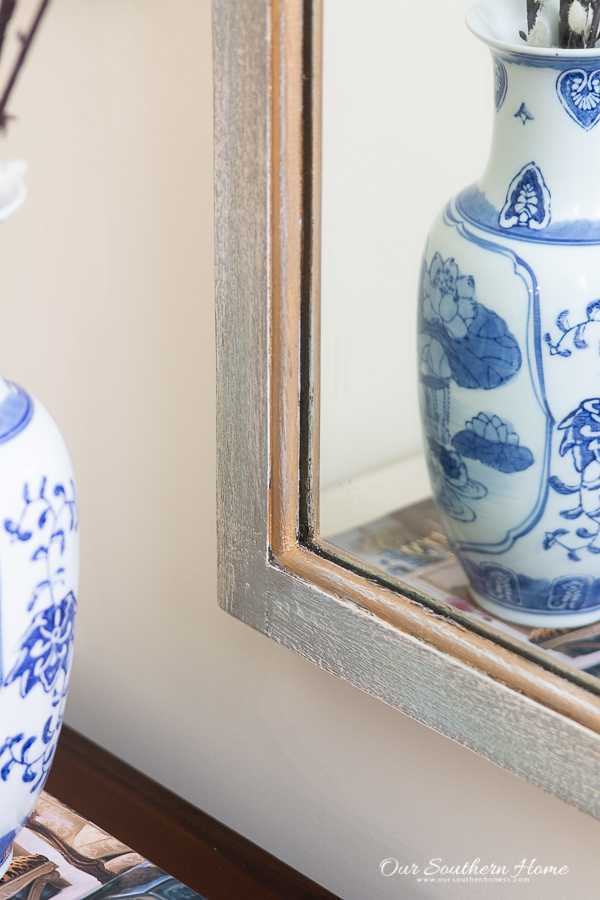 The blue and white vase was under $15 from a vintage store that we visited over Valentine's Day weekend in Georgia.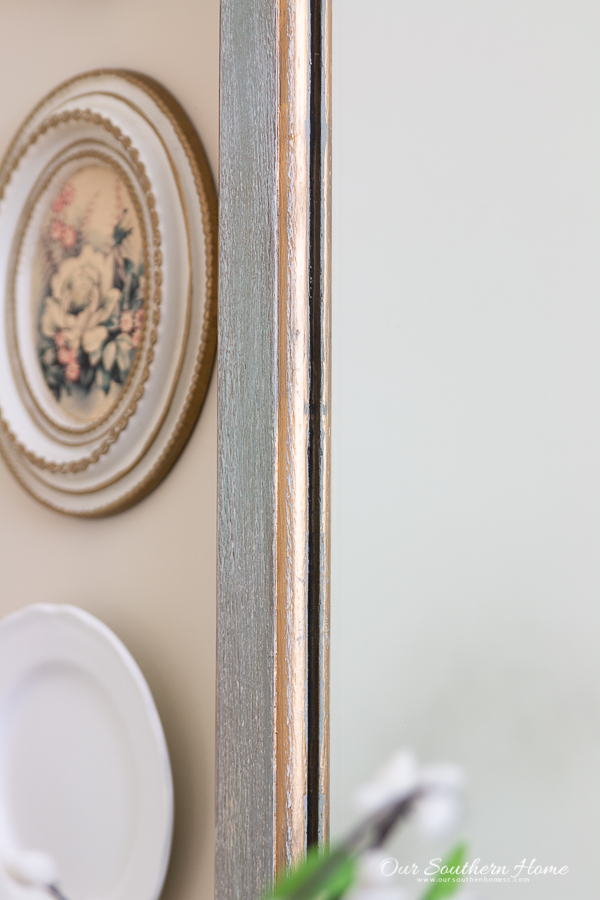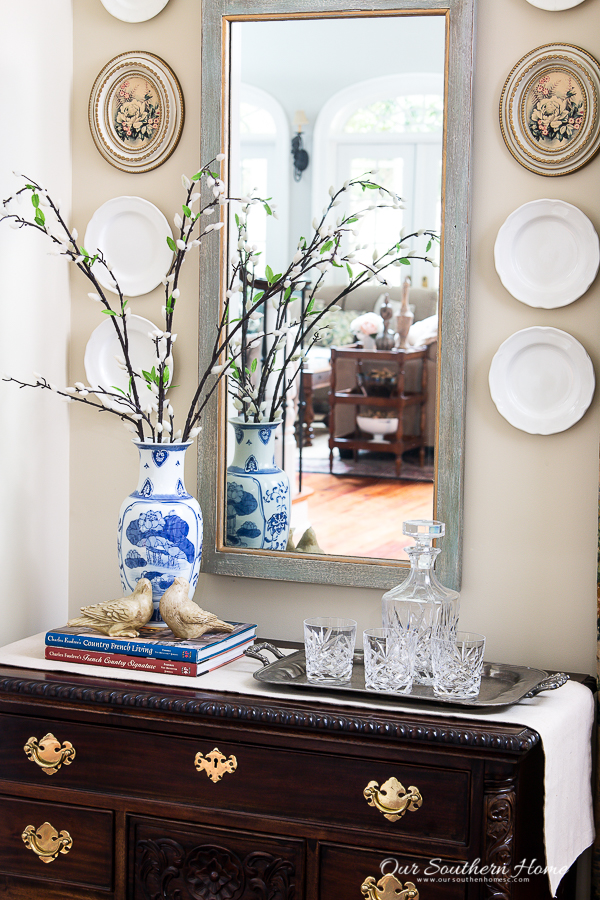 I now have a beautiful French Country vignette for my dining room for very little money!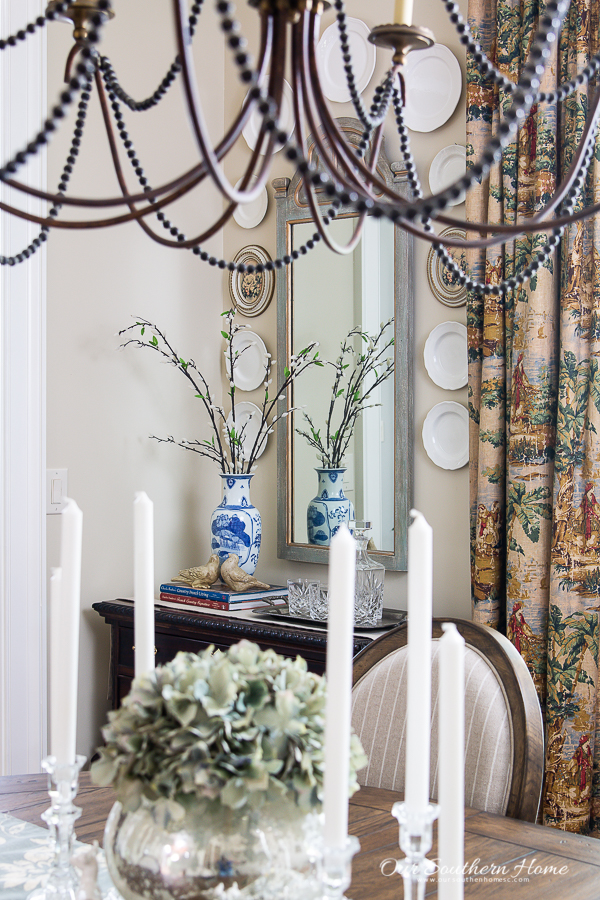 With all of the dark tones in the room, the addition of the painted mirror adds a touch of freshness.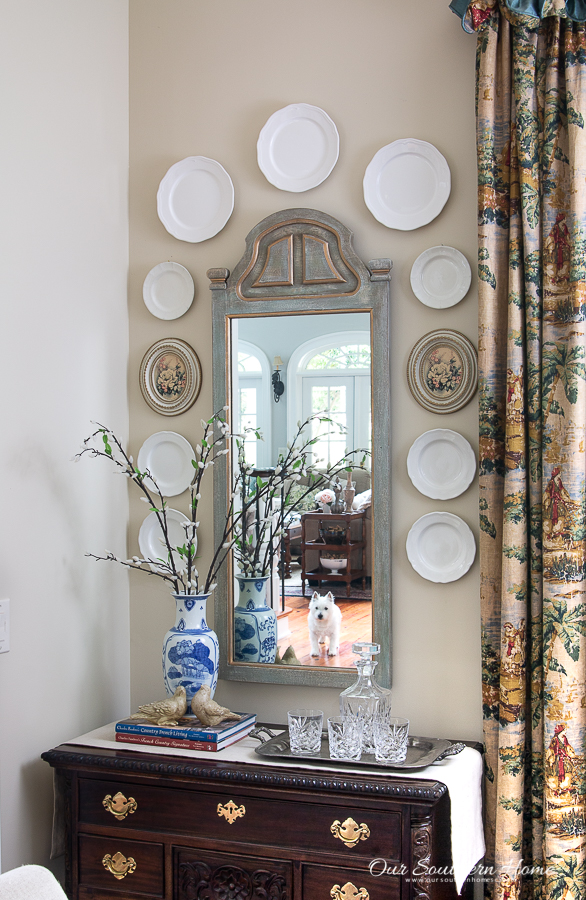 Do you see the cutie in the reflection of the mirror? Bentley is such a camera ham!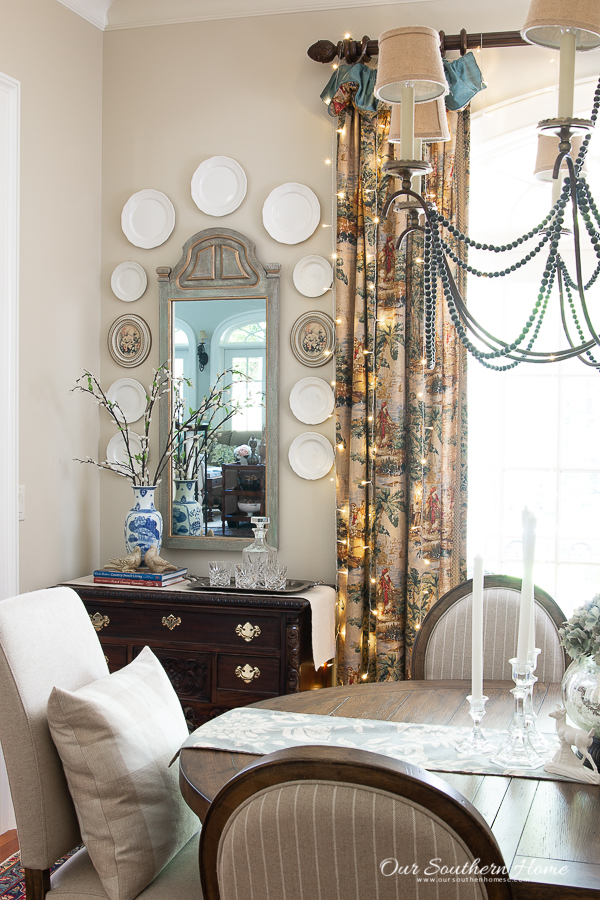 We didn't take the curtain lights down after Christmas. They have been a lot of fun to keep up. They are so magical at night when eating here.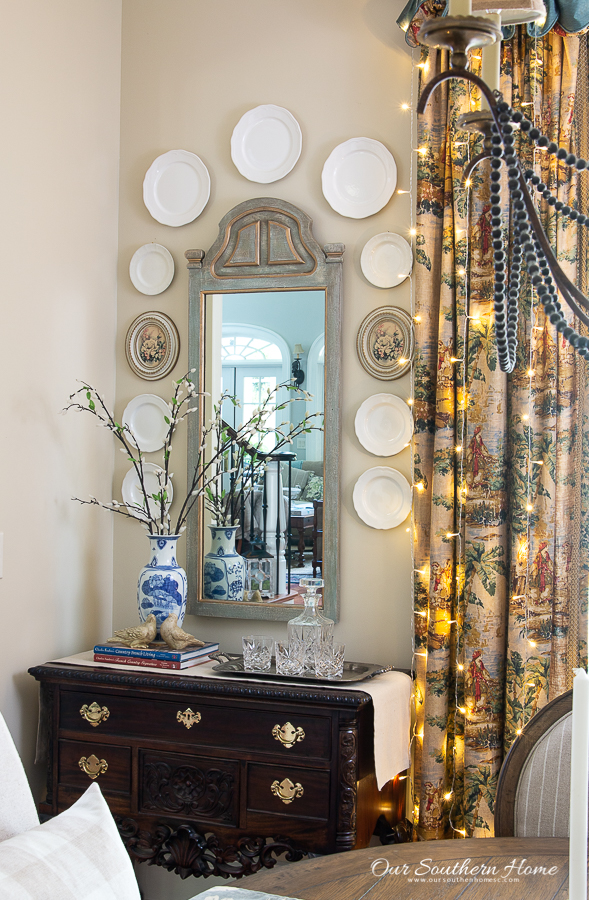 The lights are a clear wire and very tiny. They look like a curtain.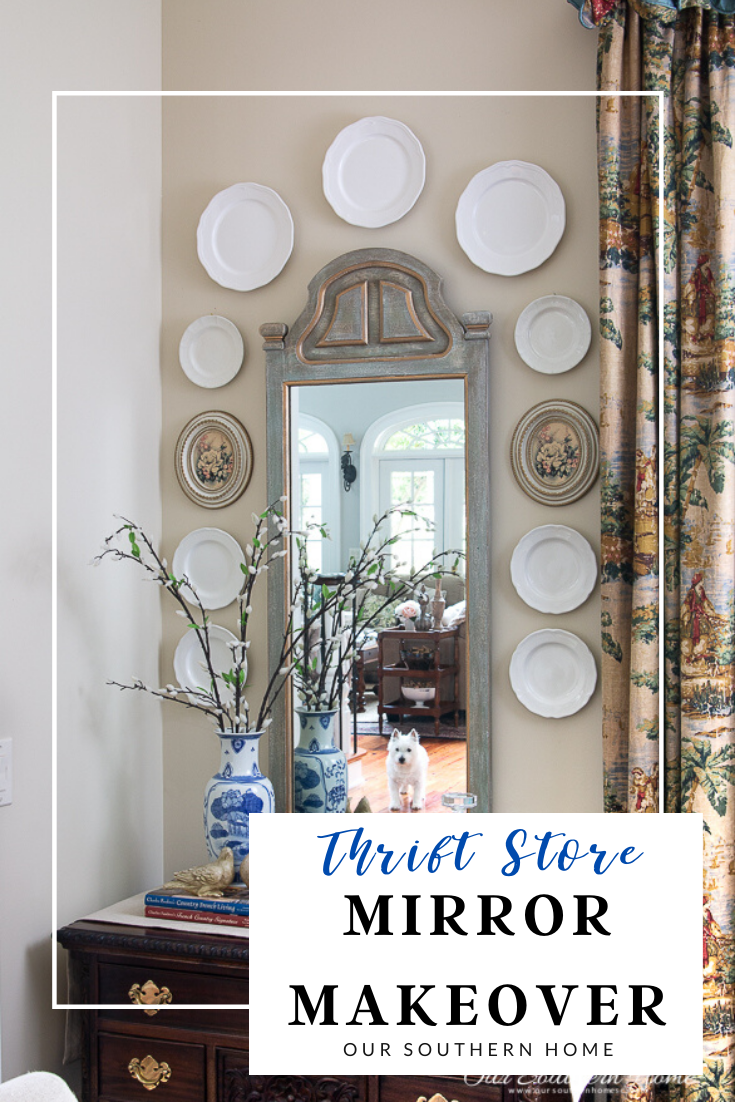 Be sure to check out the other thrift store projects from the ladies below. Next month there will be a surprise guest blogger so be sure to subscribe so you don't miss it!
You might like to see my other projects in this series:
CLICK THE COLLAGE below to see all of my accessories in one place!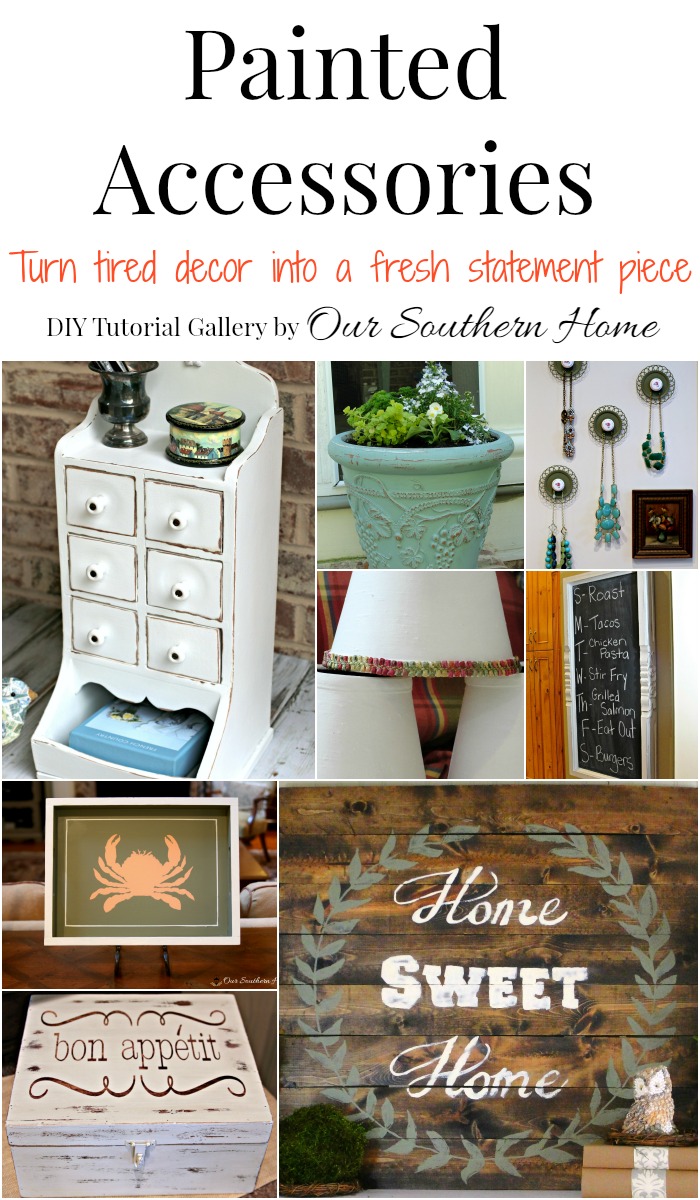 I'd love for you to follow along on social media!
Best Thrift Store Decor of 2019
Fabulous ideas to decorate your home with budget friendly ideas! Just click the Continue Reading button to go to the project details.
Check out the bottom of the post for a comprehensive source list of my favorite things for DIY projects.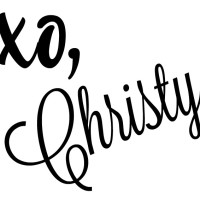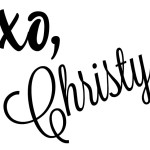 Buffer