I hope you all had a wonderful weekend!
Friday my mom and I had plans to go thrifty antiquing and do lunch
 in downtown Anderson, SC.
Due to a power outage at the schools, the kids had the day off! My daughter was able to go as well.  We had so much fun.  We made it to 2 thrifty antique stores, Goodwill and TJ MAXX.  Goodwill was a bust!  I saw lots at TJ Maxx, but I had spent my money at the 2 local stores that we went to, Apple Dumplin' Antique Mall and Reborn Relics.  For you locals, both places were fabulous.  Reborn Relics also offers chair caning, lamp restoration and brass polishing.

Ashlyn with Grandma and her vintage chicken box purchase.
It was a day of silliness!  Many silly pictures were taken!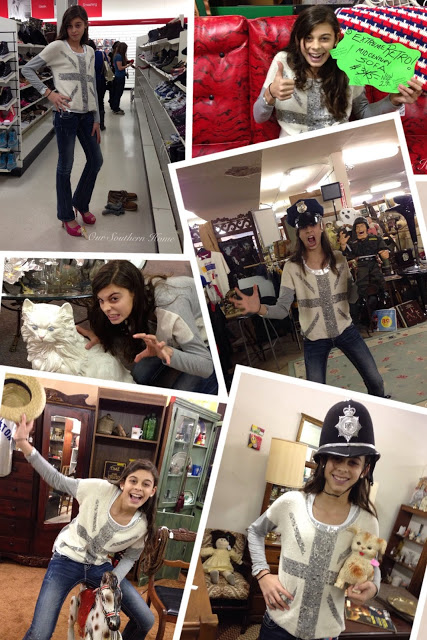 Ashlyn was striking a pose with all the crazy things she was finding. 
I must say that the couch is a one of a kind!
I got all of this for $135!  I thought that was great considering how large the vintage tool caddie is.  I got the tool caddie, the great condition original oil, the vintage lambing print, 2 silver plate trays, 1 antique brass mirrored tray and the 2 vintage ceramic deer.
I am really loving the look of using the silver trays as is.  Leaving things in their original state is hot right now….just say no to polish!  Wooo hoooo!  I have collected a few and have some family ones.  I am thinking of doing something similar to this on a narrow, empty wall in our family room.
or like this in a grouping~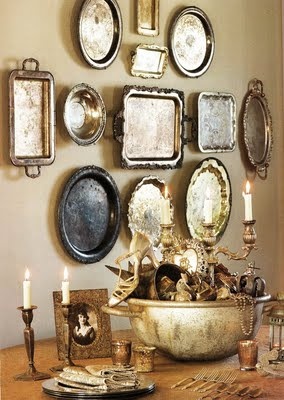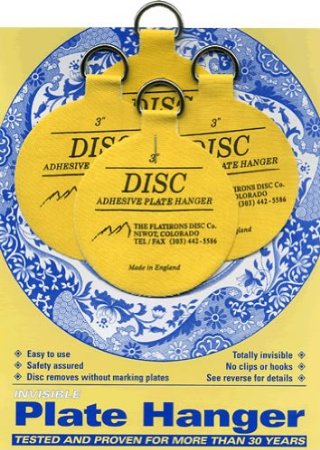 I am planning on using these to hold them.  I have used them before, and they are so sturdy and easy!  Most of these trays are fairly light, but you can use 2 for larger trays.  On some of the smaller pieces I may just use Command poster strips.  All of these may be found at your local craft store such as Hobby Lobby.
Oh, the vintage tool box…..how large and fabulous you are.  I knew I had to have it.  I have been hunting for one for a while.  It unfortunately has some newer paint splatter on it.  I may try to just remove it or possibly do some sort of distressed white chalk paint finish on it.  Here are some inspiring pictures for how I am considering to use it!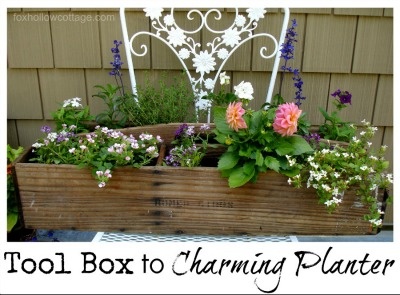 This was my original thought for my somewhat naked front porch.  I wouldn't plant directly in it.  I'd fill it with planted pots.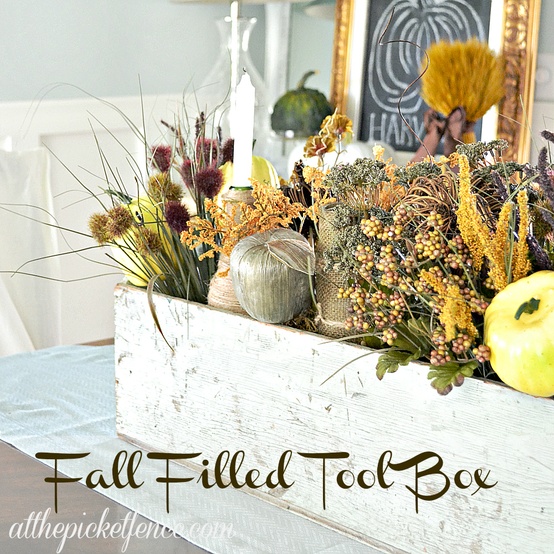 Maybe just inside for seasonal display on my breakfast room table?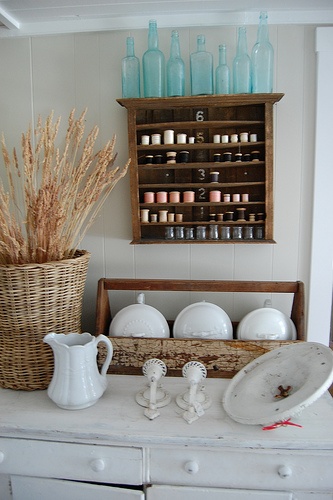 Maybe for some chic organizing of craft supplies~
Any thoughts you'd like to share??
The oil painting is for my gallery wall that I am starting to collect for.  I love the look of this~
I am smitten with a vintage, collected over time look like this.  My hubby gave me this large oil painting for Christmas, birthday and anniversary last year.  It looks a bit lonely~
This is our front stairs~
Here is a close-up of the existing oil.
I am really looking forward to getting this completed. 
It has only been almost 8 years!!!
 I am using the ceramic deer in my china cabinet and the "Lambing" print will be hung in my kitchen
.
The vintage mirrored tray is for Ashlyn.  I have one  on my bathroom counter for different bottle and make-up brushes.  She wanted one to organize her stuff as well.
As soon as everything is hung or diplayed in its final resting spot, I'll be sure to share it with you!
Buffer