Outdoor Living Summer Tour
Hello, Summer!
I absolutely adore this time of the year……..
kids home from school, longer days, eating on the porches, chatting by the fire-pit after dark……I could go on and on.
I could do without the extreme heat and mosquitoes, but that's ok!
Many thanks to sweet, Marty from A Stroll Thru Life for organizing yet another amazing seasonal tour.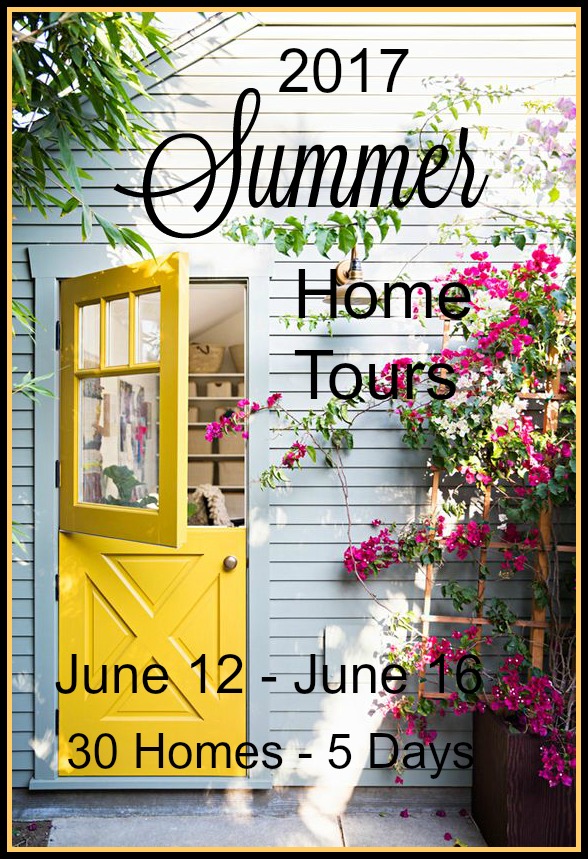 Welcome to the 2017 Summer Home Tour!
If you are stopping by from Anita at Far Above Rubies, then a big welcome! Grab a glass of iced tea and join me on the front porch.
In honor of summer and where we spend so much time, I thought I'd share 2 of our outdoor living spaces with you.
**This post contains affiliate links. You can read my disclosure policy HERE.**
Outdoor Living Summer Tour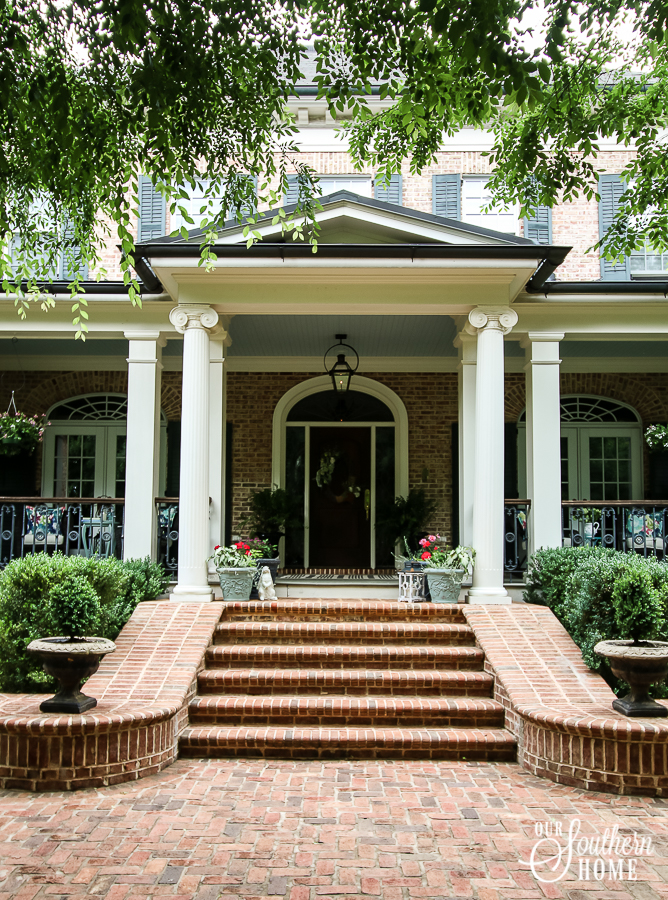 I'm so excited to share our front porch with you this year. I finally bought new wicker rockers!!!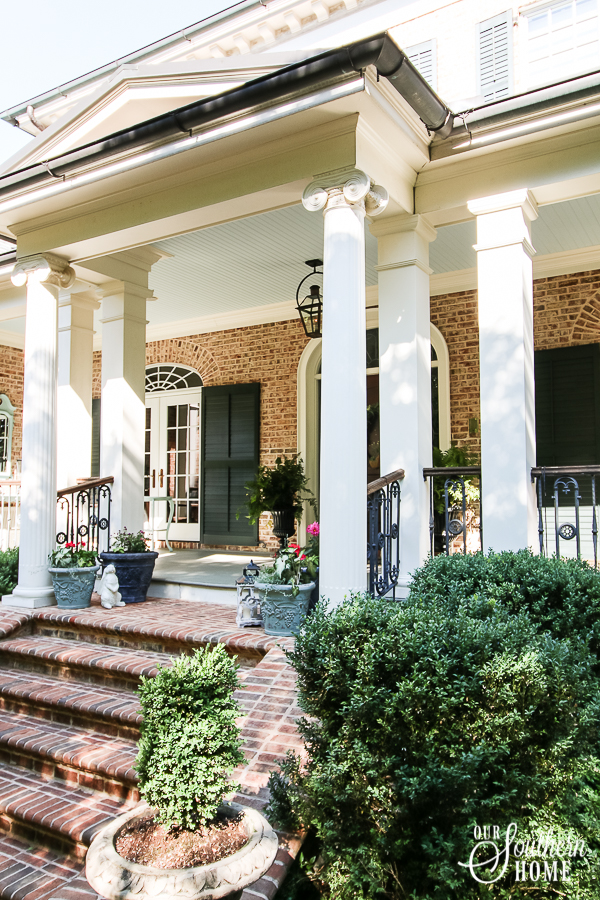 Here's a photo right before I got the chairs.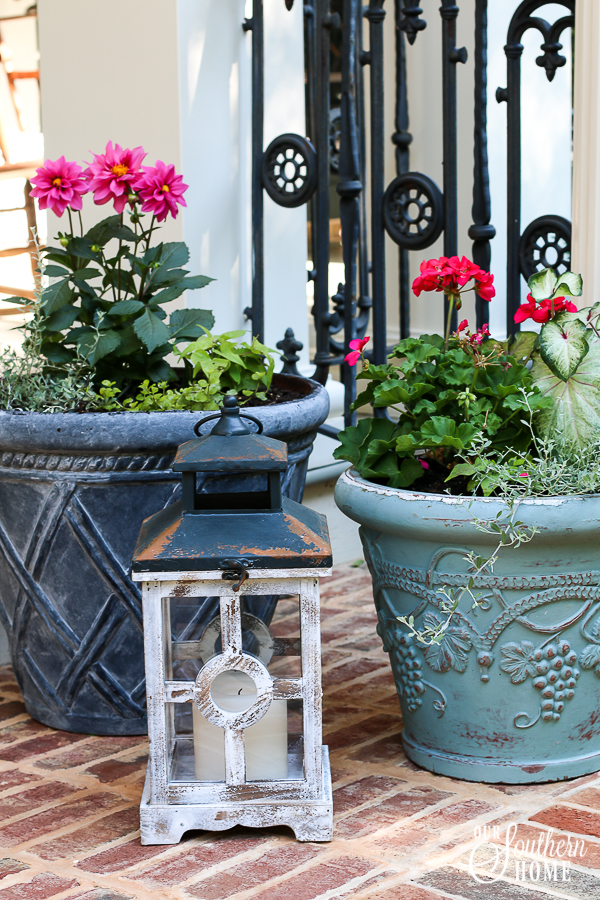 All of the plantings around the base of the front porch are just various green shrubs. The only extra color is from these pots here and the hanging baskets.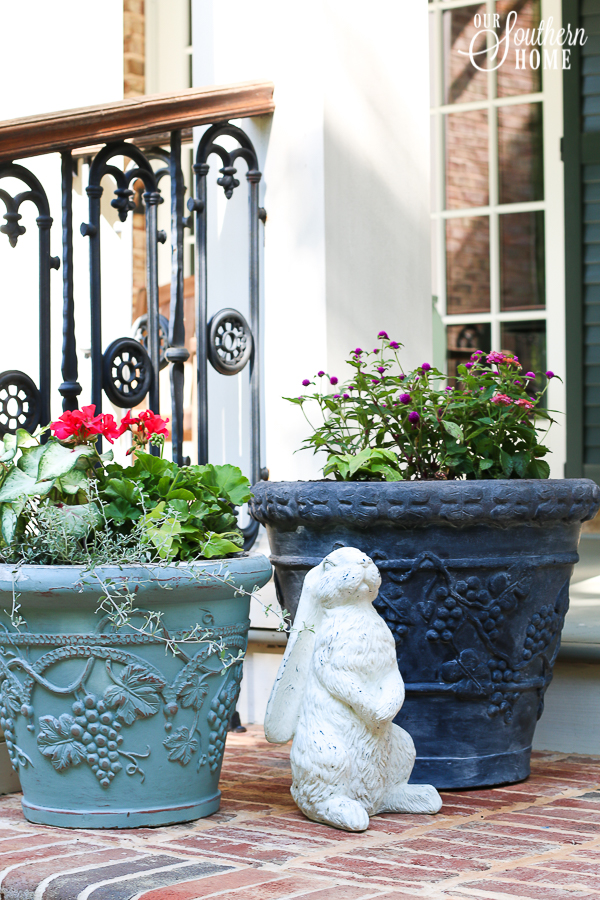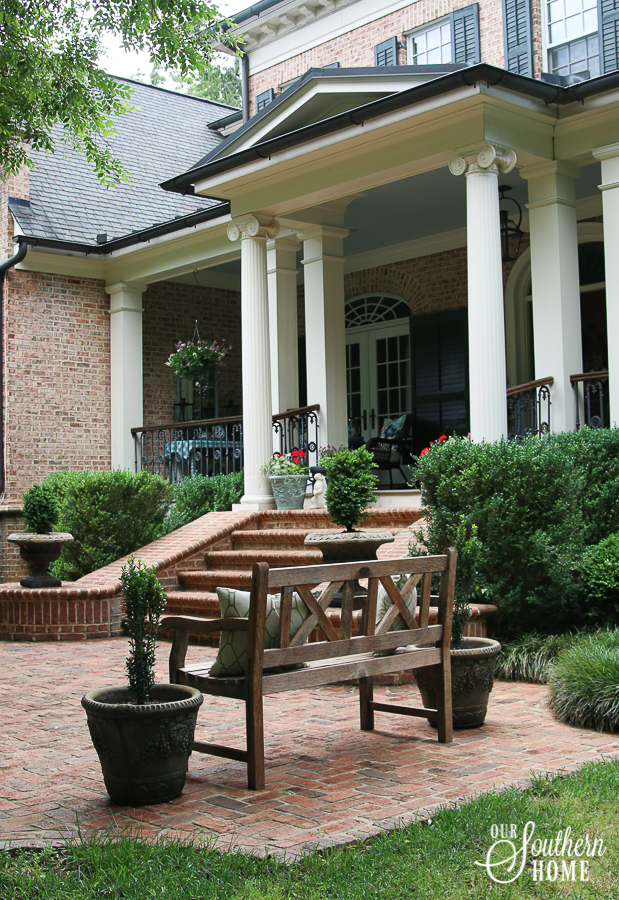 Thank goodness for our pressure washer because this brick patio has to be cleaned a couple of times per year. Crazy me, but I love to pressure wash. Am I the only one?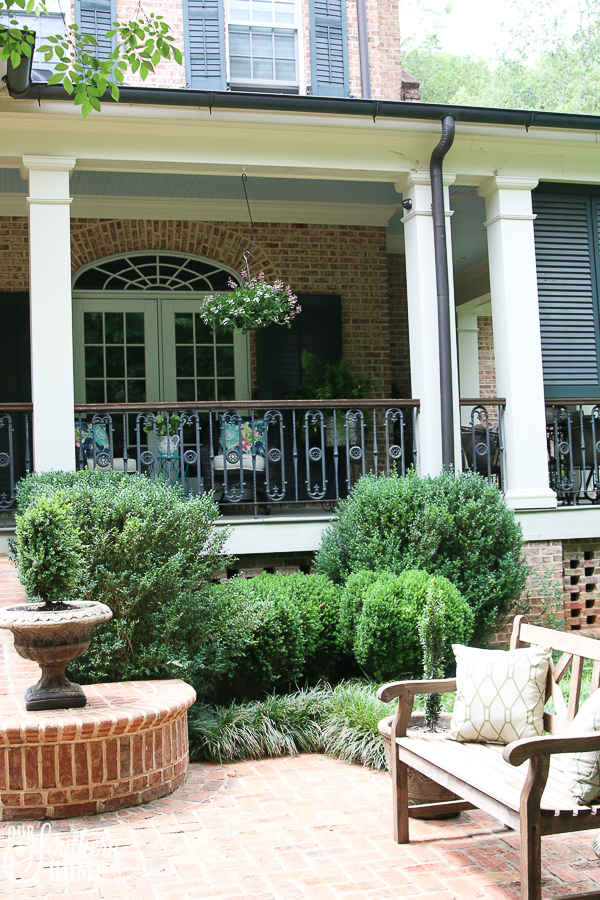 Last summer, we had the ceiling painted haint blue and I adore it. Best decision ever.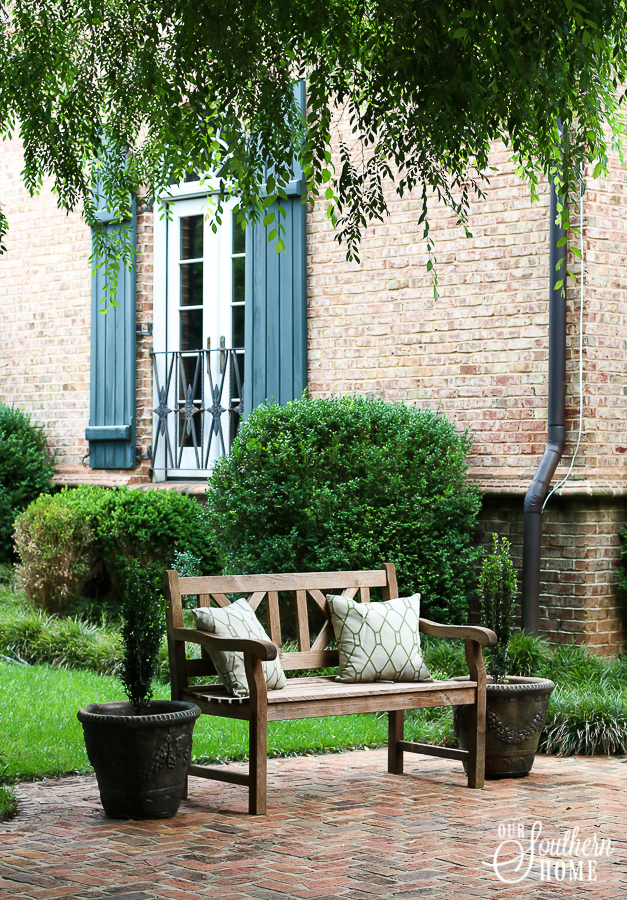 Teak benches flank the front steps. They have been regular spots for photos especially at prom.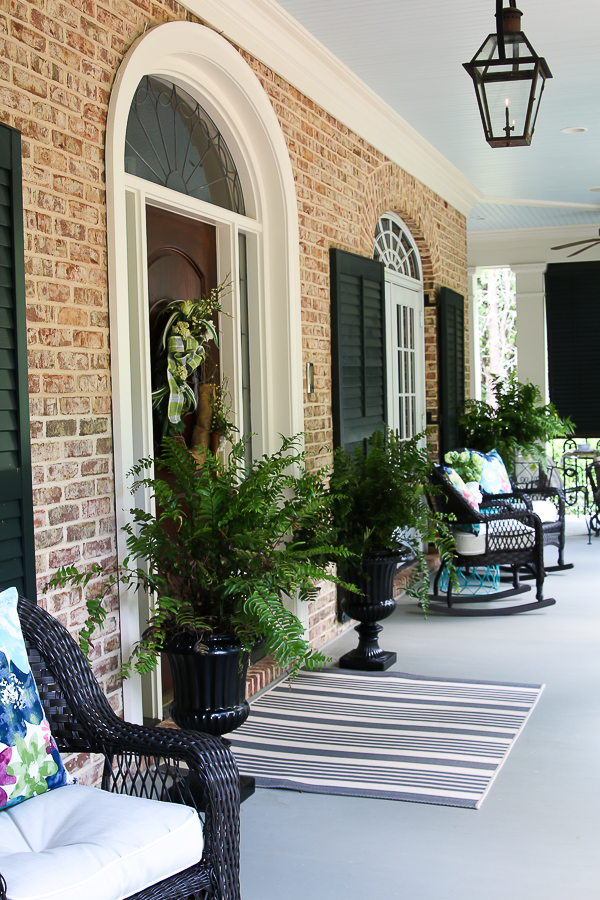 I added the striped rug
in December. I love the relaxed feel it gives the porch not to mention the texture and pattern it adds.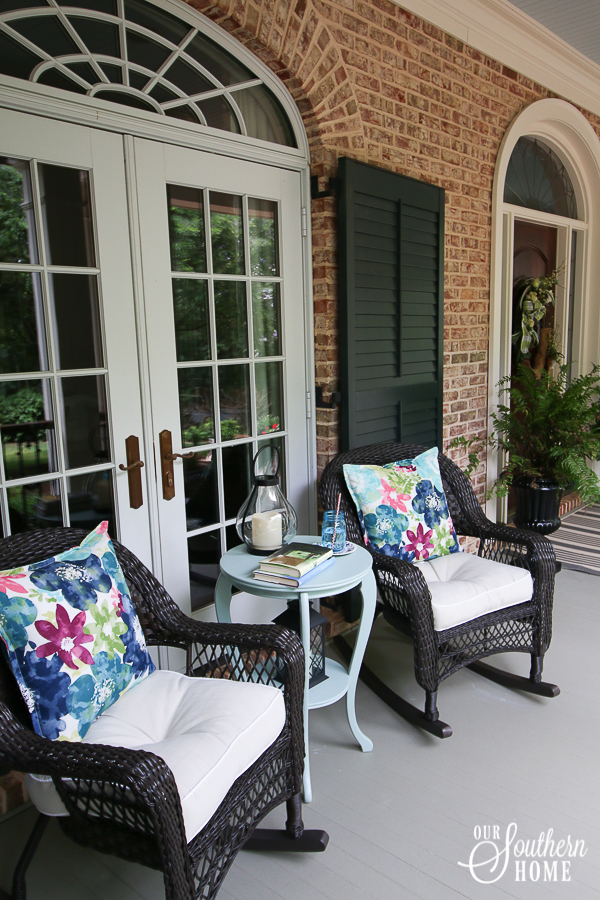 The resin wicker rockers were a steal from Kirkland's for around $115 each.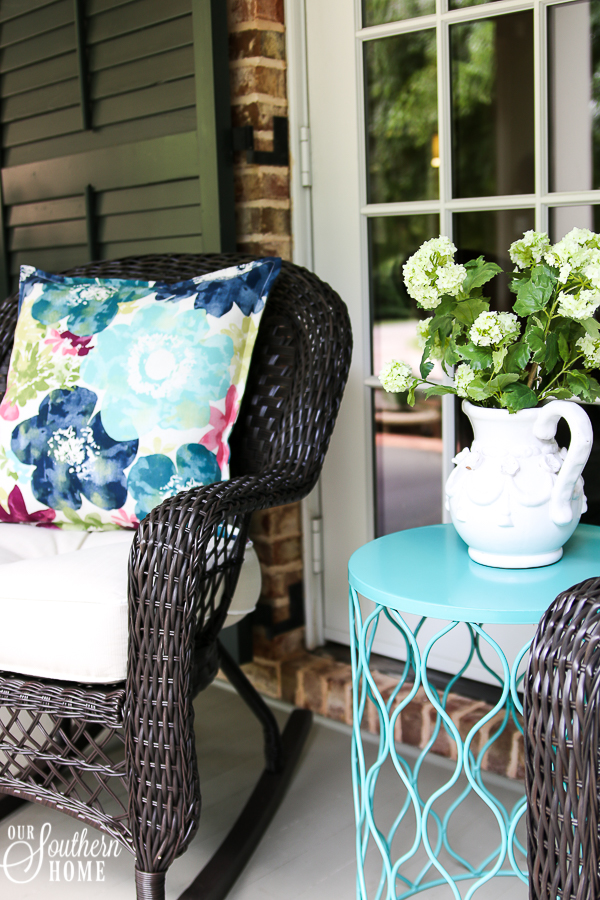 The floral pillows are from Lowes. They are very bold and different from what I'd normally purchase. I brought 1 home to try. No one was really crazy about them, but I was just drawn to the colors. Every color that I love to use is in this pillow! They are fun and bright. I need a little bright. I went back and bought them for the front and back. Now everyone loves them! Cute little blue metal table is from Big Lots.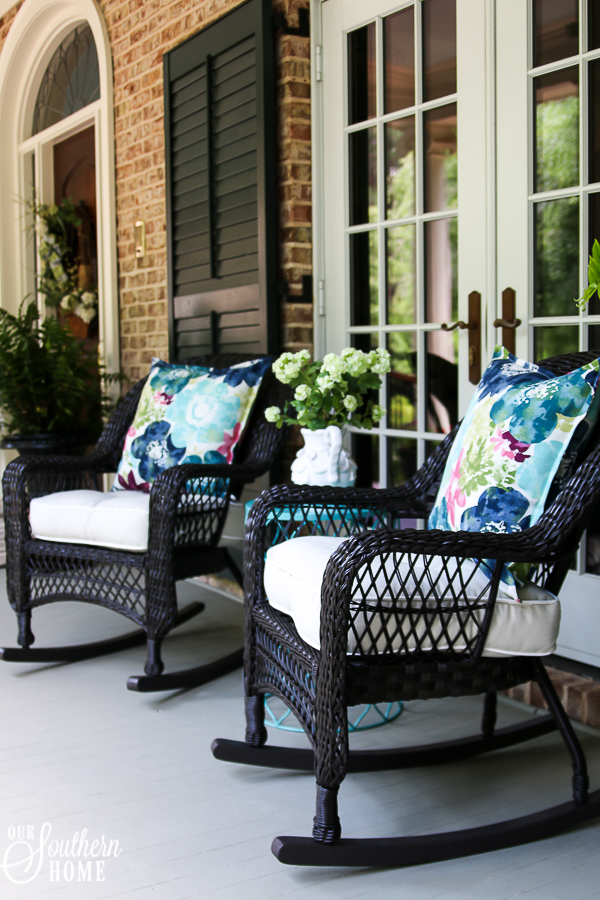 The seat cushions are from Marshalls.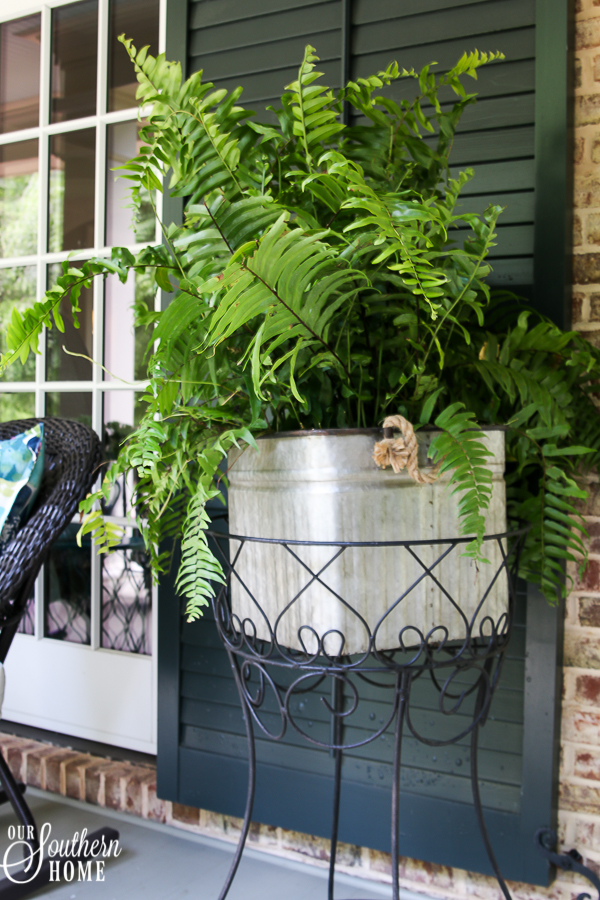 Seriously, my prize plant find for this season came from the recommendation of a staging client of mine. I've seen them before, but kind of passed them over. They are called Macho ferns. Yes, that is the correct name. I had already decided no more Boston ferns for me. We were tired of the constant mess from the shedding. These do not shed and grow big….pretty macho…huh?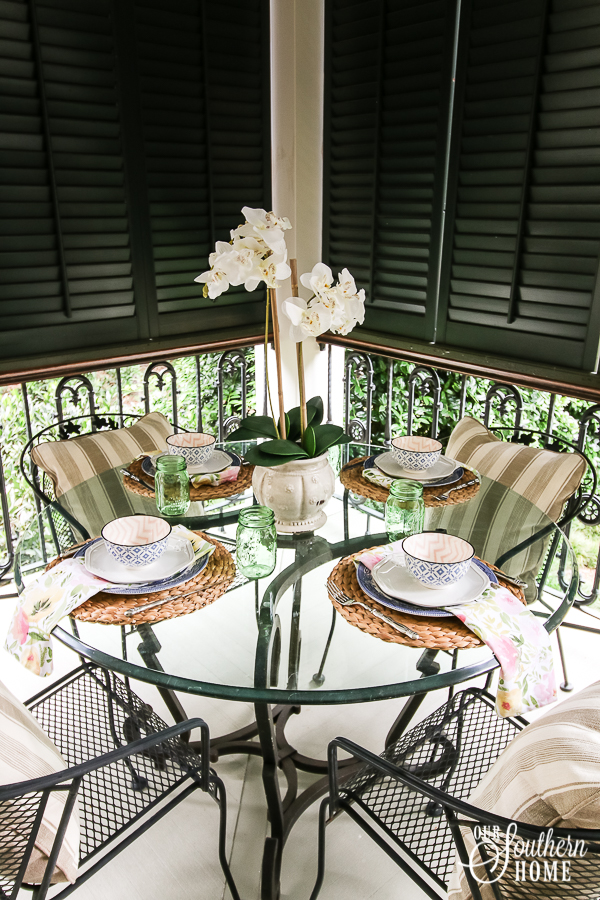 I sold the old table and chairs on the porch. It was just too small and not comfortable for the space. This table was in a model apartment. It was no longer needed for staging so I got it for free! It is a beast. I can't even begin to tell you how freaking heavy the glass is. The chairs aren't the best for it, but suffice. They were on the back patio.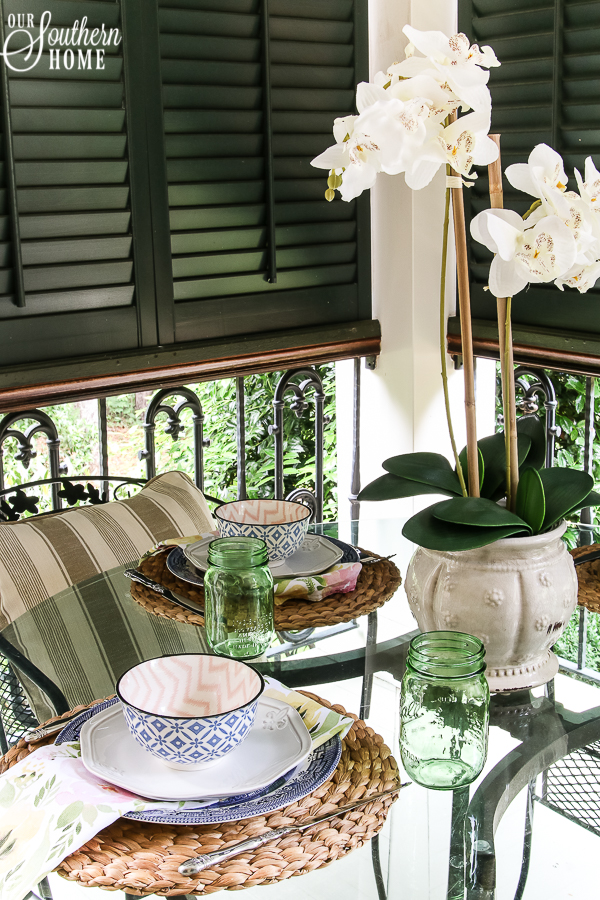 We've been eating out here more now. It's such a cozy nook on the porch.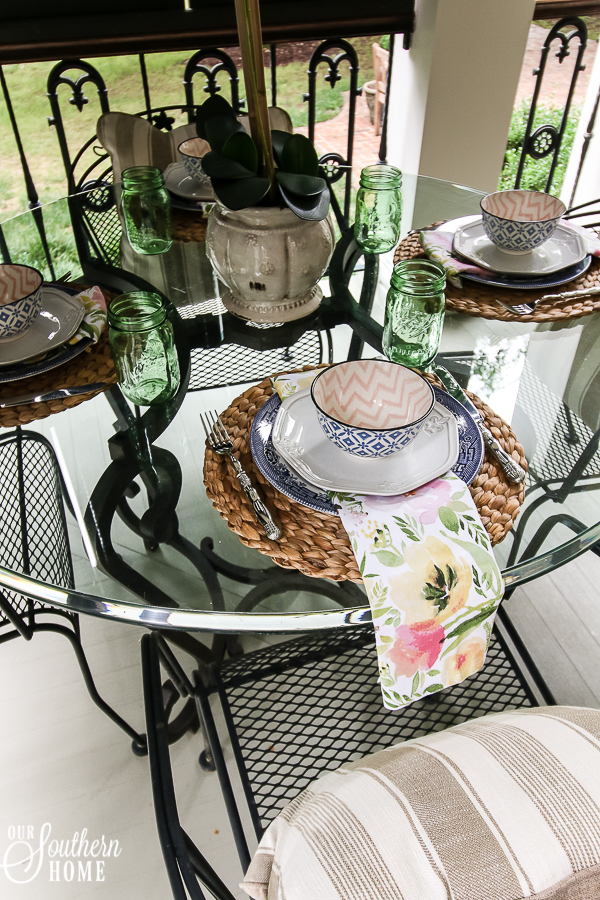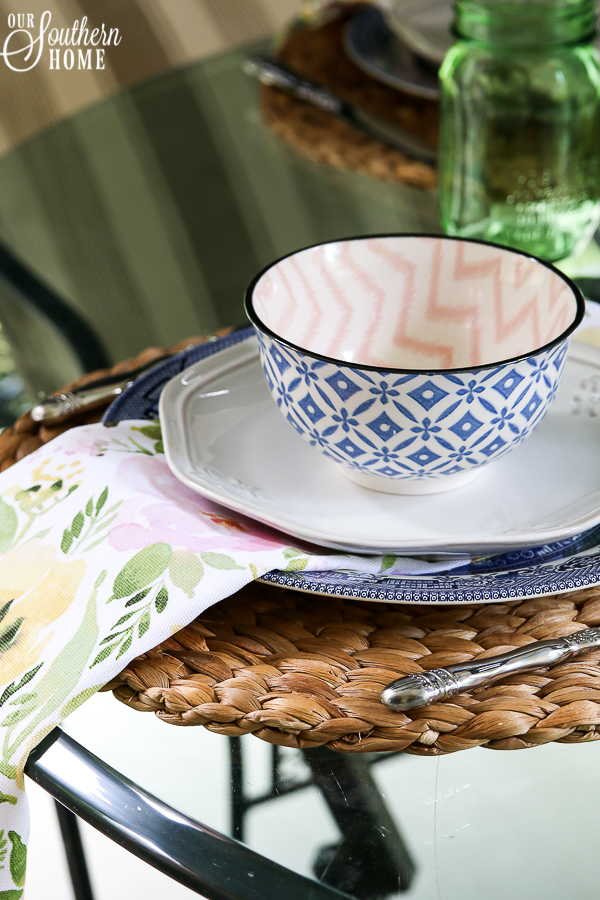 My favorite thing on this table is that sweet bowl! They go perfectly with the napkins and my blue willow china. The bowls are from Big Lots! I bought them when I was in the store over Christmas. I've been dying to use them.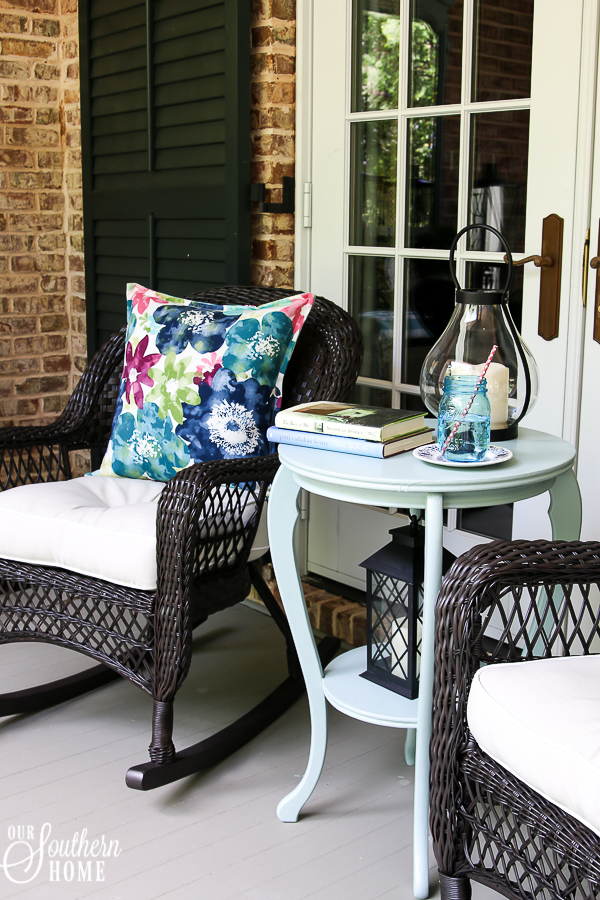 The porch is an eclectic mix of new, budget and thrift store finds. The perfect combo!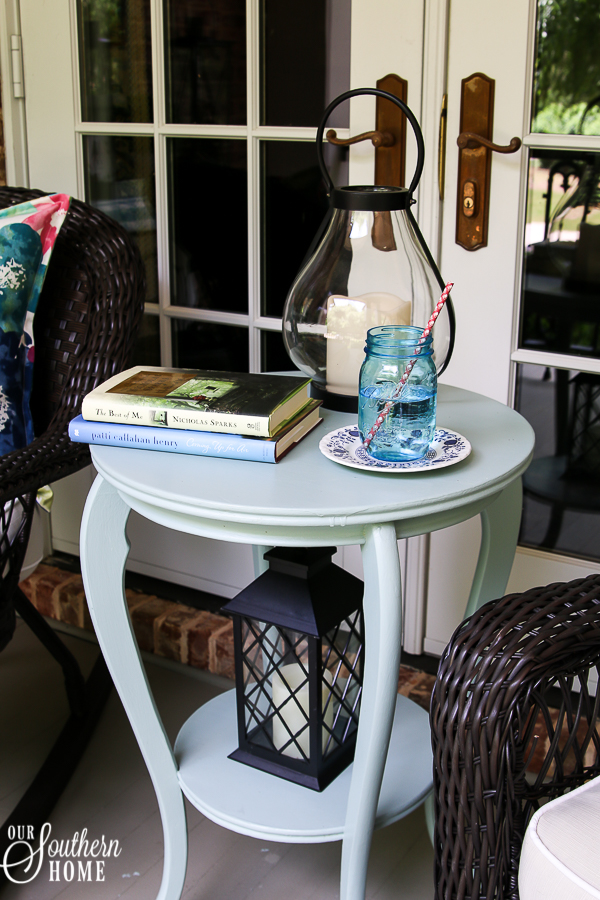 Even the lanterns are from Big Lots!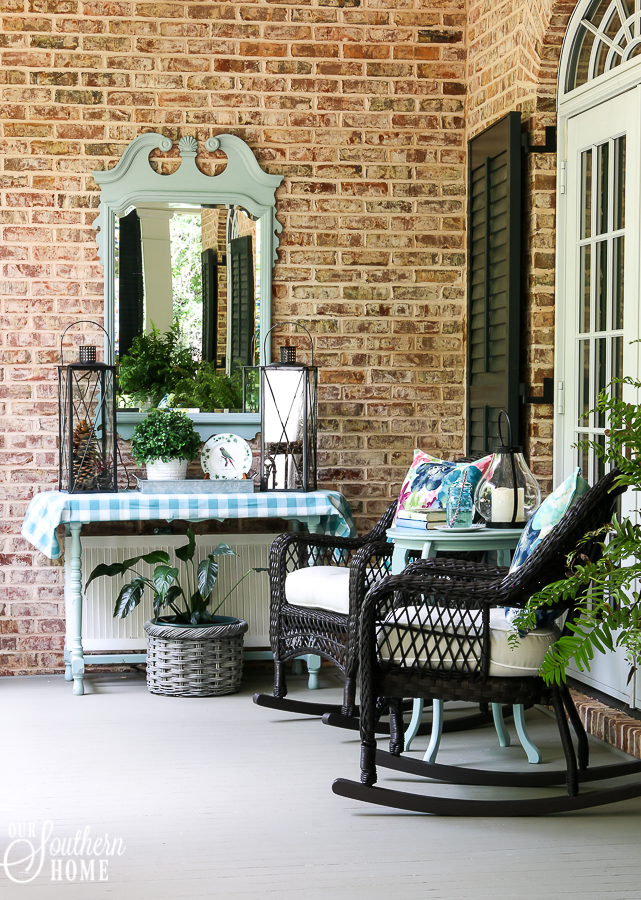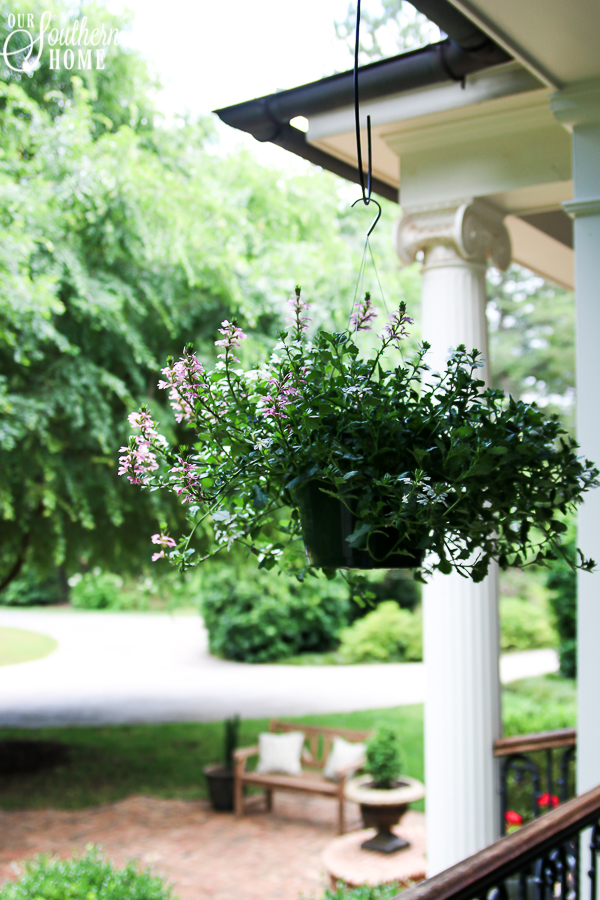 Hanging flowers replace Boston Ferns on the porch now. Don't miss the mess!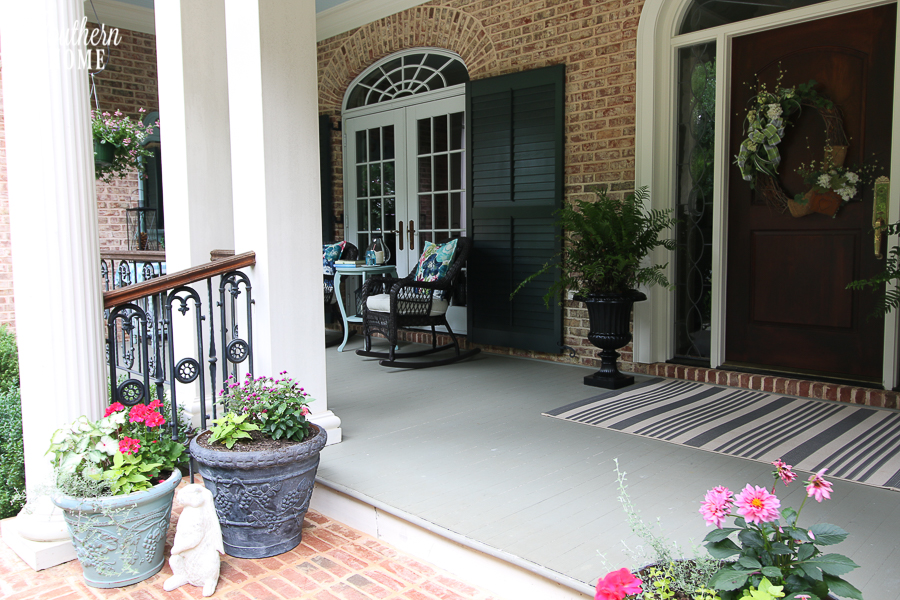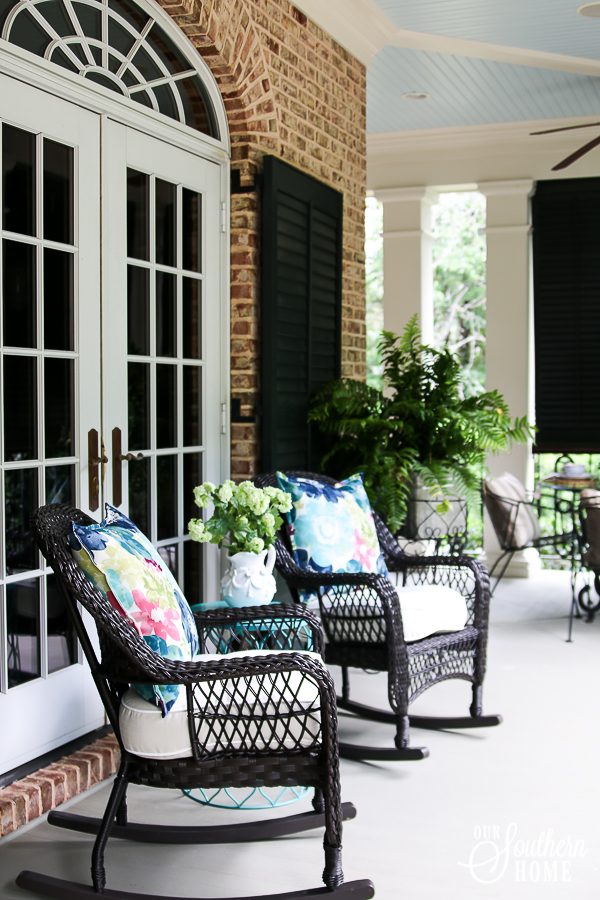 The perfect spot for watching the rabbits frolic in the yard and the occasional deer bolt by.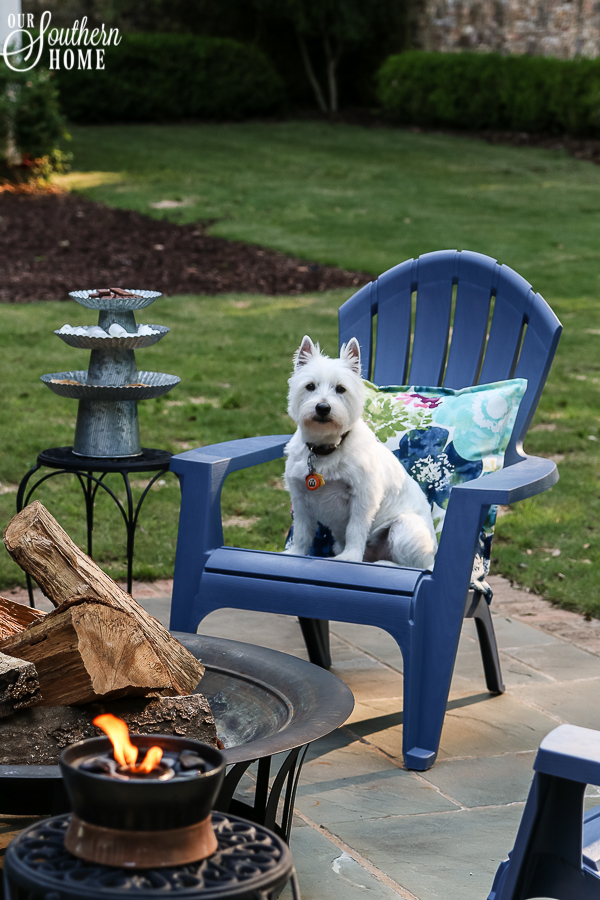 Bentley welcomes you to the backyard. It's fenced so he can roam free!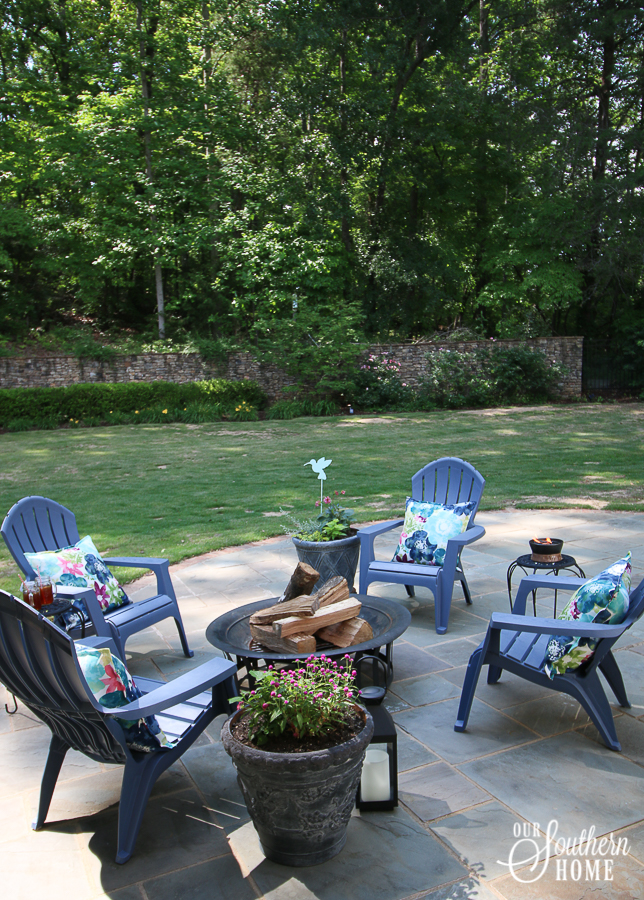 When I moved the 4 wrought iron chairs to the front porch, I replaced them with these plastic Adirondack chairs from True Value. They are so comfortable and portable!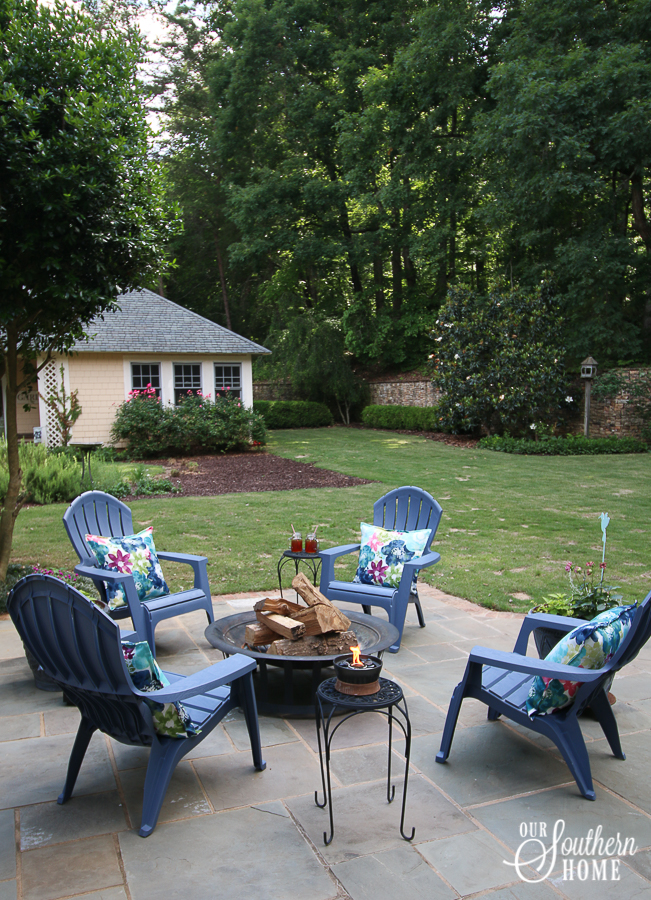 Love the conversation around the fire-pit.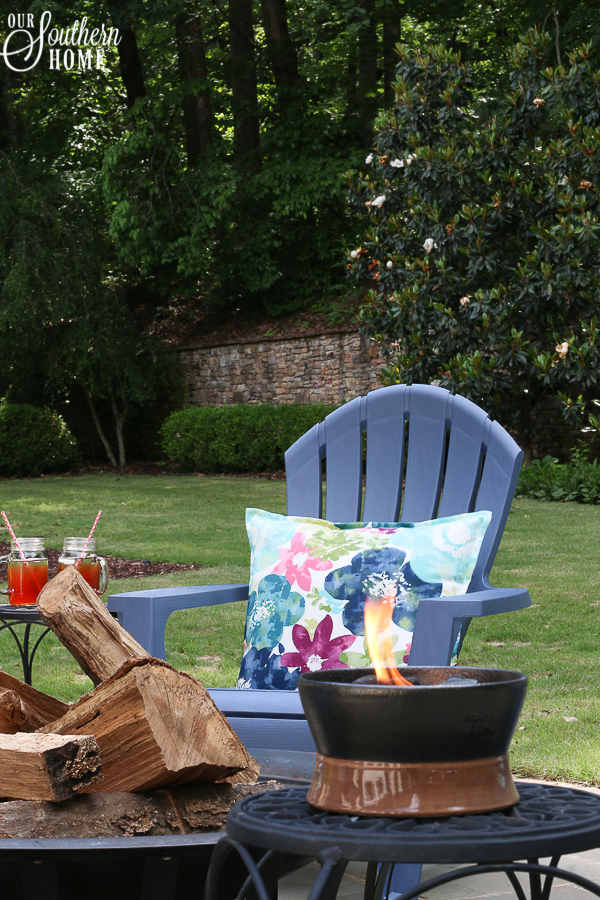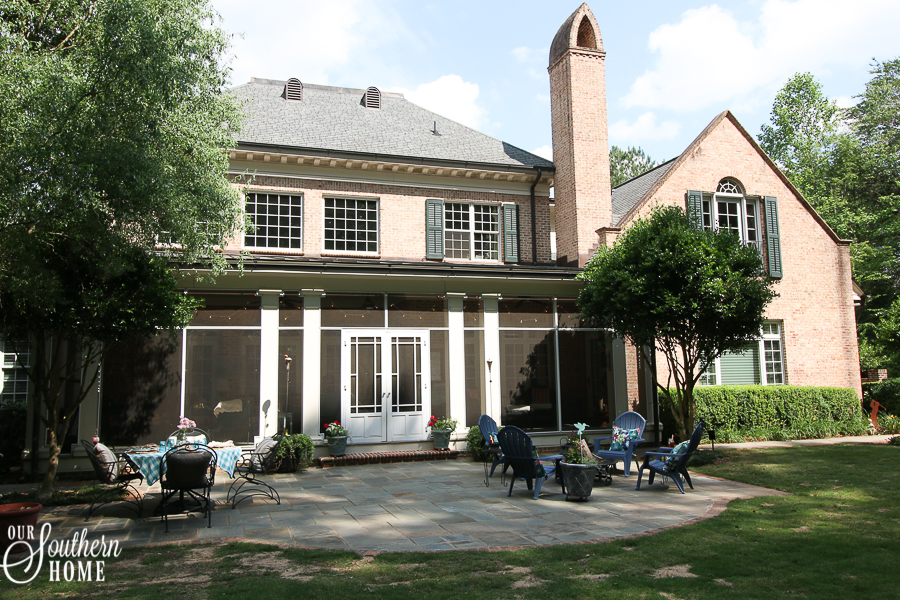 Lowes has some really good-looking and inexpensive resin wicker chaise lounges that I want to add in the open area.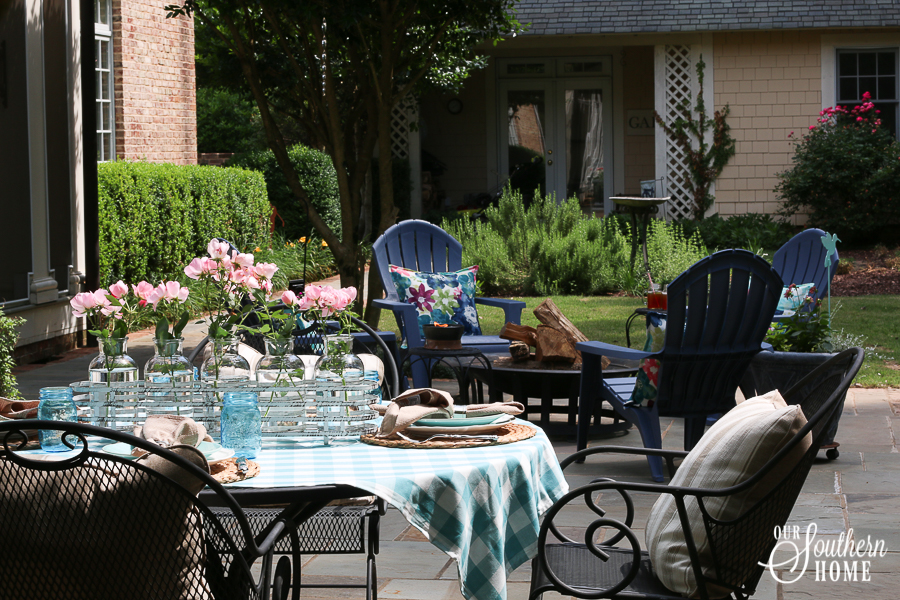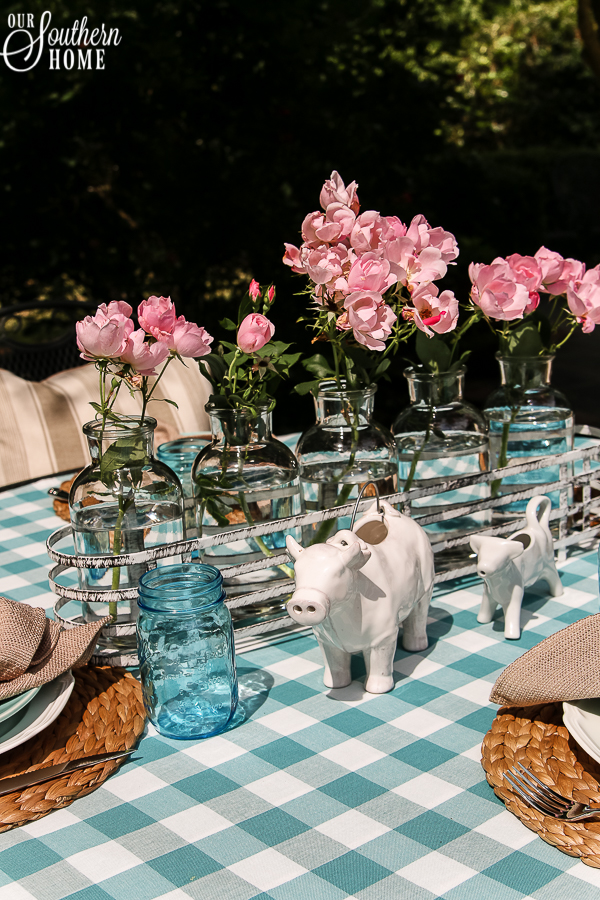 The farmhouse metal vase holder is from Kirkland's. It is seriously perfect for holding fresh-cut flowers from the yard. My Knock-Out roses have been in full bloom! The table-cloth is from Wal-mart.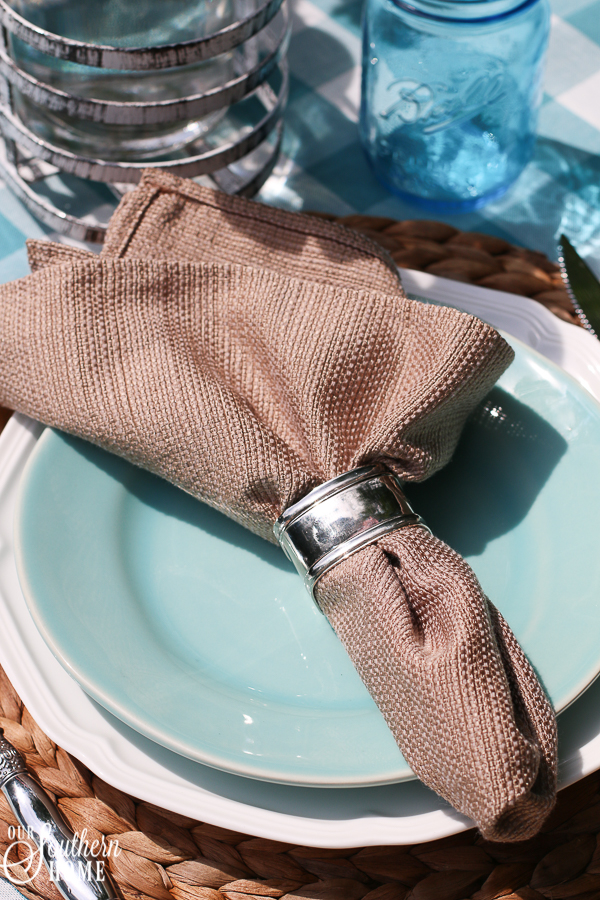 Since the pillows have so much color, I decided to go a bit more blue on this side with the pink flowers.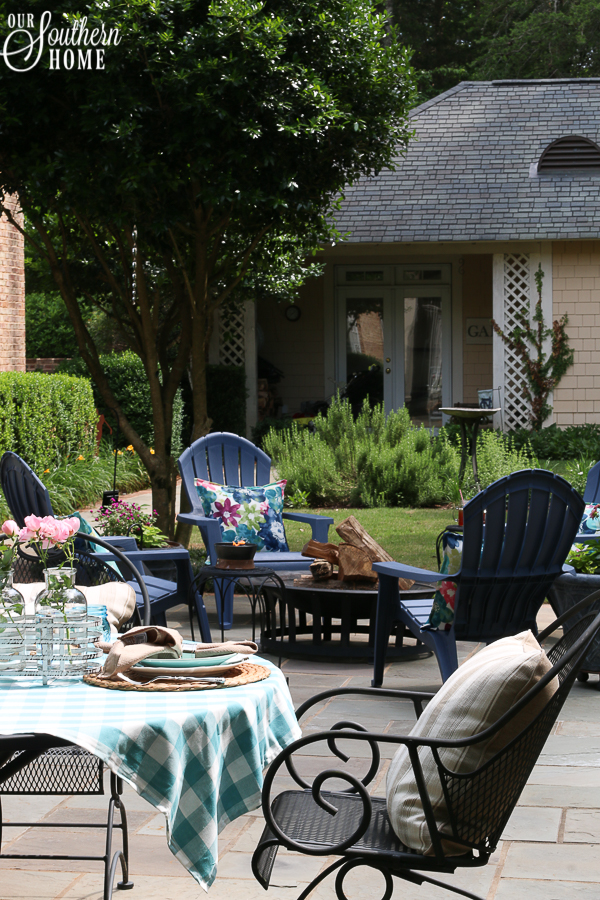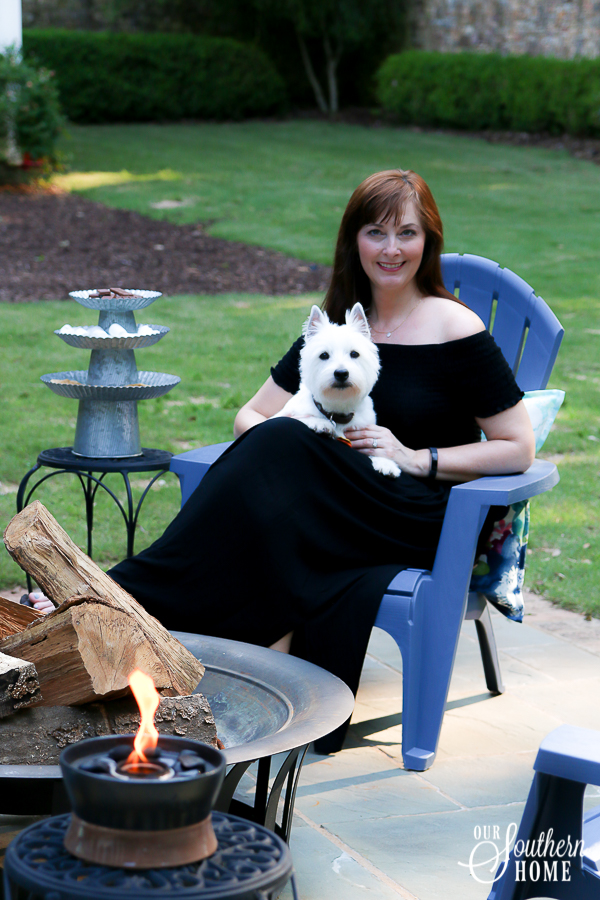 Thanks so much for stopping by. I hope your summer is magical!
Be sure to visit the next stop on the tour…..Pam from Simple Details.
Monday – June 12
Tuesday – June 13
Wednesday – June 14
Thursday – June 15
Fri – June 16
I'd love for you to follow along on social media!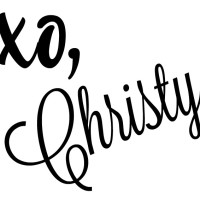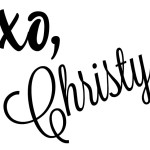 Home Stories A to Z Not Just a Housewife Kammy's Korner The Happy HousieDesign Dining and Diapers Liz Marie Blog Funky Junk Interiors Savvy Southern StyleTatertotsand Jello DIY Show Off Redoux Interiors Between Naps on the PorchThe DIY DreamerOh My Creative Little Miss Celebration Just a Girl and Her Blog Sand and Sisal InteriorFrugalista House on the WayAddicted 2 DIY I should be Mopping the FloorMiss Mustard Seed Stone Gable- The Scoop Inspire Me Tuesday Feathered Nest Friday Treasure Hunt Thursday Northern Nesting
Buffer