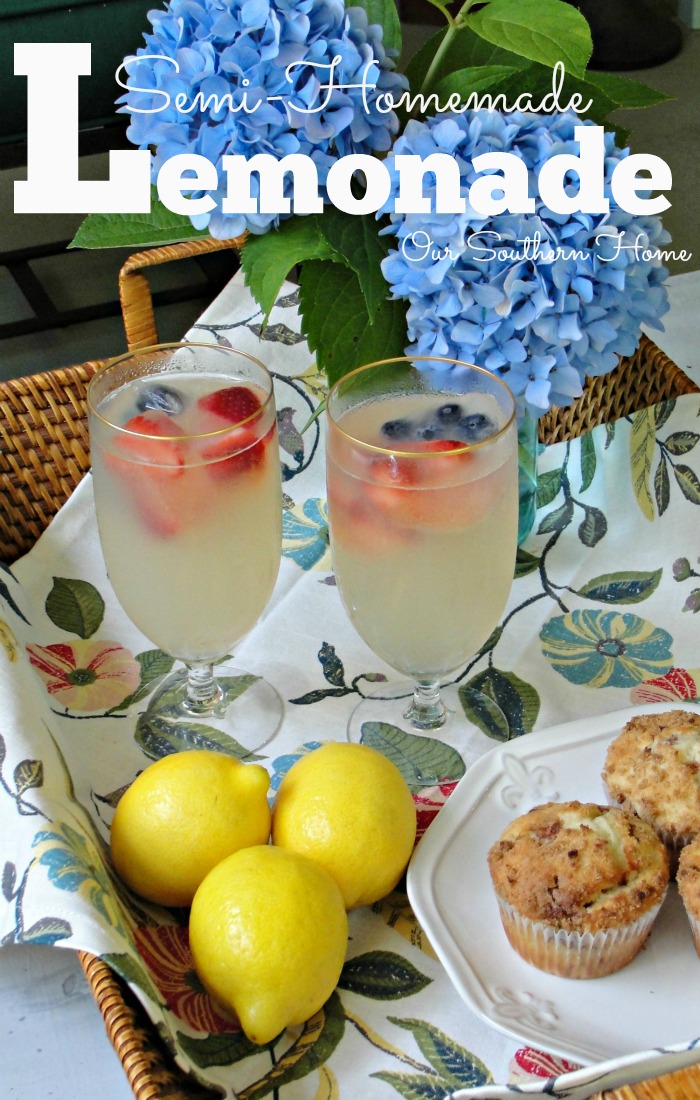 Summer, sweet summer! Two things come to mind when it comes to summer in the south, besides the humidity…..sweet tea and lemonade! Today I'm sharing a favorite drink with my other southern blogging gals for our July installment.
If you are visiting from Melissa over at Daisy Mae Belle, welcome and thanks for stopping by!
After almost 25 years of home-making, I've learned a few things along the way to make life easier! Give yourself a break. Life doesn't have to be an endless parade of made from scratch! Sometimes it is just the presentation that lets that someone special know you put forth the extra effort!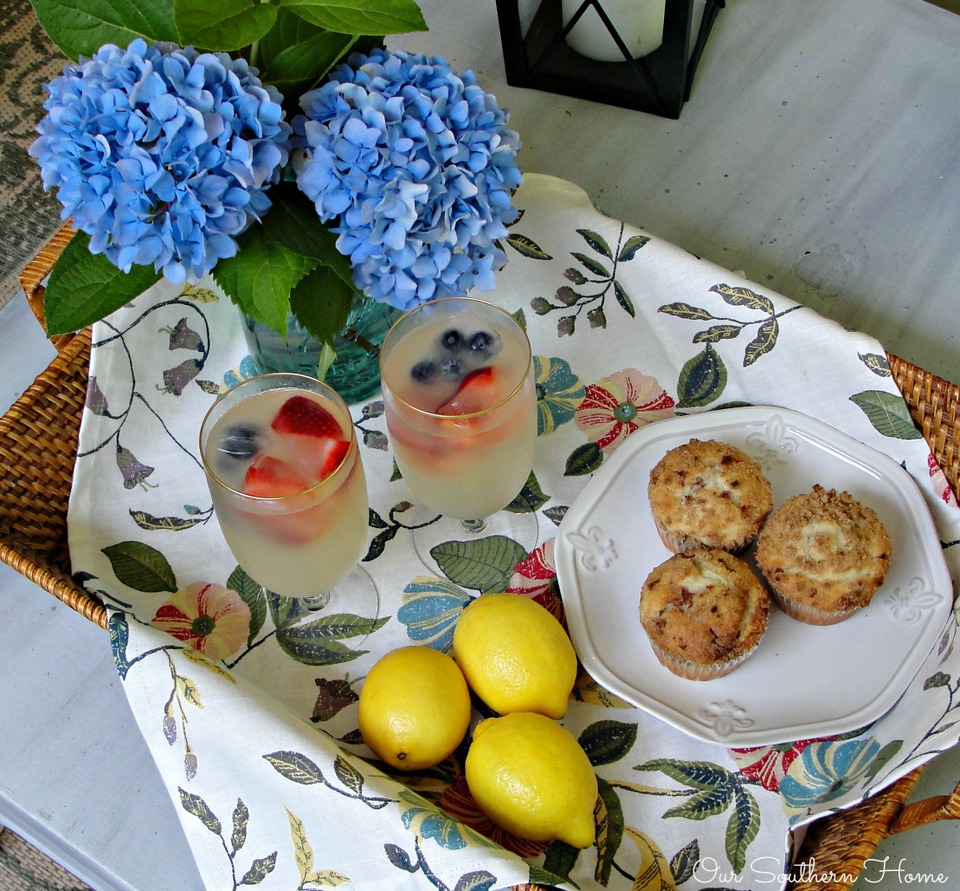 This summer has been a rude awakening for me. Next year my son will be a senior and daughter will be a sophomore in high school. They have always been homebodies, but there is just something about high school that turns kids into social butterflies! There are frequent impromptu get-togethers. I love it! I enjoy their friends coming over. With the addition of teens…means they are always hungry! There are just some things that need to stay simple.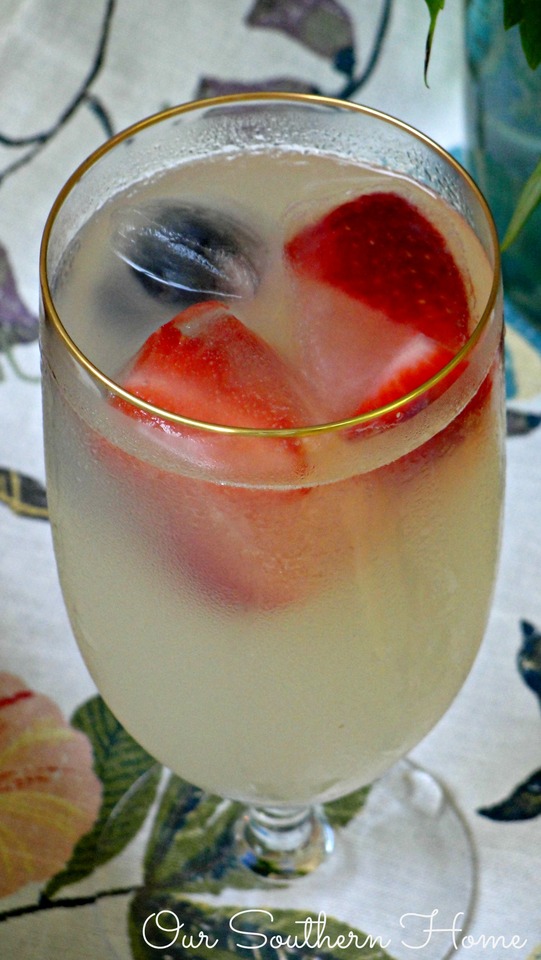 My son has just started dating. Yes, this is quite the adjustment for me the mom! Both of our kids are very active in sports and are heavily enrolled academically. There is no time for a hectic job. As long as they help do their chores and other things at home, we give them an allowance which has always been plenty for them. BUT wait….now that Woods is dating…..he needs more money! YIKES! You know dinner, movies, putt-putt costs money! My husband has talked with Woods and let him know that there can be "free" dates! Luckily, they have been doing that much more. Come on…even mom and dad don't go out that much!
When Woods brings his friend over, they watch a movie, shoot pool, play basketball …fun stuff. Free stuff! So when she stays for dinner or a snack, I try to make it nice…not all the time, but on occasion! This is one of those occasions. A sweet tray of muffins and lemonade served on the porch.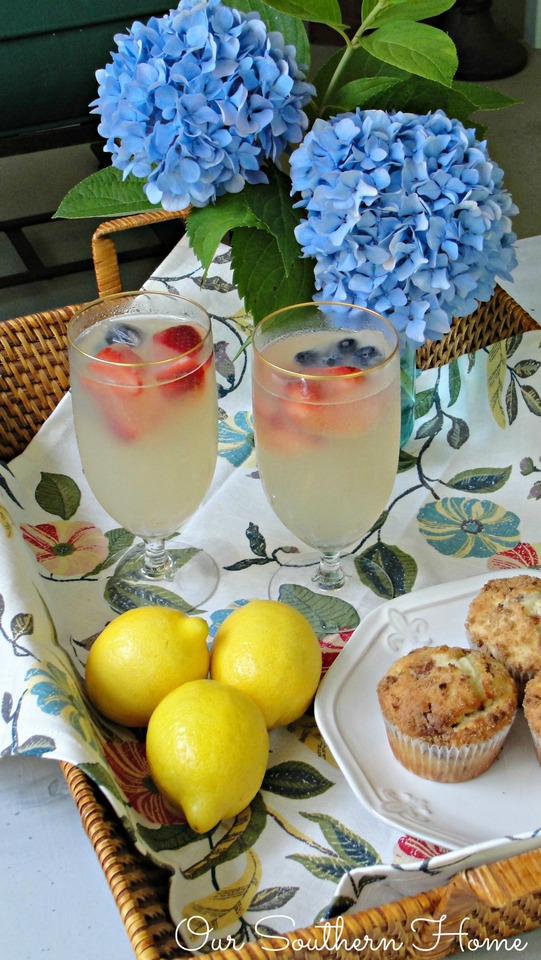 This tray turned out sweet for a little at home date. It looks special with little prep!
I started with a large can of frozen lemonade. Make it according to the directions. To add a bit of a fresh lemon taste, just squeeze a lemon into the pitcher and stir.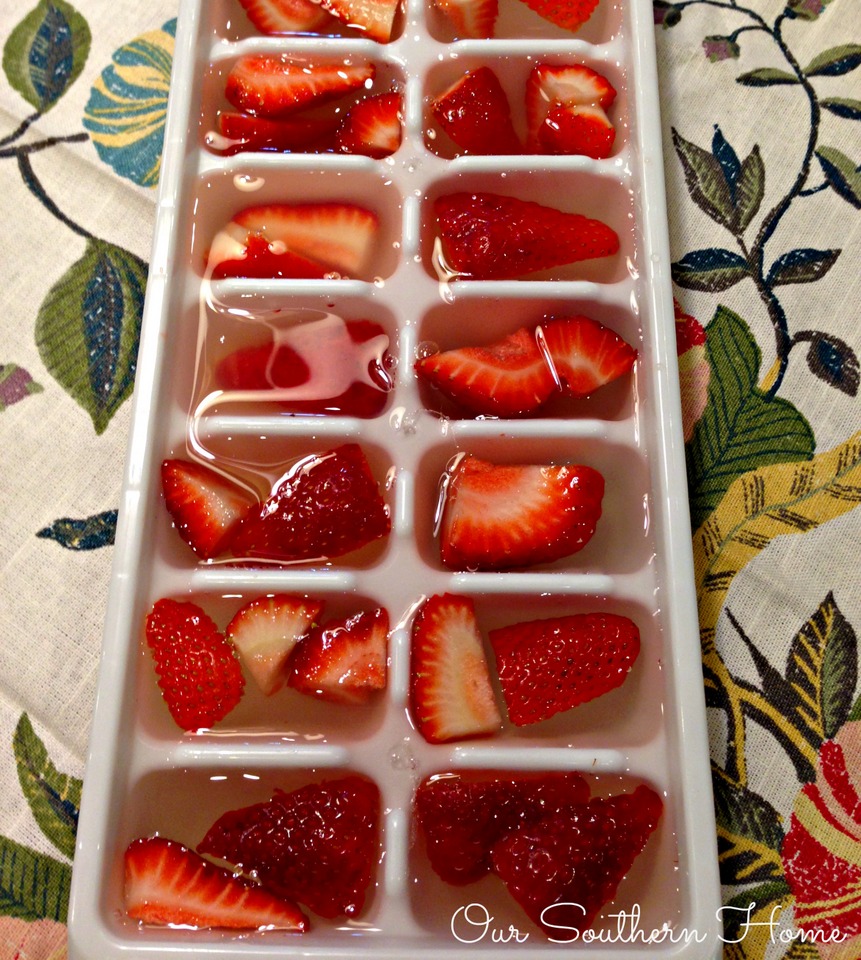 I made the lemonade the day before. I simply sliced fresh strawberries and placed them in ice-cube trays. Then filled with lemonade. Freeze.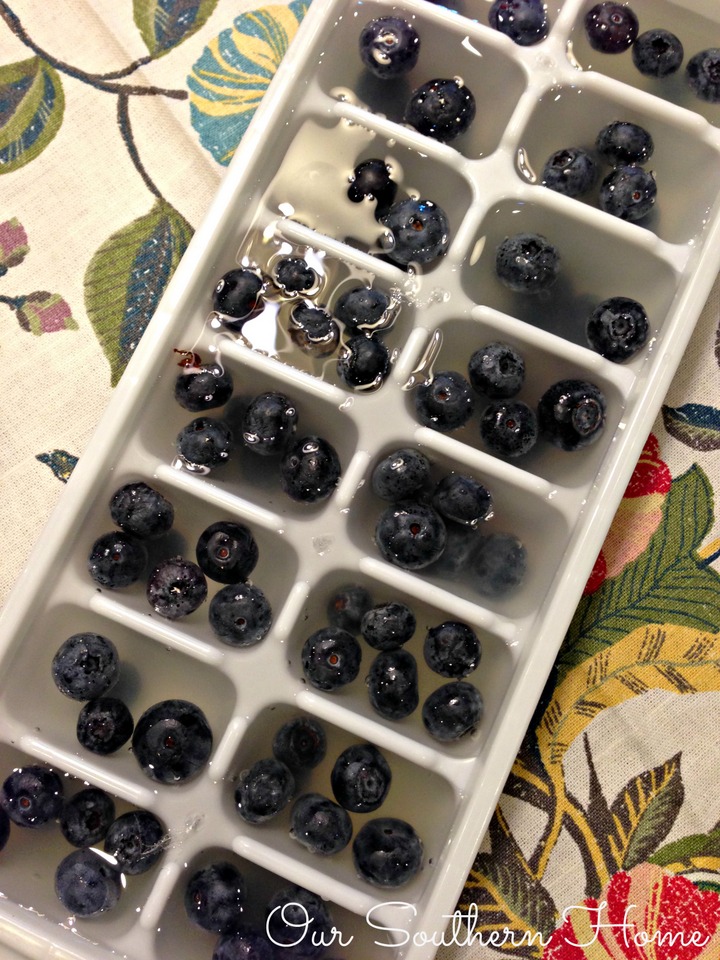 Do the same with fresh blueberries. This way as the ice melts in the glass, the lemonade isn't being watered down by a traditional cube. It really makes the presentation beautiful! The fruit freezes as well keeping the glass colder on the warm screened porch.
Shhhh! You don't need to tell anyone that you didn't squeeze all those lemons in a pinch.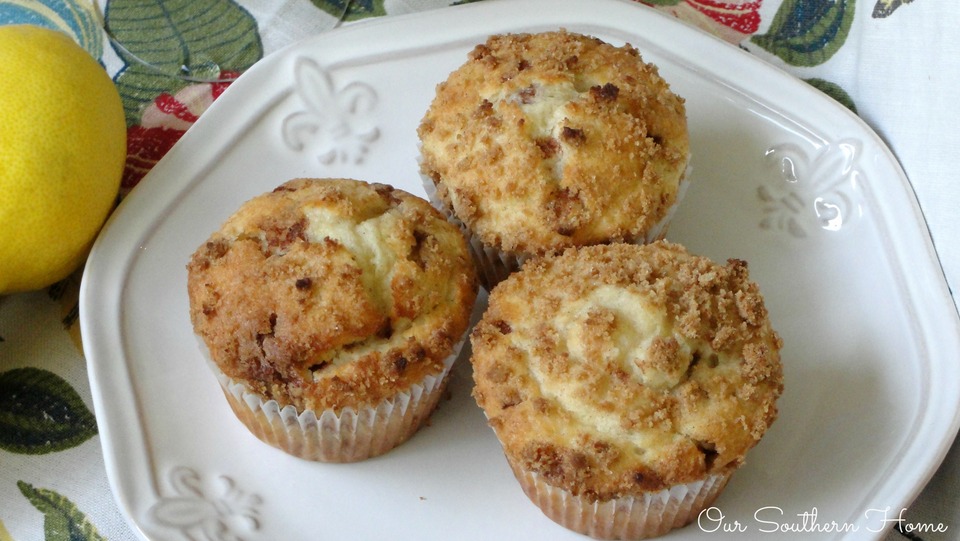 You can't go wrong with these Betty Crocker Cinnamon Streusel muffins.
So take the time…plan a pretty little afternoon lemonade gathering with a few friends. Break out your pretty serving pieces, nice linens and cut flowers from the yard. Don't fuss so much about the food. You and your friends may even decide to get together more often when things are kept simple. It's all about the company after all!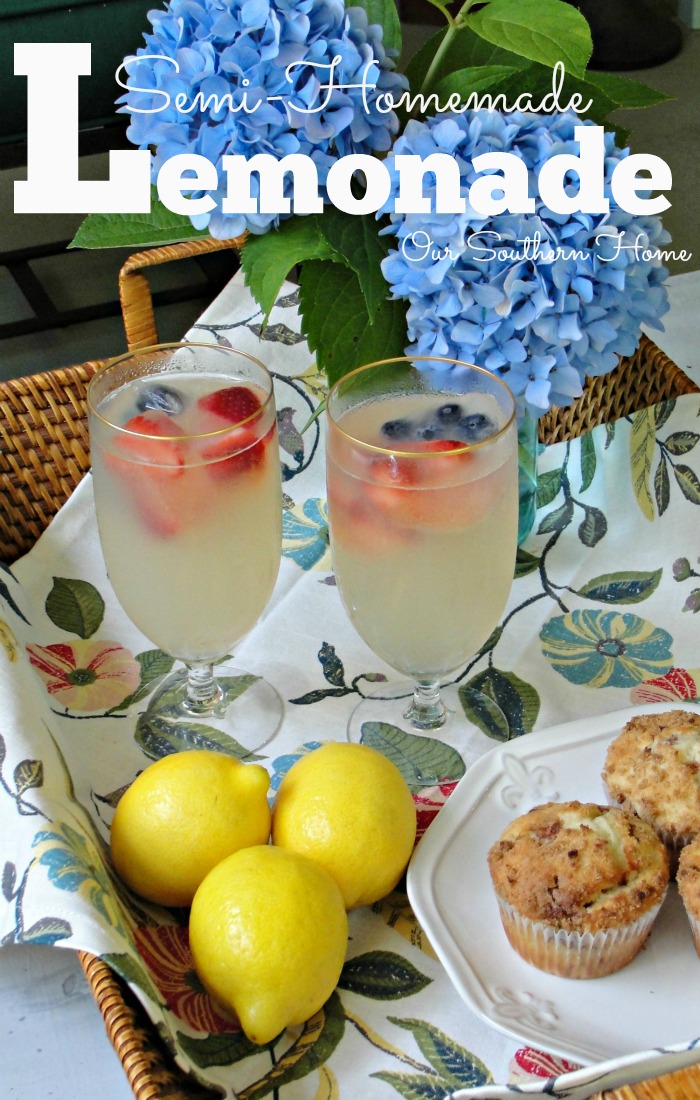 Now, it's time for you to give Sonya from At Home with the Barkers a visit! She has a yummy milkshake for you! I know my family will love this for dessert one hot night!
Happy Summer Y'all!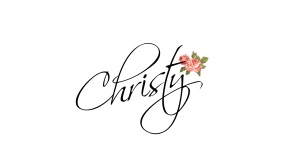 Link Parties that OSH parties at on occasion! Sunday: DIY Show Off Monday: Between Naps on the Porch, Home Storis A to Z Tuesday: Not Just A Housewife, The Scoop at Cedar Hill Farmhouse and Inspire Me Party at A Stroll Thru Life, My Uncommon Slice of Suburbia Wednesday: Savvy Southern Style Thursday: My Repurposed Life, From My Front Porch to Yours, Imparting Grace Friday: French Country Cottage, Miss Mustard Seed Furniture Friday, Common Ground, The Charm of Home, Rooted in Thyme, Imparting Grace, Keep Calm and Link Up, My Romantic Home – Show and Tell Friday, Craftberry Bush – Inspiration Gallery Friday, SnapCreativity – Show and Tell, Tatertots and Jello
Buffer