This is a sponsored post on behalf of Procter & Gamble. All writing, photos and opinions are that of Our Southern Home.
We are officially in summer mode, and I couldn't be happier. I adore the changing seasons, but summer has me at my happiest. The kids are home from college and life is fairly carefree. My husband and I have really been making a point of traveling more and doing fun things together. We know that all too soon they will be on their own with families of their own. We are making the most of those few precious years left of the four of us in our home.
We are total homebodies, but love to travel. We just returned from a cruise. It was a blast. The rest of the summer has a couple of beach weeks and a long weekend in New York City planned.
Speaking of being homebodies…..I truly mean that. We really enjoy our home and being with one another. Summer is a fabulous time to make memories at home.
Ashlyn and I headed out to Big Lots last week to pick up a few cleaning supplies like the Swiffer® Pet Swiffer Pet Dusters Fresh 360 kit. Big Lots is fabulous for your cleaning supplies. I find their prices to be the best.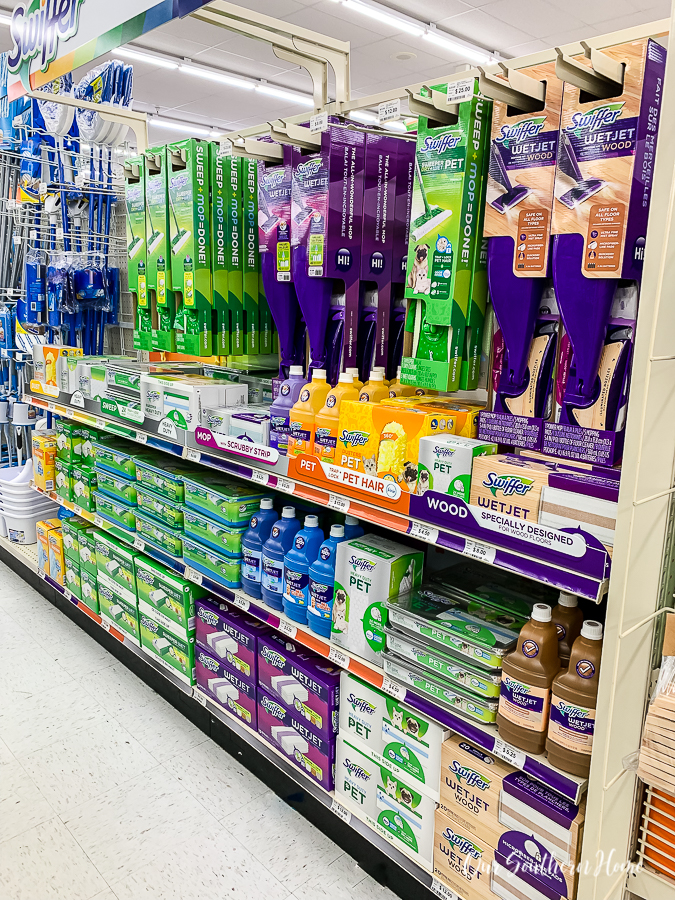 Just to give you an idea, I was blown away at the Swiffer display in Big Lots. It was so neat and well stocked. In typical fashion, I had to look around at the decor. I can't wait to show you the outdoor decor that went home with us.
I've really been wanting some new patio furniture, but it just wasn't in our family budget. So all summer, I've challenged myself to update the look with accessories. Big Lots has an amazing selection of outdoor decor, home decor and entertaining needs. I've actually got my eye on a wicker seating set at Big Lots.
Did you see last month's Farmhouse Bedroom Refresh that I did with a few items from Big Lots? It turned out beautifully.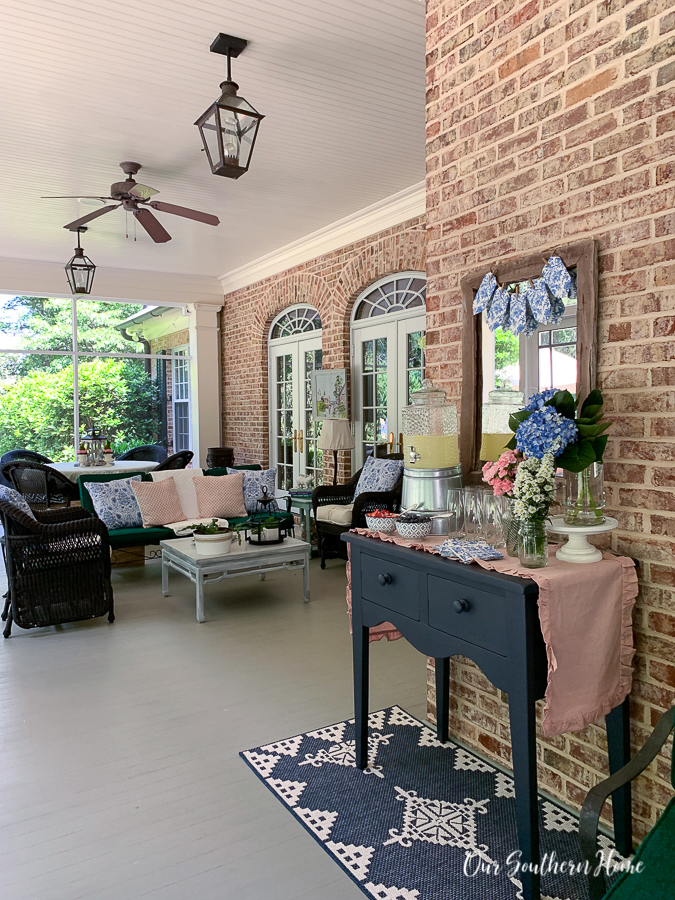 Back in May, I started changing the look a bit by painting this console table navy. It is so striking now on the porch. I still didn't have a rug. Outdoor rugs can be pricey, but not at Big Lots. I actually found one there for the seating area and it was under $70!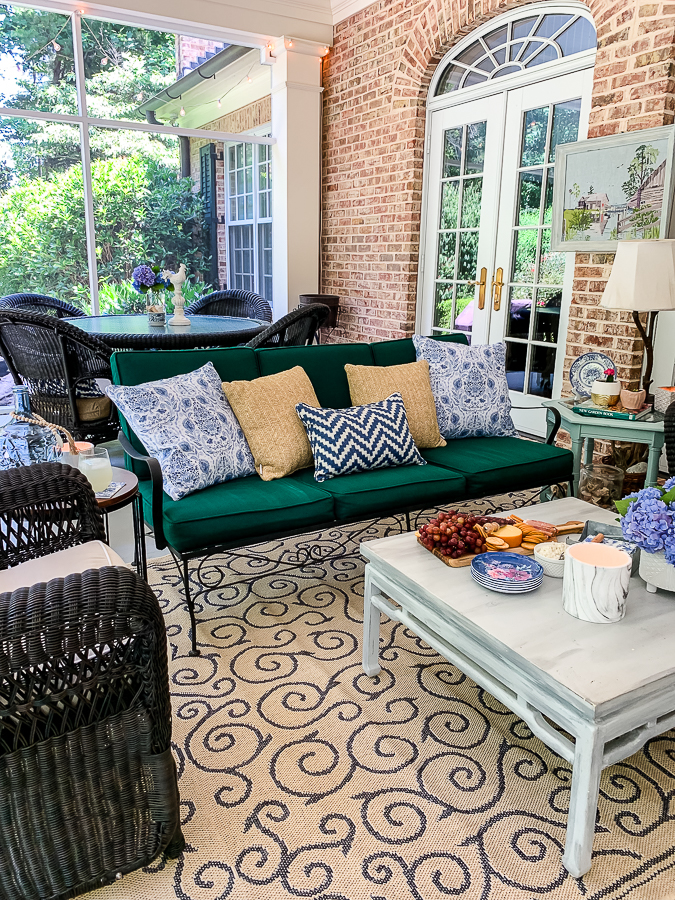 It's perfect with the navy and green that I have going on. I try to buy pillows in colors that will work on the front porch, back porch and patio so I can change things up throughout the season.
Our porch has come together through the years with the following items:
Consignment and thrift shop furniture
DIY projects
Mix of High-End and budget store furniture and decor
I decorate our exterior in the same manner that I decorate the interior. It's an eclectic mix that gives a cozy, lived in look that works for us.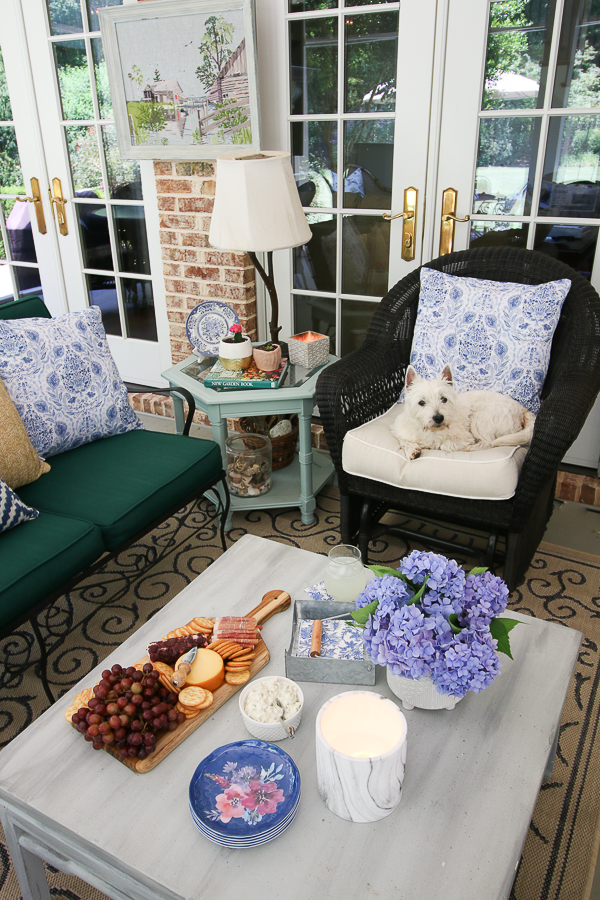 Making memories at home need not be a huge production or elaborate party. Keep a few cheese items, crackers and fruit on hand for an impromptu cheese tray. Our seating arrangement is perfect for conversation. Some of the best memories are fondly remembering all the evenings we've sat right here chatting while grilling our dinner. Most nights we eat dinner at the dining table on the porch.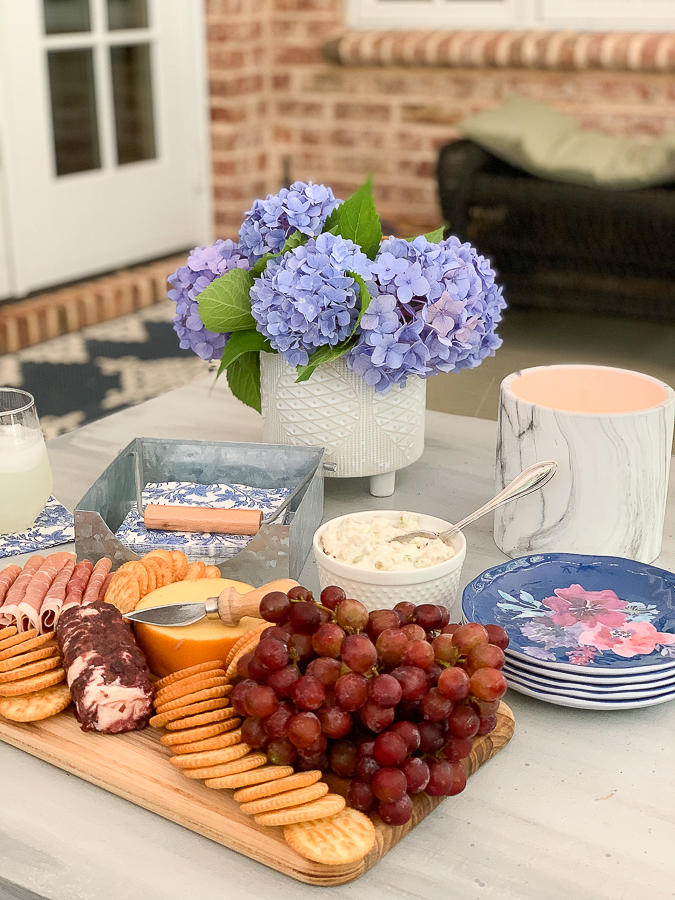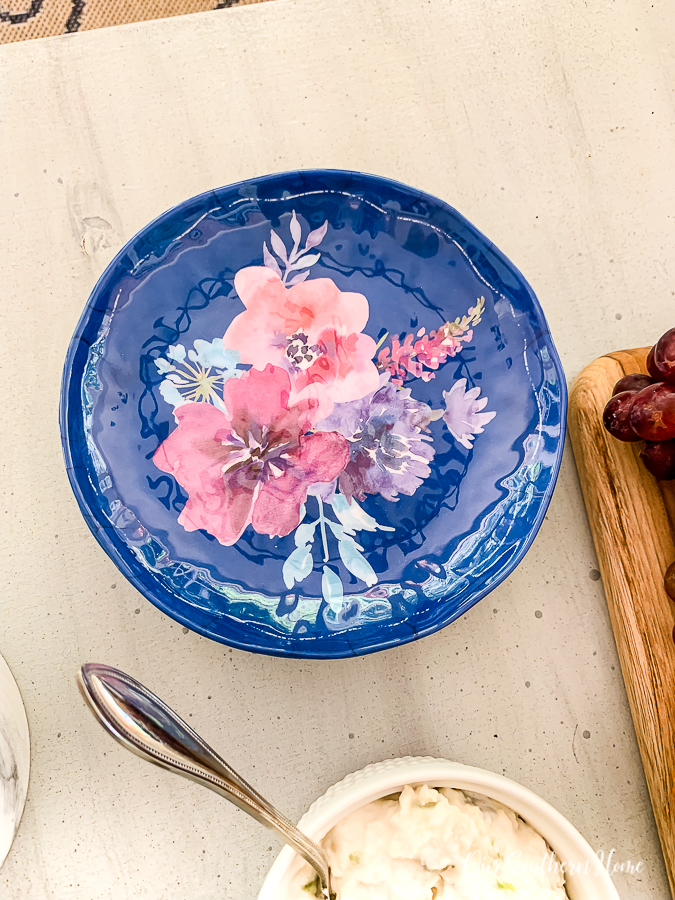 I picked up 10 of these small melamine appetizer plates. Big Lots has several patterns and sizes to select from to mix and match. Melamine is perfect for outdoor dining.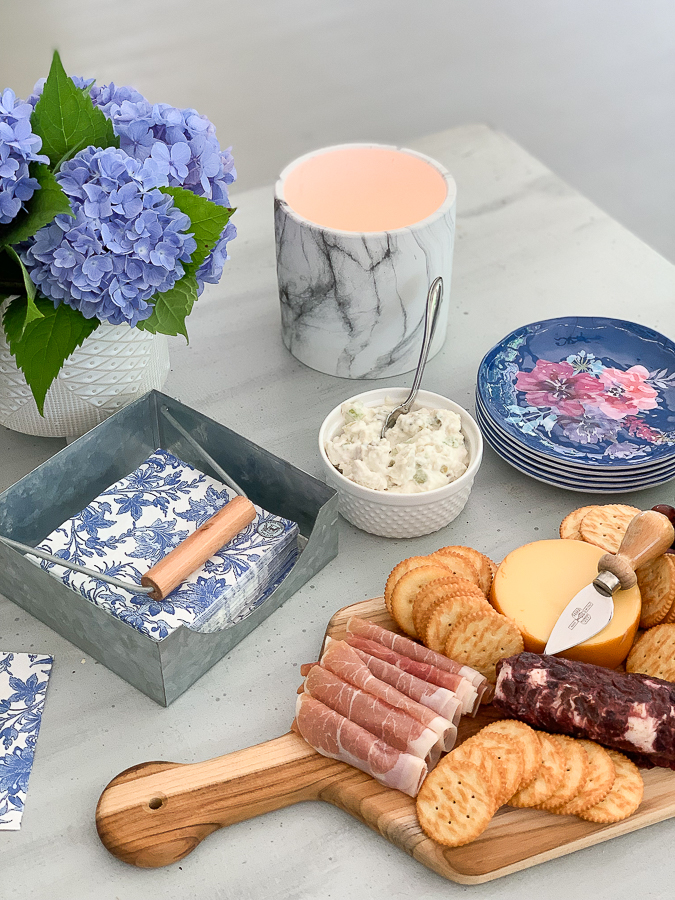 Items on the coffee table from Big Lots:
appetizer plates
white footed planter
marble citronella candle
galvanized napkin holder
A weighted napkin holder is a must for outdoor entertaining. They work well for a standard sized napkin and cocktail napkins like I'm using here.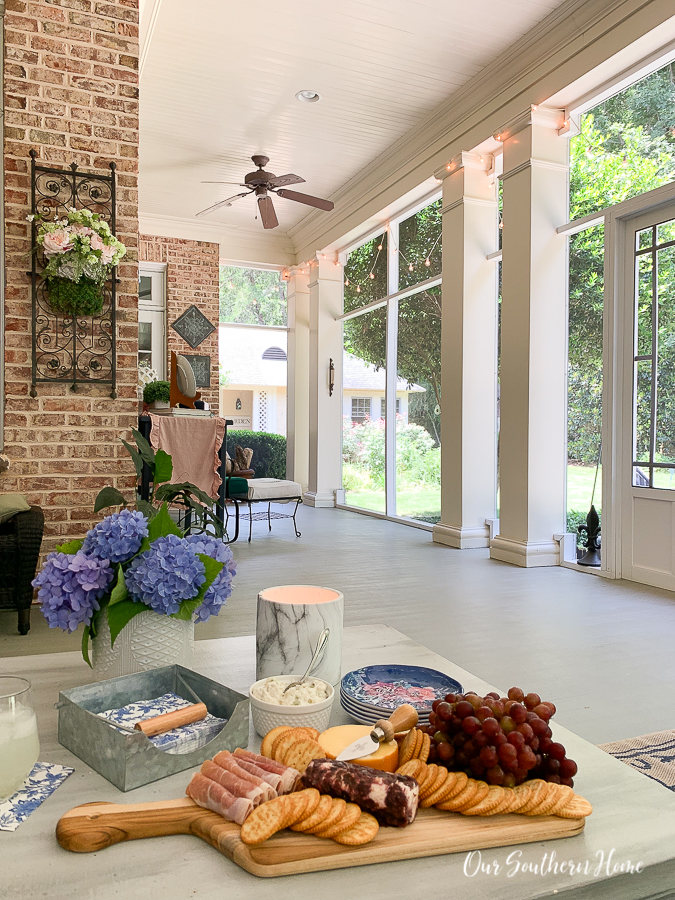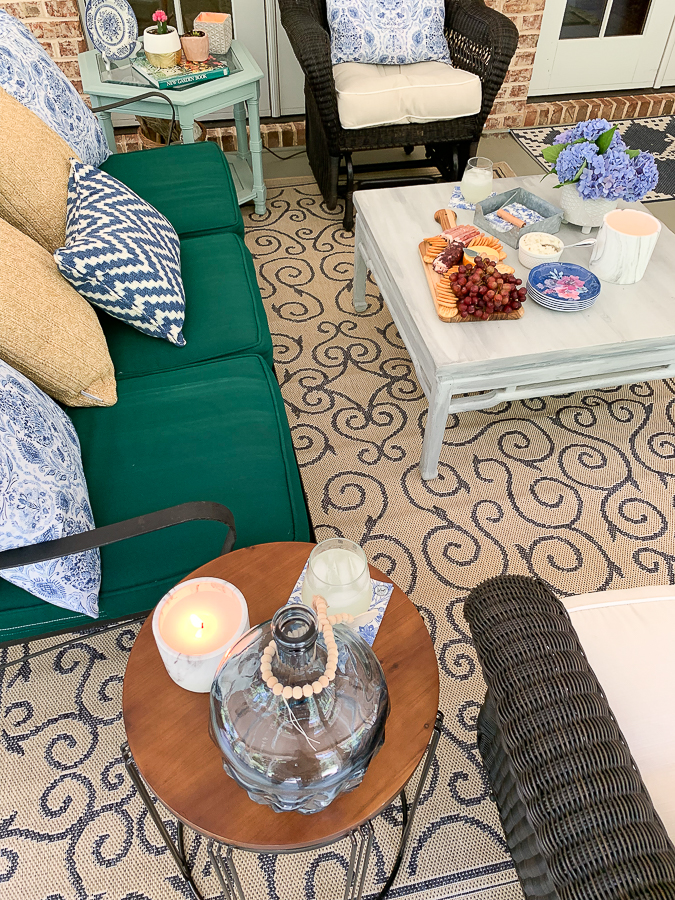 I also added a new table to the porch that I found in the outdoor department. It's the perfect size and weight to move it around. HINT: I actually purchased 2 of these. My kids are going to use them in the living room of their college apartment. Yes, outdoor items can be used indoors as well!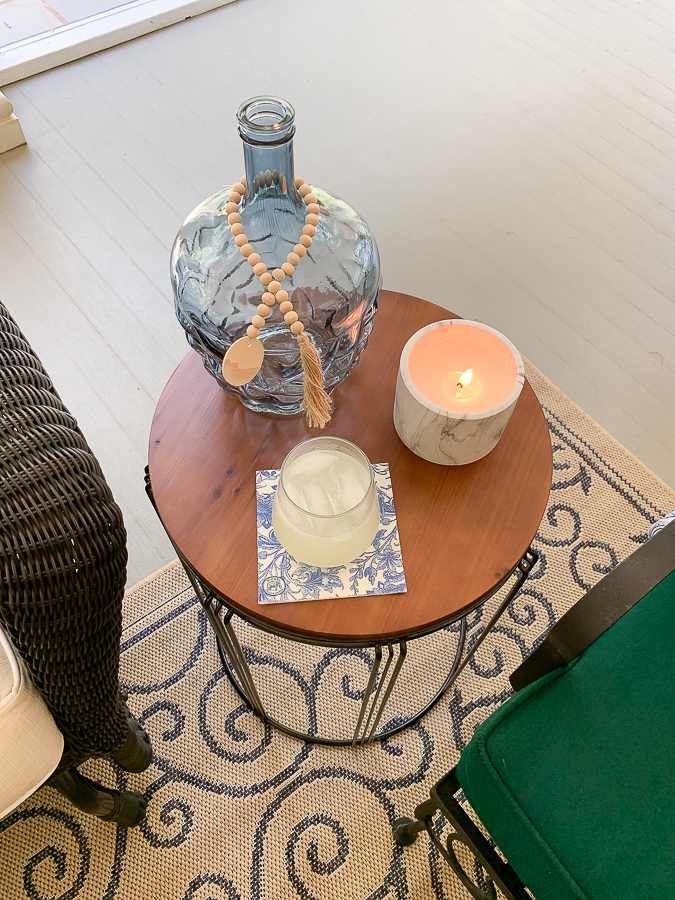 The table, candle and blue glass vase with the beads are all from Big Lots!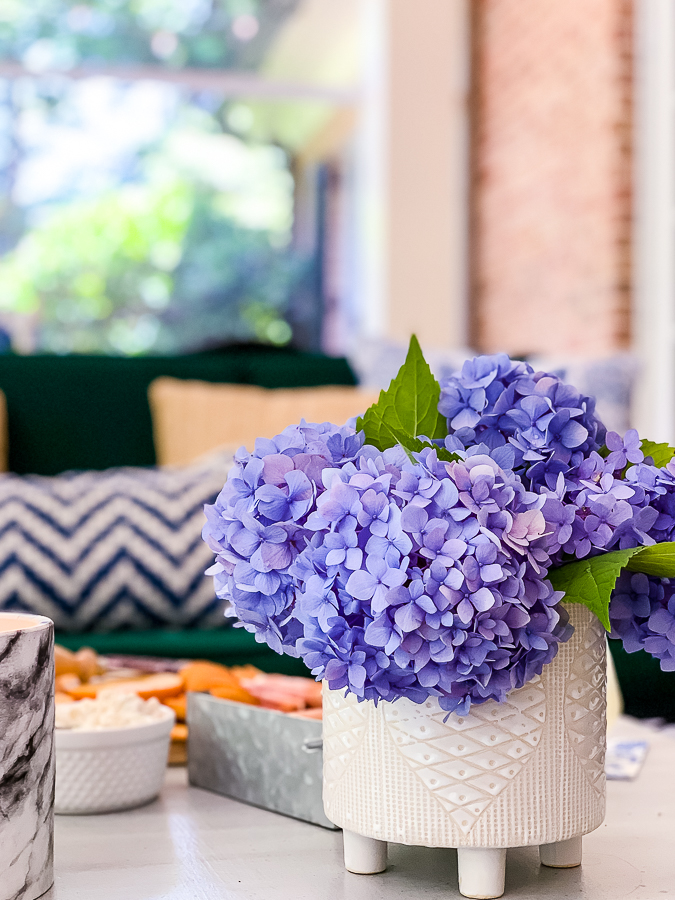 My hydrangea bushes are in full bloom right now. If you change the water regularly, they will last over a week cut indoors.
This ceramic footed planter from Big Lots has lovely texture. Planters can also be used as vases!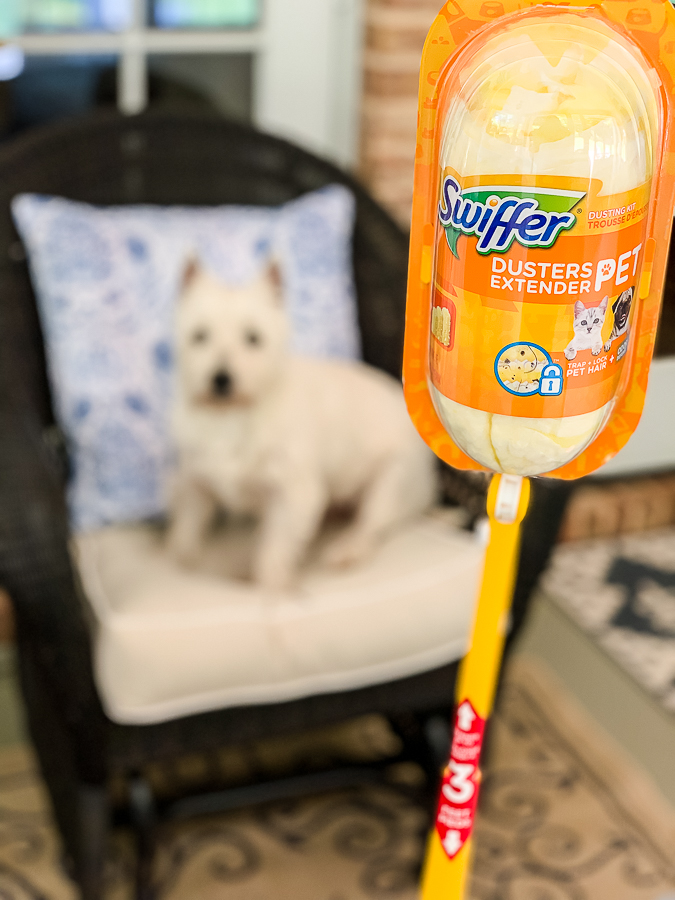 I often get asked how I keep our porch so clean for regular use. Once the pollen is behind us in mid-May, it gets much easier. Even though it is a covered, screened porch, it still requires regular upkeep. This exact Swiffer Pet Duster with a 360 degree cleaning head is what I use on all the surfaces.
I like the one for pet use because we do have a cat and a dog that are indoors and on the porch.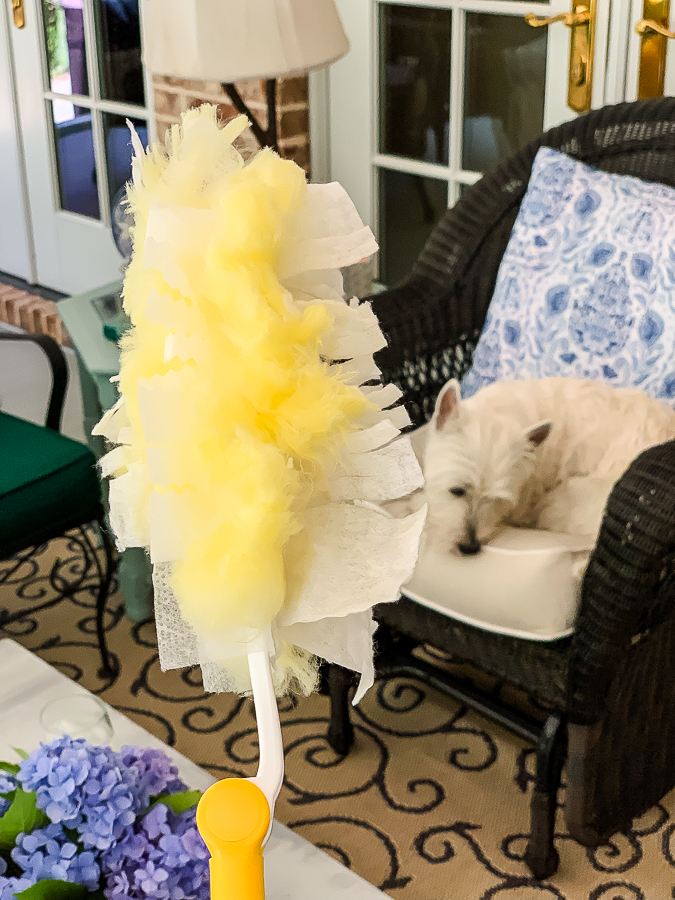 The 360 degree fibers trap + lock pet hair, dust and allergens. Seriously, it doesn't let it go! The head can also be adjusted to different angles for reaching various areas.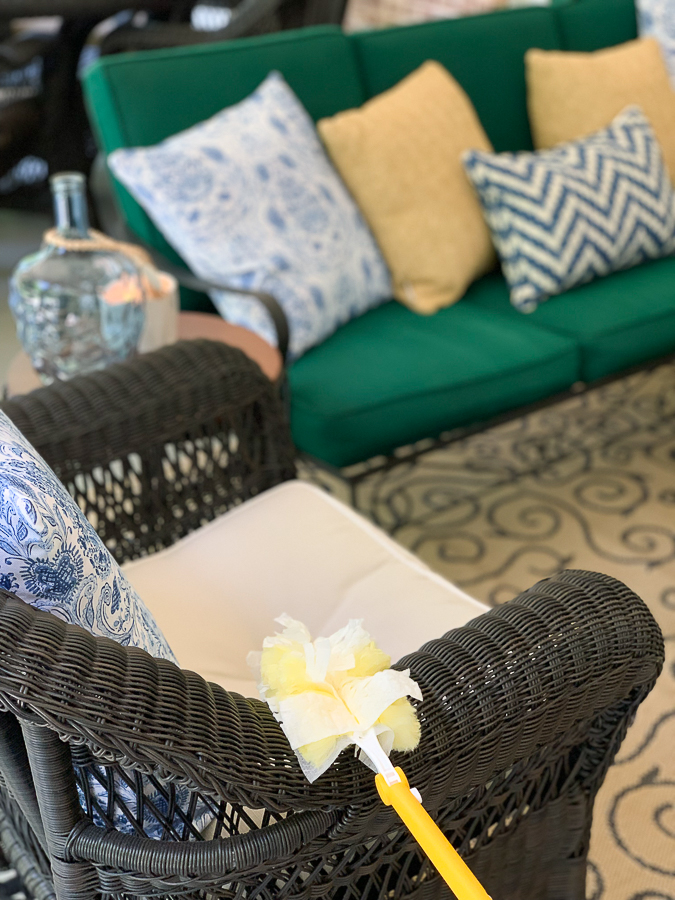 I use them all around the wicker furniture. I give the wicker a washing with soap and water after the pollen then use this after. It so fast and quick. I use the Swiffer at least 1x per week on the porch and always right before company. It's great for getting in all the crevices of the wicker.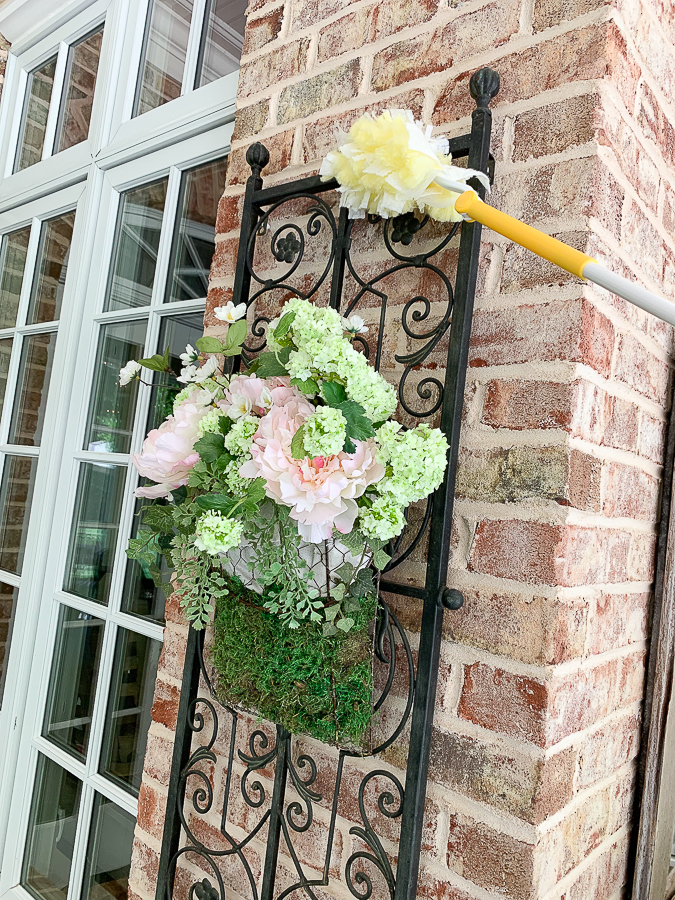 It works wonders on hanging art. It really gets the dust out of the ironwork here. To do this with a cloth would take forever.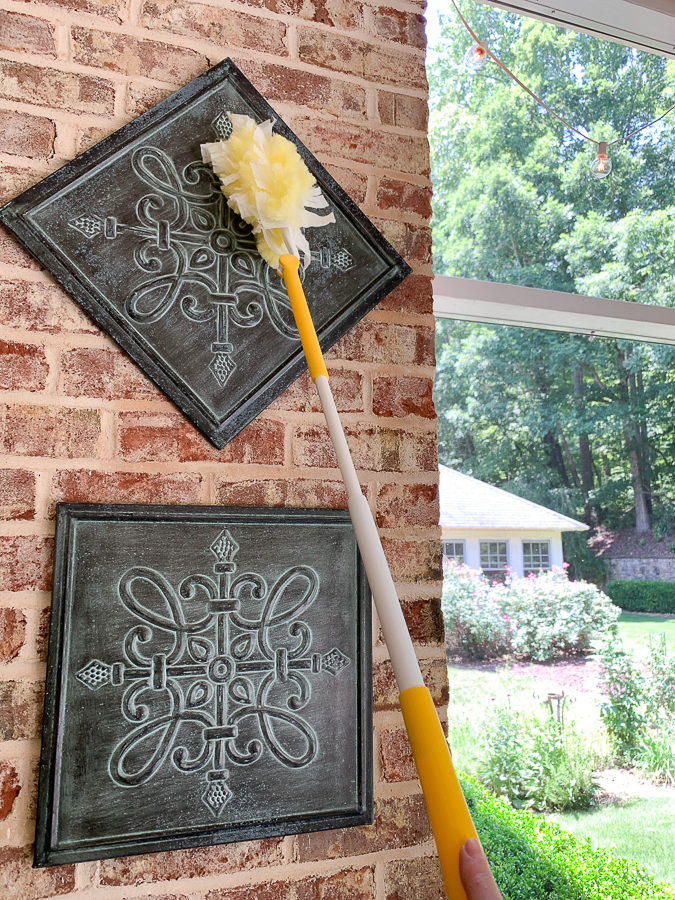 The 3 foot extender pole allows me to reach higher areas.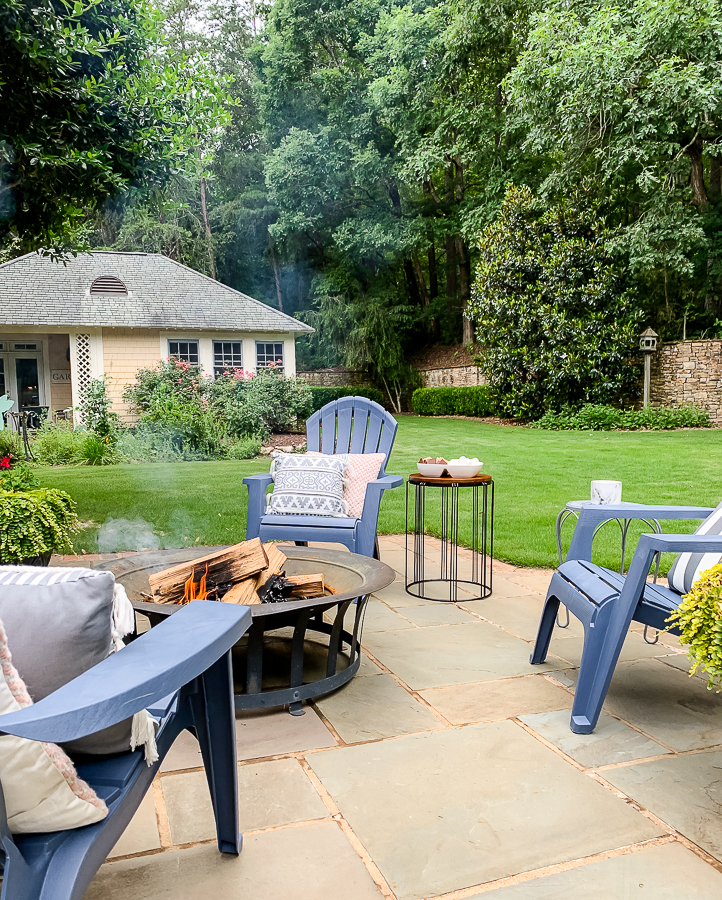 I also updated our existing Adirondack chairs with new outdoor pillows from Big Lots. I added one of the garden tables out here to hold our s'mores supplies.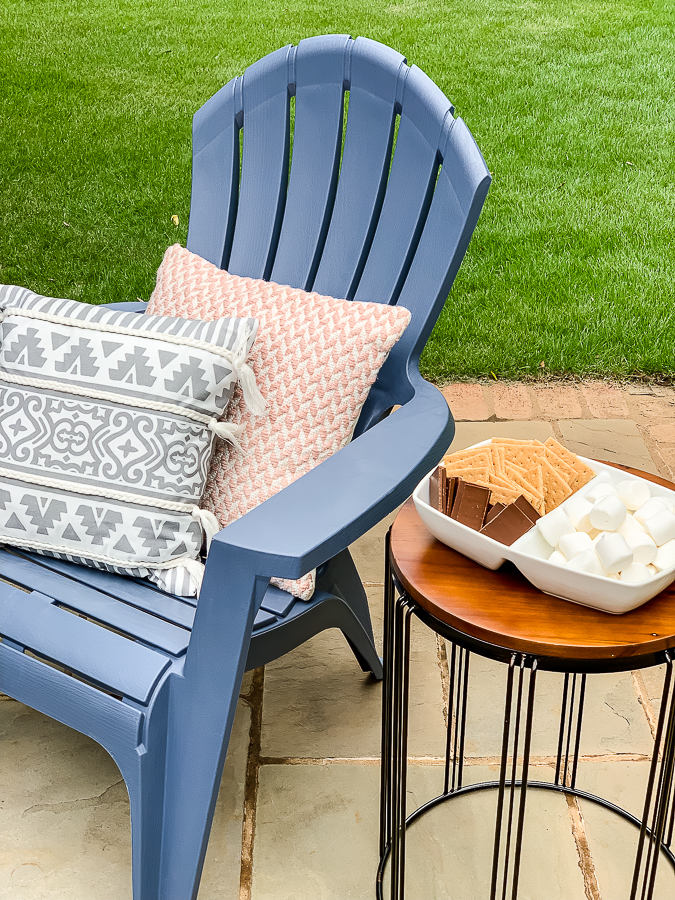 I've had the pink pillows for several years, but thought the gray pattern with the side tassels was fun! Have fun mixing and matching pattern and color.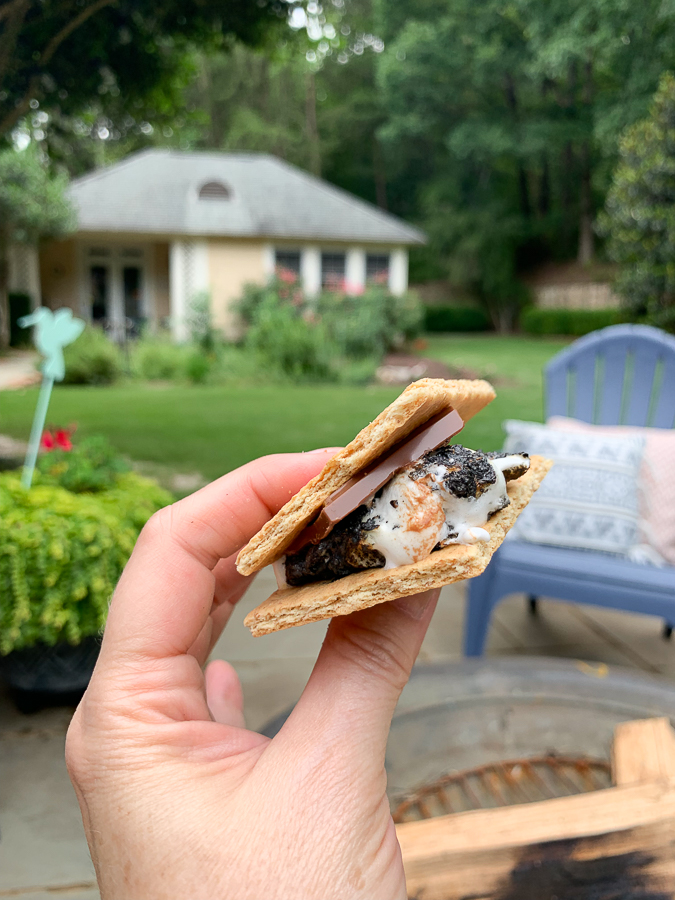 A fire pit and an evening concluded with s'mores is perfect for at home memories!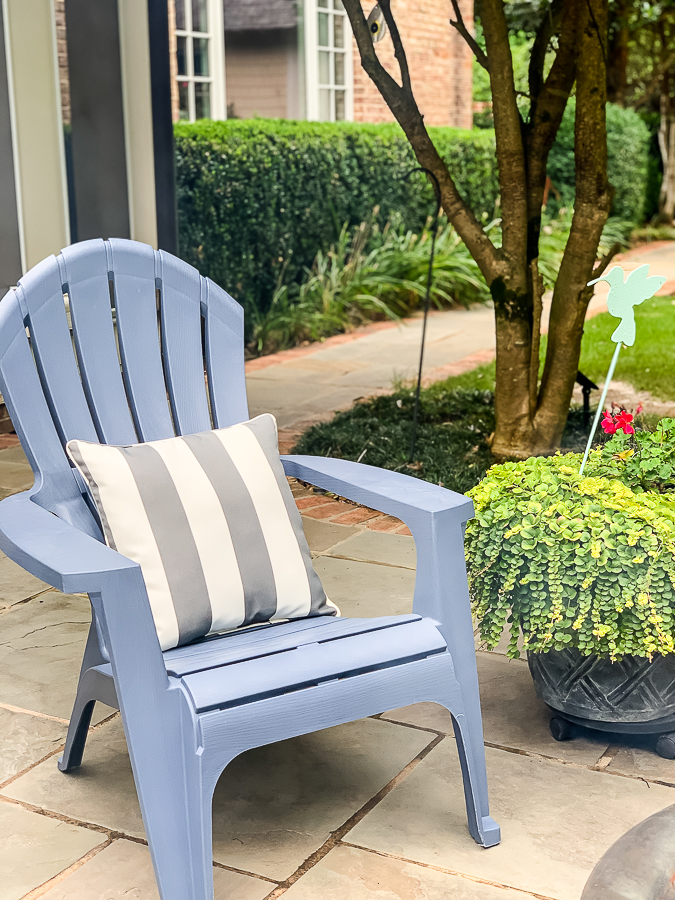 I created interest here by purchasing 2 different pillows in a gray pattern. Opposite chairs have the gray striped outdoor pillows from Big Lots.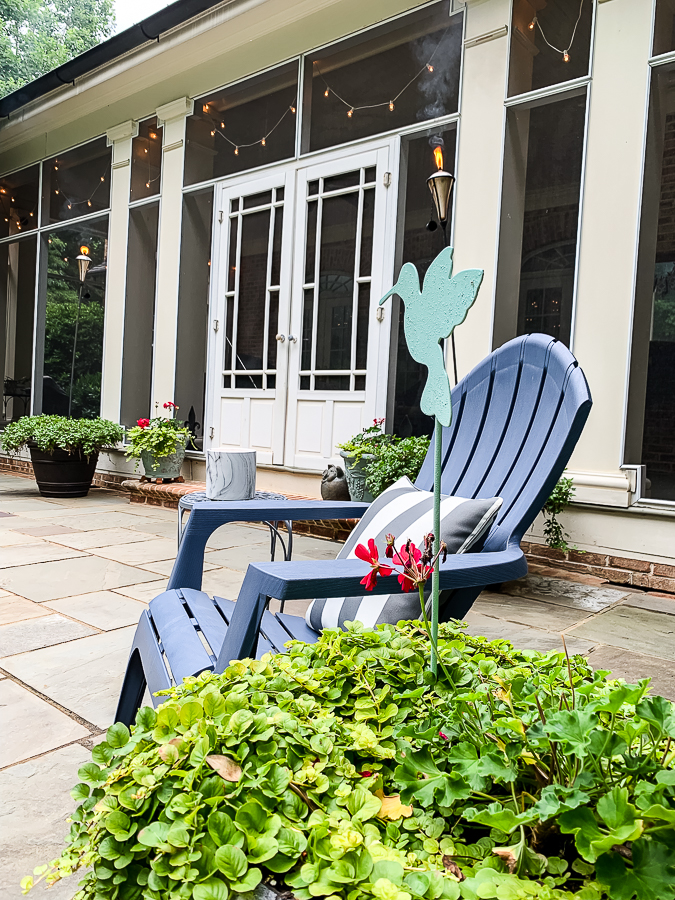 Be sure to head to Big Lots to pick up your Swiffer products! Give your outdoor space a quick clean and start making memories of your own!
To find a Big Lots near you or to shop online visit www.biglots.com. Read all about the different Swiffer products available at www.swiffer.com.
Happy Summer!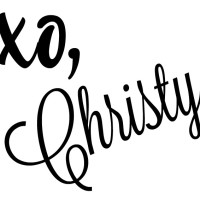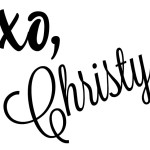 Buffer