Winter Floral Arrangements
After Christmas can be a struggle with how to decorate your home. Winter floral arrangements are just what you need to add a little cheer!
Winter Flower Arrangements
I'd like to that my very talented friend, Amber, from Follow the Yellow Brick Home for organizing such a fun tour this month.
If you are stopping by from Shiplap and Shells then welcome! I absolutely love Kim's home and gardens. She's quite impressive with her gardening skills!
I always leave the Christmas season with a little sadness of looking at all the festiveness. I adore all the twinkling lights. On the other hand, I love the idea of packing away all the stuff and getting back to normal.
Things always tend to look a bit bare and boring to me.
We had our Christmas decor up about 7 weeks this year.
Just because Christmas is over does NOT mean that you have to say goodbye to using evergreens in your home.
Evergreens are great to use in your home all winter long. I chose to use them a bit differently. Not in elaborate tablescapes or in garlands.
I like to make small winter flower arrangements with them.
I'm not a florist or have any formal floral training. Just go for it!
I was at Trader Joes the day before and picked up bouquets of white hydrangeas. I chose white because, after all the red and color, I wanted things to feel calming and more winterlike. Each bouquet had 3 stems for a price of $5.99 each. That's pretty reasonable. You get a lot of bang for your buck with hydrangeas. They typically have large blossoms which really help to quickly fill out an arrangement.
I then took a stroll around our yard with my pruning shears and went shopping. Shopping our yard and woods!
The kids gave me a tiny Leyland cypres several years ago. I asked for one. We had rows of them at our old house and I missed not having access to them for the holidays. They are airy and delicate. They really last a long time. It has grown so much!!!! I adore it.
I then clipped some pine, cedar, and luyken laurel.
I start by positioning my hydrangeas in the vessel.
You'll want to cut varying heights for your container like I did for the mantel. I wanted them graduated. Then you simply fill in the empty spaces with varying types of greenery.
The white and green looks so beautiful with the blue and white vase. It stands out nicely against the oil landscape without being bold.
For the silver thrift store urn, I cut my hydrangeas closer to the same height. Since this was on the coffee table I wanted the arrangement lower and more compact. Love these blue and white porcelain balls.
I carried the blue and white theme to the table from the mantel.
That fun little disco ball was actually pried off of my daughter's toy from years ago. It broke and was going to be thrown away, so I acted fast. I use it every winter now.
It's ok to mix metals. Here I have brass with silver.
To add another pop of color to blend with the pillows on the couch, I added a few old books and a small oil painting from eBay.
It's so simple to create winter flower arrangements! I hope you are encouraged to create a few yourself.
Up next on the tour is Botanic Bleu! You'll be mesmerized by the French Country decor!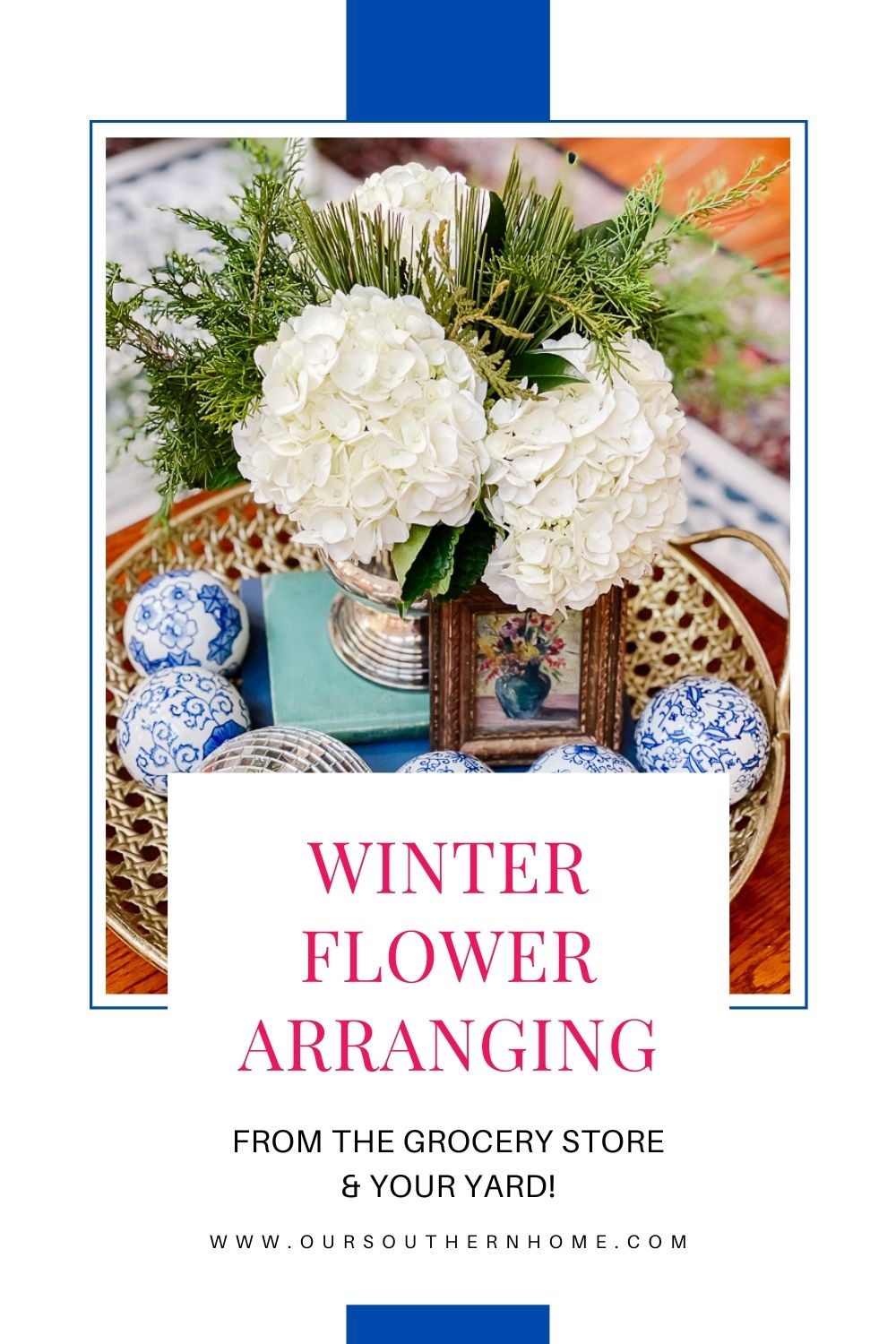 Be sure to follow along and subscribe to the blog. I'll be share my tour of our Winter Family Room in a couple of days!
Please stop by to visit the other winter botanicals on this tour!
Latest Posts from OSH!
Buffer