DIY String Light Containers
Enjoy lazy evenings with family and friends by creating these easy DIY String Light Containers to add ambiance to your outdoor space.
Latest from OSH
DIY String Light Containers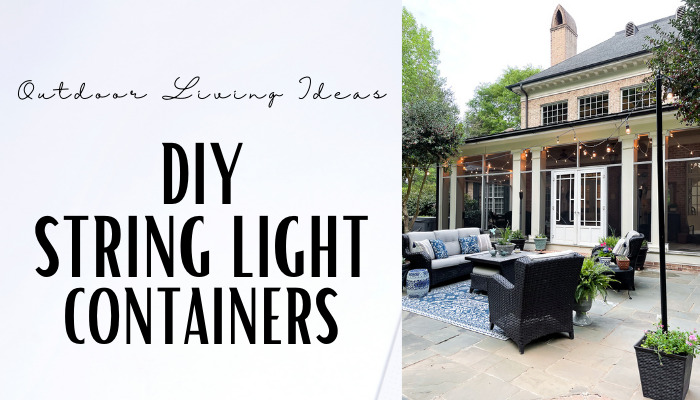 I can't begin to tell you how many summers we have planned to install cafe string lights on our patio area. We had big plans last summer when we finally purchased our wicker seating area.
See more of outdoor spaces here.
I'm not sure why we didn't follow through.
I think the biggest issue was that I couldn't find the perfect container to house the pole.
I guess it was a hard choice with the entire process being relatively permanent with concrete.
I won't lie, I sometimes have trouble making decisions.
I'm trying to decide on new glasses right now and it's not going well. LOL!
We have a rather large patio area so the length of the lights from run to run would be rather long.
We've gone back and forth with the material that we wanted to use for the pole. There are many options.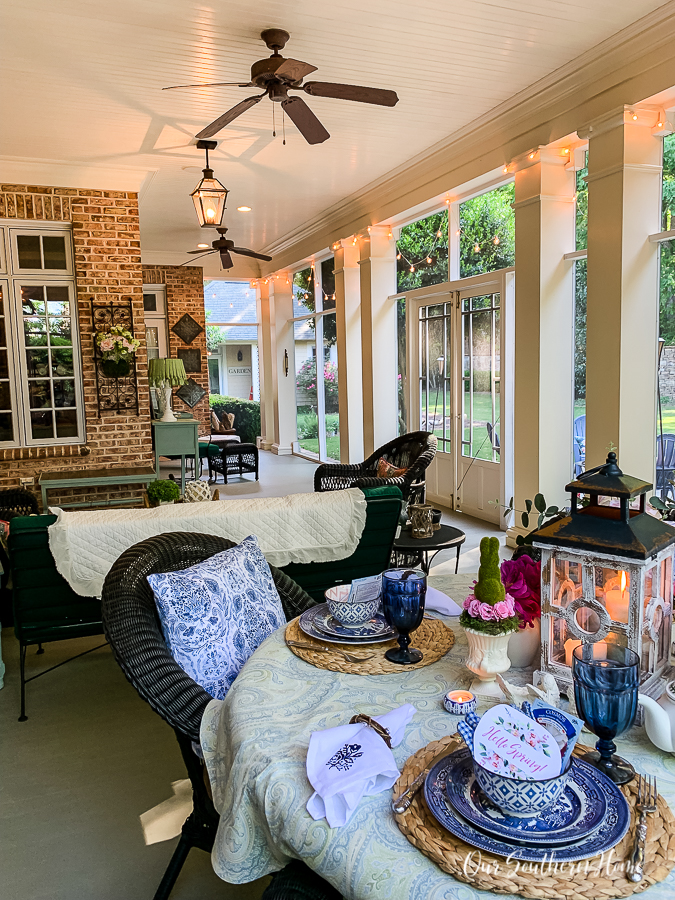 Let's go back in time a bit to the start of my love affair with string lights.
Screened Porch Lights
Before I even started blogging back in August of 2012, I installed white string lights on our screened porch. We LOVE those lights. I'd say that they have been up since about 2010. We even spray them with 30 Second Cleaner to remove dirt and grime from the white strands. They are lighter weight than the cafe lights. I have them on a handheld remote timer so they are easy to use. They have never gone out in all these years. I think we've had one bulb burn out and one bust when cleaning the porch. 
The strand of those lights is enormous, but I didn't have to worry about stringing any together. They are hung in a scalloped format with cup hooks. You'll be able to see those in the photos.
I do not remember where I purchased those since it was pre popularity of Amazon.
Hanging Tip: Use yarn or string to layout your design plan for your screened porch if doing scallops. This will allow you to get the scallops even. Measure the string. This is the length of lighting that you need to purchase. When your lights come in, leave the string up as you install the scallops. There will be no guesswork as you install. You've done the hard work with the string. Do not install the bulbs until after the stands are in place. They are easy to break.
Back to the patio lights!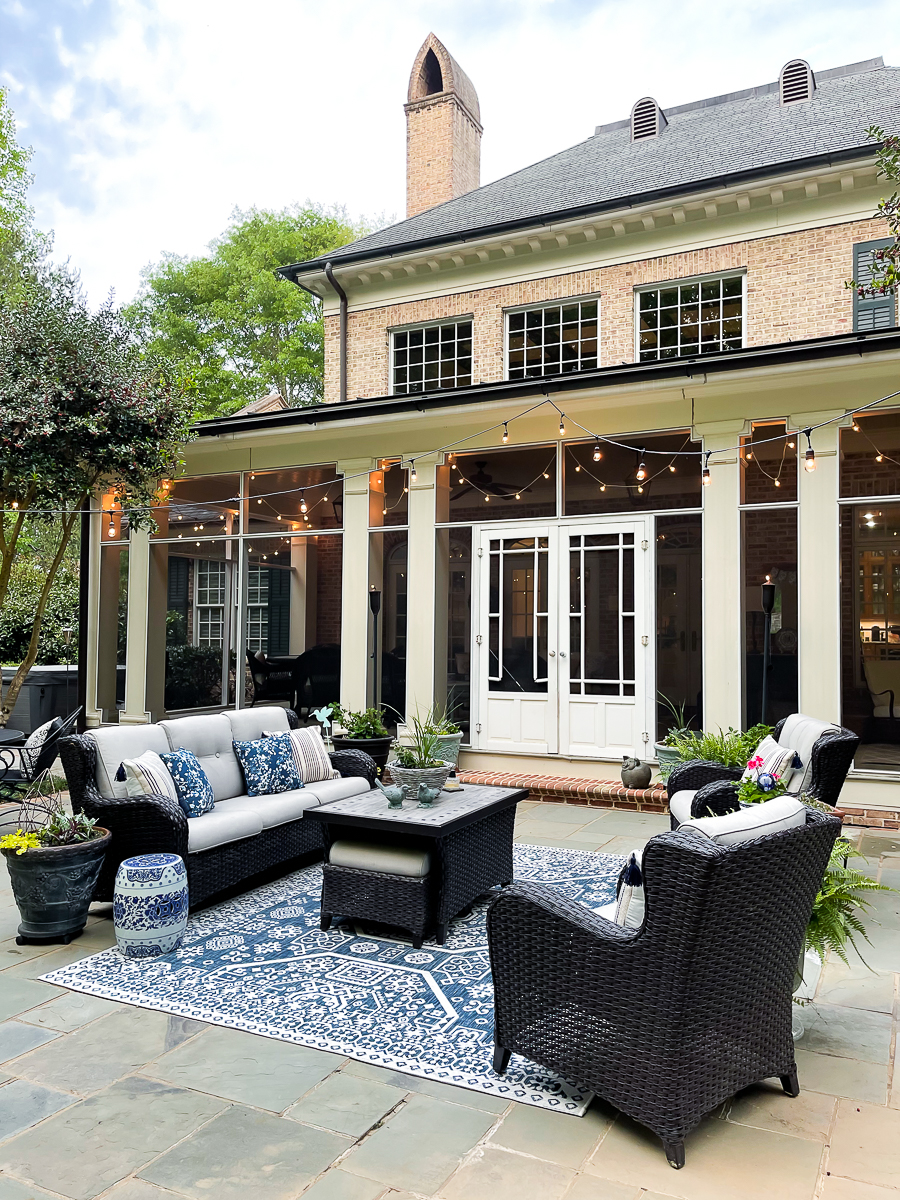 We ordered this set of 2 string light poles from Amazon. We were going to try using them in the ground first. If they didn't hold securely, we were going to move them to pots. They were supposed to be here in 2 days. They became delayed by one month. I had already been waiting years for this project, but now it had to be done. I canceled the order. They look like a fabulous option with pretty good reviews.
Searching for options on Pinterest through the years, we came across many pole options.
2×2 wood
treated lumber posts
cedar posts
bamboo stalks
aluminum fencing posts
posts from Amazon
chain link fencing post
My biggest concern was that I didn't want large and chunky posts on the patio obstruction the view into the backyard and woods. I wanted the to blend a bit more so treated lumber posts were a no go for me.
We really thought we wanted to get 8-foot aluminum fencing posts to match our backyard fence, but they are really pricey. PLUS attaching the lights would be more of a challenge. 
Ashlyn and I even cut bamboo stalks from the edge of our woods last summer and let them dry out. I still have these. We just weren't crazy about the look.
I was starting to lean towards using the 2×2 posts like my dear friend, Shannon, from Fox Hollow Cottage used in her recent post. Honestly, her post and beautiful deck inspired me to finally get this long-awaited project in motion. Be sure to check it out.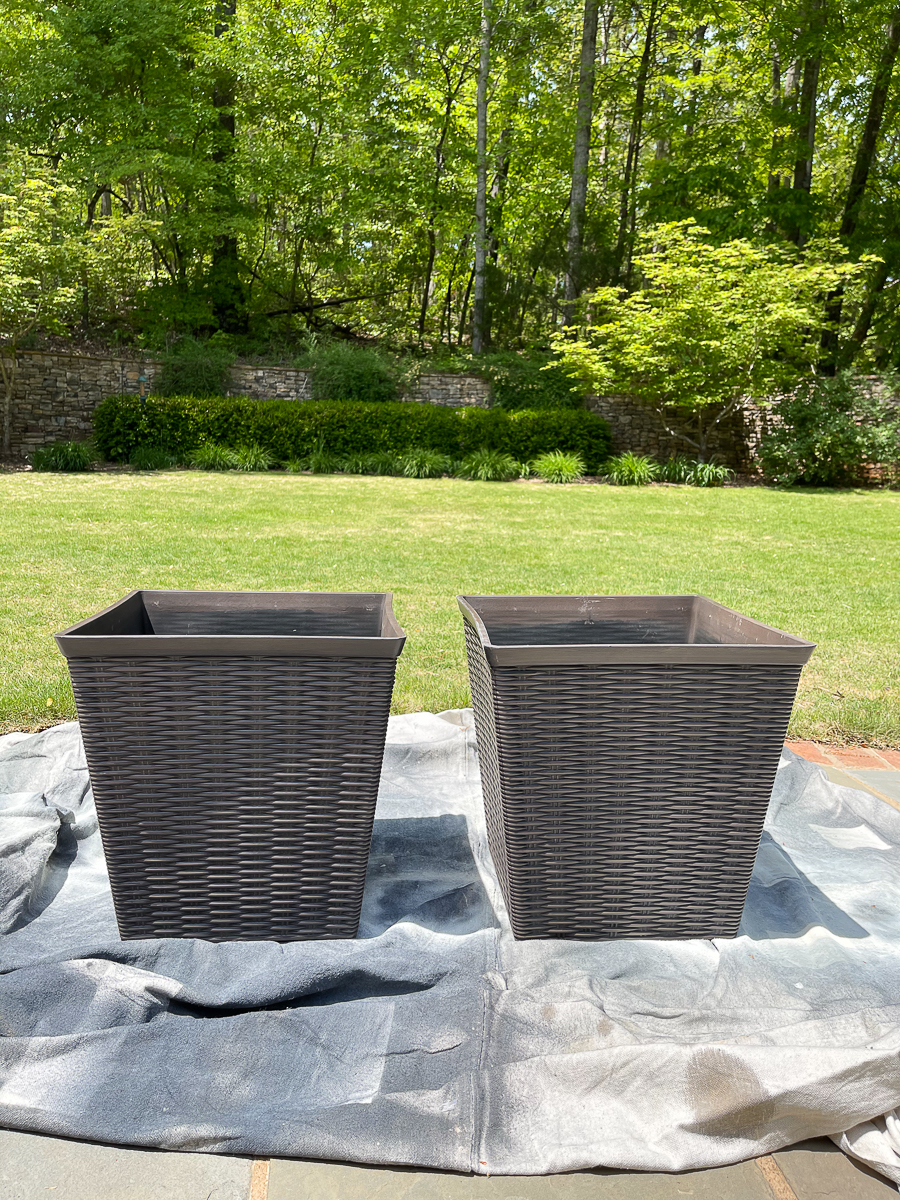 I found the perfect plastic pots with a wicker look that matched our outdoor furniture. They were just the shape that I was looking for. I did not want to worry about anything tipping over. I've had large, heavy pots with trees in them that have repeatedly blow over. These pots came from Old Time Pottery.
I wanted a pretty square planter that would allow me enough planting space above the line of concrete. It also needs to be big enough to not potentially tip over due to the long lengths of string lights that we would need.
On a whim, Ashlyn and I went to Lowes with purpose and picked up our 8 foot 2×2 posts. They had the footprint that I wanted for the patio. I was going to stain them so they would blend in with the holly tree trunks flanking the patio.
When I got home with them, my husband was afraid that with the 8 foot height and the longer length that we had to go to attach to the house that they would warp over time. If going with a shorter post, it would be fine.
We actually used these same 2×2 8 foot poles last summer on my mom's deck. We hung string lights for here there for Mother's Day. I really need to take photos of it. She loves it!!! The 8 foot length works there because the are literally attached to the deck for support.
Low and behold, I had another option in my back pocket. PLUS it's affordable. I'd prefer the stained wood look, but this option looks fabulous. It's like it was made for string lights. Be sure to check out Kim from Today's Creative Life. She's where I got the idea to use these black chain link posts with needle hook tops. It was the perfect solution for the long lengths of lights and was in line with our original want of matching our black aluminum fencing. This is another gorgeous backyard setting to check out. I am so crushing on Kim's outdoor fireplace. Our patio was built in 2004 with plans for a fireplace.
Supplies We Used
2 plastic planters/container (mine came from Old Time Pottery)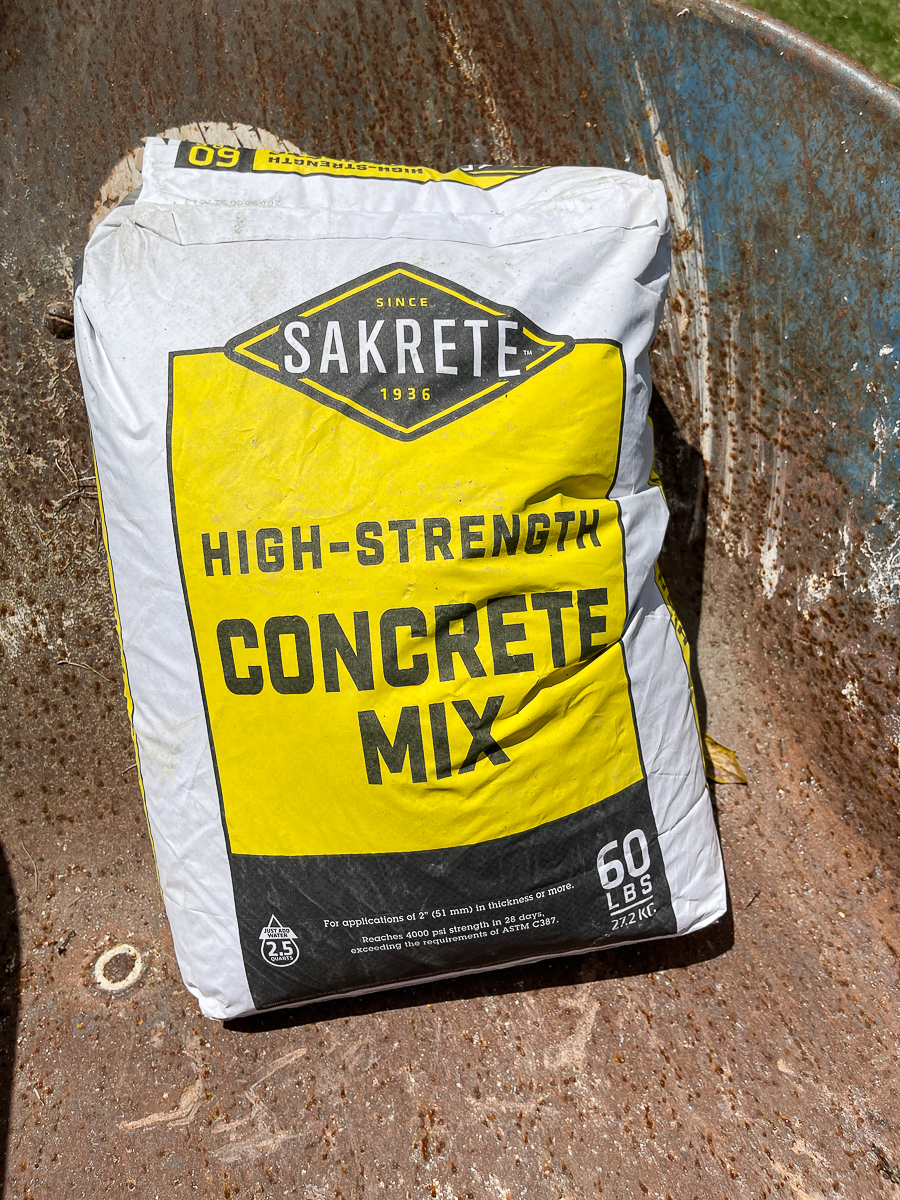 We used 1-60 pound bag of concrete in each container. You'll want 2 people for this project if possible.
We didn't measure out the water. My husband had done enough concrete with pasture fence posts for our former horses that he used to it. Follow the instruction of the bag, but this is how we did it.
Make sure if you pot has drainage holes that they are covered in some way. Mine had removable plugs that we left intact.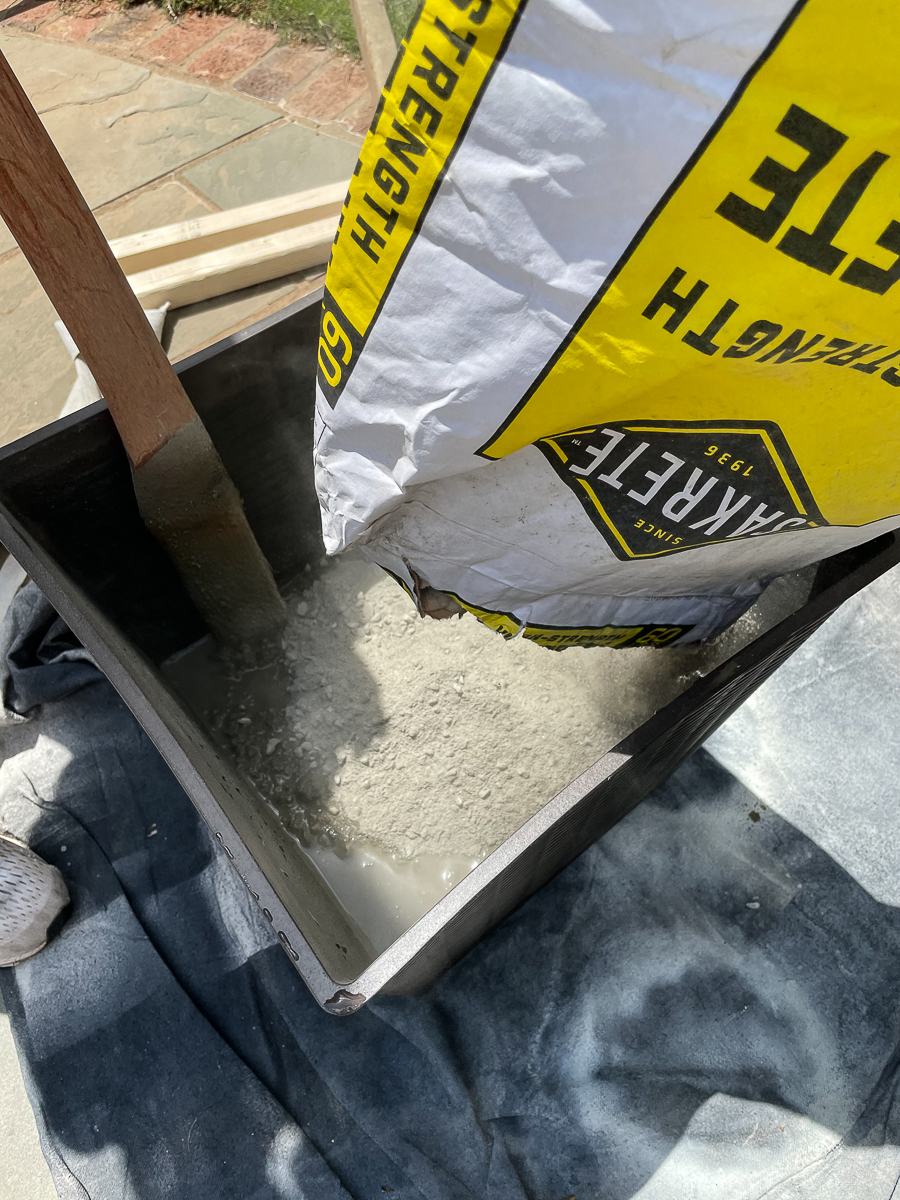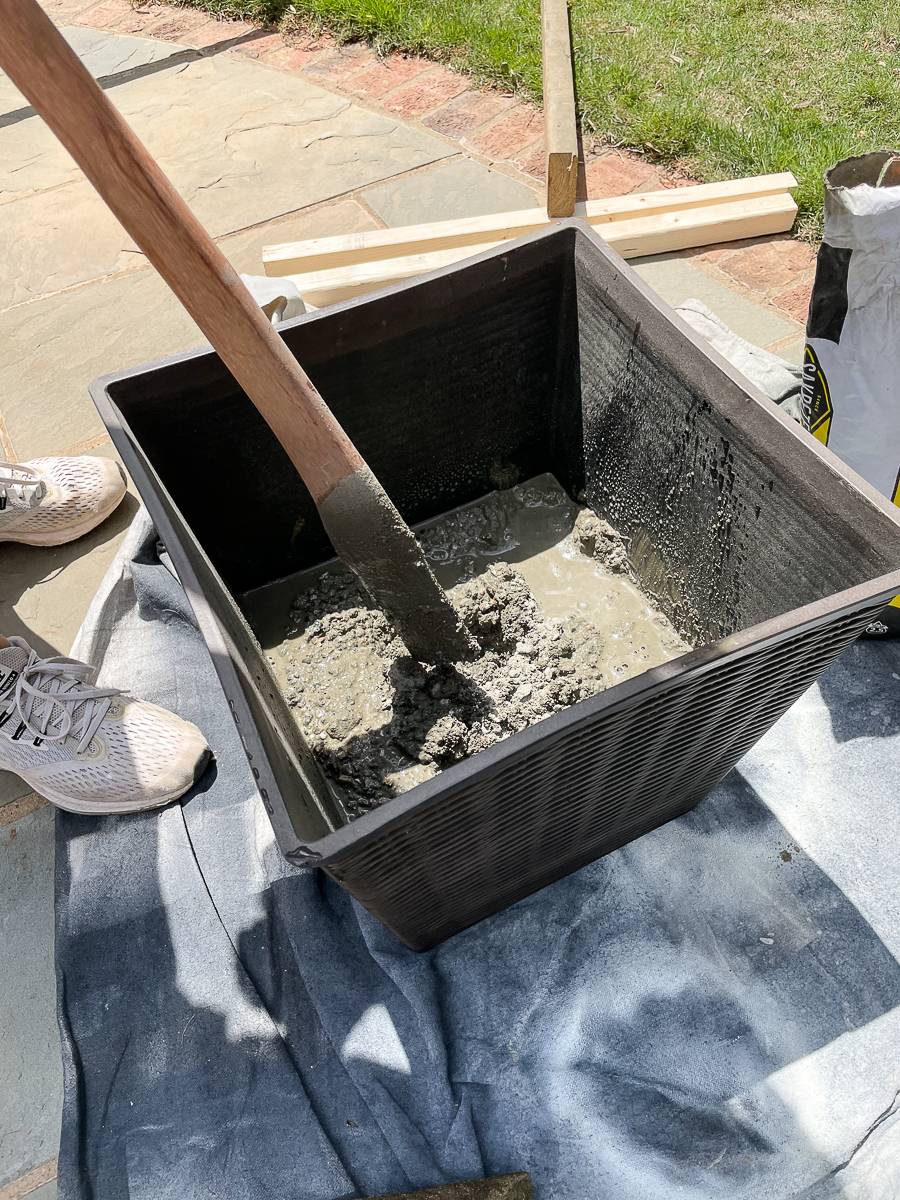 We sprayed a bit of water in the bottom of the pot before adding the entire bag of concrete. They with the hose, he added between 3/4 to a gallon of water. With a stick stir it well until combined. You want to work rather quickly.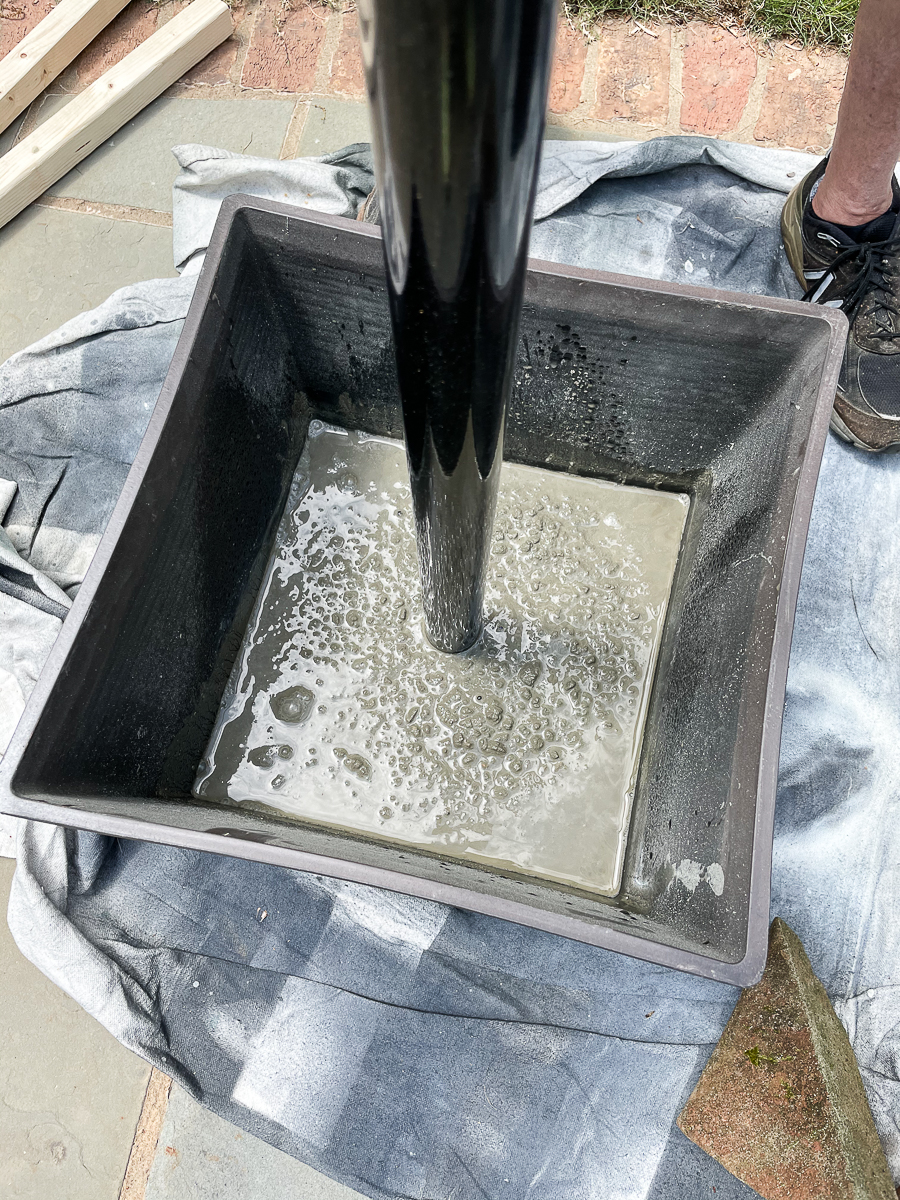 Insert your post and center it in the pot as best as you can. You can use a tape measure to do this. We were fortunate in that our local Lowes had the black posts in stock for the project and required no painting. You could purchase the galvanized ones and spray paint them.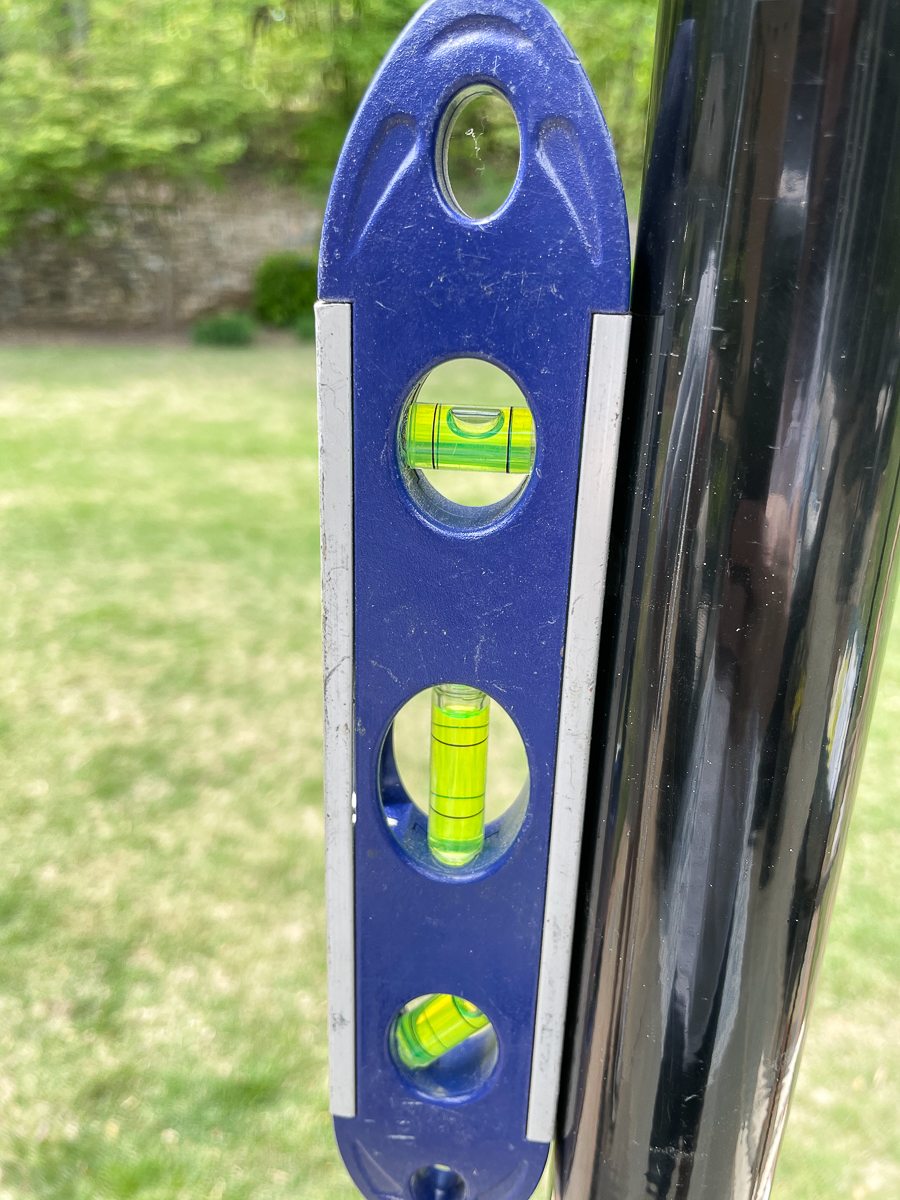 While one person holds the pole, have another go around the pole to level it.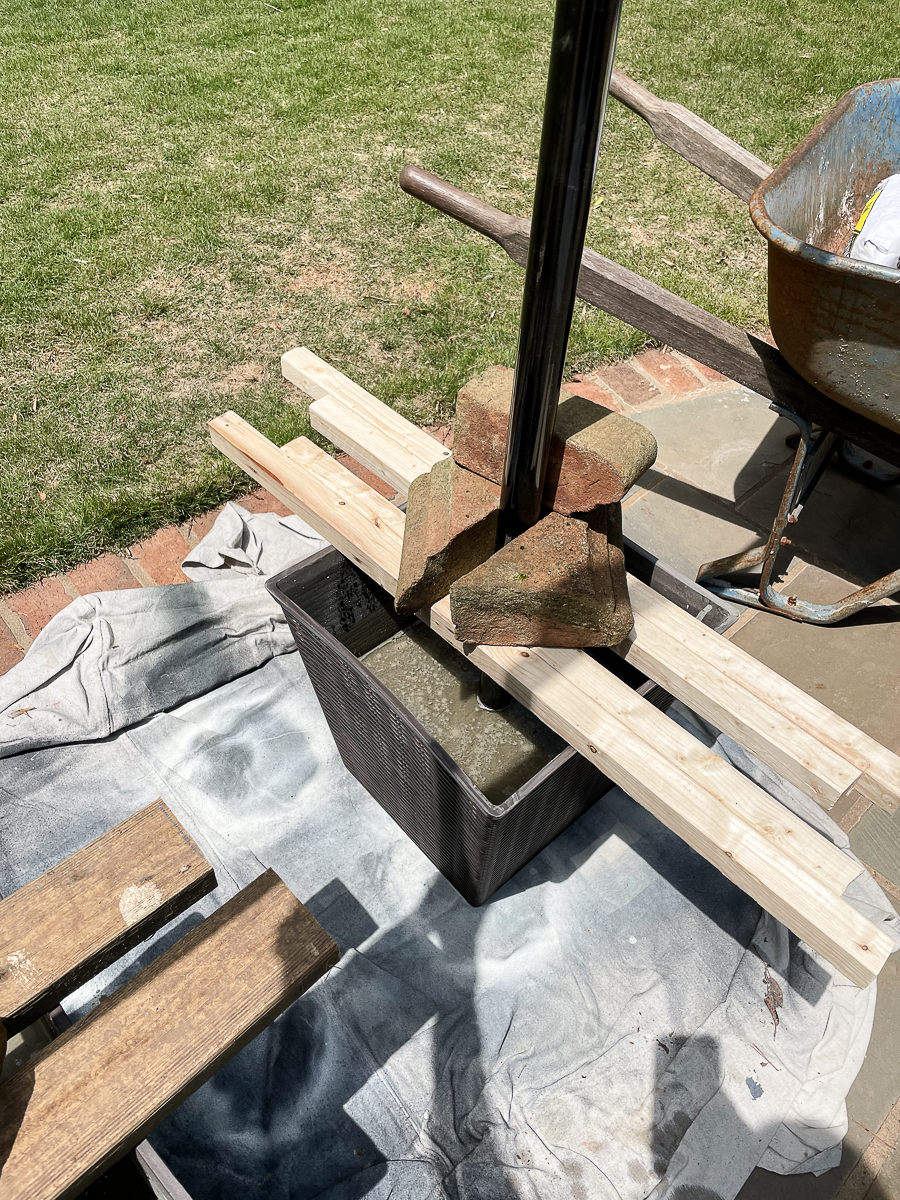 We cut the 2×2 posts that I bought into pieces to anchor the poles in place with bricks to steady it while it set up.
In one of the pots, we added a bit too much water. That was ok. It just took a little longer for the water to absorb and evaporate off of the surface with the sun.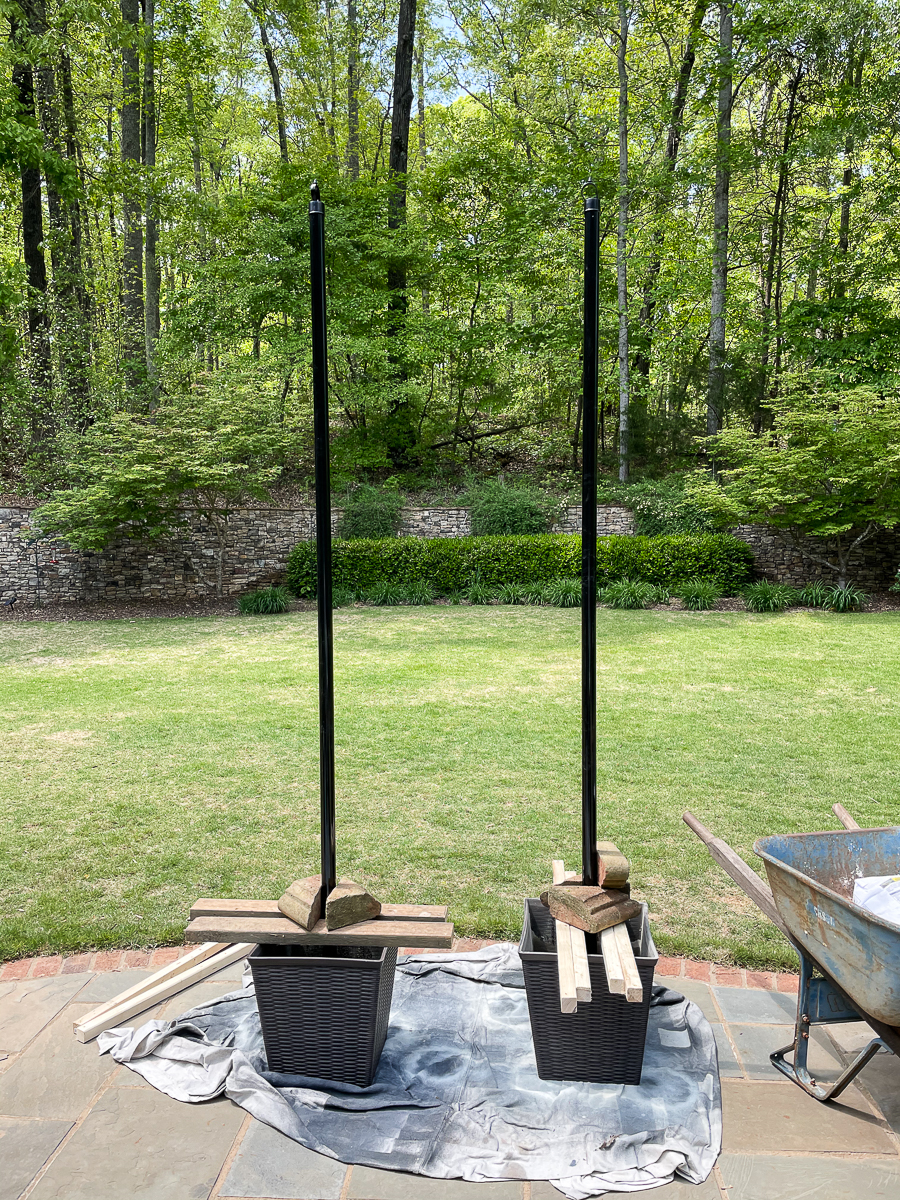 We let them set up for a good 24 hours before hanging the lights.
We used 2 sets of lights. I started hanging them on the side that would not plug into an outlet. We were going to bring them to the other side of the house where they would plug in so we wanted all the extra on that side. It worked out perfectly!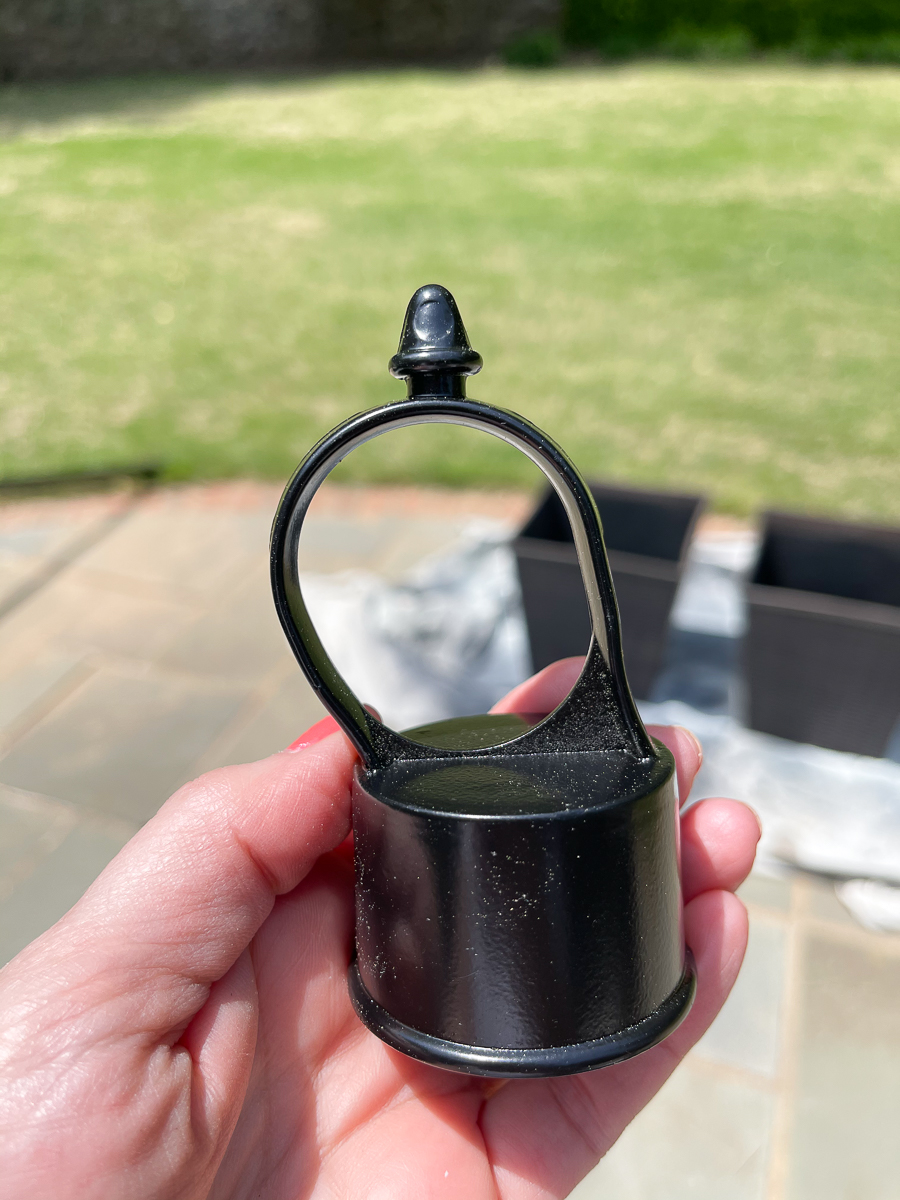 PLEASE make sure you do not attach the bulbs until after you string the lights. You'll need to thread the lights through the needle top without bulbs anyway. This will eliminate potential bulb breakage during install. If you have to join any strands, use black electrical tape to secure the connection. This way you won't have to worry about the weight disengaging connected strands. I was messing with a strand before doing this and shattered a bulb.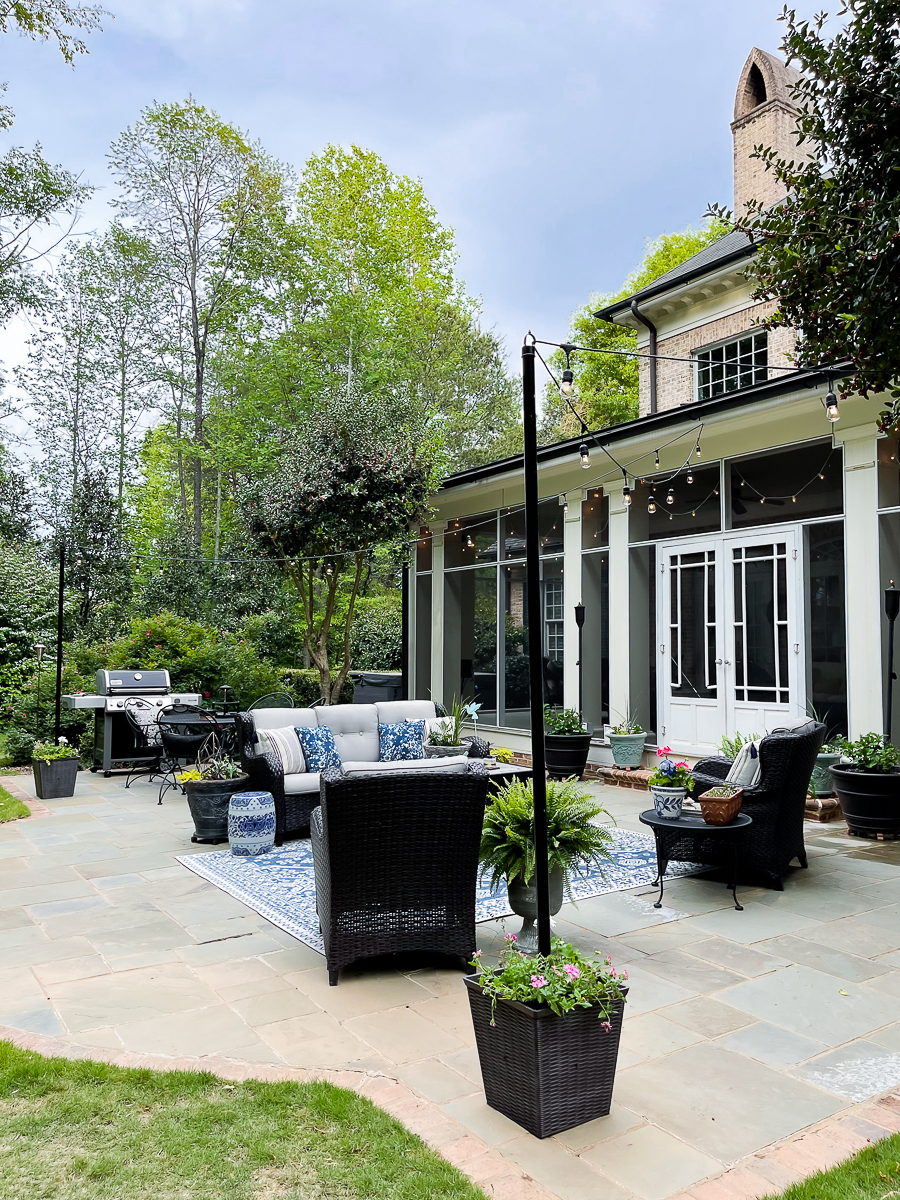 Right now our lights are working well without having to use guide wires. I like the relaxed look of the swoop. We may go back and add guide wires. I know that using guide wires keeps them more stable and less strain on the wires themselves in terms of wearing out.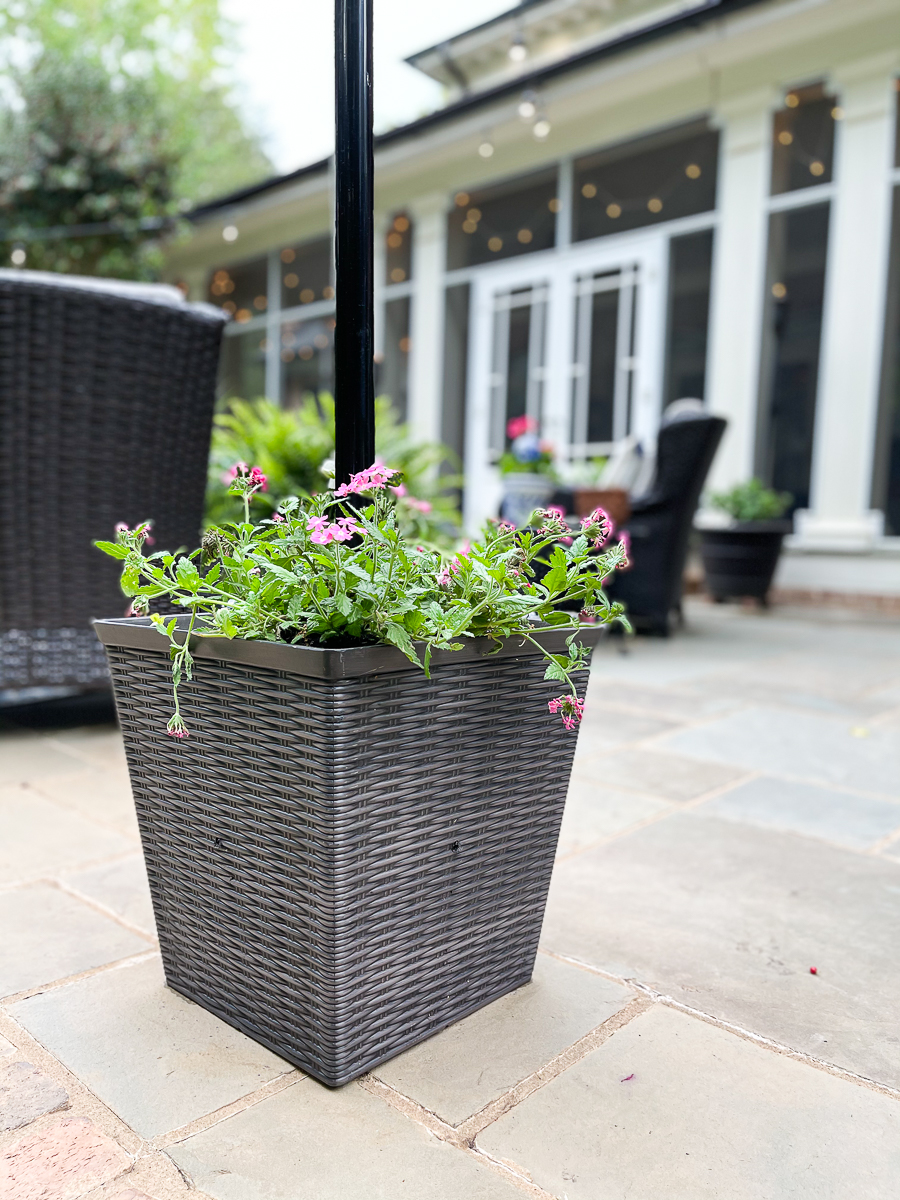 Fill with potting soil and plant your flowers. Use a drill to drill drainage holes for your flowers right above the concrete line.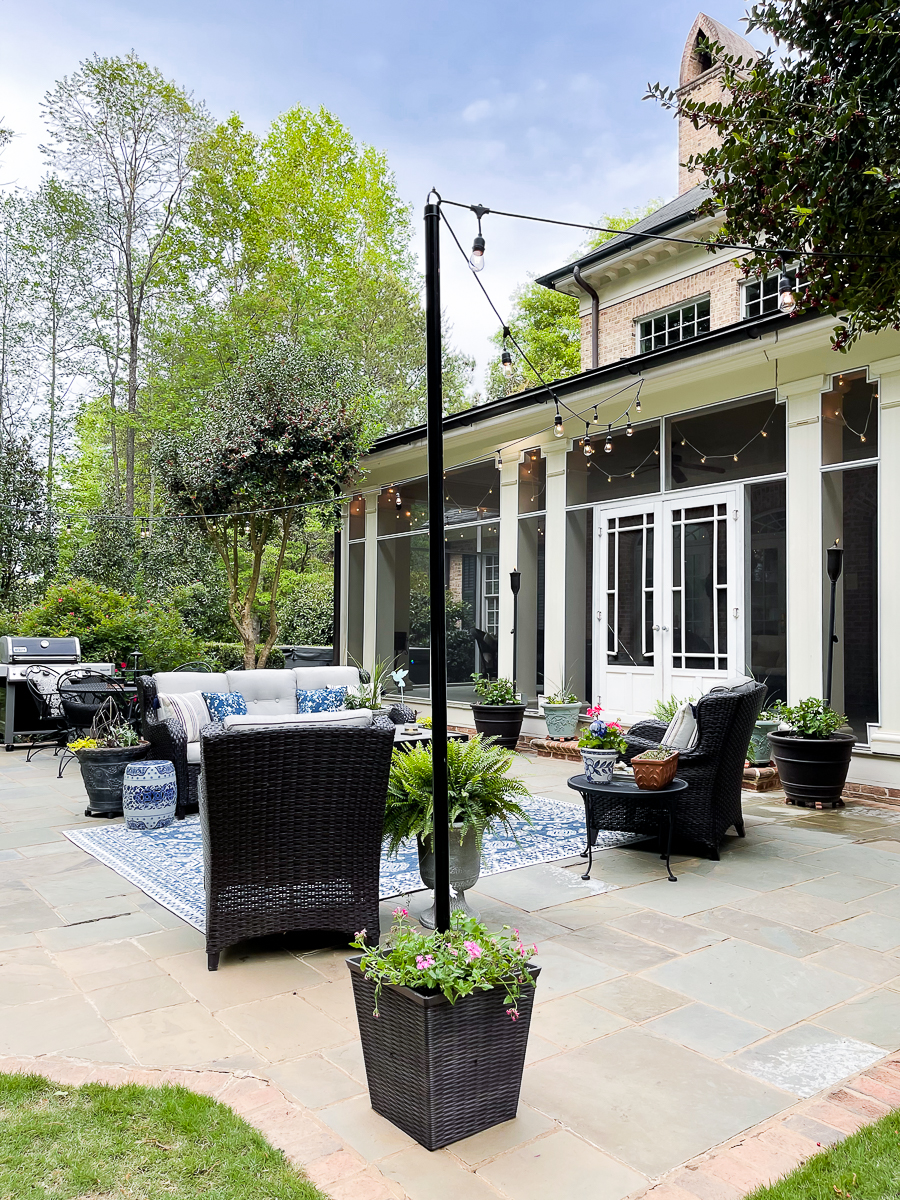 I was going to order the same cafe lights that we ordered for my mom last year. They look fabulous but are really bright. If I used them I was going to order a remote control with a dimmer switch. When ordering, these lights came up on sale for a great price so I went with them. They are dimmer than my mom's so I didn't worry about a dimmer. I am very pleased with them. We bought mom this remote.
We are so in love with the patio now. All it's missing is that fireplace! I'd love to replace our wrought iron table with a rectangular table one day.
Be sure to check out the amazing patios and string light inspiration from my blogging friends mentioned above!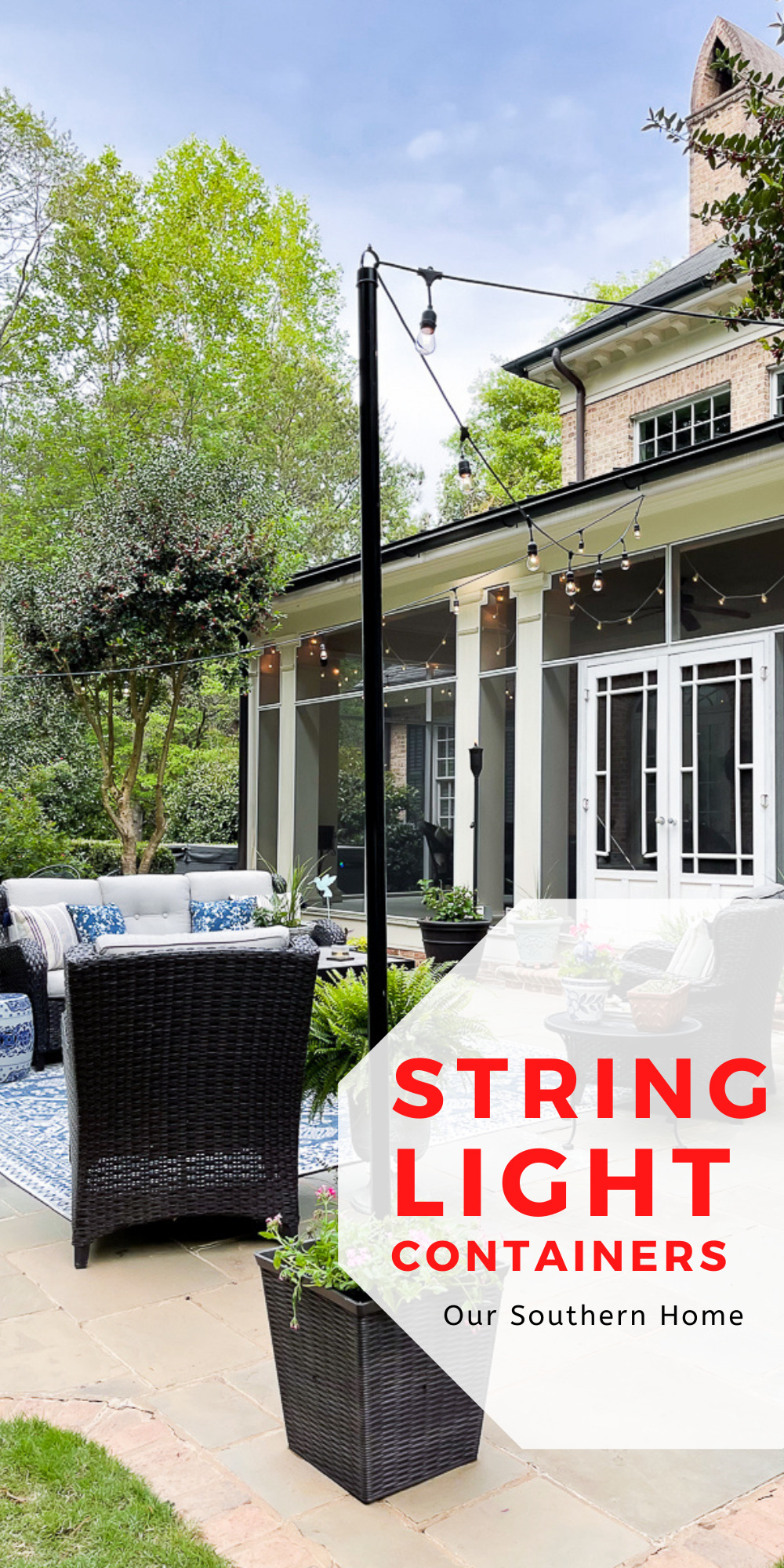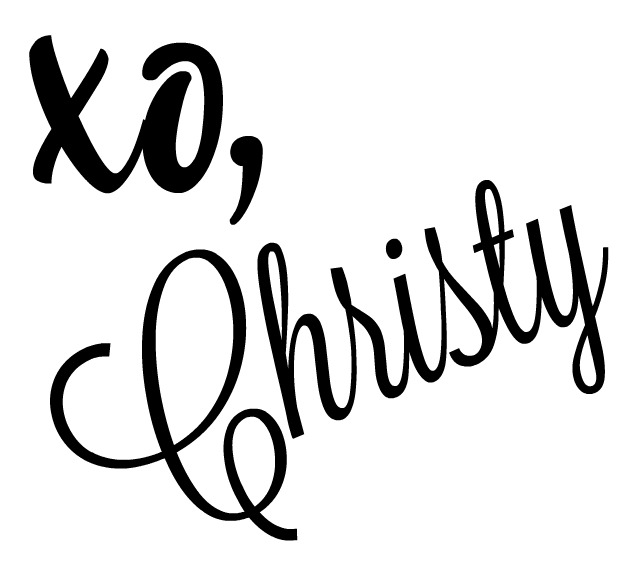 Buffer