Quick & Easy Knitted Infinity Scarf
Thanksgiving is next week, and Christmas is just around the corner. There is still time to knit up this Quick & Easy Knitted Infinity Scarf for yourself or gifts! If you know the basics of knits and purls then you are well on your way!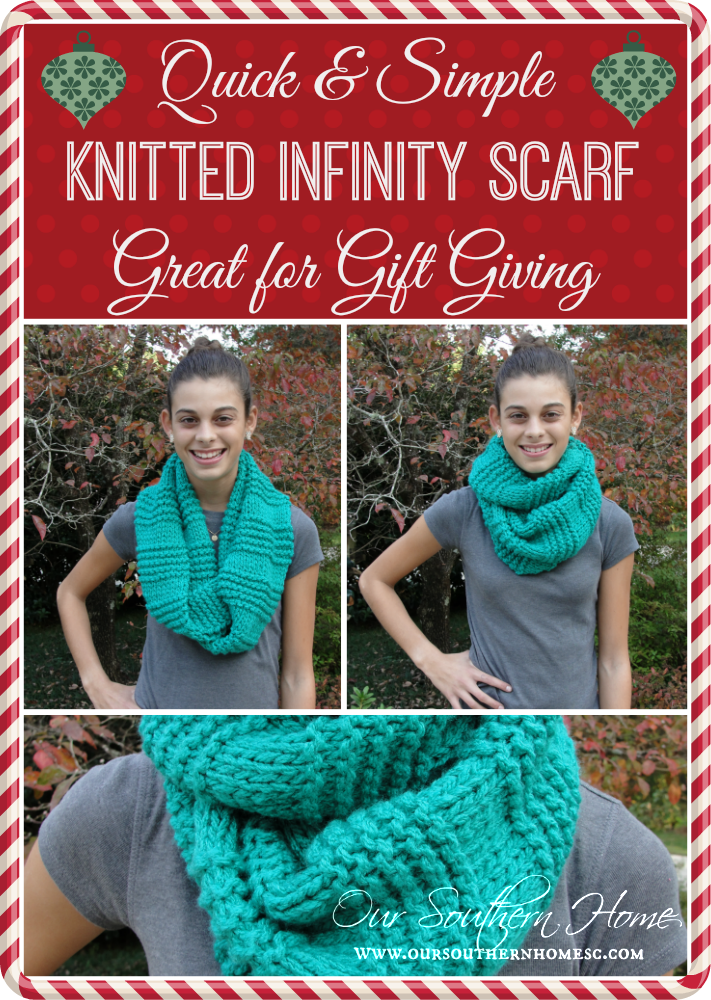 Knitting is an absolute favorite hobby of mine, but with life and blogging, I am finding less time for it. I have too many UFOs (unfinished objects) in my knitting armoire.
I love intricate patterns! The problem….I start and never finish. I get bored and want instant gratification! Simple projects like this give you something you can wear in no time flat!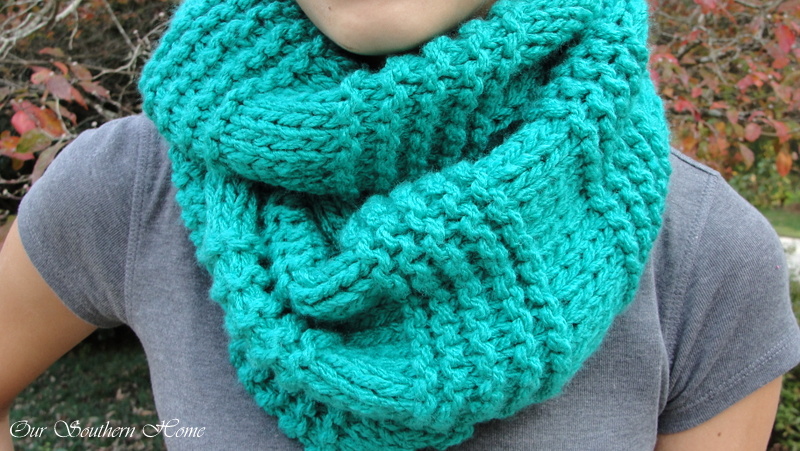 I have found that smaller projects with bulky yarns are the trick for me. I want a pattern that I can quickly memorize and just get to knitting! It's a sad reality!
My daughter loves wearing my knitted projects. I've made her several slouchy shrugs and accessories. I knew this one was a hit when she recently wore it and came home with requests from her friends with their preferred color choices!
Oh, my! Maybe I should just host a knitting party for them so they can learn themselves! They are in 9th grade after all!
I would say that this project is easily suitable for a beginner. I made this pattern up while at the beach this summer. It's not fancy….nothing special really.
The final product is great with just a bit of variation other than simply knitting every row!
Here is what you will need! (affiliate links below) You can read my complete disclosure HERE.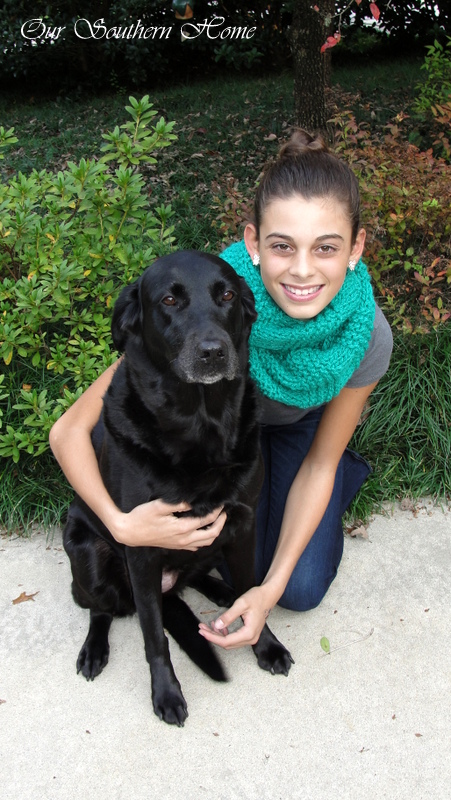 Basically you will be knitting a 72 inch scarf. My daughter is 5'10-1/2″ tall so I made it a little longer. I do like it longer because it allows you to wear it longer or looped an extra time to wear bulkier around the neck……my personal favorite of the two looks.
Quick & Easy Knitted Infinity Scarf
SImple infinity scarf pattern perfect for the beginning knitter! It makes a fabulous gift.
Materials
2-1/2 skeins of Yarn Bee Debut or any bulky weight, soft yarn. This is #6 Bulky (88 yards each) My current favorite yarn is Lion Brand Wool Ease Thick & Quick
Size 15 knitting needles
tapestry needles (it has a blunt end with large eye)
Instructions
Cast on 19 stitches with #15 knitting needles
Knit 10 straight rows
Knit 3 sets of stockinette stitch (start with purl row)
Repeat steps 2 & 3 until you get your desired length
I tested the length by carefully wrapping it around my neck with the needles still intact. Could secure with stitch holders to test.
This one is 72 inches long, but a standard is about 60 inches long. Just test for personal preference.
You could leave as a scarf! If so, be sure to end with knitted set of rows so it's symmetrical.
If you want an infinity, end with the stockinette set since you started with knitted set. This way you will have alternating patterns.
Bind Off
Using you tapestry needle, join the 2 ends together for an infinity scarf.
Notes
**One set of stockinette stitch would be 1 purl row and 1 knit row**
So you will be doing the following for 3 sets of stockinette
purl row, knit row  repeating for a total of 6 rows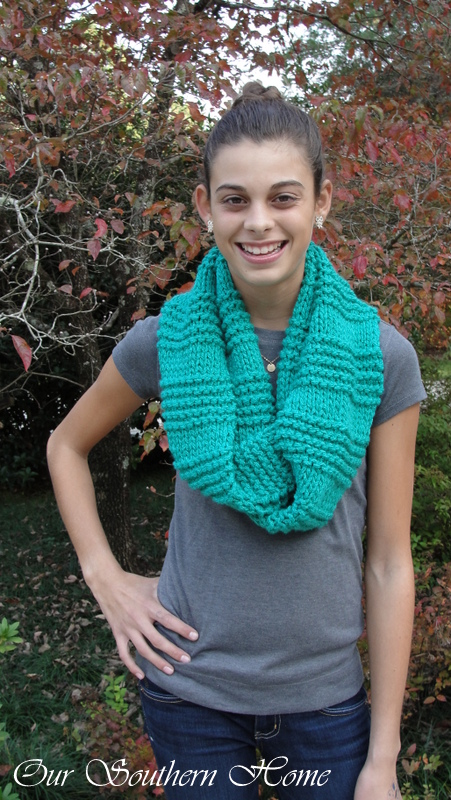 Here is the scarf just looped twice for a longer look especially if you want to wear a necklace as well….more relaxed look.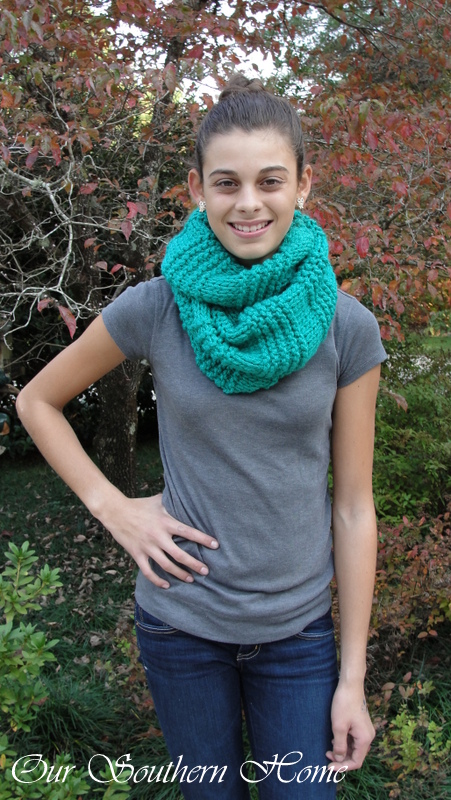 This is looped three times. This is great when extra warmth is needed. Looks great over a coat. I love this look especially with your hair pulled up!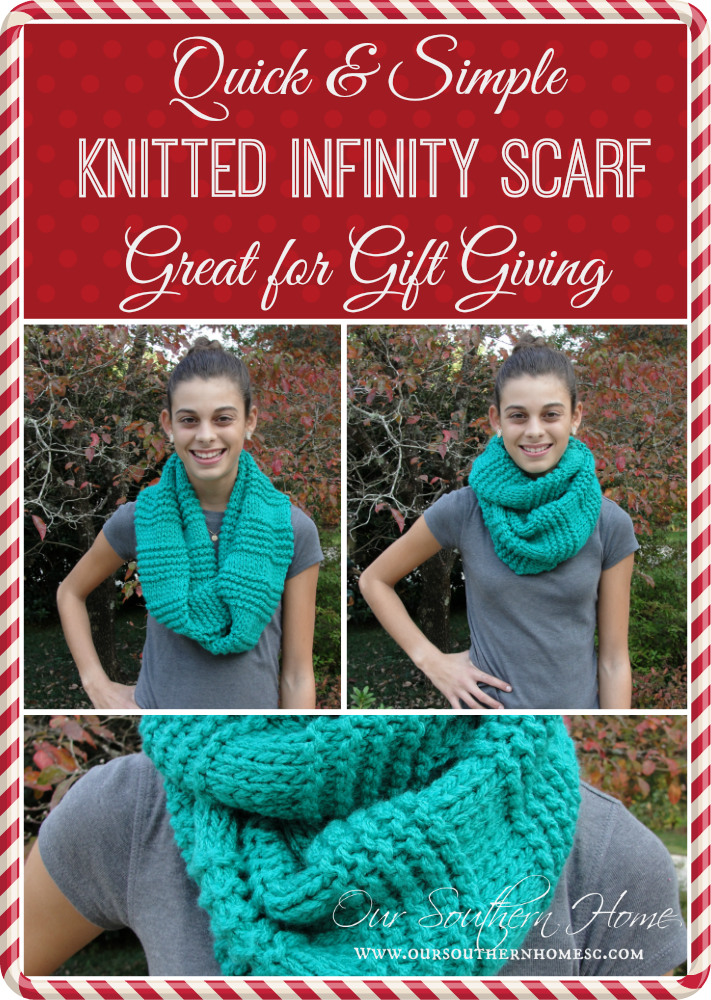 Basically, if you can do basic knitting, this will be a simple project for you. It could easily be knitted in a few evenings of watching TV or traveling in the car.
UPDATE: My daughter had her varsity tennis banquet last night and wore it. The girls were asking where she got her scarf! She told them that her mom made it.
Yes, I was the cool mom last night! The girls were asking me to teach them to knit. I told them to get a small group together over the Christmas break and I'd teach them. I love teaching friends to knit. Middle school and teens are at a great age to learn.
I am self-taught! Books and now the YouTube videos out there have been so helpful!
I am by no means an expert knitter!!!! I'm not a pattern designer……just a little something easy and simple that I created.
Happy Holidays!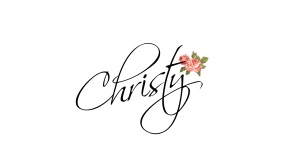 Christmas Ideas from the OSH!
Buffer