Decorate on a budget with these creative 100 Upcycled Decor ideas from our best of 2020 featuring the Thrift Store Decor Team!
100 Upcycled Decor Ideas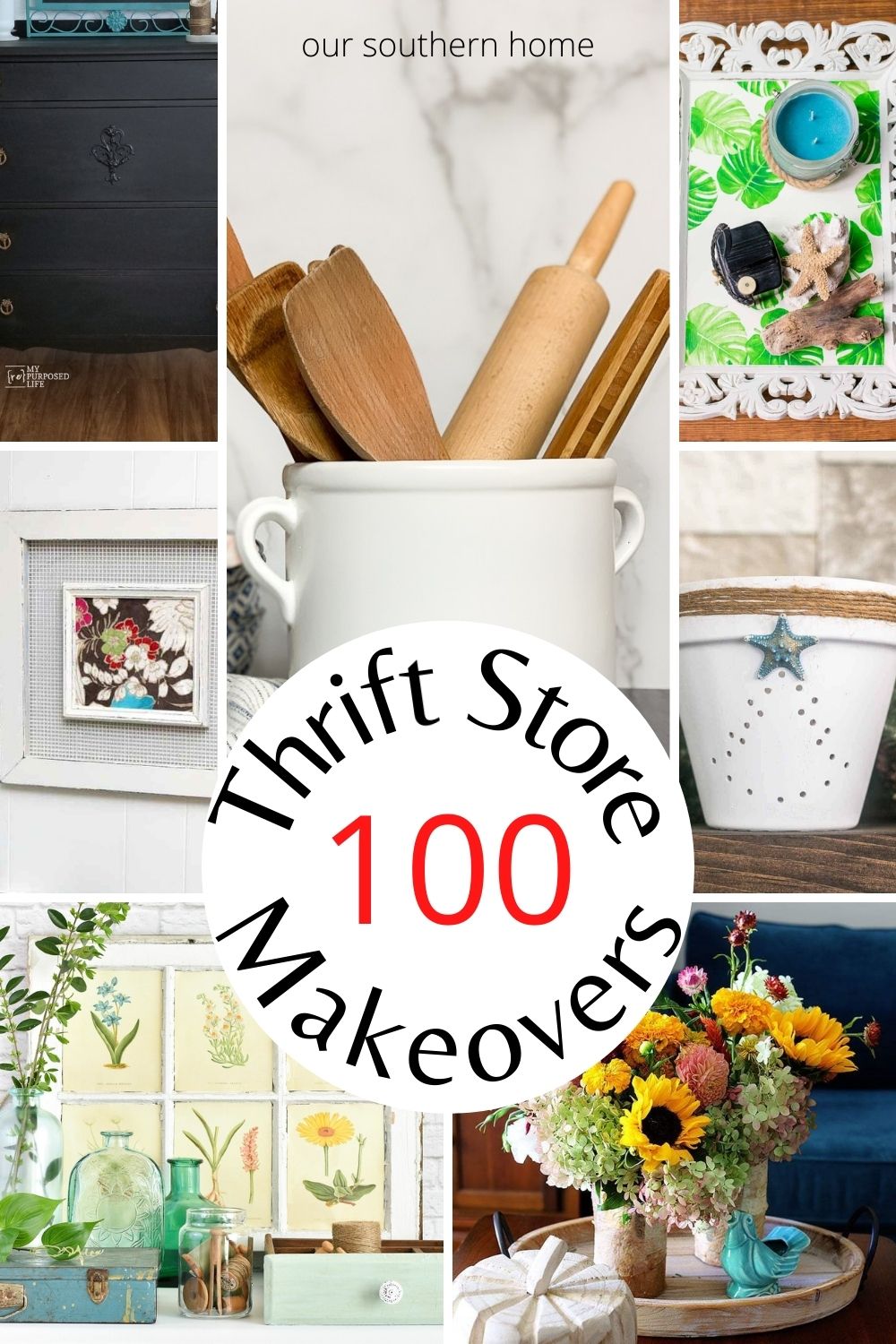 For quite a few years now, I've been a member of this amazing thrift store decor team. I am an original member from when my dear friend, Kathy, from Petticoat Junktion started it all those years ago.
I'm regularly amazed by the creativity that this group cranks out. I'll be the first to admit that my creations are pretty simple usually requiring minimal work typically involving paint.
Many in the group are uber-creative breaking out the power tools and such to totally transform other's trash to turn it into treasure.
That's the beauty of creating your home decor. You don't have to be crazily skilled to decorate your home on a shoestring budget.
For years now, I have decorated our home with a mix of high-end, big-box stores, online deals, antiques, vintage, and thrift store makeovers.
My style has evolved through the years, but I can safely say that I think I have come into my own. I like to refer to my style these days as…..
Eclectic Classic Style
It's easy to fall into the trends and look like everyone else on Instagram.
You have to learn to love what you love. Does that make sense?
I love a classic farmhouse look, but with classic styling. I want a collected look that feels authentic. I toss in lots of classic and traditional style along with that in terms of blue and white porcelain, toile fabrics, oriental rugs, and more to achieve the look that I love. It's a little bit French country, a little bit of traditional farmhouse.
Thrift store items are a great way for me to add in lots of the eclectic part. Y'all, spray paint can be your best friend.
Each December, the team doesn't create a new project for our monthly share. Instead, we bring you a Best Of post featuring our thrifty makeovers for that year.
This year we have 100 Upcycled Decor Ideas that will hopefully inspire you to create in the new year.
We compiled a couple of other fun upcycled decor ideas roundups from our archives for you this year!
Be sure to read all the way to the end where you will find thumbnails to the HUGE collection of ideas. Just click the little photo or the text underneath to visit that project.
DON'T FORGET TO PIN!
Here are my favorites from this year's collection of Upcycled Decor Ideas!
2020 Favorite Decor Upcycles
Favorites from the Thrift Store Decor Team from 2020!
Favorites from 2020 by the Thrift Store Decor Team!
Thrift Store Decor Roundups
Here are roundups from the past from The Thrift Store Decor Team!
Recent Blog Posts
Buffer