Casual Farmhouse Tablescape
March is in full swing! I can't begin to tell you how ready I am for spring! I am over the cold and non-stop rain.
Today's post has me totally itching for the change in seasons. A huge thanks to Amber from Follow the Yellow Brick Home for organizing another fabulous tour. These tours have been wonderful in that they are fairly frequent meaning that I'm bringing you decorating ideas from our home on a more regular basis!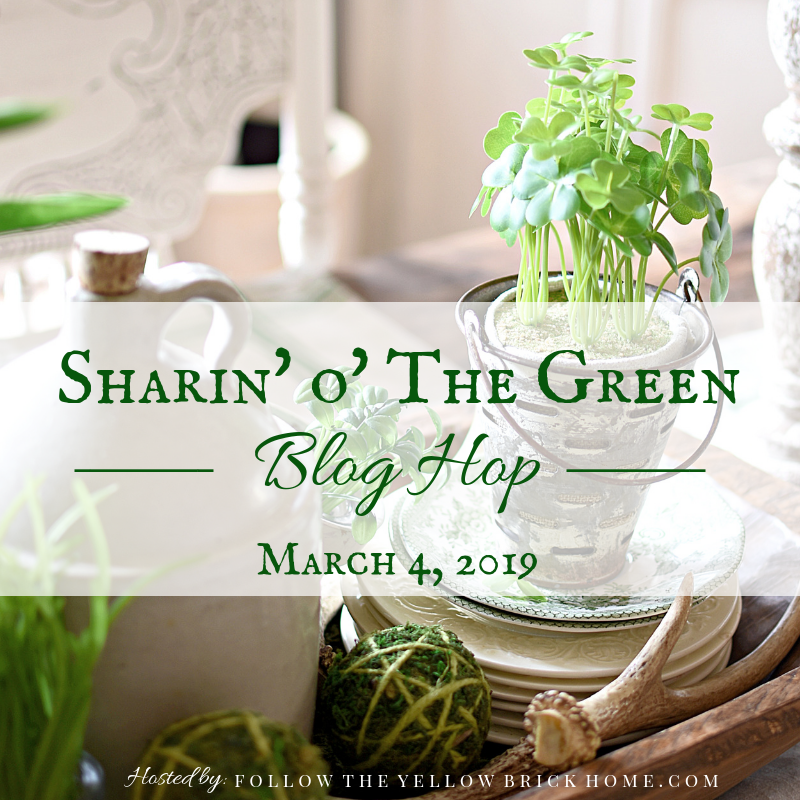 Today's tour is all about bringing a bit of green into your home. I LOVE green!!!
I don't decorate for St. Patrick's Day, but I sure love to use green in our home. Greens are a great way to usher in a few spring touches into your décor for an early nod to spring.
If you are joining me from Marty at A stroll Thru Life, welcome! Don't you just love Marty's home and style.
My contribution to using greens today is not over the top or holiday specific. I approached this tour with an everyday look that you can perhaps throw together as well.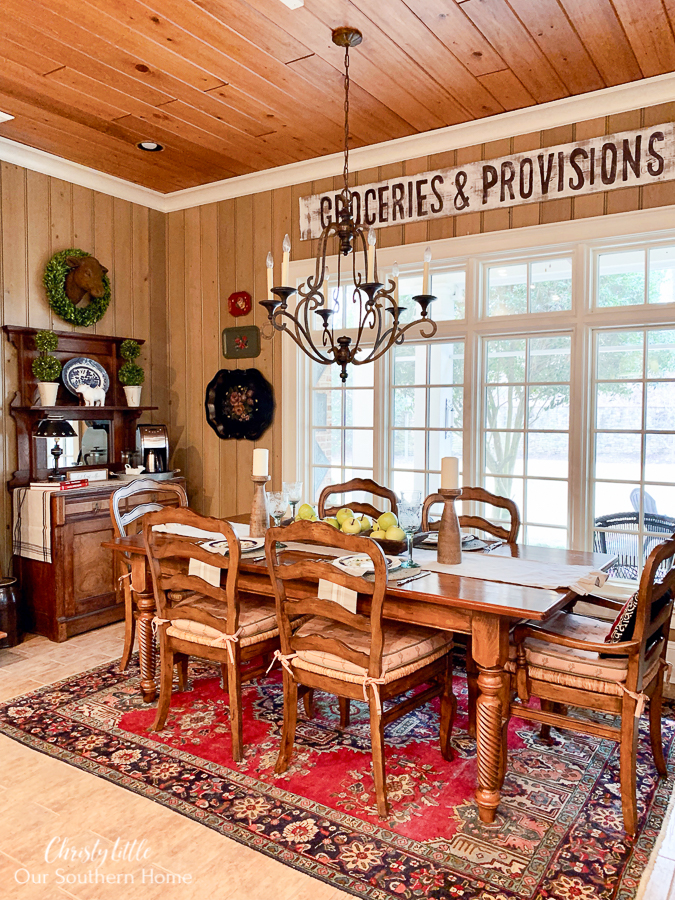 I shopped our home to bring this tablescape together. The only thing that I did purchase were some new everyday napkins.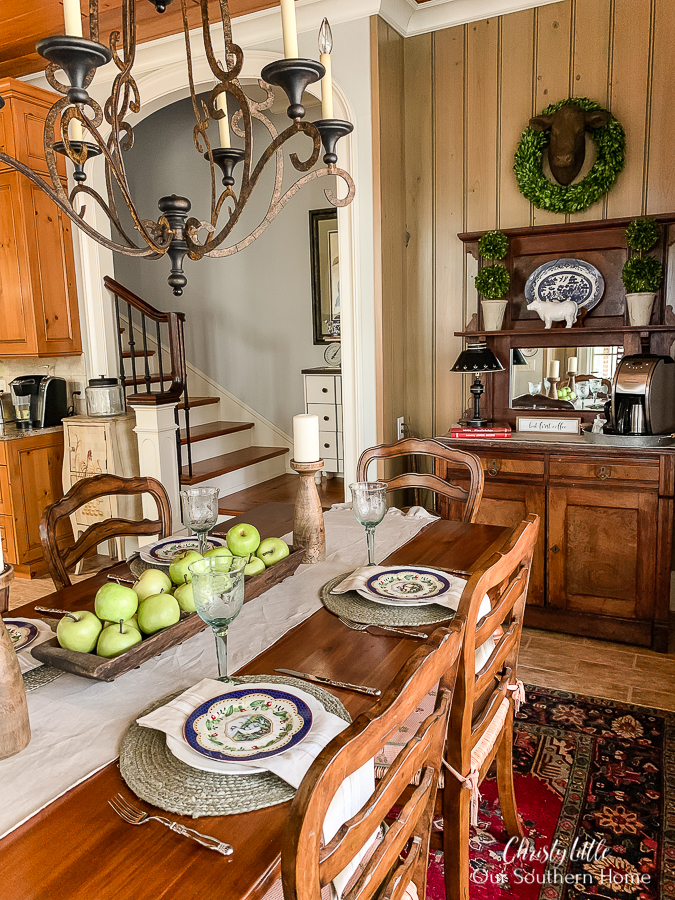 Napkins are a great way to update a tablescape. If you go back through old blog posts of mine, you'll find that I use a lot of the same runners and placemats. Napkins are an excellent way to change up a look for the seasons and holidays. This runner wrinkles when you look at it! That's ok with me…..if gives it a more "vintage" look.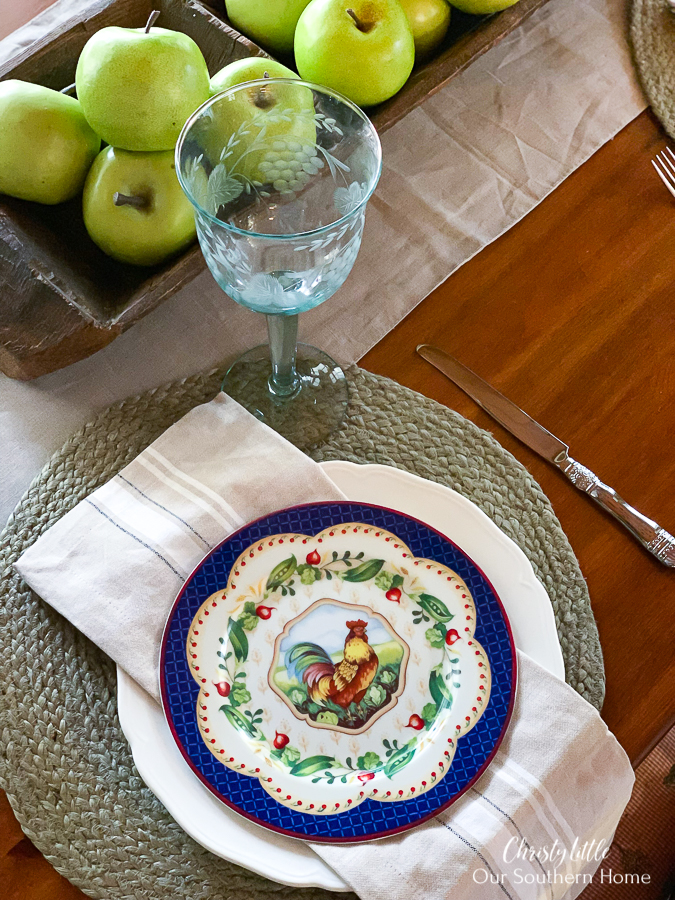 Decorating Tip: Collect cloth napkins in varying patterns and colors for unique tablescape. Napkins are an affordable way to change a look for your table.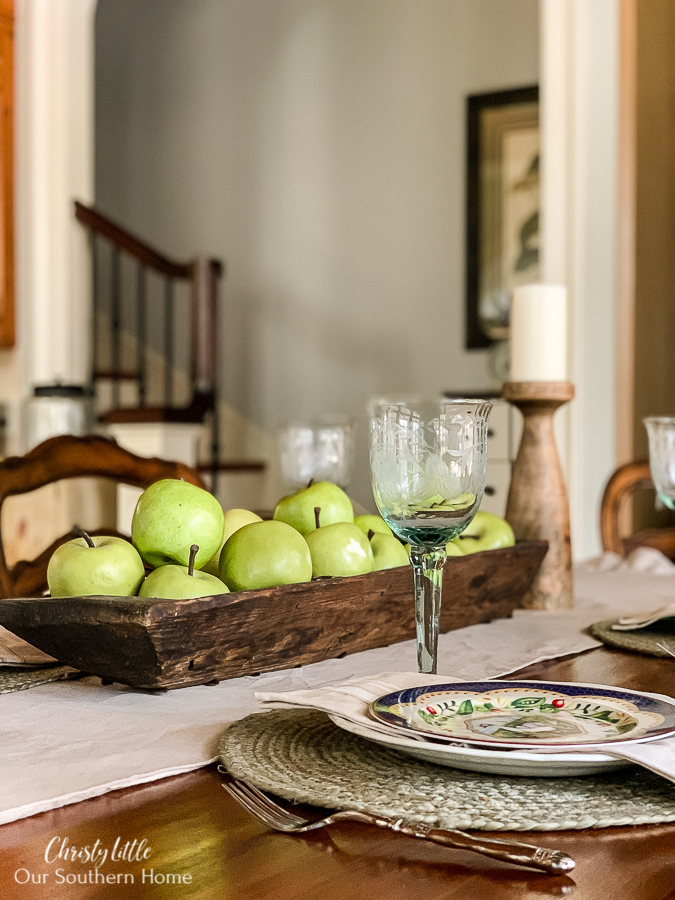 These faux apples have been a home décor staple for many years! A couple even have teeth marks where Woods and his friends took bites back when they were in elementary school! He's now 22!!!!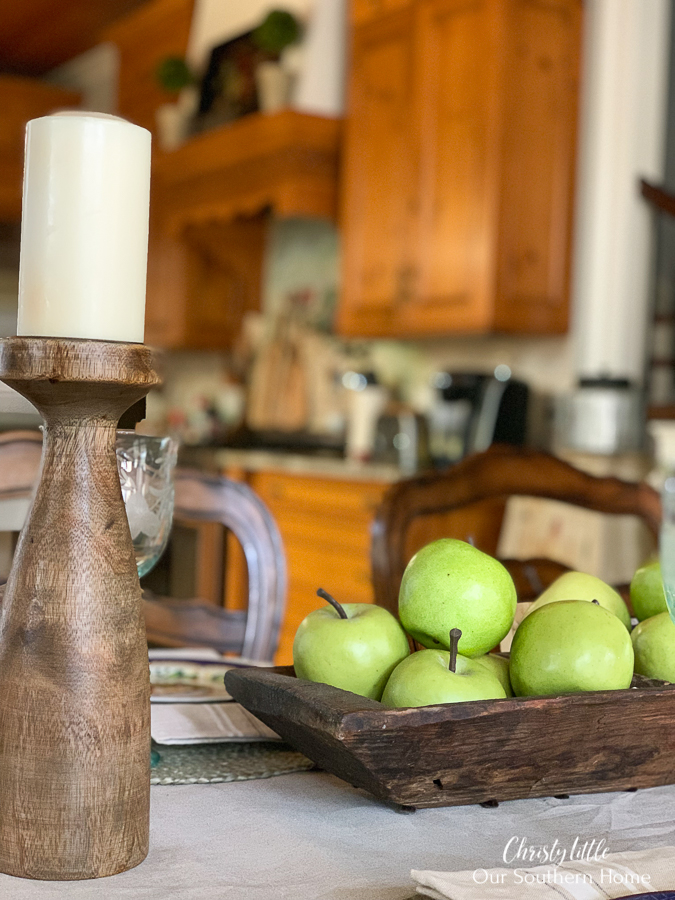 These faux apples are great in a dough bowl like this or regular bowls, urns and trays!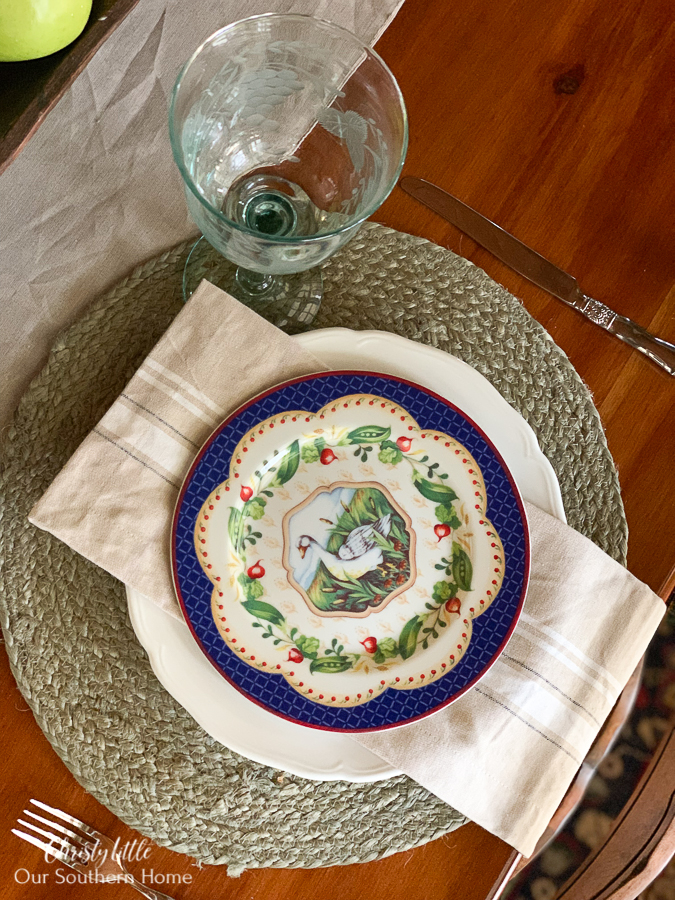 Would you believe that I have never used these adorable salad plates for dining. They have been on display in a glass cabinet for years! It was my intent to shop my house for this post. I pulled these out immediately and washed them.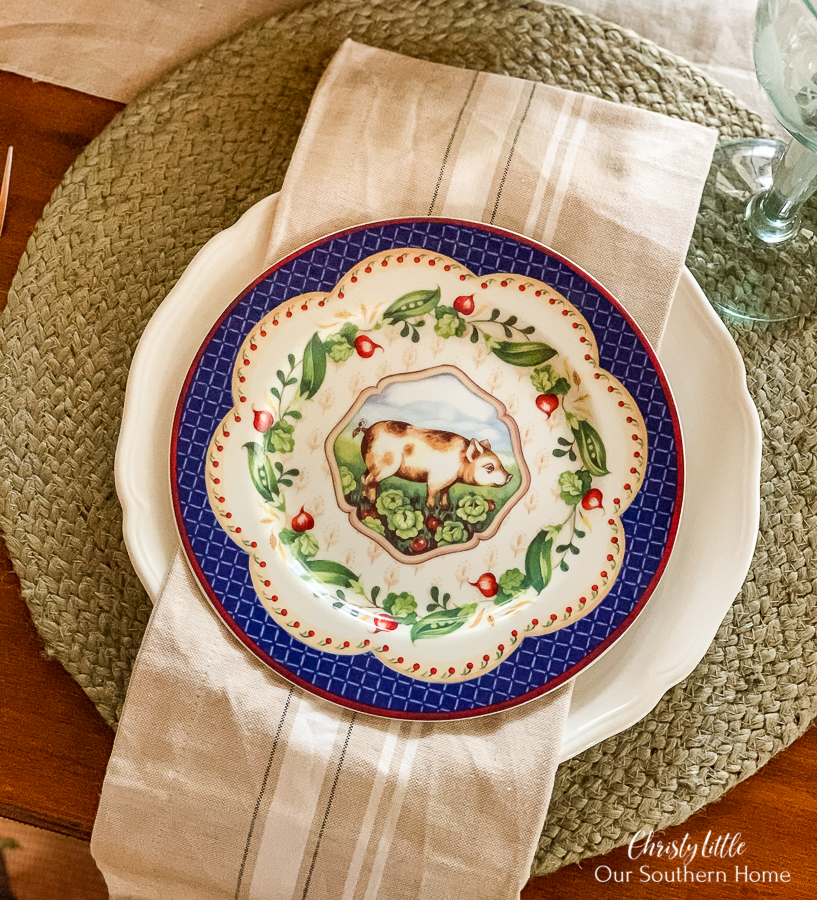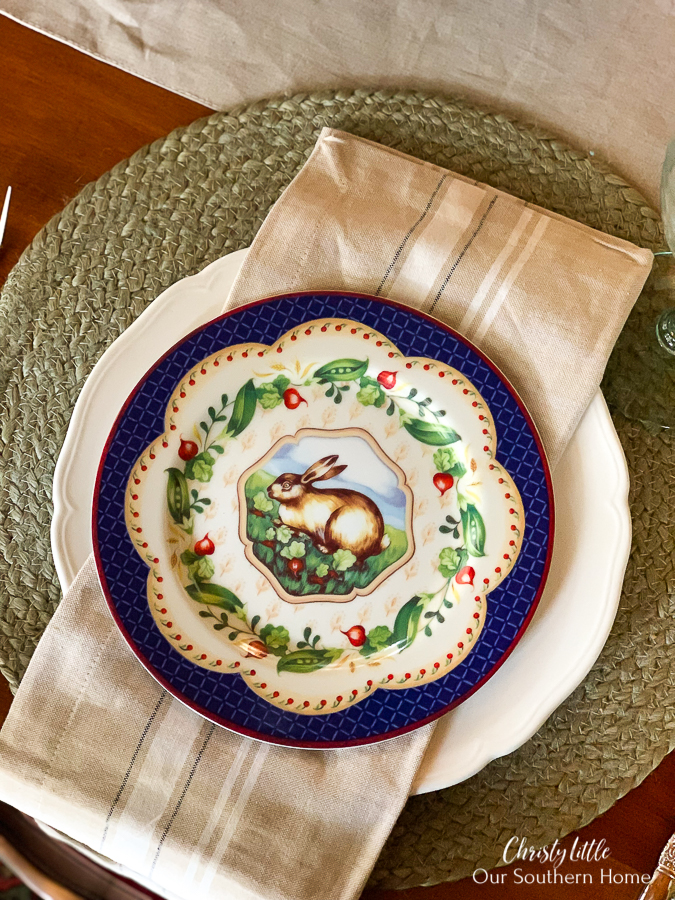 This tablescape is very simple and casual. When you think tablescape, fancy and over the top for the holidays comes to mind. Keeping things simple means that you can do something nice for a totally doable everyday look.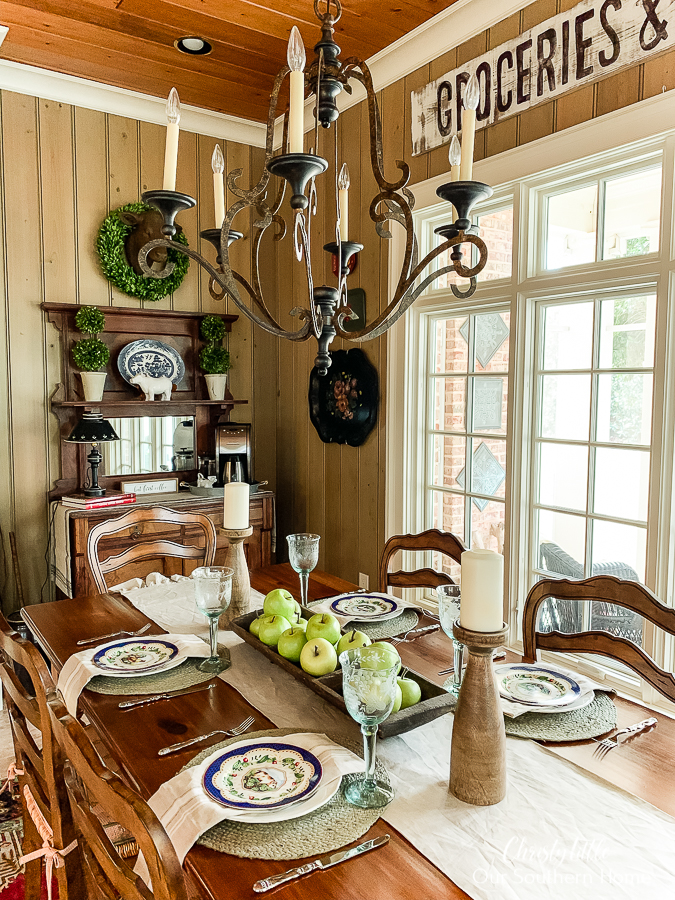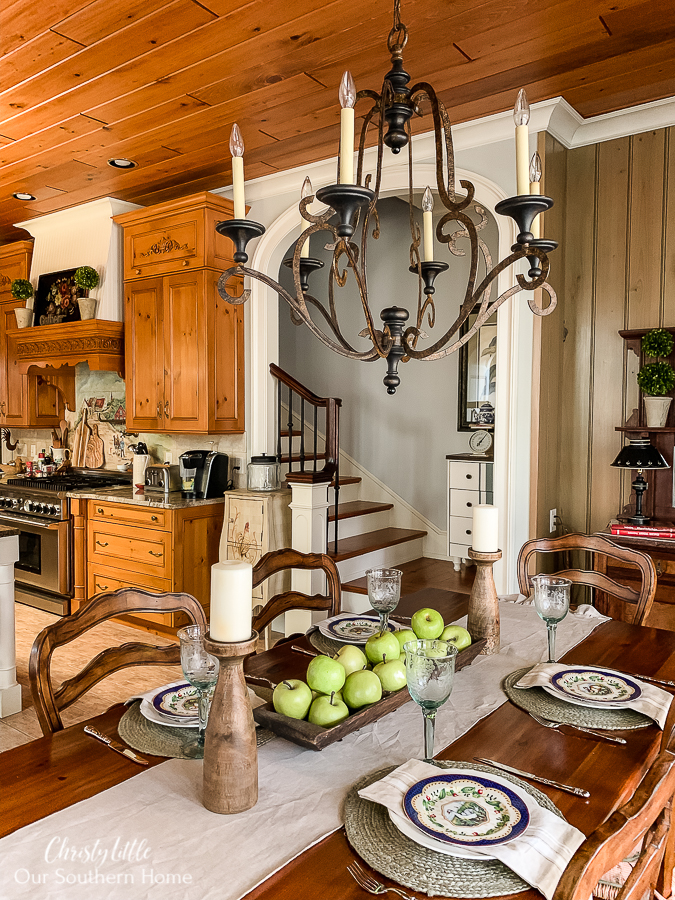 Ideas for Decorating with Green
Throw pillows
Throw blankets
Candles
Books
Moss balls
Apples – faux and real
Eucalyptus
Plates
Art
Boxes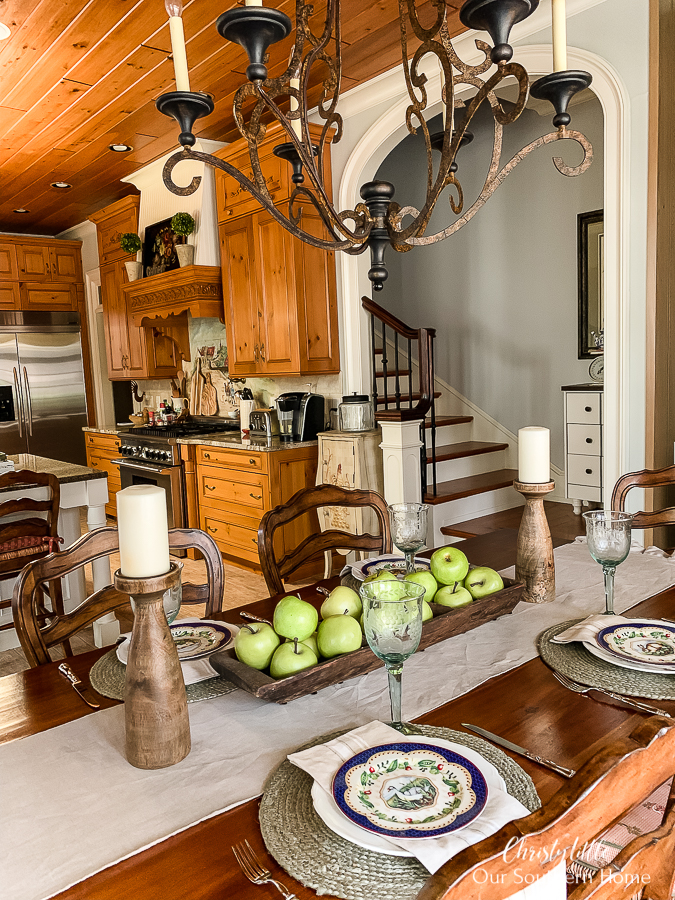 My white plates are ironstone from the thrift store. They were a total score!
Decorating Tip: Consider white dinner plates. Then you can easily change the look with patterned salad plates.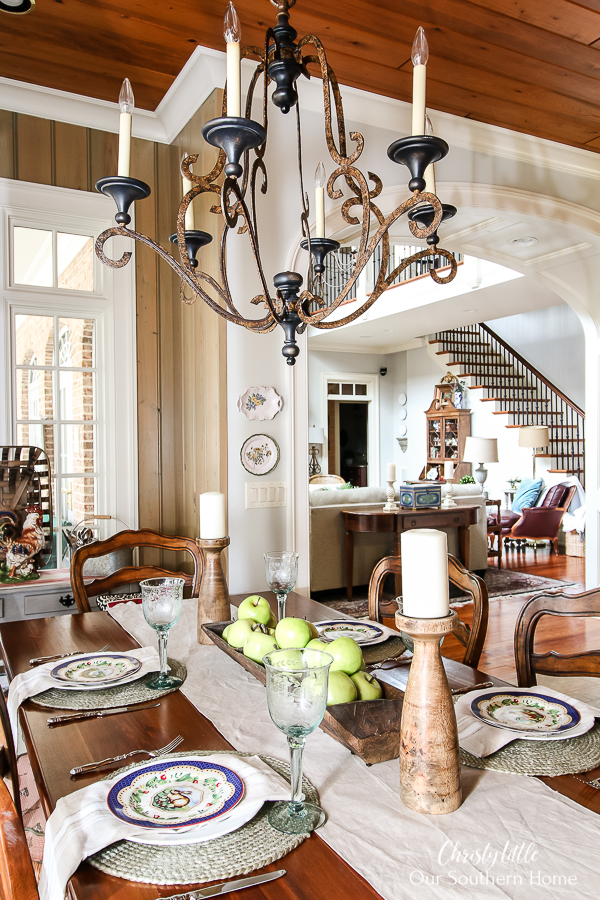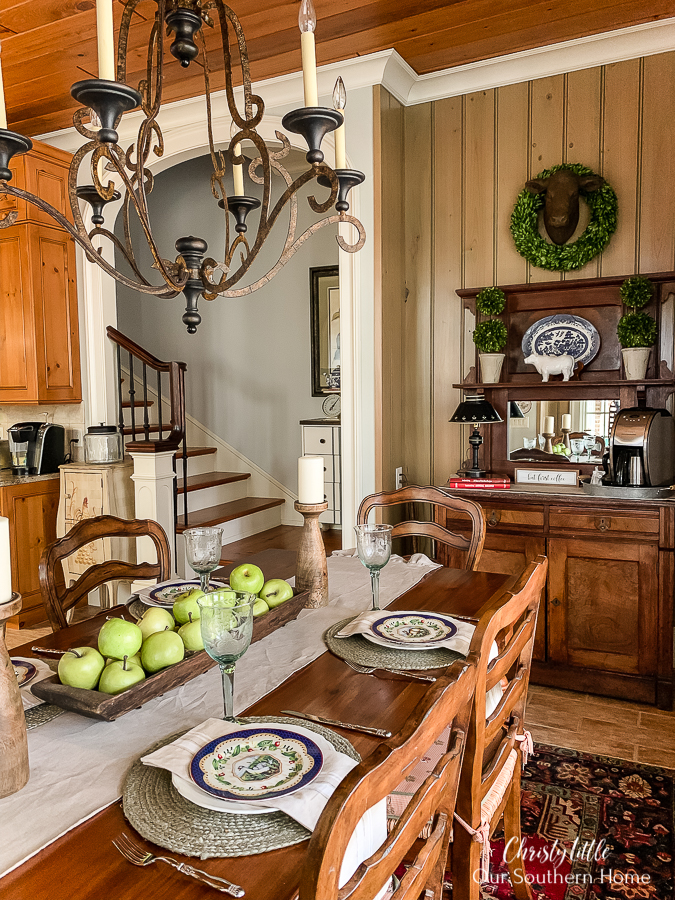 Salad plates are so much cheaper, and you can usually find them at your discount stores such as Tuesday Morning and HomeGoods! They can become quite addictive to collect.
It's no secret that green is my absolute favorite color! We purchased a large set of this green glassware many years ago. We have several sizes and shapes. They are oversized and make a great statement.
I created this video of a tour of our kitchen! Please share it on social media!
Be sure to visit Décor to Adore up next. Laura has such a beautiful home featuring her vintage treasures! Be sure to follow below for the entire tour lineup!

Tour the other homes with green inspiration!
Here are the tour links as well!
div>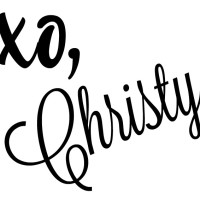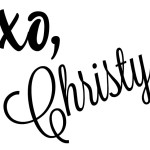 Buffer