Dollar Store Gift Wrap Ideas
Merry Christmas
It is hard to believe that Christmas is just a few short days away. I am sure there are many of you like me that have just begun to wrap their gifts. Even if you have already wrapped your gifts, you can still embellish them!
I headed to the dollar stores….Dollar Tree and Dollar General to be exact and purchased a few things to bump my gift presentation up just a bit. Of course, I will not do this on every single gift that I give, but if you have someone special you'd like to amaze as they unwrap their gift, you can easily and affordably accomplish this simple task. I'd like to share with you my Dollar Store Gift Wrap Ideas.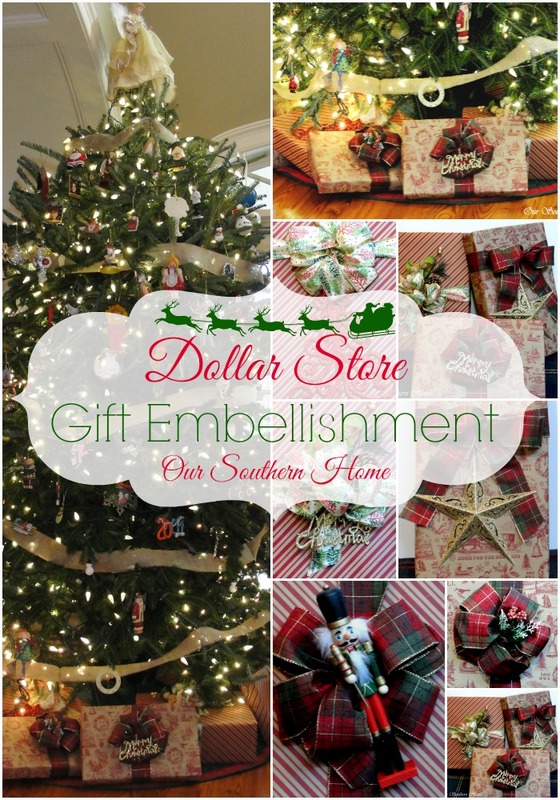 The printed craft paper came from Hobby Lobby. They sell beautiful papers on large rolls. I've barely put a dent in the 2 rolls I purchased. Great thing…if it's not already on sale, you can use a 40% off coupon. The 2 different plaid ribbons came from Lowe's. They are 30 foot rolls! They have gorgeous ribbons this year. I am always a huge plaid fan anyway!
I spent $8 combined at Dollar Tree and Dollar General to embellish 11 gifts! Not bad to bump them up a notch!
Let's break it down! I'll show you a few and share how I did it. Helpful things to have on hand are clear tape, clear fishing line and scissors.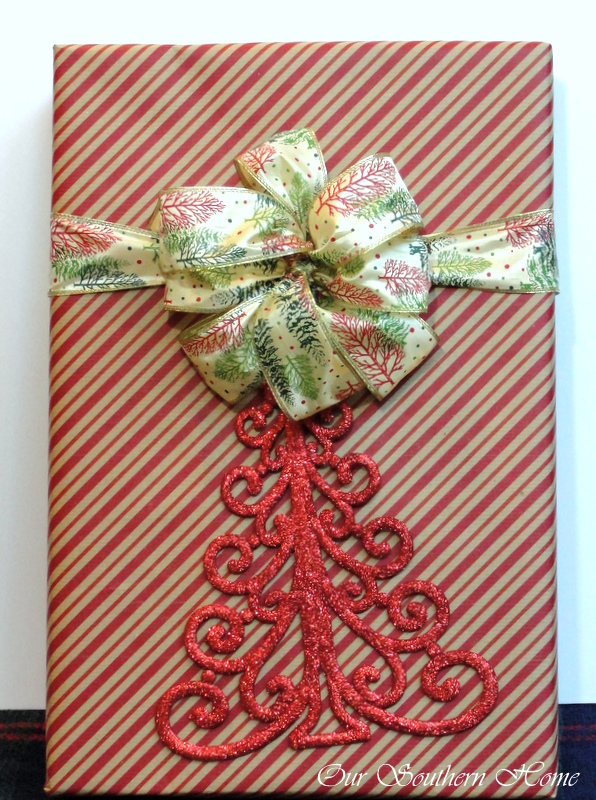 I purchased 2 rolls of this tree ribbon from the Dollar General for $1 each. They only have 9 feet on a roll. Each roll wrapped 2 presents. The large tree ornament came from the Dollar Tree for $1. When I tie a bow on a gift it is one continuous piece. I just keep tying a bow on top of a bow until I run out or it is full enough. Then fluff out the loops. Instead of having tails, I just tuck the tails underneath to create the illusion of another loop. I only do this when I embellish a gift. The ornament already has a hanger on it. You can loop the ribbon through it to secure. Sometimes it isn't long enough with the bow so I tie on a piece of the fishing line and tie it around the base of the bow. Since it is clear you can easily hide it.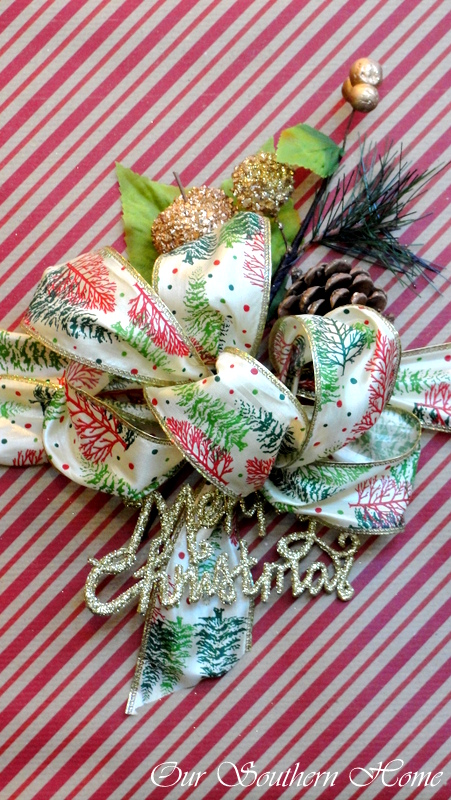 I tied the bow first with one spool of $1 ribbon. The greenery pick was a pack of 2 for $1. I used 1 of the picks and taped it underneath the ribbon. The Merry Christmas ornament is part of a pack of 5 for $1. I secured it with fishing line. So the pick was .50 cents and the ornament was .20 cents. No bad!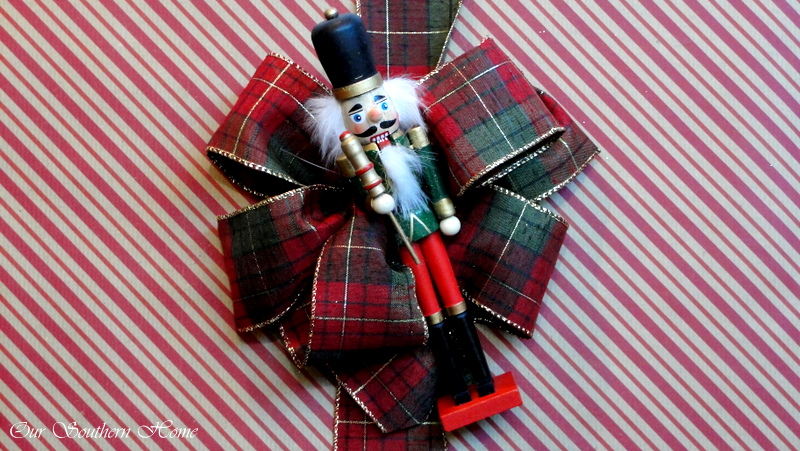 The ornament was $1 from Dollar Tree. I secured it to the bow with fishing line tied around the waist and disguised by the beard. The ribbon is from Lowe's.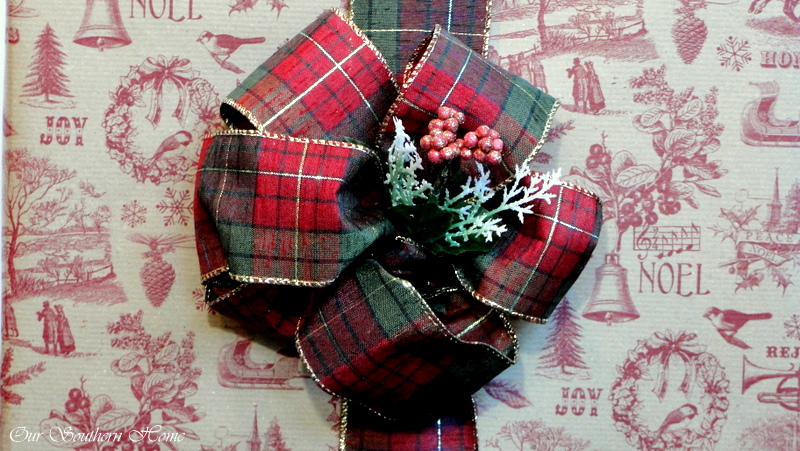 I purchased just 1 pick from Dollar Tree for $1. I then cut it into 6 pieces! This is just 1 of the 6 used in this present. I simply tucked it in the tied ribbon to secure. Using wire clippers will make trimming the ends of the greenery easier. This cost less than .17 cents to embellish. Ribbon is from Lowe's.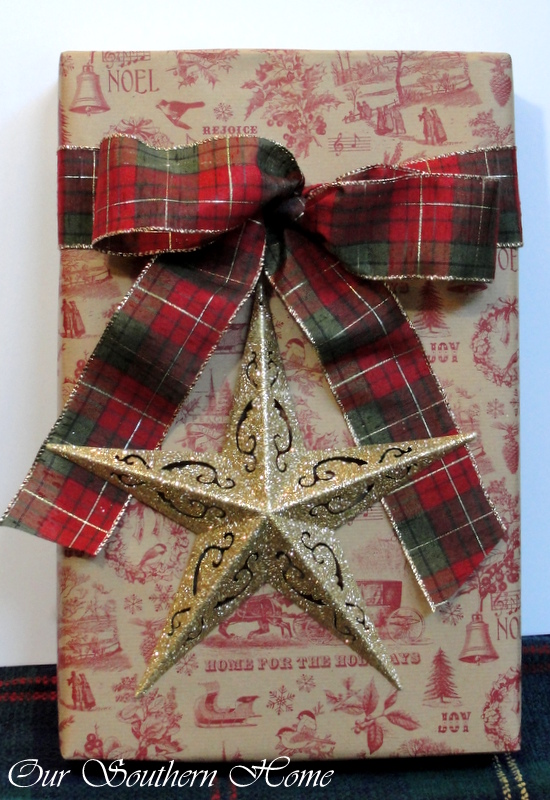 Lowe's ribbon and large Dollar Tree star ornament for $1 secured with fishing line.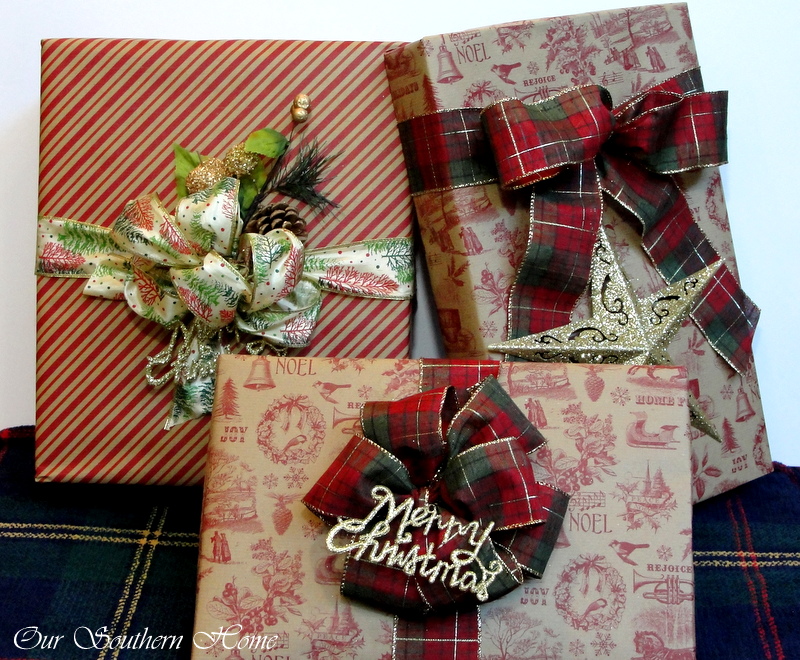 Here are a few grouped together.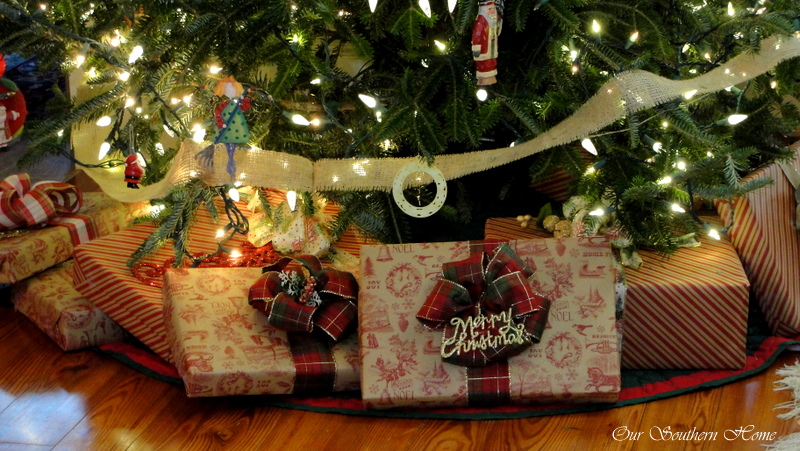 Not much money spent to make the gifts look impressive!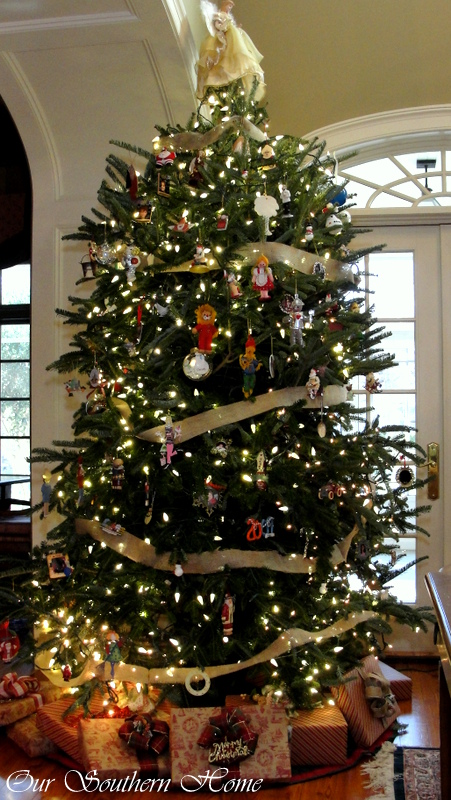 Every single one of these gifts under the tree have been embellished for a total of $8. This is not a themed tree. It always showcases our collected ornaments through the years. By wrapping all of your gifts in 1, 2 or 3 of the same papers that coordinate with each other…you can create a designer looking tree.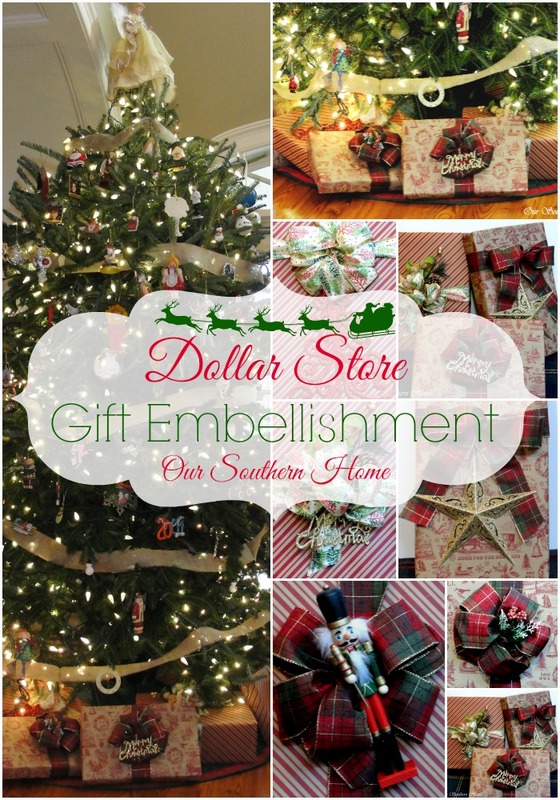 MY CHRISTMAS POSTS
Thanks for stopping by!
Facebook / Pinterest / Instagram / Twitter / Hometalk / Google+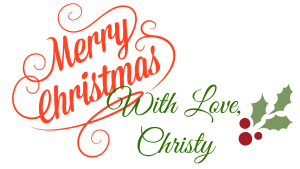 Buffer