Happy August, sweet friends! Last month I had to sit out of our monthly thrift store makeover post. I was afraid that this month that I'd have to sit out again, but luckily I was able to make it work!
Our beach house was hit by Hurricane Isaias. It wasn't too bad, but we did have 2 windows blown out in the guest bedroom. We've been in cleanup mode.
I had a picnic basket that I was going to bring with me to the beach to work some magic on, but I left it at home. Lucky for me, there is a fabulous Restore right down the road from us at the beach. We made a family trip there and left with a tray for me to use for this month's challenge, a gorgeous vintage oil and a new shelf system for the basement to replace the one destroyed from the flooding.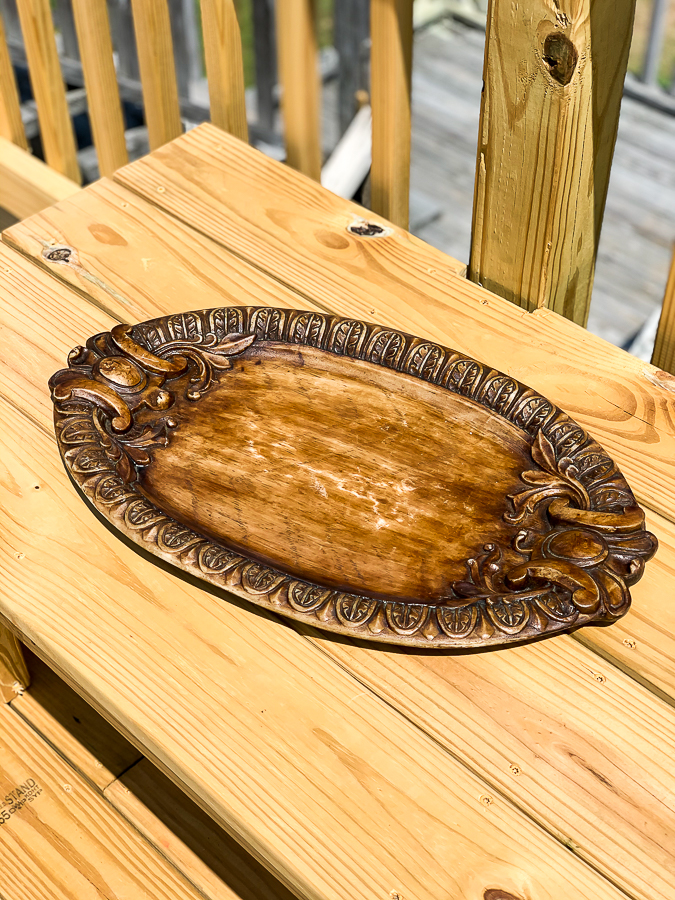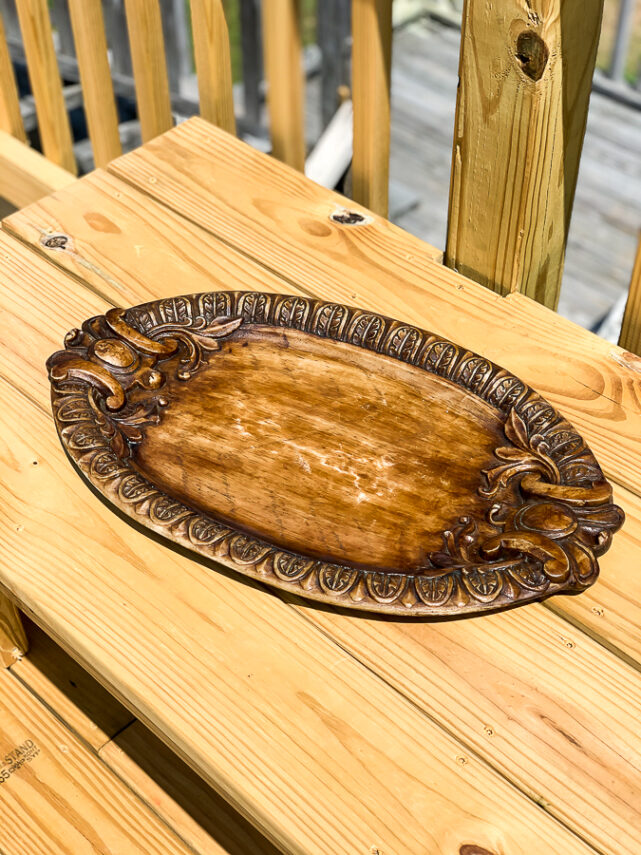 At first look, this looks like a carved, stained wooden tray. It is sadly not. It is a resin type material that is stained. As you start to clean it, the finish started coming off. That was ok….I was going to paint it anyway.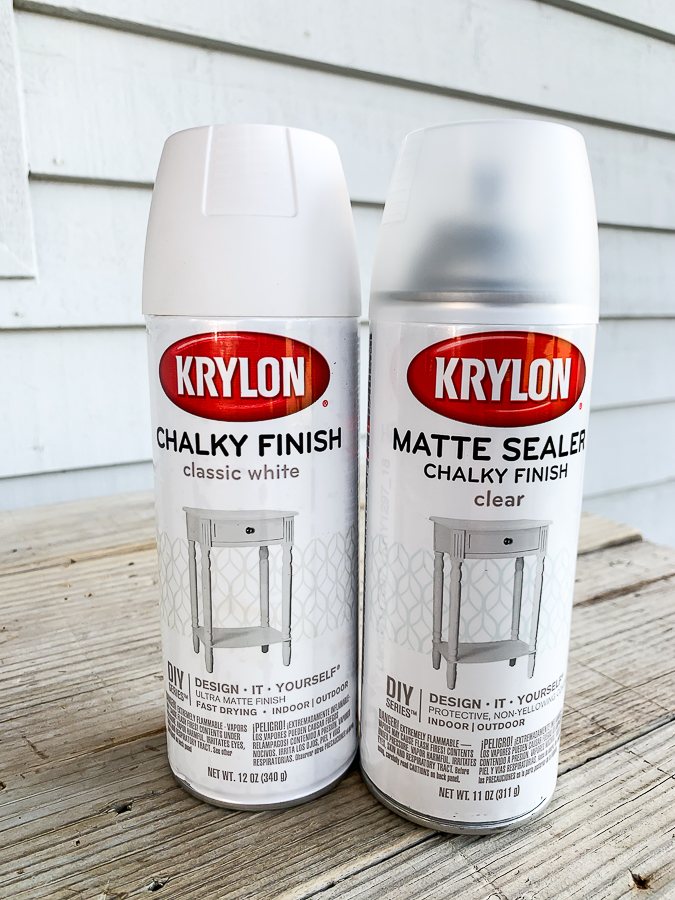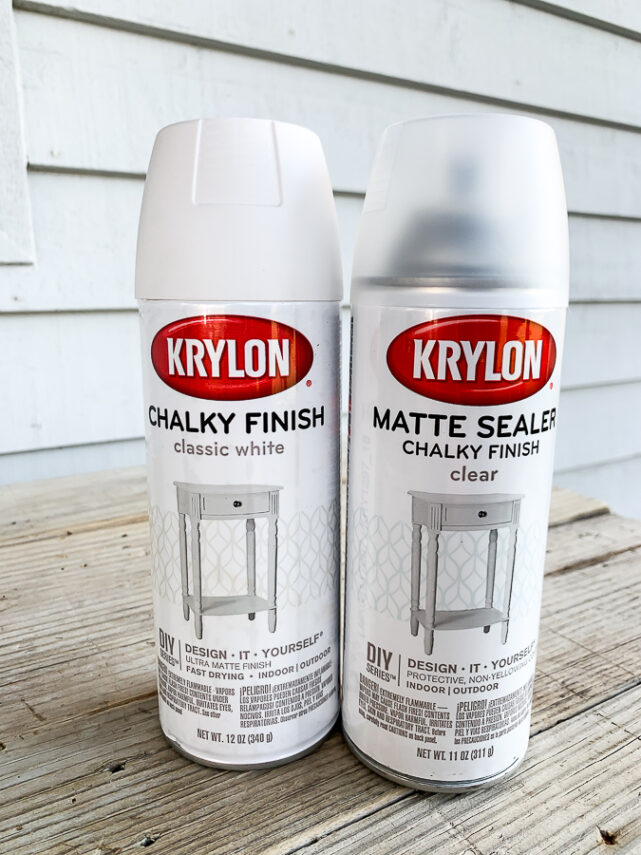 I really like this Chalky Finish paint by Krylon for wood type projects. I always try to keep the white on hand. It is so versatile.
This project could not have been simpler! A few coats of spray paint and I was done! I did finish it off with the matte sealer to it would retain the look of the chalky finish paint.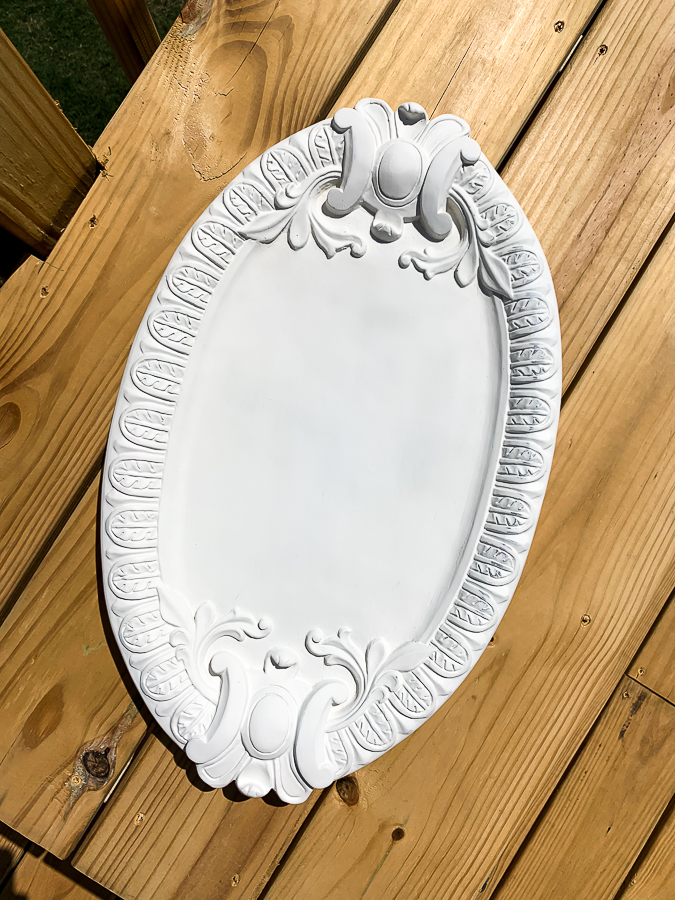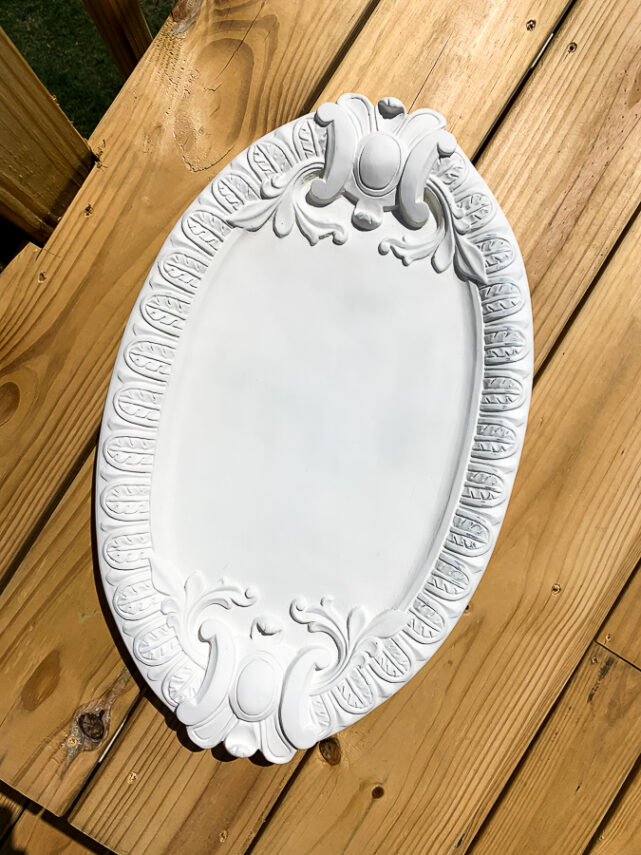 I love it fresh in the white. It will go with so much!
Please note that this is not food safe! You will not want to put food directly on the painted surface.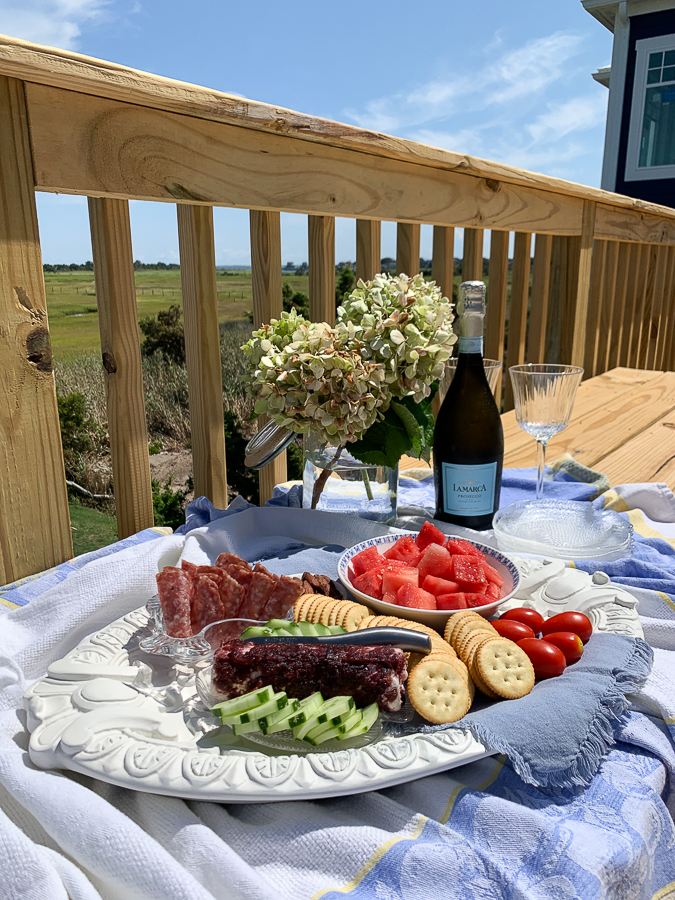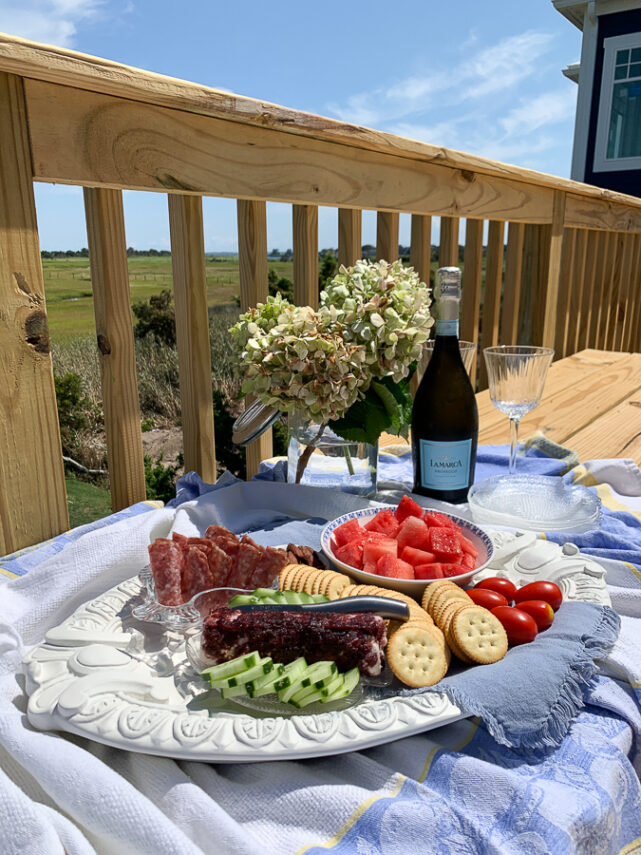 The size of this tray is perfect for our small group of 5 here at the beach.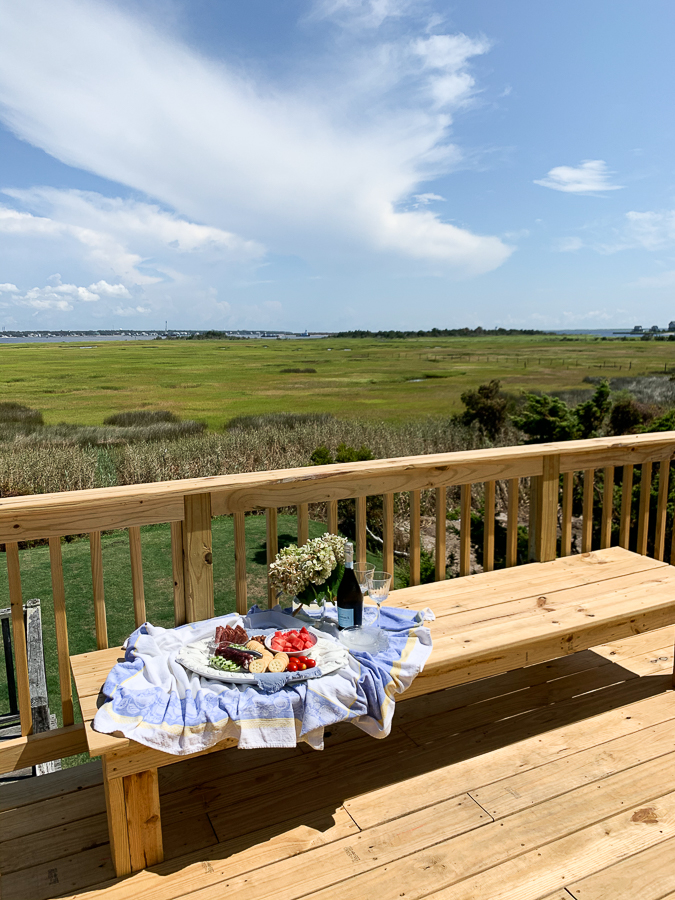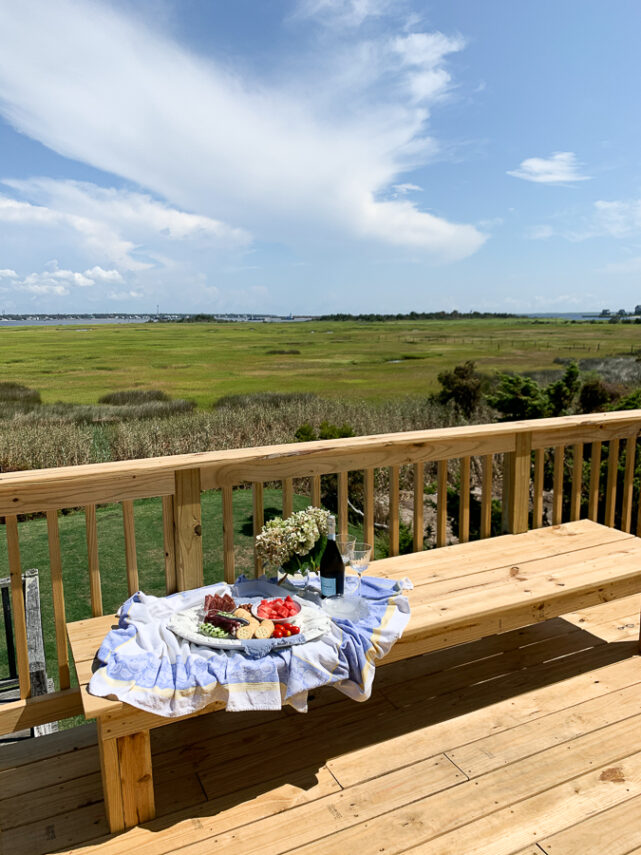 Just a couple of days before the hurricane hit, we had our upper deck at the beach house replaced. The contractor added the bench mainly for support, but we love it!
It will be great for watching fireworks from Southport on the 4th of July. We always have an excellent vantage point from here. It's also nice for serving a charcuterie board.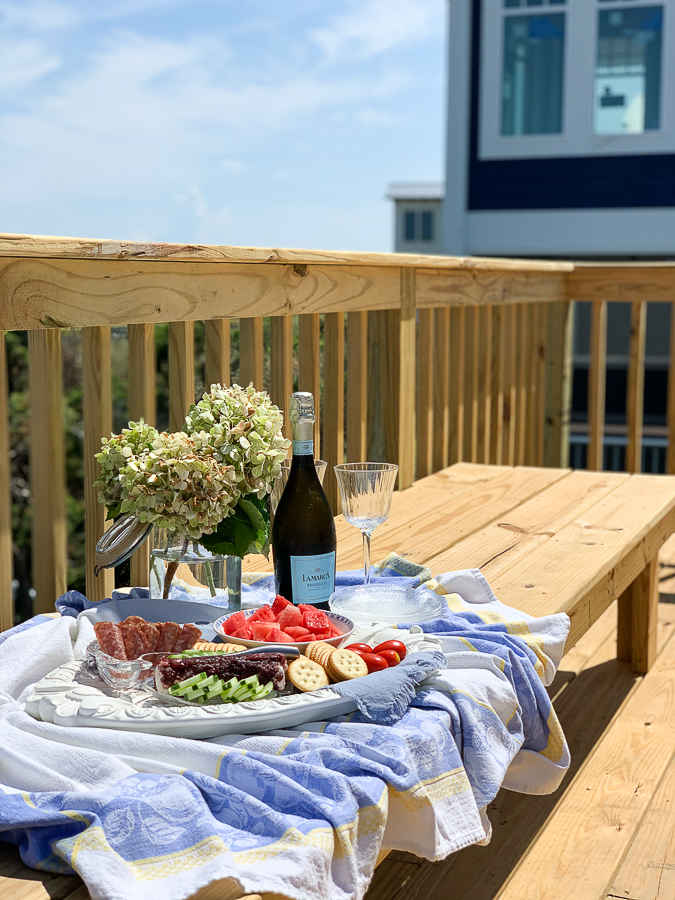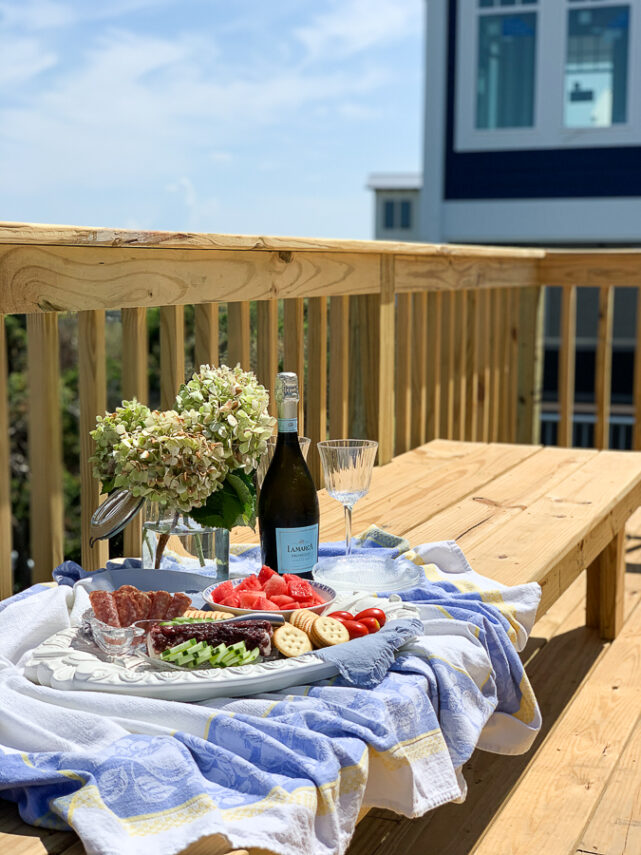 Our contractor is actually the guy that does all of the repair work for my husband's apartment business in the middle of the state. He lives several hours away from the beach. Bless his heart, right after the hurricane he was able to turn right back around and come back to check on things for us. Our neighbors here let us know that we had the 2 windows busted out. Luckily, the damage was contained to the one bedroom. The humidity level was so high in the house with the windows out that we had some mold that we had to clean in some areas. Tim replaced the 2 windows and repaired the screened porch for us. We did all the clean up when we got here late Friday evening.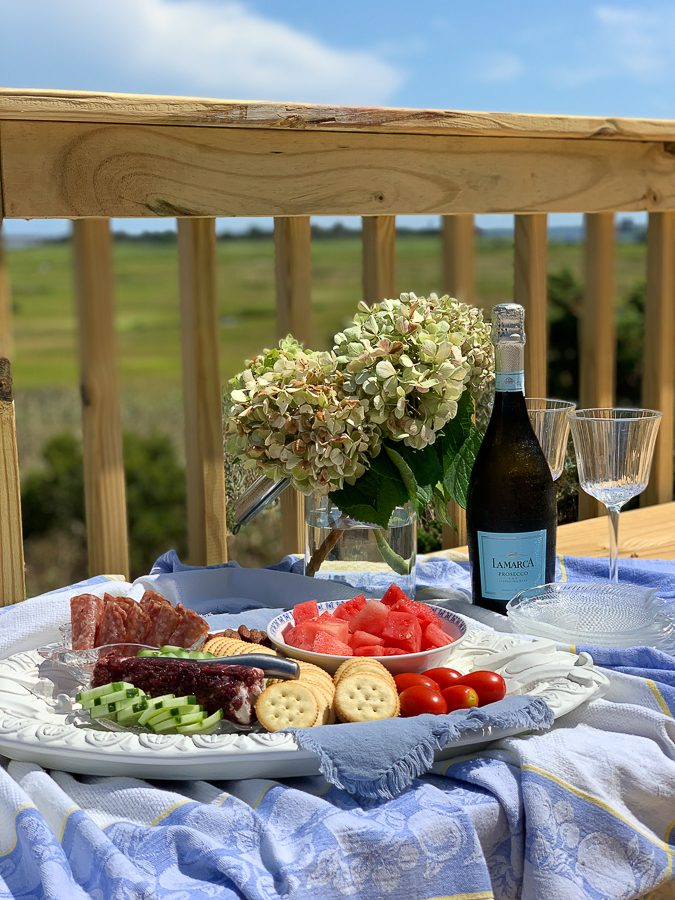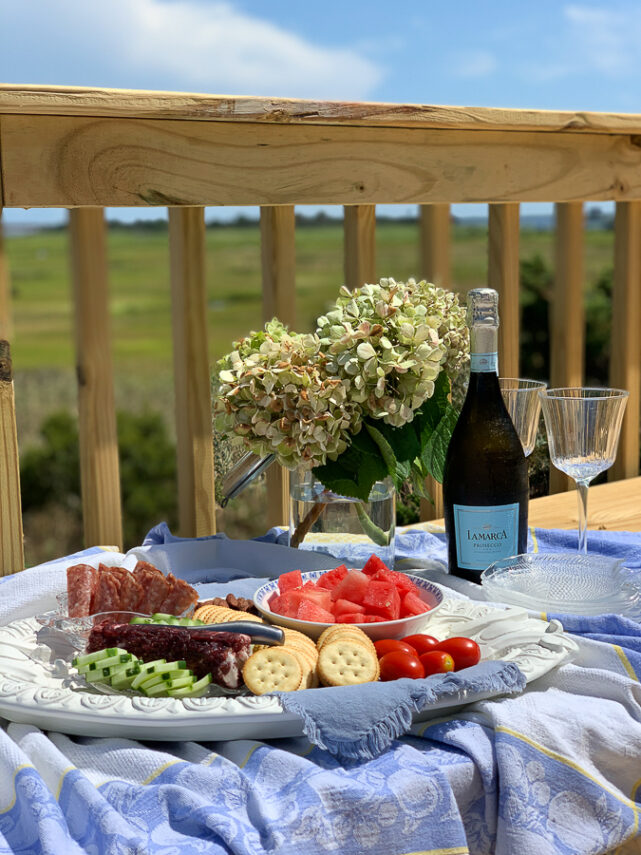 It was a nice treat to relax for a bit with this finished project! The views up here are so amazing of the marsh and looking into Southport.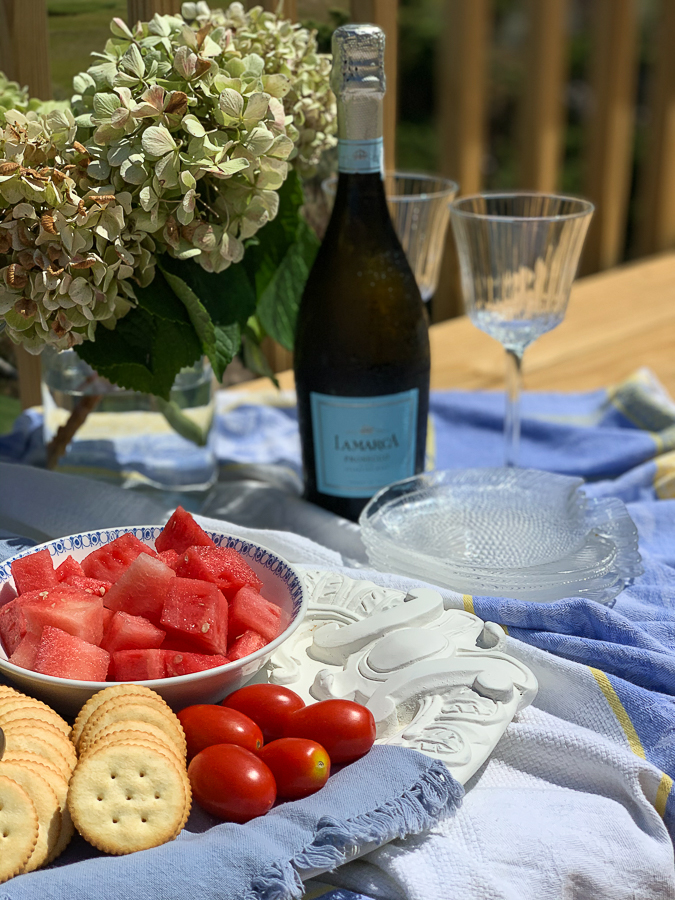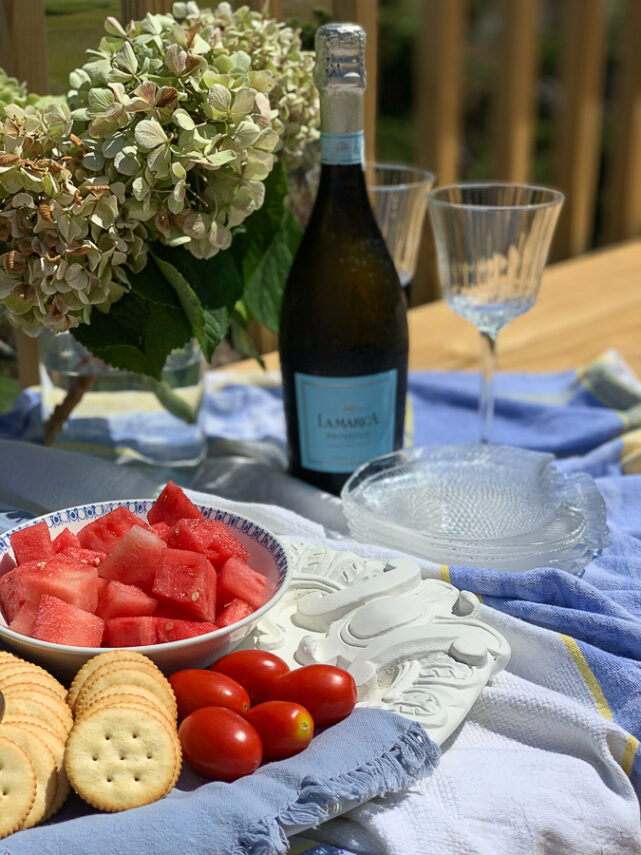 The details of the tray are really pretty. I know I'll get so much use out of it. I can so see it on my dresser to hold jewelry.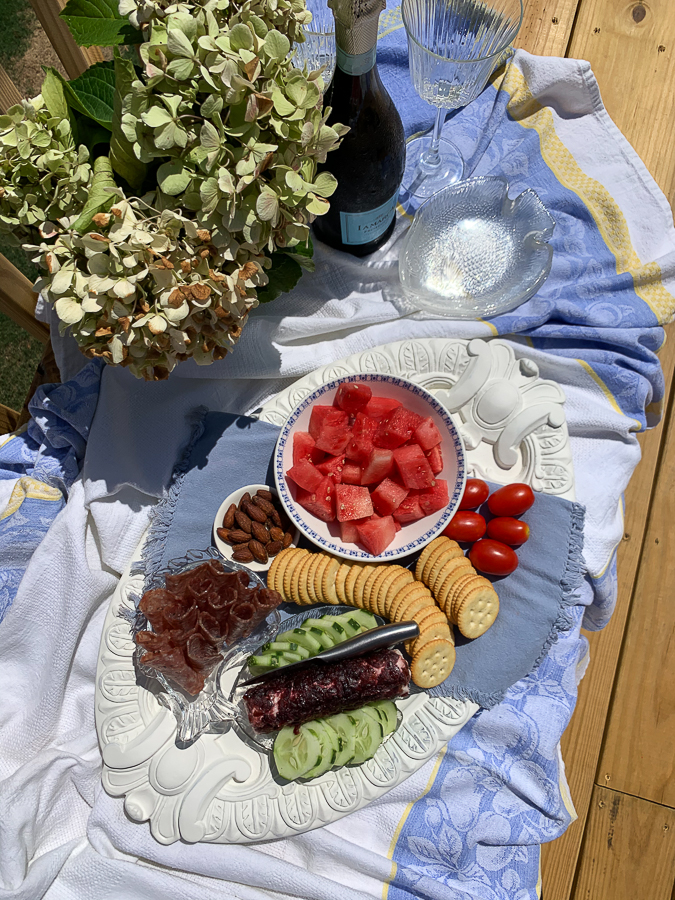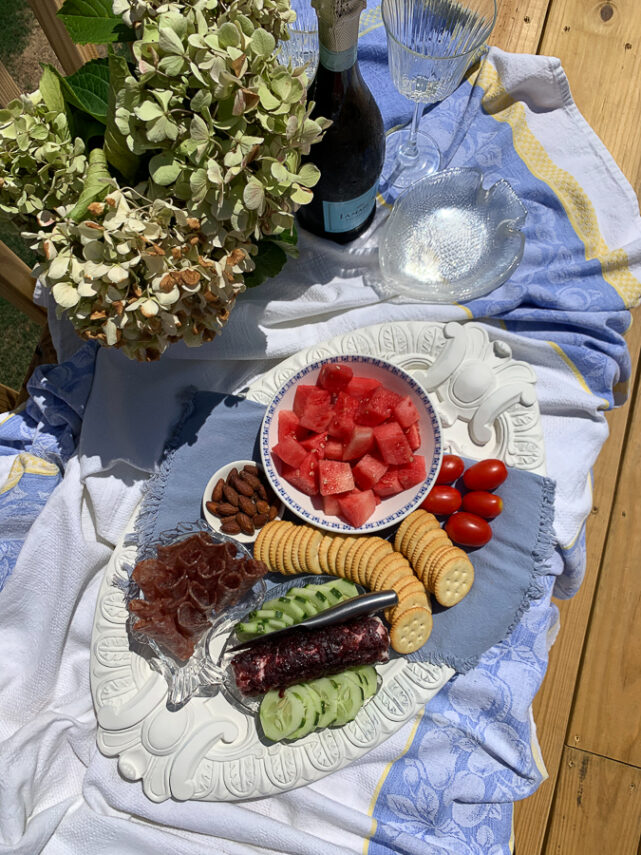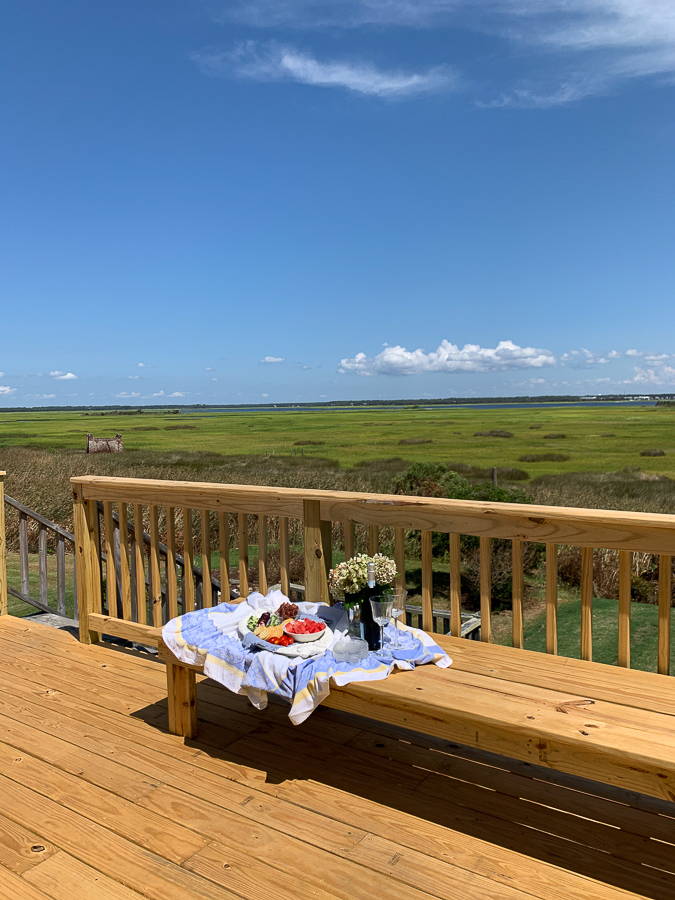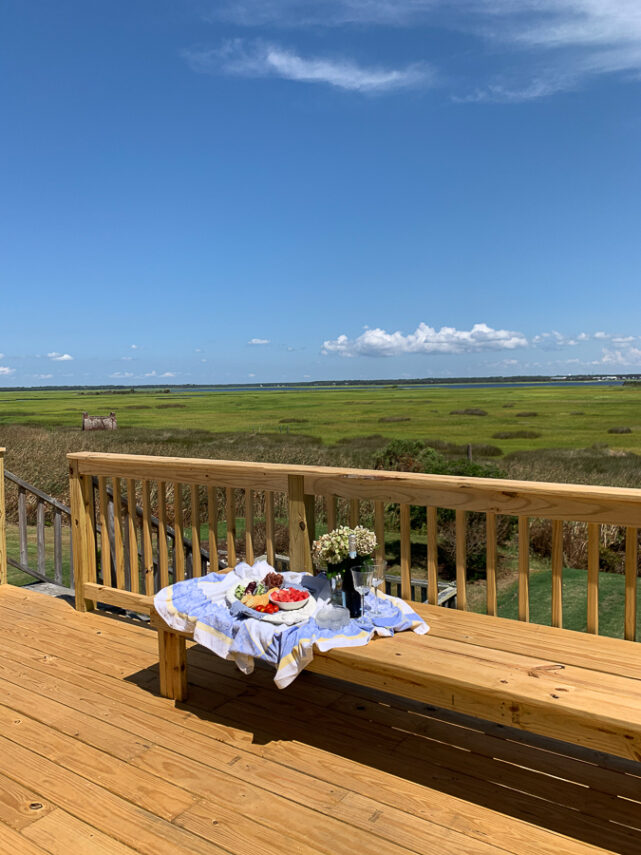 I also picked up this gorgeous piece of art to hang over our bed at the beach house.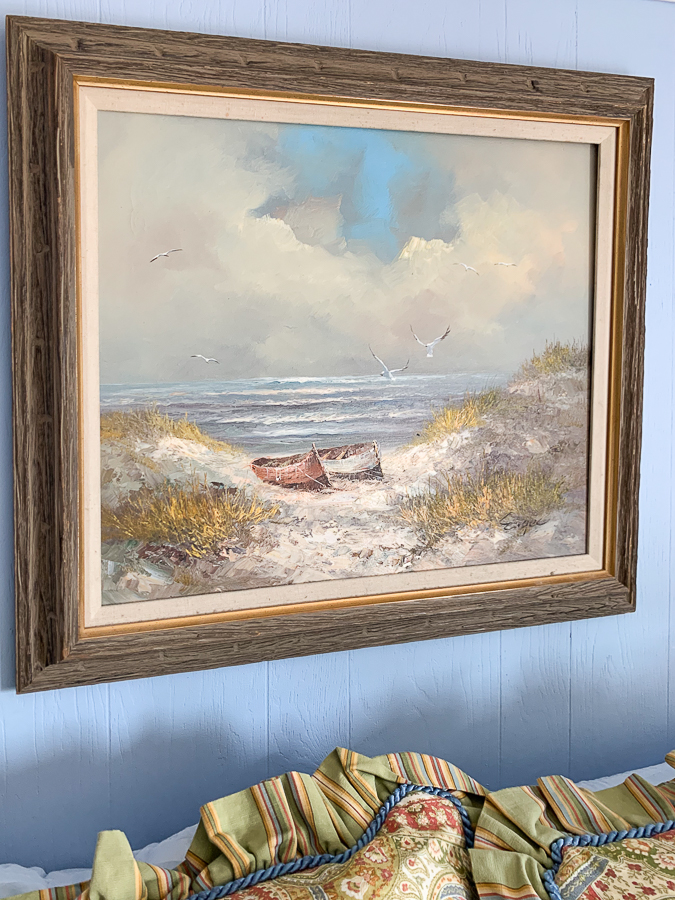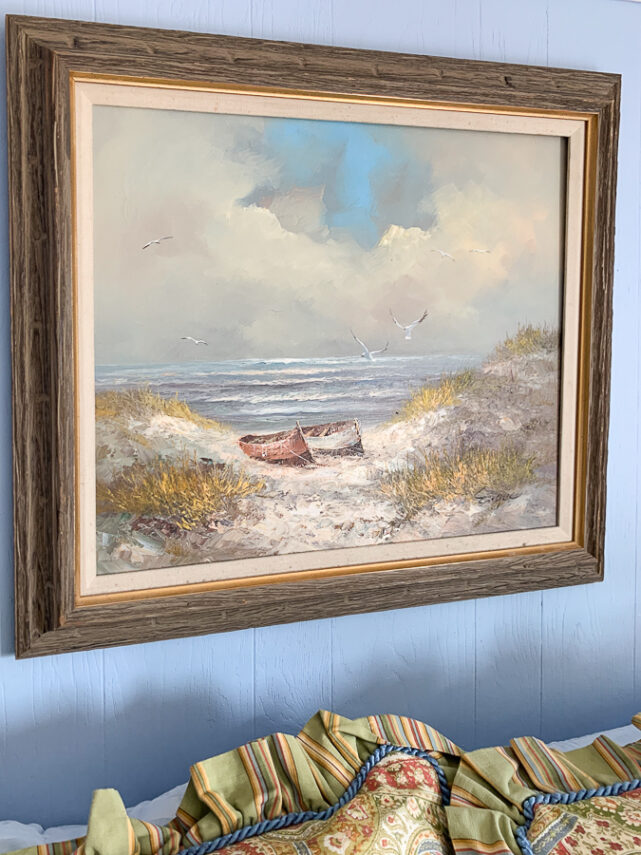 You know that I adore collecting vintage oils. You can see my collection here in this post for our gallery wall.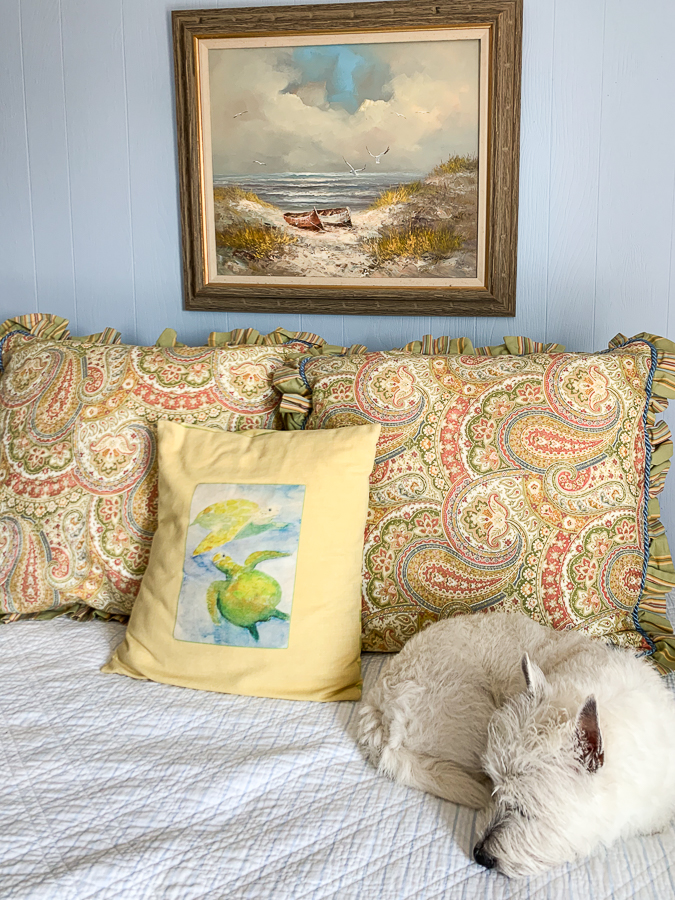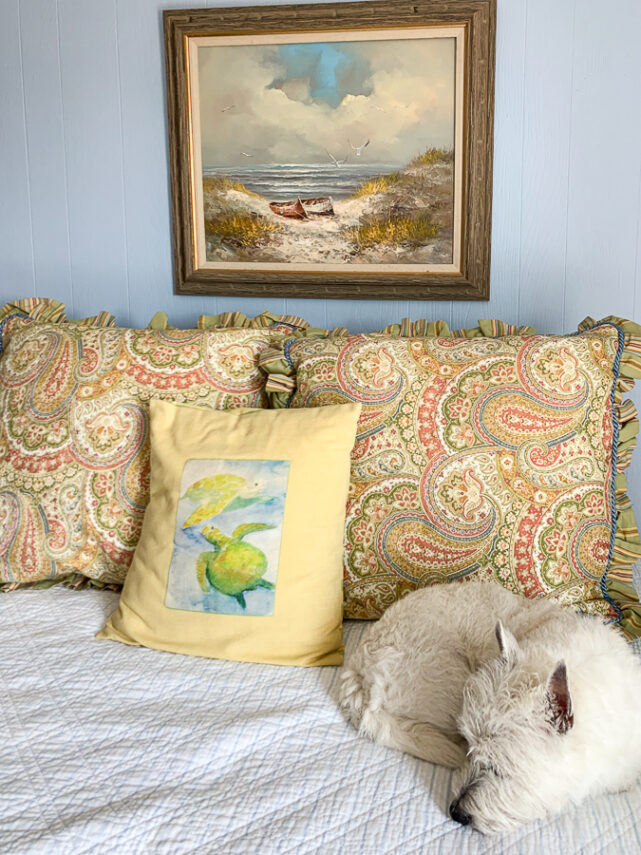 Here is a quick cell photo of the art in our beach bedroom. We literally just got back from the beach when I took it. Bentley had just been rinsed off and already taking a nap. The beach wipes him out!
The art was priced at $50. There was a larger piece in a similar style by the same artist and was priced at $45. I asked why the smaller one was more than the larger one. She didn't know and gave it to me for $35. Always ask if you question a price like this in thrift stores. They will usually work with you!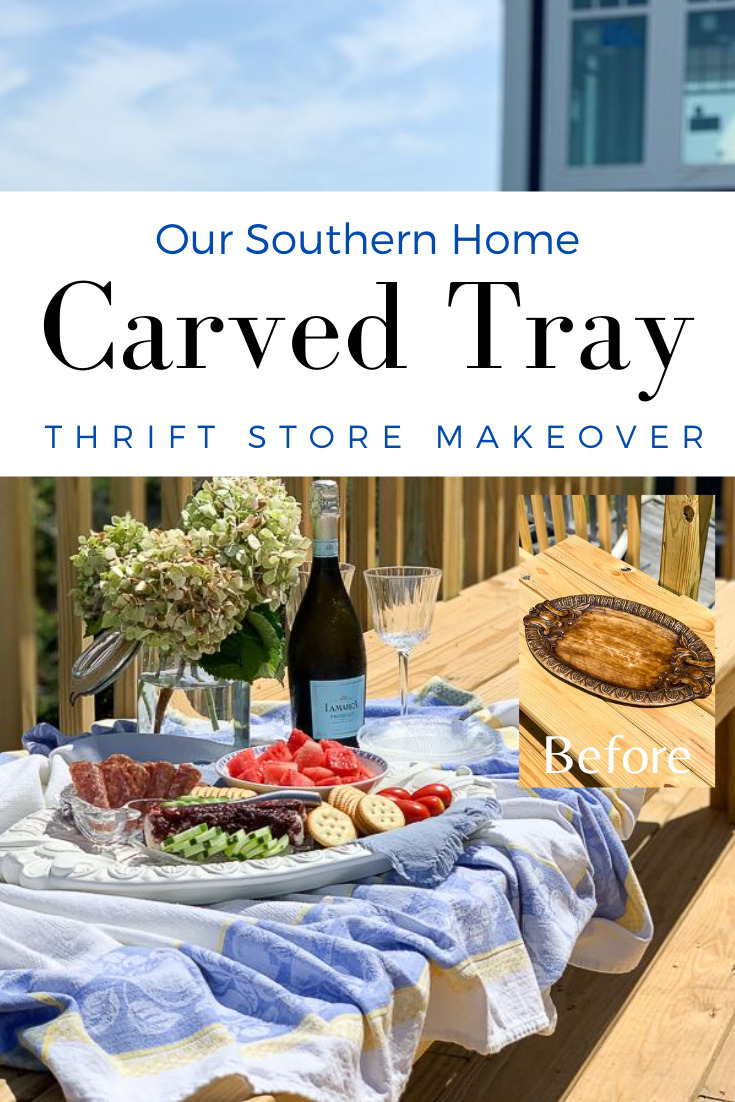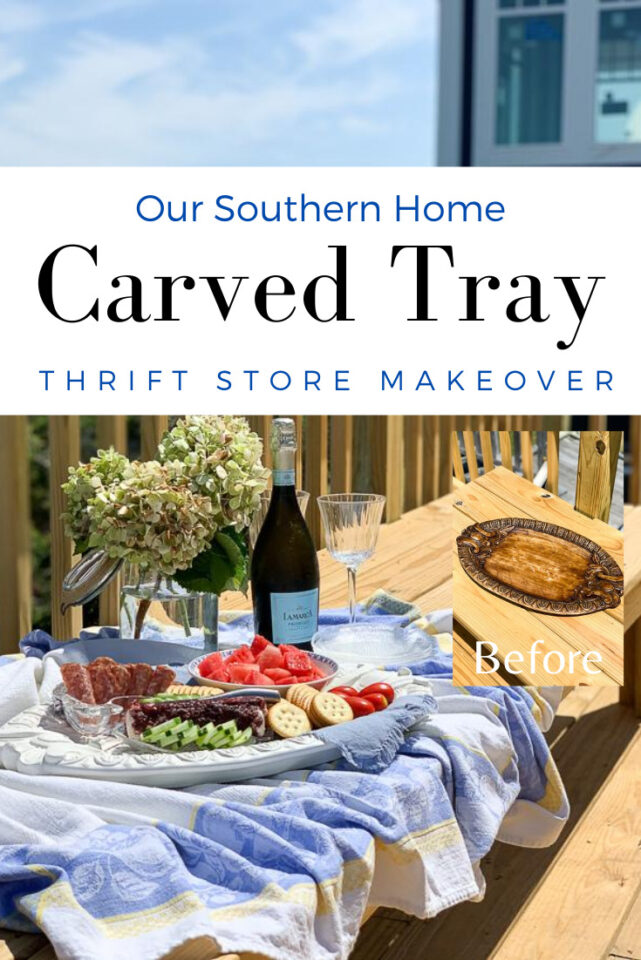 Check out the other creative makeovers from the Thrift Store Makeover team!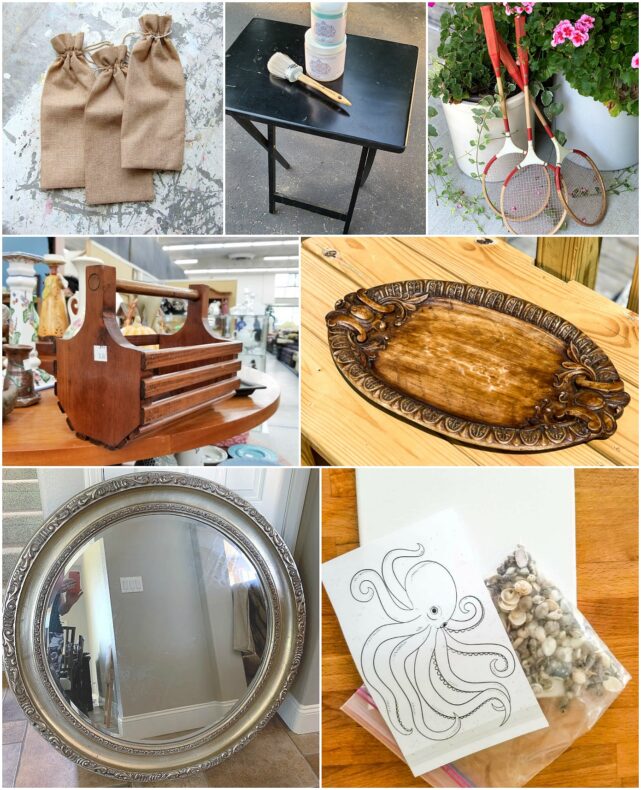 Upcycling a Clam Hod as a Pumpkin Basket
Mirror Makeover Using Chalky Paint
Buffer