Casually Elegant Fall Mantel
I absolutely adore fall…..the colors, the scents, the coziness, boots and scarves. Soon the crock pot will be more the norm than the grill.
The mantel in the family room is one of my favorite spots to seasonally decorate. This year I've gone for casual elegance.
Today along with other bHome App members, I'm sharing a touch of fall in our home. Are you familiar with the bHome App? It's a fun and simple way to follow your favorite blogs. You can view their newest posts as well as social media all in one convenient place.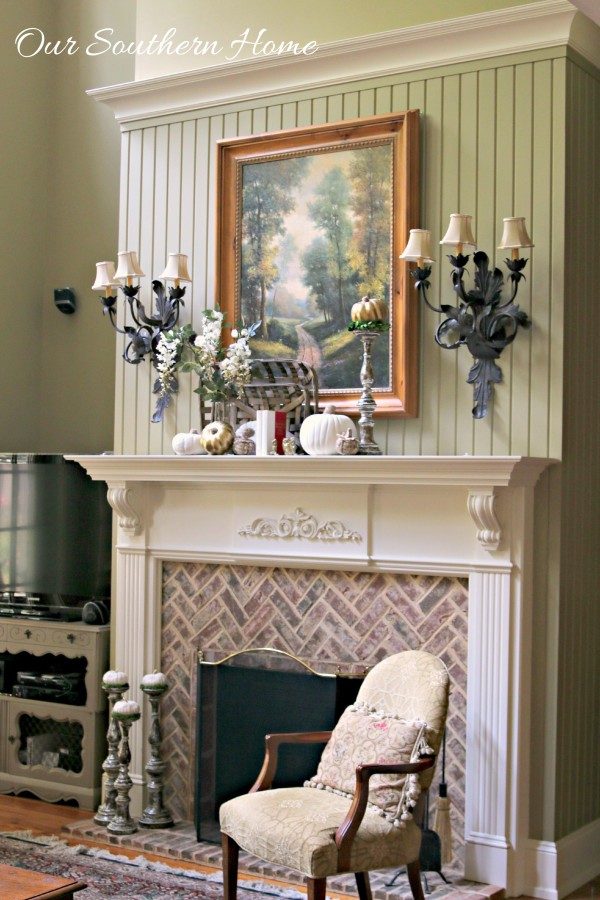 This year I decided to go with a rather neutral mantel and let the oil above be the centerpiece of color and pattern.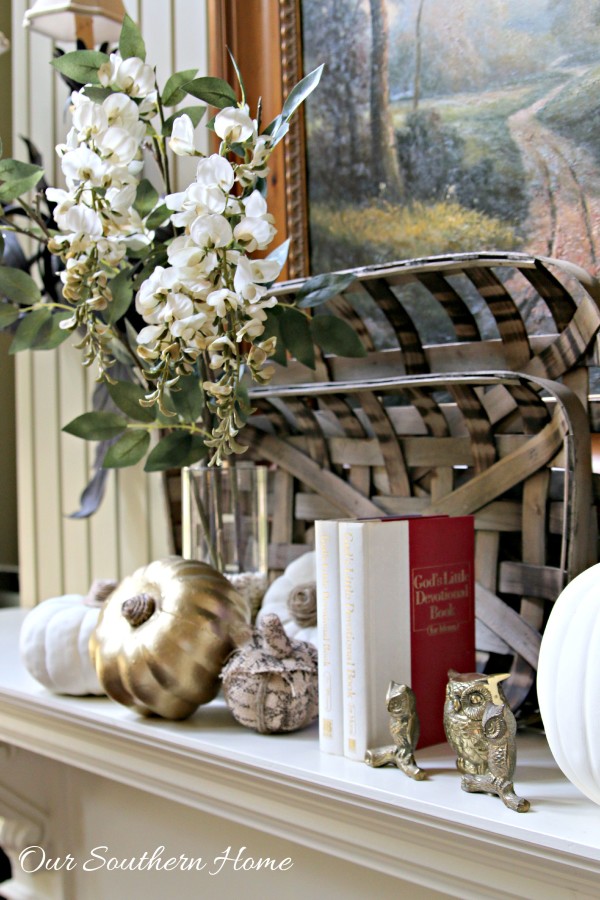 I added 3 faux stems to a glass cylinder. I had hoped to use dried hydrangeas, but mine just didn't produce as well this year. I anchored them in the glass with dried white northern beans for stability.
Tucked behind them is my set of tobacco baskets from Décor Steals. They are perfect for adding extra layers to the mantel.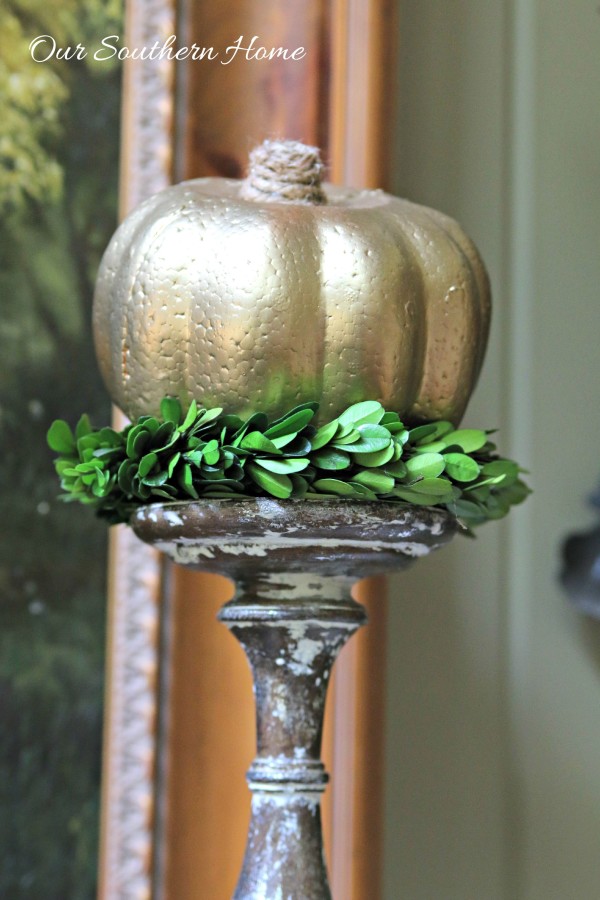 I actually left the large candleholder in the same place. I added a small boxwood wreath from décor Steals as well and placed a gold spray painted pumpkin atop. The pumpkins were found at the Dollar Tree. A little spray paint with twine wrapped around the stem and you have an inexpensive touch of bling added to the otherwise neutral mantel.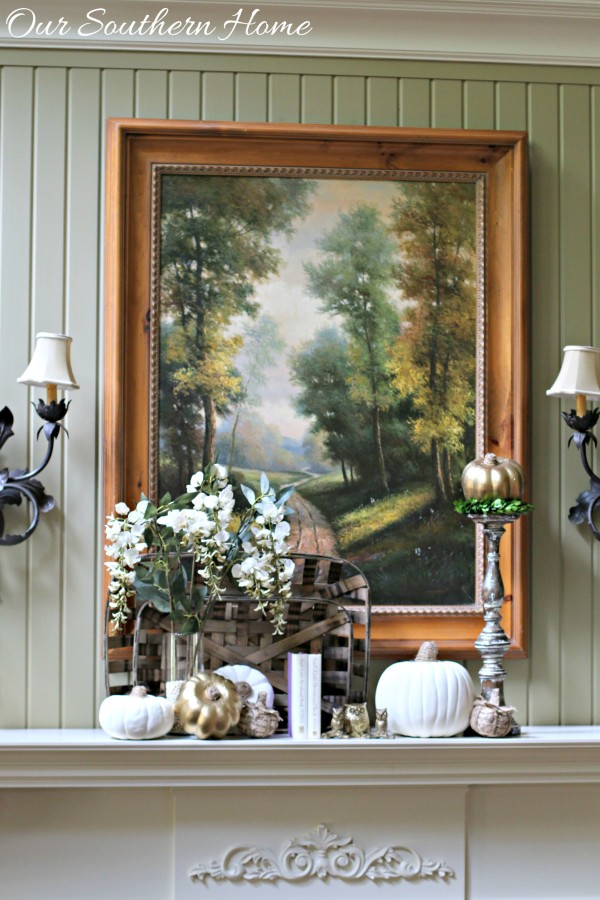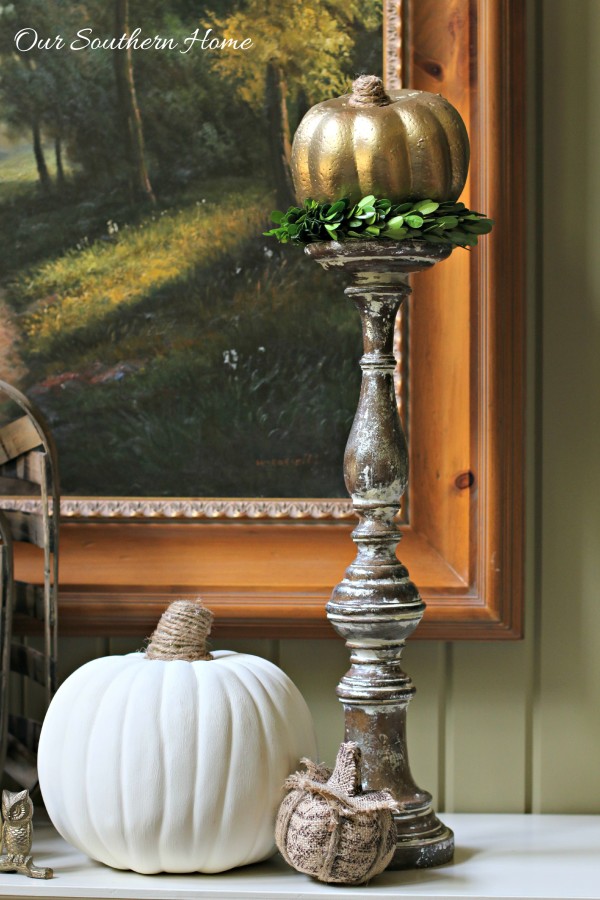 The larger pumpkins were from Walmart last year. Just chalk paint them and again hot glue a little twine around the stem. I have quite a few of these faux pumpkins. Some are quite old and have faded. I've been painting them as well to give new life.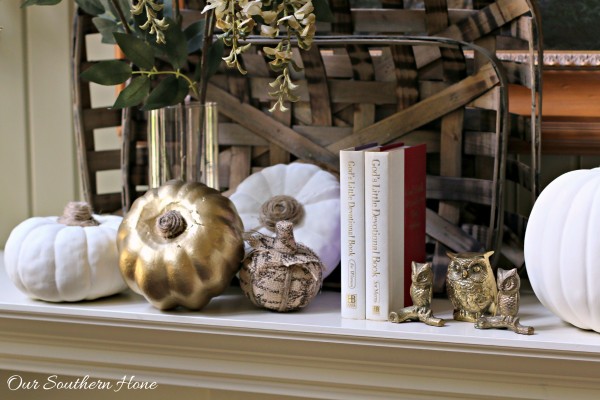 The sweet trio of brass owls belonged to my mother-in-law. I have several of her owls. She loved owls and had quite the collection. Now they are so hot! Such a treasure to use them in our home….a way to remember.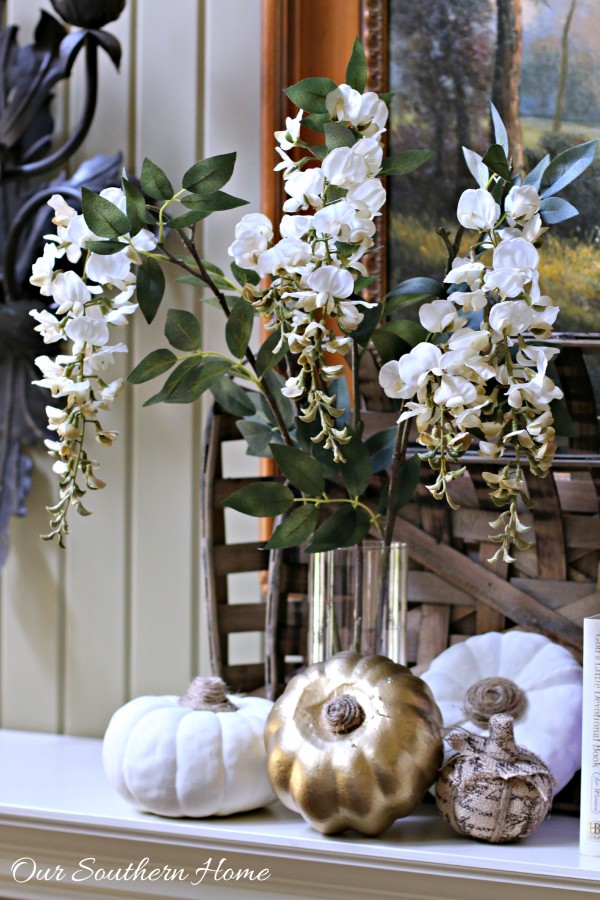 The sweet little printed burlap pumpkins were from Hobby Lobby last year.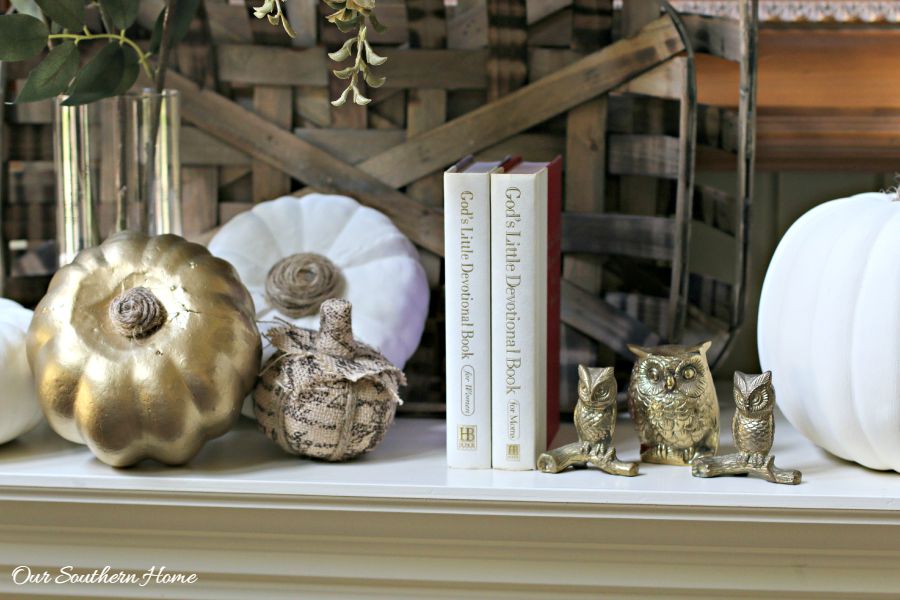 A couple of small books complete the look. I removed the covers so they would blend more seamlessly with the mantel.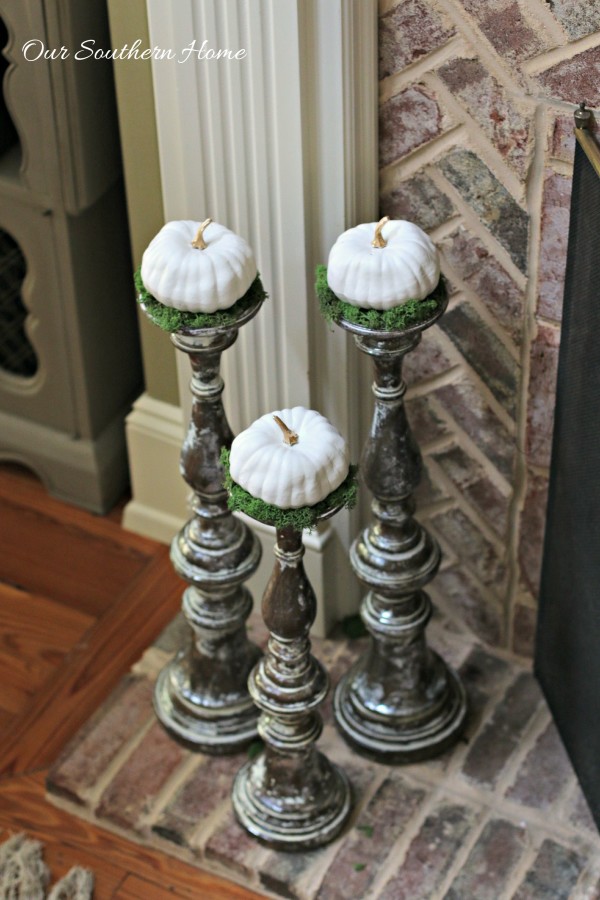 Candlesticks don't have to be just for candles. With moss, they make a great little base for little baby pumpkins….again from Dollar Tree. Spray paint them with antique white and paint the stems gold and you've got a quick and elegant look.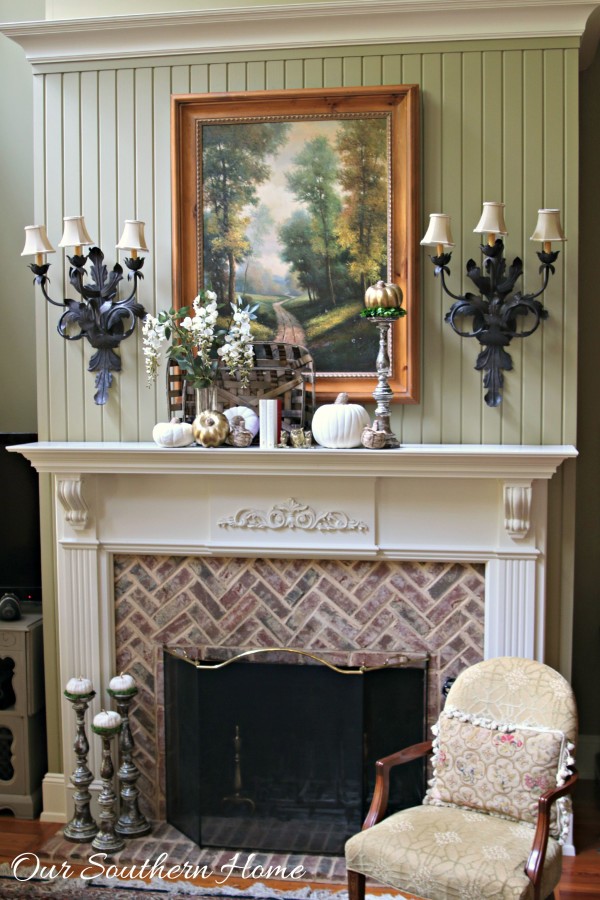 Now if it would hurry and get fireplace weather…..then my fall would be complete!
Tomorrow I'm be sharing links to all of the bHome App members with fall inspiration for your home!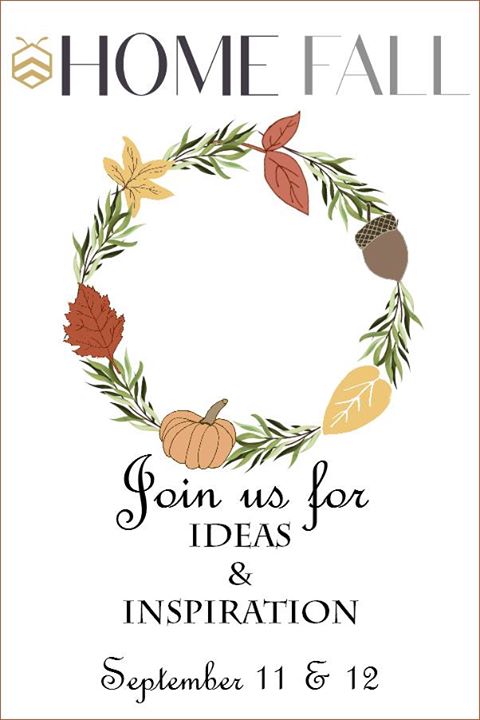 bHome is pleased and honored to have
Decor Steals
sponsor this event. We will be giving away five (5) coupon codes each good for $100 at
Decor Steals
. There will be 5 winners! Winners will be contacted on or about 9/19. Must be a resident of the lower U.S. 48.
How to enter
: Download bHome at
www.bHome.us
and favorite Decor Steals – to do this TAP their star. Once favorited you will receive a message with the link to enter. One TAP of that link and you are entered! If Decor Steals is already a favorite of yours on bHome just look out for the message and TAP to enter. Good luck!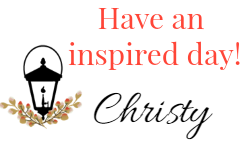 Buffer