Chalk Painted Tray Basket
I had a great post for you today…basket story and all.
But…..my computer, WordPress or the internet ate it. Yes, great tears were shed. Ugly mascara running down my face.
My post was finished, but I had to go in and add a couple of things. It just vanished before my eyes.
So for now, it will just have to be the nitty gritty….however you spell it. It's way past my bedtime……I mean way past!
I've dried my tears and cleaned off my face. Big girl panties are on.
This month's challenge is Decorating with Baskets.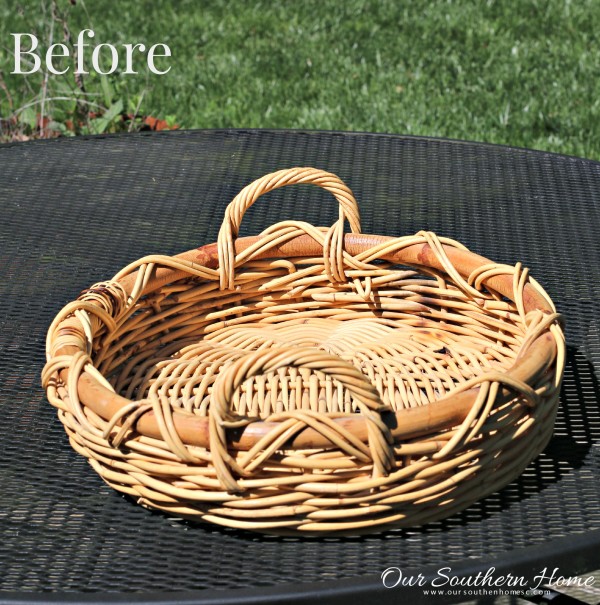 I've had this basket for many years. It was a fixture during my early 90s country decor….I'm not taking French Country.
It has sat on the counter of the laundry room holding doo dads and such. It was just too light in color to go with my decor. So glad it never found its way into the donation box. It's a great shape and sturdy.
When we decided on a basket theme, I knew I needed to use this.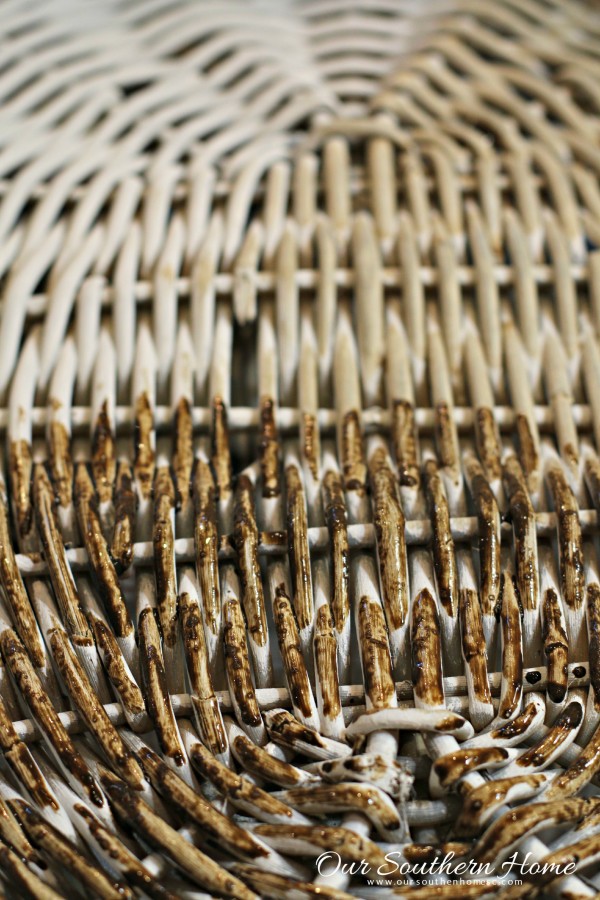 Here is what I did:
I spray painted the basket with a gray primer. I wanted gray peeking through so spray paint was easy for the first coat.
Then I dry brushed Annie Sloan Chalk Paint in Pure White. Dry brushing allows a little gray to show through.
I then used a foam brush to apply a dark brown glaze in small sections at a time.
After brushing on the glaze, I wiped it off paper towels.
After that dried, I applied a coat of matte finish spray poly.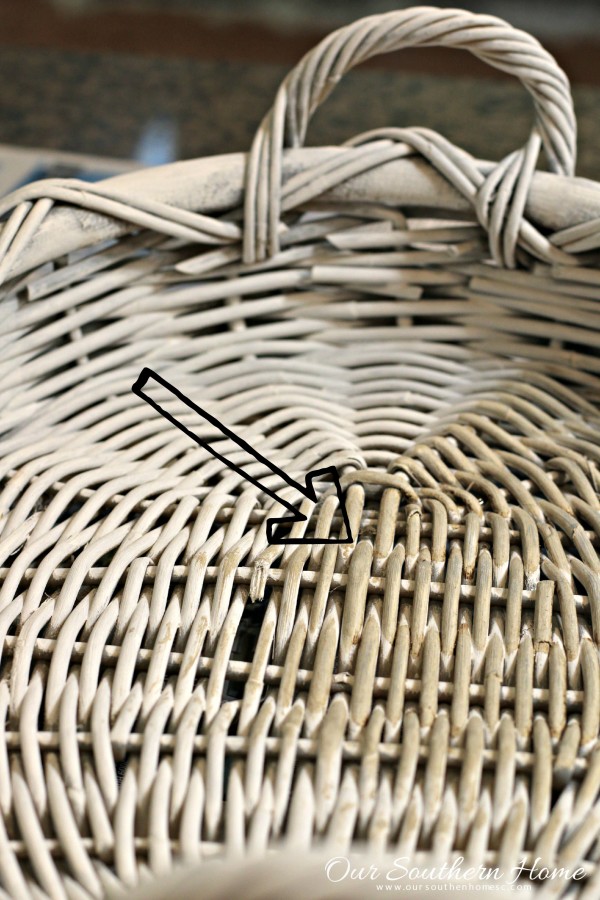 The arrow is pointing to the part that has been glazed. See the difference?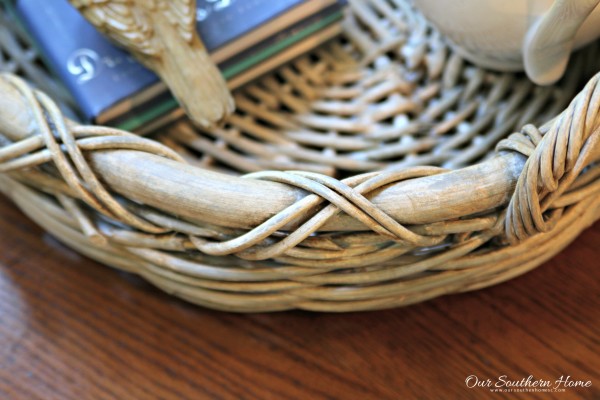 It now has a nice, weathered finish making it perfect for the family room coffee table.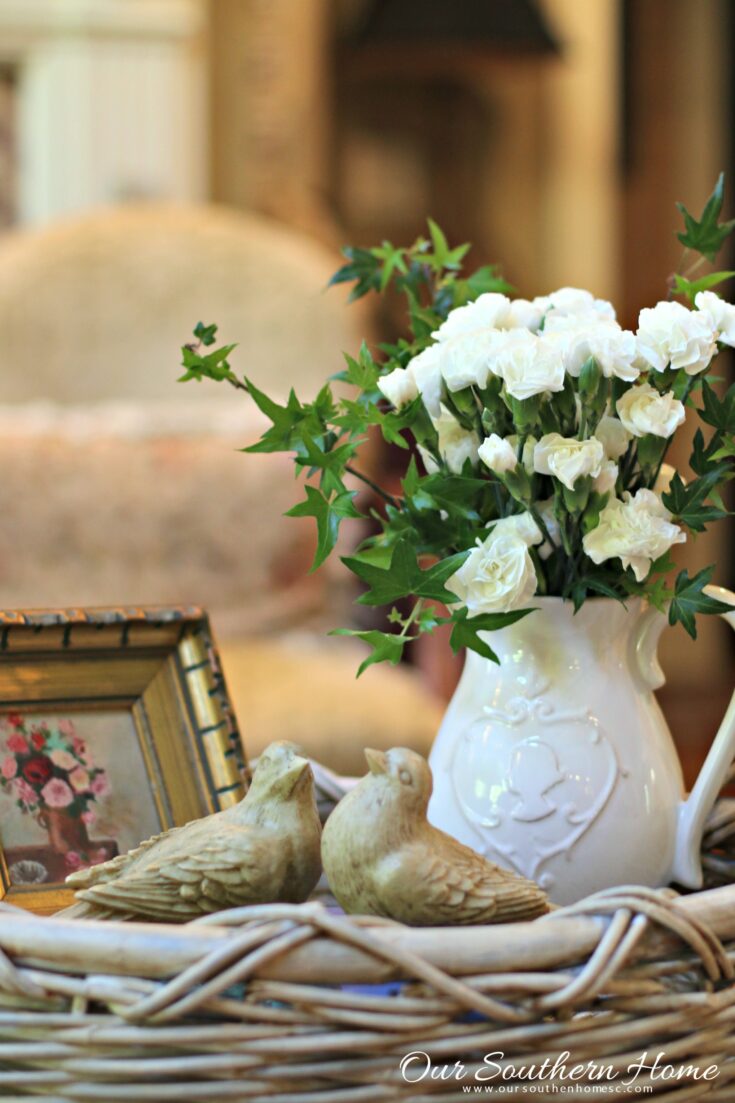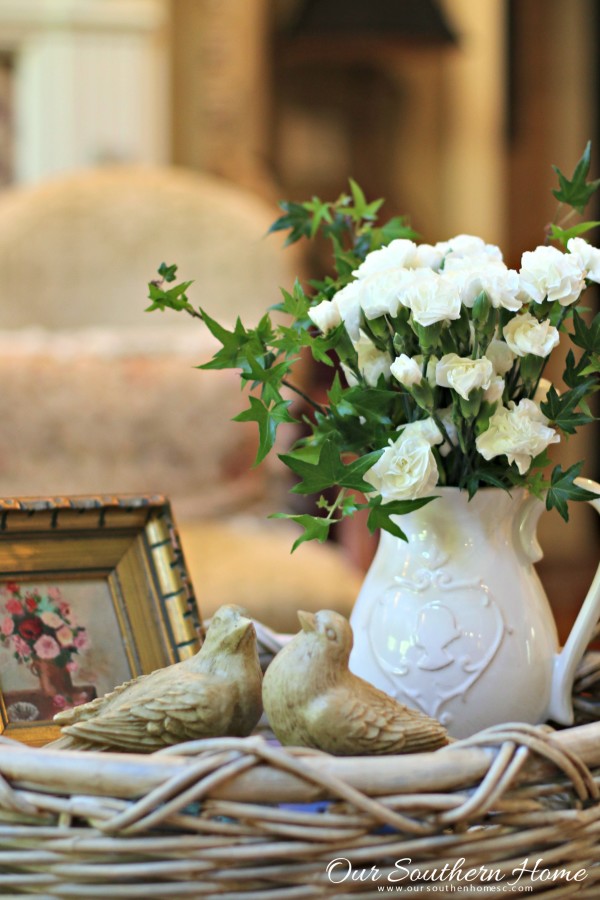 I simply styled it with a white pitcher from a clearance shelf from Home Goods last year, vintage oil from eBay, 2 books and my birds.
You know I love using carnations from the grocery. They are so inexpensive and last forever. I did cut a few springs from the ivy in a pot on the patio.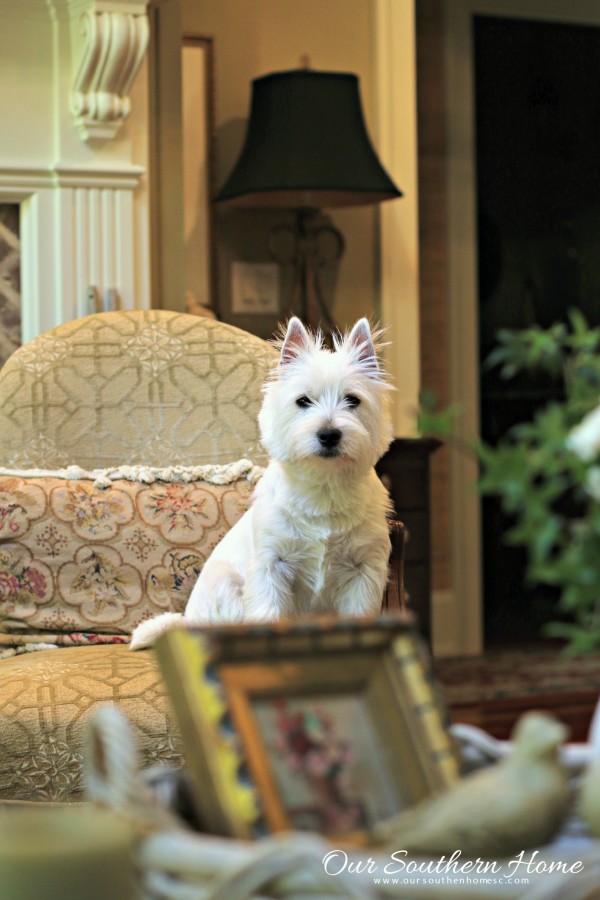 Lighting wasn't my challenge today….it was Bentley. He wanted to play. I get him out of the chair and he'd jump right back. Finally had to throw a tennis ball out of the room for him to chase so I could get a shot……but he's a cutie.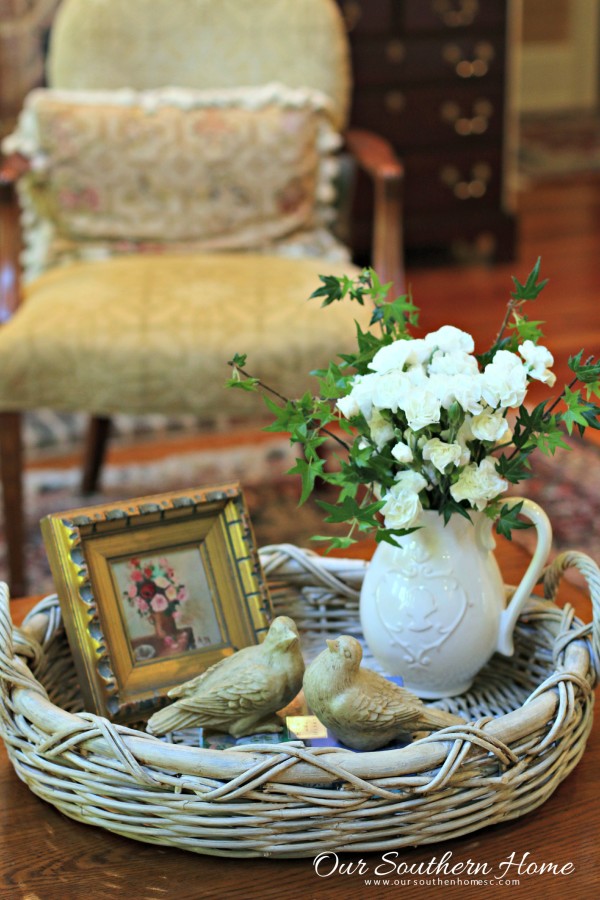 The tray lightens up the space visually and adds texture.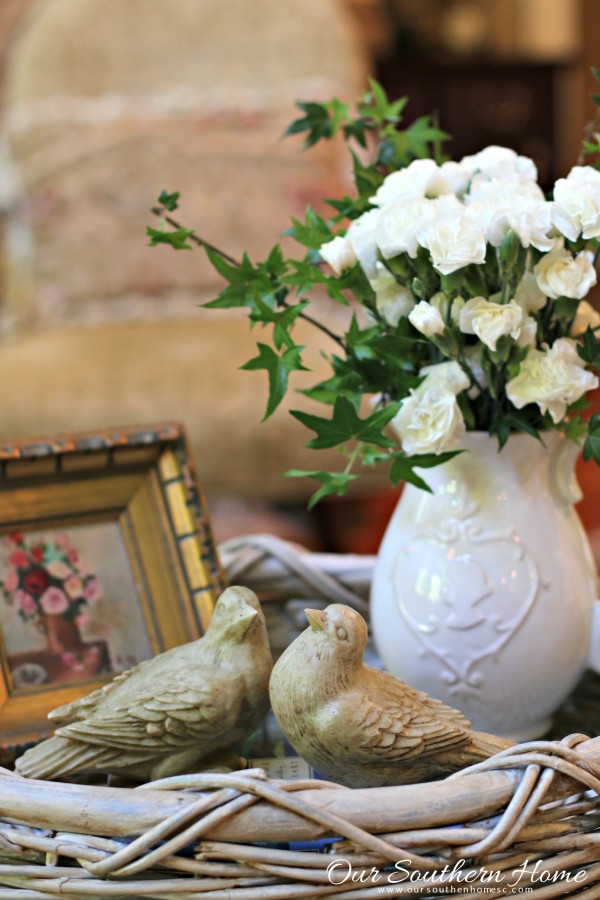 I'm definitely going to enjoy adding this tray to my decorating rotation.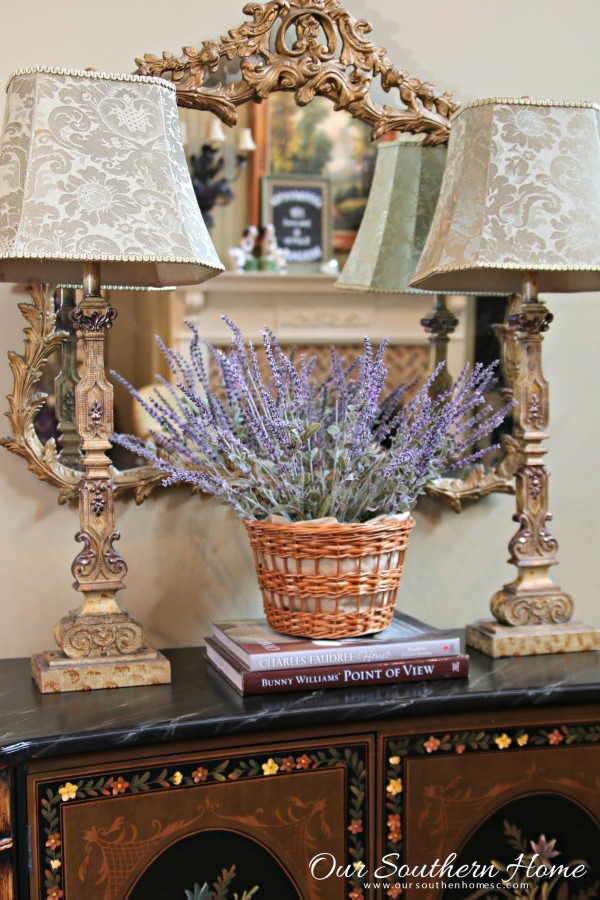 Last month I used a basket in the One Space, Three Ways Challenge.
Do you have a basket you'd like to makeover or basket decorating ideas you'd like to share? Be sure to join the Facebook group. Information is below.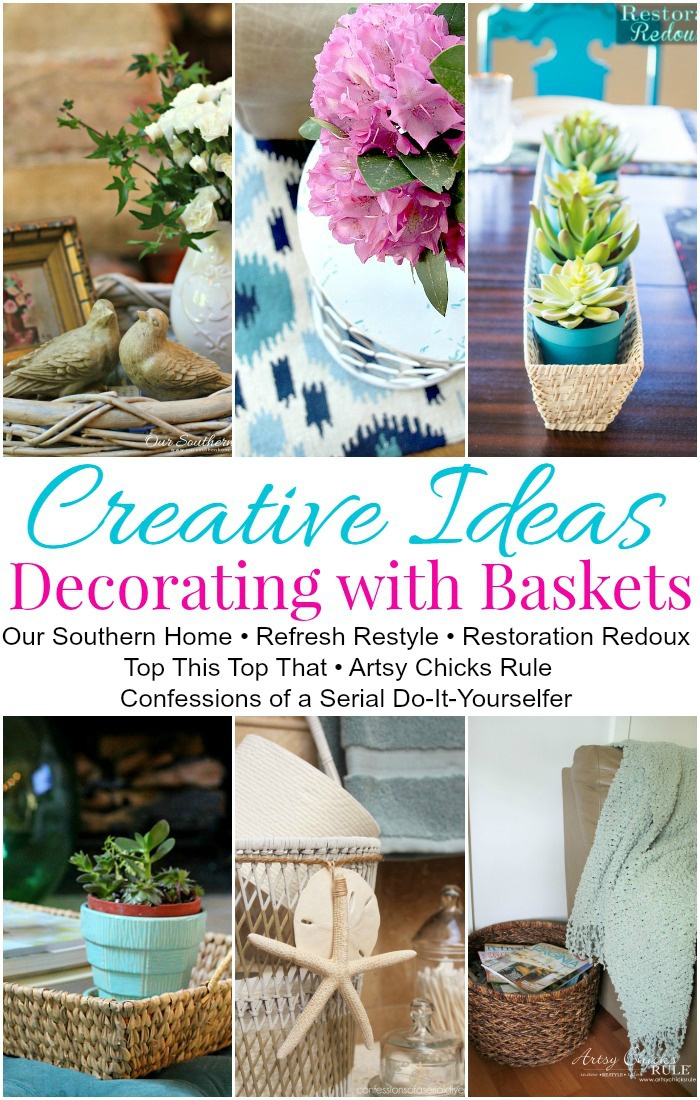 Be sure to visit these fabulous ladies below and see what they did for our basket challenge!!
Our Southern Home • Restoration Redoux • Confessions of a Serial Do-It-Yourselfer •
Artsy Chicks Rule • Refresh Restyle • Top This Top That

Are you ready to participate with us? You can!!! We wanted to give you a chance to share your amazing decorating tips and projects and to ask questions and advice, so we have created a forum specifically to do that on Facebook. Visit the Decorating Enthusiasts page HERE to begin chiming in and sharing what you have done.
Here is the challenge for May. Hope you will join us!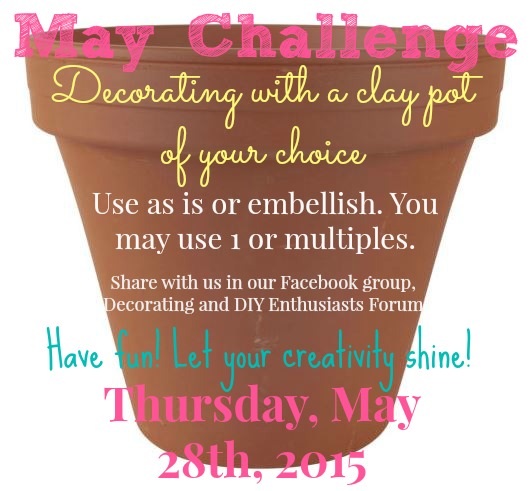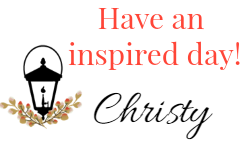 Buffer