March has certainly become the spring that we will always remember…….the coronavirus outbreak. I hope and pray that everyone is well and taking precautions.
It's definitely times that I've never encountered in my lifetime. We had the fear and sadness during 9/11, but this is so different.
My kids are in college. As of now classes are not resuming until April 5th at Clemson. We expect that to change. Furman nearby has already resorted to online learning for the remainder of the semester. I expect Clemson will end up having to do the same.
It's during these uncertain times that we are all becoming homebodies. We are already homebodies, but not forced. We are spending more time as a family homekeeping together. Lots of spring cleaning is going on as well as projects around the house. With the weather starting to warm up, we will start moving outside to weed and work on our flower beds.
I'm pretty excited about the spring tour this week organized by Marty from A Stroll Thru Life. I am going to really use it to get ideas for our home. While I won't be out and about much at all, I can certainly get ideas for using things that I own to get a new look with inspiration from the talented group this week.
If you are visiting from Yvonne over at Stone Gable, welcome! Yvonne is such a talented blogger, and I always leave with wanting to redo our entire home.
Be sure to follow all the way through the end of today's post for all the links for the tour. I promise…..you won't want to miss a single day!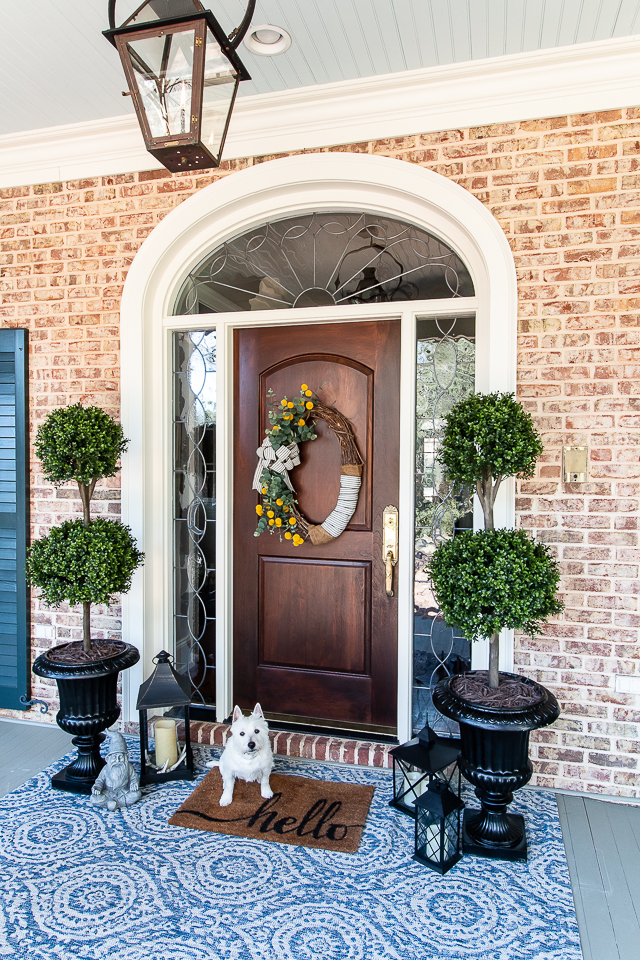 Outdoor Rug || Faux Topiaries || Similar Mat || Similar Lantern
Bentley welcomes you to our home! I've updated our porch rug with my favorite color of the moment, blue. I've gone a bit oversized here, and I'm loving it. I got the faux topiaries for Mother's Day last year, and they are still amazing. They have been one of the most asked about items on the blog and social media. I'm so glad I took a chance on them. They are fuss free and have held up beautifully on our covered porch.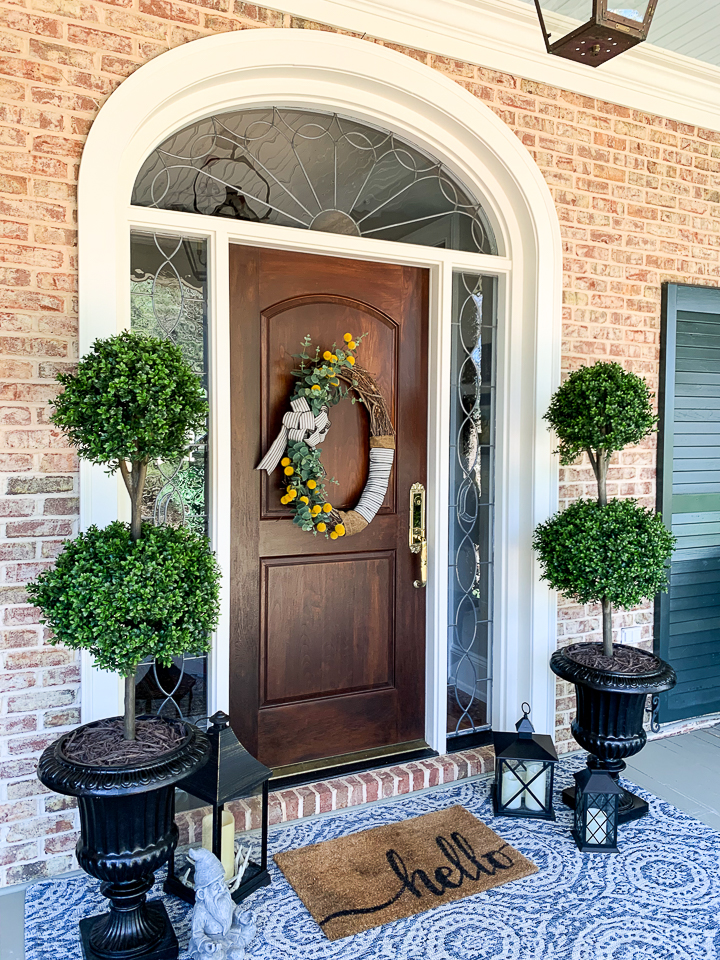 After the pollen moves out and we do a big clean out here, I'll be adding more blue touches with pillows to the rockers.
Here is the post on how I "planted" the topiaries into my existing urns.
Read all about the new porch rug here.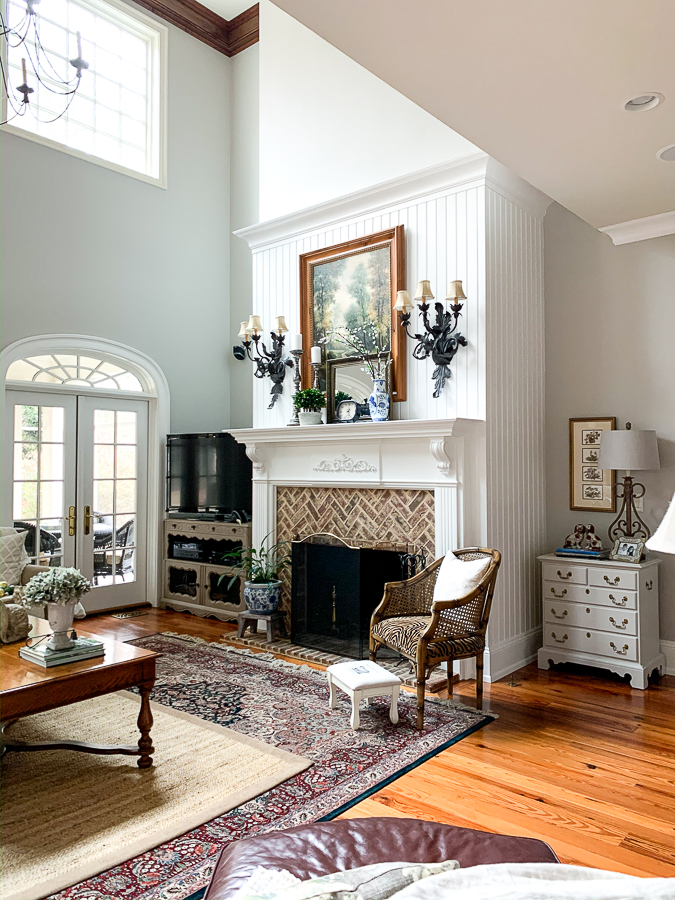 I love our family room so much since we painted it Agreeable Gray a couple of years ago. It's amazing what paint can do to a space. It's so light and airy now. I've mentioned many times that I'd love a new rug in this room, but it's one of those things that my hubby just won't agree with me on. This rug was an investment piece that we purchased about 25 years ago. It's hand-knotted wool and silk. It honestly looks brand new to this day. It's survived pets and kids and a family that never removes their shoes in the house.
I had this rug upstairs on the landing. I decided to drag it down to try a layered look in here to lighten it a bit. If I like it, I may end up buying something similar in a larger size for the space. I am really liking it for spring and summer! I think it might be a win win for our disagreement here. I can roll down an inexpensive rug on top for spring and summer. Then go back to the darker look for fall and winter. What do you think?
I've looked and looked. Everything online about layered rugs features a solid rug on the bottom with the patterned rug on top. I'm going wild and crazy and doing the opposite.
Remember…..it's all about what make you happy in your home.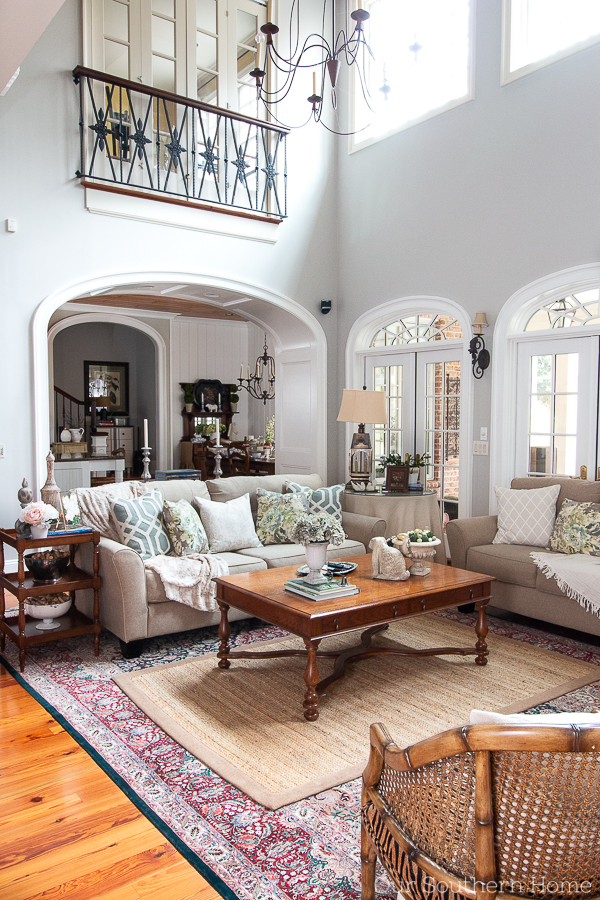 I'm totally liking the layered look with it.
Do you notice the little surprise in the kitchen? I finally painted the pickled green tongue and groove white. I love it! I've just go to decide on the art to hang on the walls, but I'm not going to rush it.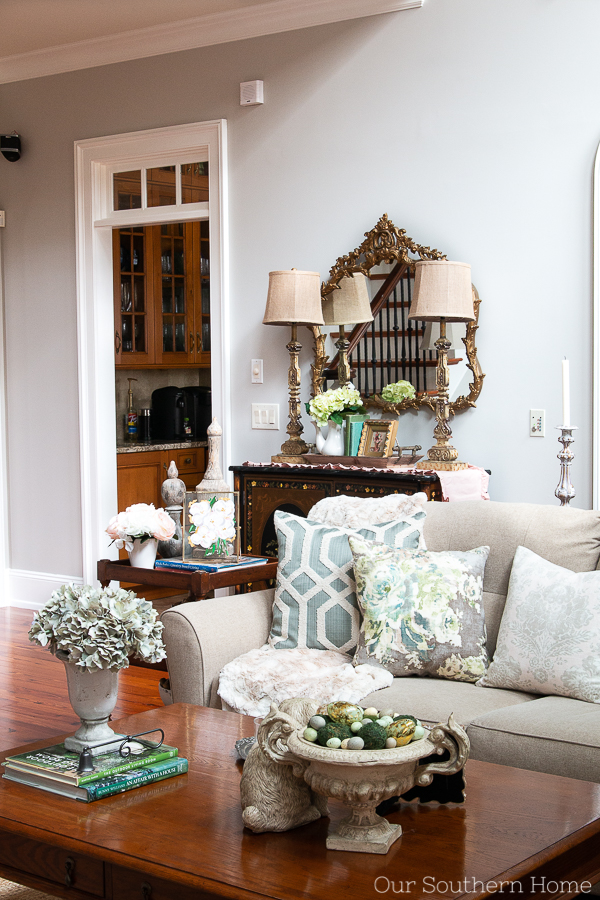 Floral Pillow || Green Geometric and Damask Pillows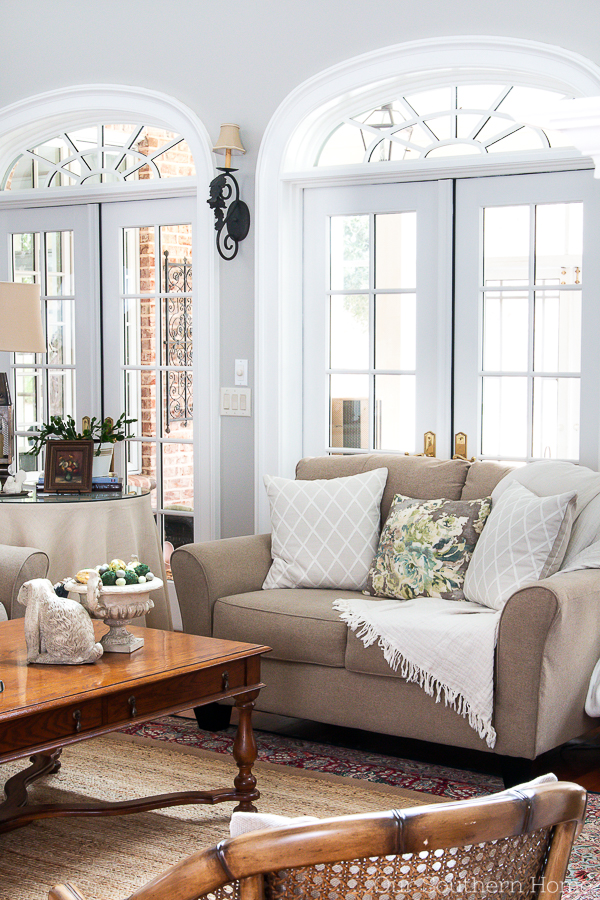 Neutral Rug || Floral Pillow || Geometric Pillows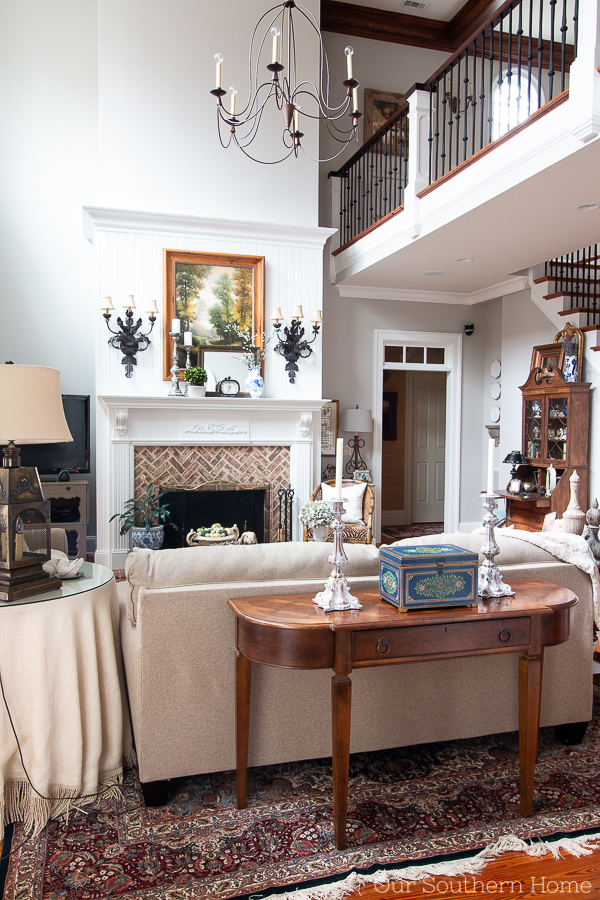 You'll notice that I'm starting to add more blue decor to our home.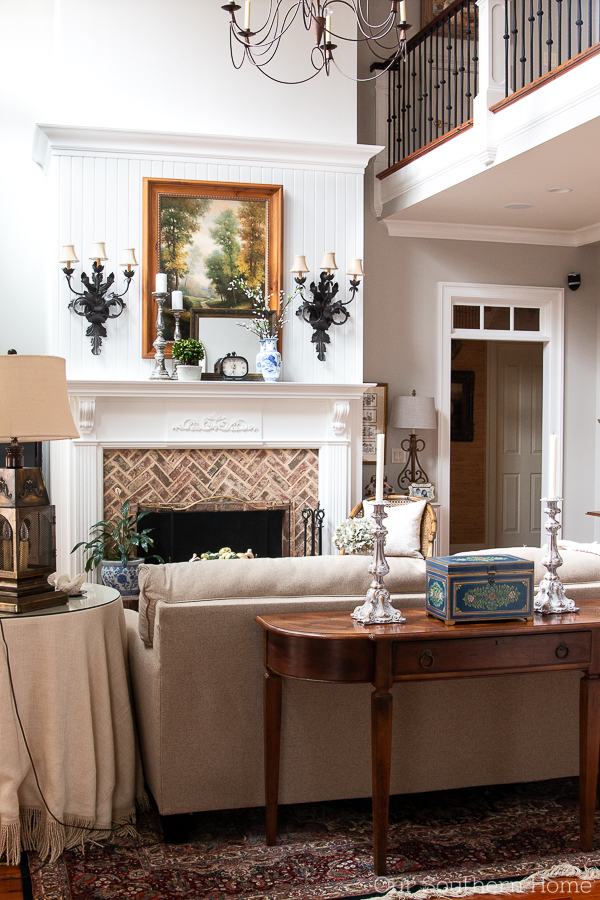 You can see all of the details and more up close of the mantel in this recent post.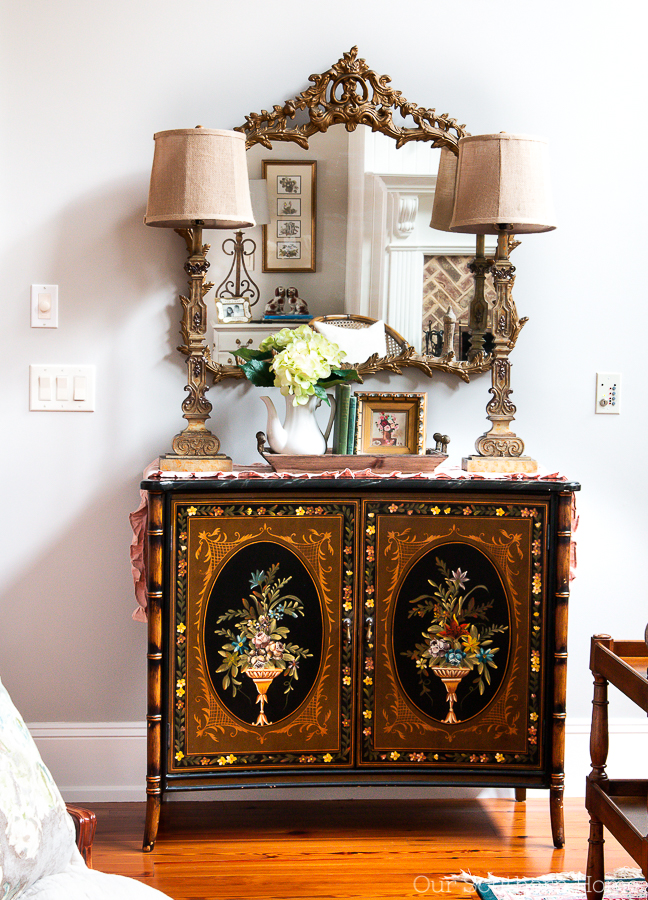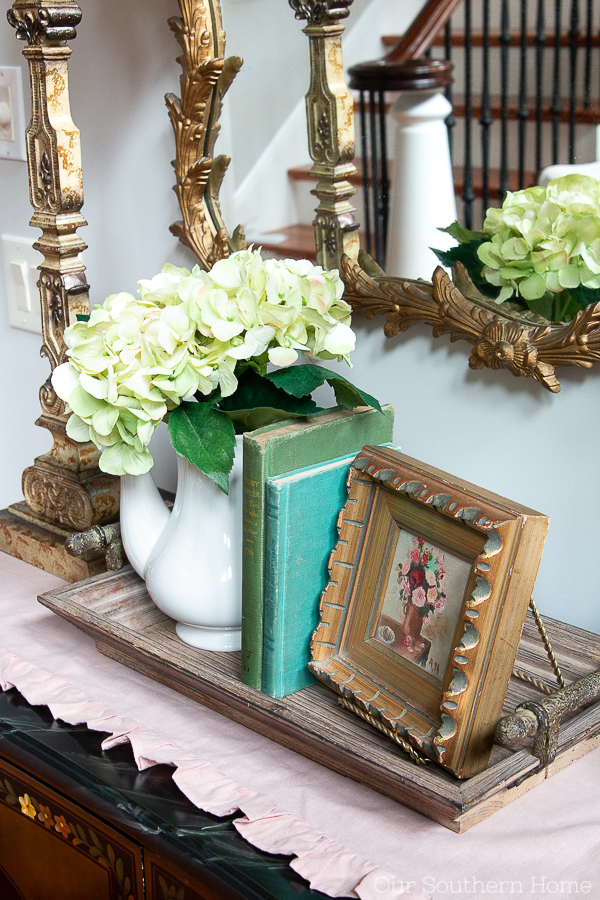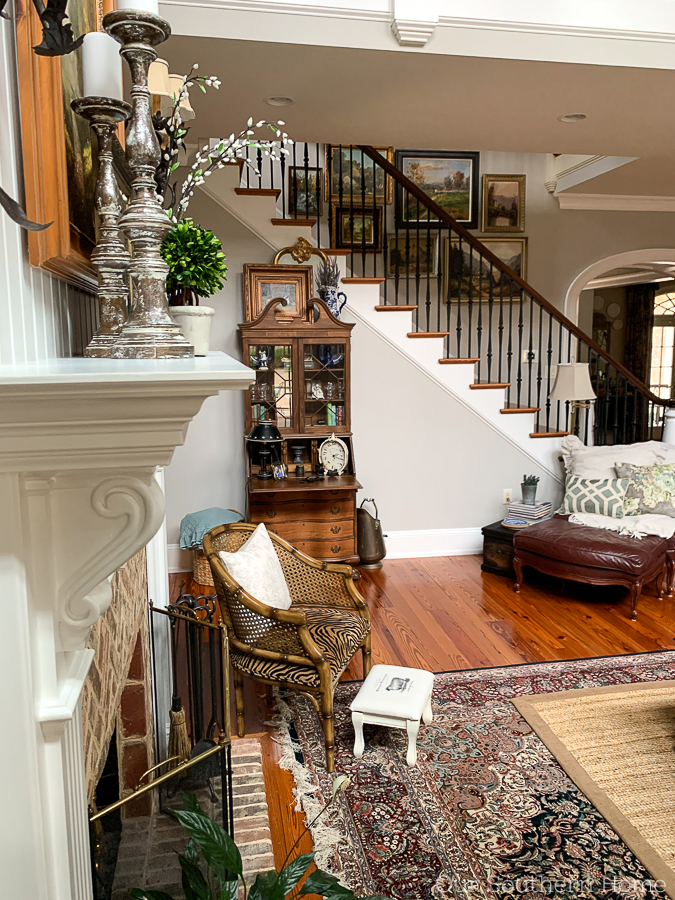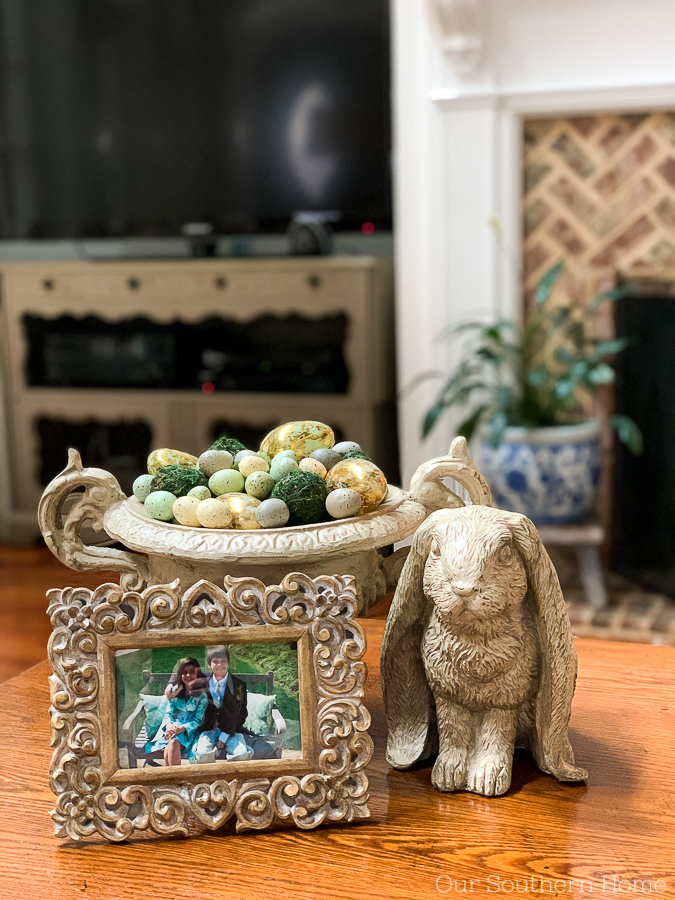 Just a sprinkling of Easter here and there.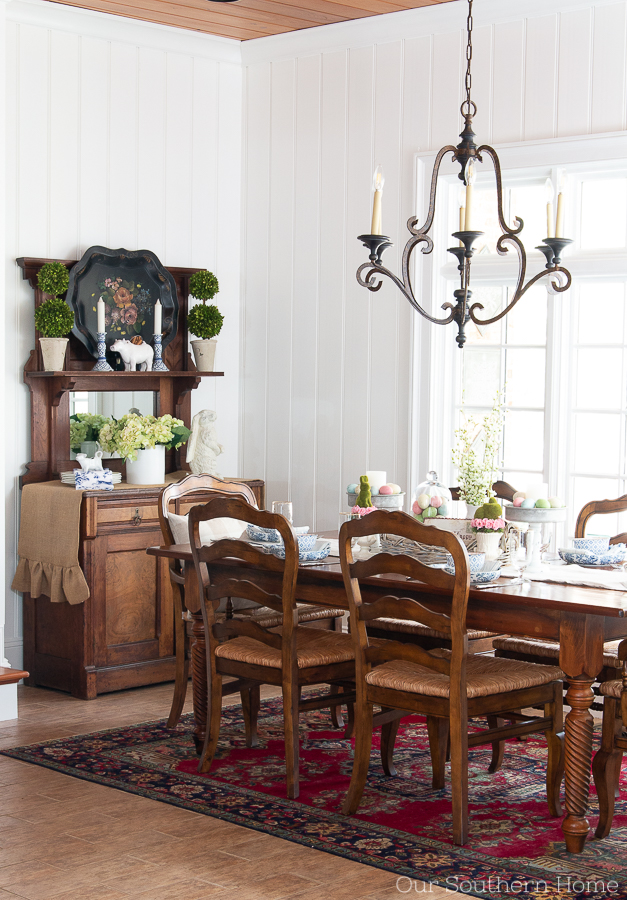 Light and airy in the kitchen now! I've still got to finish decorating the walls and possibly some window treatments for the windows.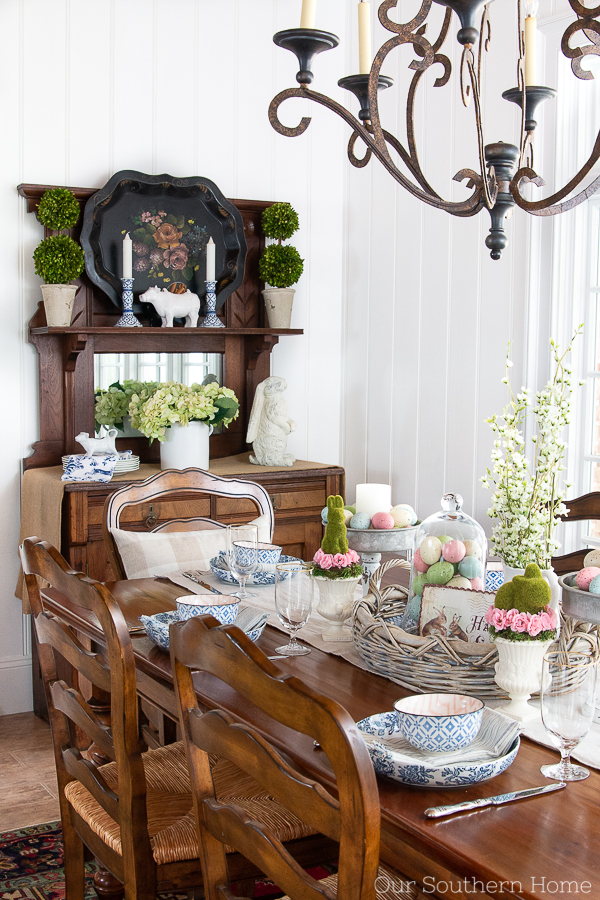 I'll be sharing more about the breakfast room next week with all the details on this tablescape.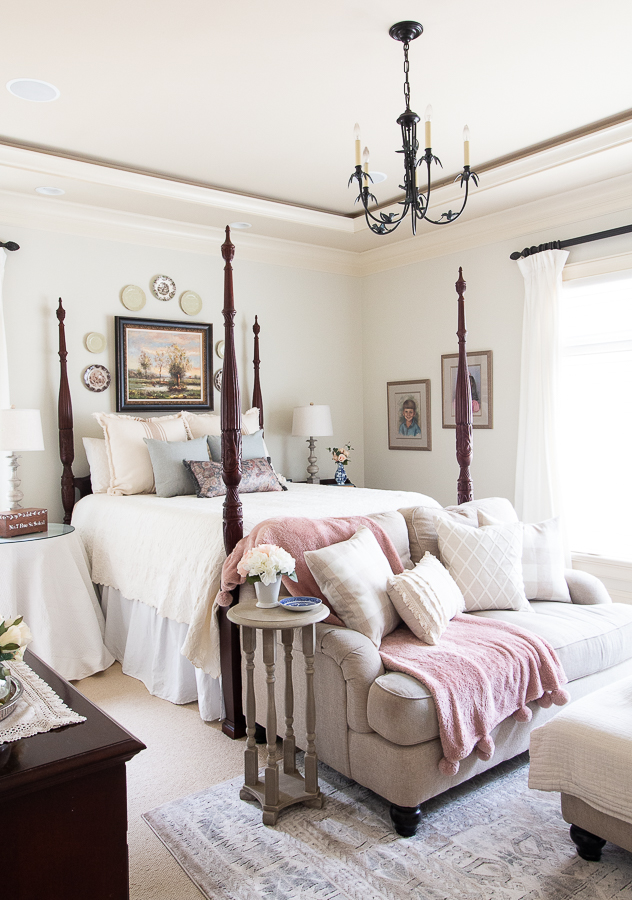 Our master bedroom even got some new spring touches this year.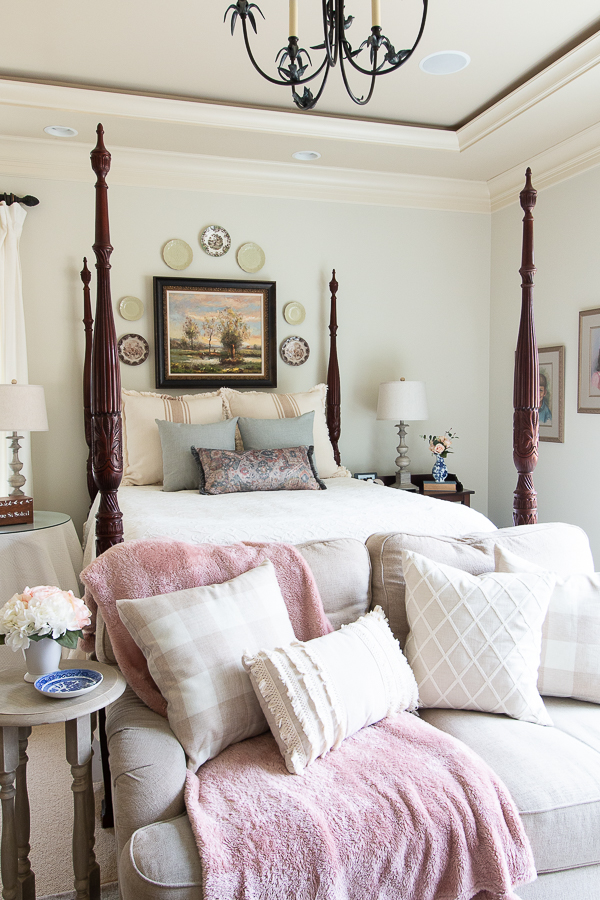 You can see more of our spring bedroom HERE.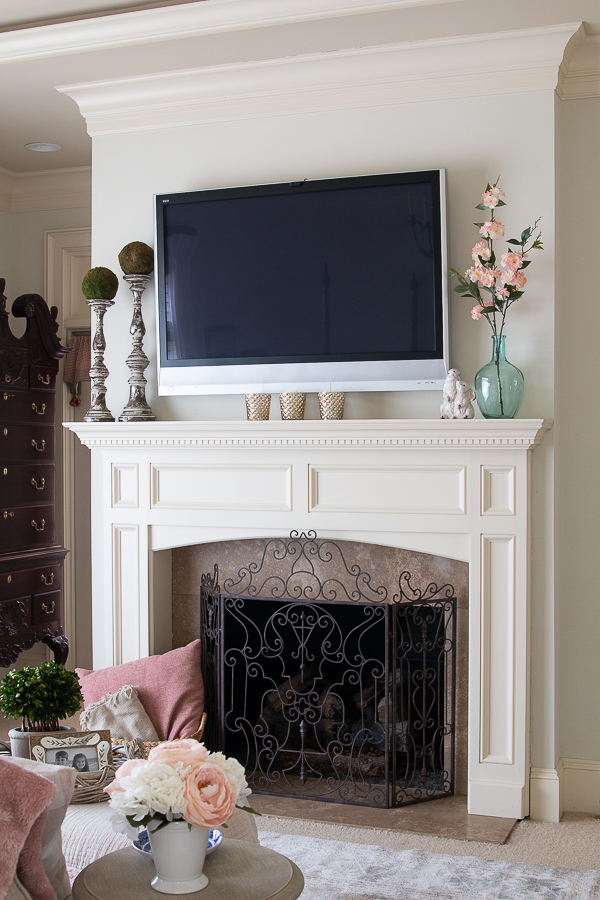 This is the mantel in our master bedroom. This look can easily carry us through the summer months.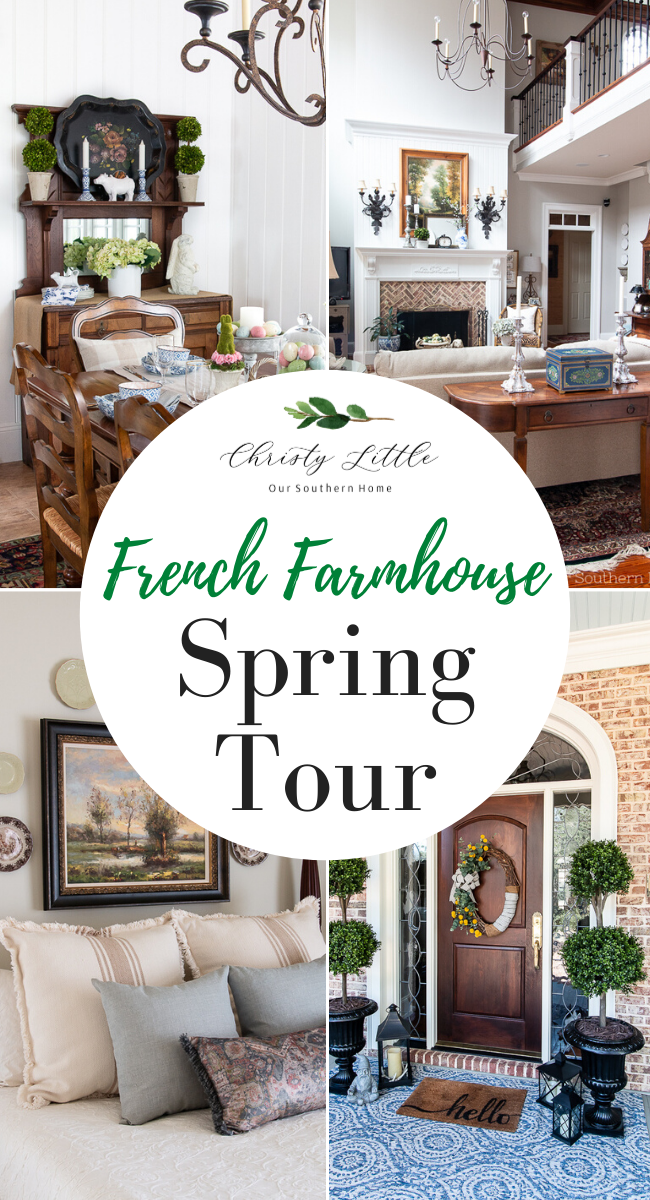 I so appreciate you taking a little time out of your day to visit my spring tour. Stay safe and healthy!
Up next on the tour is My 100 Year Old Home. Leslie's home has been a favorite of mine for sometime now.
Spring Tour Lineup
Monday Lineup
A Stroll Thru Life – Remodelando La Casa – Cuckoo4Design – Far Above Rubies – Southern Hospitality – Duke Manor Farm
Tuesday Lineup
House By Hoff – Pink Peppermint Design – ZDesign At Home – Taryn Whiteaker – Inspiration For Moms – Decor To Adore
Wednesday Lineup
Cassie Bustamante – 11 Magnolia Lane – Hymns &amp Verses – Modern Glam – Thrifty & Chic – Grace In My Space
Thursday Lineup
Our Southern Home – My 100 Year Old Home – Sanctuary Home Decor – Seeking Lavender Lane – Southern State Of Mind – StoneGable –
Friday Lineup
Thistlewood Farms – White Arrows Home – The Woodgrain Cottage – Life On Cedar Lane – Follow The Yellow Brick Home – Making Home Base –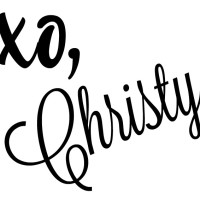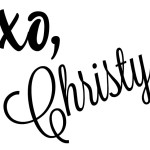 More Spring Decor Ideas
Here are more ideas on the blog for spring decor!
Buffer