Christmas Chalk Art & Playroom Decor
I hope you all had a wonderful weekend. Saturday was another cold and horribly rainy day. Yesterday was beautiful and a nice sunny week is expected….finally! The past 2 weeks have been non-stop clouds and rain. I am working on getting to all of the wonderful comments from the past couple of weeks, but it has been difficult with the weather conditions. We live in the country and all we can get is satellite internet. If it is cloudy and rainy…forget internet access. I've been having to use hubby's work internet and my phone when I can. He's not too happy that it caused us to go over the data plan for the month….of well. 🙂 I love hearing from you and will be replying to each and every one of you this week as I get caught up!
Today I'm sharing with you just a glimpse of the upstairs family/play room. Ashlyn had a friend over so I tried to just take a few shots so they could study for mid-term exams this week. I am so excited for them to be on break as of the 20th.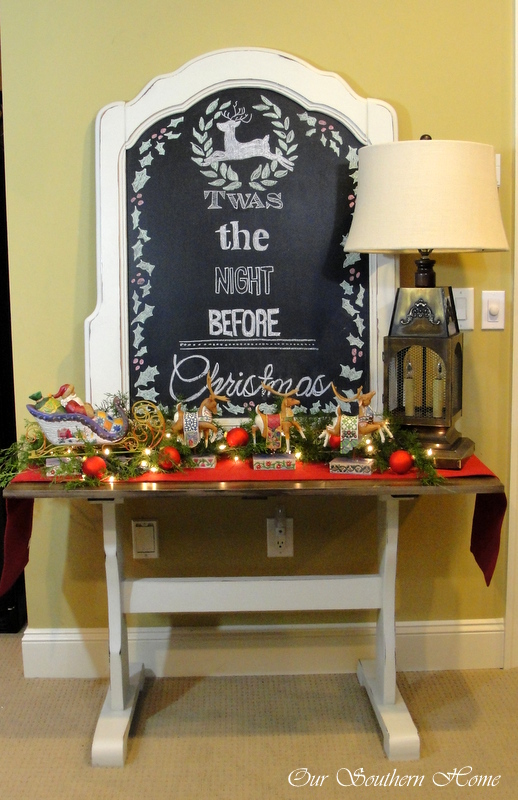 Looking at this, I realize that this a thrift store vignette…with the exception of the Christmas decor!
I used my overhead projector method found HERE for tracing my chalk-art loosely. A lot of it is freehand like the holly border. Here is the free printable for personal use only. This is my first time adding as a Google doc, so if you have trouble with it, email me and I can send to you as a png file. You could print and frame it or follow my transfer method found HERE if you do not have access to an overhead projector. I bought mine in a thrift store. Craigslist is also a great source. It can be enlarged at a copy center if you don't have overhead projector access.

Christmas Printable for personal use only.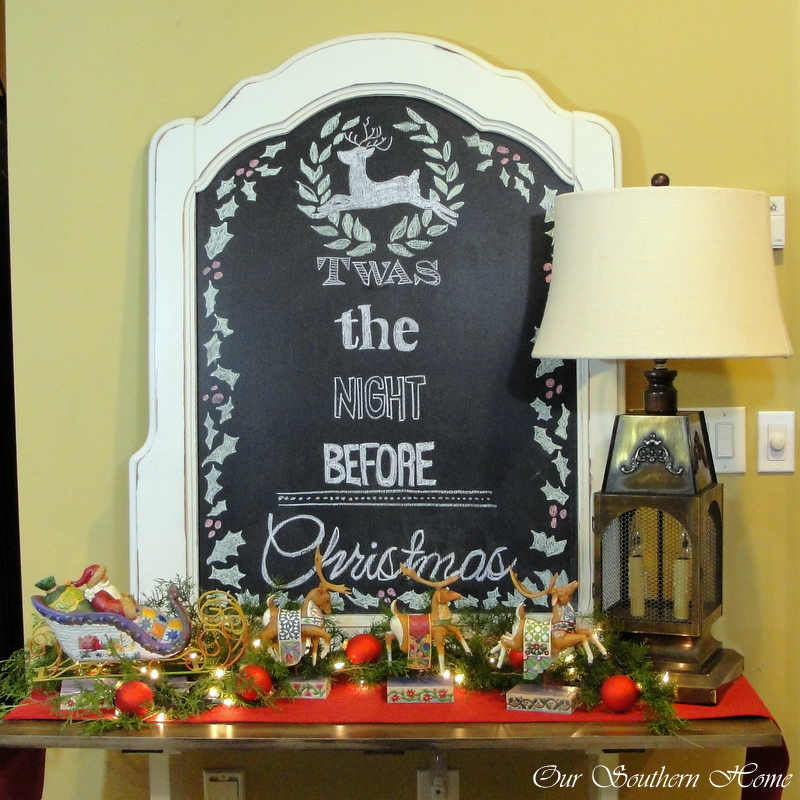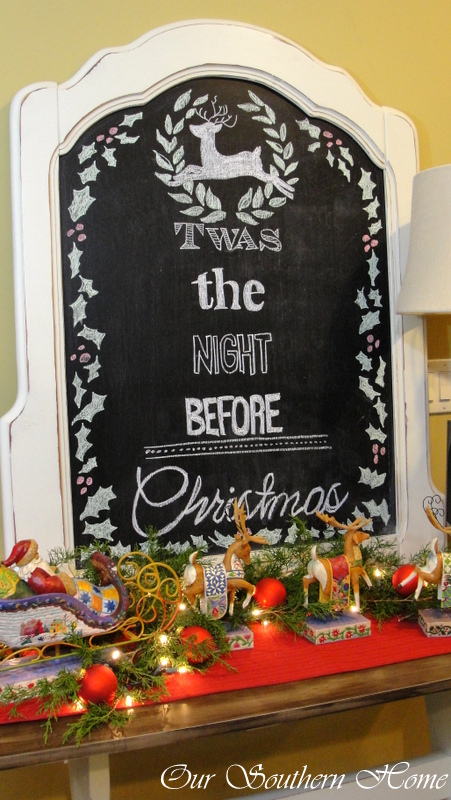 I used colored and white chalk. It honestly took less than 30 minutes to draw and color!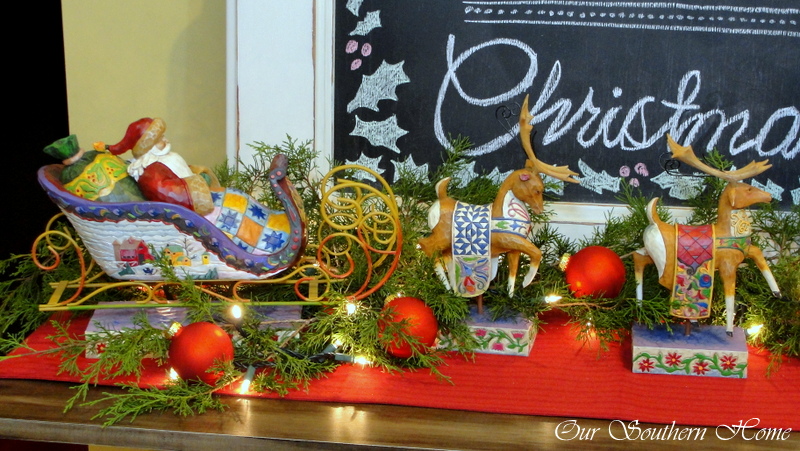 I love this Jim Shore Santa and reindeer set. I have used it all over the house through the years depending on the look I was after. Last year it was in the breakfast area.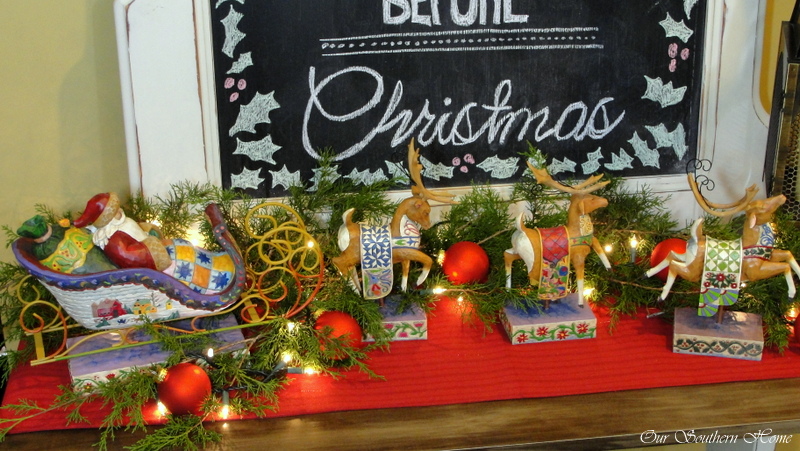 The runner was also from previous years in the kitchen. The fresh cedar is from the woods. It smells like Christmas! I had big intentions of doing faux fur or something like that for snow, but I kept forgetting. We hardly ever have snow in the south so just the greens is more authentic. Listen to me trying to explain away my slackness! I originally had a creamy pashmina scarf of mine here, but the color was off. I have a red one that I could have used, but I'm wearing it too much right now!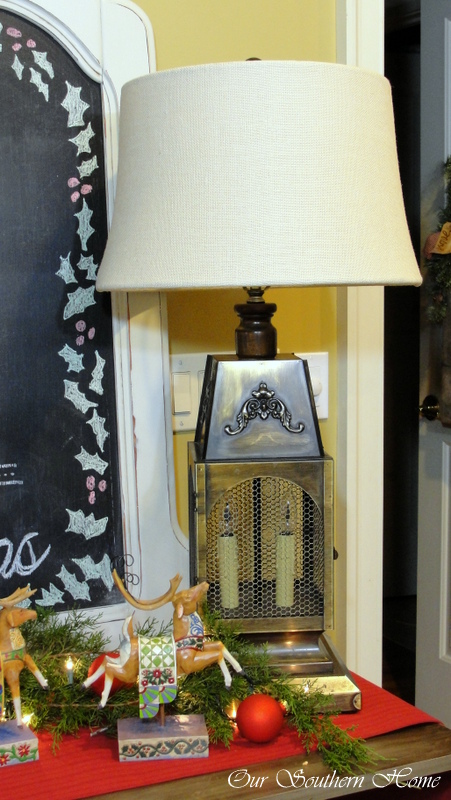 I bought this lamp for under $20 a while back in a consignment shop. I just love the French styling of it. I've been debating painting it, but think I'm liking the antique metal. What do you think? I tried so many shades from Home Goods to Wal-mart, but they just weren't big enough! I ended up having to buy one from Pottery Barn.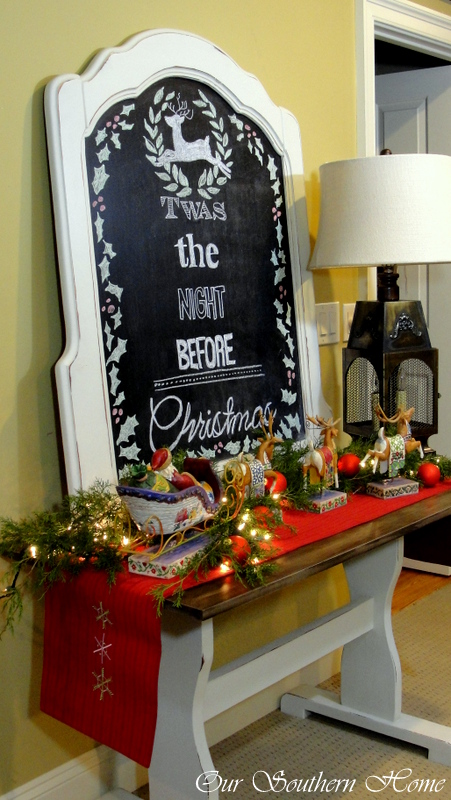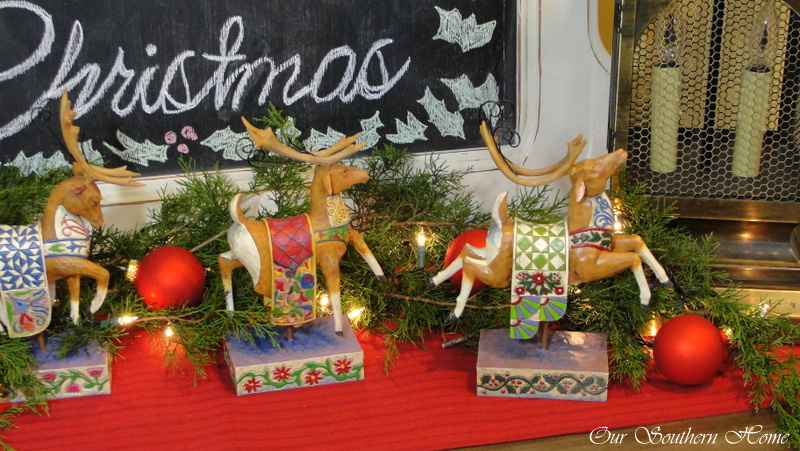 Here are a couple of other areas of the playroom.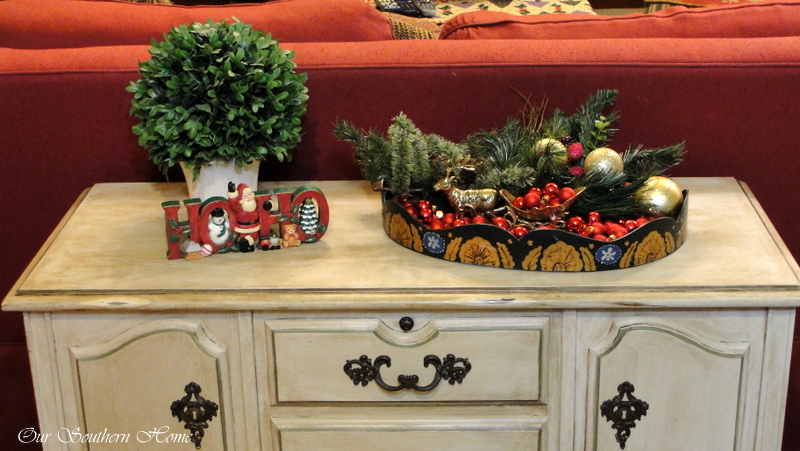 My chalk painted antique cedar chest came from Restore and that awesome painted tray, $4 from GoodWill.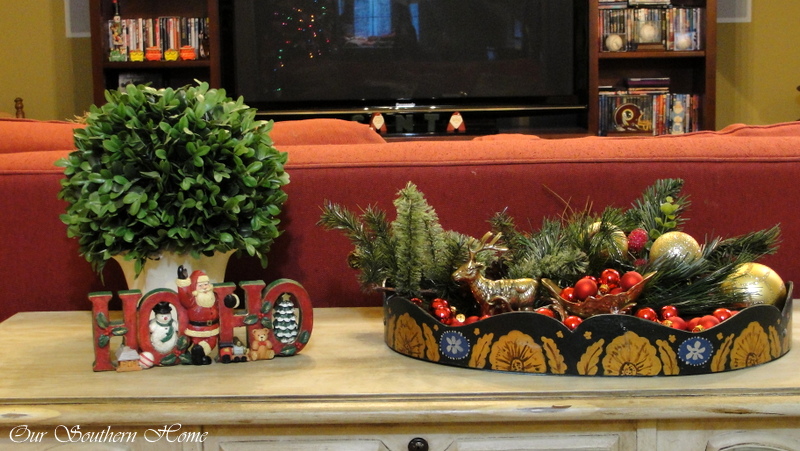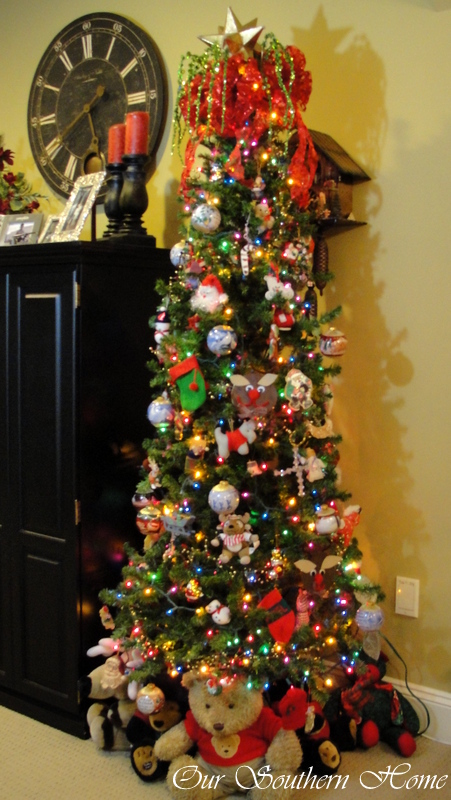 The kids' Christmas stuffed animals from childhood act as the tree skirt.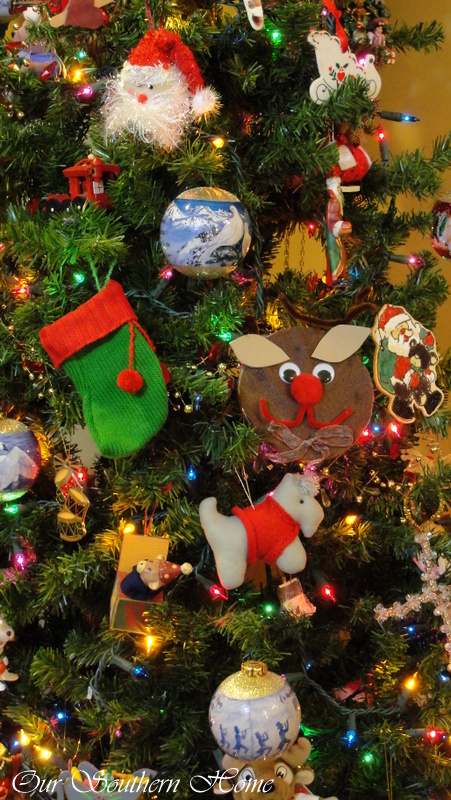 All of their hand-made ornaments are on this tree and a few collected. All colored lights are on this tree!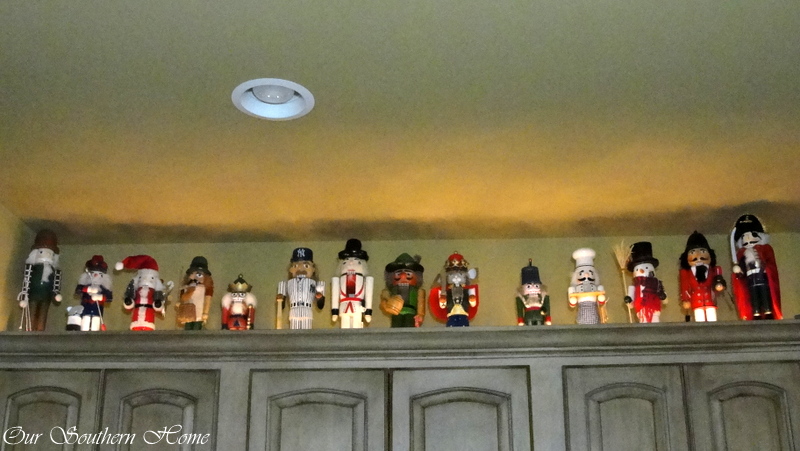 I just simply have a strand of clear lights to illuminate them. I leave them here year-round now. It's fitting for a playroom.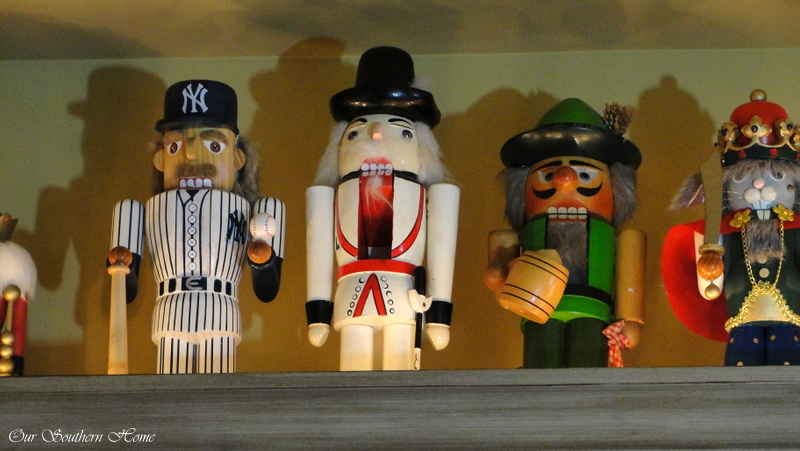 With a paint pen, I have which child's name they belong to and the year given. I haven't gotten them one every year. The green one holding the beer Stein came from Germany. My mother gave it to me when we started a collection a few years back. It is around 40 years old. My uncle bought it for her while visiting Germany many years ago. Thanks for visiting today!!
Here are a few recent posts you may enjoy!
Vintage Style Dollar Tree Garland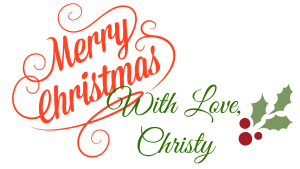 Link Parties that OSH parties at on occasion!
Monday: Between Naps on the Porch, Boogieboard Cottage – Masterpiece Monday
Tuesday: The Scoop at Cedar Hill Farmhouse and Inspire Me Party at A Stroll Thru Life, Setting for Four – Project Inspire{d}
Wednesday: Savvy Southern Style
Thursday: From My Front Porch to Yours, 52 Mantels, Stone Gable, Home and Garden Thursday at A Delightsome Life, The Shabby Creek Cottage ,No Minimalist Here
Friday: French Country Cottage, My Repurposed Life, Miss Mustard Seed Furniture Friday, Common Ground, The Charm of Home, Rooted in Thyme,Imparting Grace, Keep Calm and Link Up, at the picket fence – Inspiration Fridays, My Romantic Home – Show and Tell Friday, Craftberry Bush – Inspiration Gallery Friday, SnapCreativity – Show and Tell
Buffer