How to Create a Fall Vignette
I pretty much skip over our bedroom for holiday decorating except at Christmas.
Sadly, I leave our master bedroom mantel the same old same old all the other times of the year. Why you ask……well decorating around a flat screen TV with a fireplace can be a challenge.
You don't want to obstruct the view or interfere with the viewing.
I am so excited to be participating with the Scoop Group in its very first tour. This month's challenge was to create a fall vignette. Be sure to see the entire tour schedule at the end of this post!
This sparked my imagination! Why not show you all how to create a fall vignette around a flat screen TV. I don't know why I haven't done this before. We watch TV frequently as a family in our bedroom…..two in bed and two in the club chairs in front of the bed. Now it is so warm and inviting for our family to enjoy!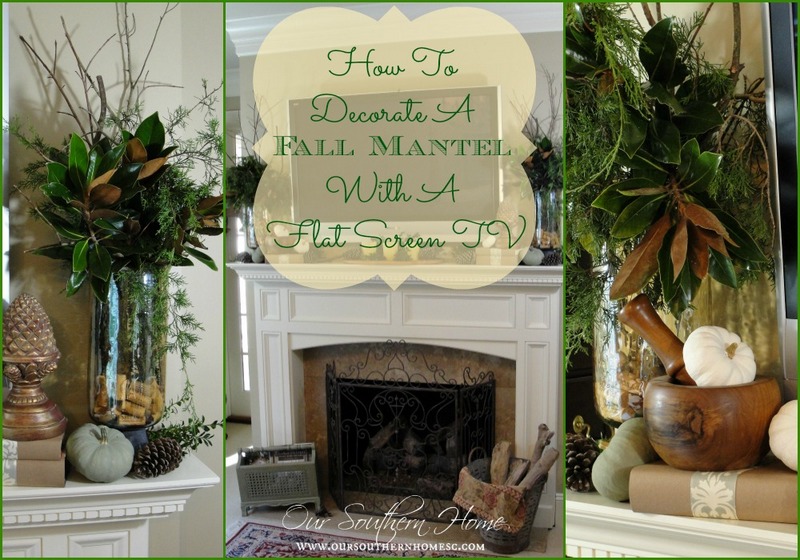 The key is to keep things low in front. You are OK as long as you don't get too close to the viewing area. I would recommend keeping things here fairly neutral as to not distract the main viewing event!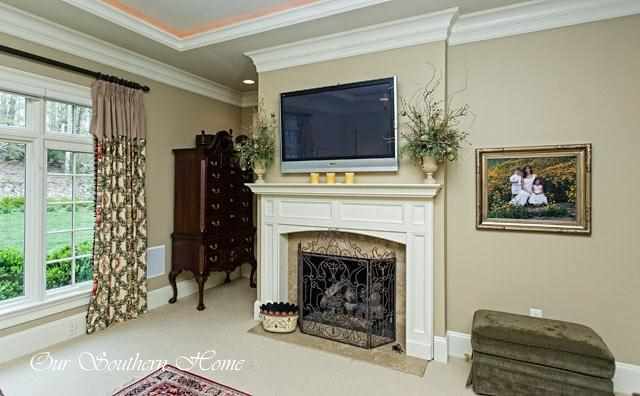 A little embarrassed, but it has looked just like this for 9 years!!! ……except for the little Christmas change!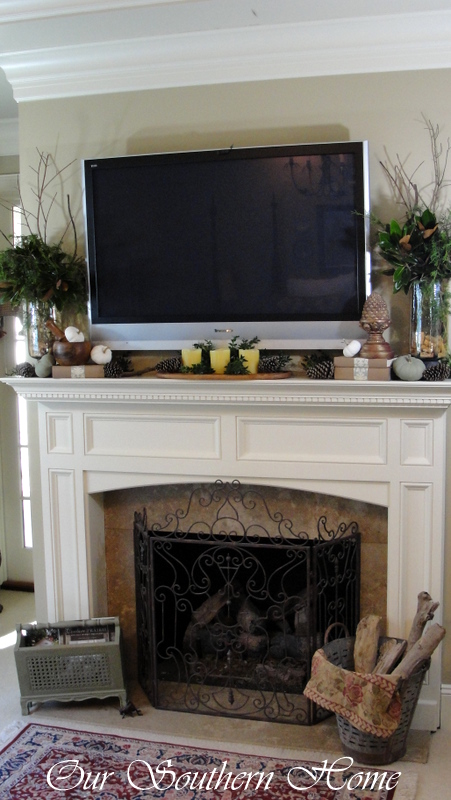 Why did I wait so long? Let's break things down so you can decorate your TV mantel!
Let's begin at the floor. I added my very large olive bucket from Decor Steals. It's filled with a few pieces of drift wood and a throw. The book/magazine stand was a Restore find that was painted with Annie Sloan Chalk Paint. This warms up the space from top to bottom.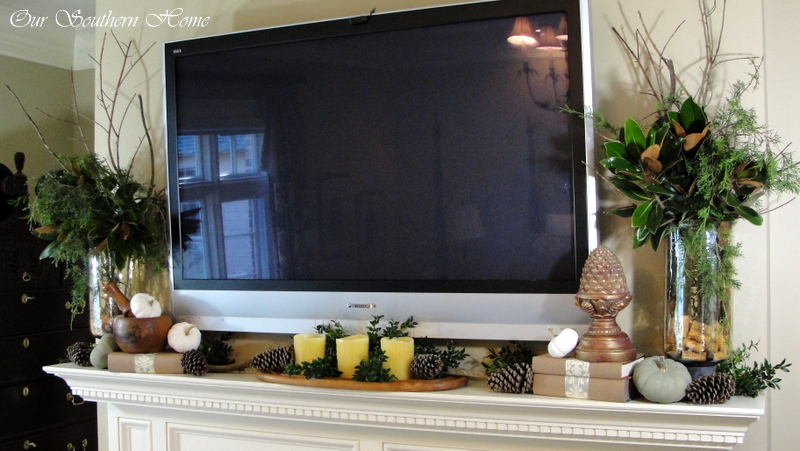 For this mantel, I didn't spend a dime! I shopped our home, yard and woods! Add your height on either side of the TV. Here I have used the candle urns from my dining table that were not currently being used. They have an iron base with a bubbled looking amber glass. I even left the wine corks in the bottom. My handy-dandy helper saved the day and took our dog on a treasure hunt with the list I gave her……twigs, cedar limbs, magnolia clippings, boxwood clippings and pine cones. My daughter and lab had a blast. She loves doing this! Due to limited space it this room, it is hard to get a straight on shot and not be in the reflection of the TV screen. The side urns are a little distorted due to the angles, but are really matching in size in terms of urn and greenery.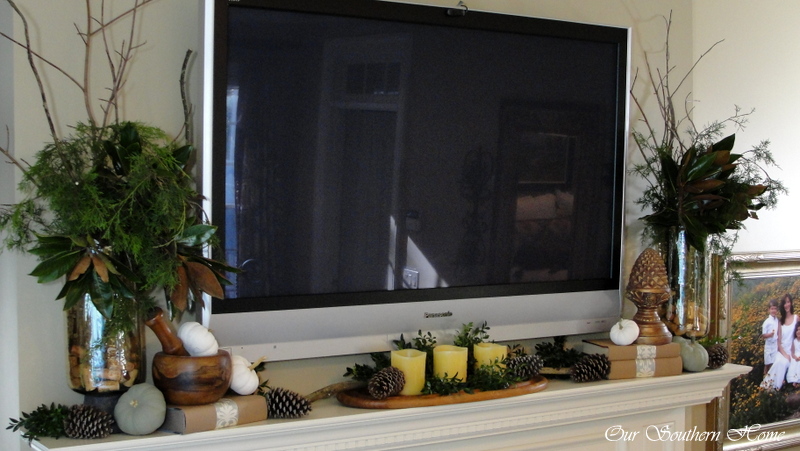 Simply start arranging twigs and greenery of your choice. Even just an urn full of twigs is perfect! You can even spray paint the twigs. I placed the urns first and took a look. I like to start with my bigger anchor pieces first.
Next, I moved to the center. I have two of these oval wooden trays found at two different thrift stores at different times in two different states! I was quite excited! It fit perfectly on the mantel. Then I placed my same battery operated flame-less candles from Ballard Designs. I've never wanted real candles right under the TV. My luck they'd flame up and destroy the TV screen! I'm starting to see my vision. I placed two of the large twigs off of each side of the wooden tray. I Knew I wanted to keep the center symmetrical for TV viewing so it wouldn't be distracting.
Notice on either side that I went a bit asymmetrical.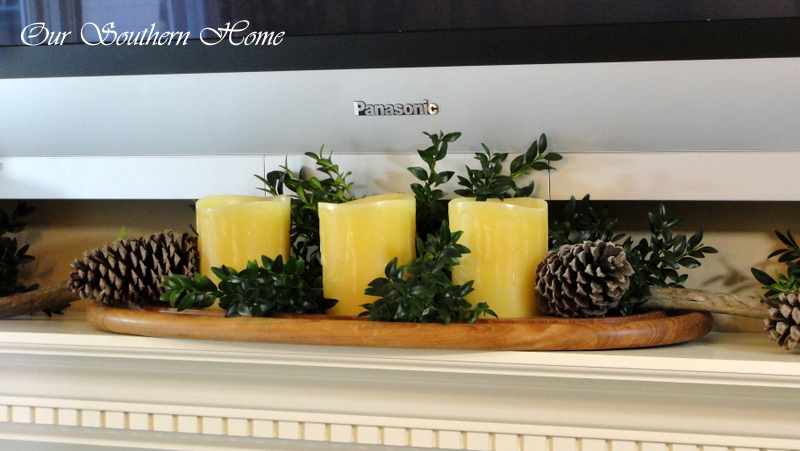 The center is very simple with just the addition of some compact boxwood branches and pine cones…..all simple and low.
The vignette starts to grow out as you get closer to the edges of the TV.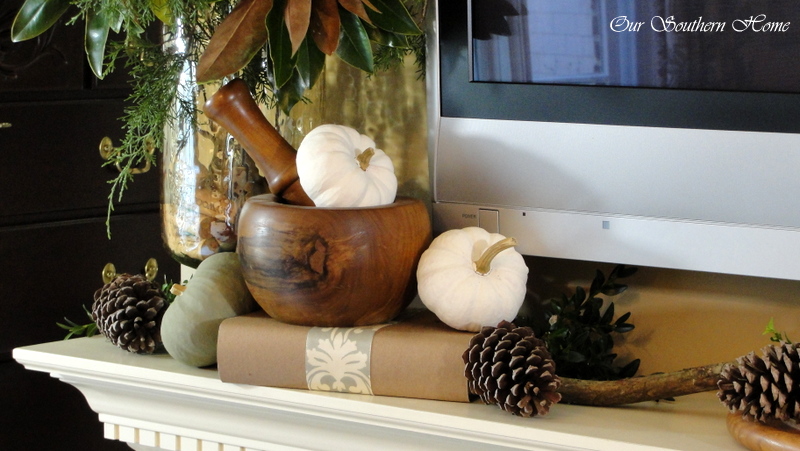 This is where I go asymmetrical. I covered one book with craft paper and wrapped a piece of ribbon around it. Then I stacked an olive wood mortar and pestle from a trip to France many years ago on top with one little Annie Sloan Chalk painted pumpkin!
I filled in with a couple more painted pumpkins, pine cones and boxwood. Notice I left white areas so there would be obvious space on the mantel.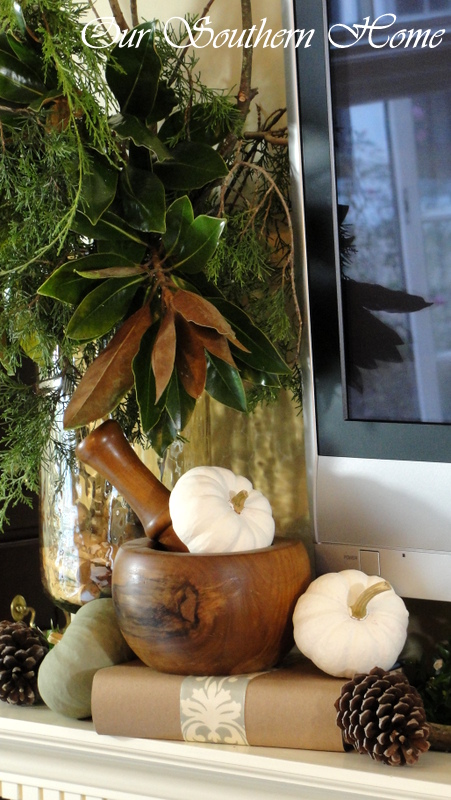 I didn't fuss over the urns…..fast, simple and natural was the look I wanted.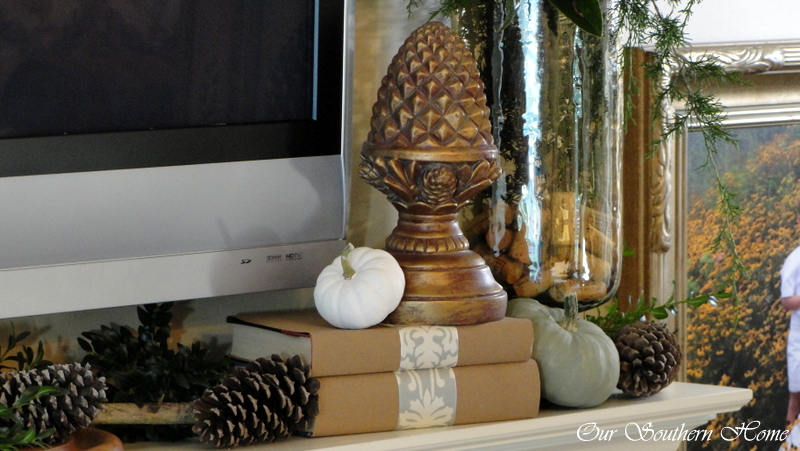 I did the same on the right side, but added 2 books and a large bookend.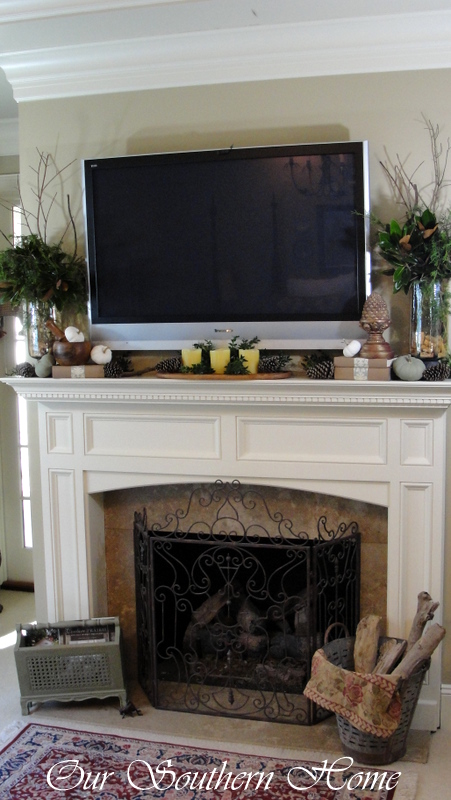 If you want to use real greens for your fall party or Thanksgiving follow these tips. 1) Decorate the mantel in advance with the exception of the greenery, pine cones and pumpkins. 2) Shop your home for items that work well with your mantel and TV. 3) Maybe you want to skip the greenery urns. Place large candlesticks on either side of the TV. Instead of candles place pumpkins or moss balls. Use multiple candlesticks in varying heights. 4) To keep things looking really fresh wait until the day before or the morning of to add your greenery. It really takes no time to cut clippings. 5) None of mine were placed in water. 6) From my experience, boxwood and magnolia last quite a few days before looking withered. My cedar can go a few days. A lot depends on your home and air.
These simple ideas can be applied to all of your mantels with a TV. I'll be sure to share my Christmas mantel and a NEW everyday mantel in January!
Be sure to visit all of the blogs on The Scoop Tour listed below!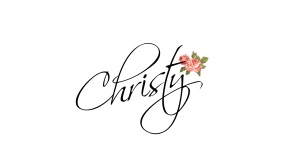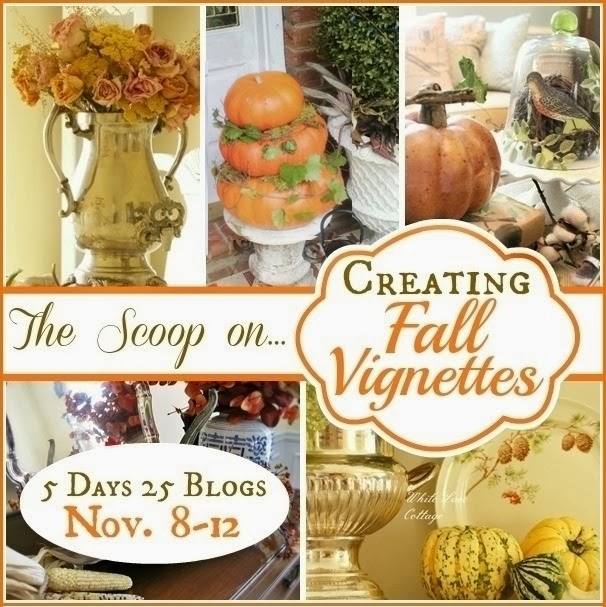 The complete tour schedule is listed below!
Buffer