Decorating a Tiered Stand
Tiered stands are huge right now in the decorating world. I honestly think that they are here to stay. I even have one that belonged to my mom from when she got married. I was using it even before they became all the rage.
In my opinion, they are the perfect, versatile item for your home.
Decorating Tiered Stands
Tiered stands can be used strictly for function, decorating purposes or a combination of the two.
perfect for centerpieces
used on islands
coffee and tea organizer
makeup organizer
desk organizer
craft room
office supplies
display succulents
food for a buffet table
utensils and condiments for a picnic
store spices
The options are literally endless.
This month for our Pinterest Challenge, we are recreating a fun topsy turvy galvanized planter from my dear friend Jane that blogs at Cottage at the Crossroads. We've known each other for years from seasonal tours with each other. I hope to meet one day in that we are both South Carolina girls!
Welcome to another installment of our monthly Pinterest Challenges hosted by my sweet friend, Cindy, from County Road 407.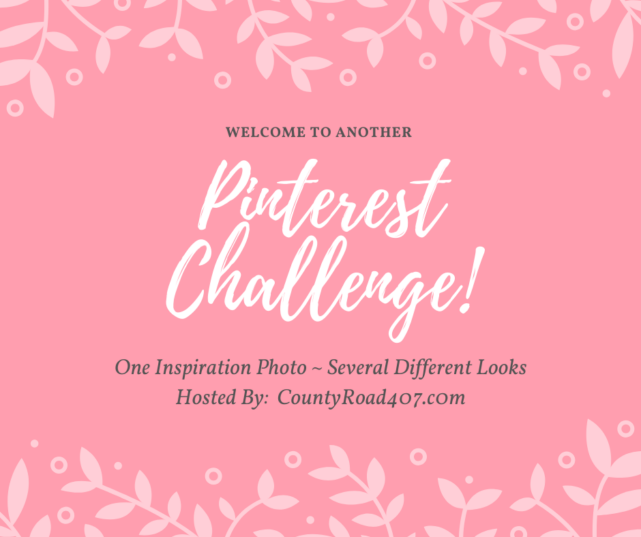 The point of the Pinterest Challenge is to be inspired in one way from the inspiration. We can literally take it from the entire project or take elements from it that inspire us in our home. This month I really stepped away from literal creation.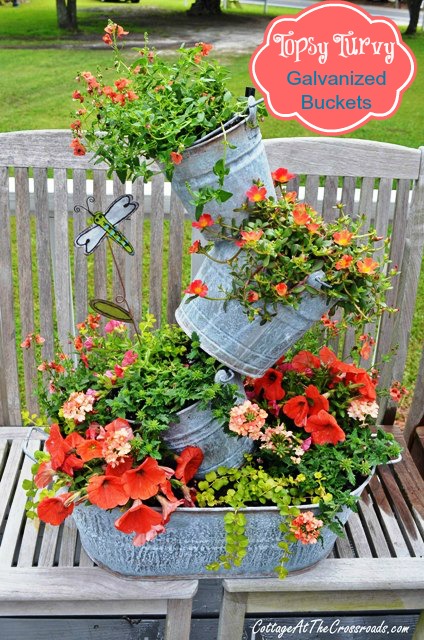 I absolutely adore this fun planter idea from Cottage at the Crossroads! Jane shot it out of the park on this one. I adore this garden project and really hope to make one in the near future. With the current world situation, I just wasn't able to get out and get the supplies to make this amazing planter. Right before my state went into lockdown, we purchased our garden and bedding plants very early. We knew it was coming and took the chance. With global warming, we are finding that our typical April 15th date for the last freeze no longer applies for our area. We bought them early and kept them protected until we felt that we could chance planting. It was a smart move. LOL! Seriously, isn't this project fabulous!
Please be sure to visit Jane's project over at Cottage at the Crossroads. I know she'd love to have you stop by. Her home is so pretty. Pin lots while you are there!
If you are visiting from Cindy over at County Road 407 then a big welcome to you!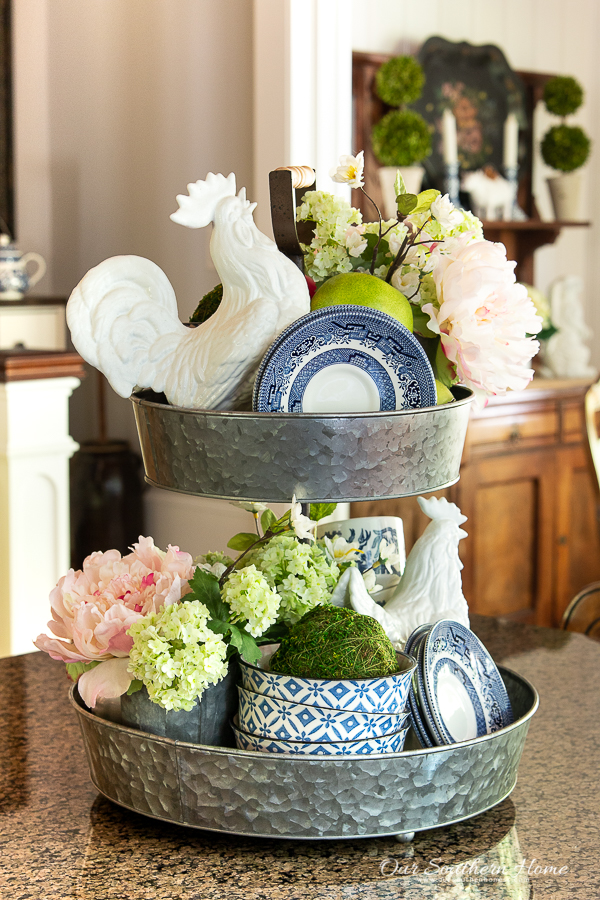 Ok……I know you are probably thinking……how in the world is this similar?
Remember that this is taking elements from the challenge to create your spin on the look.
My Takeaway from Jane's Project
galvanized elements
flowers
topsy turvy tea cups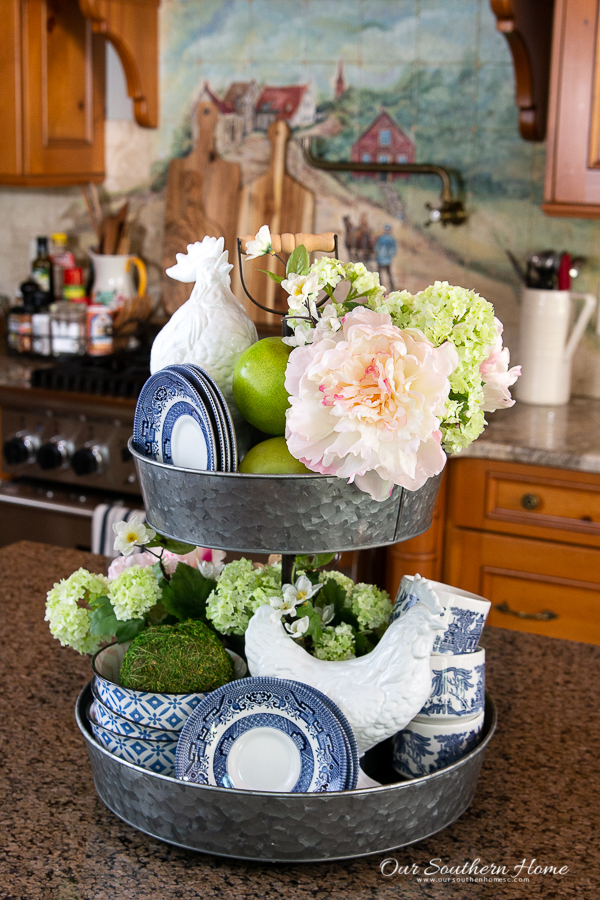 I used a galvanized tiered tray and small galvanized buckets for the flowers. The tea cups are my nod to the topsy turvy look.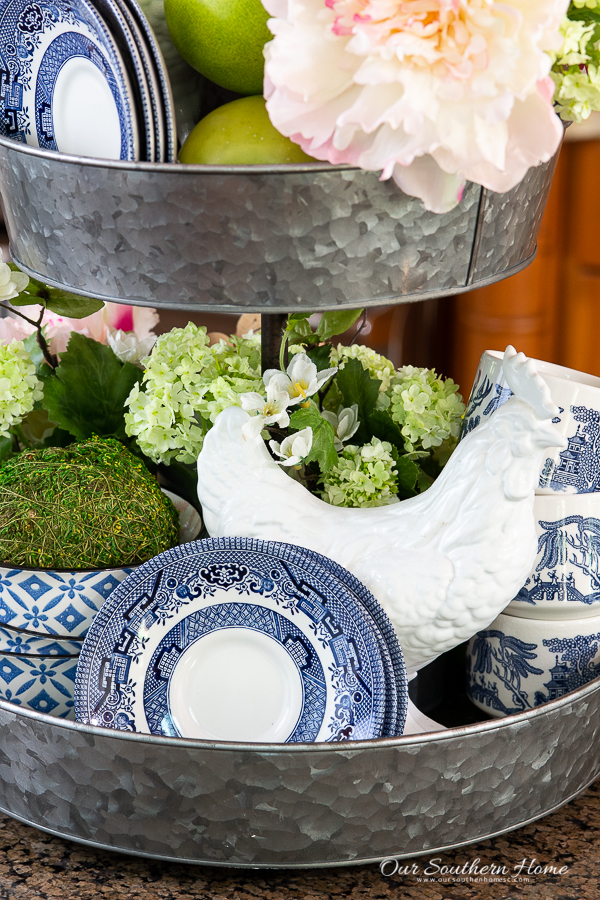 I've always had a love affair with all things blue and white. It was a huge part of our previous home that we remodeled in 1993. When we moved here, I went with another look, but always kept those treasures. They have been peeking back out in recent years. The roosters were a thrift store makeover.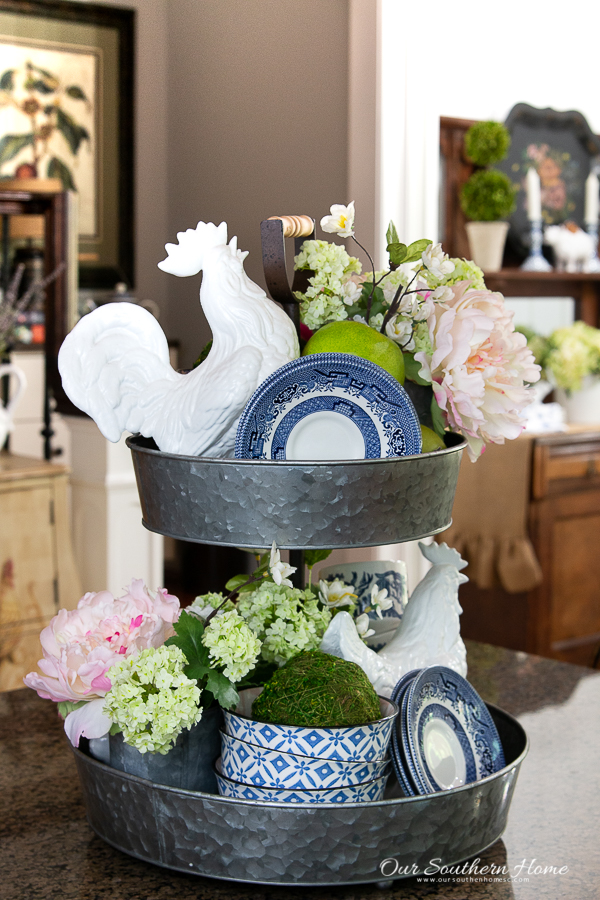 The stacked plates filled in the blank spots nicely.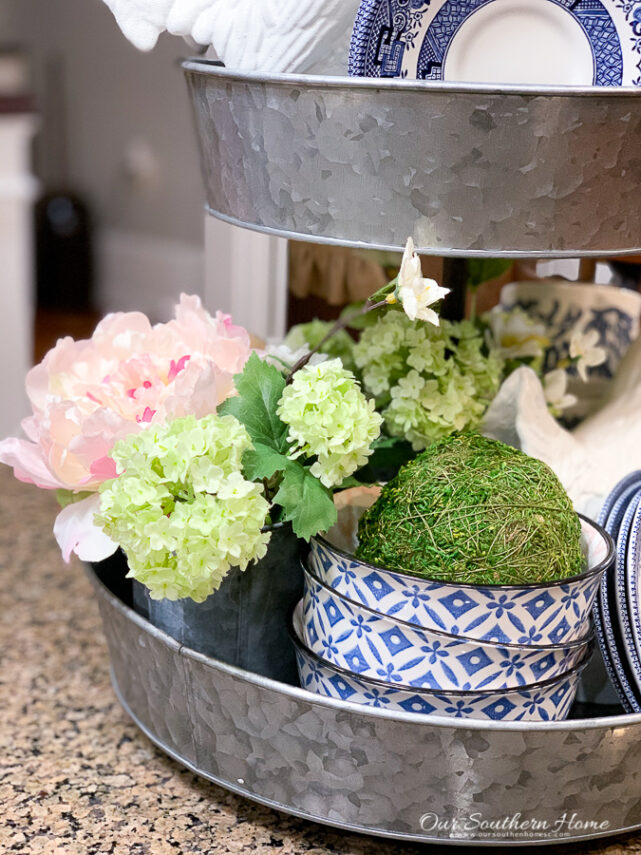 Faux flowers, moss balls and green apples work nicely together.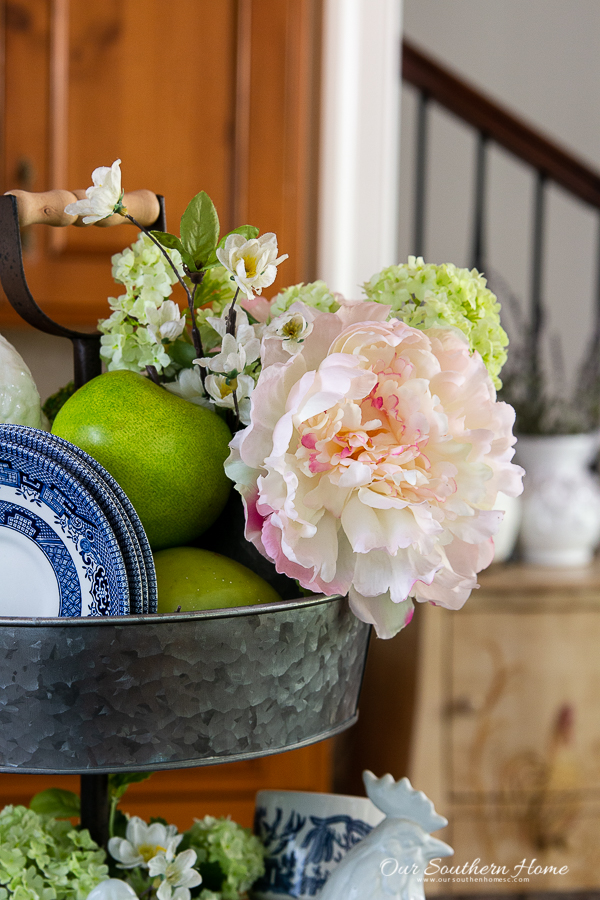 Nothing says spring and summer like blue, green and pink.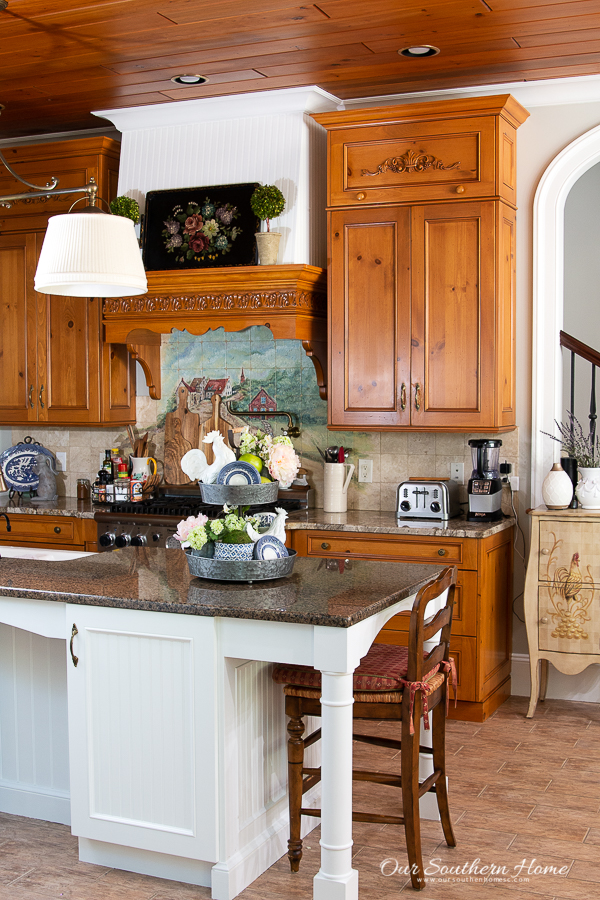 Tiered stands make great centerpieces or decor for kitchen islands. This tiered stand was in Ashlyn's dorm room. It sat on her fridge and organized her coffee cups and k-cups for Keurig. When she moved into an apartment this year at college, it just didn't fit in the kitchen with the cabinet heights. I've been borrowing it.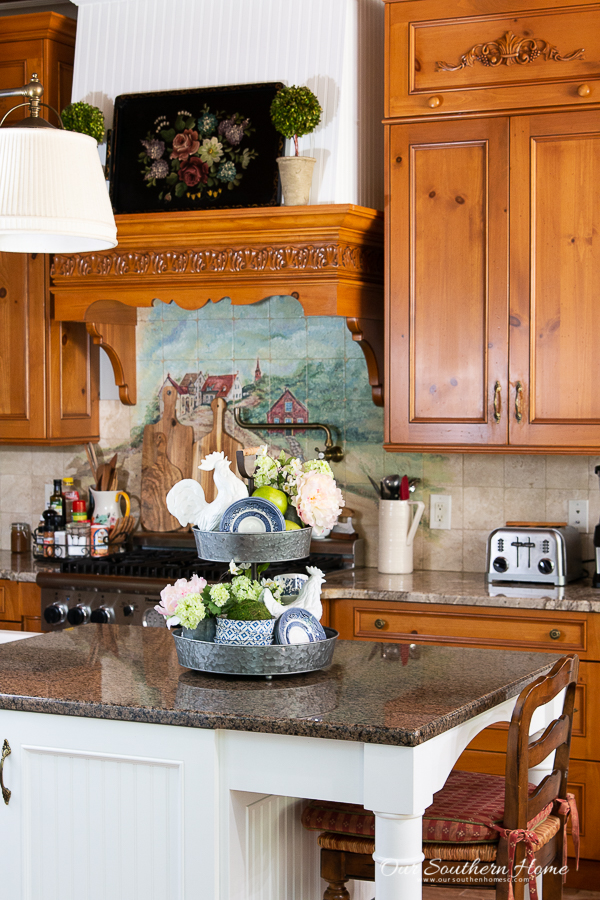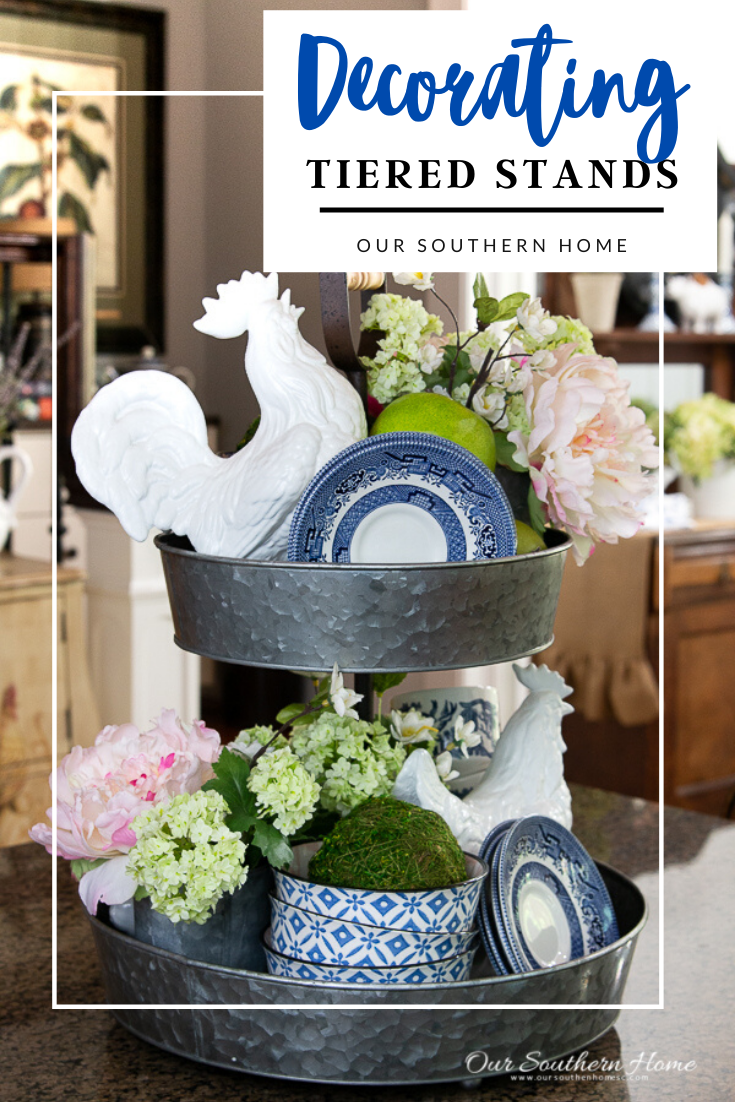 Up next on the tour for her take on this month's Pinterest challenge is Decor to Adore.
Be sure to visit all of the fabulous ideas from this month's challenge!
You are invited to the Inlinkz link party!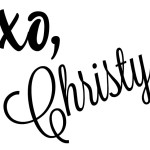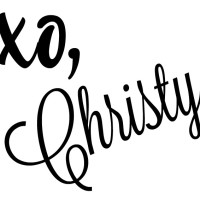 Buffer