Simply fabulous tips for decorating a Christmas Front Porch! Many ideas for around the home in today's Christmas Ideas Tour! Be sure to stick around to the end for a complete list of today's participants. Get your pinning fingers ready!
I am so very excited to be participating in today's Christmas Ideas Tour hosted by Angie from Postcards from the Ridge!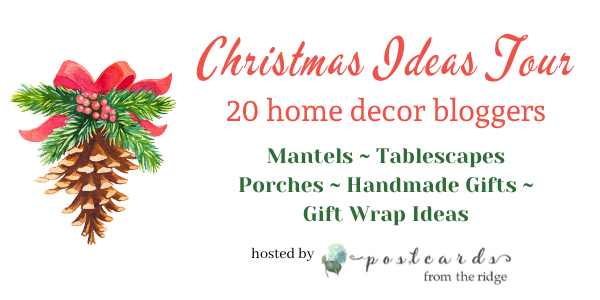 This post contains affiliate links. I may earn a small commission costing you nothing more if you purchase with my link. You can ready more HERE.
I love this tour in that there are different categories. I am sharing under the porch category. I almost didn't sign up to participate. I didn't know if I'd be complete with our porch decor. I finished up right before Thanksgiving. Low and behold a spot was still available.
Our porches are some of my favorite areas to decorate for the seasons.
I must say that I struggled to get photos. I literally wasn't able to shoot with rain until yesterday. Talk about last minute. I've always worked best under pressure. After the clouds gave way, we had intense wind. The kind of wind that was bringing the last bits of leaves from trees down in droves. Instead of snow, I had leaves raining down. The wind blew them all over the porch.
I had to keep my favorite leaf sweeper by me at all times. I walked inside after spending all that time blowing leaves to bring my camera equipment outside. Max and Ashlyn were trimming shrubs and laughing. I accused them of blowing the leaves back on the patio and porch in the 5 minutes that I went inside.
Sooooo……if you see stray leaves, you'll now know why. I gave up.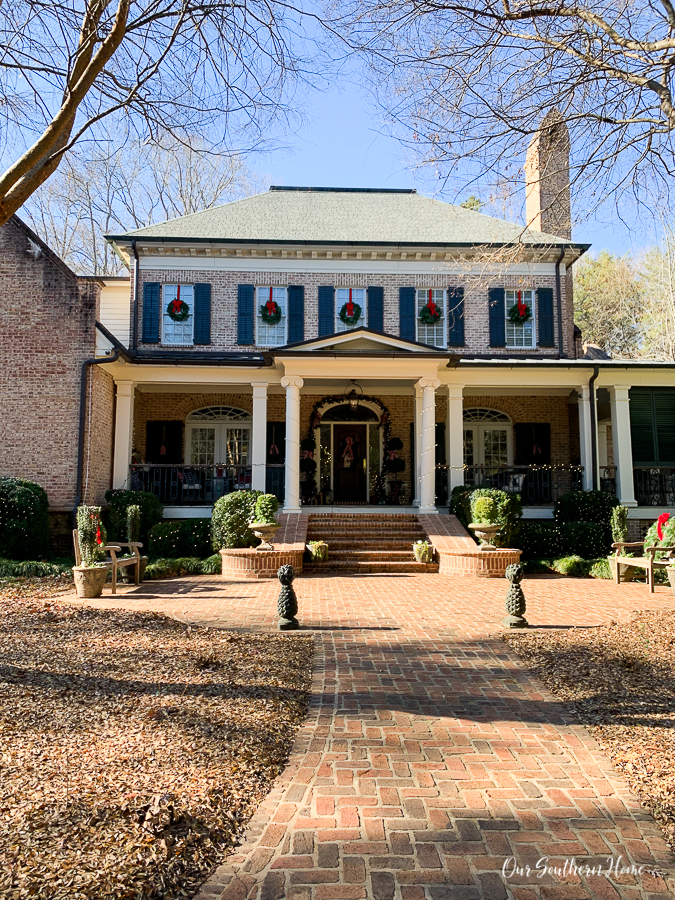 It was really bright when I was shooting so I apologize for the shadows. I do plan to share a post of the exterior all bright with lights soon. We recently heavily trimmed back the 2 trees on either side of the walkway. As a result you can now see the front of the house more clearly. It's made a huge difference. This year I put up new wreathes on the upper windows. I also made new red velvet bows for them with this ribbon.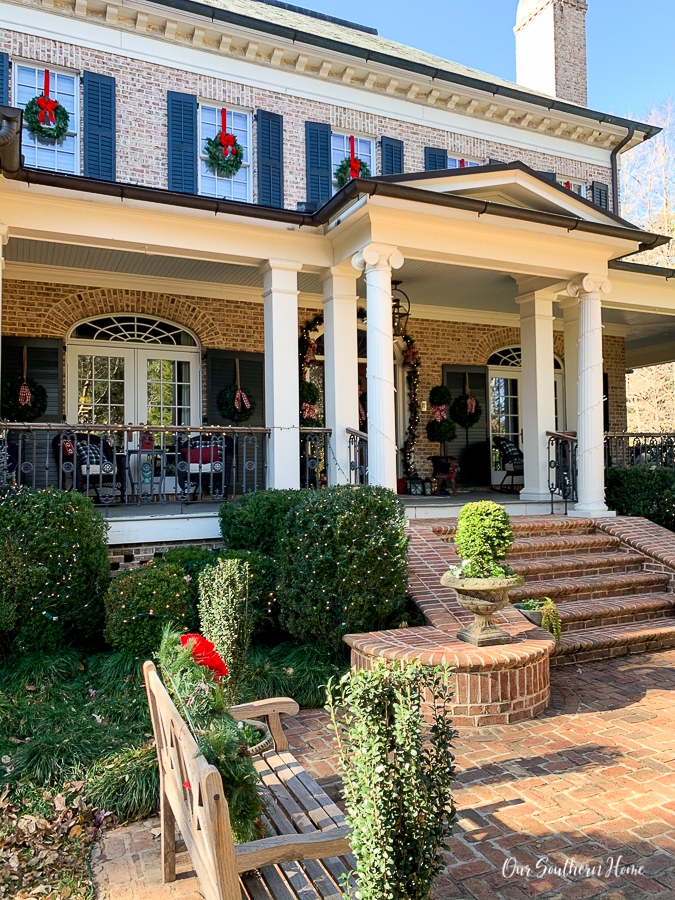 I used to put up big, heavy garlands with lights on the railings. I quit a few years ago and just wrap lights around the railing. It looks fabulous at night and less to store.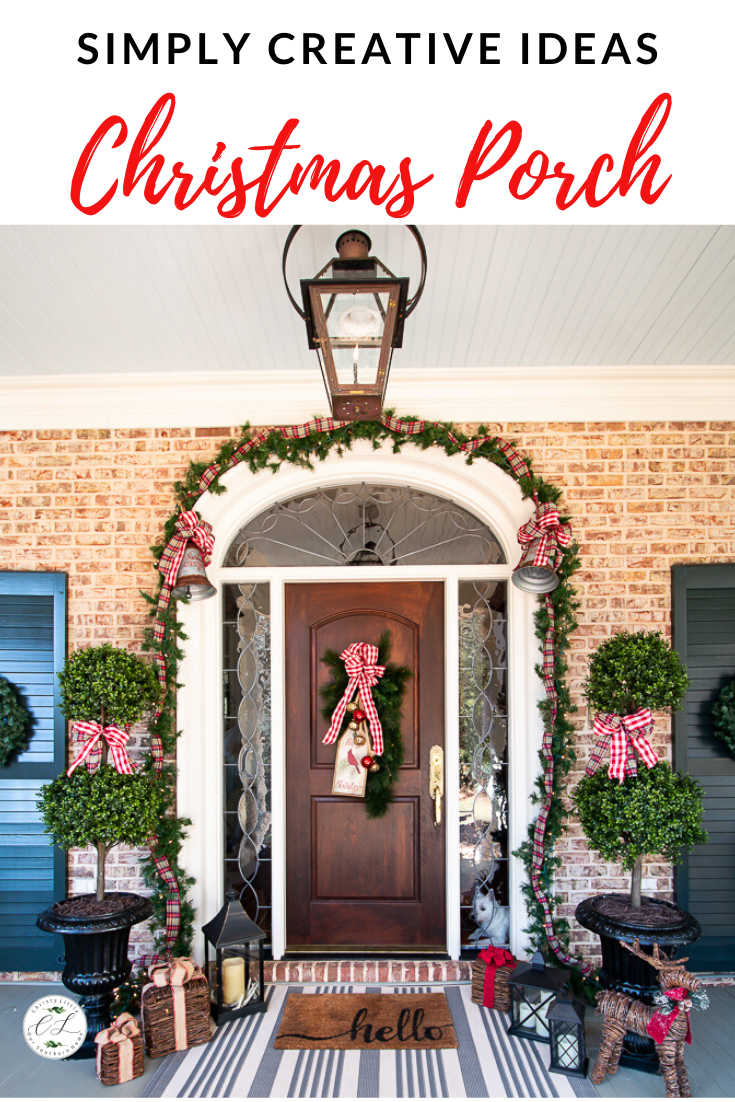 TIP: Utilize lights on the exterior of your home opposed to garlands on railings. It's less weight, work and less to store! When it's dark you just notice the lights anyway. Keep you garlands to your door area.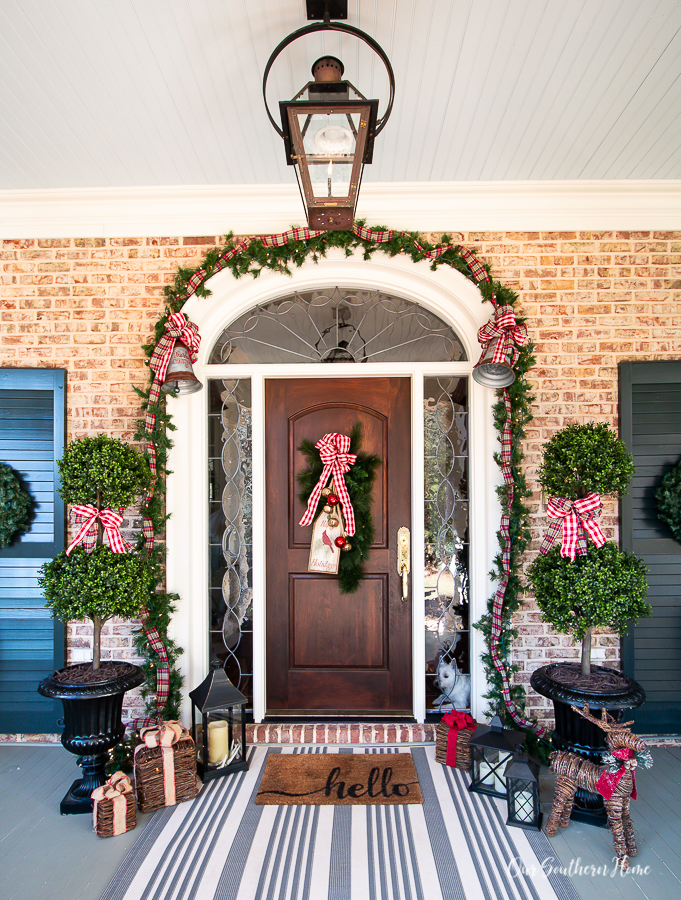 Striped Rug | Faux Boxwood Topiaries | Similar Teardrop Wreath Form | Hello Mat
In an effort to scale back this year and go a bit simpler, I opted to not put ornaments around the garland. I used the same ribbon as last year.
TIP: When using ornaments outside, opt for shatterproof plastic. With winds and weather, you don't want to worry about sweeping up broken glass.
This is my first Christmas using my faux boxwood topiaries. They are amazing, and I can't sing their praises enough! You can read all about them HERE and how I "planted" them in my existing urns.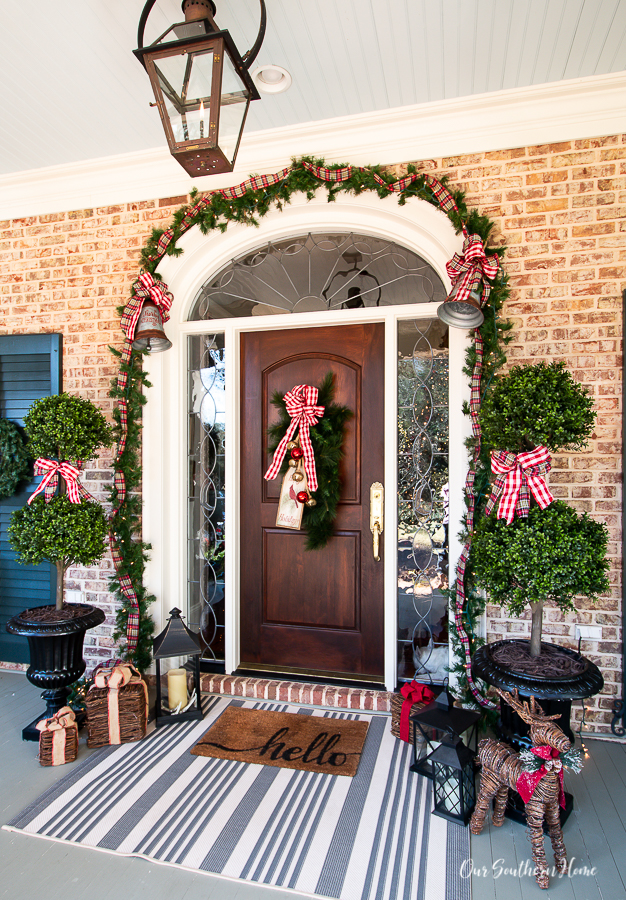 I believe this is the 4th year with my gray striped rug. It has truly been the best outdoor rug. I've been able to get all kinds of stains out including our southern red clay mud. It goes with all of the seasons and just brightens up the space. I am on the lookout for a new mat for the holidays and all winter.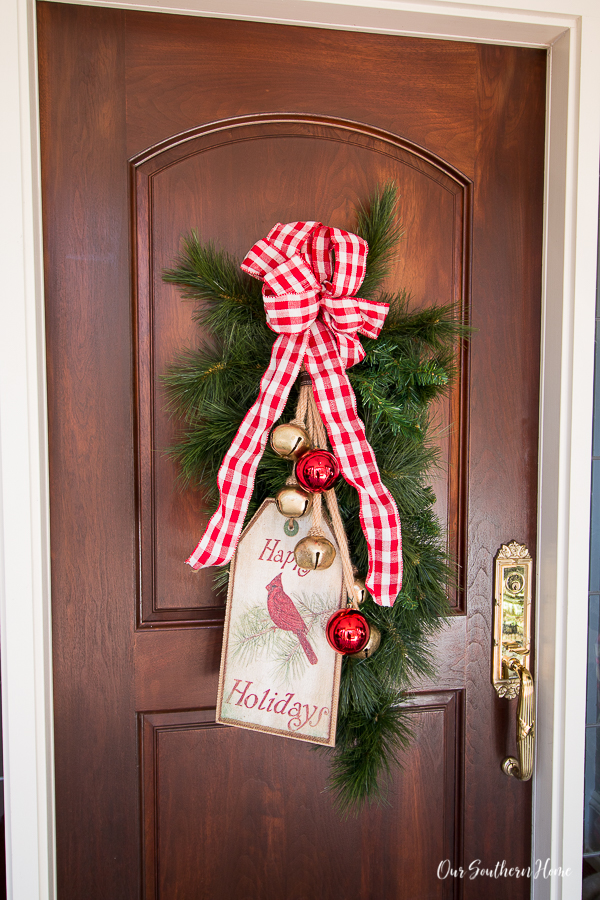 This is the easiest wreath ever with a unique teardrop form. You can get the DIY details HERE.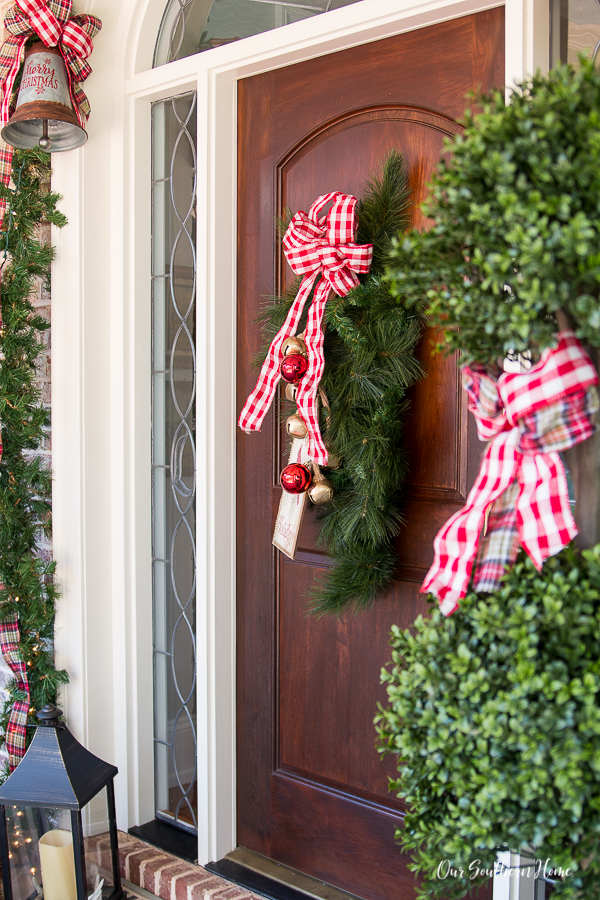 TIP: I'm a sucker for all things plaid. Don't be afraid to mix plaids ribbons and fabrics.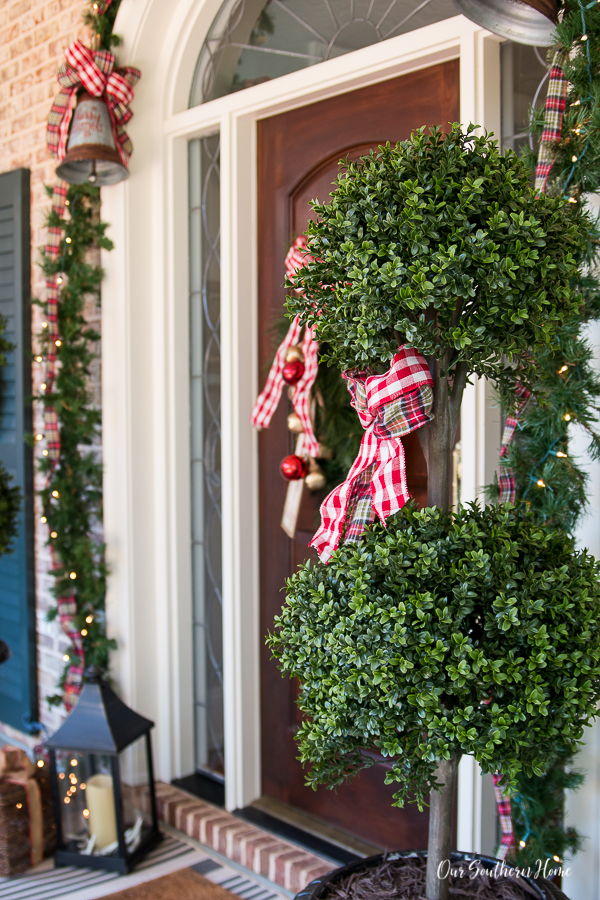 I like the idea of using faux topiaries like these on the front porch. Our porch is deep so I typically let things die due lack of water. I didn't want something that I could only use one season like Christmas trees. Don't get me wrong….I love trees on a porch. I'm just at a stage where I want double duty things that require less storage. These are the perfect option for me. I can add ribbon like I've done here. I could even put pumpkins, ornaments or Easter eggs around the base of the planter.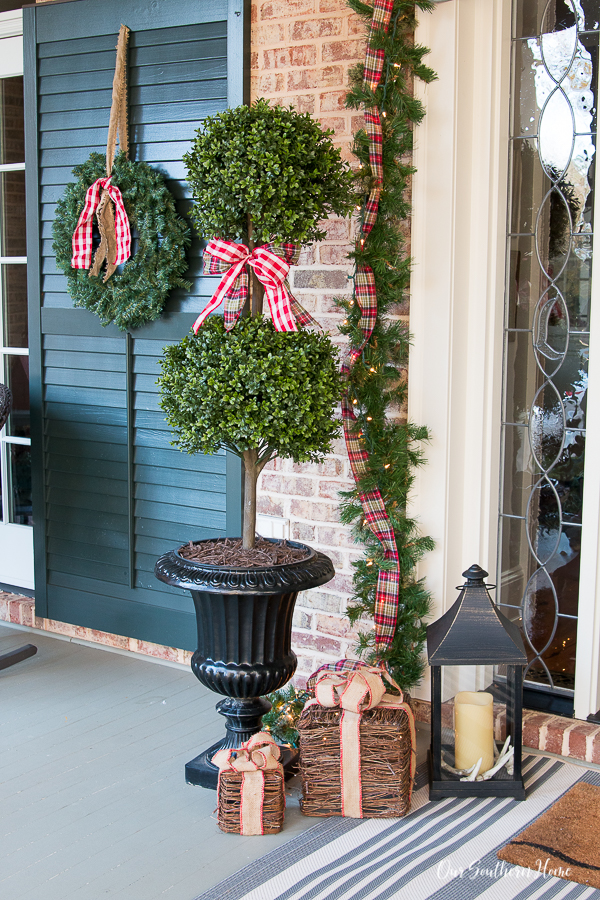 The lanterns are all from several years ago at Big Lots. They operate on timers with batteries. I've never added batteries. Ha, ha! The grapevine presents are from Sam's Club several years ago as well.
The nuts and bolts of the doorway here pretty much stay the same from year to year.
TIP: Ribbon is an affordable way to change up the look of your porch from year to year. When you are ready to change it up, use it in another area of your home or wrap presents with it. Mine is very protected so it doesn't get dirty or faded around the door here.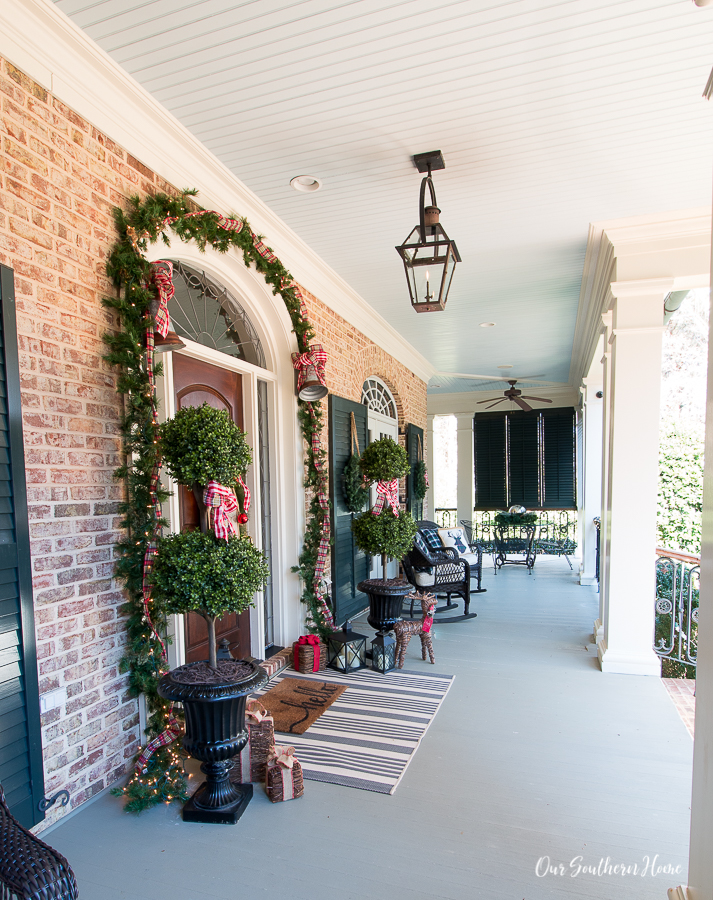 The porch is very symmetrical on either side of the front door so I tend to duplicate the look somewhat on each side.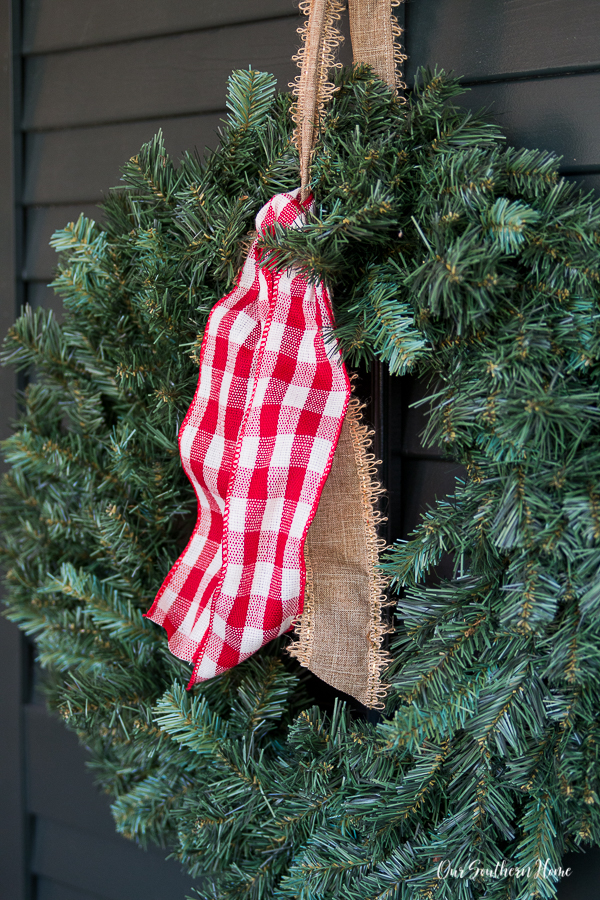 On each shutter on the porch, I have hung a simple faux wreath. Instead of making fussy bows for each, I created a simple knot with trailing pieces.
TIP: Instead of a bow on every wreath, try knotting 2 different pieces of ribbon. It's a faster DIY and uses less ribbon that a traditional bow.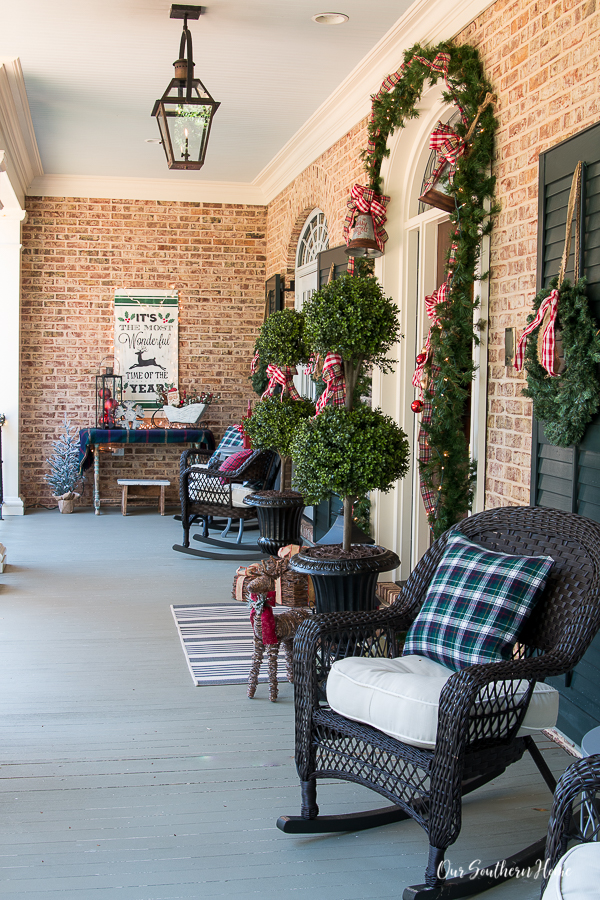 Do you notice the little faux tree on the ground by the table at the end of the porch. It is strategically covering the outdoor timer and cord. In years past, I have used my olive bucket full of wood and oversized ornaments.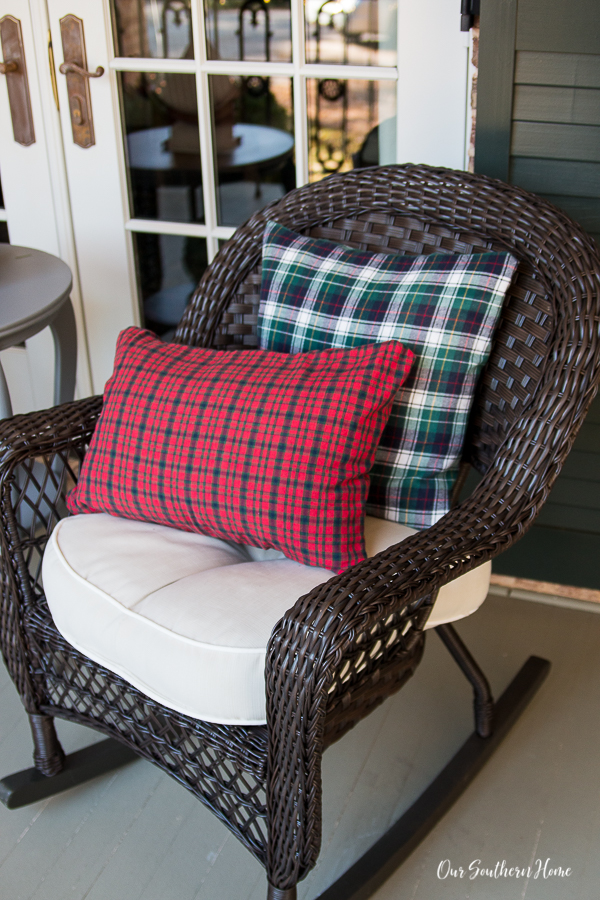 Be sure to check out my post on my porch pillows. You'll never believe what an easy no-sew project these are!!! I told you I love mixing plaids.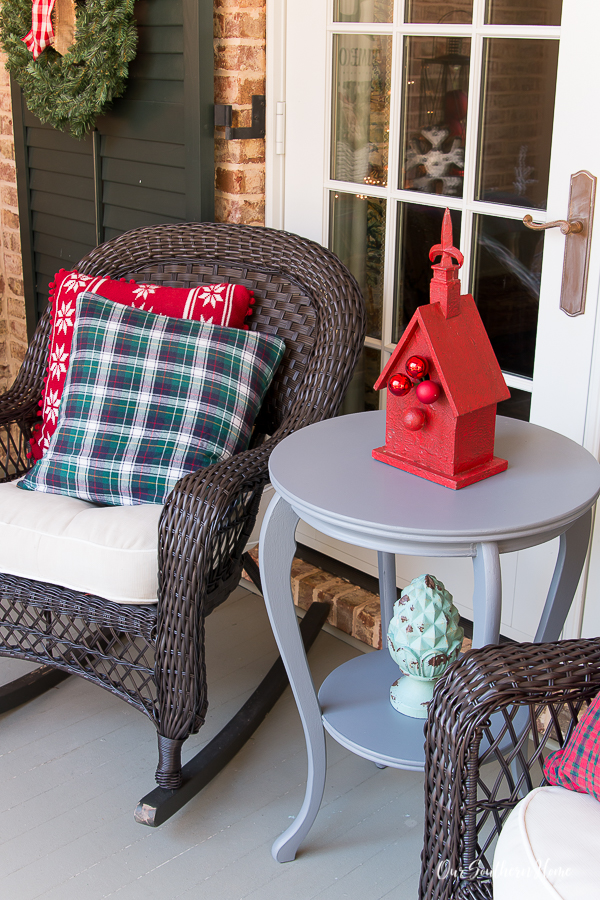 I am notorious for tearing old wreaths apart and keeping the pieces that still look great. Years ago I purchased this horribly expensive wreath from a local shop. It was so pretty, but started showing wear. This bird house was actually part of the wreath. I kept it. It's cute on the porch as decor. I don't want birds nesting it so I place a ball picks from another wreath in the hole to keep them out. We have a serious love hate relationship with our birds and the porch. Hoping the trimming of the front trees cuts down on it.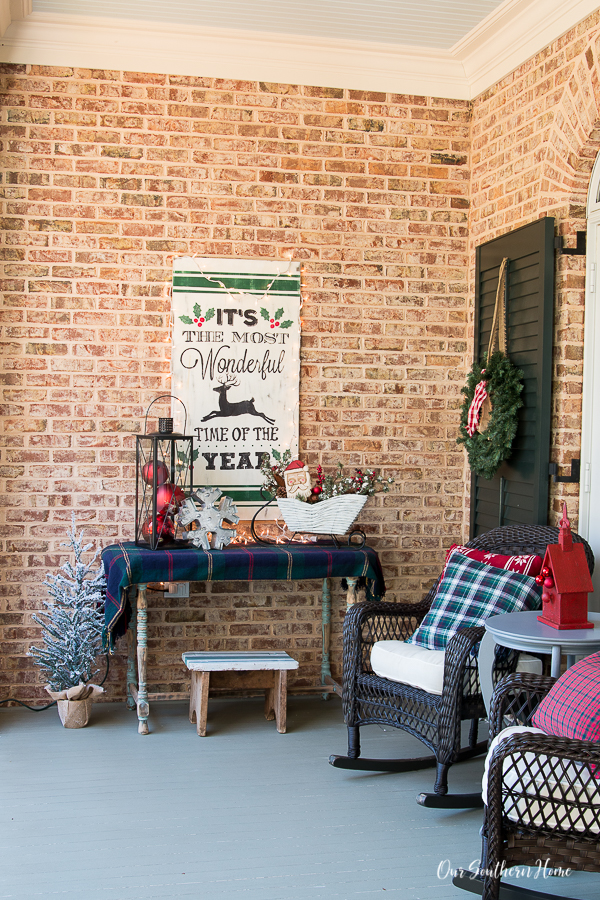 I made this painted sign several years ago. I should probably change it up. I made it specifically to fit here. I just love it so much here that I plan to keep enjoying it.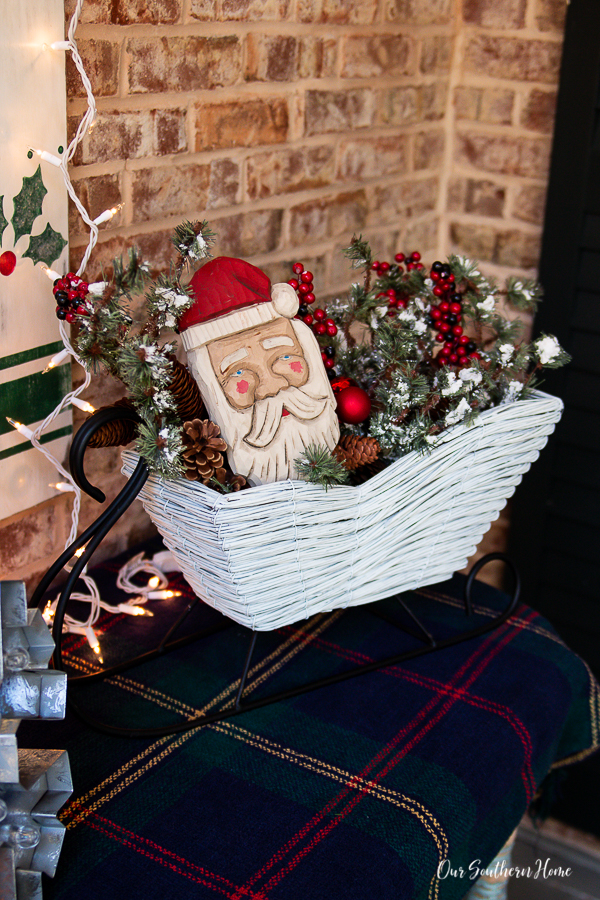 This sleigh was a thrifty makeover on the blog in November. The white is so striking. I just stuffed it with some larger faux holiday picks and this fun santa head plaque that I picked up at the thrift store. Nothing needed to be done to him.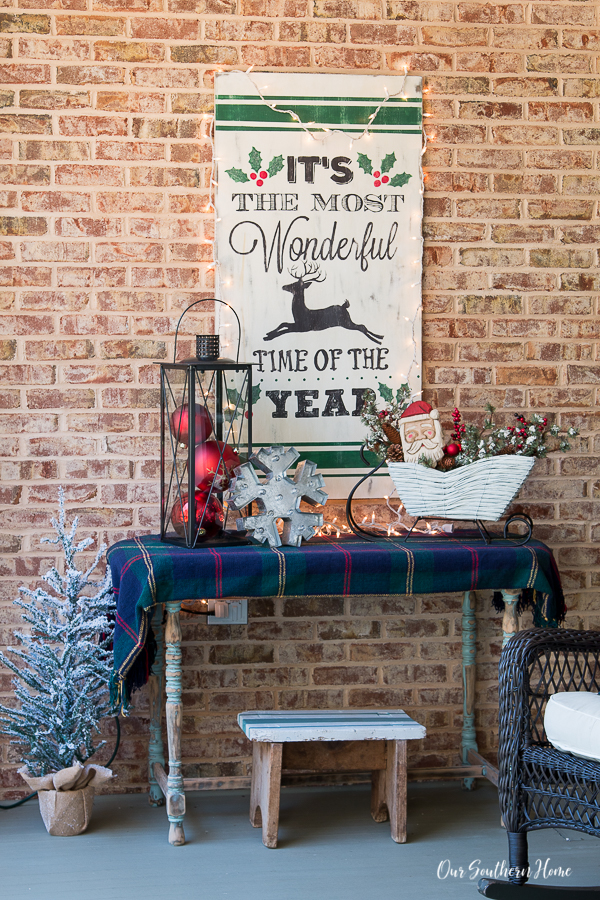 TIP: If your table doesn't match your porch decor, toss an inexpensive throw over it!
This console table and stool were both thrift store makeovers on the blog.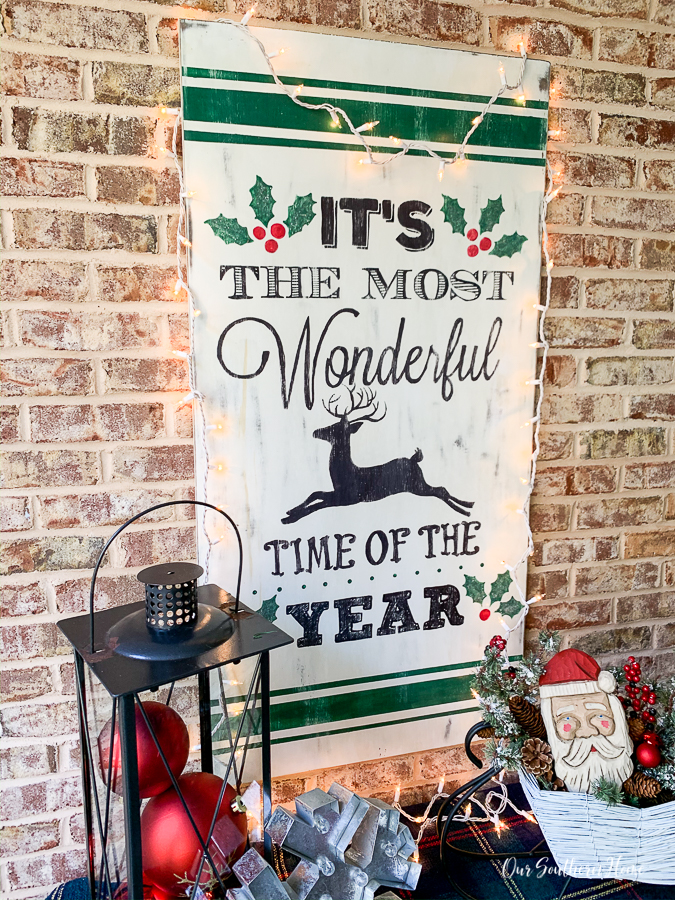 I hope your Christmas in the most wonderful time of the year!!!
Are you ready for more ideas? Here are some great ones for your mantel, porch, table, plus handmade gift ideas and gift wrap ideas. Be sure to visit everyone to see all the details.
Mantels
Porches & Decks
Tablescape Ideas
Handmade Gift Ideas
Gift Wrap Ideas
Christmas Ideas from the OSH!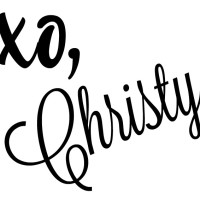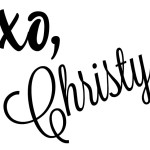 Buffer