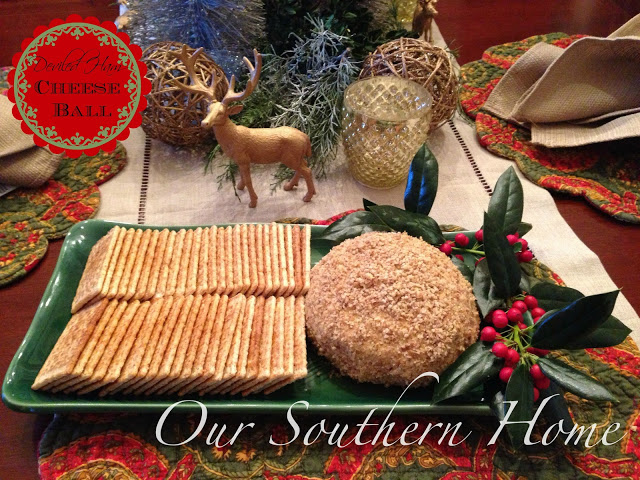 Several years back this was my go to cheese ball for holiday parties and neighbor gift giving.  I grew tired of the same old thing and tried new things over the years.  This year I decided that it was time to go back to the favorite one!  BUT…..I could not find my stinking recipe!
Can you relate?  I searched the Internet until I found one that sounded just like our favorite.  It tastes just like it!  Score!!!  I made a double batch of these today.  Each batch easily divides into 2 balls.  I have 3 to give to neighbors with crackers and wine for Christmas and 1 to keep for our holiday dinner.
It is not to late to whip one of these up!  I am sure most if not all of the ingredients you may already have on hand.  I have frozen in the past as well!
2 (8 ounce) packages of cream cheese, softened
1/2 lb. shredded sharp cheddar cheese
2 teaspoons Worcestershire sauce
2.25 ounce can of deviled ham
2 teaspoons parsley, chopped
2 teaspoons pimientos, chopped
2/3 cup finely chopped pecans
Directions:
Combine all ingredients except pecans

Roll balls in pecans until covered.

Wrap in plastic wrap and chill for at least 3 hours.
I combine the ingredients in my food processor except the pecans.  Makes the job much faster.  I make 1 batch at a time.
This makes an excellent gift for gift giving!  I deliver it on a pretty holiday tray with with a couple of sleeves of crackers and a bottle of wine.
Buffer