Decorating with dishware is a creative way to add vintage charm to your home decor! It is an affordable way to get a vintage look.
Decorating with Dishware
Welcome to our Lifestyle of Love hop! Every other month, I come together with a few of my blogging friends to bring you a creative way to decorate the homes that we love and bring us joy.
Cindy from County Road 407 organizes this fun group for us.
This month's theme is so special to me! It's all about dishes. If there is one thing that I probably have too much of is dishes……or is it pillows.
SHHHHH! Don't tell anyone, but I had to run to the mall yesterday to pick up an online order. I decided to take a quick run-through Pottery Barn. I can't tell you the last time that I was at the mall. I left with these two pillows with forms and 2 pillow covers marked down to $12.99 each!
Would you believe that these are my first ever Pottery Barn pillows. I'm sold! The quality is amazing! I bought 1 set of forms and 4 covers. I plan to just switch them out on occasion.
Here's a secret! I really dislike shopping! I probably order 85% of home decor and clothing online.
I plan for the first 2 pillows to go in our master bedroom.
Back to plates…..see how easily distracted that I get by pillows!
If you are visiting from Stacy over at Bricks-n-Blooms, welcome! Her home is amazing. I love her dining area with that huge hutch!
Ways that I Use Plates
eating (ha, ha….obvious….I just had to say that)
hang on walls
decorative touches in vignettes
tea cups are pretty with moss balls and ornaments
small saucers make great coasters
saucer for houseplants
hold jewelry
hold soaps
cups hold office supplies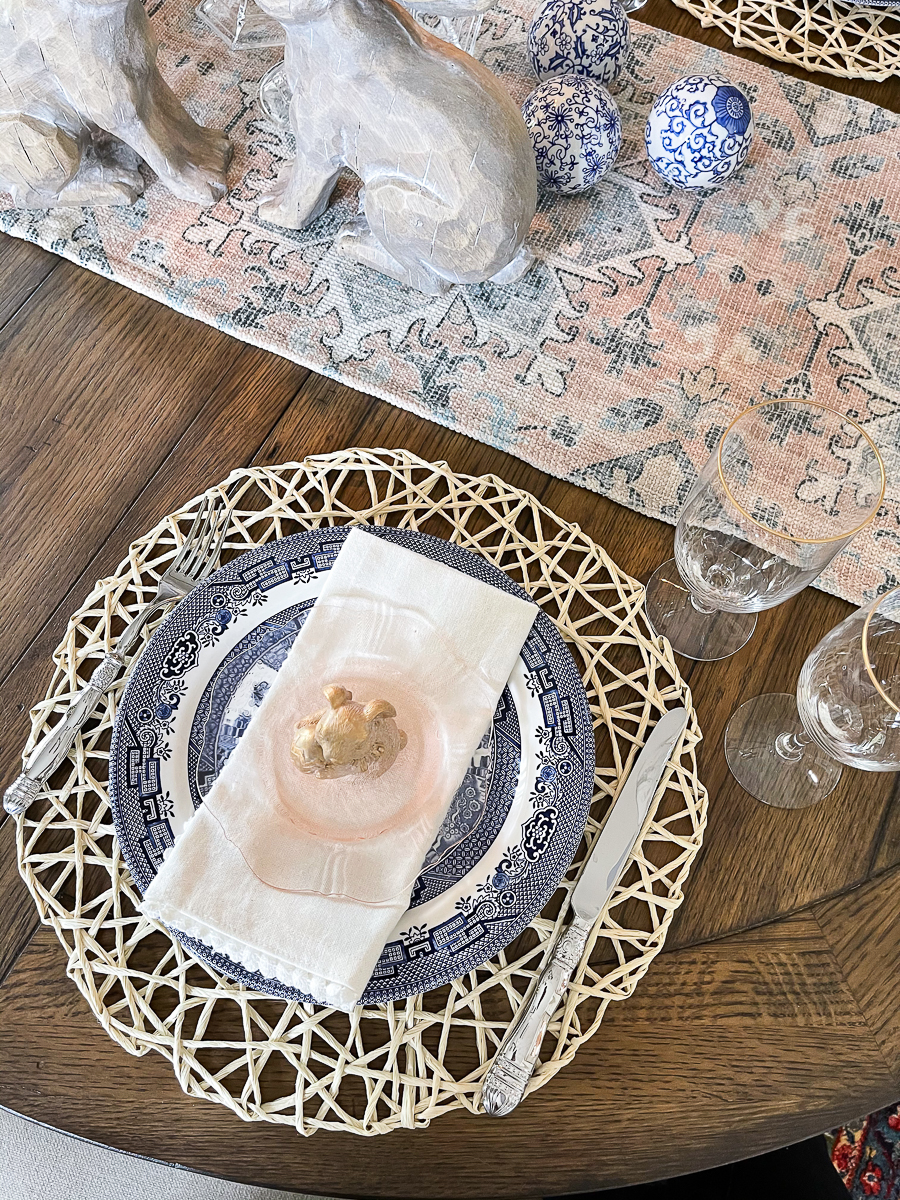 This simple look was from this year's Spring Dining Room post. You can see more of it HERE.
These blue and white Churchhill plates are about 25 years old. Years ago, our grocery store, Ingles, sold them. They'd have a service or piece per week that you could buy. I have an entire set of 8 plus serving pieces. I love using them to this day.
What makes them special is my grandmother's pink depression glass plates. I love using them for that subtle feminine touch. It's the perfect way to create a vintage, yet modern look with newer and old. These pink glasses would be a pretty touch.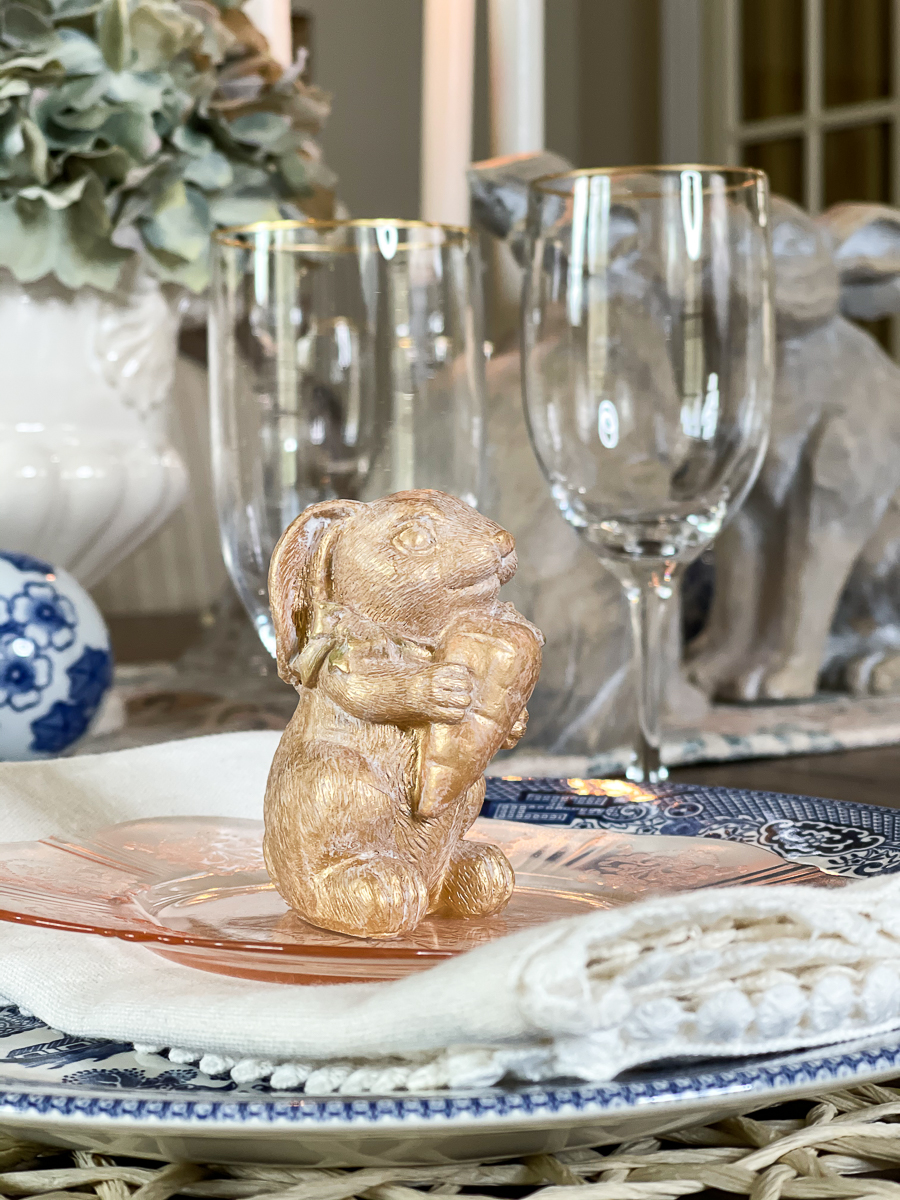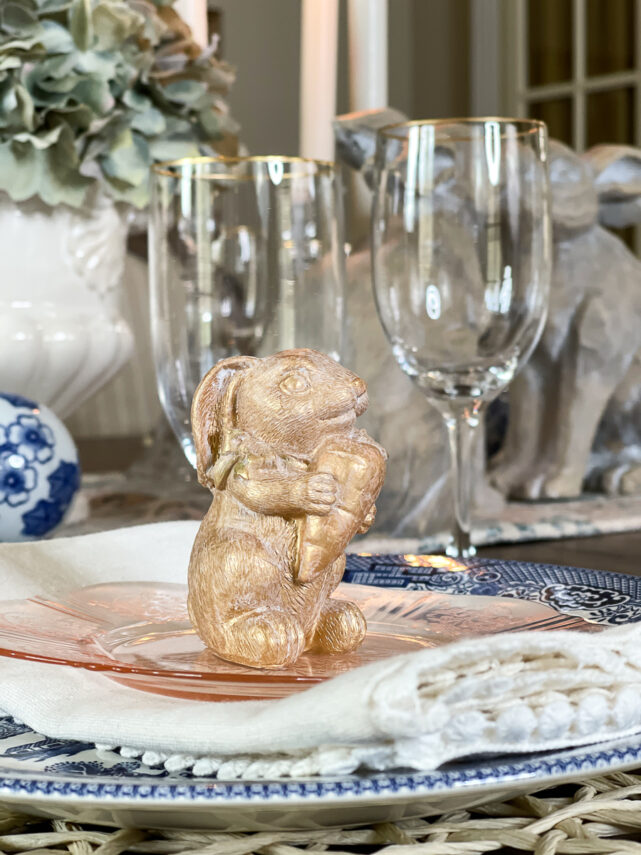 See how soft the pink is for spring!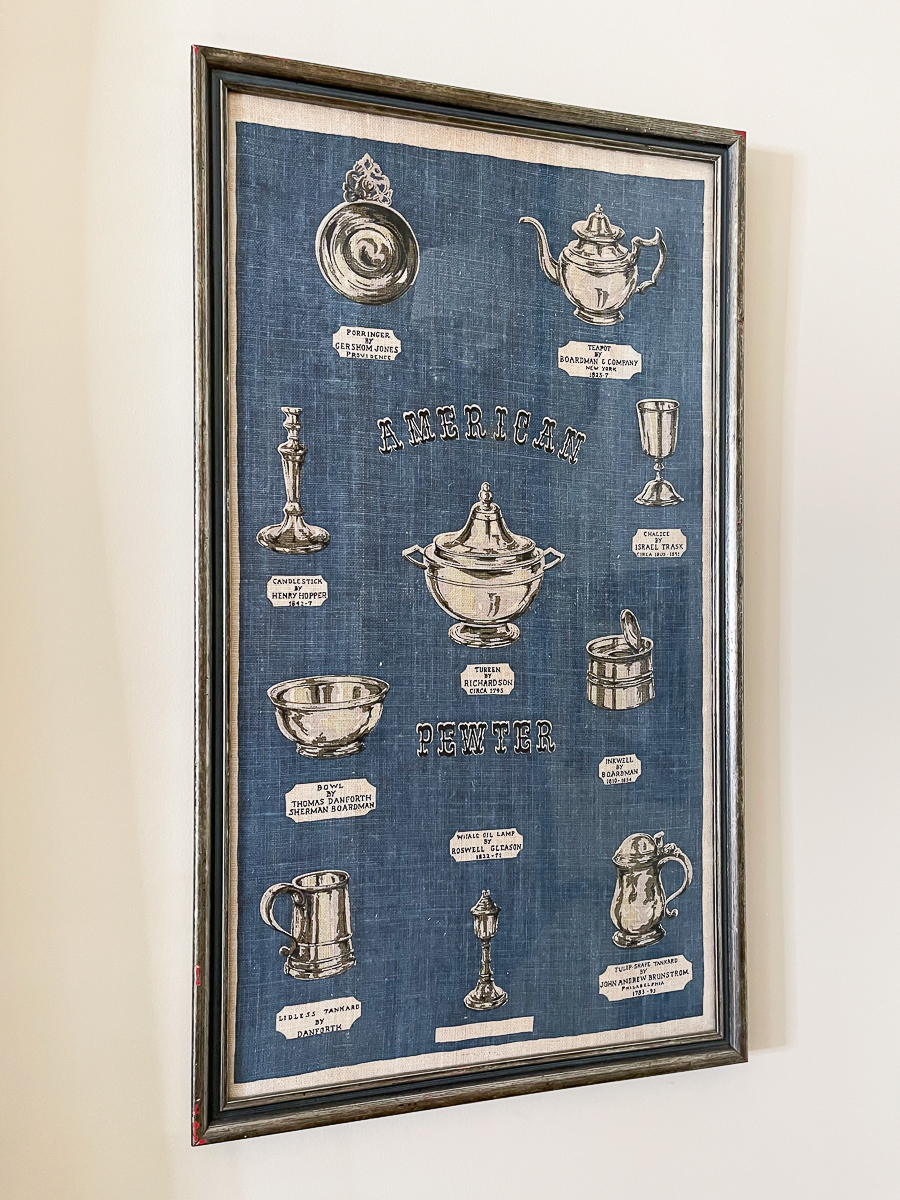 Of course, this is not dishware, but I just wanted to share. I picked up this vintage, printed fabric a few years ago at the thrift store. I just love it!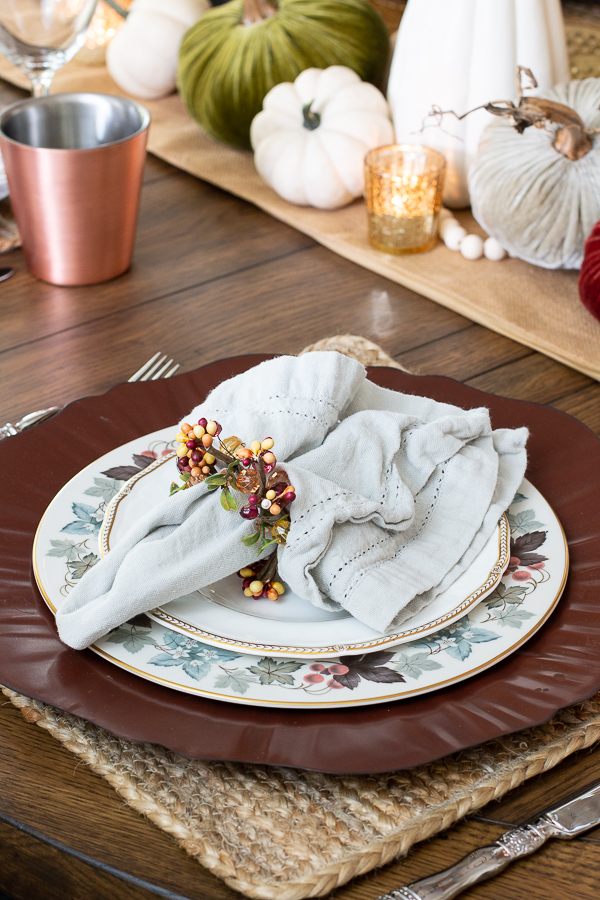 Have fun mixing and matching china patterns. The top pattern is my wedding china. The bottom was may parents from 1963. Isn't it gorgeous! I love using it in the fall.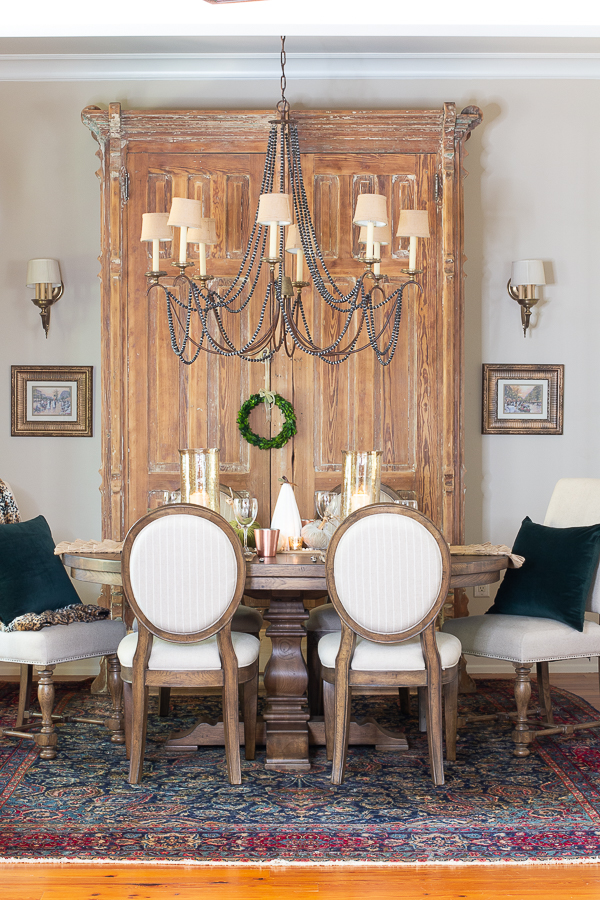 You can see more of our fall dining room HERE.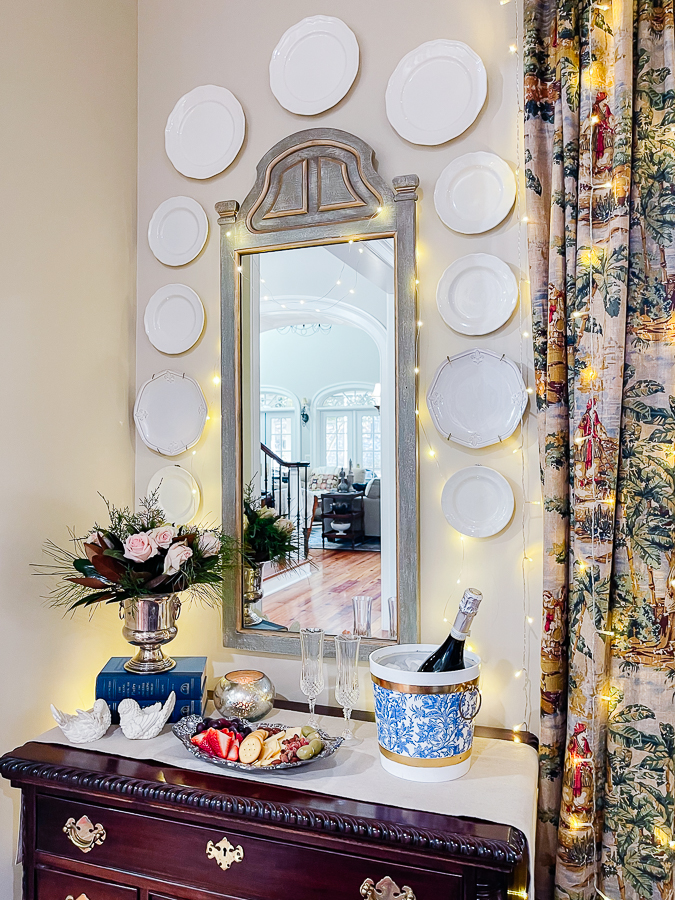 I frequently use plates as a decorative wall accent. Here I have vintage ironstone mixed with newer plates from Walmart.
This one photo has so many vintage and thrift store finds.
The ice bucket was a Chinoiserie Thrift Store Makeover.
This Thrift Store Mirror Makeover is one of my most viewed posts on the blog.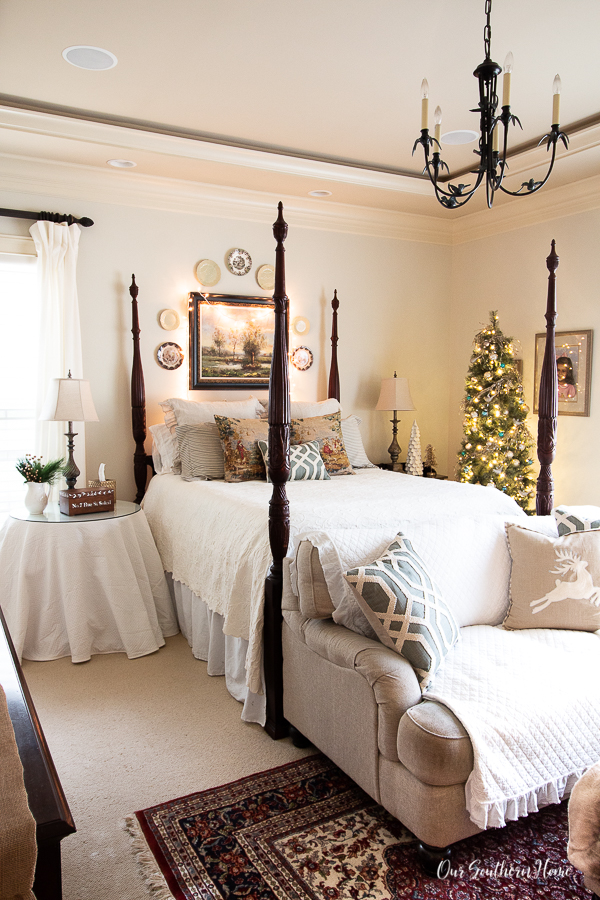 I frequently hang plates on the wall like over our bed in the master bedroom.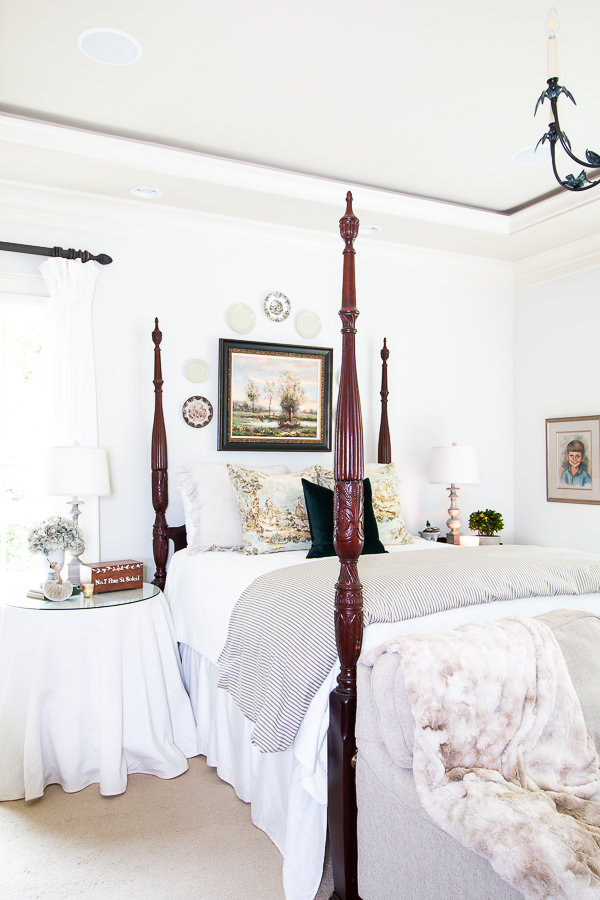 You can see the many looks in our Master Bedroom through the years.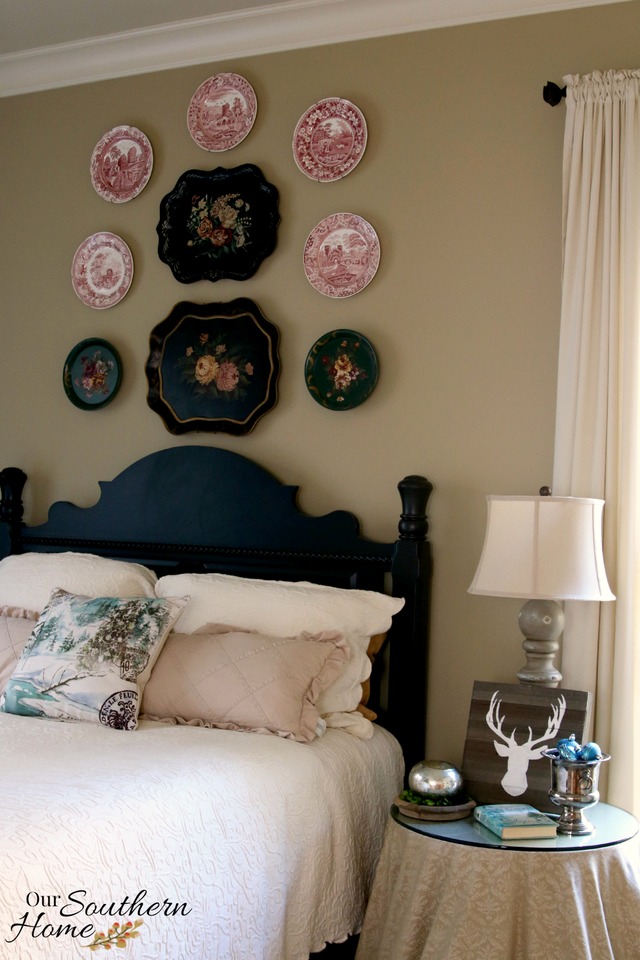 This is a very old, quick photo of the guest room with the transferware plates and tole platters. I collect tole platters. The guest room is getting a mini-makeover soon. I can't wait to share better photos of it in the future.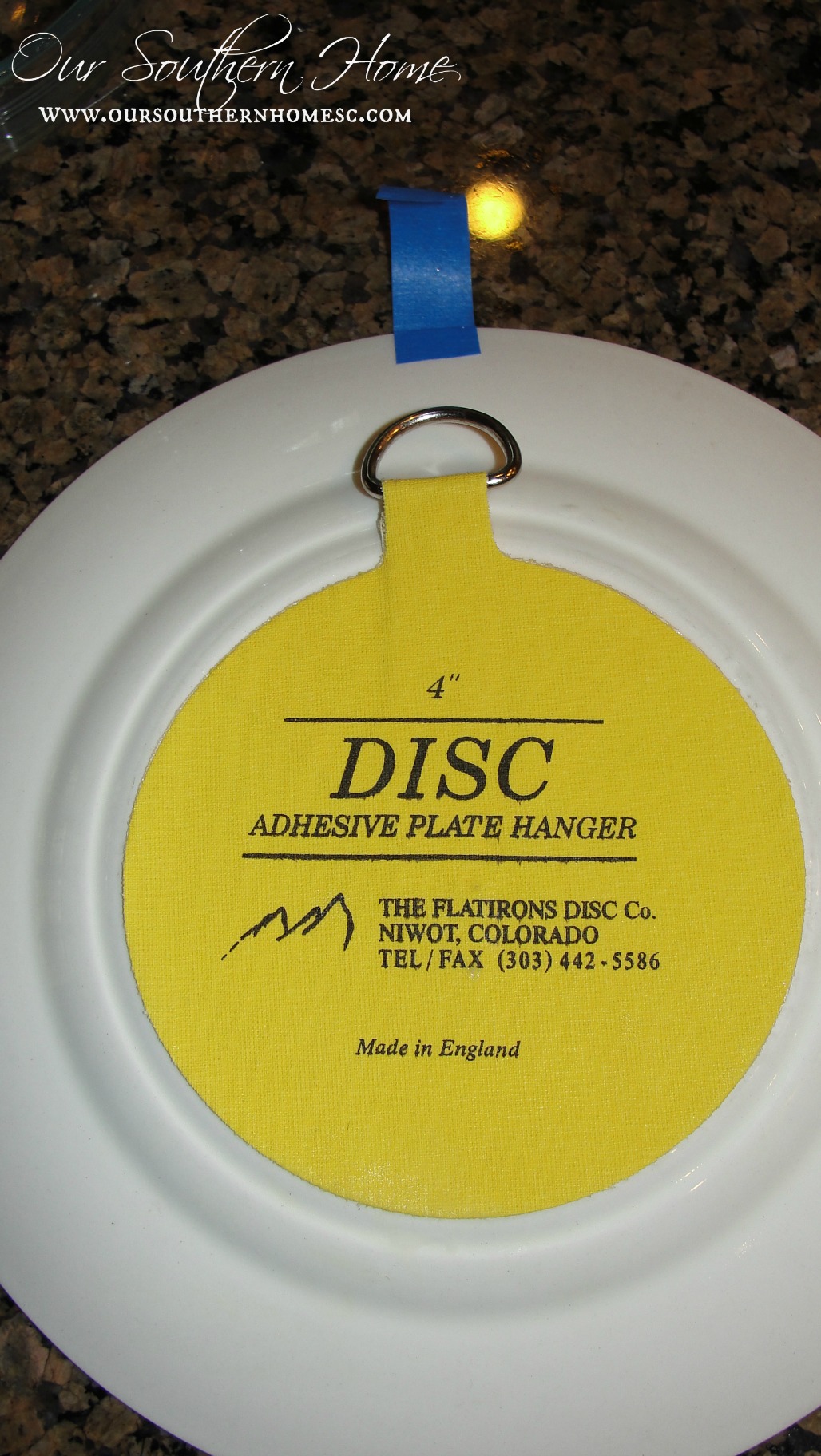 These adhesive discs are my favorite for hanging plates. They are strong. Just get the ones appropriate for the size plate.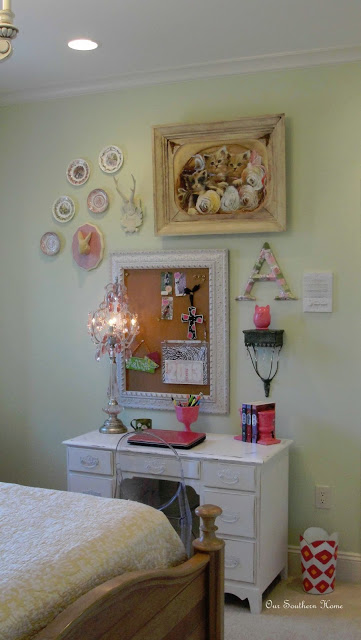 More old, cringe-worthy photos! This was a DIY project using one of Ashlyn's old curtain finials from her nursery.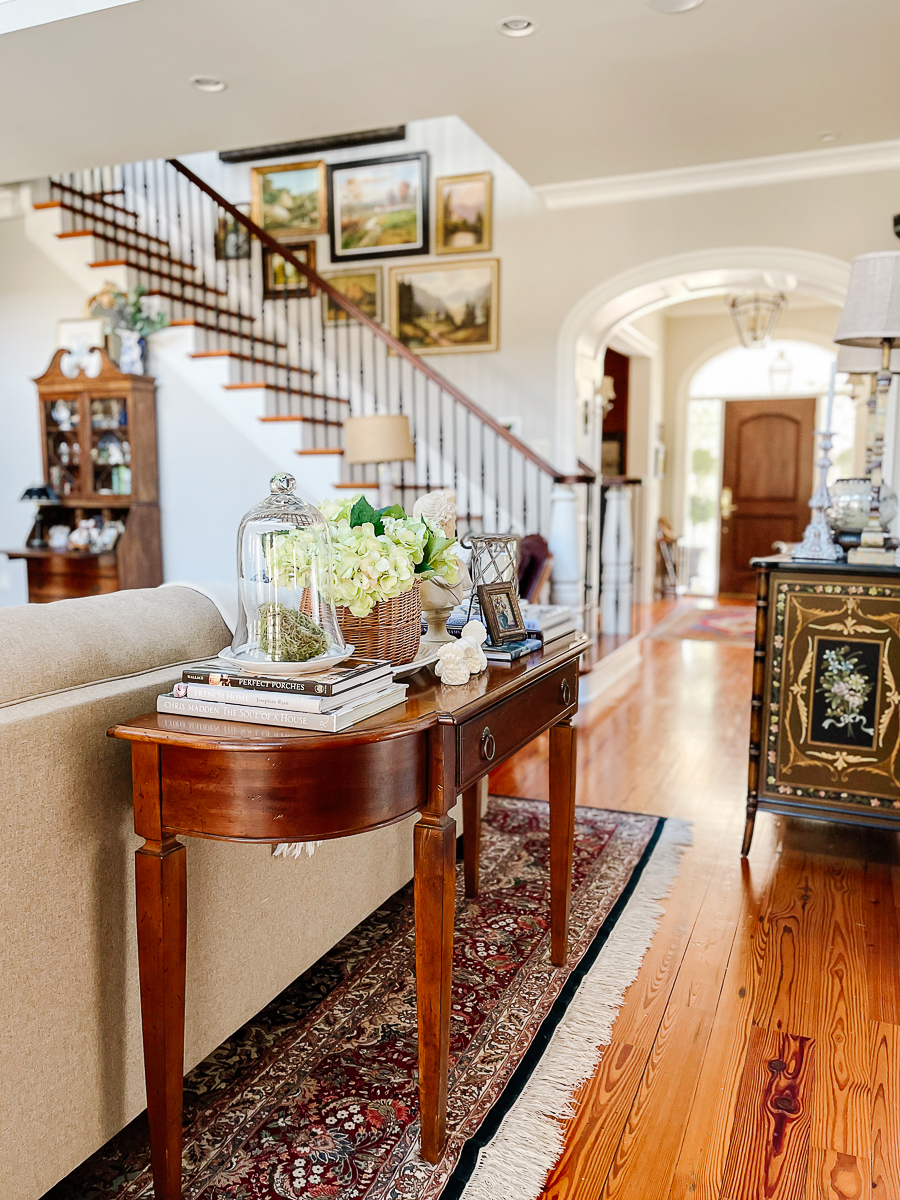 Here I have used white plates to anchor this recent spring vignette.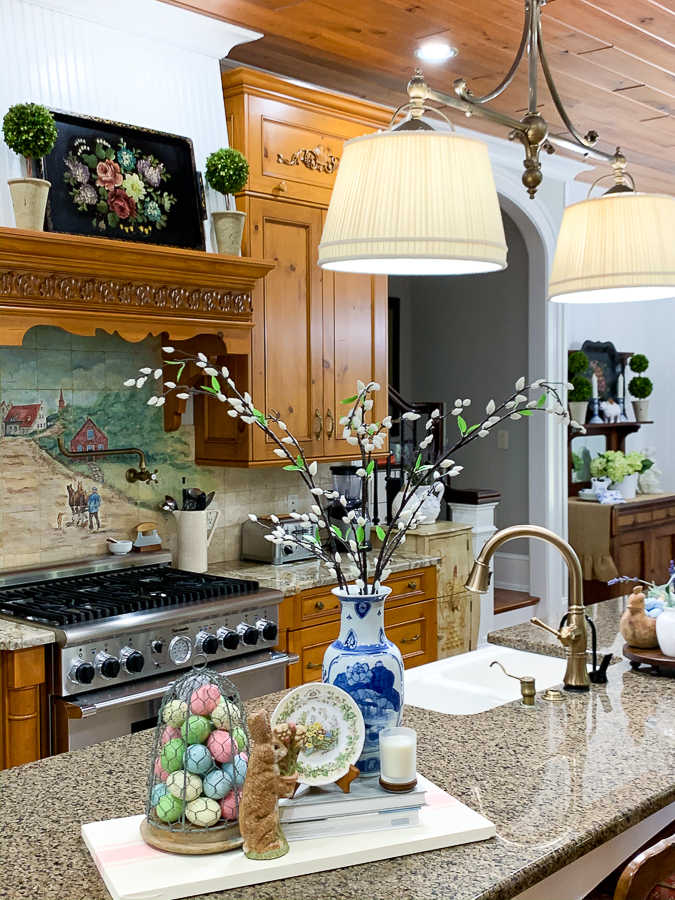 Plates in small vignettes.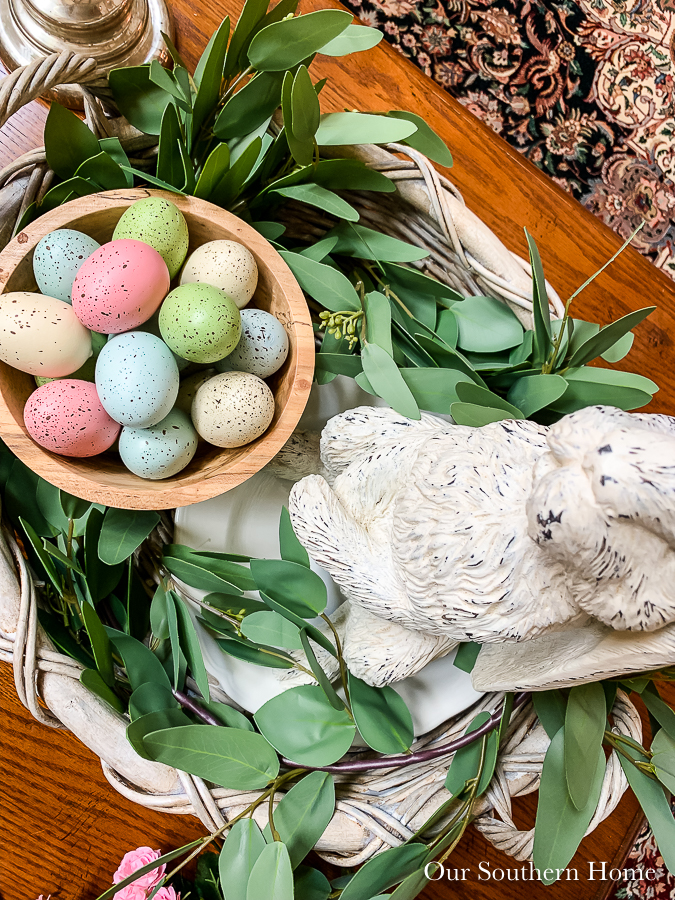 You can also use dishware to balance items in baskets or unlevel surfaces. Get all the details on building this spring vignette HERE.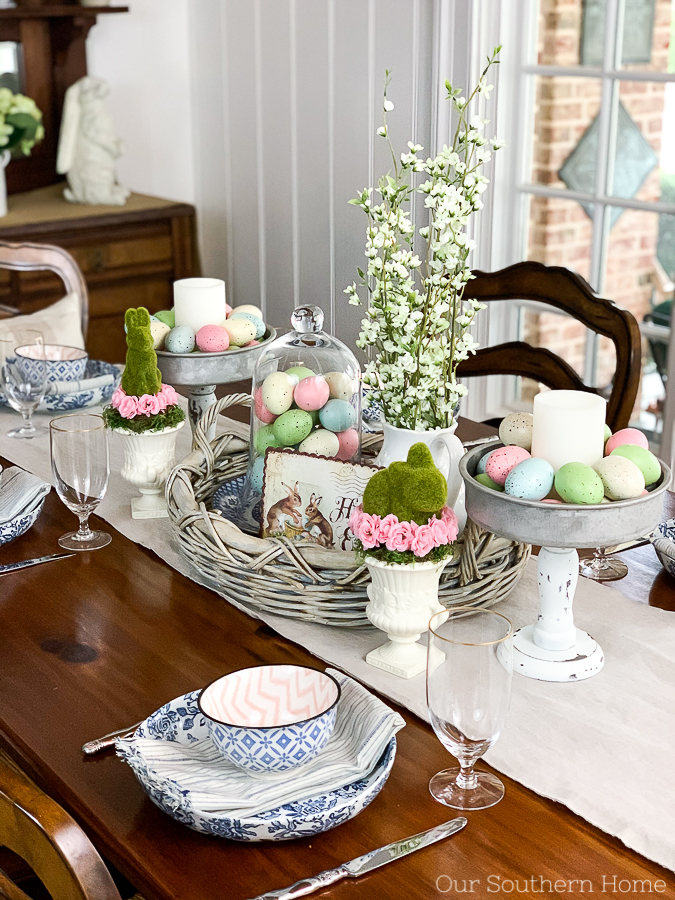 More ideas for mixing and matching china.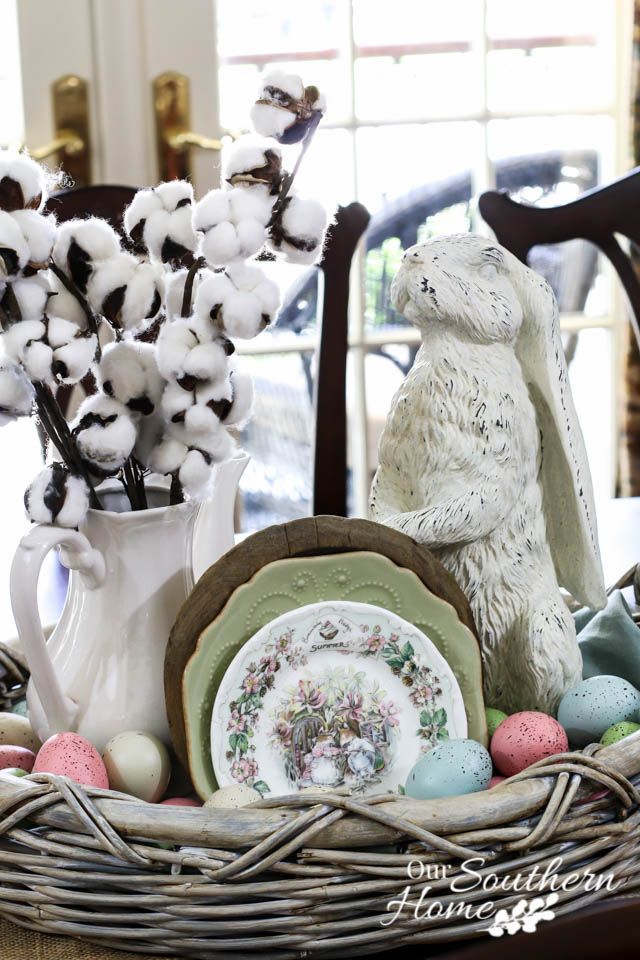 Position plates stacked in a vertical way to give the appearance artwork.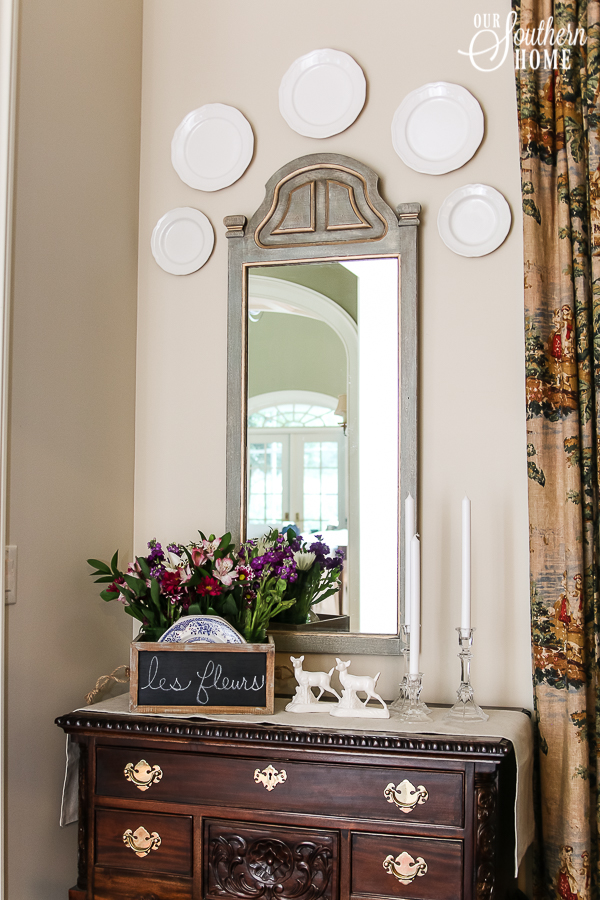 This thrift store crate makeover makes a pretty arrangement for flowers with a few plates tucked in.
I am sure that there are many more ideas on the blog for dishware.
I hope that this blog hop inspires you to use dishware beyond dining.
Up next on the tour is Decor to Adore. Laura has such a beautifully decorated home with lots of vintage inspiration.
Visit all of today's Dishware Ideas!
More Spring Decor Ideas
Here are more ideas on the blog for spring decor!
Buffer